Last Updated on 2 years by EasyCowork Team
In this post we are going to look at 25 Best Coworking Space in Delhi NCR Region with Pricing, Amenities, Location in 2021.
Delhi is home place for a number of coworking spaces for freelancers, entrepreneurs as well as small businesses. With an enormous increase in the number of Startups, the demand of Coworking space has shown a drastic elevation. 
Before you look at a coworking space in Delhi, it will be helpful to go through our guide on Ultimate Guide on Coworking: Benefits, Advantages & Disadvantages. This guide will give you unbiased information about advantages & disadvantages of coworking and help you decide whether a coworking space is essential for your business.
You can also check out our post Difference Between Hot Desk & Fixed Desk: Everything You Need to Know so that you can choose the right type of coworking package for your business.
We have also written a very detailed post on Coworking Benefits, Advantages & Perks You Should Know Before Moving into A Regular Office Space–you can quickly go through this post too.
Delhi based coworking spaces helps entrepreneurs to grow. Number of start-ups has grown from pune and most of them have started from these coworking spaces. 
With coworking spaces, you can enjoy amazing facilities just like having your own private office without having to spend money on capital expenditure. 
Coworking spaces provide you with top-notch infrastructure along with the relevant facilities and are designed for freelancers, small entrepreneurs and even large companies.
Due to the ongoing COVID 19 restrictions, some of our coworking partners are not operational. Please chat with us to know if the coworking space of your choice is available.
Also, during this difficult phase of Covid-19 pandemic please check the following before signing up for a coworking space in Delhi NCR.
Things to Check Before Choosing a Coworking Space During Covid-19 Pandemic
✔ Check if the coworking space has adequate space for social distancing
✔ Check if the coworking space is flexible on deposit terms
✔ Ideally choose a coworking space that is accessible even by limited public transport
✔ Check how frequently the coworking space is being sanitized
✔ Check if the coworking space has thermal scanners & take necessary precautions to keep the office space safe for all members.
25 Best Coworking Space in Delhi NCR Region: Pricing, Amenities, Location [2021]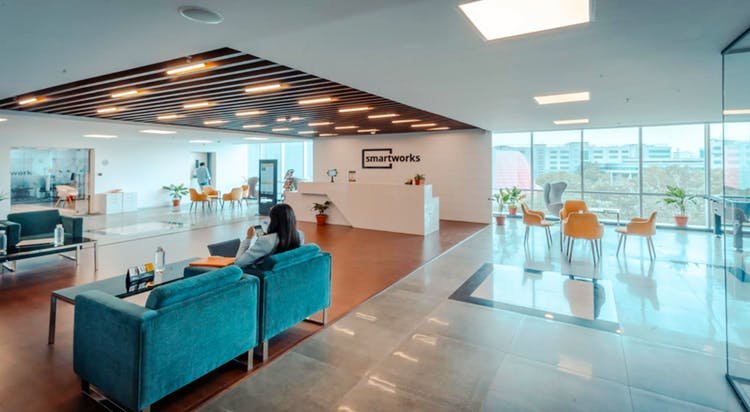 Smartworks has created its own presence within cities across the country; there are six co-working spaces of Smartworks within Delhi. It inspires the biophilic design along with the technology enabled office solutions. Apart from this it provides green spaces and the main focus is on the required facilities for creating a positive environment. It provides you with conference rooms, high speed internet and printing services, relaxing sports facilities, and specific rooms for collaboration.
Location: Vardhman Trade Centre, Lala Lajpat Rai Road, Nehru Place, New Delhi
Price: Desks starting at 8,000 INR per month 

CoWrks
One of the more premium Coworking spaces in the industry, CoWrks has an expansive coworking space in the heart of Delhi NCR region. CoWrks provides amazing infrastructure along with world-class designs that are available on a shared basis. CoWrks Delhi offers flexible desks, dedicated desks and even private cabins that are available at a starting price of INR 12,000 per month
Location: Indira Gandhi International Airport, WorldMark 1, Tower A, Aerocity, Delhi 110037
Price: Desks start at INR 12,000, contact for more detailed pricing.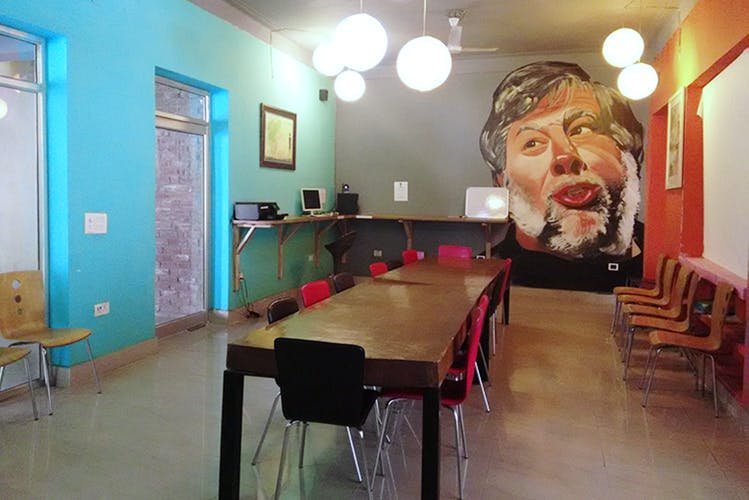 CoworkIN claims that their main aim is to provide coworking space that makes a difference. It offers you much affordable desks, private offices, meeting rooms, specific event spaces, along with virtual offices for entrepreneurs. Currently, the CoworkIn covers only the major areas around Delhi/NCR. 
Location: 22-A, Outer Ring Road, Lajpat Nagar 4, New Delhi
Price: Desks are available on a daily basis for 399 INR, For monthly desks you have to pay INR 6,500 and a private room is available at INR 25,000 per month

91 SpringBoard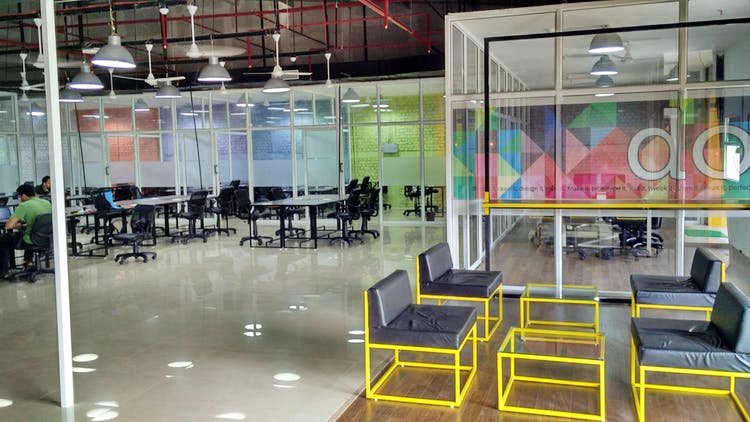 91 Springboard can be seen as best hub for start-ups because it goes beyond office walls to provide access with the network of mentors. This coworking space is located in Nehru Place and is home for almost 250 co-workers. Apart from this their other branch is located in Gurgaon in sector 44 and seat more than 1200 co-workers. 
Location: Plot 23, Maruti Industrial Area, Sector 18, Gurgaon
Price: Hot desks are available at INR 5300/person

Innov8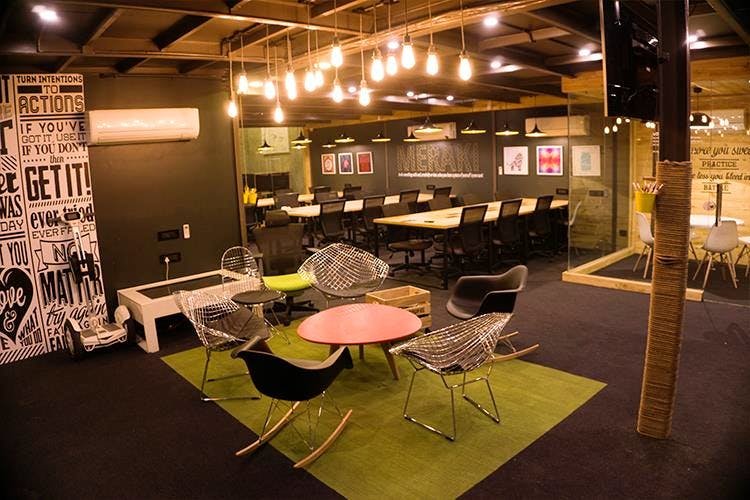 Innov8 coworking space was started by a group of entrepreneurs as well as investors who wanted to use their experience for guiding the start ups. It is fun, spunky workspace that has been set up in multiple locations across the nation; the Innov8 work spaces are fully equipped with the required facilities that you might  need under one roof.
Location: Regal Building, 69, Hanuman Mandir Road, Connaught Place, New Delhi
Price: Hot desks are available at 7,999 INR per month  

Investopad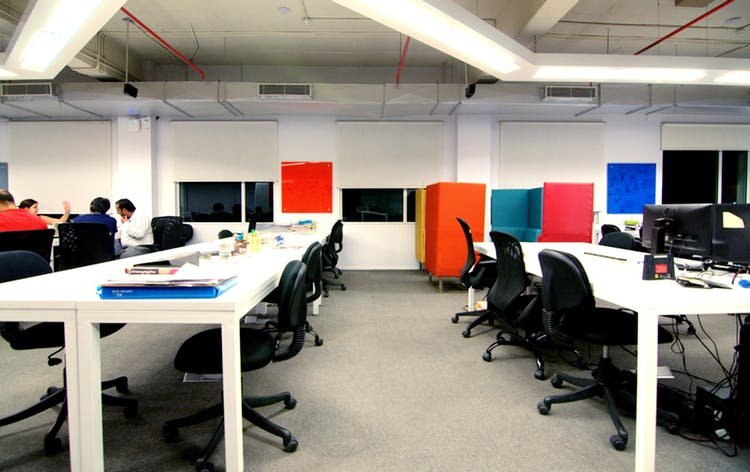 Investopad provides work spaces to number of promising start-ups and provide them with the co-working and event facilities. They even help start-ups to grow and refine their startup ideas.  Apart from this they provide you experts of digital marketing, design, and tech for assisting you with brand building.  
Location: 18, Institutional Area, Sector 32, Gurgaon
Price: Desks are available at INR 500 per day bases.

Unboxed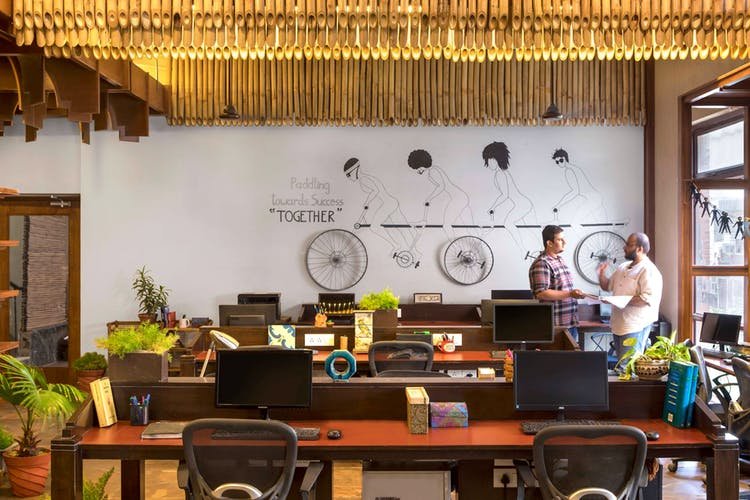 UnBoxed coworking space is more a community, rather than just an office, so it you decide to come here for work it has a meaning. They work as a plugin and play concept and provide you with all the relevant facilities. From Wi-Fi, cafeteria, to 24/7 professional security you are offered with every facility. And if you need some relaxation time you have a recreation room which is designed including TT table, house gym. 
Location: C-15, Sector 65, Noida
Prices: They usually provides a free three-day trial and desks are available for 4000 INR per month

Coworkdelhi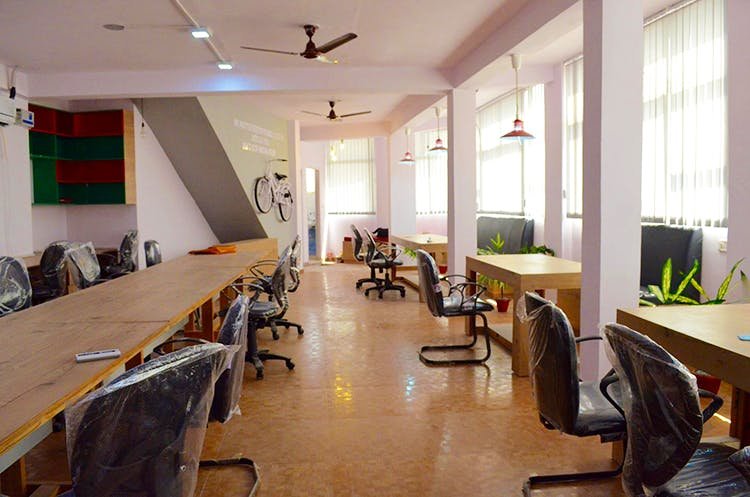 Coworkdelhi can be considered as a perfect workspace for freelancers, start-ups and individuals who seek for coworking spaces along with some working events, marketing support, as well as expert mentorship. It is located just 300m away from the metro station. You can get monthly passes and even daily passes if you are willing to work for short term. 
Location: 101, Khudi Ram Bose Marg, Pratap Nagar, Mayur Vihar Phase 1, New Delhi
Price: Daily pass is available at INR 499 and monthly plans are available at INR 5999.

Delhi Co.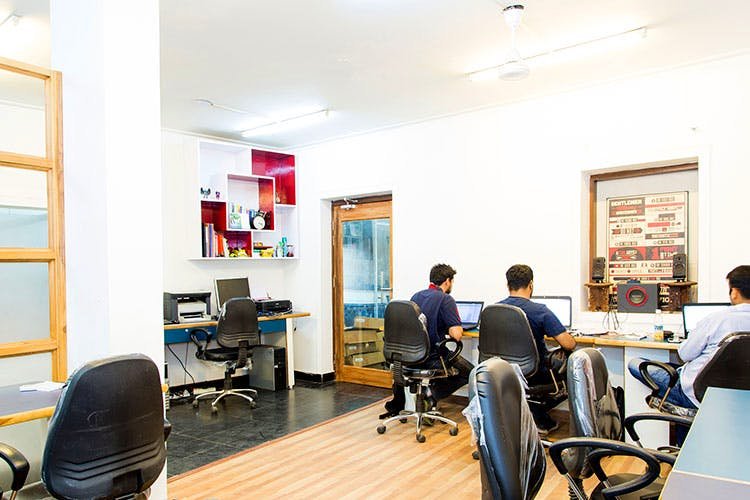 Delhi Co. is a work space with group founders who wanted to go out of the way for helping the young businesses. They help you in every situation from service tie-ups to accessing network across the country. The main aim is to help the start-ups in clearing the hurdles with ease. 
Location: 125, 2nd Floor, Shahpur Jat, New Delhi
Price: Dedicated desks are available at INR 3,999/month and dedicated desks are available at INR 5,999/month 

A little Anarky
A little Anarky is known to be great film production studio, but it is even known for the coworking spaces. It is tucked away within the lanes of HKV. They provide clients workstations such as desks, couches and breakout spaces, a conference room, Wi-Fi and a pantry, and projection setup. Apart from this time to time they organise workshops, screenings and seminars for helping the co-workers.
Location: T-74, 4th Floor, Near Daryacha Building, Hauz Khas Village in New Delhi
Price: Price is available only on request. You have to fill the online form of their form to know the prices. 

Base Station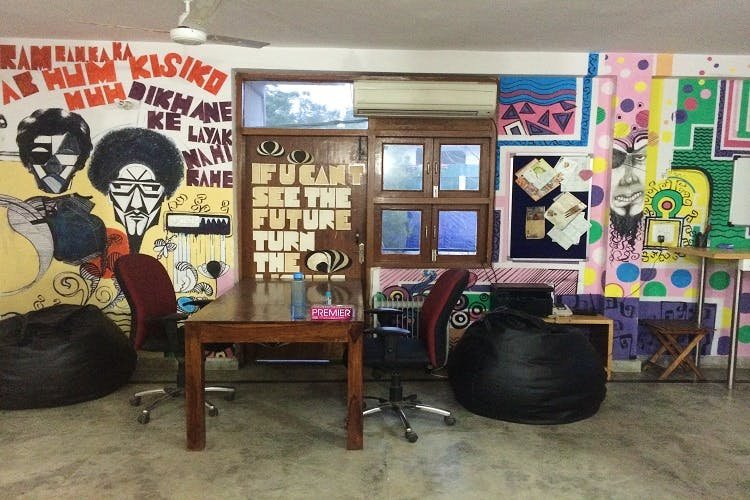 Base Station is a co-working space that is run by Miranj; a design studio. Base Station usually encourages individuals for working as a standalone entity and interacts with each other. They have organised seats towards the lower side, in terms to avoid crowded areas and results in a spacious vibe. 
Location: 143-A, 2nd Floor, Shahpur Jat, New Delhi
Price:  Desks are available at INR 3,000 for 1 week, INR 4,500 for two weeks, and INR 7,000 per month.

MyHQ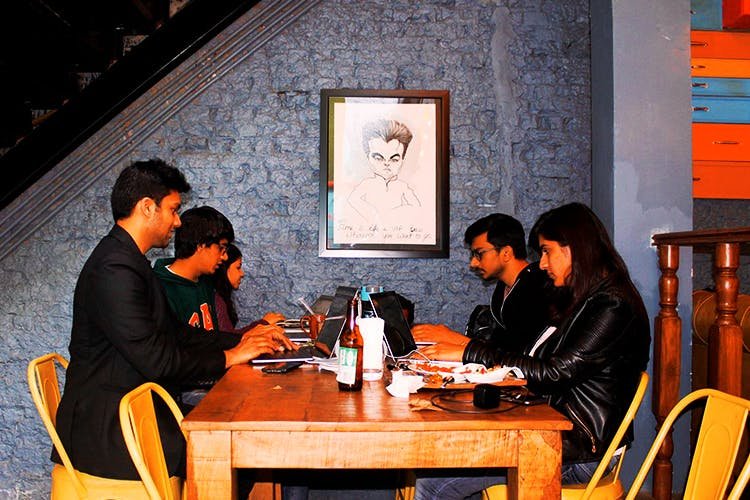 MyHQ is not just a coworking space but it is also seen as a network of work cafes which is easily accessible via their website as well as app. It is located at almost 50 locations within NCR. It is definitely a great option if you are willing to move frequently. MyHQ offers you with high-speed internet, and 24/7 power access.  As a member, you can even avail discounted rates on food as well as drinks at specific locations.
Location: Cross Point Mall, 1st Floor, DLF Phase 4, Gurgaon
Price: Free trials are available. Single visits are available at INR 299

Skootr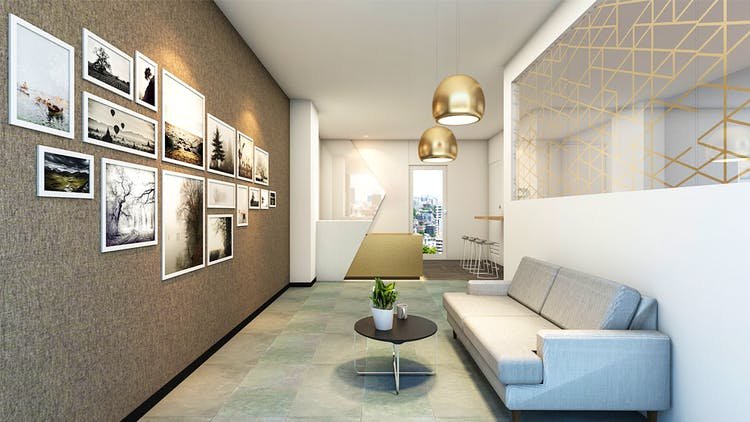 Skootr provides facilities and workspace to more than 5,000 community members. Whether you want a personal work space or a workspace for your growing team, this place is perfect for coping up with your customised options. They provide you with 24×7 power backup and high-speed internet and the branches are present at major areas around Delhi and Gurgaon. 
Location: Plot 264, Phase 1, Sector 20, Udyog Vihar, Gurgaon
Price details are available on requests.  

SpringHouseCoworking
Spring House is one of the most preferred a coworking community which believes in getting like-minded people together over a single platform. Its branches are available for work space in 14 locations across Delhi/NCR. Apart from all the required services it also offers in-house pantry and unlimited tea/coffee on offer. 
Location: A-638, 2nd Floor, Janakpuri, New Delhi
Price: Seats are available at INR 500 plus taxes on per day basis.

ThinkValley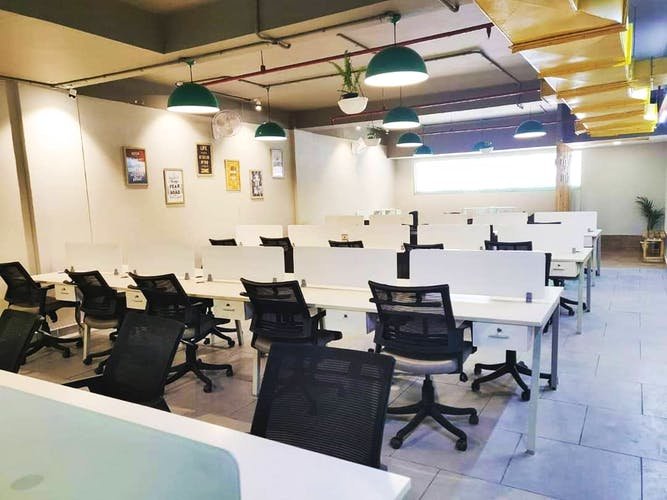 ThinkValley is a Gurgaon based coworking space, and provides you with have ample options that might be needed. They provide you effective services such as a library, high-speed internet, as well as discount cards. Apart from these facilities they organise weekend gateways for you. 
Location: B-17, Institutional Area, Sector 32, Gurgaon
Prices are available on request. 

Tippling Street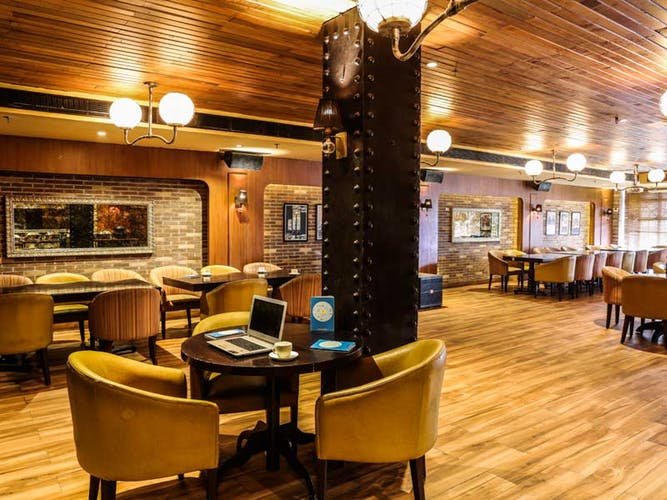 If you want a work space where you can work and can have some fun. Place where the work can be carried out as fun without stress. For such situations Tippling Street is the best coworking space for you. It includes eccentric interiors along with the positive chill vibes. You also avail free high-speed internet and stationery. 
Location: A-12, Vishal Enclave, Rajouri Garden, New Delhi
Price: Single visits are available for INR 299.

Koworkspace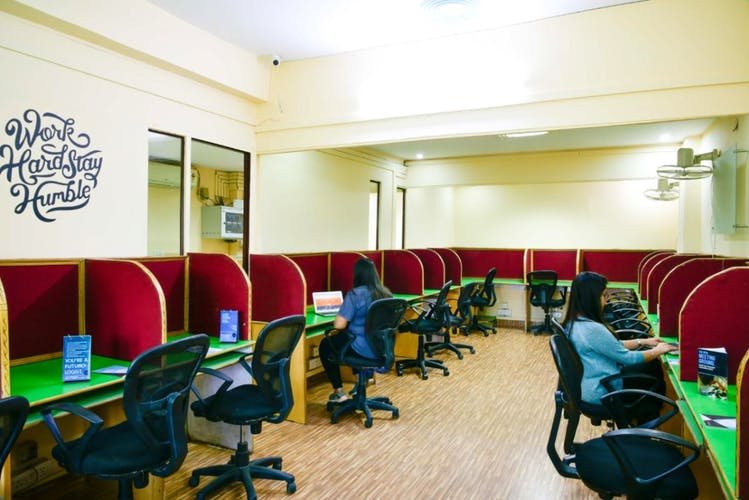 Koworkspace is situated in Dwarka. It provides co-working space for freelancers, entrepreneurs, startups, and professionals. It will be a perfect workspace if you are looking for an effective space to grow your work at affordable prices. You will be provided with high-speed internet, private offices, open and dedicated desks. 
Location: D-1/38, 2nd Floor, Ramphal Chowk Road, Dwarka, New Delhi
Price: Daily pass is available for INR 200 and desks are available for INR 3,000/month.

Awfis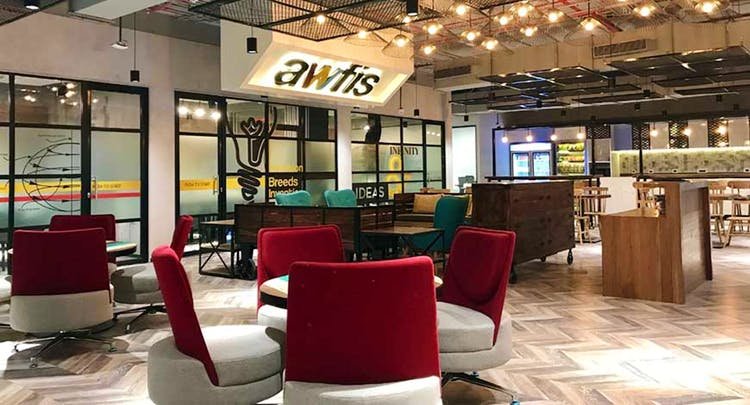 Awfis coworking space is available within major cities across the country. It believes in providing more than just an Awfis space. They offer cost effective plans on hourly, weekly, monthly, and yearly basis. Apart from this no setup fee and security deposit is taken. 
Location: L-29/34, 1st Floor, Connaught Place, New Delhi
Price: Desks are available at 800 INR per day basis. 

Co-Offiz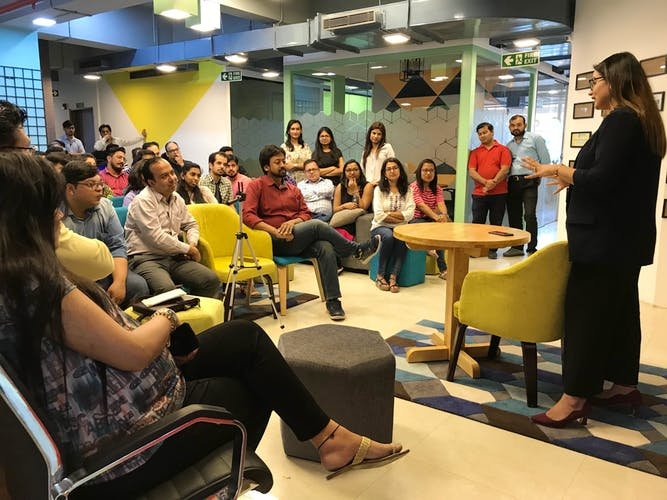 Co-Offiz coworking spaces are available at various locations such as Preet Vihar, Janakpuri, and Netaji Subhash Place. This coworking space provides you with all relevant facilities along with a nice ambience. You can schedule you tour for this coworking space by visiting their website. 
Location: 630, 2nd Floor, Above Maruti Suzuki Showroom, Janakpuri, New Delhi
Price: Open desks are available at INR 8,000/month and desks for 15 day is available for INR 5,000/month.

Inhwa business center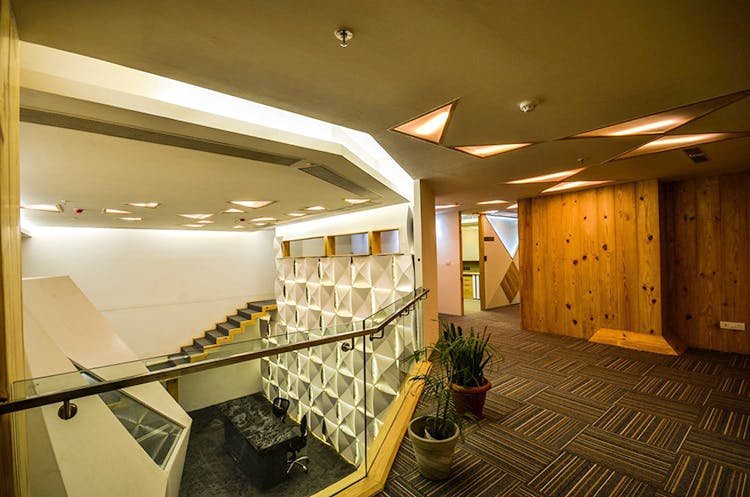 Inhwa business center is a little trendy work space that is built basically for startups. It is located in Gurgaon. It is seen as sweet spot for co-working spaces in Delhi/NCR.  Inhwa business center is well furnished and provides you with modern classic decors. It also provides the facility of customization. It can be seen as a pocket friendly coworking space.
Location: Iris Tech Park, Sohna Road, Sector 48, Gurgaon
Price: Virtual Office is available for INR 2,000 per month, office space will cost you INR 11,000 per month

WeWork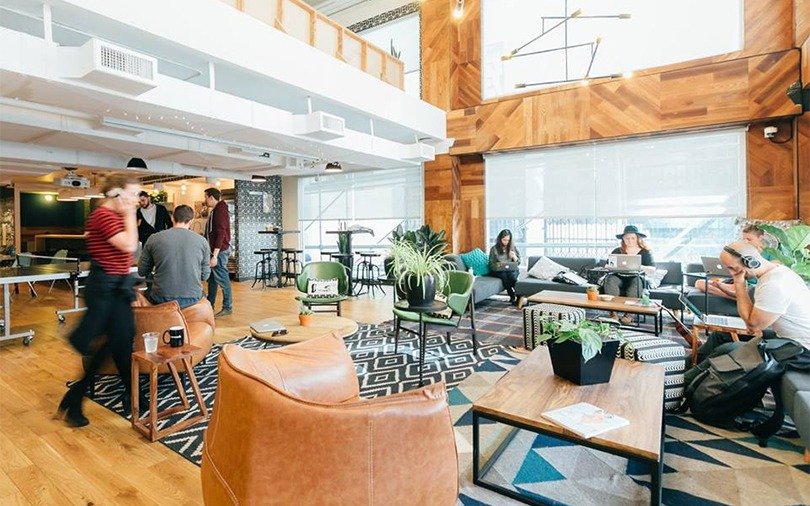 It offers you with colourful and motivating environment for making your work within the shared office space more powerful. The ambiance here is very elegant and fascinating and is highly positive for working.  Apart from the options of plain, dedicated and private desk, it provides you with private space for your dedicated meetings by just paying for the acquired meeting time. They also provide you with custom build out office option in which you can tell about your needed amenities for the office space, and everything will be set up according to you. 
Location: Gurgaon

Hustle cowork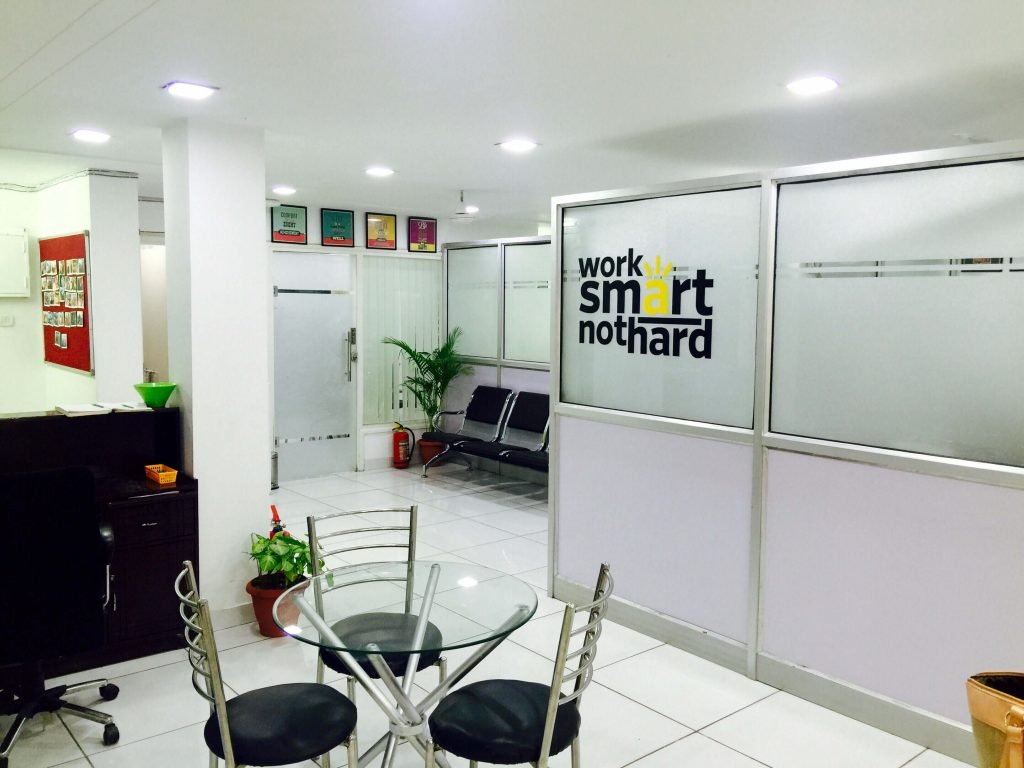 Its first hub is located in Bangalore, India and further branched in major cities. Hustle Cowork is one of the largest, best rated as well as the only shared office in East Delhi which believes and promotes collaboration. It offers a professional, inspirational and self-sustaining space for growing
Location: Hargobind Enclave, Karkardooma, Hargobind Enclave, A G C R Enclave, Anand Vihar, Delhi, New Delhi, India
Price: Desks are available for 5000 INR per month

Nimble Cowork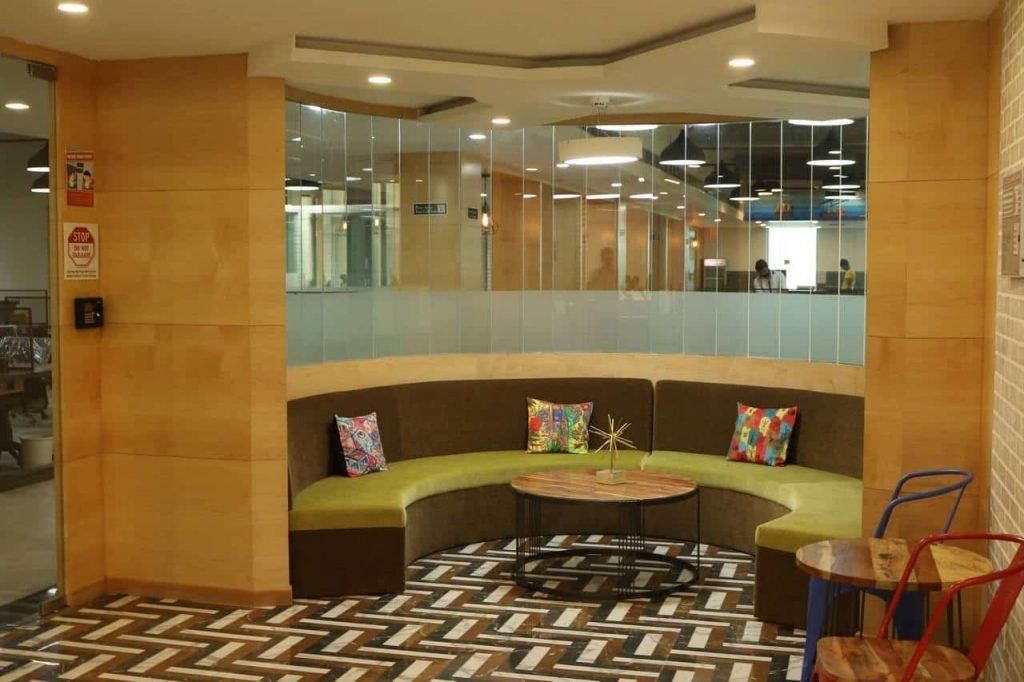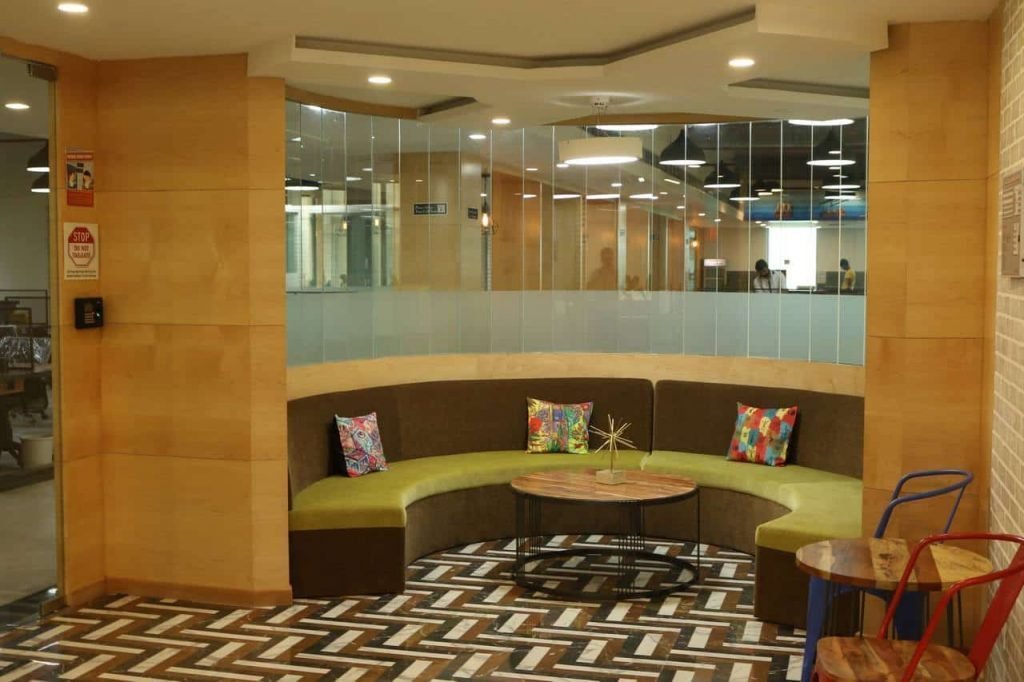 It is centrally located in DLF Cyber City, near to the Rapid Metro, highly surrounded by MNCs such as Polaris, Incedo, SpiceJet, Aegis in Udyog Vihar, Gurugram. They provide you with sunny coworking space along with the fixed desks and private cabins.

Location: 250 Udyog Vihar, Phase 4, 3rd Floor, Gurugram, India
Desks are available from INR 4,999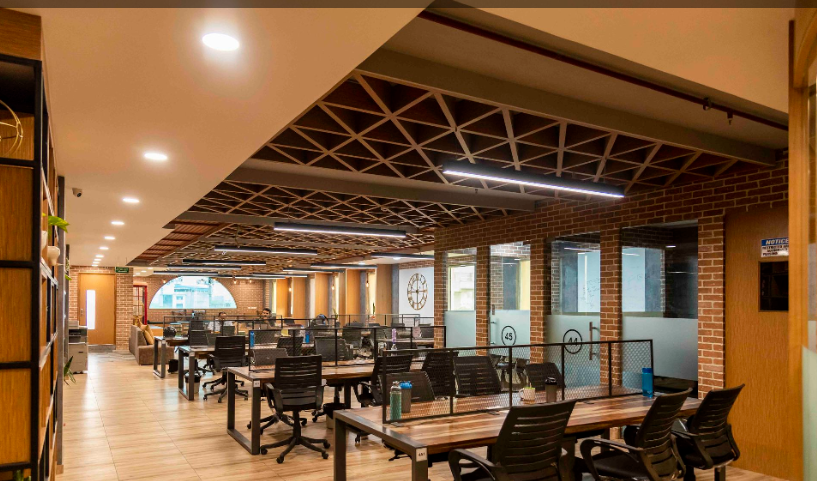 The neighbourhood for this working space in Gurugram is a perfect mix for young vibrant start-ups as well as large companies. This Centre is located at a convenient distance from metro station, cultural hubs and other required conveniences.  It provides you with the right work environment.
Location: Level – 3, Rider House, Plot-136, Sector-44 Near HUDA City Center Metro Station, 3, Gurugram, India 
Pricing: Desks are available from 8,500 INR per month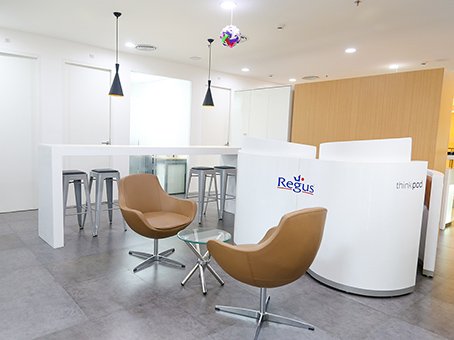 Regus is one of the international co-working office space providers. They have almost 1,500 work stations across India.  Apart from this, it is the fastest growing as well as most popular workspace startups look for.

In Delhi/ NCR, Resus offers a number of coworking spaces with  dedicated office spaces, individual chairs and on demand meeting rooms.
Location: Vasant Square Mall, Pocket 5, sector B, Vasant Kunj, New Delhi
Desks are available at 770 INR per day Bases. 
Recommended Reads