Last Updated on
Almost 40 years ago Dolly Parton derived this unique idea of working '9 to 5' and now it looks like a lot of Londoners have finally understood the message. With this idea of self-employment, coworking spaces are all ready to overtake the public sector for the very first time.
Apart from this, people in regular employment are now working more flexibly than ever, and thus traditional offices are being declined by them. Merging the core benefits of a few things such as a cafe culture, members clubs as well as serviced offices, these 20 London coworking spaces offer something unique for each and every one.
Here are 20 Best Coworking Spaces in London You Need to know
Campus London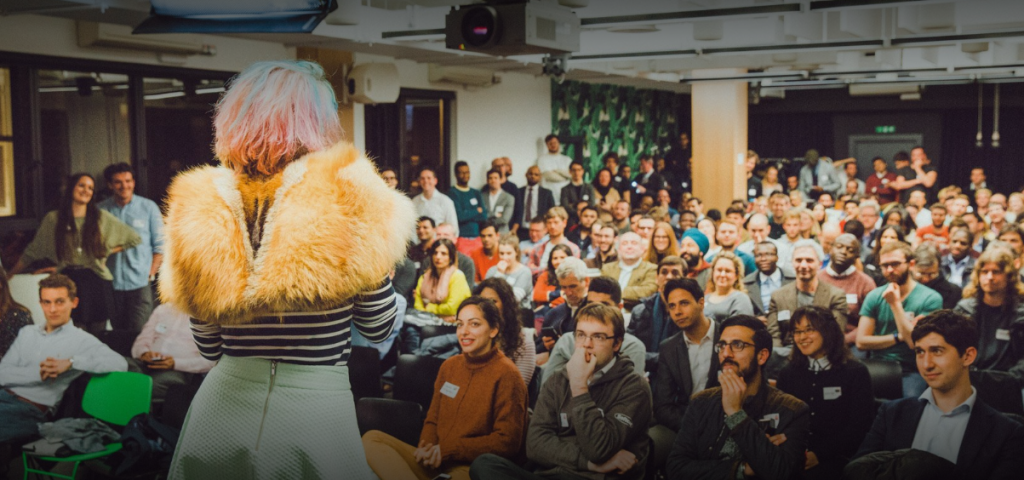 Campus London is counted as one of London's first as well as the most prominent coworking spaces. Campus provides an active community of entrepreneurs, and apart from this some kind of events always go on in their events space.
This kind of office space along with a coffee shop, below the ground level is also seen as a great place for hanging out usually within meetings. Adding on, there are certain organisations which offer office/desk on rent in a great coworking environment (including TechHub).  
Location: Google Campus is located in Shoreditch, East London (4-5 Bonhill St, Shoreditch, London, EC2A 4BX).
URL: https://www.campus.co/london/en

Central Working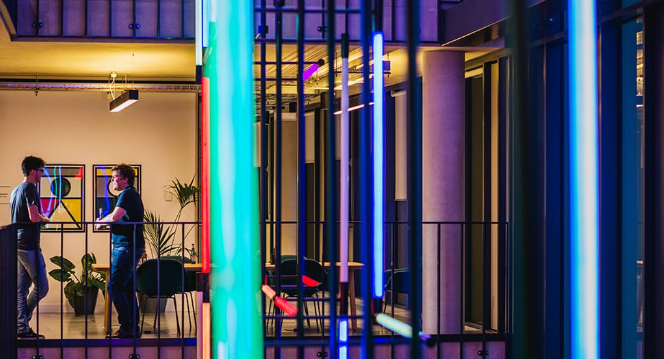 The most critical fact about this coworking place is the CEO used to build up luxury airport lounges, and as a result, you can expect all the amenities and much more, but likely at a higher price.
Central working has a high focus on teams, so expecting a higher price is a genuine point and it provides you with all the relevant support and facilities similar to the ones that you can avail in a serviced office. It facilitates more practical options for established as well as growing startups and small companies). Central working has coworking spaces in the City of London, Bloomsbury, Shoreditch, Paddington, and Farringdon
Location:4 Crown Place, EC2A 4BT
URL: https://centralworking.com

Headspace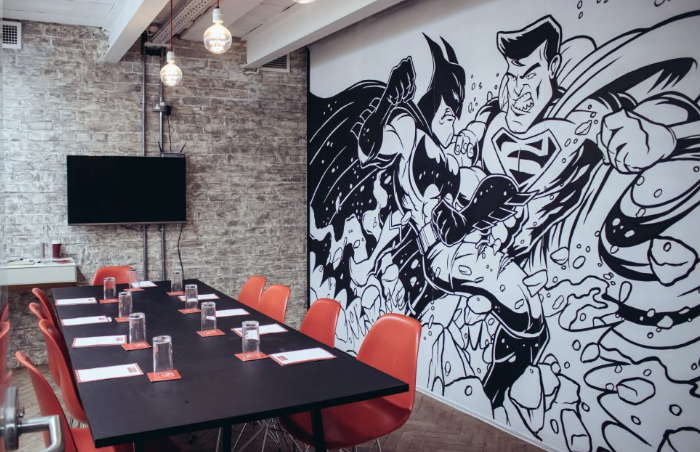 Headspace is well-known as a great place in terms to base yourself at. It includes the facility of epic sound systems, kitchens for tea, coffee and food stuff and free bars. Apart from this, it is also considered as a brilliant workspace along with its unique meeting room setup.
Headspace provides you with a wide range of options such as Co/lab (the cowork option) including 24/7 access, use of all amenities, with an option of dedicated desk and rolling contract.
They also provide you with private office space with 24/7 access, flexible terms, use of all amenities. Apart from this if you are early-stage solo individual without any funding, they can even provide you with a general membership which will give you access to book meeting rooms and attends community areas.
Location: Headspace has locations in Farringdon and Marylebone (19-21 Hatton Garden, EC1N 8BA / 3-6 Kenrick Place, Marylebone, London, W1U 6HD).
URL: https://www.headspacegroup.co.uk

Innovation Warehouse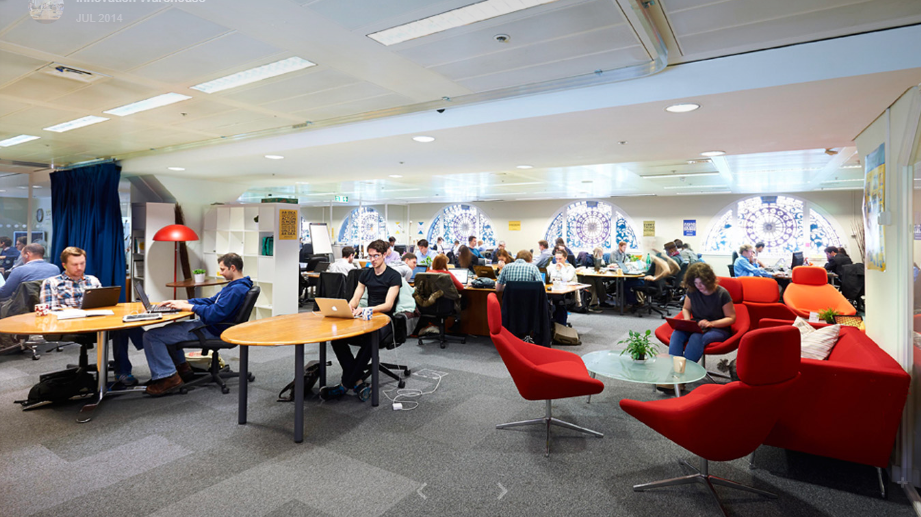 Innovation Warehouse was founded in early 2010, and now it has grown as one of the premier communities for entrepreneurs in London as well as across the country. They have relevant access to a robust network of investors and apart from this it also works with a series of partners including Accelerator Academy, Capital Enterprise and the City of London.
The location in East London provides you with epic facilities.
Hot Desk packages are also available for up to 10 days per month, at discounted prices for meeting rooms are also available, storage and high speed wifi. They also facilitate the semi-permanent Hot Desk option of which you can have access from Monday to Friday from 8 am. Adding on Innovation Warehouse option includes the option of permanent desk area, with 24/7 access, mentorship and investment access/advice, registered address, kitchen access, meeting rooms and much more.
Location: Innovation Warehouse has a single location in the Old Fish Market in Farringdon (1 E Poultry Avenue, London, EC1A 9PT).
URL: https://innovationwarehouse.org

Impact hub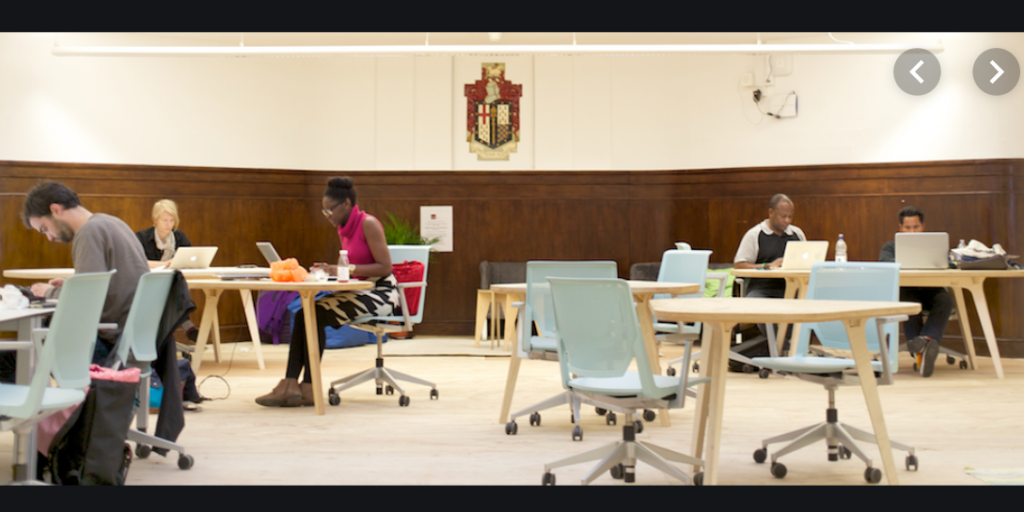 Impact hub has rapidly grown with 11k+ members and have resulted in becoming as one of the largest coworking spaces globally. In London, they have branches over multiple locations, and are highly known for their events along with their next-gen office environments.
People who are already working from this amazing coworking space has given positive responses regarding this workspace. Usually people mention it as a good work space with an additional playful atmosphere. It provides you with pricing as well as membership on desk basis options that may vary from one location to another. Impact Hub have coworking spaces in Islington, Kings Cross, Westminster and Brixton
Location: address for these branches in sequence is 5 Torrens Street, 4th Floor, London, EC1V 1NQ / 34b York Way, King's Cross, London, N1 9AB / 1st Floor New Zealand House, 80 Haymarket, London, SW1Y 4TE / Pop Brixton, 49 Brixton Station Road, London, SW9 8PQ.
URL: https://london.impacthub.net

90 Mainyard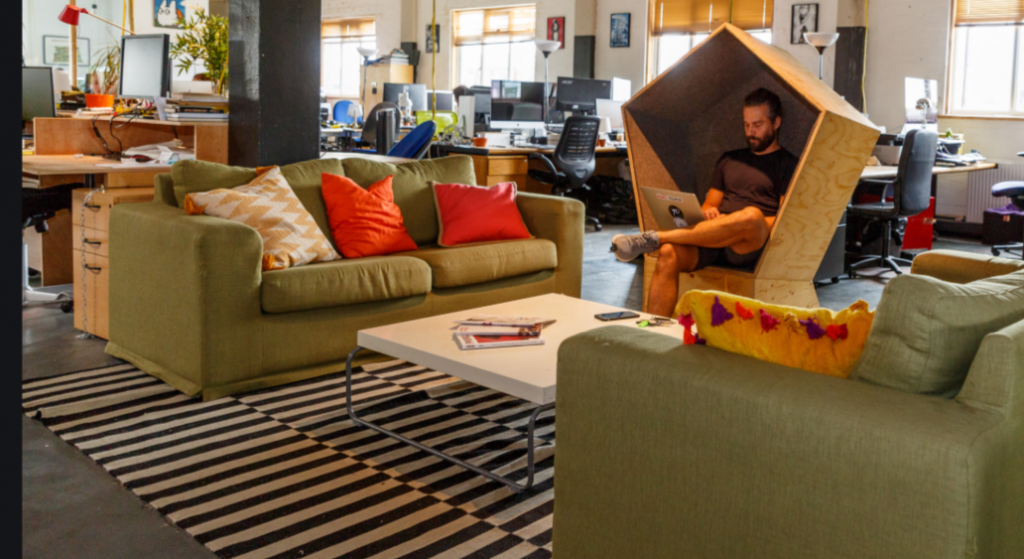 90 Mainyard cowork space is considered to have an excellent atmosphere for working; there is someone always running about. It's an effective open plan coworking space, so if you are someone who likes the hustle and bustle, it's a perfect choice for you.
One of the unique things you will get here is a free trial before actually deciding that you want to go with this workplace or not. 90 Mainyard provides you access to a wonderful atmosphere that is quite excellent for productivity unless you're a person who gets easily distracted. 90 Mainyard provides you with 24-hour access, dedicated desks, free meeting room use and much more.
Location: They have a single coworking space in Hackney Wick, East London (90 Wallis Road, London, E9 5LN)
URL: https://www.coworker.com/united-kingdom/london/90-mainyard

Huckletree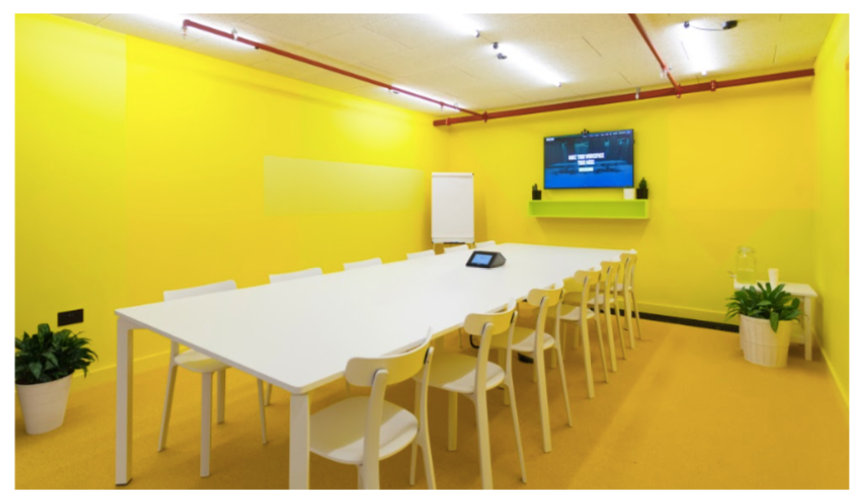 Huckletree cowork space can be seen as a cross between a playground and a working space along with some breakout areas. Well you can also get a lot of random teas. If you need a robust work environment along with being a bit quirkier, this will be a perfect choice for you.
For hot desk, you have the option to pay as you go, Flexible as well as unlimited memberships are available. Adding on you can rent dedicated space, desks along with private offices.
Location: They have coworking spaces in Clerkenwell, Shoreditch and Shepherds Bush, West London (87 Charterhouse Street, Clerkenwell, London / Alphabeta Building, 18 Finsbury Square, London / The MediaWorks Building, White City Place, London).
URL: https://www.huckletree.com
Second Home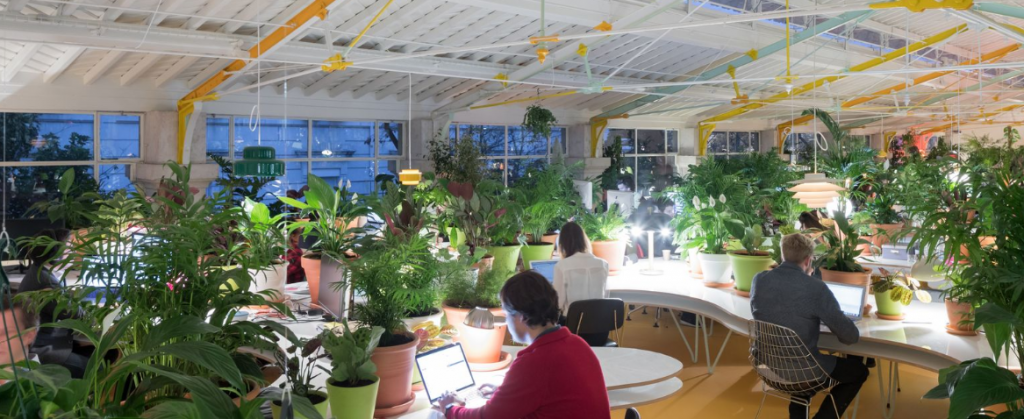 Second Home provides you with the fastest internet than you'll ever find in any other coworking space. It includes effective facilities along with the beautifully designed spaces. One thing which is found to be most exciting about Second Home is they have specific focus on creating a highly curated as well as diverse membership that results in relevant amenities, office environment and conversations. Overall it will probably never let you to get bored.
Location: Second Home have coworking offices in Hackney and Spitalfields (125 – 129 Mare Street, London E8 3SJ / 68 Hanbury Street, London E1 5JL).

URL: https://secondhome.io
Runway East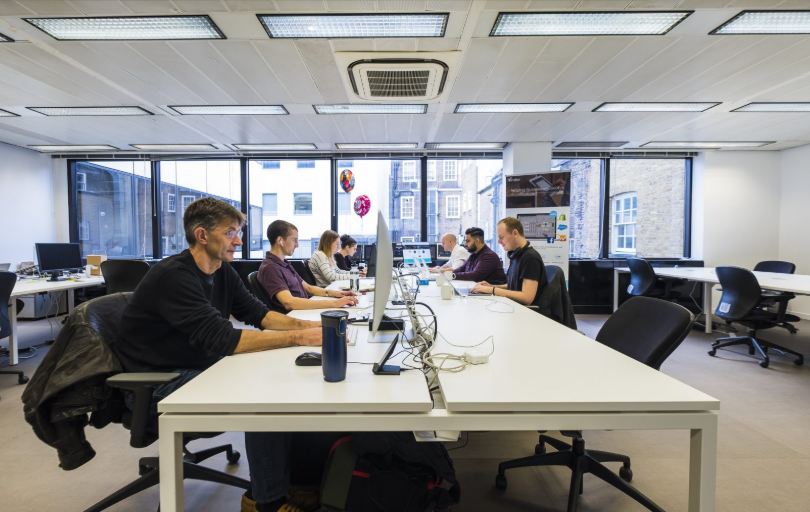 Runway East is well known for its heavily curated membership, and it usually focus on scaling tech companies. Well you can't do comparison for this 13,000 sq ft space which provides seating for 120-person event room. It's a lot more than the required one. It's good for both type of co-worker whether you want to work in a bustling office or you need a quiet space for focus time. So, a lot of people prefer this. They operate on a membership-based fee structure.
Location: Runway East has three locations in East London including Finsbury (Shoreditch adjacent), Old Street and St. Luke's (10 Finsbury Square, London, EC2A 1AF / 58 City Road, London, EC1Y 2AL / 19-23 Featherstone St, London EC1Y 8SL).
URL: https://runwayea.st

Rainmaking Loft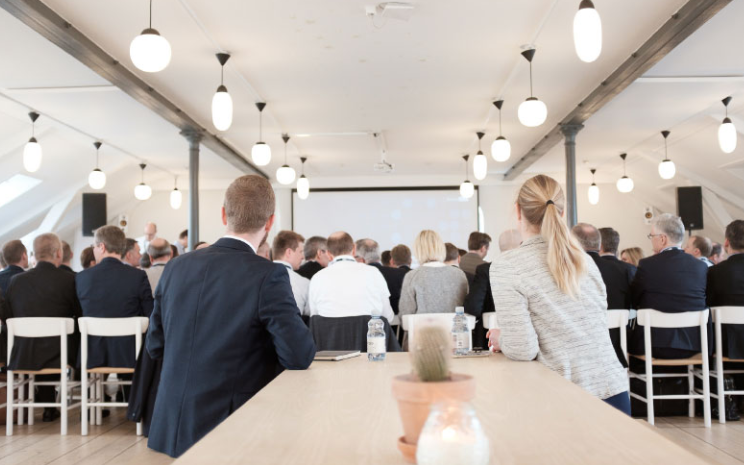 Update on December 28th 2019: Rainmaking Loft's Google Business Page shows permanently closed, please check with the company before visiting.
The Rainmaking loft actually provides you with ground level coworking space, but it's quite pretty and open space along with a few accelerators and VC's in-house. It includes a beautiful view of St Katharine Docks (near Tower Bridge and the Tower of London) and even you will get a decent pub around the corner.
It also facilitates an event space available when needed that can handle almost 150 people at a time. They provide you with a standard membership package for a fixed desk. Adding on it have six meeting rooms access, eight skype pods, breakout areas, shower rooms, bike storage and much more.
Location: Rainmaking loft is based at International House, 1 St Katharine's Way, London, E1W 1UN.
URL: https://www.sharedesk.net/spaces/view/5658/rainmaking-loft/

Ministry of Startups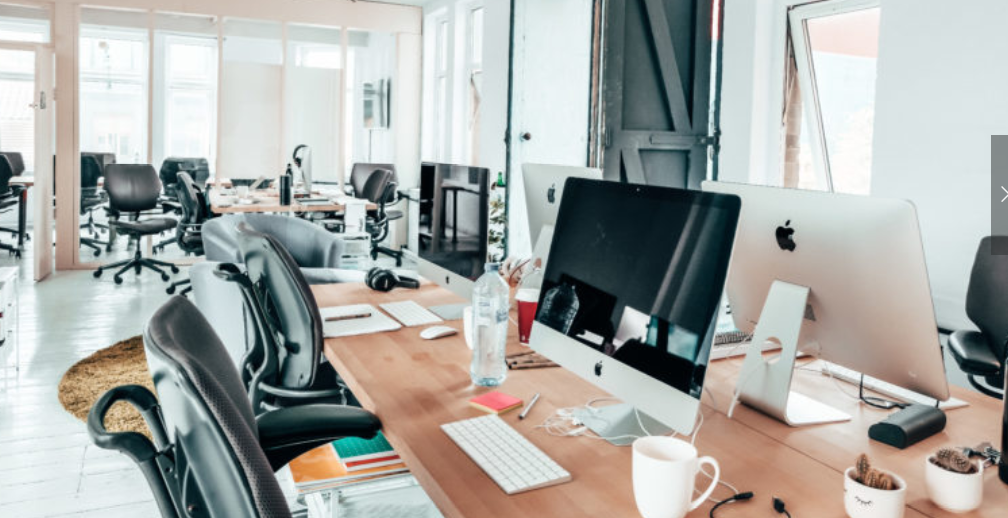 Ministry of startups is considered as one of the best spaces all round that y, maybe you can find. It is known for its cutting-edge workspace when it comes about the facilities, good community, and the pricing for this coworking space is unbelievably cheap. It can be seen as a perfect coworking space for a startup or a lean scaling company!
They provide you with the facility of both private office spaces and coworking options that can be beyond competition for East London.
Location: Ministry of Startups has three coworking spaces located in Spitalfields and Hackney (4 Elder Street, London, E1 6BT / 17 Blossom St, London E1 6PL / 14-22 Elder Street, London E1 6BT).
URL: https://ministryofstartups.com
Launch 22
Launch 22 has is seen as a fresh cowork space that to at a very reasonable price. It provides you with a functional space, solutions and community will is highly efficient for your work. They have even added the option for fixed desk in terms to establish businesses towards certain high levels. They offer facilities such as great coffee, kitchen, printing, chill out space, beer and free WiFi along with a shower block.
Location: Launch22 have locations in Kings Cross and Poplar (31a Corsham Street, London, N1 6DR / 12-14 Vesey Path, London, E14 6BT).
URL: https://www.launch22.co.uk
Sohoworks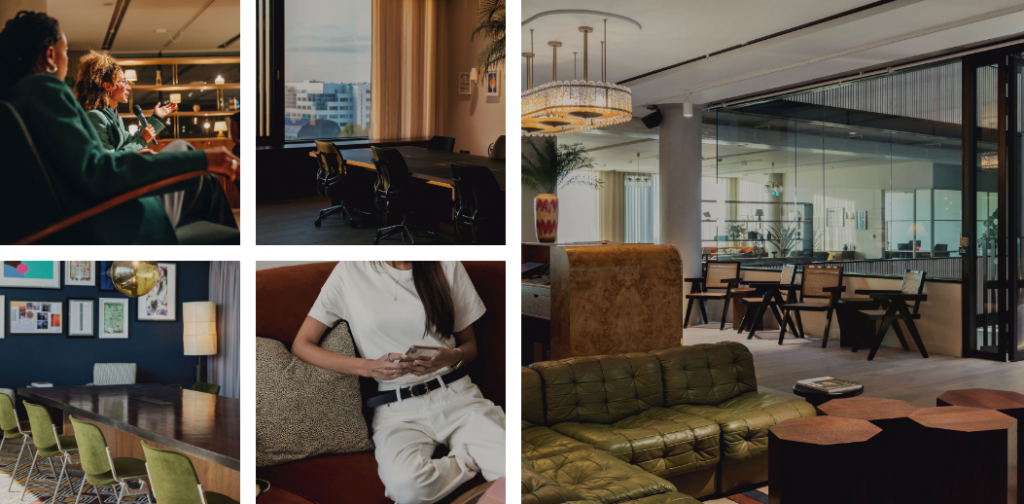 Sohoworks coworking space is based in Shoreditch, Soho works is built in an area of 16,000ft and are mainly focused towards startups and individuals which mainly belongs from a creative industry.
It provides you with a great selection of services such as tech support, postal address options, decent meeting rooms, phone booths, events and more. The one thing which is mostly liked about this place is that you can buy meal packages on a monthly basis, so you don't have to carry food for yourself. They facilitate you with hot desk memberships, desk shares, secure small business offices, night time hot desk and day hot desk options.
Location: Sohoworks is in Shoreditch, the heart of East London (UNIT 4.07, 4th floor, The Tea Building, 56 Shoreditch High Street, London E1 6JJ).
URL: https://sohoworks.com

Techhub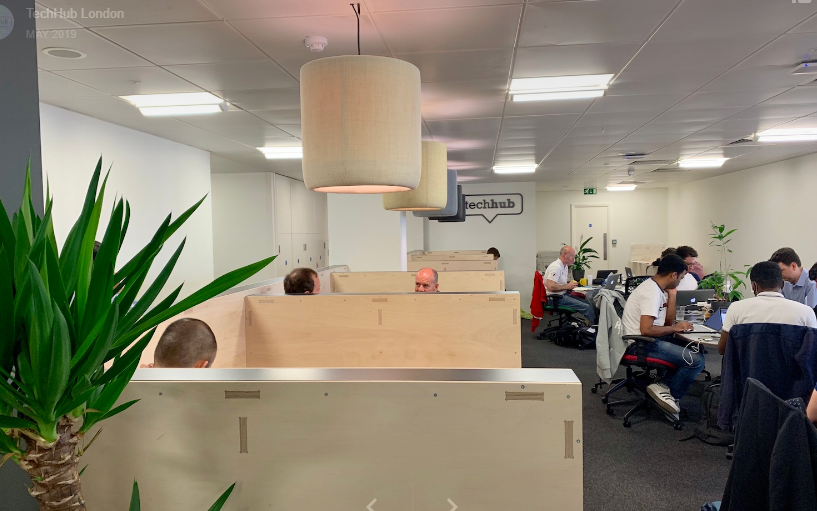 TechHub is known to be the best-known coworking spaces especially for early-stage companies, and apart from this it pretty cool coworking space with some decent facilities that you might require to work. It can be seen as a well thought out as well as well-priced place for working in the middle of London's startup hub.
Location: TechHub is based in Old Street (1-15 Clere St
London EC2A 4UY).
URL: https://london.techhub.com
The Hatch
Their homepage says it all that Hatch is specifically designed for the scaling startups. This space is seen as a pretty competitive to most of the people and it provides you with all required facilities. It has a very focused audience demo which results in an active as well as relevant community which help you and your organization in the growing time.
Location: The Hatch is based in Spitalfields (37 Heneage St, London E1 5LJ, UK).
URL: https://thehatch-london.com
Tobacco Dock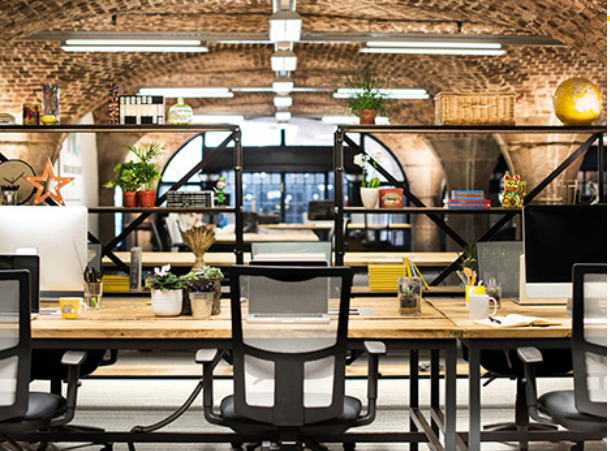 Tobacco Dock can be considered as a pretty awesome as well as a historic place for working. It is a little outside from the usual startup zone, and is closer to the bankers in Canary Wharf than you may like, but it's an amazing community which provides you with a great work environment.
Adding on they provide you a range of hot desk, work station, private office and meeting room options and you can even avail the facilities of membership.
Location: Tobacco dock has coworking offices in Whitechapel (The Dock, Tobacco Quay, Wapping Lane, London, E1W 2SF).

URL: https://www.tobaccodocklondon.com/workspaces/
The Trampery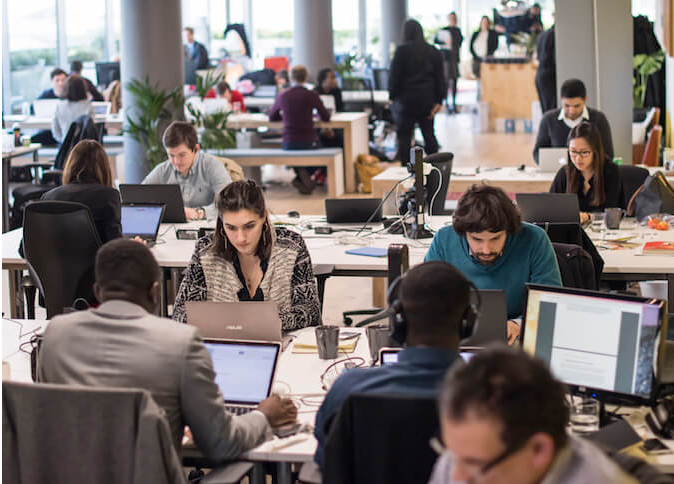 The Trampery is one of the older coworking spaces which was established in 2009. It was built as a social enterprise having a focus on fostering/housing technology as well as creative companies. They have four branches across London including Traveltech. It provides you with multiple event spaces of different seating facilities.
They organize various internal events, so if you are seeking to integrate into the community which is fast and provides you never leave the office, it seems to be a pretty good choice. Apart from this they offer flats if you are planning to live near to the office space and always in an entrepreneurial hub.
Location: The Trampery have three coworking space locations in Shoreditch and Hackney Wick (239 Old Street, London, EC1V 9EY / 60 Dace Road, London E3 2NQ / 13-19 Bevenden St, London N1 6AA).

Timberyard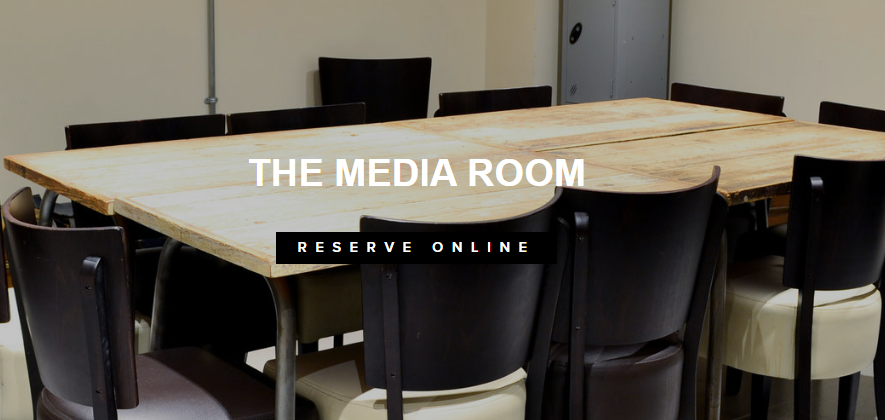 Timberyard cowork space is located at three locations across London with some epic coffee selection. They provide you with 24/7 workspace, so you can come in day to day manner. The initial aim is to provide an upgraded coffee shop along with meetings and work option.
It's perfect working space if you're visiting London, for meeting purpose or for getting the team out for a day. You can easily book a mix of private and public spaces.
Location: Timberyard has locations in Tottenham Court Road, Covent Garden and Bethnal Green (4 Noel Street, London, W1F 8GB / 7 Upper St Martin's Lane, London, WC2H 9DL / 2-10 Bethnal Green Rd, London, E1 6GY).
URL: https://www.tyuk.com
WeWork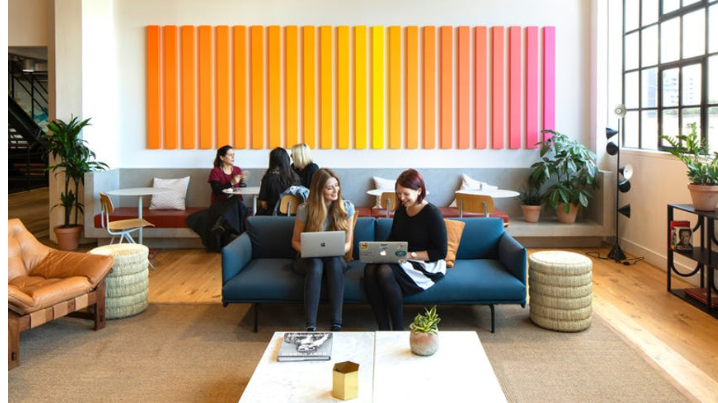 WeWork has access to 50,000 members, at various locations and with the options for hot desk, dedicated desks and private offices. WeWork offers you the service of pretty flexible working hours and good coworking environment across the various locations. As a co-worker, here you'll get access to workspaces, conference rooms, intranet, partner and other internal discounts along with the weekly events.
Location: WeWork has 48 different locations in London with specific pricing for each (use the link above to check for spots and specific details).
URL: https://www.wework.com/en-GB/l/london

Work Hubs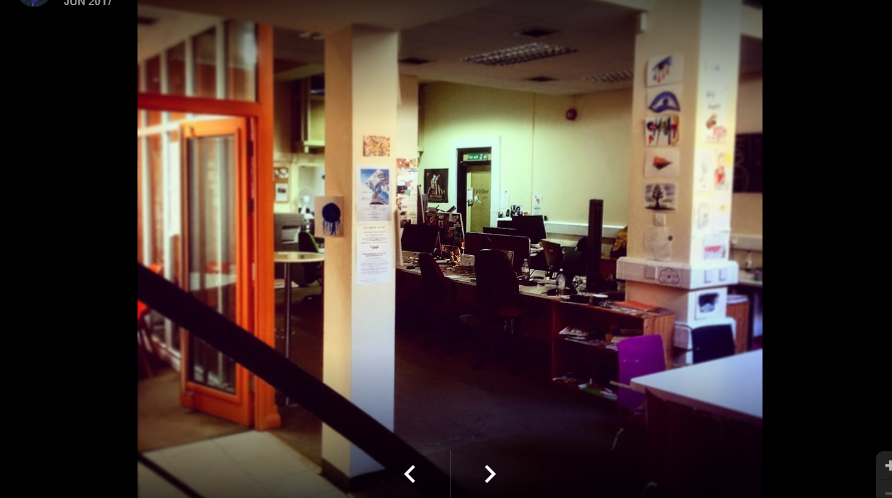 Work Hubs is seen as an excellent blend between a unique coffee shop and decent workspace. It is a combination of coffee shop and a coworking space. Apart from this you will have access to the Broadband connection a high speed one, tea and coffee are free. Additionally, there is a developed community within the hub.
They provide you with daily and monthly packages, and is highly flexible. They offer you a wide range of memberships which includes starter passes; day passes, community passes and full-time membership.
Location: Work Hubs are based at 105a Euston Street, London NW1 2EW.
URL: Not Available