Content Marketing Consultant – What do they actually do and are they worth hiring? Let's look at some questions you might have before hiring a content marketing consultant.
Ever since I left my full time job, I have been working as a content marketing consultant and digital marketing consultant for few clients.
Little bit background about me:
I'm an aircraft maintenance engineer by qualification but started working as a content writer, then an Editor, then a marketing communications specialist, then a digital marketing professional at a start-up accelerator & Head of Digital Marketing for 300-employee company.
My LinkedIn Profile
At the start-up accelerator, my job was to scale start-ups as fast as possible through a mix of performance and content marketing and safe to say, I was pretty good at it.
For the media startup, few of my articles went viral bringing in more than 300,000 visitors in a day and it was fun.
In fact, I even started a couple of media companies one of which raised funding and later, I got squeezed out of the company because the owners of the startup accelerator wanted to showcase "better qualified" founders to investors to raise more money.
I quit and then joined as Head of Marketing for a fairly large company where I was handling B2B digital marketing including content marketing.
I left my job on April 15, 2020 and have been running this website on the side and I'm seeing good results.
I do get a lot of requests for consulting, but these days I am trying to pick only projects that really interests me and content marketing is something I have always loved.
For example, I have a client who is into Automobile video reviews. This is the results I have been able to give him in the last 90 days.
Views: 2.1 Million (Increase of 187%)
Watch Time: 114.5K (Increase of 167%)
Subscribers: 46.2K (Increase of 373%)
This client is great to work with, whatever suggestions I give is readily implemented and most importantly he has the patience and a good temperament to experiment.
This post will be about everything you need to know about hiring a content marketing consultant for your company whether it be a start-up, small/midsize company or even a large company.  
What is content marketing?
Content Marketing is a form of digital marketing in which the business creates valuable, consistent and relevant content and then market it across the web to drive traffic or eyeballs for the business.  
Does this mean that you just do some keyword research, write articles and keep publishing it?
Unfortunately no!
Content marketing takes time, effort and patience and it requires someone (or a team) with experience and capability to understand your business, understand your audience and know how to create and distribute content at scale that eventually gets the results you want.
What type of content is used in content marketing?
Some people have a notion that content marketing only means text content.
While text content is an important aspect, there are other types of content that a content marketer will use.
I will list down some of the types of content that I typically use in my client's content marketing efforts.
Text based content
Text content for guest posts
eBooks (PDFs or shareable format)
Videos
Podcasts
Emails
Infographics
Webinar Content
Virtual Event Decks
Slides
Landing Page content for improved conversion
Social Media (Image, Video & Articles designed for shares)
Benefits of Content Marketing
I've worked at some traditional businesses who were primarily driving revenues from offline sources and when I introduce the concept of content marketing, I get asked a lot about what are the benefits of content marketing?
When you look at the list of types of content I typically use for content marketing, the natural question that might pop into your mind is, is it all worth it?
I'll try to explain what are the benefits of content marketing so that you can understand whether it is actually beneficial for your business.
Higher Search Engine Rankings
The first benefit of a well-thought out and executed content marketing plan is that you will rank higher in search engine rankings.
Google, Bing and even DuckDuckGo Search engines like to rank high-quality, authority content higher than some random blog with only 500 words.
For example, if you search for coworking space in Vancouver you will find that Easycowork is right up there.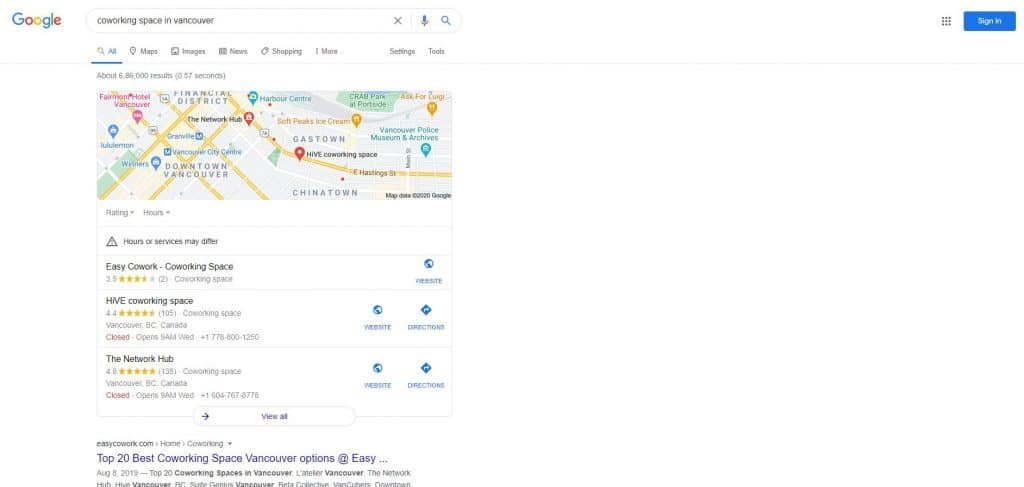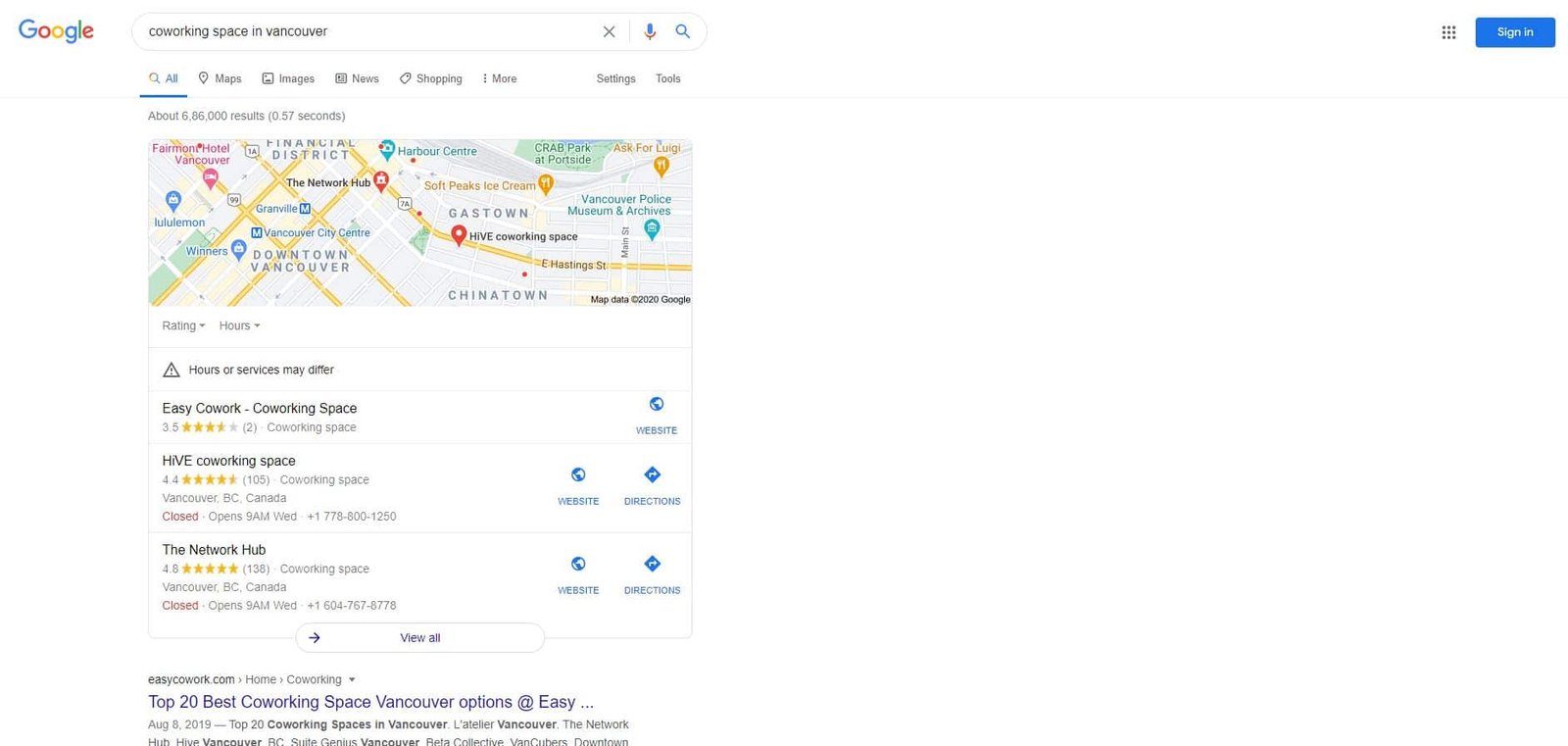 The same is the case for terms such as
Coworking space in Bangalore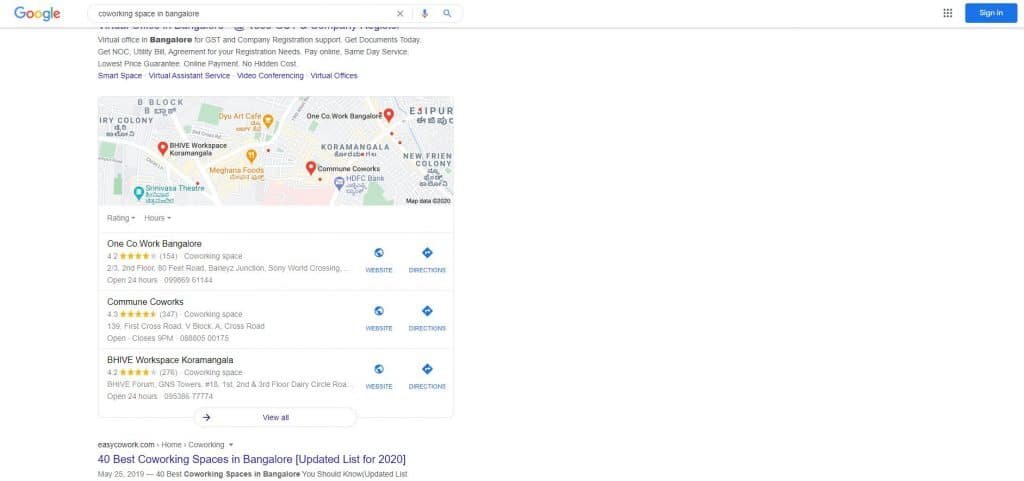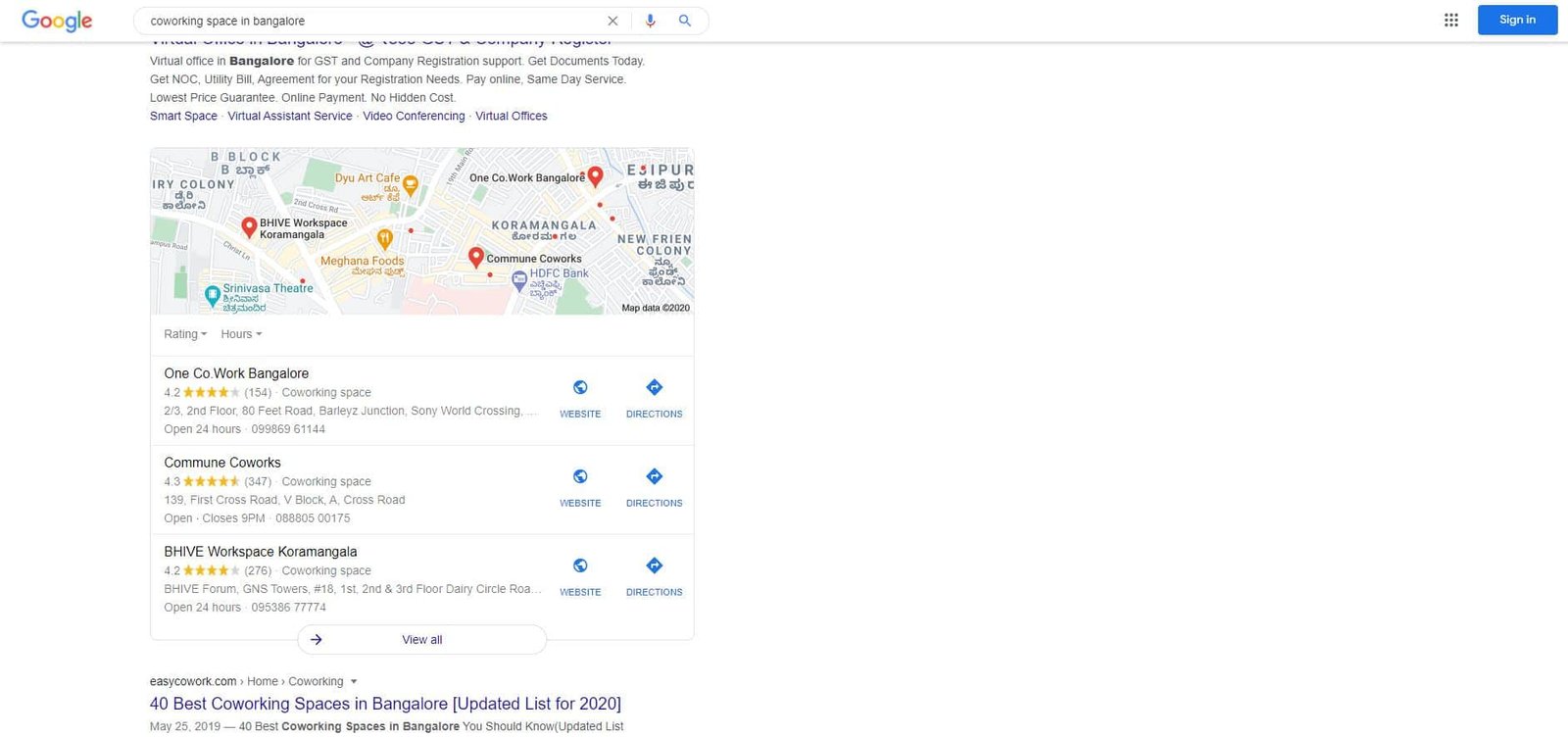 Coworking Space in Chennai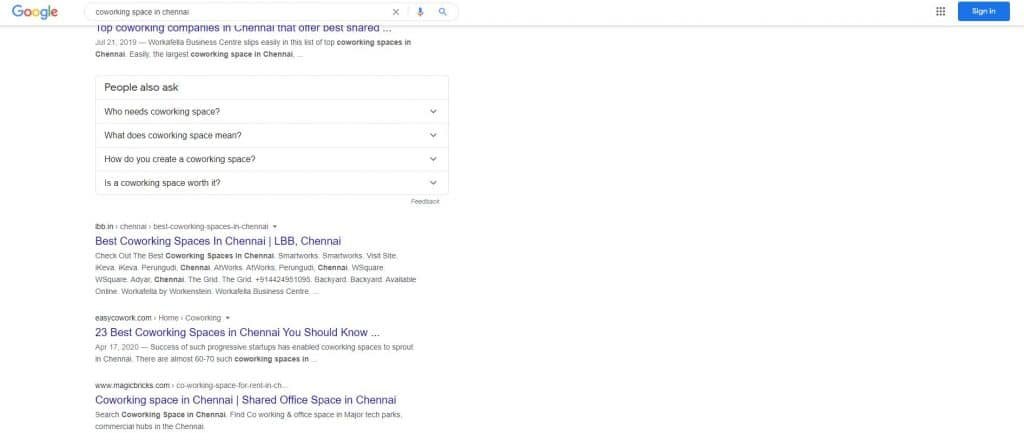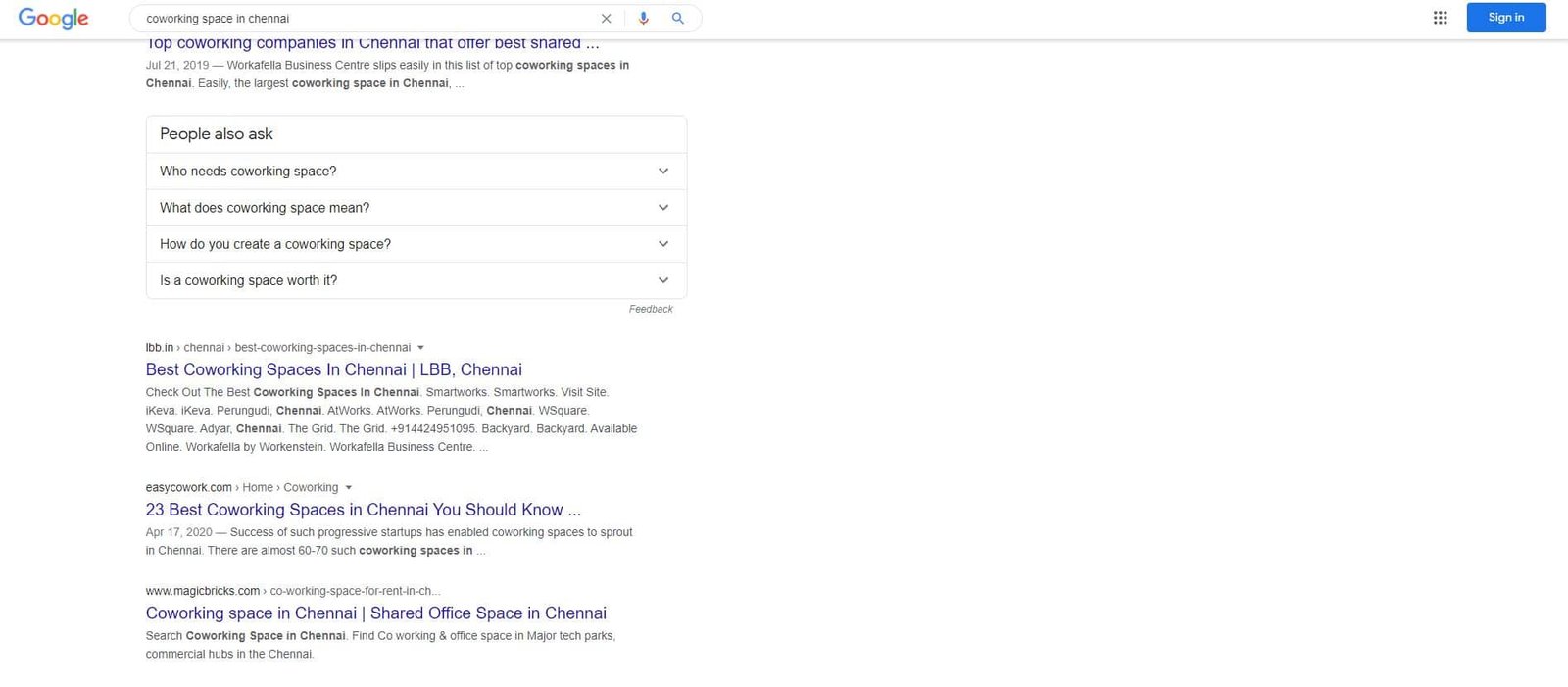 The reason why this website ranks for almost all coworking related terms is because I have put in effort over a consistent period of time to rank for these search terms.
Also if you search for "How to Earn Money from Facebook" or "Business Ideas for Housewives", you will find Easycowork at the very top results because I developed good quality content and put in the efforts to rank for these keywords.
With unique, useful and authoritative content, your website will rank for relevant search terms and once you have the traffic, you can put lead capture elements on your website and then put them on an automated drip email marketing system to generate revenue.
It might sound complicated at first, but it is easier for someone who has done it before–that is where a content marketing consultant will save you time and effort.
Increase in Revenue
Your content marketing efforts will automatically increase your sales and revenue over a period of time.
This increase in revenue will not be sudden but like I mentioned before when you get more targeted traffic, your top of the funnel leads increase resulting in higher chances of conversion.
For Easycowork, we get many leads for coworking space requirements in a day across cities and we service these clients.
You need to remember that these are pure B2B leads and generating B2B leads is hard and expensive and we do it consistently.
Once these leads enter our system, we try to offer our auxiliary services such as SEO/ content marketing to help these clients improve their revenue.
Its a win-win for both of us.   
Establish Trust and Authority
If there is anything that all my years of digital marketing has taught me is that content marketing establishes trust and authority for businesses who are willing to put in time and effort for the cause.
When you audience finds relevant, authoritative content, the brand is able to establish trust which results in better quality leads and conversion.
For example, my post on Advantages, Disadvantages of coworking is around 20,000 words and is the most authoritative content on coworking on the web.
I can safely assure you that no coworking space has put so much effort in putting together a guide that educates our audience on coworking and that is the reason why Easycowork ranks above biggies like WeWork and even gets very high quality leads consistently.
Pull-Marketing
I worked for years in performance marketing where my goal was to push out our marketing message to the maximum number of people at the lowest possible cost.
Most well-funded startups work this way because push-marketing is easy and you can start right now if you have the budget.
The problem with push-based marketing is that its expensive and also annoying for your audience–its like that pesky tele-caller who will not leave you along without making a sale even when you have no interest in talking to him.
Performance Marketing (Push Marketing) is like a drug, once you are on it, its hard to get off.
Enter content marketing–which is a pull-marketing which pulls the right audience to your funnel and converts these leads using trust which makes the sales process easier and have better chances of referring other customers.
Better Brand Recall
After planning and executing content marketing for many companies including startups and larger organizations I have seen that content marketing has a better brand recall than other forms of digital marketing.
I would attribute this recall to the "pull" aspect of content marketing because when people are not looking for an ad or their viewing experience is interrupted, then they start to forget the brand and even have a dislike towards the brand.
HubSpot is one of the best content marketing companies out there and they product content on just about anything in the world. The reason? To sell their CRM.  
Discover New Product Offerings
Another benefit of content marketing is that you can introduce your customers to new products or services that you are launching.
Also, I have seen that when traffic comes to your website through content marketing, the audience also seems to explore some of your other products which tends to increase chances of up-sell/cross-sell.  
For example, this website started with information purely about coworking but now we write about how to make money, best ways to generate B2B leads and even reviews on financial products for businesses.
Long Term Benefits
Content marketing is not easy.
It takes hours of planning, execution and even time to start seeing results. But the good thing is that once done correctly, your content marketing efforts will give you long term benefits and it will take time for your competition to outrank you, capture your traffic or even build authority.
If you like to think long term, then content marketing is the way to go.
If you want short term results, you can look at performance marketing.  
Who is a content marketing consultant?
I could be an example of a content marketing consultant.
Companies hire me to be a content marketing consultant in various capacities.
My role as a content marketing consultant varies from giving advice to internal teams on how to create a content strategy, how to create in-depth content, how to fine tune a content calendar and how to promote content once it's published.
A typical content marketing consultant will do some parts mentioned above or even all of it.
For a couple of companies, I work as a content marketing consultant owning their entire content marketing piece from strategy, to content creation to even promotion.
My team takes care of all the nitty gritties including keyword research, competition research, guest posting, blogger outreach and similar activities.
Depending on the bandwidth of the content marketing consultant you plan to hire, you can check what the consultant will be helping you with.
Most of my clients have content writers as employees so they create content based on my guidance and their internal teams do the distribution too.
What does content marketing consultant do
Like I mentioned above I work as a content marketing consultant and for different clients, I do different aspects of content marketing. I can classify them as below:
Content Marketing Strategy
Content Calendar Planning
Keyword Research
Competition Analysis
Traffic & Revenue Estimations
Content Development
Content Distribution (Paid & Organic)
Content Optimization (SEO)
Updating/ Improving Content
Monitoring Keyword Movements
Content Marketing Planning & Execution 
In digital marketing, there are two aspects to any campaign and content marketing is no different. 
They are:
Planning 
Execution 
I will take you a little deeper into these aspects so that you understand content marketing planning and content marketing execution. 
Content Marketing Planning
Having handled content marketing for many clients, this is the general outline of my content marketing plan. 
Depending on the clients business, traffic stats, team size, I tend to fine tune some aspects of the content marketing plan to suit the business. 
Note: This is how we plan and execute content marketing for our clients, your approach might be different.
Understand the business/ audience 
The first and most important step is to understand the business & audience to identify the potential for content marketing in the business.
Defining key objectives or goals
Most of my clients have very similar objectives such as increase traffic, increase top of the funnel leads and increase revenue. We try to define these key objectives and map these goals to timelines to ensure we are on track.
Identifying customer personas & target audience overlaps
In any business, there are different customer personas and content marketing for a niche is sometimes challenging. We try to map customer personas and identify target audience overlaps to increase the reach of content marketing while still staying relevant.
Understanding typical sales cycle & planning content for various stages in sales cycle
B2B businesses have different sales cycles and content marketing at different stages require a different approach.
When I was working in the coworking company, our typical sales cycle used to be between 30-45 days.
Our content marketing plan would be spread over the sales cycle and we identify where the drop off is happening the most and then try to fill that gap.
Competition analysis: Current competitors, keywords, estimating competitor traffic
Content marketing takes time and it is vital for you to identify your competitors, keywords they are targetting and estimate the time it will take to out rank the competition.
This estimation is also required for content planning, promotions and even budget approvals.
Analyzing competitor media and choosing the right channel for your business 
Every business is different and the best place to start identifying the right digital channel is by understanding what your competitors are doing.
You do not want to be wasting tons of time creating videos when your audience is actually more inclined to download a PDF or consume content via articles or infographics.
Developing value proposition & brand personality to be integrated with content 
When we start working with any client for content marketing consulting, we try to understand what is thier value proposition and what the brand actually stands for.
This information is critical in creating the content plan that seems like a natural progression for the brand.
Defining KPIs (Key Performance Indicators) & Estimates 
Next we move on to KPIs such as traffic, bounce rate, sessions, lead capture, leads to sale percentage etc. We base this on past numbers so that our estimates will be as close to reality as possible.
Identifying & Planning the Overall Content Strategy
Next comes identifying and planning the over all content strategy which includes how many artcles/ posts are required, how many will be written in-house, how many will be outsourced, where these content will be distributed organically etc.
Technical Audit: Analytics, Site Errors, Lead Capture, Events etc. 
Many times I have seen that my clients' websites need a technical audit to ensure things are working well.
This is because sometimes there are discrepencies in Analytics or events that need to be corrected before scaling traffic and leads.
Search Engine Optimization: Current Status & Plan
We also look at Search Engine Optimization in terms of what has been done and if there an internal team or an external agency that is currently doing SEO and how our content marketing plan will fit seamlessly into this.
Identifying & Optimizing Lead capture
Havinga ton of traffic without any leads is of no use. We identify and optimize lead capture so that we can increase top of the funnel leads and these leads are nutured the right way towards final sales.
Setting Up Lead nurturing Process across different sales stages  
Once the lead capture process is effective and working, we move towards lead nuturing process and we create different drip marketing plans for leads at different sales stages.
In one the companies I worked, we had a lead nuturing that was infinte unless the lead opted out and we have seen leads converting even after a year.
Planning & streamlining multi-channel content marketing
Today's audiences are as different as businesses and it is essential to plan and streamline multi-channel content marketing for maximum results. Some segments of your audience might like text, video or social media.
We try to formulate a content marketing strategy where we are multi-channel and we can drive audience across channels to different pieces of content.
Content Marketing Execution 
Once I have prepared my content marketing plan, I discuss with my client and then figure out how to execute the plan with whatever resources are available. 
Content Marketing Execution includes
Research Keywords, Topics & Social Media Interests
Once, I get the go ahead from the client, we do research on keywords, topics and social media interests.
We have tools for keyword research, identifying trending topics and then we map it with social media interests to find out if the piece of content will work across categories.
Sometimes some topics will be super trending in social media but will not have much search volume so we drop the idea–unless the client really wants it.
My goal is to identify content topics that have maximum leverage in the long run and can become a lead generating machine over a period of time.
Auditing Existing Content & Mapping with Current Digital Marketing Strategies 
Lot of times, I have found that my clients already have a repository of good content that just needs some fine tuning.
I audit thier existing content and try to use this existing content and map with the new digital marketing strategies for better results.
This is always better than starting from scratch.
Editing Existing Content to Suit Business Requirements 
Once existing content has been audited and deemed fit for the new content/ digital marketing strategy, we assign "Editing" to internal/ external teams.
Developing draft versions of Long Form content such as Ebooks, Articles, SlideShares & Infographics. 
Long form content such as eBooks, articles and infographics take time to develop unless you work with subject matter experts.
When I was working in an elearning company, I developed an ebook called How to Crack PMP in 45 Days.
I was able to write the entire book in 2 days because I was trained in PMP and I am certified in PRINCE2 & Six Sigma so translating what I learnt in experience to an ebook was easier.
This book was then later published in one of their trainer's names.
Assigning work for internal or external teams
After I have figured out what kind of content to be developed, I assign the work for internal or external teams depending on bandwidth and internal team capability.
In my experience it is always better to have in-house writers develop the content rather than outsourcing because they tend to understand the business better.
Setting Deadlines 
A no brainer, setting deadlines for different stages of content development so that promotions also happen seamlessly.
Fixing all On Page SEO issues 
Before going full on content marketing all website on page SEO issues should be fixed and we try to do this on priority.
This includes having all meta on different pages, finalizing the URL structure, fixing load time etc.
Testing Analytics & Events on Site 
For many of my clients, people who set up Analytics, events and triggers move from the company and many a times these are not configured properly. We fix these as well.
Optimizing website for maximum lead capture 
No amount of traffic is useful unless you are capturing leads and nudging them towards final sales. We try to optimize the website for maximum lead capture without being obtrusive or annoying.
Designing and implementing basic drip email marketing 
For the e-learning company that I worked with, drip email marketing was generating $100,000 in revenue every month.
When we started drip email marketing for this company, we never had the slightest idea drip emails would be this powerful.
One of the reasons why drip email was successful was because of the complex and value-led approach of emails which even cold leads reponded to.
Backlink audit for competitors & automating outreach
We audit the number of backlinks each competitor has and automate the out reach to get most valuable backlinks that will help our clients' SEO.
Check progress using analytics and plan next steps
We create reports using analytics and plan our next steps based on progress. If progress is slow, we try to understand roadblocks and then work towards fast tracking activities that will get us results at the earliest.
Weekly review of tasks and optimization 
We review the progress of work every week, including completed tasks, pending tasks, optimizations and what can be done better.
Content marketing consultant fees
Content marketing consultant fees vary depending on the complexity of each project and the kind of involvement requirement from your content marketing consultant.
Top content marketing consultants in the industry charge anywhere between $5000-10,000 and to be frank I think that is kind of excessive (unless you are business that can afford it).
I have had calls with many small and medium businesses who want to try content marketing but they are unable to afford the fees because content marketing takes time and their marketing budgets just do not allow that much leeway.
I charge somewhere between $1500-$2000 as a content marketing consultant because I feel this is an affordable cost and something that will not put a dent in my client's marketing budget
Frequently Asked Questions on Content Marketing
What is the value of content marketing?
So if you ask me what the value of content marketing is, I would say all of the above benefits of content marketing I covered above.
In a nutshell, it is organic traffic, better quality leads, more revenue and an edge over your competition.
Does content marketing actually work?
Short Answer Yes! But it takes time, effort and expertise. It takes time to plan, execute and optimize your content marketing campaigns–it's not as simple as publishing a few articles and hoping that it will work.
How long does content marketing take to work?
Depends on competition. In 2020, most industries in the digital landscape are competitive. Depending on competition, I tell my clients that it can take anywhere between 3-6 months to start seeing results and they need to be patient during this time.
As a business if you want instant results, go for performance marketing.
 Things to check before hiring content marketing consultant
In this section, I am going to list the things you need to check before hiring a content marketing consultant. 
This is from my experience outsourcing my content marketing requirements to an external agency (when I was working full time) and what I typically tell friends who are looking to hire a content marketing consultant. 
Experience 
The single most important factor to consider before hiring a content marketing consultant is experience.
Check whether the content marketing consultant you are looking to hire has experience in content and whether he/she has proven experience of increasing traffic, increasing revenue and if they have a personal website. 
In digital marketing, it is very easy to bluff about revenue numbers because once someone moves out of a company, your access for their properties is revoked and they can say the same excuse. 
When I look to hire any digital marketing or content marketing consultant, I look at their current portfolio and how I can verify these results. 
Is Good At Writing 
I always tell my juniors that a good digital marketer has to be a good writer.
Similarly, a good content marketing consultant has to be a good writer to know the difference between good and bad content. 
If your content marketing consultant is average at writing, how can you be sure this person will push your content to get organic results? 
Well-versed with SEO 
Good understanding of SEO is the foundation of content marketing and your content marketing consultant also has to be an SEO professional who understands various aspects of on-page/off-page SEO as well as latest Google algorithm updates.
You can ask your consultant how he/she plans to do SEO once the content is developed and you can figure out how good they are. 
Estimations 
A good content marketing consultant will be able to give you realistic estimations on traffic and how much your website can grow in terms of traffic and revenue looking at the current stats, keyword volume and competition.
Ideally, your content marketing consultant will be a realistic figure and not some random traffic number pulled out of thin air. 
Personal Blog / Website 
Most content marketing specialists will have a personal blog or a website that they would be maintaining.
Like I said, content marketing specialists are usually good writers who always have the itch to write and that usually results in a blog or a website. 
Content marketing consultant for small business
I'm a content marketing consultant and I work with many small businesses.
Currently, I am working with a startup that is into organic farming, trying to sell their produce to customers. 
Also, I am working with a Canadian client who is building an ecommerce marketplace for refurbished products. 
Lastly, I also work with a YouTube channel to grow and monetize the channel to a level of self sustaining. 
I have experience working with large companies and Series C funded companies where my goal was "hockey-stick" growth and this was to raise the next round of funding and nothing else. 
But, personally, I love working with smaller clients because these are people I can relate to. 
When hiring a content marketing consultant for your small business, ensure that you do not burn a lot of money and that this consultant is able to generate revenue for your business. 
Content marketing for a small business is a whole different ball game as you do not have big teams, huge budgets for promotions/backlinks and it's about working smartly and getting results that drive revenue.  
If you are a small/medium business, I'd love to hear your stories on how you got started, where you are currently at and if at all I can help you grow it. 
Is Content Marketing Right for Your Business?  
I'll be honest with you, content marketing is not for everyone. 
It is ideal for businesses that want to think long term and actually understand the value of content marketing. 
If you are a business that has plans that change very rapidly every quarter, content marketing is probably not best for you. 
Content Marketing is Great Fit for businesses: 
That has a long term plan 
That believes "search" traffic is more valuable than social media 
That is willing to put in the effort to produce valuable content for free 
Wants to educate their customers before pushing for sales
That believe the business has an edge over competition in terms of understanding the domain
Content Marketing might be not fit for businesses: 
That want very quick results 
That wants ROI from investments in Content Marketing from Day One 
Needs Virality on social media 
Does not believe in long term planning 
Can wait 90 days to start seeing results
I think I have covered almost everything about what you can expect from a content marketing consultant.
If you need help kick starting content marketing for your business, do let me know using the form below.
Talk to you soon,
Anoob