Last Updated on 2 years by Anoob P
Want to know how to earn money online? I think I can help. 
After all, I spent about 12 years working as a digital marketer for numerous companies including several Series C funded startups. 
This is my LinkedIn profile. 
My LinkedIn Profile
After working full-time for more than 12 years, I switched to working for myself and trying to earn a living online.
If you are interested in the whole concept of making money online, you can check out some of my other posts including 10 Easy Ways to Earn Money Online without Investment, How to Earn Money from YouTube, how to earn money from Facebook and how to start a blog and make money.
I have also written a detailed post on How to Start an Online Business That Changes Your Life, How to Live a Simple Life And Be Happy–you can read it if you are interested.
I recently helped a client of mine generate $1000 in income from his YouTube channel that was not making any money and even you can do the same.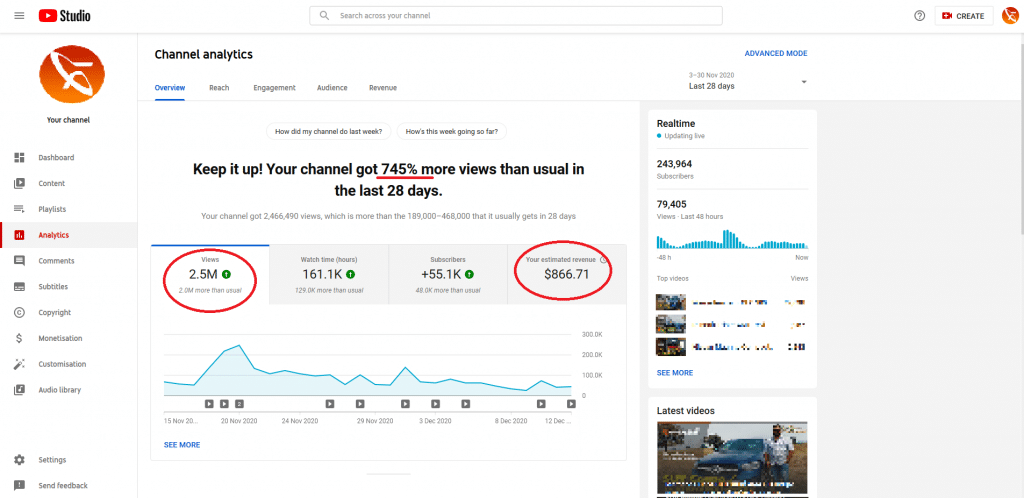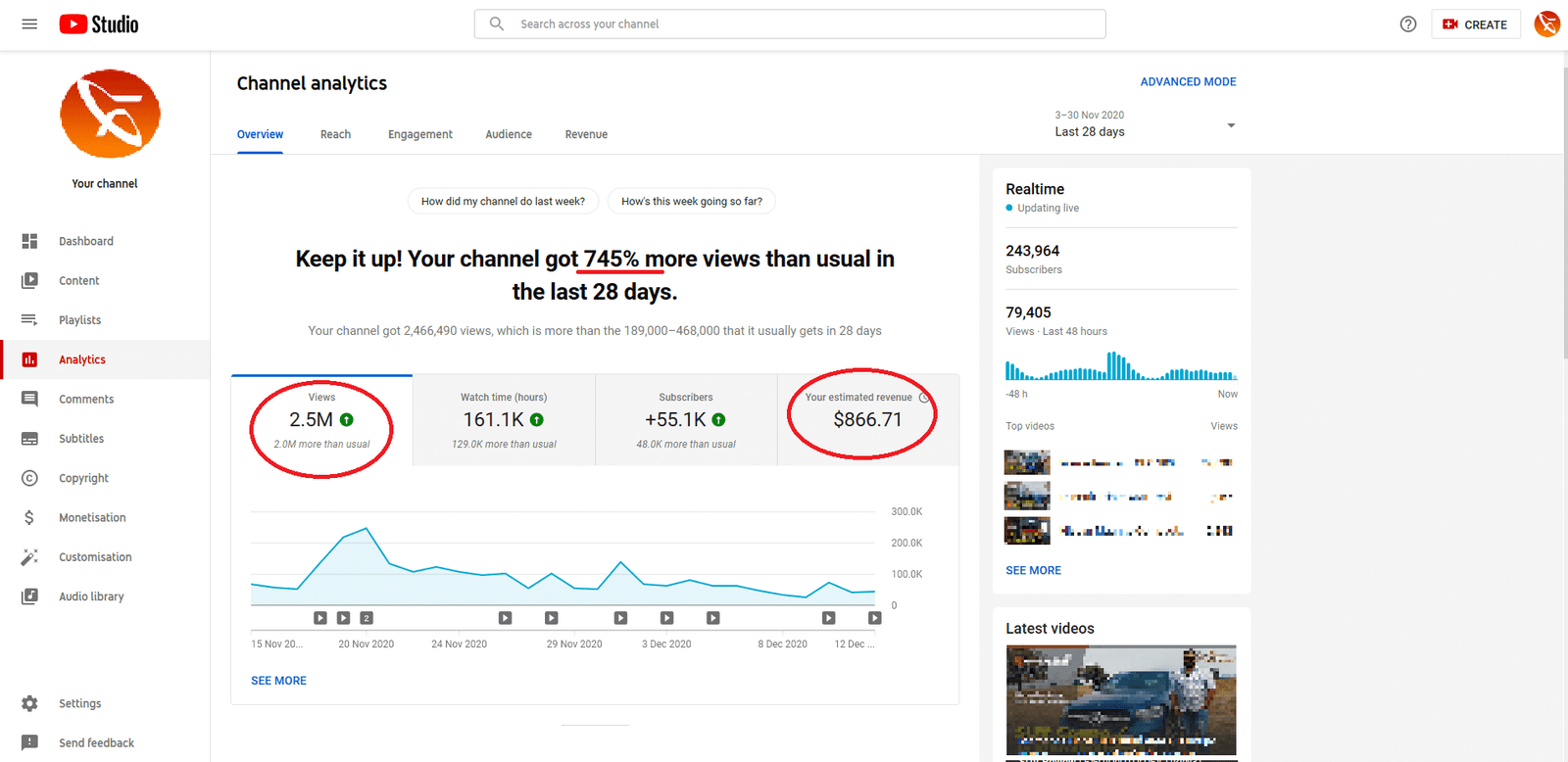 Earlier, I had co-founded a video company and raised $2 million in funding and then got fired from the company I started. I had done lot of testing and research on how to monetize YouTube and now I use the same skills to help other YouTubers.
You can read my full story here if you are interested.
I have worked with many startups and even large companies to help them grow and scale revenues so I think I am fairly qualified to give you advice. 
I think most of the advice on how to earn money online is very generic and most of their content is just created for SEO. 
Unfortunately, if you write about 500 online business ideas, your article can still rank in Google even though you will not get any actionable tips to start a business and make money online. 
There is a very basic formulae to earn money online and you can use a combination of these two things to start your journey towards an online income. 
Invest Money
Invest Time
Any business requires capital to start and to make money online is no different. 
If someone is telling you that you can earn millions from the Internet without any investment or effort- it is most likely a scam or they are trying to sell you a course. 
In my first introduction to the concept of making money online, I got frauded for USD 200. 
I signed up for a data entry online job that required me to fill data into sheets at 99% accuracy. 
For two months, I worked day and night only to have every assignment rejected because it was only at 95% accuracy. 
I remember one day working with very high fever to complete this data entry job and to find out two days later that it was also rejected because apparently the quality was only 97%. 
After that I quit. 
A year later, the CEO and the partners of that company were arrested by the police for duping hundreds of young college graduates like me through scamming. 
I lost that USD 200 but learnt a very valuable lesson. 
Any job that requires you to make a payment to your employer is most probably a scam. 
If there is any company that says you need to pay them to start working and earn money online, please run away. They are scams and you will lose your money at some point.
The same applies for bloggers claiming to teach you how to make $50,000 per month if you just follow their instructions. 
I have also learnt something else the hard way. 
If someone knows how to make money online, they will never share their secrets. Period. 
You can read that again, there is nothing called as free lunch and there will never be. 
Bloggers who say it's easy to make $50,000 per month online are just projecting their earnings they have built over a period of time with money, resources and little bit of luck to keep engaging with their audience. 
Common sense is very uncommon these days, but I'm hoping you are sensible enough. 
Just think, if you knew the way to make $10,000 online, would you teach a bunch of people to do the same and increase your competition? I think not!
So what am I doing? 
I will give you a blueprint on how to make money online. Nothing else. 
These are fundamentals of how any online business works and while you execute some of these, you can find a way to make a couple of thousands of dollars online. 
So how do you start to earn money online? Invest time or invest money. 
90% of people reading this will be willing to invest time and not the money (because you probably found this post trying to figure out how to make money). 
Therefore, I am starting with the easiest ways to make money online without investment and then gradually we will look into ways which requires some working capital and more effort. 
Here are 10 ways you can make money online. 
Service Based Business 
The easiest and quickest way to earn money online is to become a freelancer or start an online service-based business. 
Content Writing, Graphic designing, data entry jobs, lead generation jobs are some of the examples of an online service based business. 
For over 12 years, people have been telling me that content writing will lose demand in sometime.
I think good content writers will always be in demand. 
If you are new to content writing, I suggest you do any good course on content writing (less than (INR 1000 or USD 10) to start with. 
Also, it helps to read a lot. 
When you read, you take in the knowledge and writing style of the author and your writing automatically improves. 
When junior writers used to report to me at my full time job, I used to make them write one topic in their area of interest. 
This way, I was able to identify their grammar mistakes and fix them. 
It is a lot easier and faster to fix grammatical mistakes this way than learning from scratch. 
If you want me to help you with writing, drop a message using the chat along with your sample article, I will help you. 
Online service based business is not limited to writing alone. 
You can learn online graphic designing, lead generation, social media management and anything that interests you to start working and make money online. 
You can also specialize in some niche such as SEO and also make money. 
But this requires deep expertise and is not for everyone. But it can be done. 
Once you are confident of selling your services, you need work on presenting yourself to potential buyers. 
These are some of the websites from which you can sell your services online and make money. 
To show you the true potential of making money from freelance websites, I will show some live examples. 
Take a look at the profile of this content writer on Fiverr.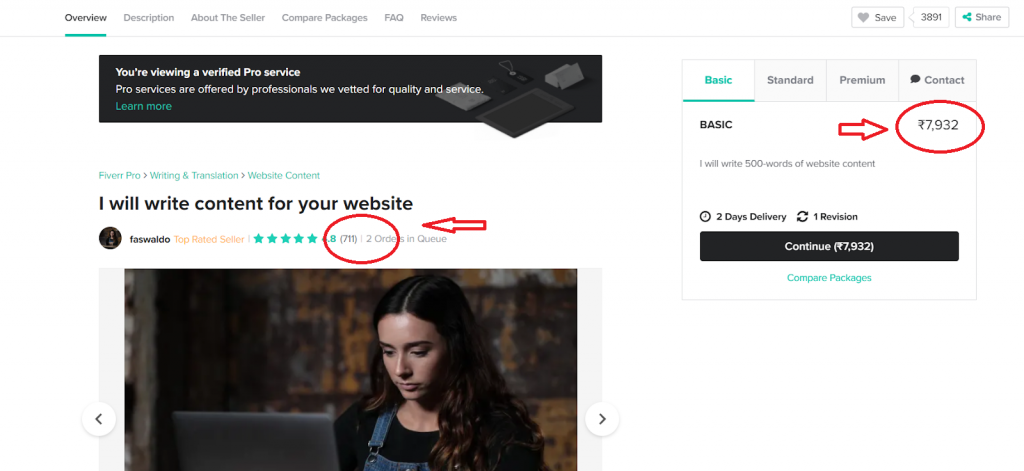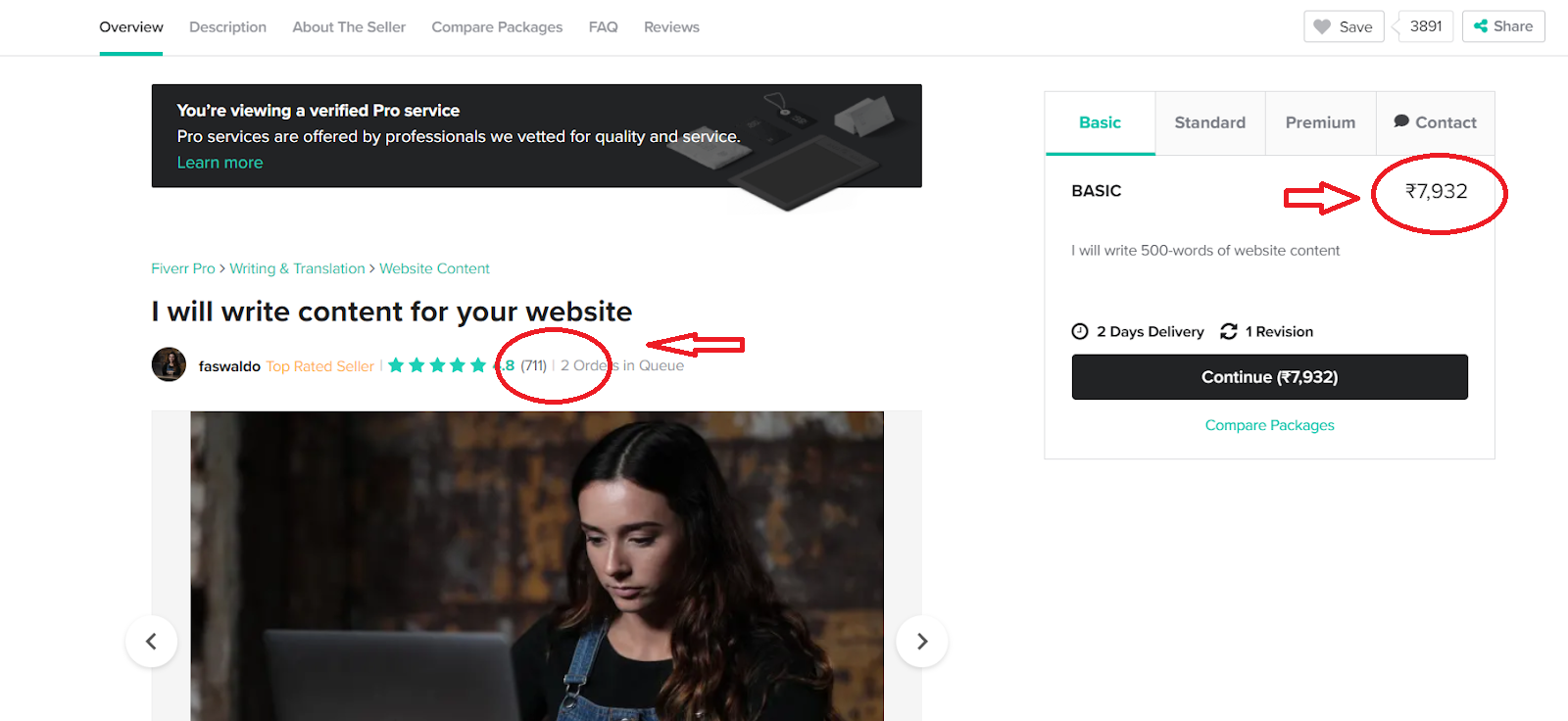 This lady charges around INR 7,900 or USD 110 for 500 words. 
She also has around 711 reviews so even taking the worst case of only 711 orders for USD 110, that is USD 78210. That's a good chunk of money for a writer. 
Now you can say she started way back, she has the advantage of getting a lot of work. 
Yes, all that is true. But you can start even now. 
You can start offering your services for a minimal amount and then build up your profile. 
With dedicated effort, you will be able to make a decent living from offering your services online. 
Ideally, work for people in the US or any first world country so that your pay is higher and you get good client feedback. 
Do not try to find such work from channels such as Facebook Groups and shady websites. 
They are full of scamsters trying to make you work for free or fraud you. 
Before we move on to the next way to earn money, lets look at SEO services also on Fiverr.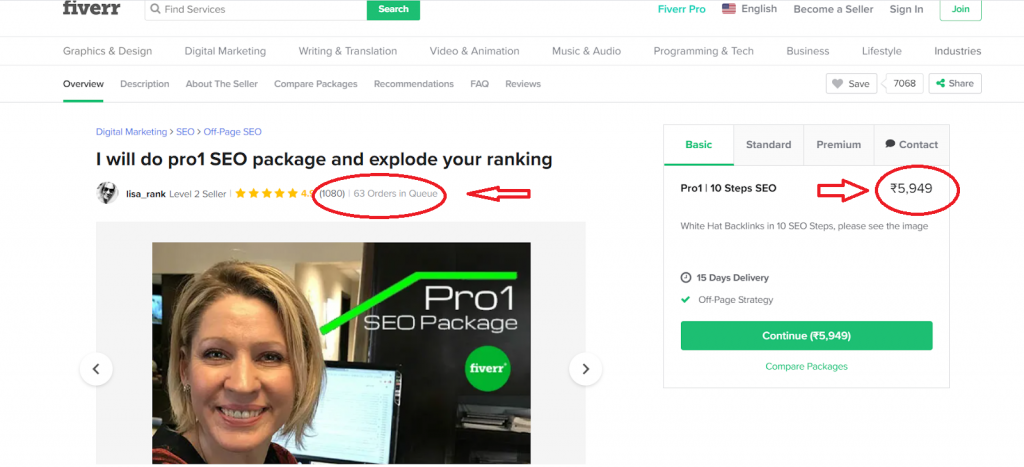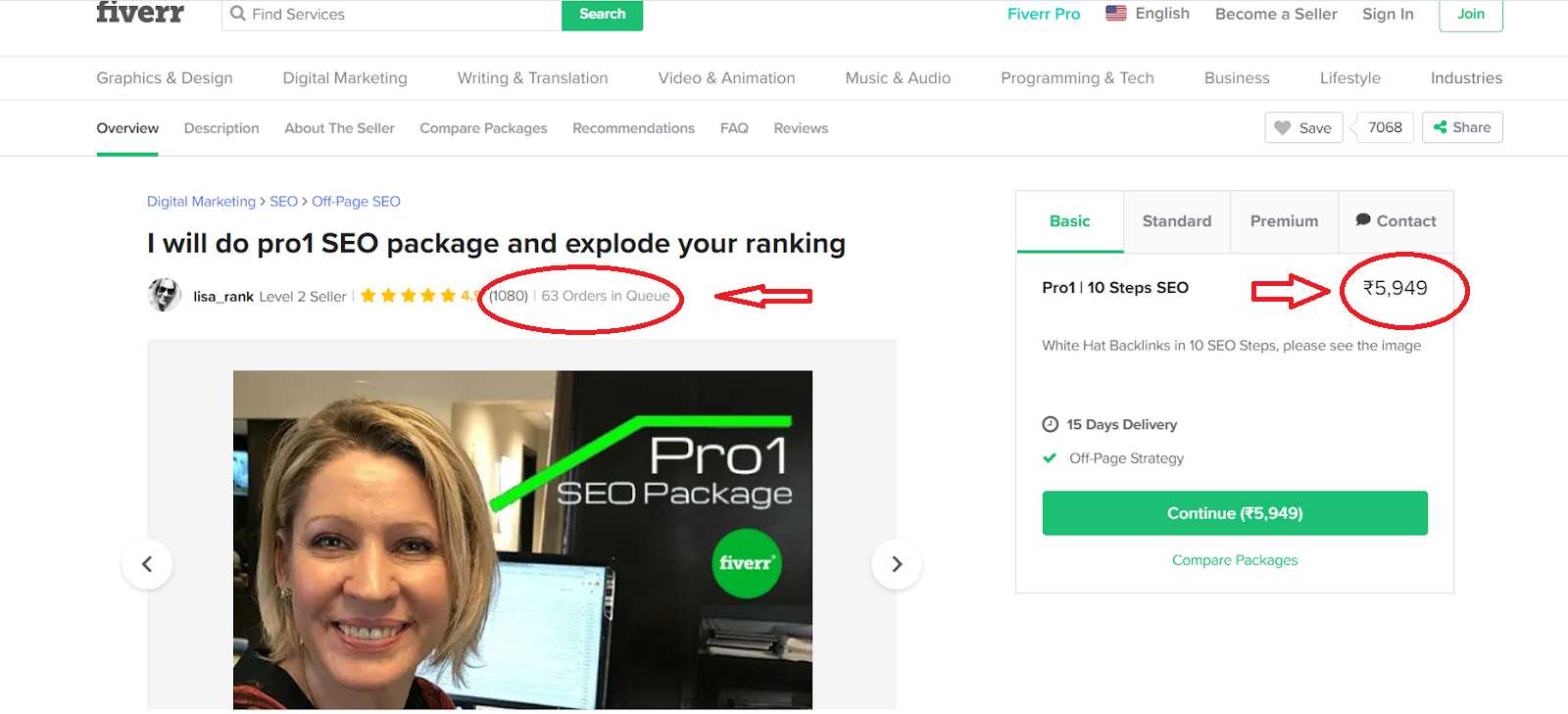 These are one of the many people offering SEO services on Fiverr. 
As you can see she charges around USD 100 per order and has 63 orders in queue and 1000+ reviews. 
You can do the math on how much money she would have earned online. 
Steps to Earn Money Online with a Service Based Business
★ Identify Your Key Skills
★ Create accounts on popular platforms like Fiverr, Freelancer, Guru.com
★ Do Research on People Offering Services
★ Create & Optimize Your Profile
★ Start applying for Gigs
★ Make Money
Selling Goods or e-commerce
Next on the list of how to make money online is selling physical goods over the internet. 
The basic principle of this concept is simple. 
You buy a product for a price, put a margin and sell it at a higher price. 
For example, let's look at this product that is selling on a major ecommerce website.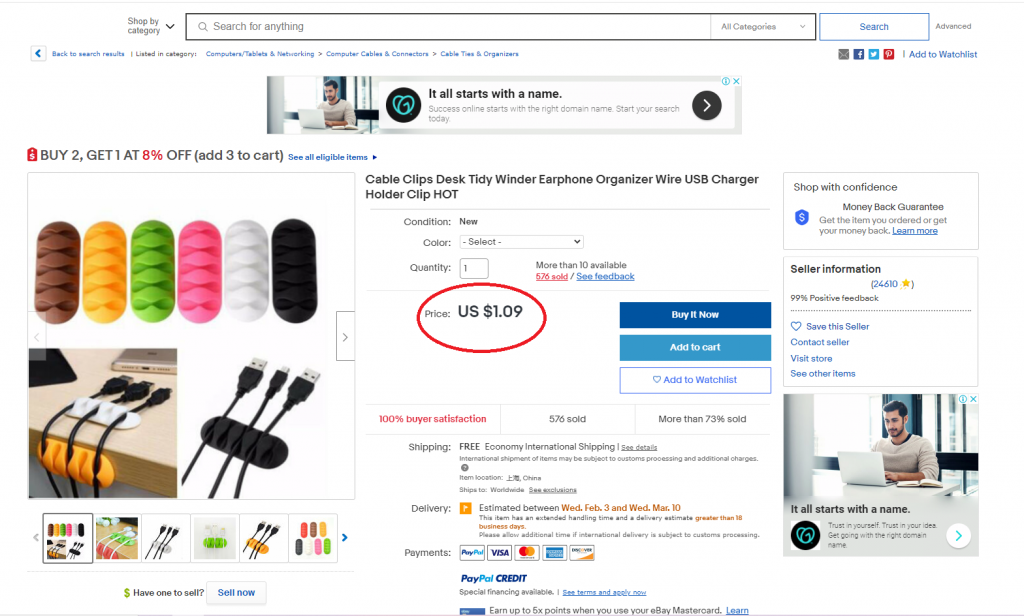 This is the same product available on Aliexpress.com.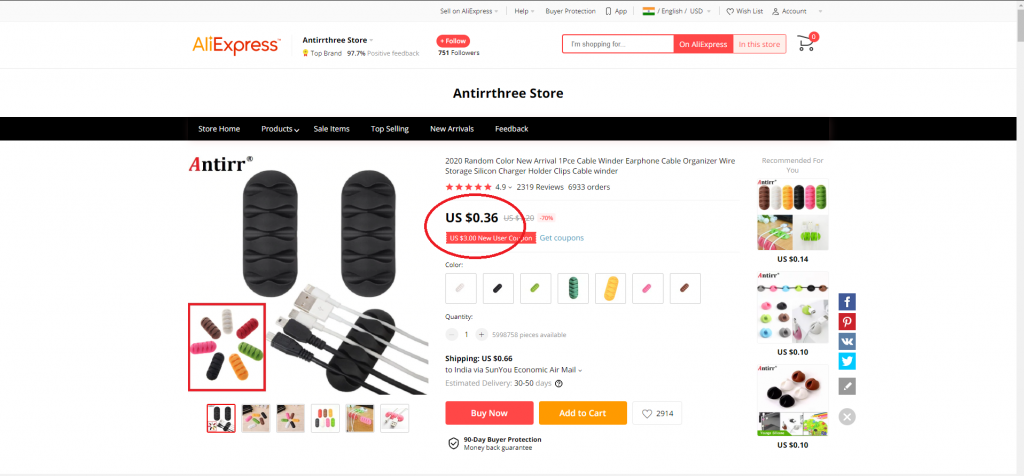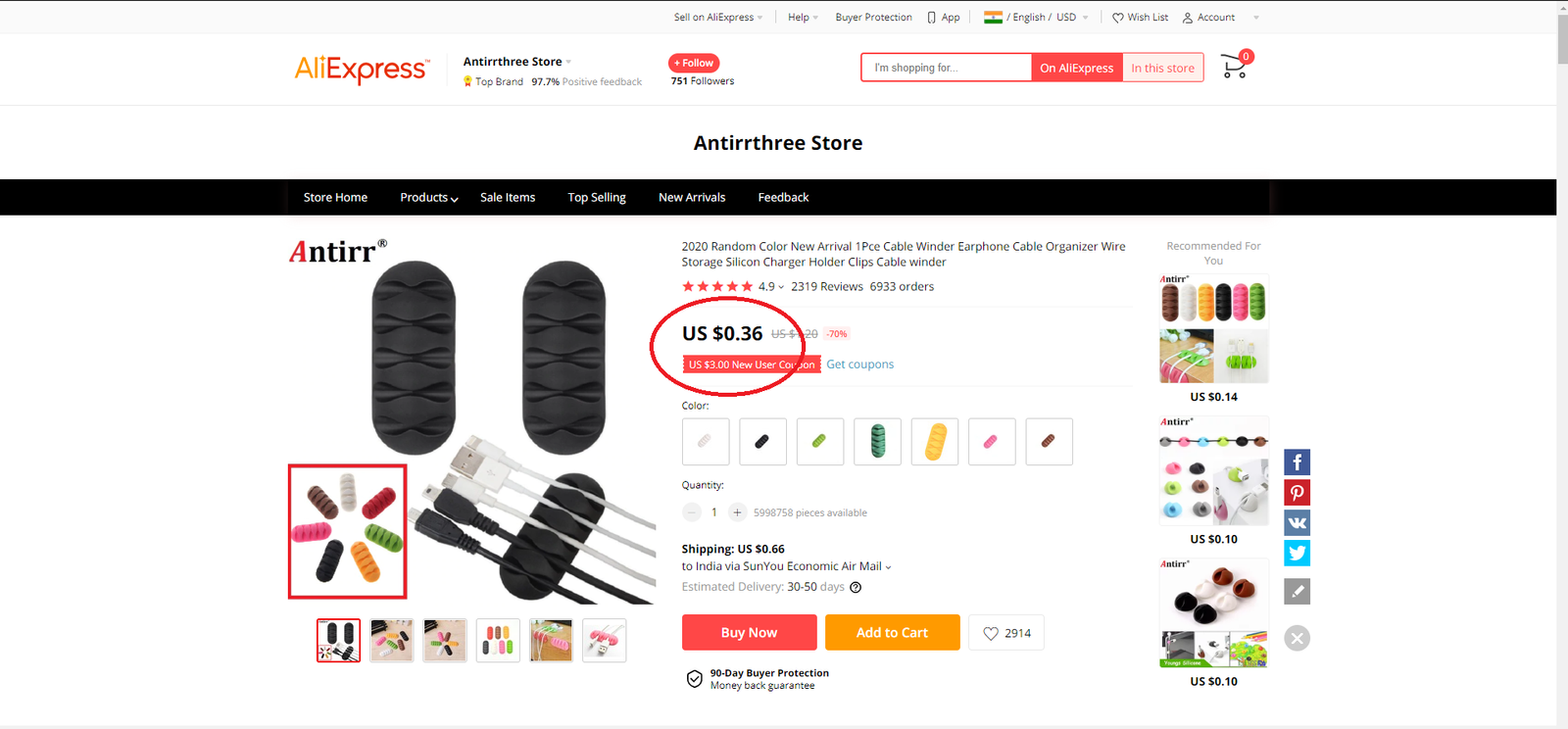 $.36 is about INR 23.
As you can see, this product is a direct import and sold at a margin.
It also helps when the product you are trying to sell has no shelf-life so you can keep it for years before selling it.  
The seller is importing this product in bulk and reselling at a margin. Simple and you can also do it.
You can sell it through many channels such as Google ads, Facebook ads, TikTok ads or even any other digital marketing channels such as email or sms. 
So what is the catch here? 
Getting the products cheap and having money to drive people to buy your product. 
Few years back, I had an online Tshirt store. I sold about 800 T-shirts in a month. 
But the cost did not work out. 
I was getting a printed T-shirt at INR 300 (Approx USD 4). 
Getting a customer at INR 100(USD 1.32)
Packing & Shipping the T-shirt at almost INR 130 (Approx USD 1.5).
And I noticed people were not buying the T-shirt if the price was above INR 500 (USD 6.5). 
So the maths never worked out and I stopped after a month. 
If I had gotten T-shirts and got them printed at a cheaper rate- I would have been in profit. 
But that doesn't mean you cannot do it. 
I was working full time while getting T-shirts printed, packing, running digital advertisements, tracking inventory and sometimes even delivering the T-shirts. In the end it was not worth it. 
But this is what you can do. 
Find a really nice, unique product for cheap. 
Figure out cheap packing and shipping and factor in a customer acquisition cost and if you can make positive revenue go for it. 
You can even try listing your products on major ecommerce websites and get sales without doing any marketing. 
Listing on ecommerce websites requires a GST number, so do get that before proceeding any further. 
Note: As a gentle reminder, please consider doing e-commerce with "Made in India" products as this helps local manufactures and our country's economy. 
Steps to Earn Money Online through e-Commerce
★ Do market research to identify unique products
★ Find cheap sources of these products
★ Run Ads on Facebook, Google & other networks
★ Optimize your cost of customer acquisition for maximum ROI
★ Keep researching for more products
Affiliate Marketing 
Affiliate marketing is a process in which you promote someone else's products for a commission. 
This is one of the easiest ways to earn money online. 
Let me give you a very simple example. 
One of your friends likes any product that you are using and asks you from where you bought this. 
You have bought it from Amazon and you tell him/her that you will send the link or the product. 
Now, if you send an affiliate link and your friend buys the product using that link, you get a commission. 
This is a very simple example of affiliate marketing. 
You can easily sign up to be an Amazon Affiliate and start promoting products and earn money online. 
You can become an Amazon Affiliate by signing up here.
Sign Up Amazon Affiliate
You can use affiliate marketing to promote someone else's products via channels such as Facebook, WhatsApp or even email marketing. 
If you have a website that is getting good traffic, you can even add affiliate links to the website and earn money online. 
If you want to get started with affiliate marketing, the easiest thing to do is sign up as an Amazon affiliate. 
Steps to Earn Money through Online Affiliate Marketing
★ Do market research to identify unique products/services
★ Monitor affiliate ads and make note of best performing ads
★ Sign up on top affiliate networks such as CJ, VComission etc.
★ Start promoting products or services through digital ads.
★ If you are seeing good traction, consider an affiliate tracker such as Voluum
★ Keep repeating processes until marketing can be automated.
Earn Money from Facebook
Facebook has over a billion users. 
Naturally, there are many ways to earn money from Facebook. 
Some of the ways you can earn money from Facebook are:
Selling Products
Selling Services
Affiliate Marketing
Reselling
Selling Facebook Likes, Comments, Shares
I have written a detailed post about how to earn money from Facebook, you can read and know the best ways to earn money from Facebook. 
How to Earn Money from Facebook
Steps to Earn Money Online through Facebook
★ Research on all ways you can earn money online through Facebook
★ Research on competitor ads
★ Replicate ads of competitors.
★ Put in some test budget.
★ Test, Scale and Repeat.
Teach Online 
There has never been a better time to be an online tutor and earn money online. 
Getting started is easy and you do not even need to have expensive equipment to become a qualified seller. 
If you want to earn money online through tutoring, there are few ways you can approach. 
Earn money by uploading classes on YouTube 
Earn money by creating courses on MOOC
Create pre-recorded classes and give access to your students 
Have live group sessions with students
Teach on platforms like Unacademy, Byjus, Vendantu etc.
Let's look in depth on all these channels and how you can make money online by teaching. 
Uploading classes on YouTube
YouTube is a fantastic platform for tutors.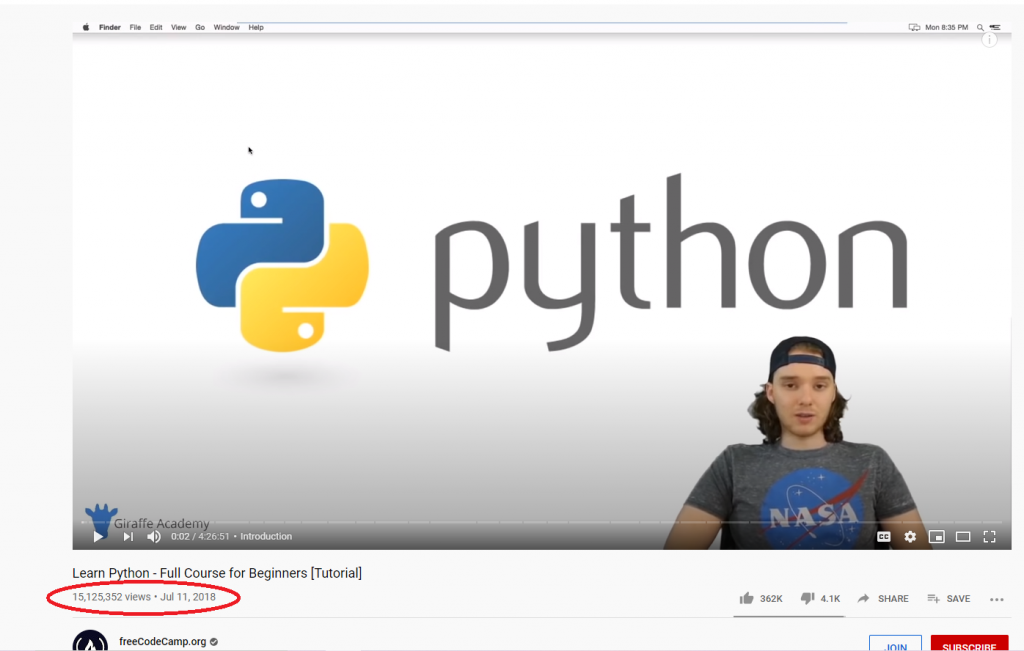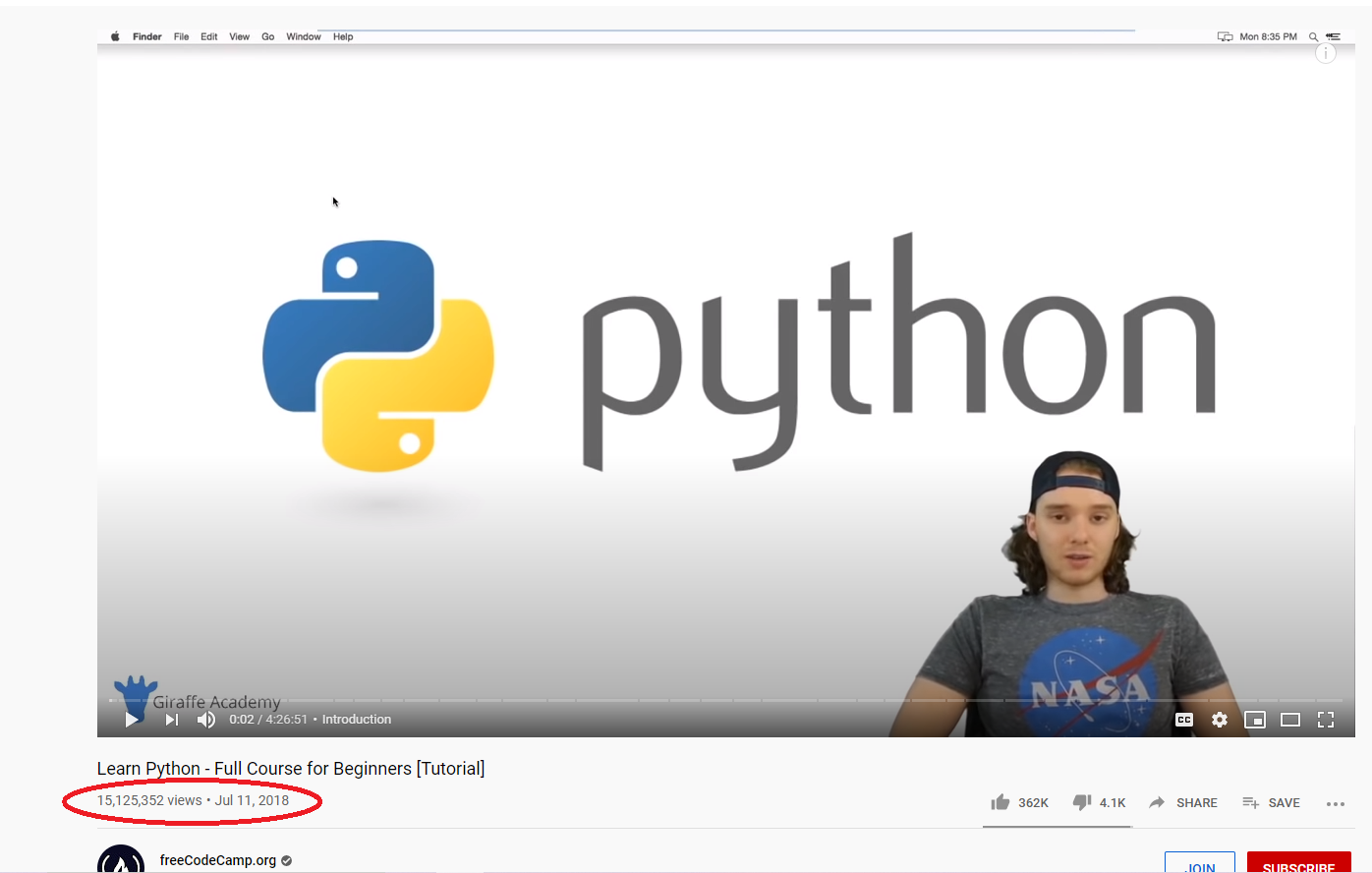 Lot of people are searching for answers to their problems on YouTube instead of Google because some concepts are better understood in a video format. 
For example, if I want to learn how to parallel park, I would watch a video than read a text article-its visual and easier for me to understand. 
Similarly, there are many teachers who upload classes directly on YouTube and build their channel. 
Once your channel has enough subscribers, you can monetize through ads or even launch your own private course to earn money online. 
Tutoring online using YouTube will take time and effort so do not expect instant results. 
You will have to keep at it for at least a year and if teaching is your passion- I would definitely recommend it. 
Earn money by creating courses on MOOC
MOOC or Massive Open is a platform through which you can earn money online as a tutor. 
For example, look at this course on Udemy.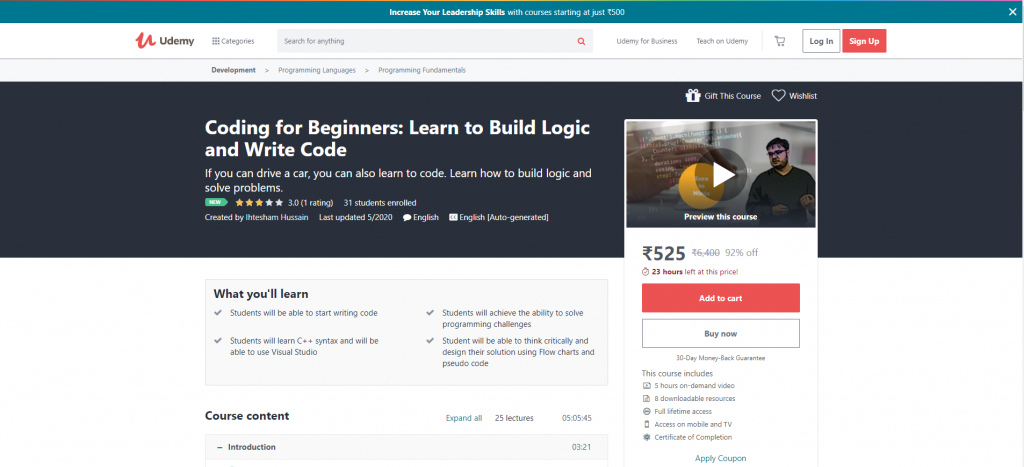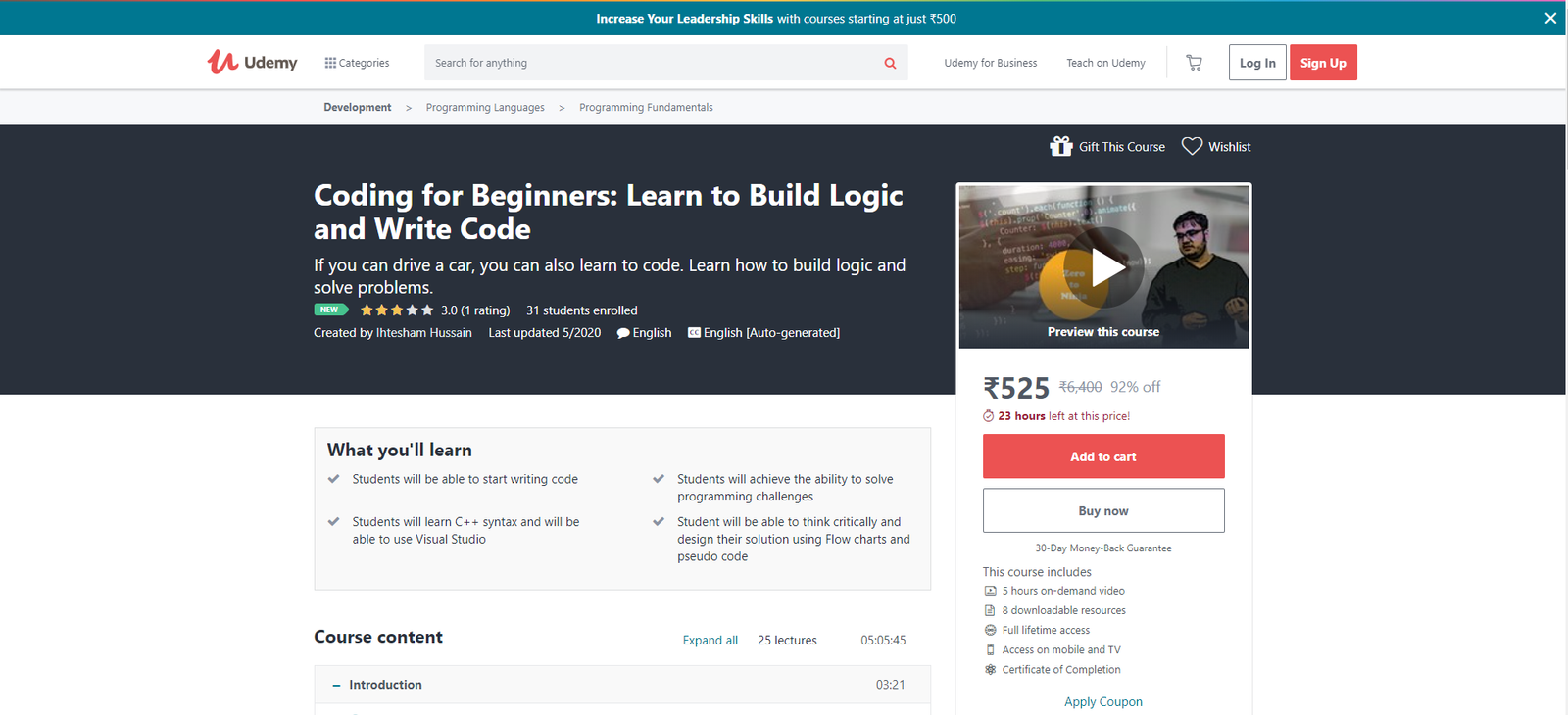 Udemy Courses
You need to create in-demand courses on platforms such as Udemy, Udacity and then price the course competitively to sell and make money. 
The good thing with MOOC platforms is that they already have huge traffic and lot of people are looking for courses. 
If your course content  and quality is good, you will definitely get sales. 
Another great aspect of MOOC platforms is that there are many affiliates who partner with these sites and promote your courses for a commission. 
What this means is that once your course starts getting traction, affiliates will promote your course and you can make money. 
MOOC courses are typically priced very low, mostly within the range of USD 10 to 20, so you will also need to look at this price bracker. 
I have already written a post about the best Udemy courses, you can check the article for reference. 
Create pre-recorded classes and give access to your students 
Next way to earn money online through teaching is to create pre-recorded classes and give to students.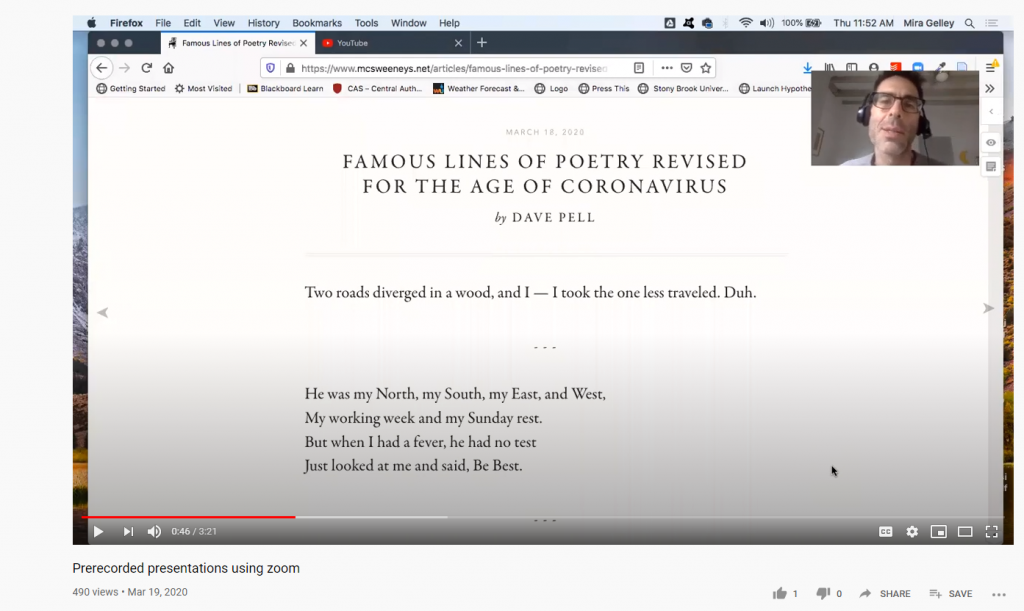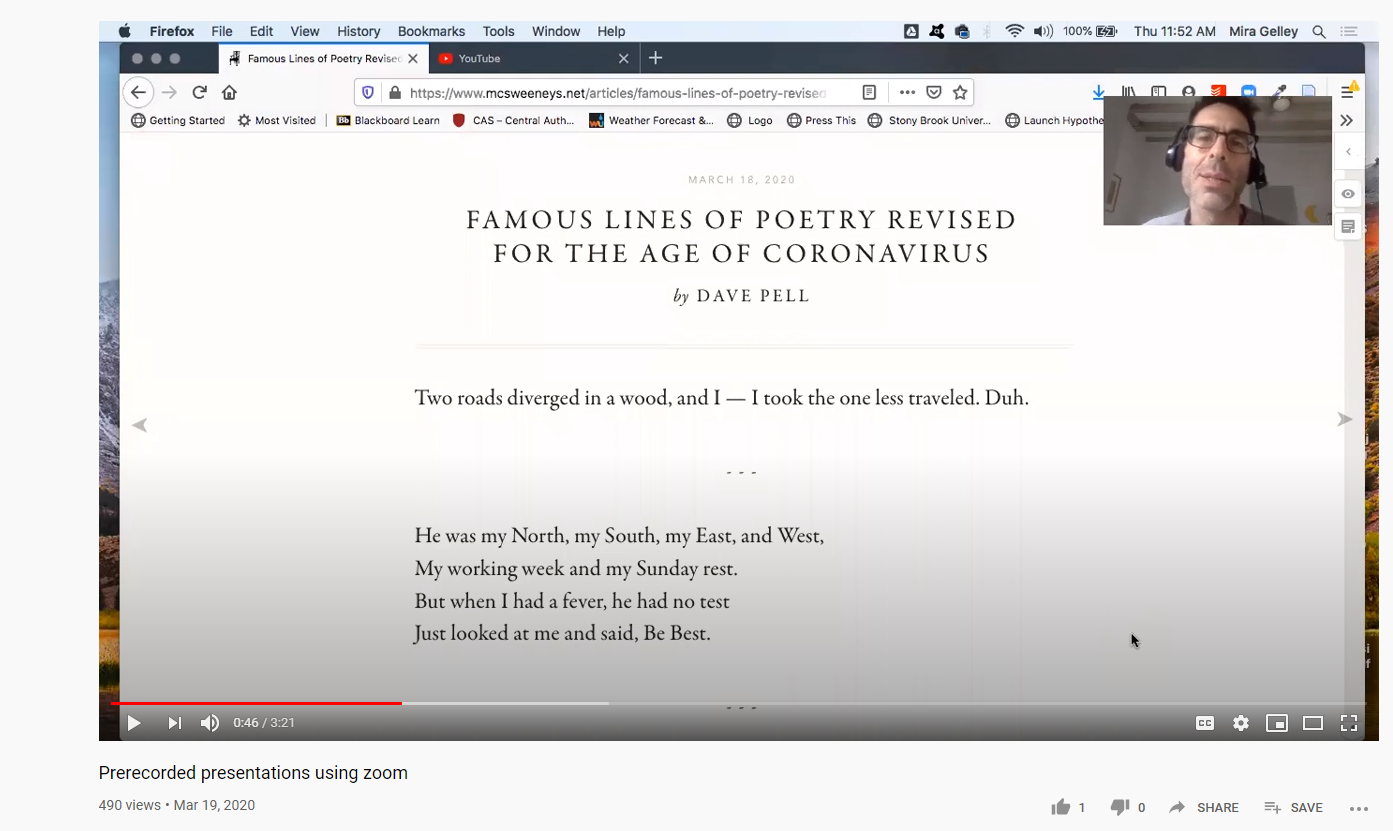 One of my friends aunt who is a teacher recently recorded her tuition classes and put it on YouTube and got good traction in terms of views. 
If you are already into the teaching domain, you can record teaching your students or even record a fresh video tutoring students and create a course out of it. 
You can even use a mobile phone for recording and hire a freelance videographer for your editing work. 
Once chapters of our course is ready, get a website up with a wordpress LMS and you can start giving access to your students for a fixed fee. 
WordPress LMS is easy to set up and you can restrict to whom you want to give access to your course content. 
Have live group sessions with students
This is a model which I have seen to be picking up lately.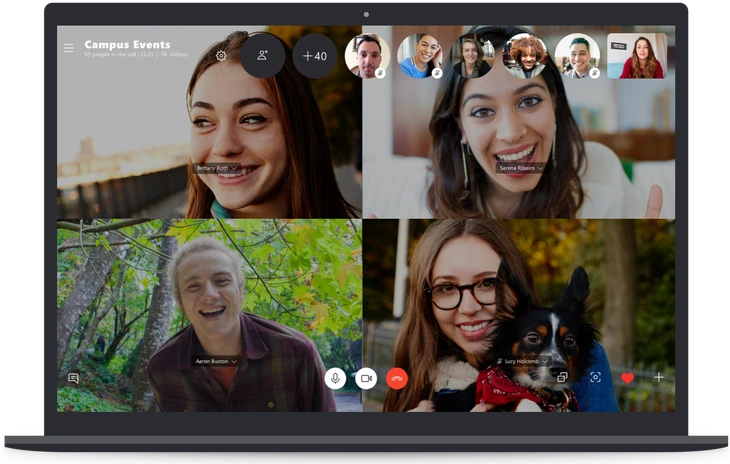 Lot of people are now promoting their courses on social media and asking students to sign up for a live virtual classes for a fee. 
For example, take a look at these courses. 
What these tutors do is have a one hour session for a group over a period of 5 days and charge a fee for the course content. 
They create the course content in such a way that students are engaged and they also provide assignments to students throughout the duration of the course. 
A live interaction is always better for learning and even if your initial batch is small, you can get better at it as you go along. 
However, to get students to enroll for these courses, you will have to establish yourself as a subject matter expert and have course content ready. 
If you have the expertise, I can guide you on how you can earn money online by tutoring this way. Ping me using the chat at the bottom and I'll respond to you. 
Teach on platforms like Unacademy, Byjus, Vendantu etc.
Another way to earn money online through teaching is by becoming a teacher on already established online e-learning companies such as Unacademy, Byjus, Vedantu etc.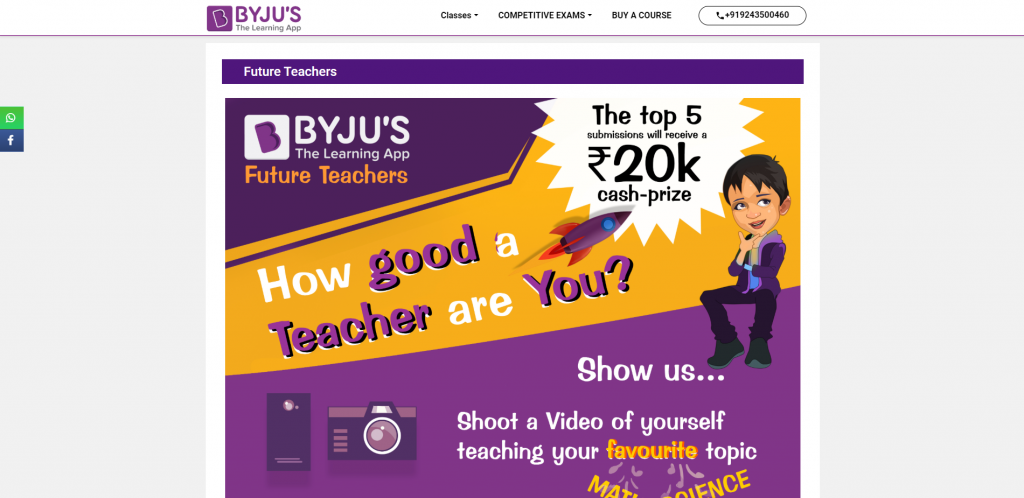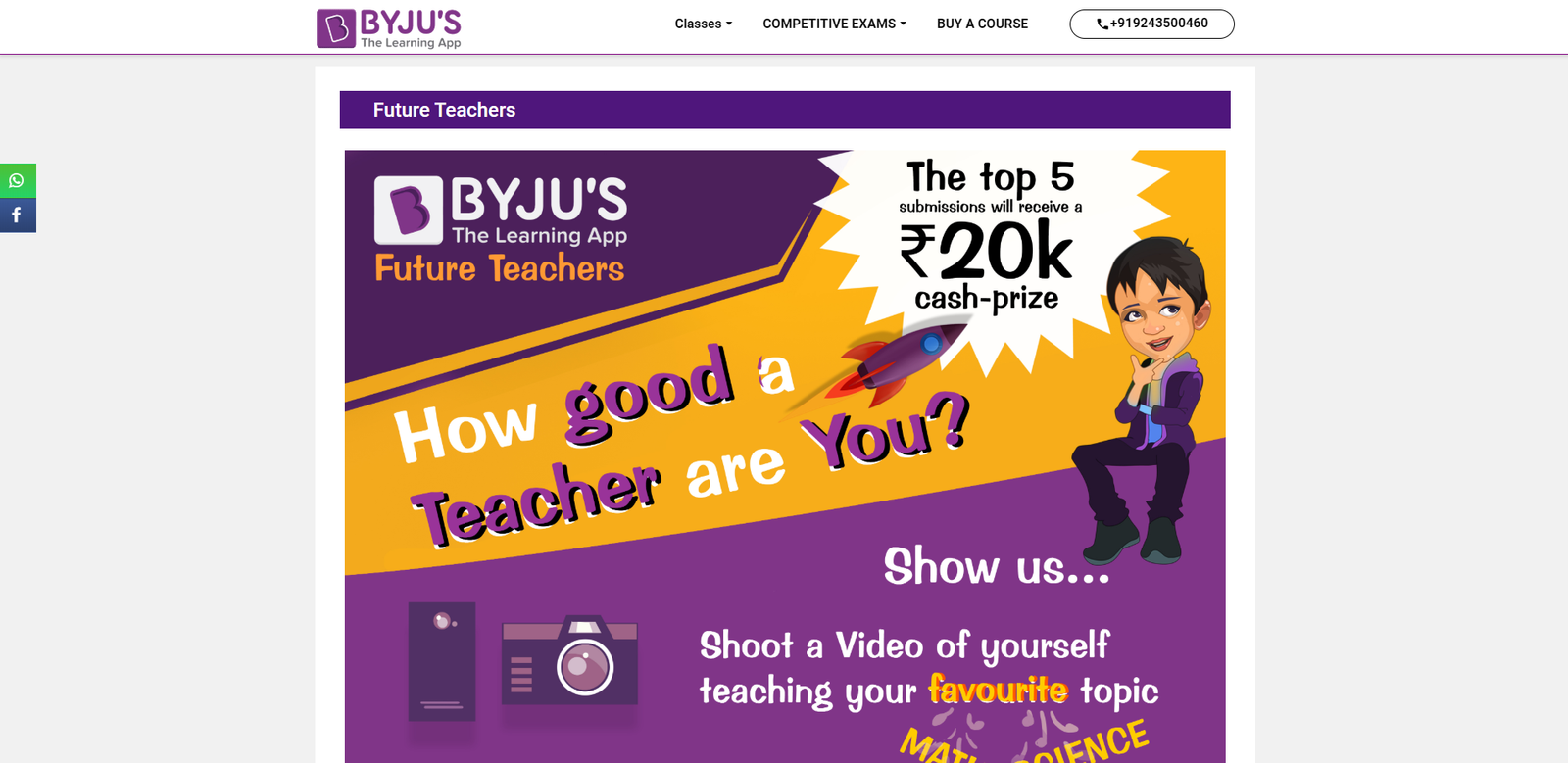 These are some of the established brands and from what I understand, they offer very competitive salary even for part time tutors. 
Each company has their own requirements in terms of qualifications, but you can apply for them using the links below. 
https://unacademy.com/lesson/become-an-educator-on-unacademyin/1SCG1200
https://byjus.com/future-teachers/
https://www.vedantu.com/become-a-teacher
Once you get accepted into becoming a tutor, you will get training which will be useful if and when you want to develop your own courses and become a full-fledged online tutor.
Blogging
Next on the list of ways to earn money online is blogging. 
There is a lot of advice on how to earn money online through blogging but most of it is not actionable information which can be used to make money. 
Most online bloggers who promise to teach you how to earn money through blogs are just trying to get affiliate commissions or sell you a course. 
I have written a detailed post about how to start blogging and I think it will be useful for you if you are just starting out. 
How to Earn Money from Blogging
Once you have started a blog and have a steady source of traffic, you can figure out how to monetize the blog. 
To monetize your blog, easiest way is Google Adsense.
You can just place a snippet of code on website and Google Adsense will automatically place ads on your website and you can earn money online.
Another way to make money from blog is through affiliate links.
When your visitors purchase a product or service through an affiliate link, you will earn a comission.
You can also create courses for your blog visitors and charge a fee for enrolment and make money.
The possibilites of earning money online from blog are endless.
Two main things you need to remember when you are trying to make money from blogging is you will need:
It can take anywhere between 6 months to a year before your blog starts making sustainable income so if you do not have this kind of time, I suggest you to try any of the other ways to make money online. 
Reselling 
Concept of reselling is simple. 
You get a product at cost X. 
You add your margin to the product and sell it. 
There are many ways to resell products and make money online. 
The easiest way to make money through reselling is to join any of the reselling apps such as Meesho, GlowRoad or Shop101. 
I am also listed on Meesho and have gotten few orders for some of the products I had listed.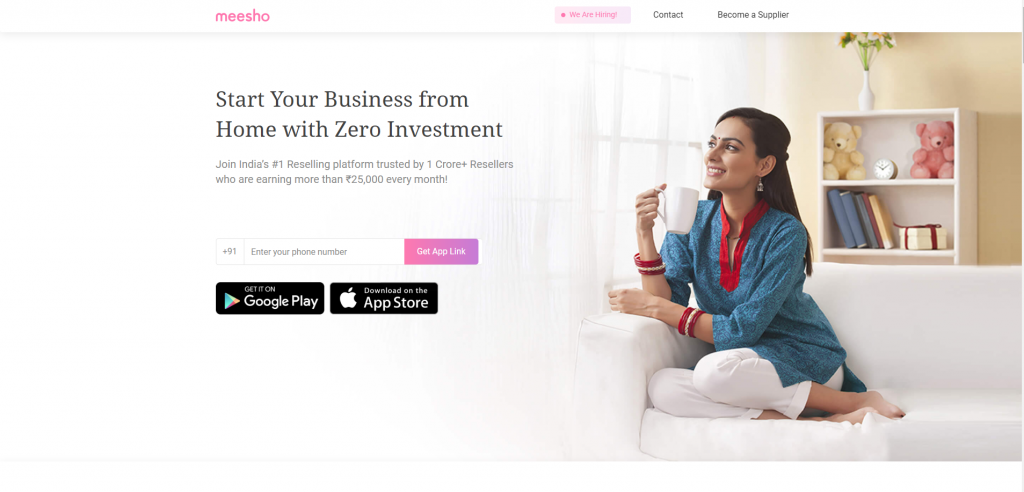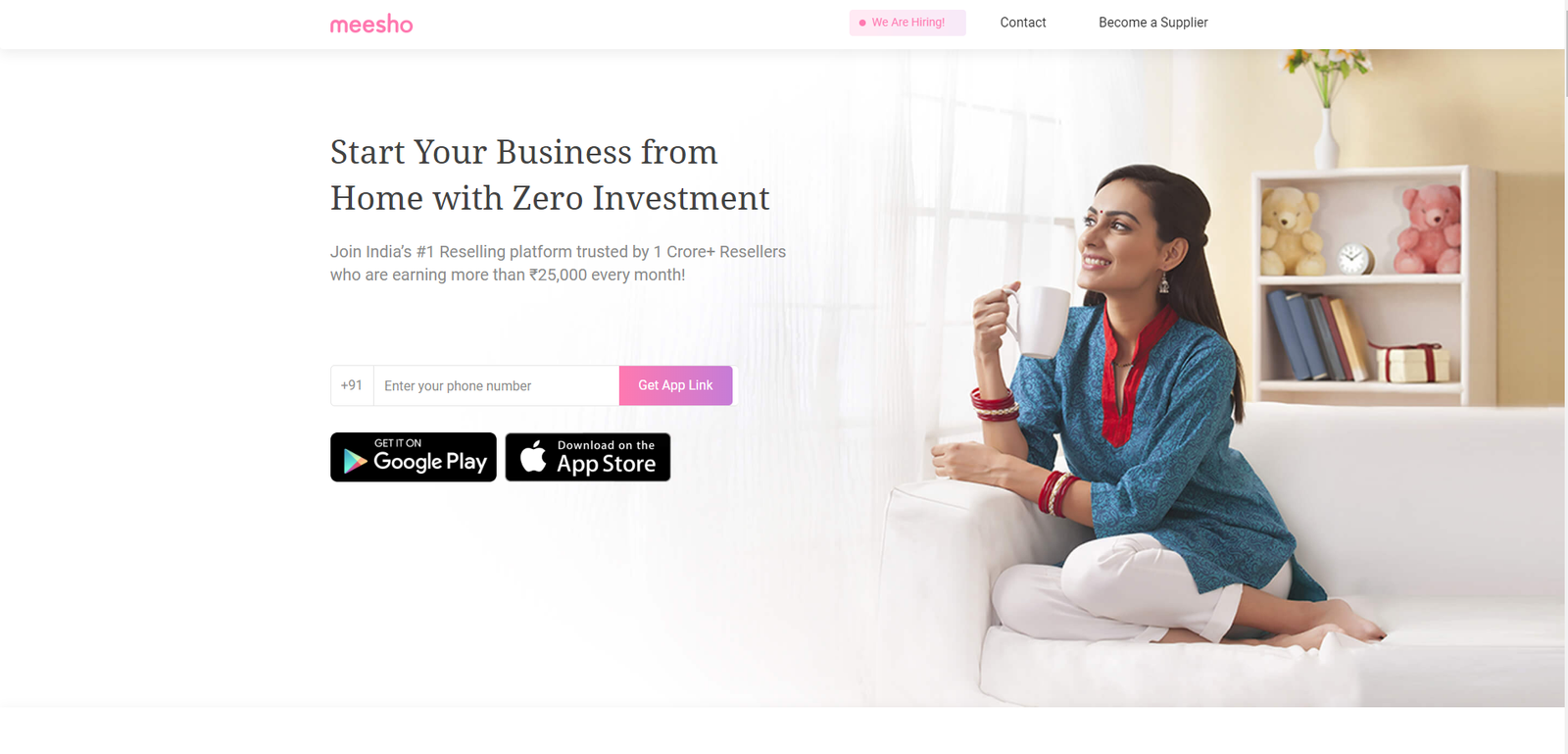 To be honest, I did not spend much time and effort in scaling my reselling account, because I did not get the time. 
But I know that it has potential and you can easily make around INR 20,000 per month if you work towards it. 
Reselling platforms such as Meesho will take care of delivery, returns and the hassles typically associated with e-commerce so you can devote your energies towards finding the right products and the promotion strategy. 
You can promote these products through channels such as Facebook, WhatsApp or any groups in which you feel your audience might be. 
If you need any help with reselling, reach out to me through the chat window at the bottom and I'll try to help you out. 
Online Surveys 
Online Surveys is an easy way for beginners to make money online. 
It requires very little effort to get started and does not require much of your time. 
As you would imagine, the lesser the work, lesser would be your pay. 
Competing online surveys can earn you anyways between $1 to $5 but it is something you can complete whenever you have time. 
I have written a very detailed post about Clixsense or Ysense which is a platform to earn money online through surveys. 
Join ClixSense Here
You can click on the link above to know how to get started and how you can earn money through clixsense through other tasks available on the platform. 
Also, I have written a detailed post on 10 Best Captcha Solving Websites to help you earn some money online.
Captcha Solving is easy money, but it might just be few cents. But as you do it regularly, cents add up and you can make few extra dollars on the side.
10 Best Websites to Make Money As Captcha Typer
Remember that you cannot depend on online surveys to earn a steady stream of income, but this is a good way to earn money if you are just starting out. 
I have noticed that when people get their initial few dollars from such online surveys, they are more motivated to try other means of earning income online which leads to greater income potential and more money. 
Pro Tip: I have seen that sometimes you can earn money online by referring other people to survey websites than by actually doing the survey. 
If you can figure out a way to streamline the referral system, you can very well make a decent amount of money online through online surveys.
YouTube 
YouTube has very high potential if you want to earn money online. 
I am currently handling organic marketing for a YouTube channel and I have grown it to 194% more views, 150% more watch time & 830% more subscribers. All this on ZERO marketing spends.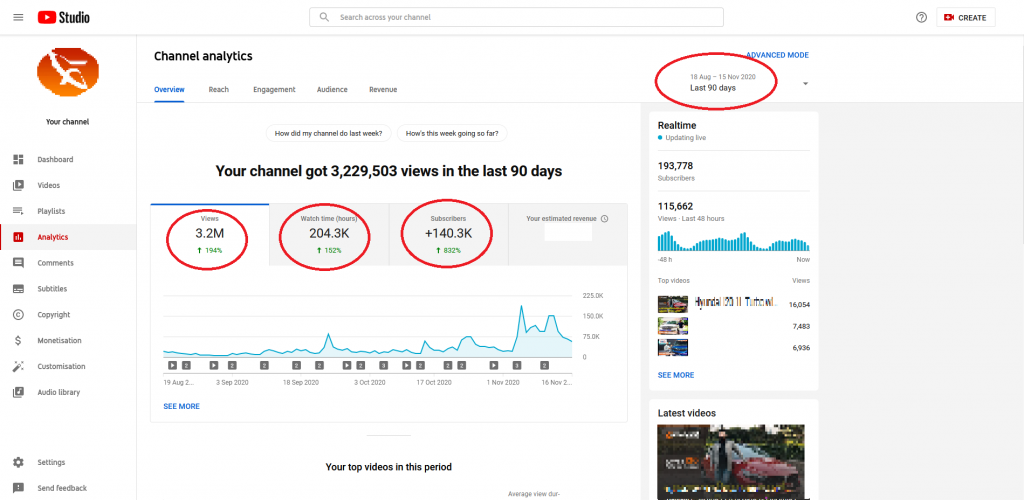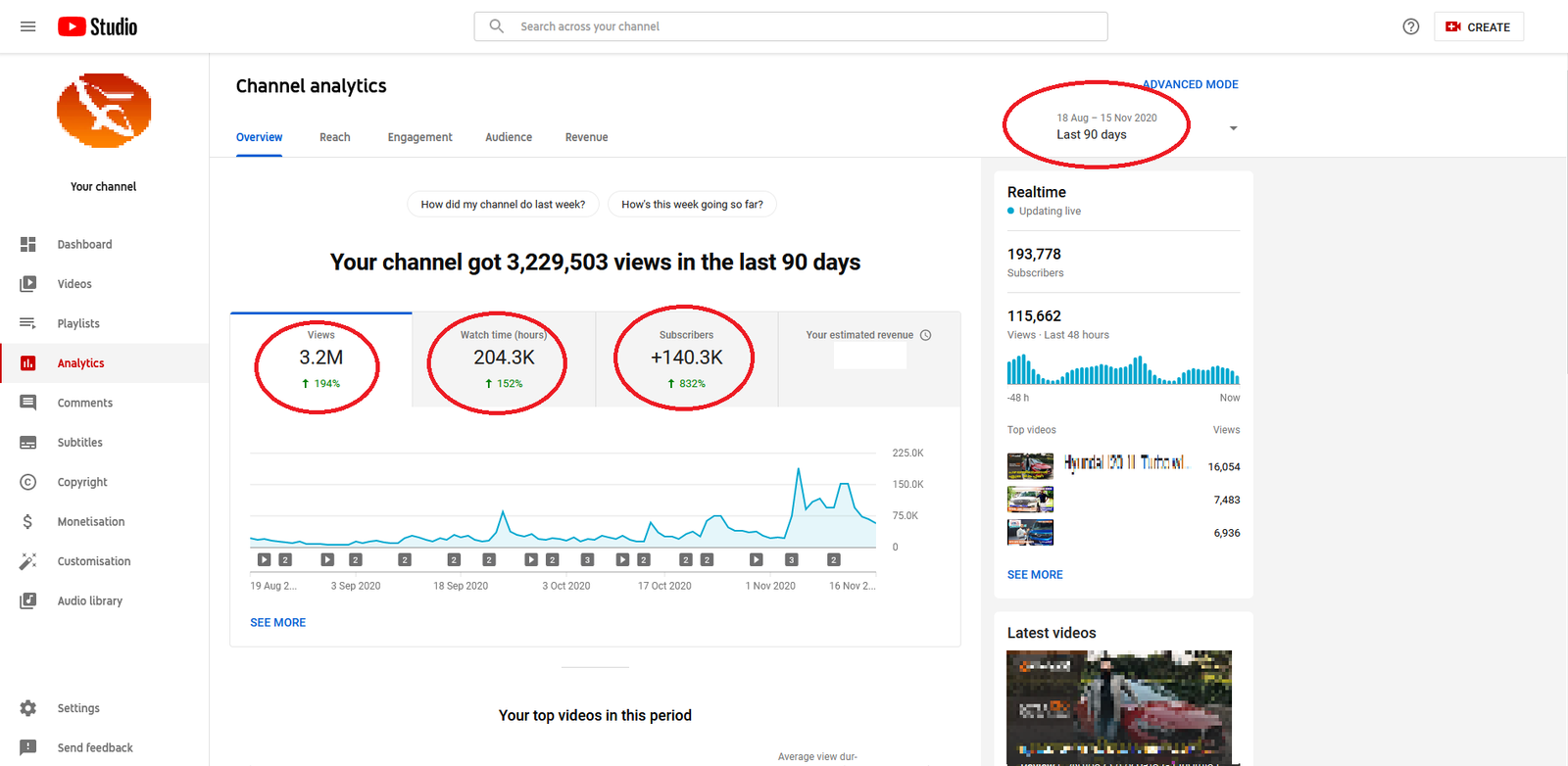 I have written a very detailed post on How to Earn Money from YouTube, you can check it out if you are interested.
How to Earn Money from YouTube
In the past few years, people have increasingly turned to video streaming websites not just for passive consumption but even gaining knowledge or figuring out answers to general problems. 
For example, if you want to learn how to parallel park a car would you rather watch a video or read about it? 
Obviously a video!
This is because videos are powerful in terms of understanding some concepts better than others. 
When Jio mobile internet launched in India, many of my friends who were running a small YouTube channel suddenly saw huge spikes in viewership and subscribers. 
To make money from YouTube, the first thing you need to identify is your niche. 
What kind of videos are you most comfortable making videos about. 
If you are a teacher, you can consider creating an educational channel. 
If you are a traveller, you can create a travel vlog. 
Depending on your skills and interest you can start a YouTube channel and build your audience and then branch on to other segments of audience. 
The key with YouTube is consistency. If you are willing to put in 6 months to 1 year of constant effort for making a full time income from online sources, then I can recommend YouTube. 
Now, you might be thinking, I am willing to put in the effort but I am camera shy. 
I do not want to face the camera. 
If you are even remotely okay with showing your face, you can still start creating few basic videos and improve your confidence as you go along. 
If you really do not want to show your face at all, you can consider voice over videos but you will still have to learn other skills such as Animation to create great videos. 
If you want to know exactly how to earn money from YouTube, I am creating a step by step guide to starting and growing your YouTube channel, let me know in the comments if you want the first draft of the post.
Become An Influencer 
Online Influencers are people who have a fan following on any digital platform. 
There are micro influencer, mini influencer and major influencers. 
Before you think about discarding the idea as unfeasible think about it. 
These are some of the platforms where you can become an influencer.
TikTok 
Instagram 
LinkedIn
YouTube
Blogs
If you can get even a small audience on any of these platforms in any niche, you can earn money online. 
I will give you a small example. 
When I was working for Robert Bosch, I was part of their digital team handling a project for promoting Bosch DIY tools in European countries (non-English speaking countries). 
What I discovered was that in Eurpoe DIY has huge fan following and even blogs with very little traffic had a very powerful influence on the DIY community. 
At Bosch, we had sent thousands of dollars in cash along with review pieces of expensive equipment to owners of these blogs in order to get the product in the eyes of the community. 
Strange as it may sound, this strategy worked!
Many of these small, micro influencers make few thousand dollars a month in brand sponsorship and affiliate commission by promoting certain products. 
So what I meant to tell you was that it really is possible for you to make money online by becoming an Influencer. 
The key to being an influencer as with any digital platform is consistency and if you keep at it for a period of 6 months to 1 year I am certain you will get an audience. 
Once you become even a micro influencer, you can start doing brand sponsorship and promote products through affiliate links to earn commissions. 
So these were some of the ways to earn money online. If you need help in getting started with any of these, do ping me directly using the chat at the bottom. 
Recommended Reads
Earn Money Online
Earn Money Online Summary
Here are 10 Easy Ways to Earn Money Online in India without Without Investment in 2022. 
Pros
Almost anyone can get started
No experience required 
Plenty of cheap courses available to learn
Cons
It will time time and effort 
Earning money online is not as easy as it seems.