Last Updated on 2 years by Anoob P
Want to know how to earn money from YouTube?
I can help! 
I have experience working for several digital media companies and I was the founder of a new-age media company (specializing in videos) that raised around $2 million in Pre-Series A funding.
My LinkedIn Profile
This is before I got booted out due to differences with other founders on quality of content being produced (more on this later). 
I fought for the idea that content being produced should be of good quality and that viewers should get value out of the video, but other founders wanted that I grow the channel without focusing on quality and growth should be "hockey-stick".
Having worked in several startups to drive them from seed funding to Series C, I was done with "hockey-stick" growth.
If a business can neither create value not create revenue, there is no point doing it just for the sake of valuation.
Long story short, I know what it takes to create a quality YouTube channel and grow it and I am going to share the information here so that you can start a side-hustle & make money from YouTube. 
Before you ask, if you are so good at YouTube, why aren't you on YouTube? Fair Question!
There are few reasons:
I do not like being on camera
YouTube requires time, effort and patience 
I'm working on so many different projects that it is almost impossible for me to find the time to dedicate to a YouTube channel.
That doesn't mean I am teaching you something without actually doing it. I like to teach from my own experience and here is the proof.
Update: This is the latest screenshot from the YouTube channel. You can compare this with the screenshot below, this is the type of growth even you can achieve without any spends on YouTube ads.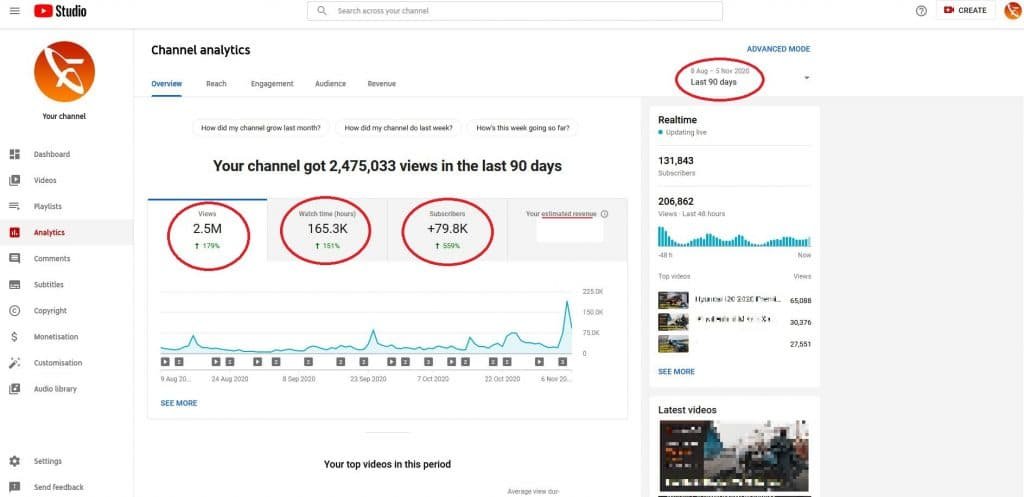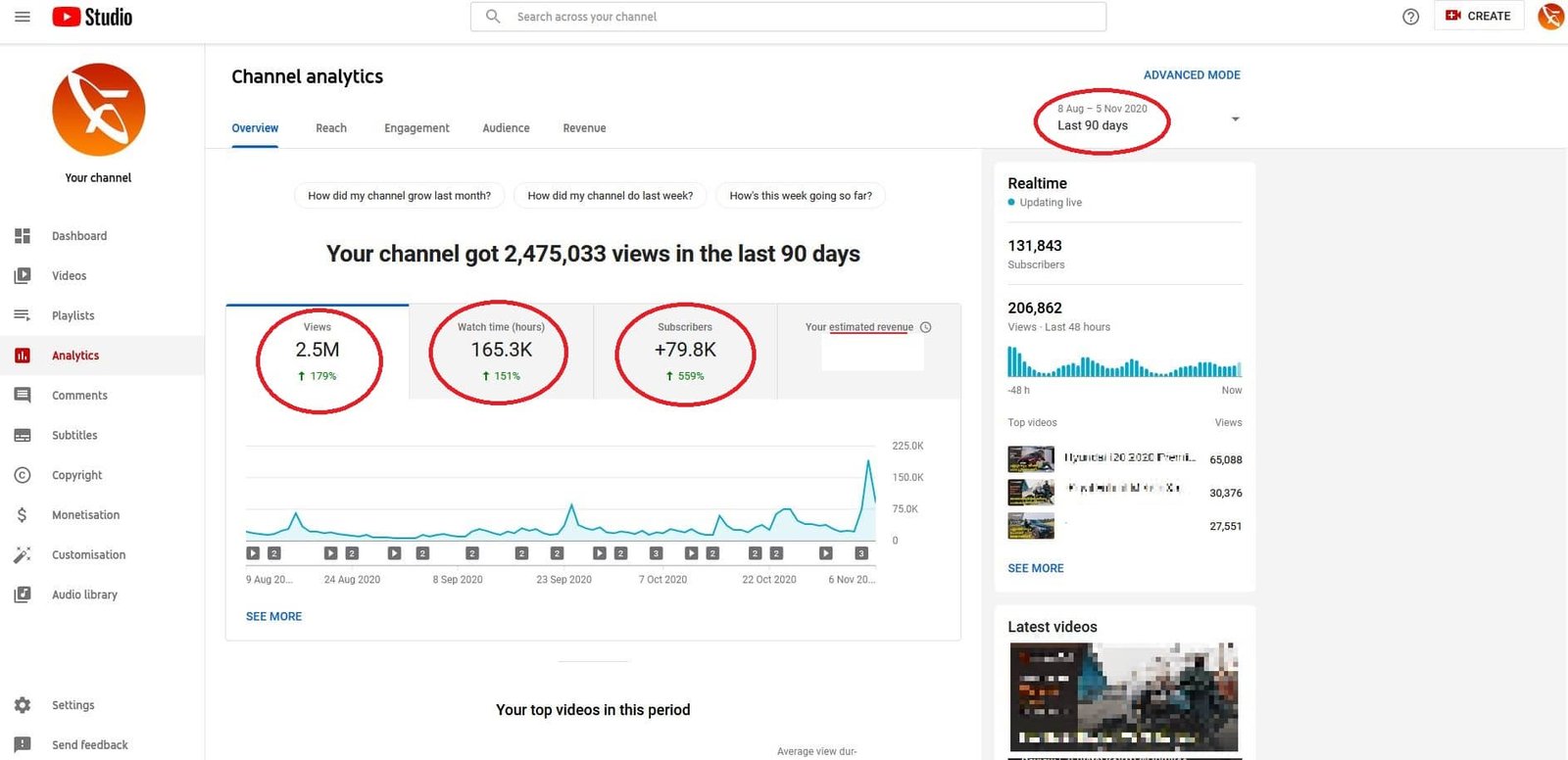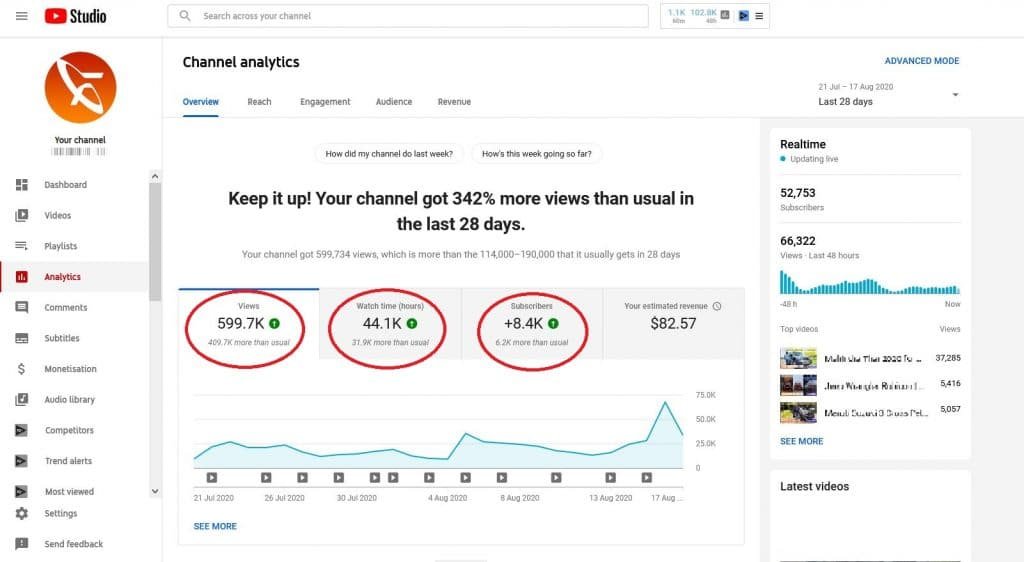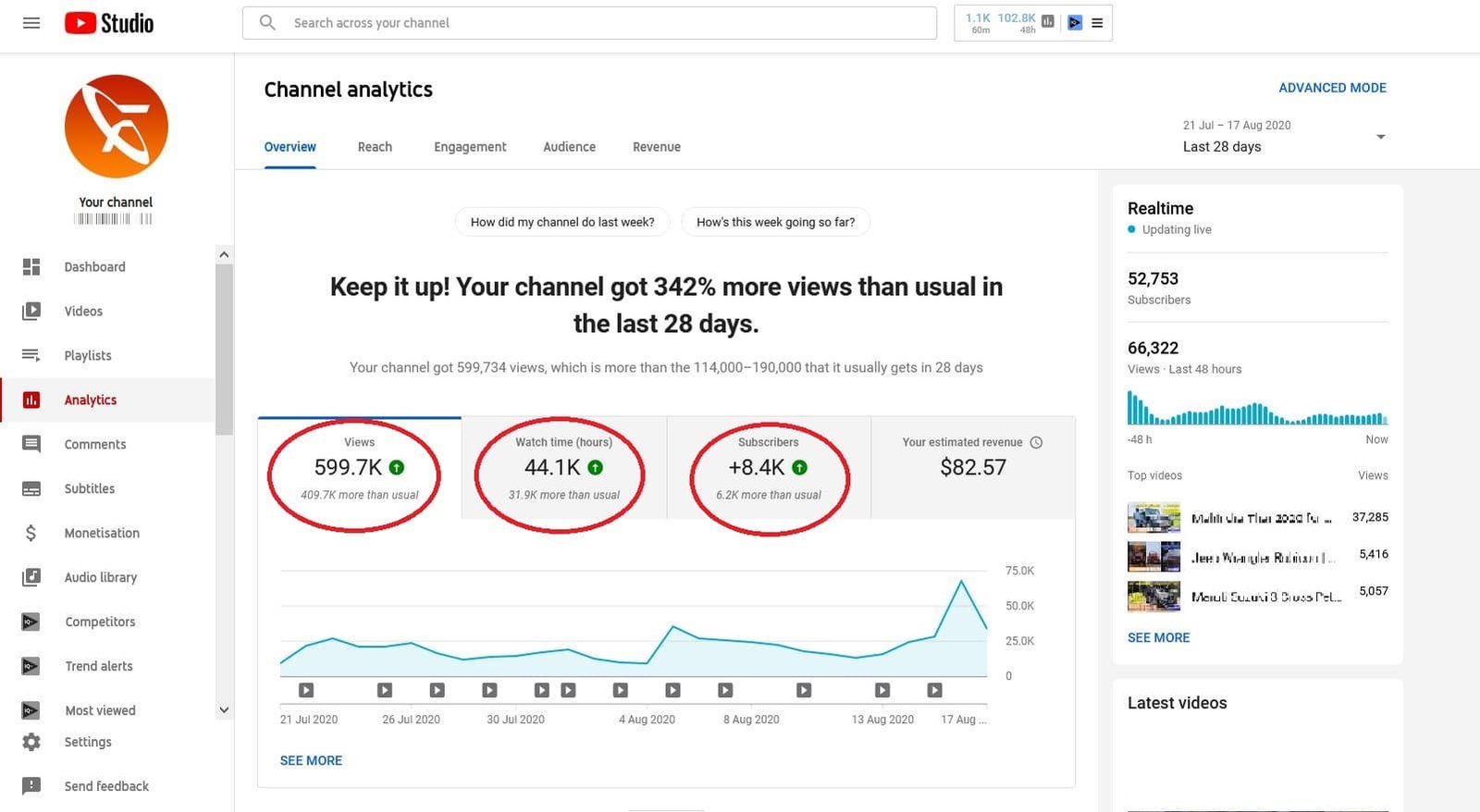 This is a YouTube dashboard of a client of mine. I handle digital marketing for 3 clients, this owner of this channel is open to feedback and a fast learner.
It's been 90 days since I am working with this client, but as you can see, he has gotten
2.5 Million Views (400,000 views at last update)
165,000 watch time (32,000 more watch time )
79,000 more subscribers (6,200 more subscribers at last update)
And older videos have started ranking better for keywords. 
I will also start my YouTube channel, but may be not right away because I am a single person company juggling multiple projects.
This guide on how to earn money from YouTube has been sitting in draft format for over 6 months now.
I've been putting it off because of lack of time, now I feel it is at a stage where I can at least publish it and then keep adding more information as required.
Before we jump into the heart of the matter, I want to make a couple of minutes of time and share some of my favourite YouTube channels. 
Most likely, these are channels you've never heard of, but some of them are at a very early stage so I think you can also see for yourself how their YouTube journey progresses. 
Few YouTube Channels I think will Grow to 1 Million + Subscribers
Nomad's Trails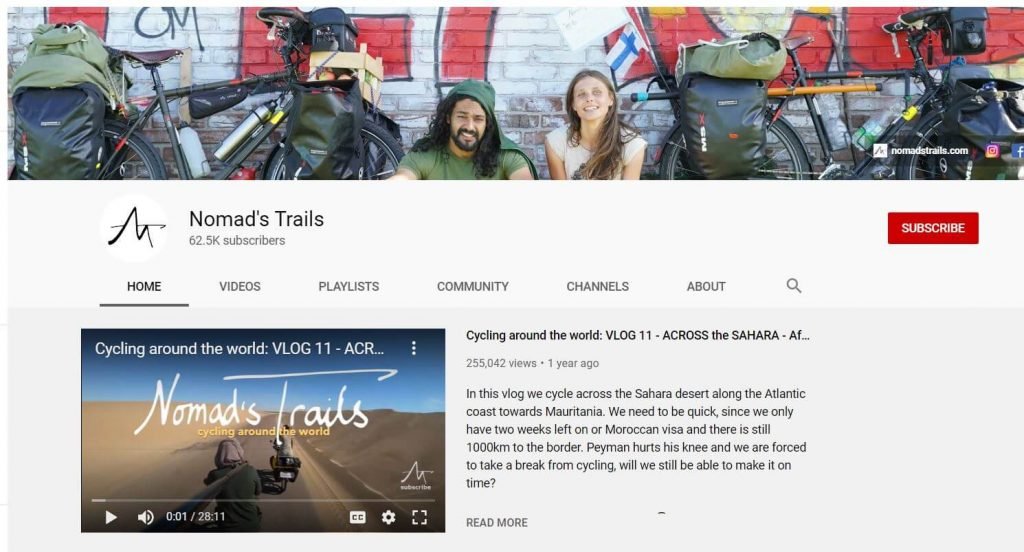 A couple from Finland cycling around the world. 
What I like about the channel:
Simple content with wide changing landscapes. 
Traveling is something everyone wants to do and I am no exception. 
Cycling makes the travel even more adventurous and I really like the way the content is presented. 
URL: https://www.youtube.com/channel/UC8bM_y2J-rhv1FL3hdP2VSA
Trout & Coffee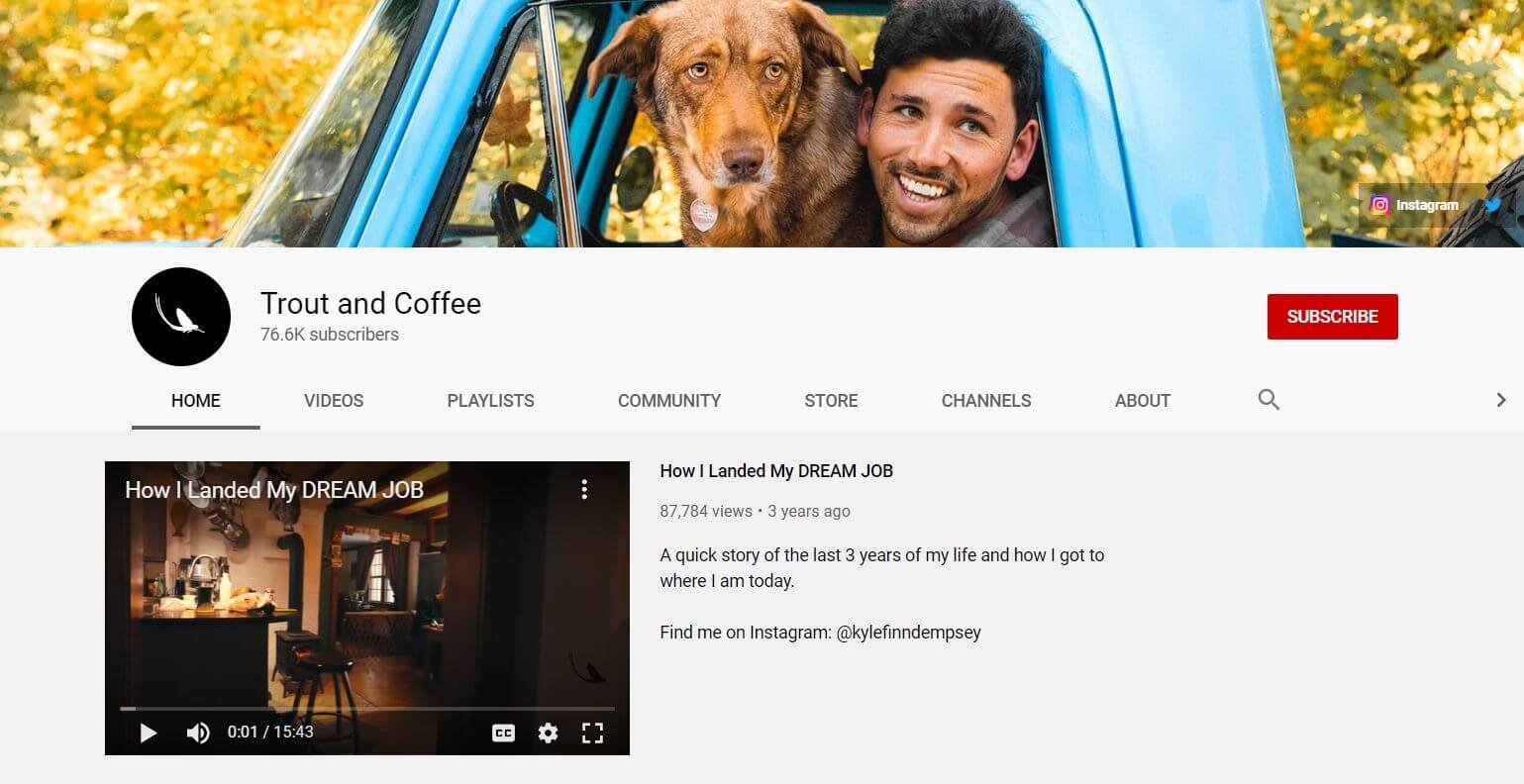 A great channel that shows life in a small town of America. Very picturesque and great storytelling and editing skills. 
URL: https://www.youtube.com/channel/UCXXeFzaAvvwEbUKAXsu_yrA
Gayyem Ben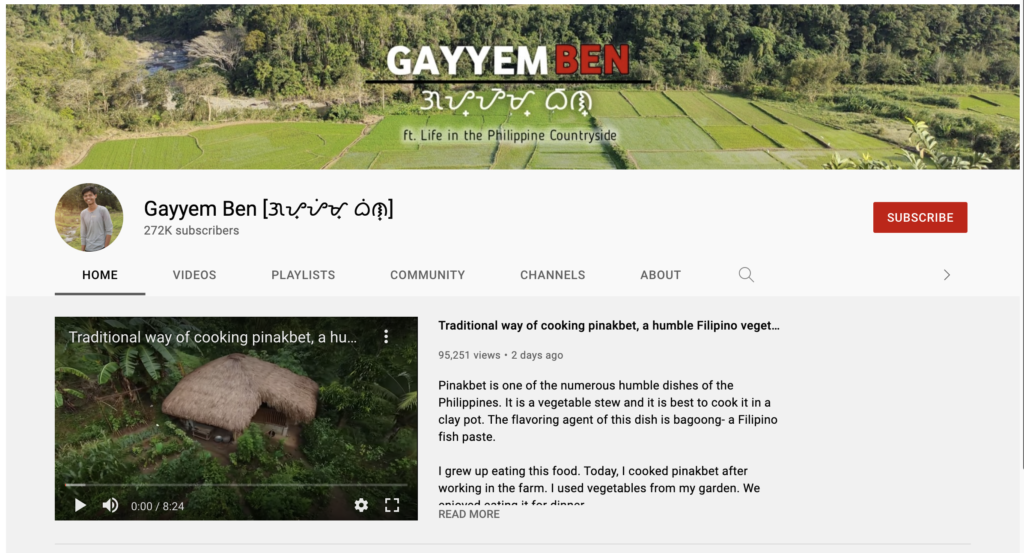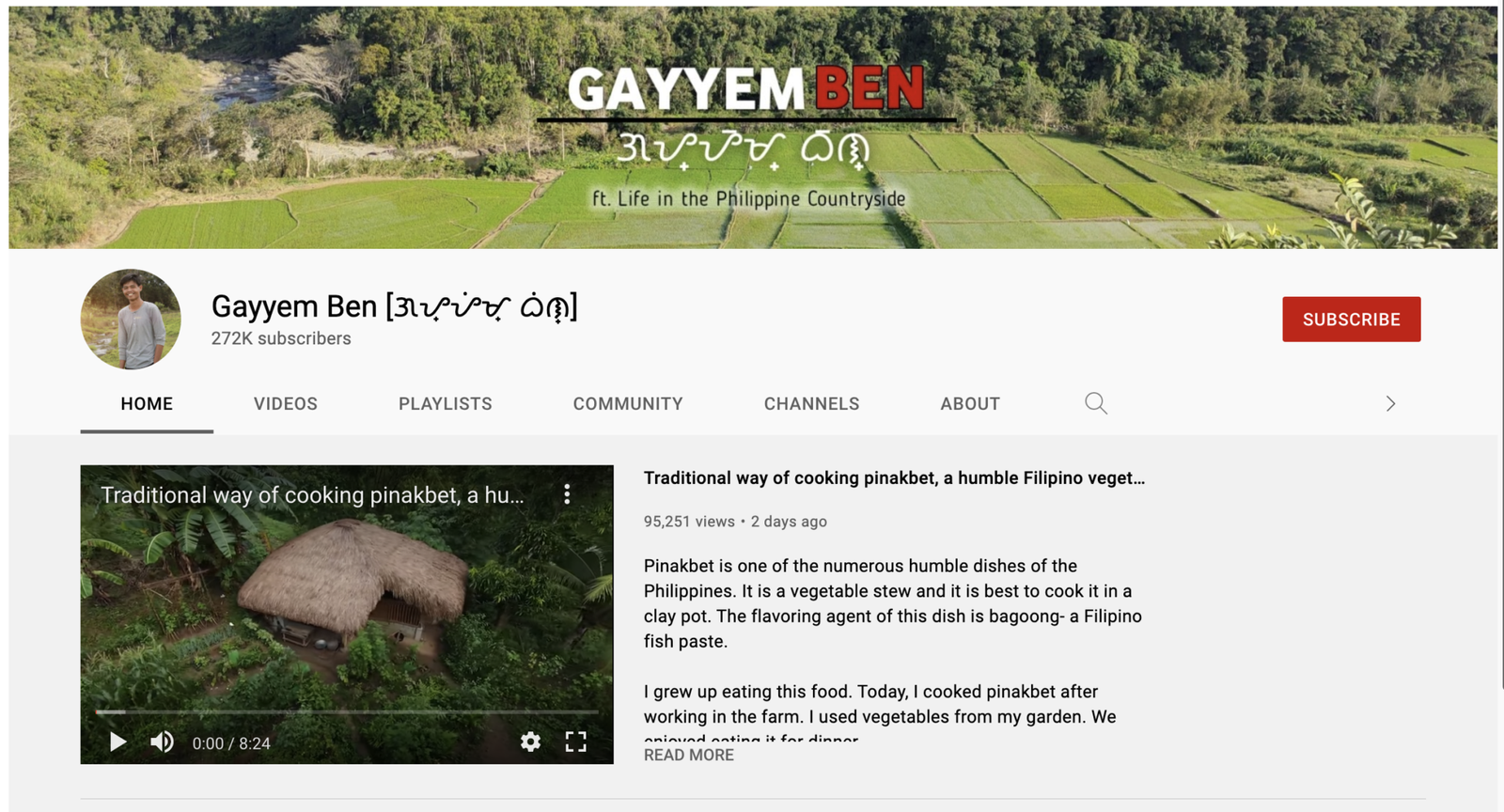 A simple, young guy living in the villages of Philippines making videos about country life and the foods he eat.
Very positive channel and I really admire this guy.
He started making videos with a phone but the videos are of excellent quality.
URL: https://www.youtube.com/channel/UC4PLAzkJUbUziPf7LmK0c9g
CK Space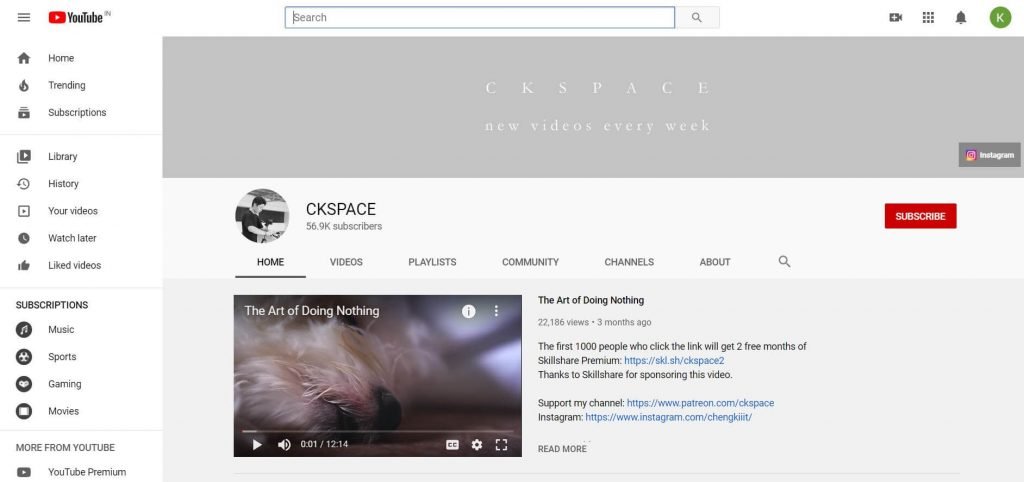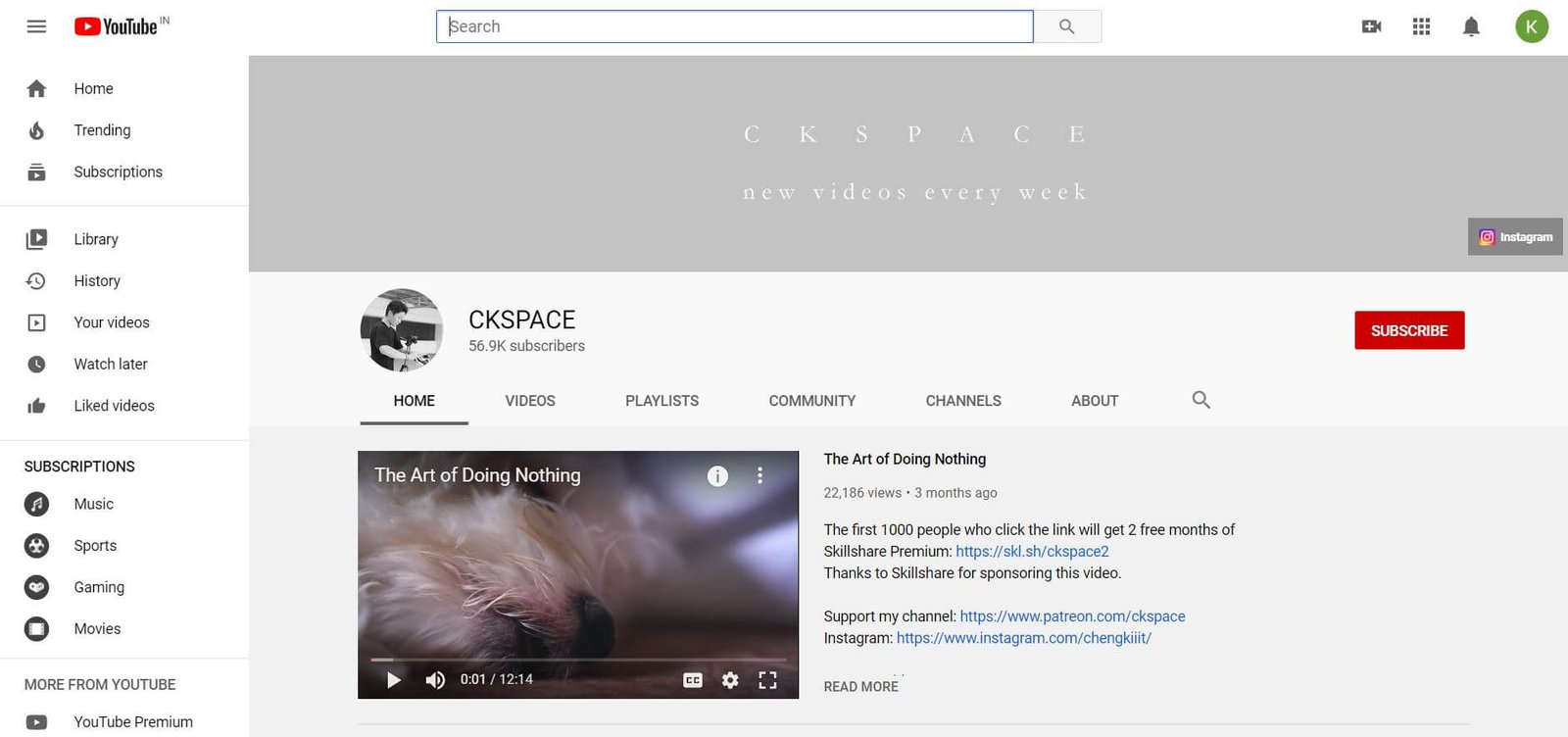 A guy from HongKong who speaks about Minimalism, Philosophy and declutter. 
I like his creativity and how he explains concepts such as Wabi Sabi in a simple easy to understand format. 
URL: https://www.youtube.com/channel/UCw3T7SvPYDHCkdMhC0NcKsw
Irfan Junejo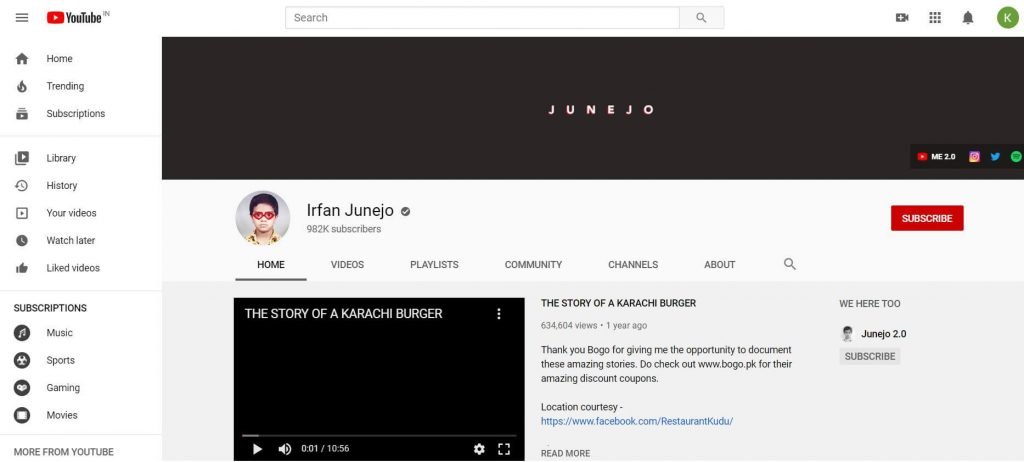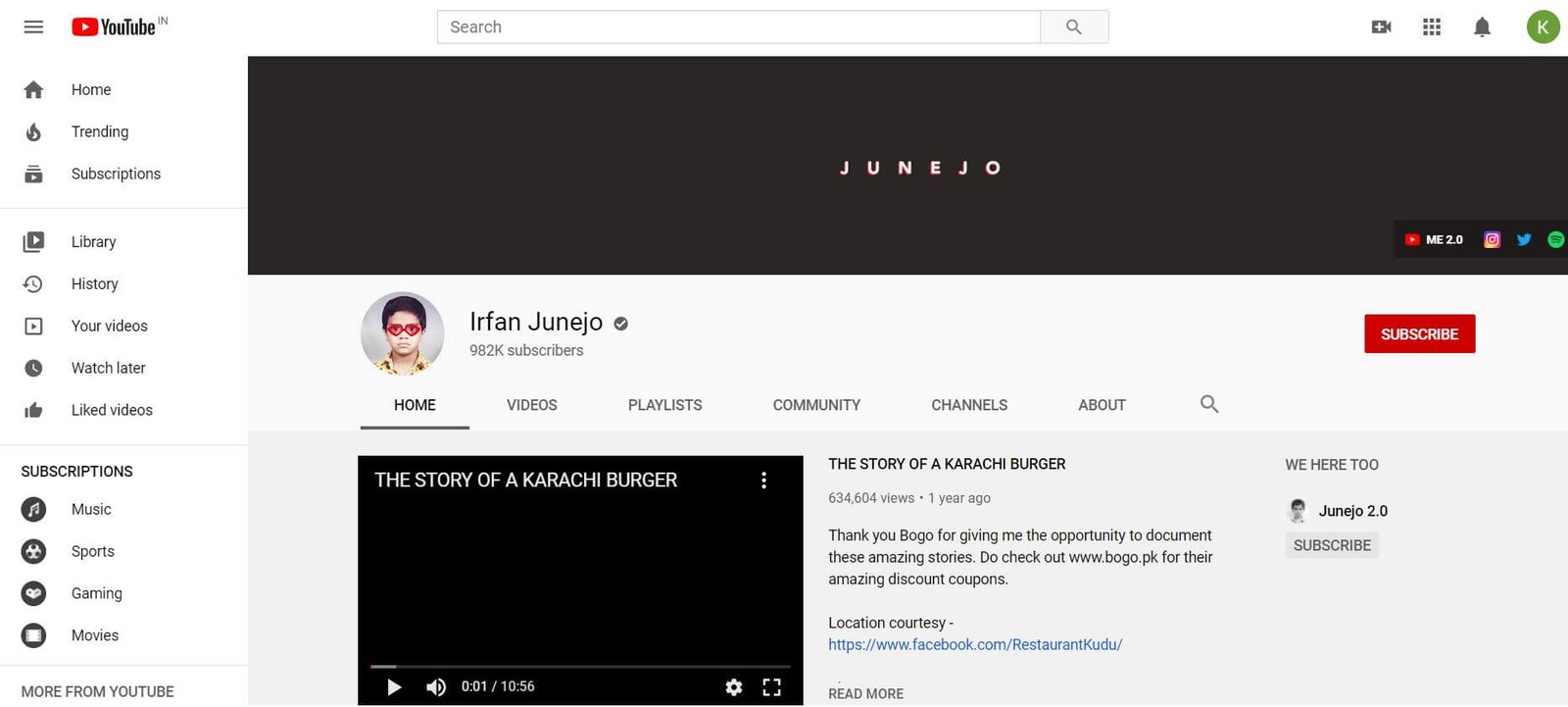 A Pakistani YouTuber with amazing editing skills. 
Being a fan for a long time, you should watch this video to see the quality. He's already at 1 Million Subscriber count!
URL: https://www.youtube.com/watch?v=_FyjK2CMLKw
Whether you are a solo entrepreneur looking to create a channel for passive income, a junior digital marketing associate wanting to grow your company's channel or a Digital Marketing executive trying to expand your understanding of YouTube, this post is for you. 
Note: There are some fantastic free tools out there that will help you grow your YouTube channel, if you are serious about growing your YouTube channel, I encourage you to read about paid tools which will give you an advantage over free ones.
If you do want to spend on tools, that is also fine, but the results will be a little slower. There is a reason why companies and software developers put in effort to build YouTube tools, and for a small price, it might be a good idea to use them. 
Anyways, let's start your YouTube journey right now!
Why YouTube?
Why YouTube and not any other platform like Dailymotion or Vimeo or Metacafe? 
I'll let the stats speak for itself. 
Looking at the number of users, you would know that YouTube audience of every kind and if you are to succeed in making online videos, YouTube already has the audience, and you just need to grab their attention. 
Think of it more like starting your own TV show in the 1990s. A big network like CNBC has given you a pilot contract, but they will run your show only based on ratings. 
Random Fact: 
One of the greatest shows ever to be aired, "Seinfeld" started with a pilot of 5 episodes.
Depending on the popularity of your show, the channel will decide to continue the show or end it.
Same concept applies on YouTube, you already have the audience, but traction cannot be judged in 5 episodes.
It takes longer (much longer), but you will know how your videos are doing without relying on anyone else. 
The catch here is to understand the YouTube algorithm well enough to get the most value for your videos. 
Let me make one thing very clear, "There is NO DEFINED SHORTCUT to YouTube success.
It takes effort and commitment. Anyone who says they will teach you how to master YouTube quickly is most likely trying to sell you something (either a course or some affiliate tools). 
Now, it's time to get you started with YouTube
Getting Started With YouTube
Before you start racking your brain on what would be your channel name, description, how do you want to position your YouTube channel etc, I want you to answer these fundamental questions. 
If you feel you need some help in answering these too, feel free to drop me a message in the comments section, I will personally help you!
What will be the purpose of your YouTube channel?
What are you actually passionate about? 
What are your unique skills?
Are you doing this just for the money?
1. What will be the purpose of your YouTube channel?
Before you start with your YouTube channel, write down on a piece of paper what would be the purpose of your channel. Are you looking to provide people with entertainment, coaching, news or just a mix of all these?
Once you have an idea on what would be the purpose of your channel, we can move forward. 
2.  What are you actually passionate about?
This is something only you can answer and nobody else. What are you actually passionate about? 
The easiest way to find your passion is to think back into your life as a kid and remember what you did, what you enjoyed and you were better than other kids. 
Take my example, I was never good at studies and the first subject I ever failed in class was Sanskrit (most people score 100% on this) but I always "Aced" in English writing. 
I don't know why I was good at English, but I was this one kid who would score low in all subjects, except English! Still it took me years to figure out this is what I was good at!
Just think about your childhood and I'm sure you'll find something you are/were actually passionate about!
3. What Are You Unique Skills 
Everybody is unique in some way. This is what makes us human. What are your unique skills? Can you make people laugh, can you do math faster than anyone else? Anything!
In most cases, you passion and unique skills will somewhere match and that is when the magic happens!
Write down skills that are unique to you and you will have more clues on what your YouTube channel needs to focus on!
4. Are you doing this just for the money?
A very important yet, fundamental question! Are you doing this just for the money?
If you are doing it just for money, you might burn out trying to produce videos consistently and you will give up finding that YouTube is not even giving you enough money to pay rent. 
Let me be very honest, it is not a good idea to think that you can make it big with YouTube overnight. It can happen, but it will take time.  
The ideal scenario is when you have clarity of thought and answers to Questions 1, 2, 3 & you are trying to figure out the answer to question No.4 which is how to earn money from YouTube. 
Name for Your YouTube Channel
One thing I noticed when I was doing research on competitors was that most of their channel names were unique, quirky and easy to remember. 
There is a reason why this was done. 
When your channel is short and unique, lot of people will remember the channel and will be even able to tell the name of your channel to other people during their day to day conversations. 
For example, take a look at the names of these channels
Now, there is also a trend where people name their channels after themselves which is also good if you do not mind using your name. 
But if at any point in the future you want to stop making videos and selling your channel, a channel of your own name would be difficult to sell. 
You can think of a few ideas for your YouTube channel name or use any YouTube Channel Name Generators for help. 
Once you have shortlisted a channel, time to actually create the channel. 
How to create your YouTube Channel
YouTube is owned by Google. 
So to have a YouTube channel, you obviously need a Google account. 
Once you have logged in to your Google account, go to Youtube.com 
Now your channel is not quite ready yet, but you can still upload your first video. 
You might have read about the importance of Youtube channel description, cover image and other nitty gritties but for now, just forget all that. 
For your YouTube channel to work, first and foremost you need good videos. That's it. 
Everything else can be done in a matter of a couple of days. 
So let's look at how to create your own YouTube channel first. 
Go to this url and sign up for a free google account. 
https://accounts.google.com/signup/v2/webcreateaccount?hl=en&flowName=GlifWebSignIn&flowEntry=SignUp
Once you have created a Google Account, head on to youtube.com 
If you do not have a YouTube channel, you will be prompted to create your first YouTube channel. 
In the above option just select your custom channel name. 
Once your channel name is added, you are now ready to get started. 
After that you will come to a page to upload your first video. 
For sake of keeping things simple, we will now look at some of the more critical aspects of a successful YouTube channel so that you can start making money from YouTube faster. 
How to Get Views for Your YouTube Channel
To get views for your brand new YouTube channel, these are your options.
Sharing with Friends and Family 
When you first upload your videos, nobody will see these videos via YouTube recommendation.
Your best bet is to share these videos to your friends and family and ask them to share again.
I have seen that in case of funny YouTube videos, some brand new videos also went viral and the channel immediately got tons of views- but this is rare.
YouTube SEO 
Like Google, YouTube also works on an algorithm and you can optimize your videos to generate views over time.
The keyword here is "over time". It takes time and it is not an instant shortcut to drive more views and subscribers.
YouTube Paid Ads 
If you have the cash and you are confident of your skills, running YouTube paid ads is an option.
You can reach to a new set of audience almost immediately and start gaining views and even subscribers.
Pro Tip: People do not like ads on YouTube and your video has to be of exceptional quality to get views and subscribers.
Related or Suggested Views 
Another way to get more views for your YouTube videos is through related or suggested views.
To do this, you need to create multiple videos in the same niche and link it together or add it in a playlist so that viewers can watch continuously.
Pro Tip: If you want to fast track views this way, consider creating a video explaining the video of an already popular channel.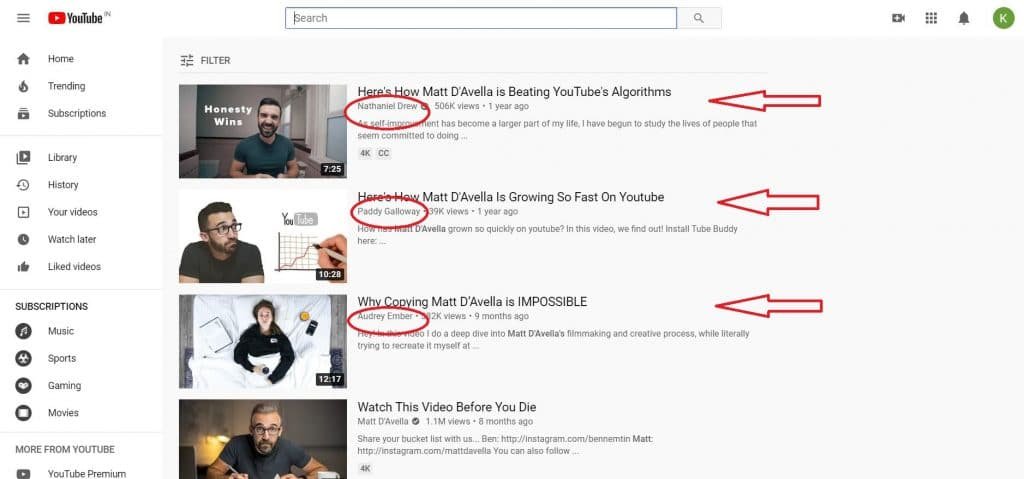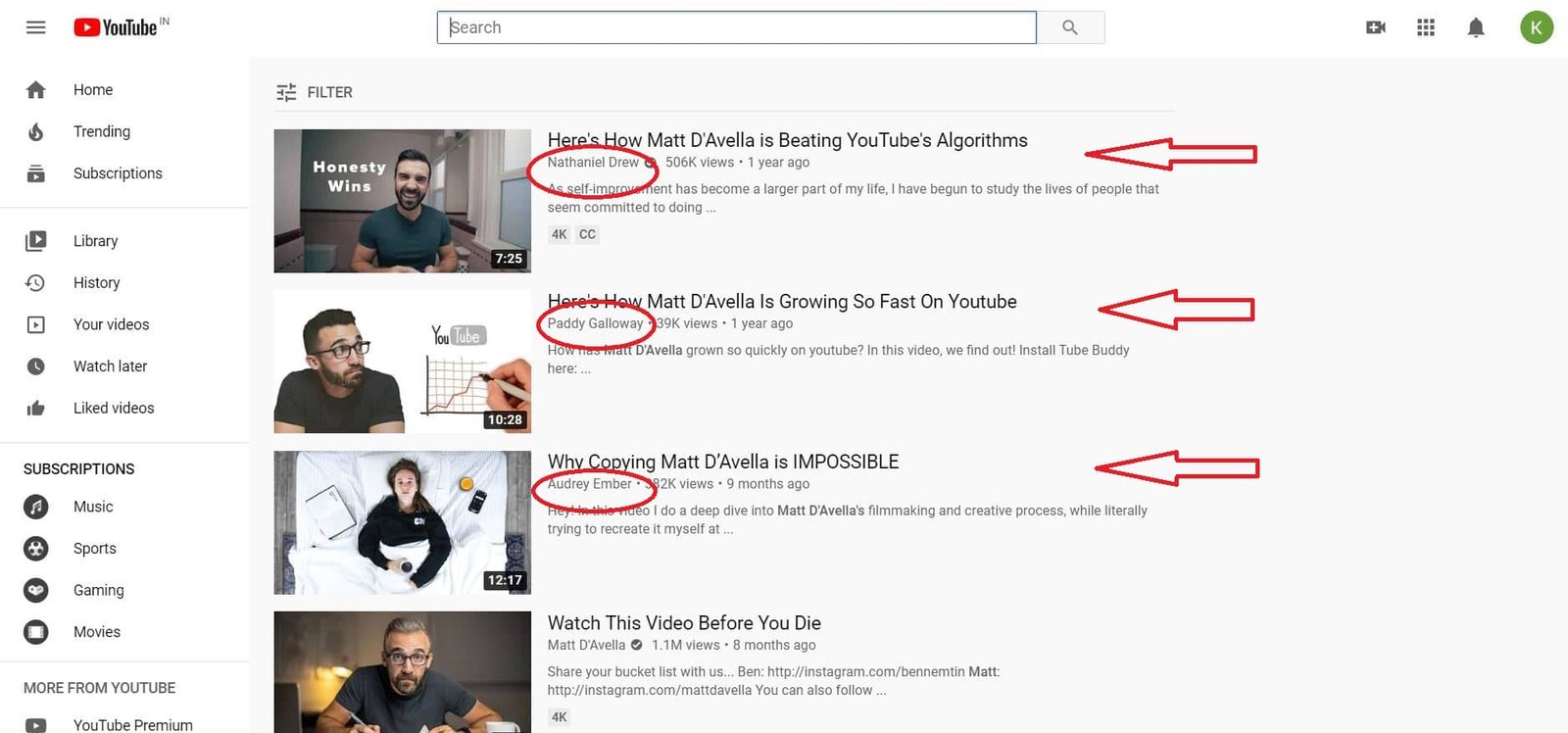 Matt D'Avella is a very popular YouTuber and the reason why all these people are creating videos in his name is to get some views from his related audience.
I do not know if this is a good practice, but it still works.
YouTube SEO
As you know YouTube just like Google works on an algorithm that understands a user's queries and throws the most relevant answer to the user. 
Most of the concepts of SEO are also applicable for YouTube and this means you will have to optimize your videos to get it to rank on YouTube. 
I always tell my clients to think of YouTube algorithm as a small child. 
You need to handhold and help the algorithm understand what your video is about so that it can show your videos to a maximum number of people. 
For ranking your YouTube videos there are few things you can do. 
Factors That Affect YouTube SEO Ranking
Optimize your Title
Have relevant keywords inserted into your title so that Youtube algorithm can understand what your video is about. 
When you optimize your title, ensure that the title is attractive so that you also get clicks from users when they see your title. 
The ideal YouTube title should be about 100 characters (70 will be read, rest truncated) and should have the main keyword at the beginning of the title.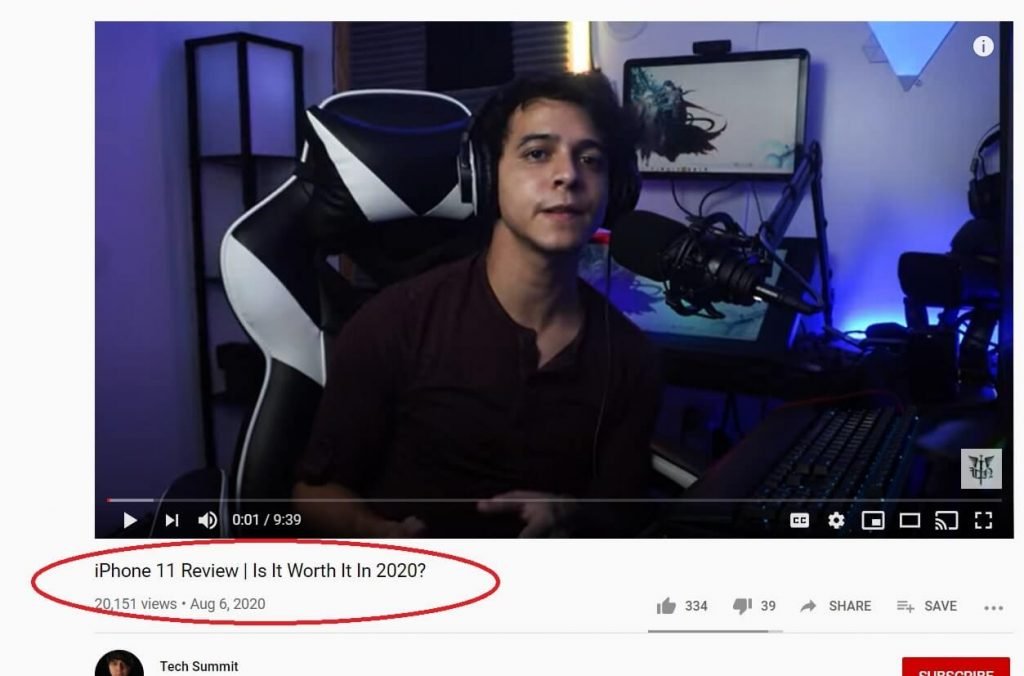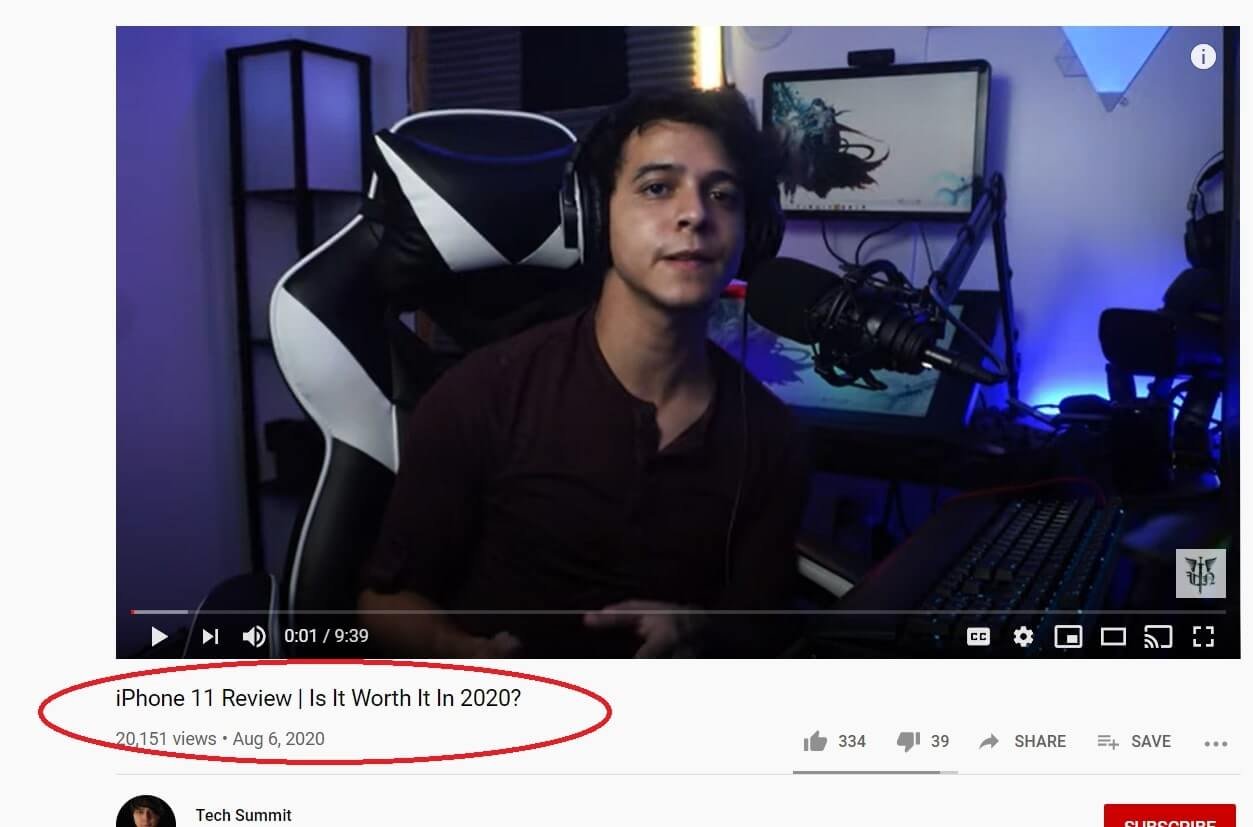 YouTube Description 
Many times, you would not be able to include a lot of information about your video into the title. This is where an optimized YouTube description can help you. 
Add as much as information about your video in the description section and also, add links to your other social channels or even a link to help people subscribe to your channel directly. 
You can also add links to your playlist and include details about what your video is all about. 
This will ensure that you cover maximum possible keywords in your description. 
YouTube Tags 
YouTube tags are another important aspect of video optimization. 
Instead of putting 500 tags that come to your mind, I have a better suggestion for you. 
Install this extension called as VidIQ and using the free version, you can research about most relevant tags and then add these tags to your video. 
Video Thumbnail
When you create a new YouTube video, the first priority of the video should be to get clicks. How do you get clicks?
With an attractive Title and a click worthy thumbnail.

This is why you often see new YouTubers putting Emoji Faces as Thumbnails with Bubbles of text trying to convey you a story and make users click. 
End Screen 
When your video is ending, the most logical thing for you to do is show another related video to yoru viewer so that the engagement and watch time of your channel grows. 
Cards 
YouTube has a feature known as i-cards which can be used to trigger a text for another video while a video is playing.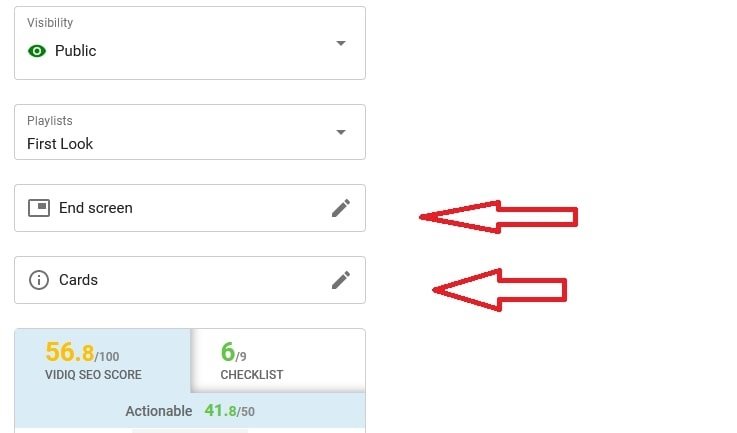 Once you have enough videos, you can add relevant icards throughout your videos to get people to watch more videos of your channel. 
Now that you have understood the basics of YouTube SEO, its time to figure out what kind of channel you wish to create. 
Whenever someone tells me that they are starting a new YouTube channel, I always tell them they will become successful if they are consistent. 
Like blogging, it is very difficult to get massive traction from the start and the best time to create a channel was a year ago. 
The second best time to create a YouTube channel is today. 
I am listing down 10 types of YouTube channels that have the most subscribers and who make the most amount of money from YouTube. 
If you like any of these niche, you can consider starting a channel in the same niche. 
I have seen many people trying to copy the style of popular YouTubers to become successful. 
If you do that, you can be moderately successful. 
But remember that the original creator has something-creative thinking which cannot be copied. 
You should try to create your own style and get a fan following that will eagerly wait for your videos. 
10 Types of YouTube channels that make the most money
Politics and Current Affairs – Mark Dice
Mark Dice claims to be the best right-wing channel on You-Tube. This channel was launched in January, 2007.
The channel gives insights on both current events and politics. Mark uses his channel to bring forth conspiracy theories and provides his input on a wide array of topics.
He often engages in debunking and fact-checking of the fake news industrial complex. His recording style is different from the rest, he often records videos in crowded locations where he asks passers-by to answer simple questions about their political views. 
He also advocates signing of petitions to further certain political causes. 
This channel has 1.57 Million Subscribers and 330,569,502 views
URL https://www.youtube.com/user/MarkDice/videos
Vlogs- Casey Neistat
Casey Neistat is a world renowned YouTuber who uses his channel to capture life's precious moments. 
This channel was launched in February, 2010. His vlog acts as a gateway into his life showing his daily experiences, including his tryst with travel, gizmos and cars.
Watching him is a delight as he video journals down important milestones and emotional breakthroughs.
He initially used his platform to put out funny videos but later shifted to vlogging. He has since then collaborated with industry giants like Nike and Mercedes.
He has also starred in short films. 
His channel has a 12.1 Million Subscriber Count and  2,833,829,969 views. 
URL: https://www.youtube.com/user/caseyneistat
 Travel – Vaga Brothers
Vaga Brothers is a travel channel run by two brothers, Marko and Alex Ayling, who consider themselves "Vagabond. "
This channel was launched in October, 2013. They are award-winning videographers known for their scenic B-Roll shots and aesthetic drone captures. The channel consists of their Travel Vlogs that map their journeys through different parts of the world.
The channel does not focus on "Touristy" things but on exploring new horizons. Their cultural and culinary escapades are not only entertaining but also help bust stereotypes and bring people together.
The Vaga Brothers take you on a whirlwind saga, showing you the world through their eyes. 
The Vaga brothers have a total of 1.3 Million Subscribers and 75,631,079 views
URL: https://www.youtube.com/user/vagabrothers
Cooking – Binging with Babish
Haven't you always wondered what the delectable looking chocolate cake from Matilda tastes like? Or the infamous Ratatouille? 
Babish has a way to satiate both your cravings and your curiosity. This channel was launched in August, 2006. Binging with Babish is a one of a  kind cooking show where the host  recreates fan-favourite dishes from  popular movies and television shows.
Binging with Babish takes you on a ride filled with flavour bombs and nostalgic experiences. Over the years Babish has expanded his repertoire and now also hosts shows called "Bonus with Babish" and "Basics with Babish". 
Binging with Babish boasts 7.3 Million Subscribers and over 1,382,277,231 views. 
URL: https://www.youtube.com/user/bgfilms/featured
Teaching – Crash Course
Crash Course is an educational channel that makes learning a fun and informative experience. This channel was launched in may, 2006.
It is also a great platform for teachers to imbibe innovative methods of teaching that grabs their students attention.
In fact, many of the traditional classrooms are now seeking the help of Crash Course because of their in-depth coverage of topics and high-quality video production.
It has a variety of hosts that guide you through complex topics in an engaging and  witty manner. It covers a wide variety of subjects like Biology, Physiology, Literature, Astronomy etc. 
 Crash Course has 11 Million loyal Subscribers and 1,304,625,438 views.
URL: https://www.youtube.com/user/crashcourse/videos
Music – Electro Posé
Electro Posé is a Music Channel that paves the way for young artists and new music. This channel was launched in February, 2013.
It helps promote indie creators and gives them a platform to showcase their talent. As the name suggests it focuses on the Electronic Music genre and specifically French.
It is one of the most popular  Audio Mixing Channels on YouTube. It is a great channel to discover emerging new talents.
It soon became so huge that they also launched their own record label under the same moniker, which was later renamed to Inside Records in 2016. 
Electro Posé clocks in 1. 5 Million Subscribers and 508,454,295 views
URL: https://www.youtube.com/user/electropose1
Stories – Great Big Story
Great Big Story is a global media company devoted to cinematic storytelling.
This Channel was launched in March, 2015. It aims to connect the world one story at a time. They have varied content that ranges from  micro docs and short films to  series for digital, social, TV and theatrical release.
They are always on the quest for stories that inspire, create awe and move their audience. These stories often leave the viewer thinking about the greater good.
They cover different cultures and countries and bring out stories that need to be told. 
They have a Subscriber base of 5.12 million and 1,860,051,417 views. 
URL: https://www.youtube.com/channel/UCajXeitgFL-rb5-gXI-aG8Q/about
Motivation – Motivation Hub
The main motto of this channel is to be a helping hand for the problems of common people.
This channel was launched in September, 2016. Through it's motivational videos it helps people find their equilibrium and steers them on the path towards the greater purpose of life.
Some of the most popular motivational speakers from around the world are invited to speak about noteworthy aspects of life.
The channel showcases a series of curated videos that are sure to get you up and going.
The videos are inspirational and lift the spirits of distressed souls. The videos range from experts talking about mental health to people sharing their journey of finding themselves. 
This channel has 1.15 Million Subscribers and 98,000,096 views 
URL: https://www.youtube.com/channel/UCR54lF_dD3f-8srmRqnTwgQ
Pranks – Just For Laughs Gags
This is the official channel of the show Just For Laughs Gags.
This channel was launched in January, 2017. This channel unlike other prank channels banks on creativity and comic timing rather than hurting people or making fun of people.
Their pranks are harmless and make for a great laugh for both the ones being pranked and also the viewers. The pranks are captured through hidden cameras which are revealed at the end.
It is a silent comedy show that uses comedic tunes to supplement laughter sounds and hence no translations are required.
This helps the channel to transcend the barriers of language, making it a crow favourite. 
This channel has 10.2 Million Subscribers and 5,908,726,994 views. 
URL: https://www.youtube.com/channel/UCpsSadsgX_Qk9i6i_bJoUwQ
Tech Reviews – Linus Tech Tips
Linus Tech Tips aims to make the complicated world of Technology easier for common folk. This channel was launched in November, 2008.
The channel has a team of Technology enthusiasts who aim to elucidate the workings of the Tech Industry through a series of entertaining videos.
They provide step by step Tech reviews for a better and deeper understanding of the product. 
They do "unboxing" videos that offer valuable insights about newly launched products. They review gadgets and share their opinions on if they are worth the money. 
The channel has 11. 2 Million Subscribers and 3,795,229,300 views.
URL: https://www.youtube.com/user/LinusTechTips 
Now that you have gone through some of the most successful YouTubers ever, I will show you how you can monetize your YouTube channel and make money from it. 
How to Make Money from YouTube
In order to monetize your channel and make money from YouTube, you need to join YouTube partner program. 
Different programs have different eligibility, and they listed below:
| | |
| --- | --- |
|   | Requirements |
| Ad revenue | Be at least 18 years old, or have a legal guardian older than 18 years of age who can handle your payments via AdSense.Create content that meets our advertiser-friendly content guidelines |
| Channel memberships | Be at least 18 years oldHave more than 30,000 subscribers |
| Merchandise shelf | Be at least 18 years oldHave more than 10,000 subscribers |
| Super Chat & Super Stickers | Be at least 18 years oldLive in a country/region where Super Chat is available |
| YouTube Premium revenue | Create content watched by a viewer who is a YouTube Premium subscriber |
How to Make Money from YouTube
★ YouTube Ads
★ Affiliate Links
★ Donations/ Patreon
★ Brand Sponsorship
★ Sell Products
Earn Money on YouTube via YouTube Ads 
YouTube ads are the easiest way to make money from YouTube. It is easy as just turning on a switch for monetization and that's it YouTube will start showing ads to people and you get paid every time some watches your ads or clicks on your ad. 
YouTube ad earnings are significant if your audience is from a developed country and it can get pretty depressing if you are in a third world country. 
How much money can I actually make from YouTube ads ?
Like I said, it depends on a few factors. 
Geography of your audience 
If your audience is from a first world country, then you can make significant amount of money. 
For example, take a look at this channel. 
This guy makes as much as USD 5000 per day just from YouTube and that is a significant chunk of money.
Niche of your audience 
If your audience is into some niche such as finance or technology, then there are more advertisers to run ads on your videos and naturally your CPMs will be higher. 
This means there are more people willing to place bids on ad spots of your channel and you earn more. SImple as that. 
I have seen that from my experience a video with 1 million views in India can earn about INR 60,000 in revenue. 
For a new YouTuber, these numbers are not very exciting but think of it this way. 
If you cannot get a million views from one video, you can get 100,000 views from 10 videos and still make that money. 
Me and my friend were discussing the other day that it's better to earn half the money by working on yourself than listen to a boss and do uninteresting work. 
Affiliate Links
In almost all tech channels, you will find links of the products being reviewed in the description. 
These will be affiliate links which gets the YouTube creator some commission when the product is purchased via that link. Its a small commission but when there are thousands of people clicking on the link, the commission can be pretty big. 
Donations / Patreon 
You might be wondering do people really give donations to support YouTubers? 
You might be surprised by the figures. 
For example, even with 200 people supporting a channel on Patreon, you can make as much as $1000 per month –which can at least cover the cost of food and basic expenses. 
This is the link for signing up with Patreon. https://www.patreon.com/
Brand Sponsorship 
You might not know this, but many brands have a significant budget to spend on upcoming YouTubers. 
This is because growing YouTubers are easier to partner with and it is usually a one time fee the brand has to pay. 
Nord VPN, Audible, SquareSpace are some of the brands that pay per video for sponsoring YouTubers and it is a great win-win for creators and advertisers. 
Once the brand mention is in the video, it will be an advertisement for the brand for years to come and the creator also get some money in the initial days. 
Sell Products 
Next way to make some money on YouTube is via selling products to your audience. 
The channel I mentioned before "Trout & Coffee" has merchandize which will be a useful source of revenue in his YouTube journey.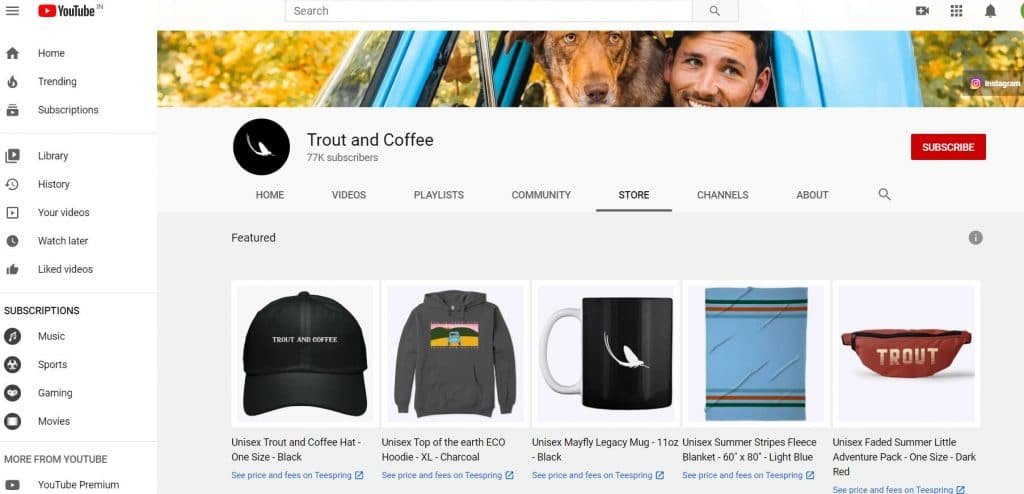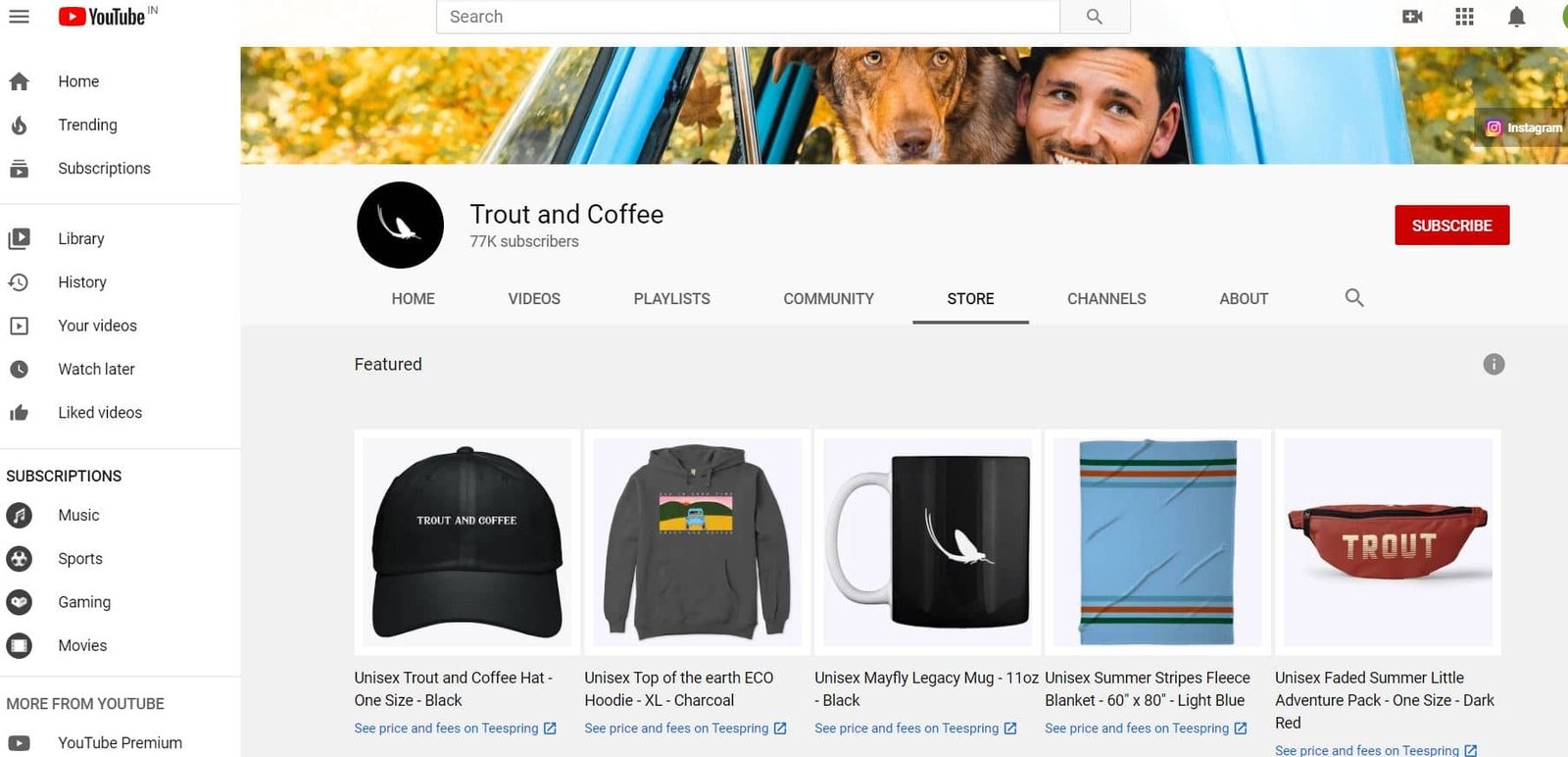 Consulting 
Lastly, I want to add consulting as a way of making money from YouTube.
I have personally known some YouTubers consulting brands and upcoming YouTubers in exchange for a consulting fee to grow their channel. 
So these were some of the ways to earn money from YouTube. 
Its been a long post, so let me summarize it again on what you need to do. 
How to earn money from YouTube: A Summary
★ Start a Channel
★ Publish Videos consistently
★ Ask your audience to subscribe
★ Start monetizing
★ Repeat
Tools I recommend for your growing your YouTube Channel:
VidIQ
TubeBuddy
KeywordTool.io
YouTube can be a fantastic source of income and I'm also planning to start my YouTube channel once this lockdown lifts. 
If you found this post helpful, do share it with someone who might find it useful. 
Also, if you need help getting started and making money from YouTube, drop a message using the chat at the bottom, I will respond to you via email and guide you. 
Recommended Reads