Last Updated on
The City of MIAMI
Being the sixth most densely populated city in the United States, Miami is home to over 6 million people. As a major leader in commerce, finance, culture, entertainment and international tourism and trade, the City of Miami has been the most economically flourishing state in Florida. 
The city has a vibrant mix of ethnicities and races, who further impact the overall culture of the city. From entertainment and performing art shows, such as the famous Calle Ocho Festival, to the unique style of cooking dishes like medianoche and croquette – the lively culture of Miami has won it the title of a "Magic City".
While a significantly large section of Miami residents commutes via driving alone, the trends of carpooling, using public transportation and even walking are becoming increasingly popular. Miami's road network is based on a grid system throughout the city. Major roads in every direction are located at intervals of one mile. For those who wish to move around the city using public transportation, the options include – metros and buses.
Forbes recently published an article, listing out various reasons as to why Miami is the top city for small business growth in 2019 and we couldn't agree more. The bustling industries of tourism and finance further allow the growth of small businesses, making Miami and ideal location for start-ups.
Coworking Solutions in Miami
The dense population of the city, teamed with more and more entrepreneurs looking to start their business journey, leaves them with one big problem – to find the perfect office at a price that doesn't burn a hole in their pocket.
Growing as a trend all over the globe, coworking is a great solution for those in search of an affordable office in Miami. Coworking essentially allows one to rent out an office space collectively with other professionals. The spaces range from being affordable and shared or slightly high priced and private. You can make a choice according to your business and personal requirements. 
Given below is the list of 20 best coworking spaces in Miami. All of the most important details which must be kept in mind while choosing a coworking space such as the price listing, additional services and amenities are mentioned alongside each of these handpicked spaces. 
20 BEST COWORKING SPACES IN MIAMI
1. The LAB Miami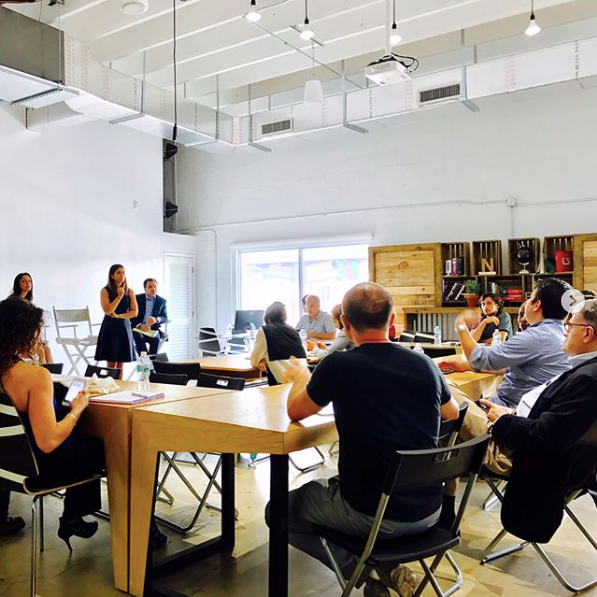 Situated right in the middle of the arts district of Miami, the coworking spaces offered The LAB Miami come with a bunch of unique amenities. These include a fully stocked kitchen, ultra-fast unlimited internet and free parking. One of the most unique features of this coworking space is the free bike that is offered to every member. 
Due to its perfect location at 400 NW 26th, the frequent events in this area can prove to be great opportunities for contact building with professionals from all walks of life. 
The atmosphere at The LAB Miami is laid back and relaxed which is what an ideal office space in the industry looks like. Such a comfortable environment allows for a free flow of your creative juices. 
With desks starting at just $330 per month, there are ample reasons to choose The LAB Miami as your office space today!
2. Büro Coconut Grove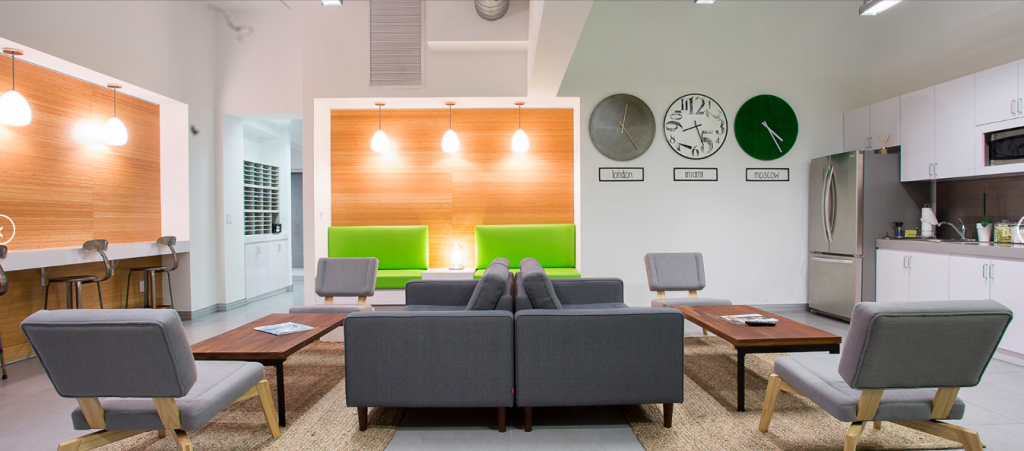 If your working style includes equal parts fun and equal parts efficiency, Büro Coconut Grove is the place for you. 
Offering three different office locations within Miami, this coworking space comes with all the basic amenities one might need in their office space. From state-of-the-art conference rooms to fully stocked kitchen and coffee bars, this space also features social spaces and lounges to re-energise you after a stressful workday. The service at Büro Coconut Grove also goes a step ahead and organises numerous networking events. 
With utilities such as an ultra-fast internet, dedicated mailboxes and storage, high-quality printing and scanning, as well as VoIP phone and Skype rooms – this office space is a dream come true. 
The price for single desks start from $249 per month and go all the way up to $2599 per month for a suite office that allows teams of different sizes. 
3. MiamiShared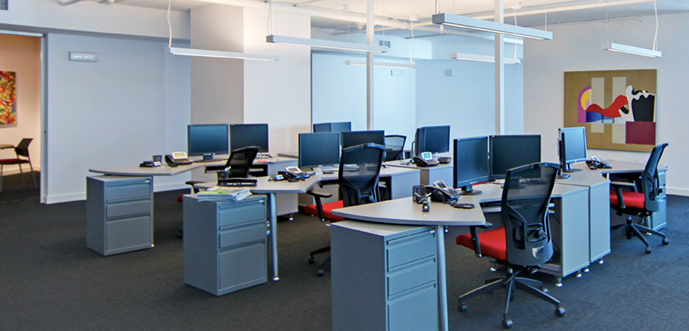 Located at 990 Bicayne Blvd. of Downtown Miami, this office space is a beautiful blend of your comfortable home and favourite coffee shop. 
Other than a relaxed yet professional environment, MiamiShared also gives you a 24 hour round the clock access to the office building, allowing you to work according to your schedule. Regardless of whether you are someone who only works well at night or a person who quite literally makes their office a second home – the free coffee at MiamiShared will keep you up and running. 
Some of the other utilities at MiamiShared includes – super fast internet and wifi, conference room with high quality video call facilities, access to networking events and workshops. 
One of the coolest benefits of making MiamiShared your office is getting your company logo placed on the building. Miami shared allows the placement of your company logo with no additional costs.
All of this at a price of $250 per month for shared desks makes MiamiShared an affordable coworking solution for your business needs. 
Still not convinced? You can drop in any time at a per day rate of $25 and give it a try to see if this space matches your requirements before renting it for a longer duration. 
4. WeWork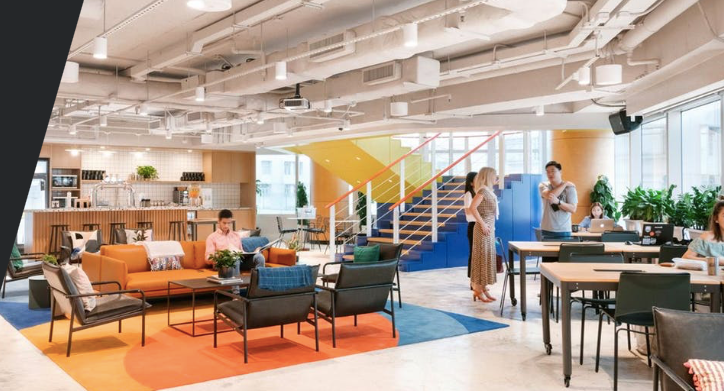 Being one of the leading names in the coworking space industry, WeWork has offices all over the globe. They also offer more than 6 different office locations within Miami for you to choose from.
With all the locations differing a tad bit on the parameter of price, the one thing that remains consistent at WeWork is QUALITY SERVICE. Upholding the reputation, the coworking spaces by WeWork in Miami cover all of the amenities one can ask for. These include – a super-fast internet, daily cleaning, business class printers and copiers, mail packaging and handling, private phone booths, a 24 hour access to the building and so much more. 
Other than the basic needs, WeWork also provides the option of choosing from micro-roasted coffee, craft on draft and fresh fruit water for days when you desperately need a refreshing break. 
With hot desks starting from a price of $230 per month, you also get to network with professionals from various industries. 
5. Pipeline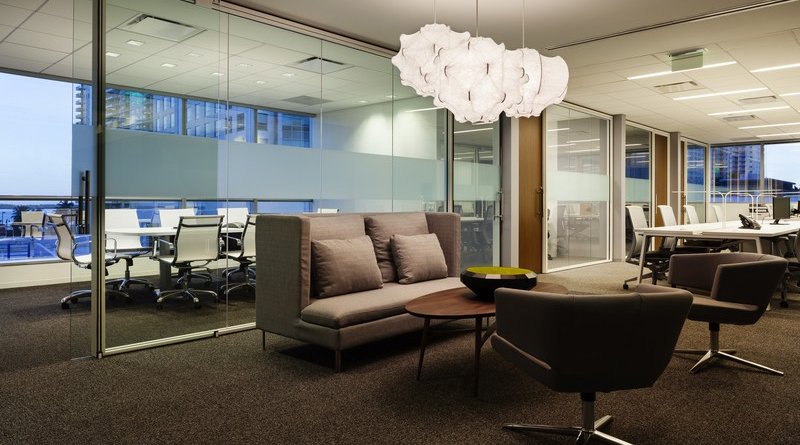 Located at 95 Merrick Way, Coral Gables, the coworking spaces offered by Pipeline have a relaxed yet professional atmosphere which is great to work in. With coffee shops and restaurants surrounding the entire area, working out of office space at Pipeline allows you to take a break as per your convenience as well as meet creative people like yourself.
With desks starting at prices as low as $99 to $199 per month, Pipeline's coworking offices are extremely budget-friendly and that is exactly what makes it an ideal office space for budding entrepreneurs, independent workers and small teams. 
6. Regus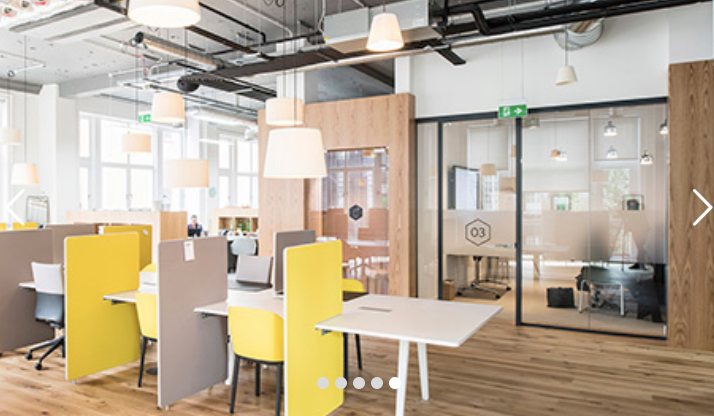 If it comes down to the convenience that a coworking space can grant to its members, Regus is likely to emerge as the sole winner.
With over 33 locations within the city of Miami, Regus gives you great freedom to choose the coworking space that is most convenient to you in terms of transportation and other requirements. From virtual offices and hot desks to shared desks and business lounges – Regus has it all.
If you choose to rent out space at Regus, not only do you get all your basic utility requirements fulfilled, but also receive other perks such as on-site parking and an outdoor seating area. 
With prices starting at $17.90 per day, you can give this coworking space a trial run before signing on a long term lease. 
7. TamboWorks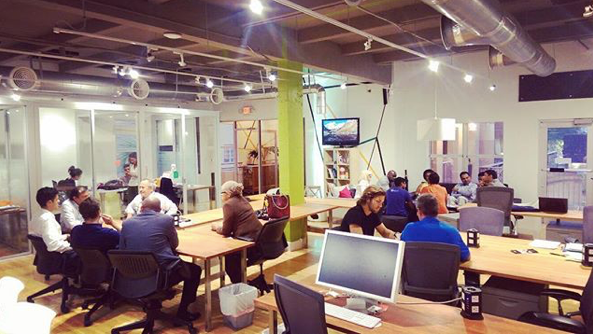 Located at 5790 Sunset Dr, South Miami, TamboWorks offers a wide variety of coworking solutions for your business needs. Considering that all businesses vary in terms of their size and operation, so do their space requirements. This is precisely why it becomes extremely important to choose a coworking space that is well-aligned with your goals and needs.
TamboWorks, with it's large variety of coworking spaces, allows you to do just that. You can pick from the options of a community table, a personal desk or even a private office.
Starting at an affordable price of $250 per month, this coworking space offers a round the clock building access, unlimited ultra-fast wifi, personal lockers and conference rooms.
What's more? It also gives it's members unique opportunities to gel with like-minded experts from the industry at their social events and workshops. 
8. MADE at the Citadel
The office spaces offered by 'MADE at the Citadel', are even more creative than the name of the coworking company itself. 
Just like the name suggests, this is the perfect place if you're looking for an office that is always brimming with creativity and fun. A coworking space strictly designed for designers and creative entrepreneurs, the ultra-modern office spaces at MADE at the Citadel offer a lot more than your regular coworking amenities.
Other than a super-fast internet connection, dedicated parking space, high quality printing and scanning as well as free beverages, MADE at the Citadel offers you something a lot more valuable, which is – a perfect work-life balance.
With creative energy flowing through the whole space, working in an environment like this will keep you from feeling exhausted at any given point of time. 
Prices are available upon request. 
9. BUILDING.co
If you're a tech company that's looking for a place which truly defines your sleek and minimalistic style, then the coworking spaces at Building.co are going to be your next favourite thing.
With offices designed to accentuate a hip tech aesthetic, Building.co organises some of the coolest tech events in the industry, including many fun social events. Waffles after work happens to be one of the many such fun events that you get to witness at Building.co. 
Equipped all of the industry standard amenities, desks at Building.co start from $550 per month.
10. KEYWORKING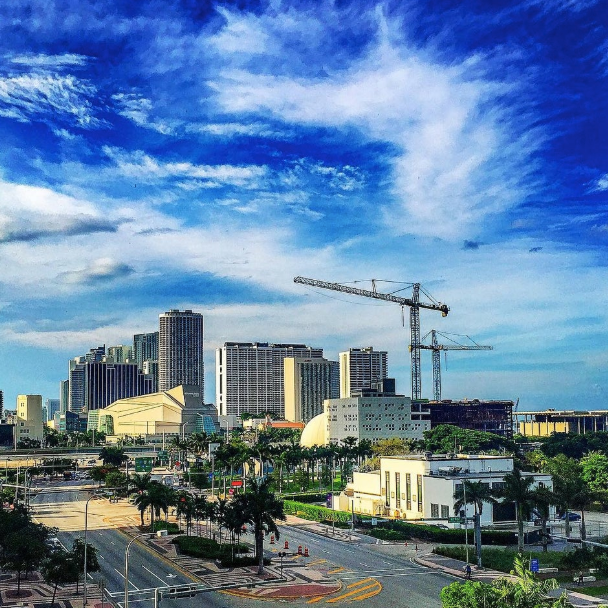 Before talking about the utilities that this space has to offer, it is quite important to mention the breathtaking view of Downtown Miami that you get sitting in one of the private offices. 
In addition to the terrific view that we already mentioned, Keyworking offers an equally satisfying range of amenities. These include – a library lounge (for those who wish to relax and those who read to relax), a fully stocked kitchen and cafe, call handling, private mailbox, ultrafast wifi, as well as around the clock access to the office building.
You can choose from various sizes of coworking options available in the form of personal desks and private offices to suit your start-ups needs.
Situated at the ideal location of 888 Biscayne Blvd, Suite 505, the price list for Keyworking is available upon request. However, if you wish to see the place thoroughly before finalizing it as your future office, you can always book a day's trial which is priced at a mere amount of $30. 
11. SKYE STUDIOS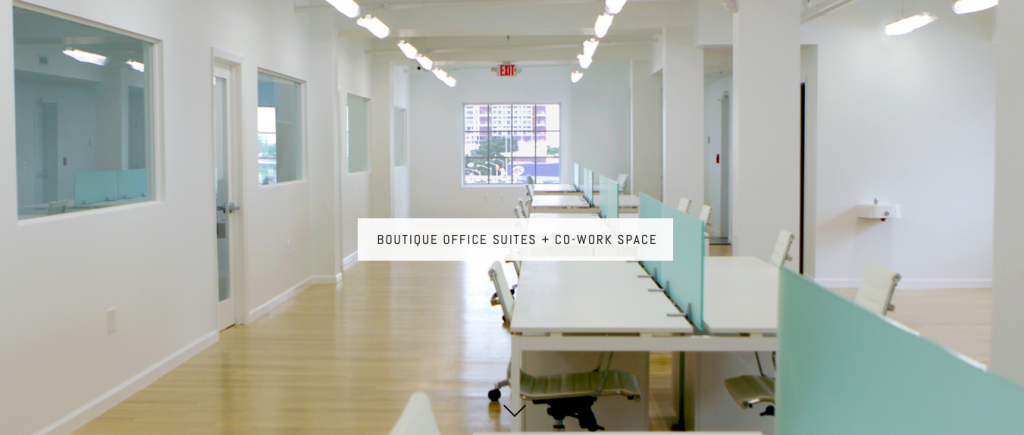 Located at the 1035 North Miami Avenue, Skye Studios offer the best in class boutique and coworking spaces. 
Just like the name suggests, this coworking office is situated at the topmost floor.
Other than being fully equipped with all the basic amenities such as an ultra-fast internet connection, fully stocked kitchen and dining area, designated mailbox and parking, the building also has a bar known as The Corner, which can a great place to unwind post a tiring day at work.
Opting for Skye Studios as your office space allows you to choose between a shared workstation or a private office , according to your business needs. 
Prices of spaces at Skye Studios are available upon request.
12. CityDesk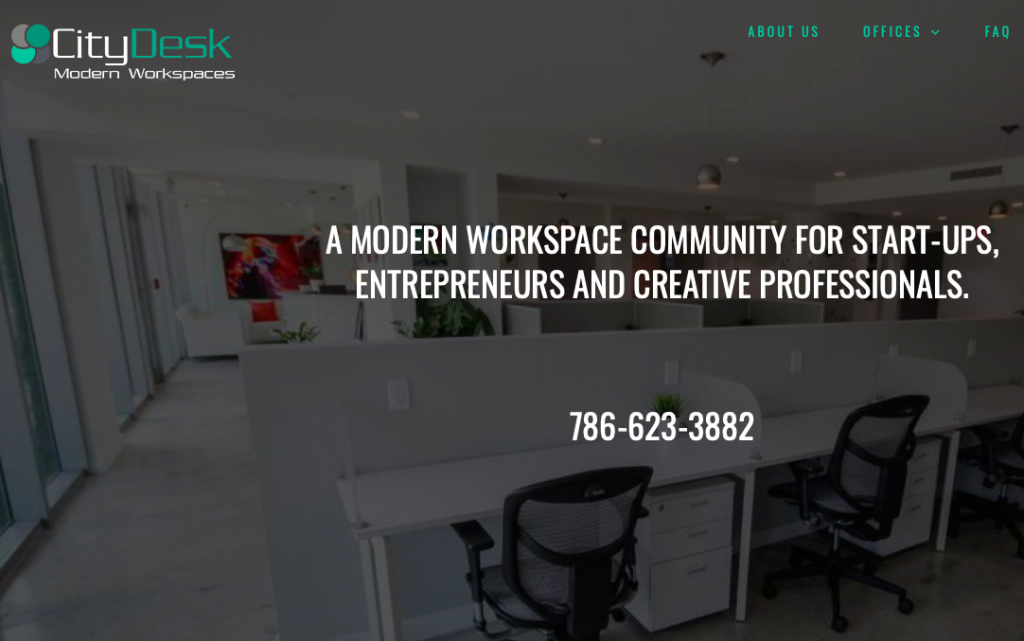 City Desk, situated at 350 S Miami Avenue, is yet another budget-friendly coworking office space that understands the requirements of budding start-ups well. 
With virtual offices, coworking desks, private offices as well as whole meeting rooms on rent, City Desk has a lot to offer starting at an affordable price of only $99 per month. 
Started with an aim to provide just the right space for every aspiring entrepreneurs and small business out there, City Desk ensures that its service matches it's motto. Amenities at this beautiful state-of-the-art coworking space include – a fast internet, call forwarding from clients, dedicated phone numbers with unlimited local calling, high tech conference rooms and meeting materials, as well as high quality copying, printing and scanning.
Moreover, if you choose to make CityDesk your permanent coworking space, be sure to make use of the fully stocked kitchen as well as the delicious free coffee. 
13. Echo Tech Visions
Famous as an incubator and maker space with a strong goal to be environmentally sustainable,  Echo Tech Visions is a socially responsible coworking and manufacturing space. 
Offering a range of office spaces for you to choose from, Echo Tech Visions also provides you a serene environment that ensures the success of your business. With private office and events spaces starting at a whopping $550 per month, the prices of the coworking spaces at Echo Tech are surely high. However, if you're someone who cares deeply about the environment and feel passionately about green technology – you're likely to cherish working in an environment like that of Echo Tech Visions.
Private offices offers coworking spaces for about 1-4 people, conference rooms as well as an internet connection. The larger office spaces come with additional amenities such as a lounge, 24 hour security and access, IT and administrative support as well as business class meeting rooms. 
14. StartHub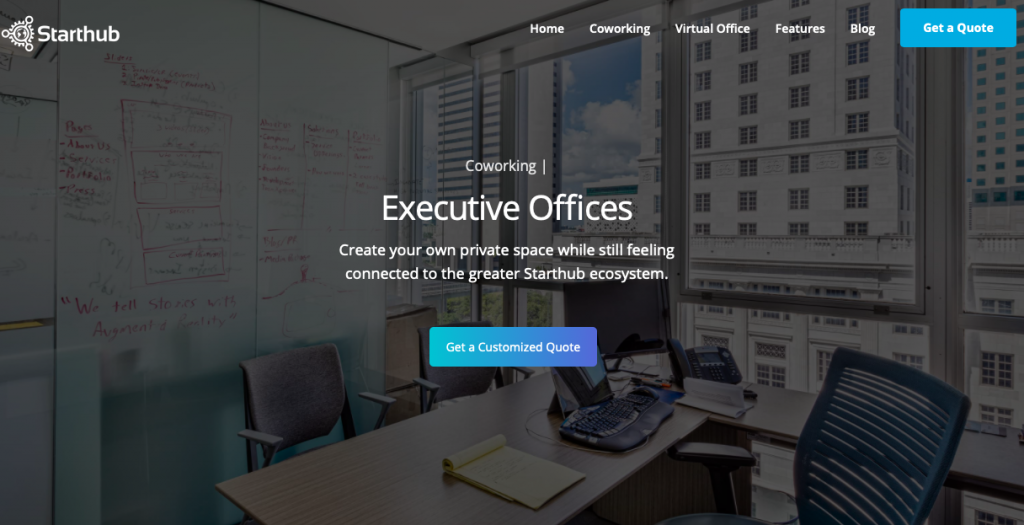 If you don't have a set budget for your office space, you can check out StartHub, located at the 66 F Wrangler Street #900.
StartHub is a premier coworking solution to your business and start-up needs. Situated in the bustling part of Downtown Miami, this is a premium class coworking space, with international design office spaces as well as many other elite amenities.
With a motto to create a business hub that provides aspiring businesses the right environment to flourish, StartHub offers a communal kitchen, complimentary refreshments as well as a fresh market vending station. 
Some of the basic utilities that the coworking space at StartHub comes equipped with includes – high speed internet, office maintenance, mail handling as well as high quality printing and scanning.
Customised quotes according to your space requirements are available upon request. Free trials and week passes can be acquired upon signing up as well. 
15. 360 Spaces
From a beautifully designed office space to a unique studio, 360 Spaces has it all in the form of a fully stocked industrial kitchen, fashion workshops with sewing stations, as well as a 3D printing lab.
The best reason for choosing this as your workspace is that it is a 100% pet friendly. Meaning that you can say goodbye to the old days of having to leave your furry friend at home and miss them while you're at work. At 360 Spaces, you're more than welcome to bring your pets along.
They offer coworking spaces in three varying sizes and price options. You can choose from a private office, a dedicated desk or a new option known as 'the roaming' – which essentially allows you to come and go out of the office as per your requirement. 
At 360 Spaces, you also get a bunch of other amenities (even though we believe nothing will ever trump getting to bring your dog to office!). Some of these benefits include – business class conference rooms, round the clock access to the building, personal lockers as well as VOIP phone services and printing services.
Price listings are available upon request. 
16. HUBB Coworking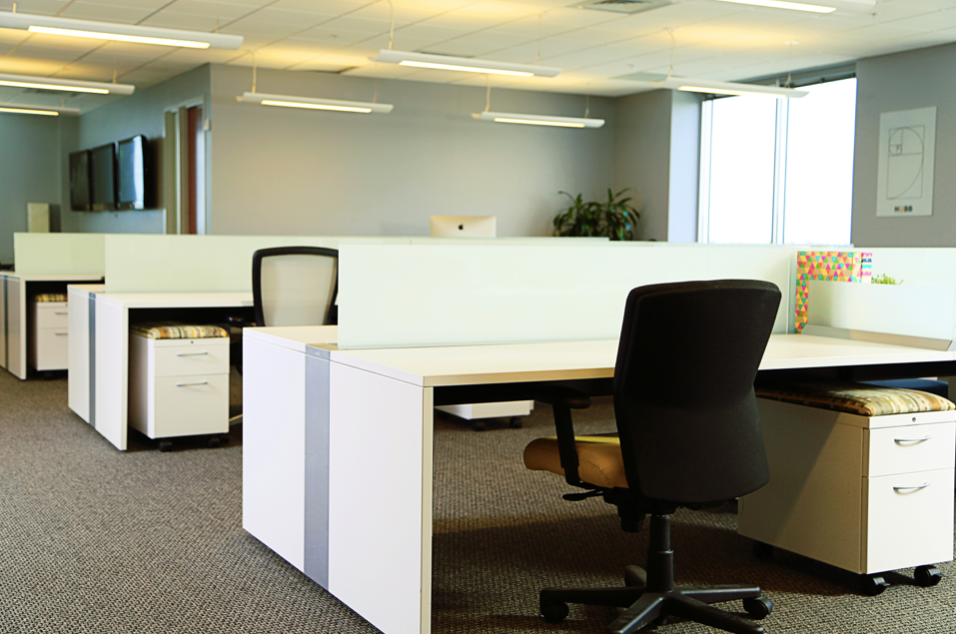 With an aim to give small businesses and freelancers space and atmosphere they need to flourish, HUBB Coworking at 9675 NW 117th Ave. is yet another affordable and flexible coworking spaces in Miami. 
With it's virtual office membership starting from $49 per month, the space has a lot more to offer. You get to choose between a shared desk priced at $199/month, a dedicated desk at $450/ month or a private office for yourself at the price of $800/month. 
If you can't visit the space before signing the lease, you can take a 3D tour of Hubb Coworking on their website.
Equipped with all of the basic utilities such as a fast internet, printing station, free coffee, a conference room and community manager, Hubb Coworking is a good choice if you're looking for an office environment that truly roots for your success and engages you with a community of like-minded individuals.
17. Tedge Mindful Coworking Space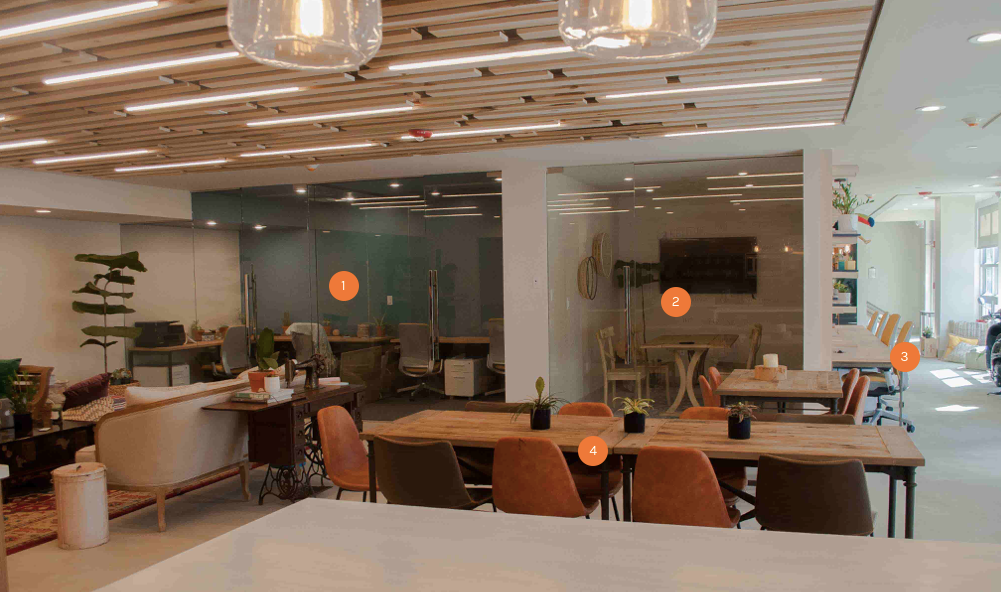 Tedge Mindful Coworking Space in Miami is not your regular coworking space. It is rather a community that assists its members in progressing towards their vision of success. The first mindful coworking space of this kind, Tedge, focus on mind body and spirit and is home for creative entrepreneurs.
Having been featured on esteemed journalistic portals such as CNN and Business Insider, Tedge offers a workspace with a soul.
Their genuine and soulful office is designed in a way to promote your productivity as well as well-being during work hours. More often than not, we tend to get tangled in the daily hustle of being a 21st-century working adult. This is where making Tedge your office space comes as a benefit for they allow their members to maintain a harmonious work-life balance. 
Other than the basic amenities, this space offers you a chance to connect with your soul through the weekly Yoga sessions and regular mindful knowledge on health and wellness.
Prices for desks start at $200 per month and go all the way up to $1100 for a private office.
18. CIC
With hot desks starting from $300 per month, CIC is an upcoming coworking space located at Kendall Square, Cambridge. 
Amenities at CIC include- high speed internet with encryption service, dedicated landlines and phones, unmetered printing and copying, a fully stocked kitchen, 24/7 building access as well as month to month renewal of terms. 
19. NEXT – Smart Workspaces
Situated at 150 SE 2nd Avenue, NEXT Smart Workspaces offer excellent offices with stylish designs, an affordable price along with the best in class services. 
From virtual offices to shared desks, as well as private offices and conference rooms- NEXT has a lot to offer when it comes to the varying needs of coworking in this era. While shared desks are priced at an amount of $29/ per day, the prices for the private offices can go all the way up to $685 per month.
Utilities at this Miami coworking space include- high-speed internet with biometric security, valet parking and extended office hours, basic maintenance, 24-hour administrative assistance as well as courier and notary phone answering.
Like many other coworking spaces in this price range, NEXT too offers free coffee to it's members to beat the stress and fill you up with energy.
20. QUEST WORKSPACES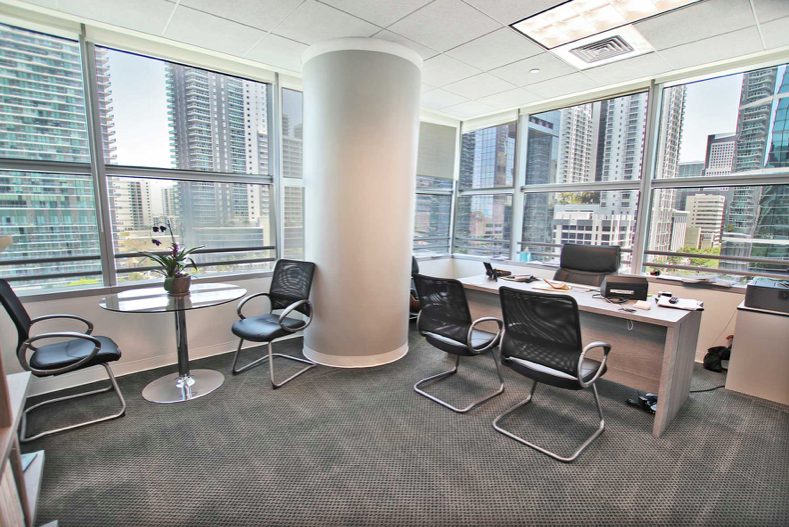 Consistently voted 'The Best Place to Work in Florida', QUEST workspaces is a coworking space in Miami that truly believes in the mantra of Work. Stay. Play. 
Along with having the best amenities among any of the coworking spaces mentioned on this list, Quest offers a luxurious working experience to all it's members with it's spa, crossfit and valet services. 
Situated right in the heart of Brickell, this coworking space also gives you a jaw-dropping view of the entire city of Miami. And let's be honest, we'd all rather stare at the vibrant city of Miami than at a plain wall when procrastinating at work.
Prices of coworking spaces at Quest are available upon request.
OUR VERDICT
After considering the range of space options that all of the aforementioned coworking places offer, as well as the price and utilities that come along with it, Tedge Mindful Coworking Space seems to be a clear winner for us.
Being the sixth most populated city in the United States, Miami is a city that truly never sleeps and nor does it's business. Due to this very hustle-bustle of the 21st century, many of us forget to pause and breathe for a moment before picking up from where we left off. 
The environment at Tedge helps its members pause and reflect during the most stressful of workdays. With weekly Yoga sessions, regular sharing of mindful knowledge as well as it's famous green spaces – Tedge is a workspace that is good for the soul and relaxing for the brain. 
This mindful feature is perhaps what's missing from the majority of workspaces at the moment. However, until it is adapted are more coworking spaces, try and make your coworking space a more serene and calm environment – for a better business and a better YOU.