Last Updated on 8 months by Anoob P
German Name Generator will help you find cool and useful names in German for just about anything. In this post, we look at 6 Best German Name Generator You Can Use to Name People & Business in 2021.
Whether you are looking at naming a website, a business or even suggesting name for someone in Germany, German Name Generators will help you find interesting names in German.
I am personally learning French right now and next in line is German.
As a non-native German student, I have often found that German names are a little confusing. Even though German names might sound cool, you still need to pick names that makes sense in the context and also does not sound stupid for a native German speaker.
From what I understand, there are some rules you need to keep in mind when naming a German child.
The names has to approved by the Standestamt or the local civil registry office. Most of these rules ensure that name specifies the gender of the child and child does not get bullied or face embarrassment later in life due to the name.
Some of the German Name Generators I have listed in this post might be intended more towards characters or persons, so if you are looking for finding unique German names, I suggest you try all of them so that you can get a more options and pick a German name that best suits your requirements.
If you are looking to name your business, I have also written about best 15 Business Name Generators in 2021–you can check out the post right here.
Some other resources you might find useful.
Best Farm Name Generator in 2021
10 Best Blog Name Generator in 2021
6 Best Podcast Name Generators
If you are interested in earning money online, do check out our detailed posts about how to earn money from Facebook, how to earn money from YouTube & how to start blogging in 2021.
Here are 6 Best German Name Generator in 2021
Reedsy German Name Generator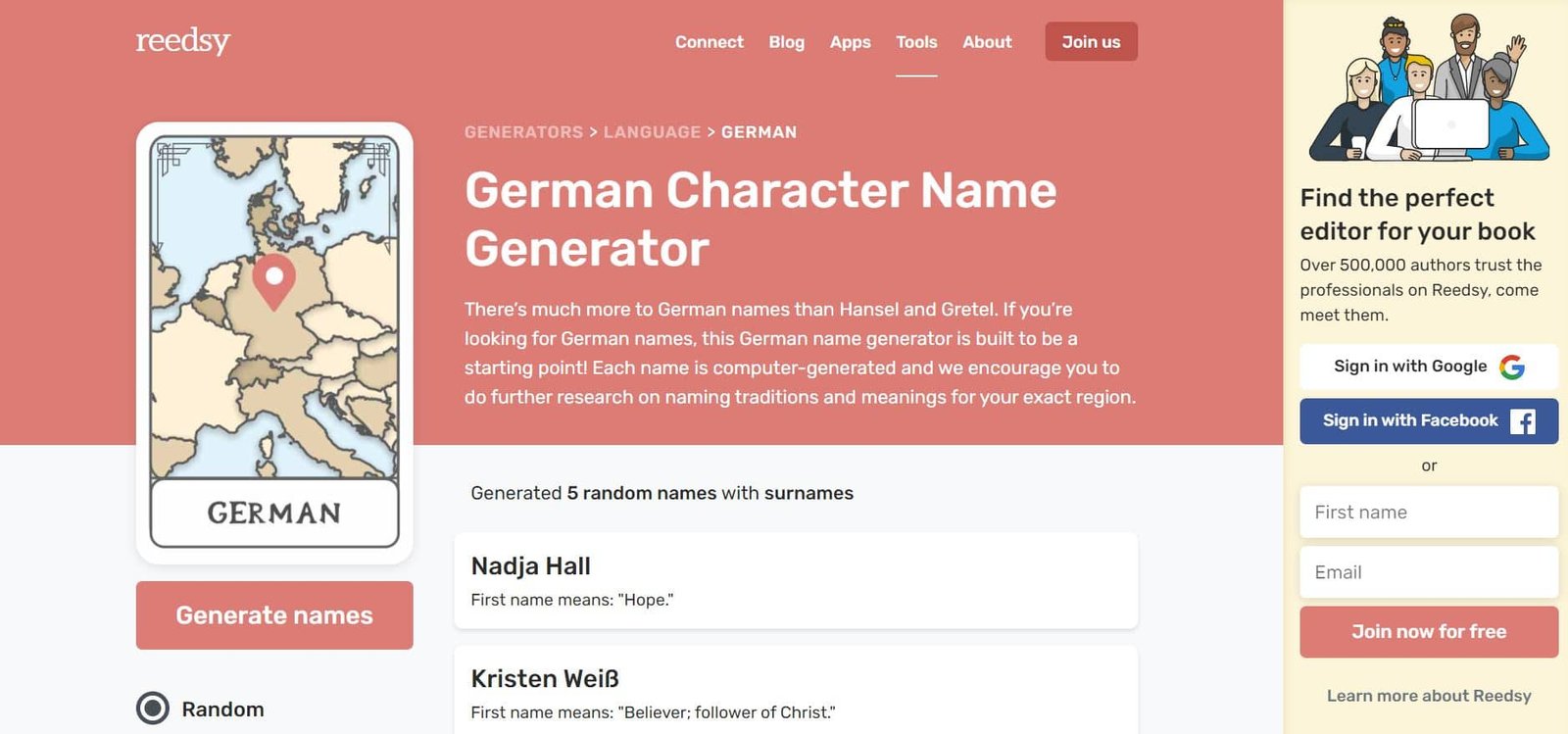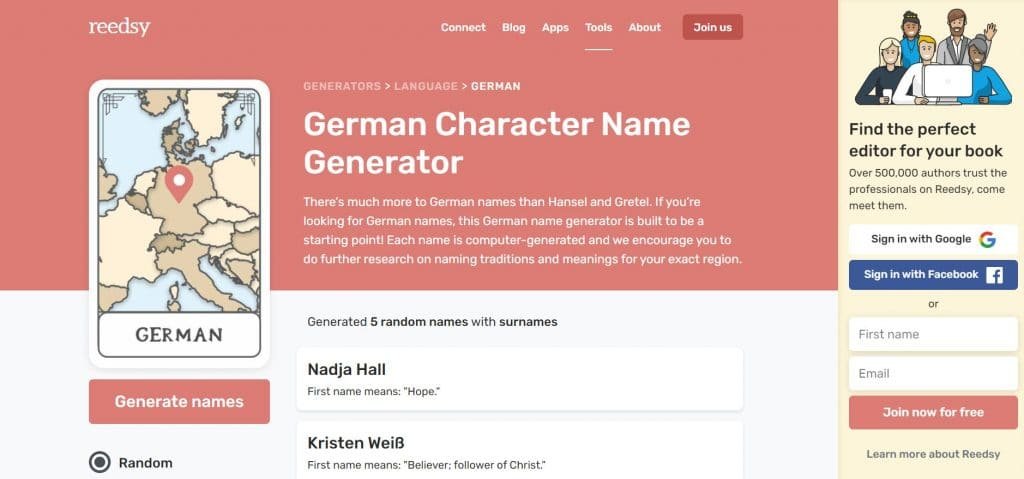 First on our list of German Name Generator is Reedsy. This website claims to have computer generated German names for just about anything in the world. You can select Male, Female or Random German names and the Reedsy German Name Generator will do the rest.
I tried using Reedsy German Name Generator for both male and female and generated 5 random names with surnames.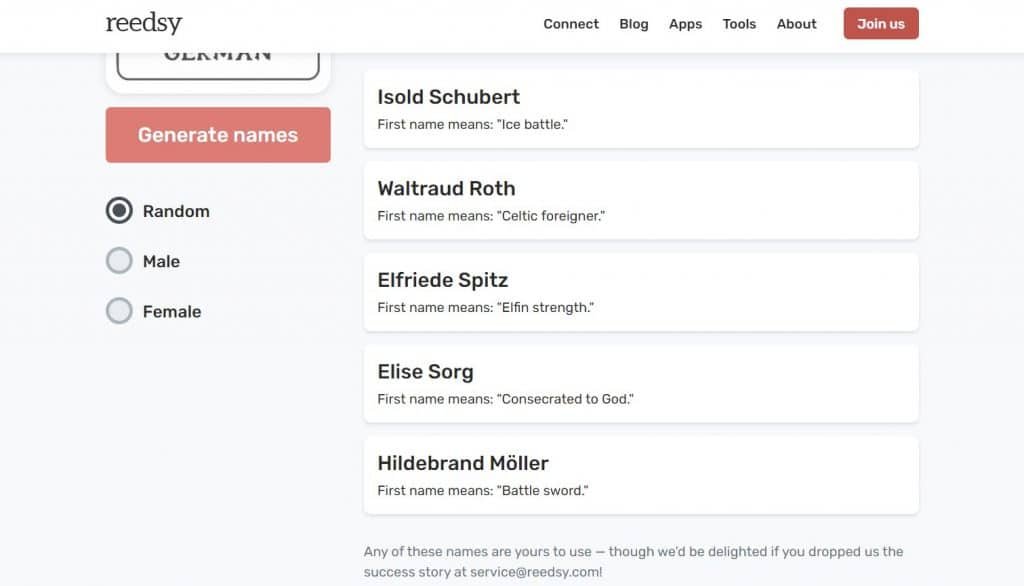 I felt the names are pretty good and they have good meaning, especially for a business, website or even a character in a novel.
Explore Reedsy German Name Generator
Fantasy Name Generators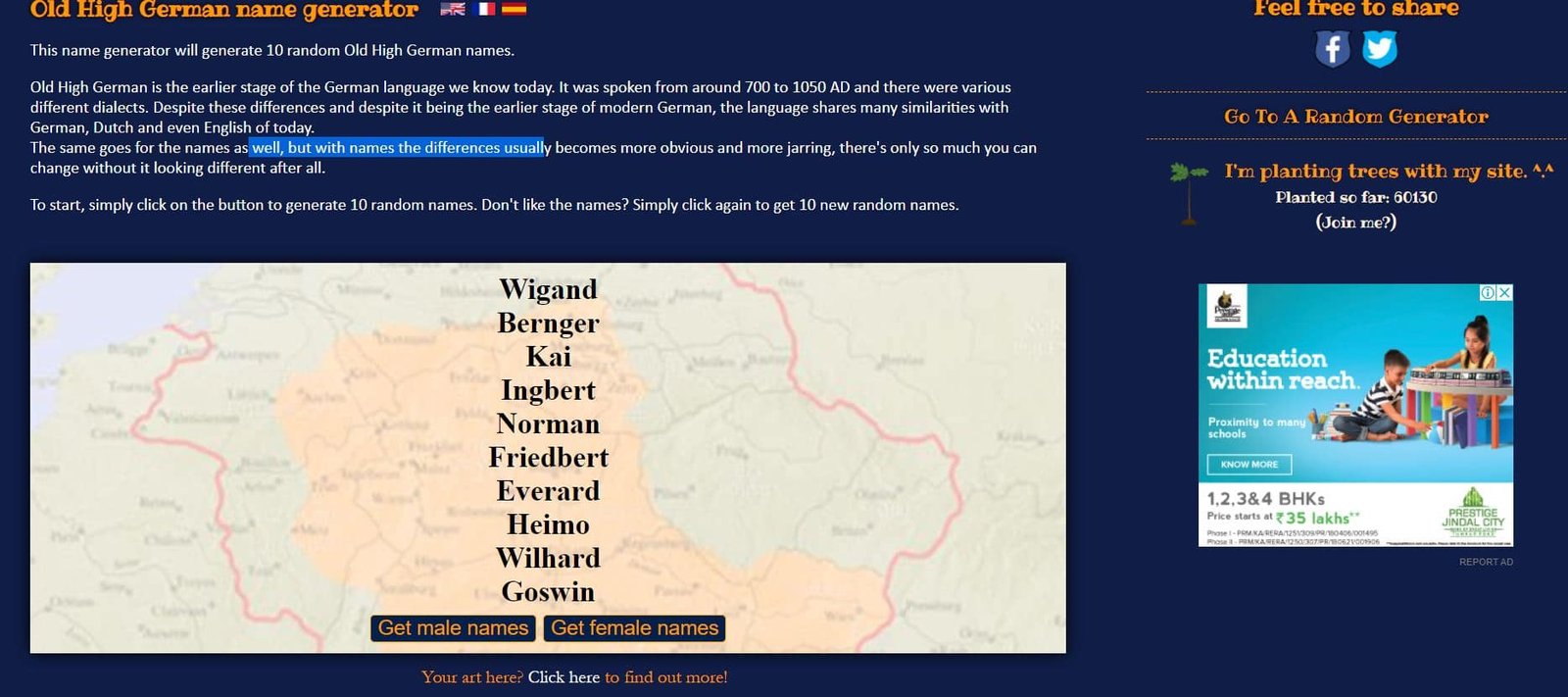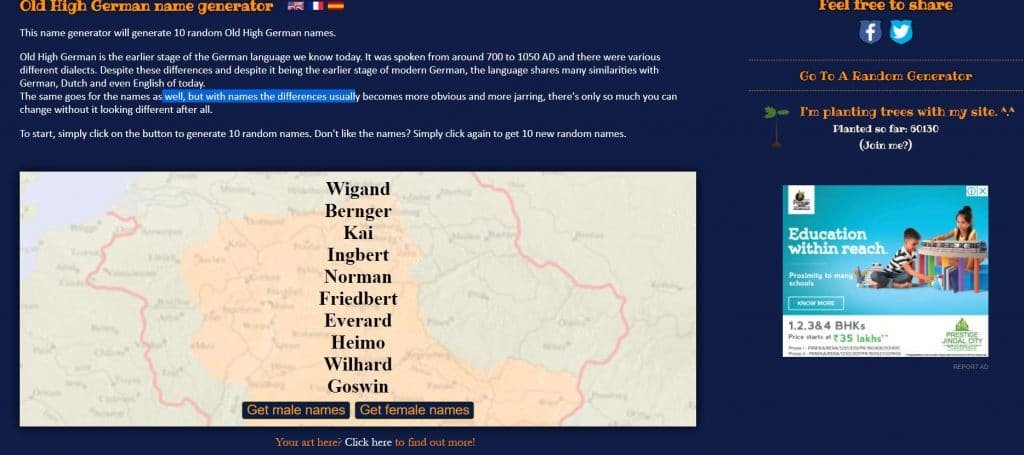 Next on the list is Old High German Name Generator from Fantasy Name Generators.
Old High German is an earlier version of modern day German and this was spoken from 700 to 1050 AD with very significant influences in modern German language.
I find that older names are sometimes cooler and this is the case with German too. With Old High German Name Generator, you can easily create 10 random German Names for both male and female.
Some sample German Names created using Fantasy Name Generators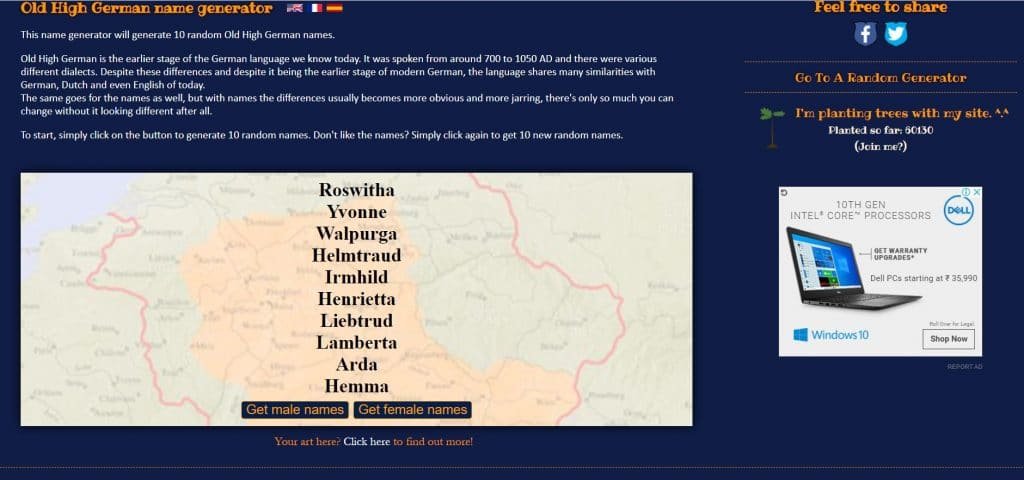 Explore Fantasy Name Generators German Name Generator
Real Name Creator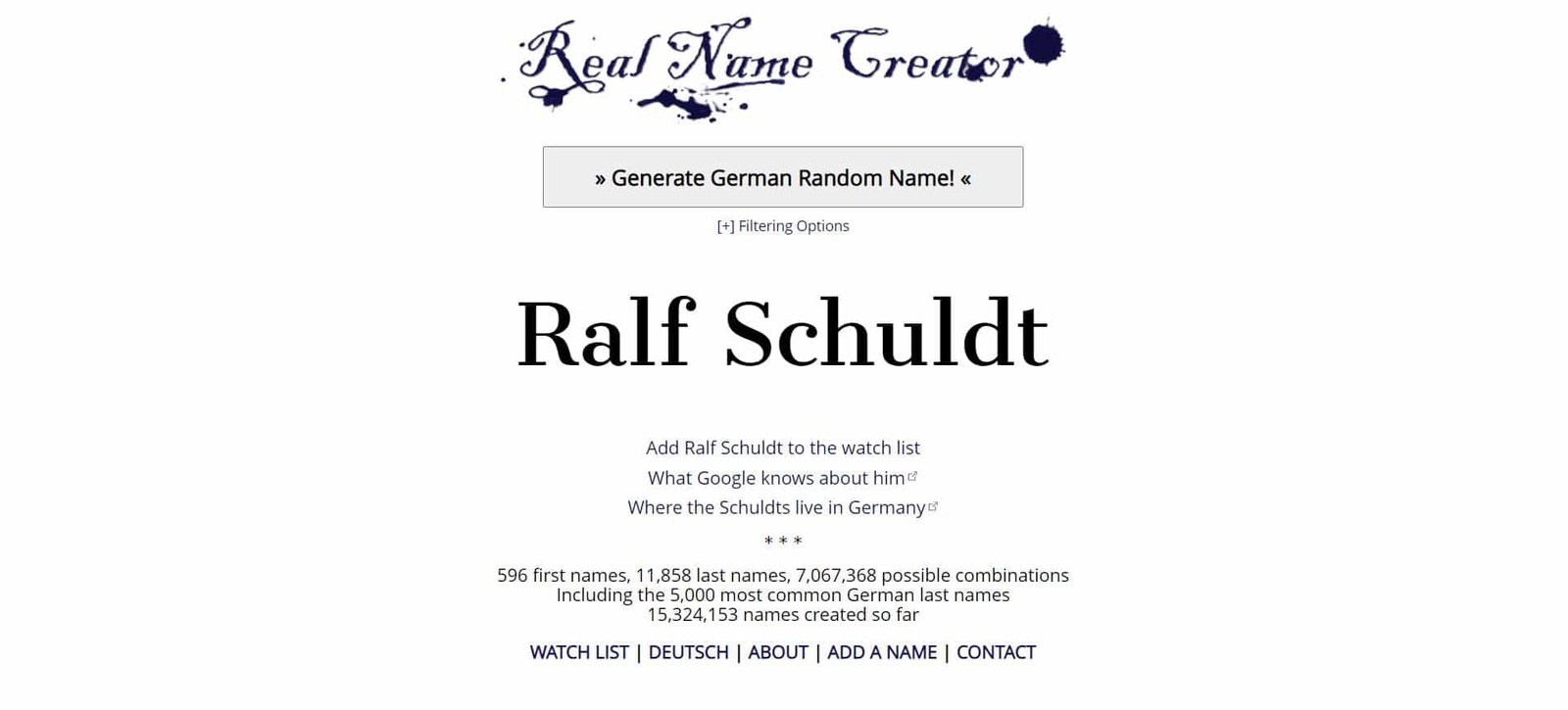 Next on our list is Real Name Creator German Name creator.
This site will help you create random German names and you can select between male and female.
The only drawback is that it creates only one German name at a time so it will take you more time to find good German Names.
Real Name Creator German Name Generator claims to have 596 first names, 11,858 last names, 7,067,368 possible combinations and 5,000 most common German last names.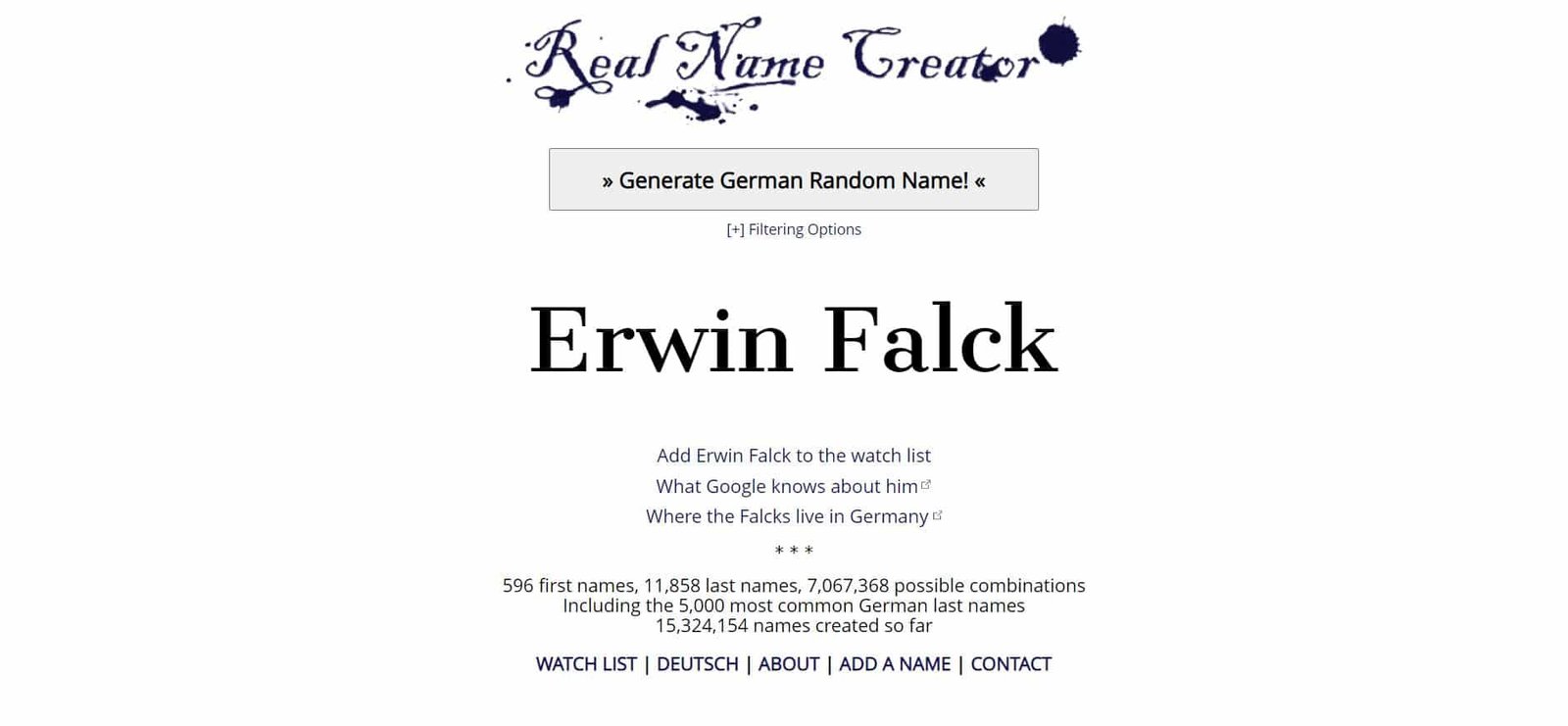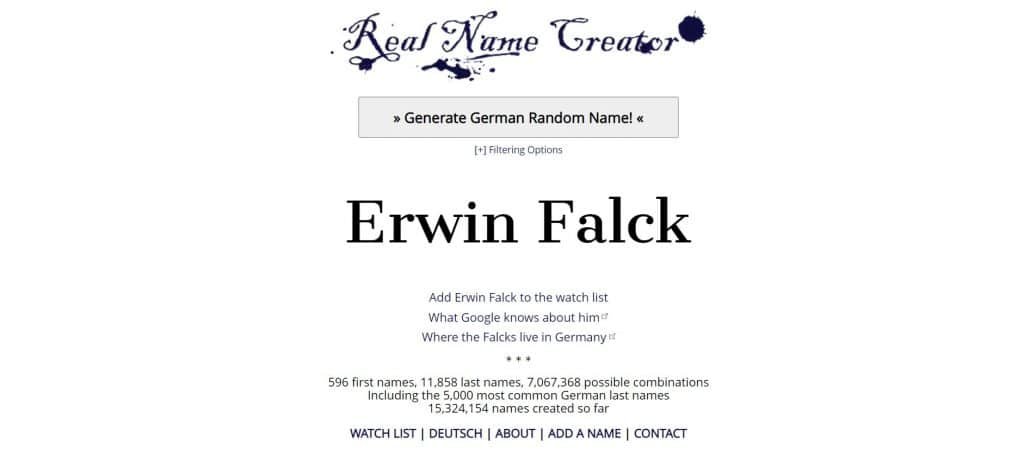 You can also add your own German Name to their database which I feel is a good feature.
Explore Real Name Creator German Name Generator
Fake Name Generator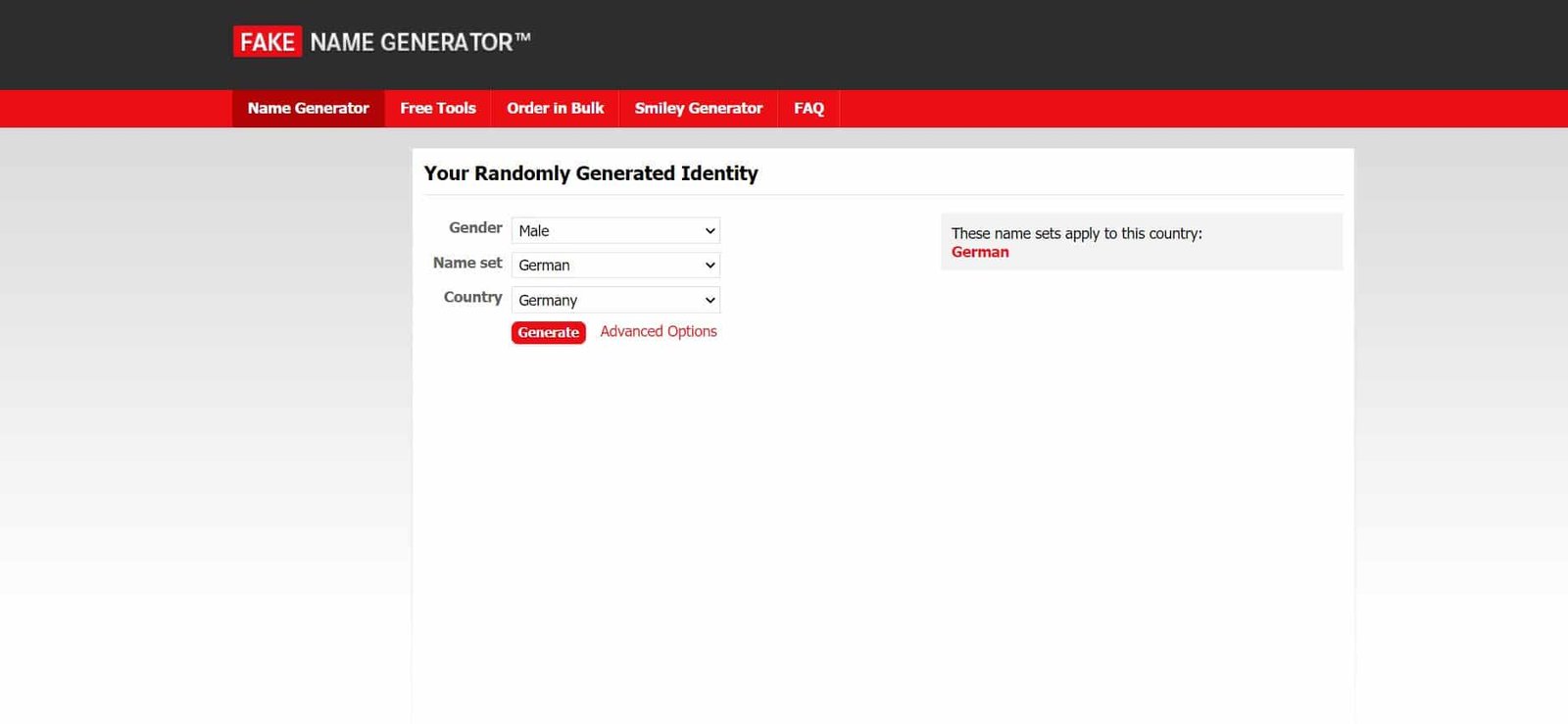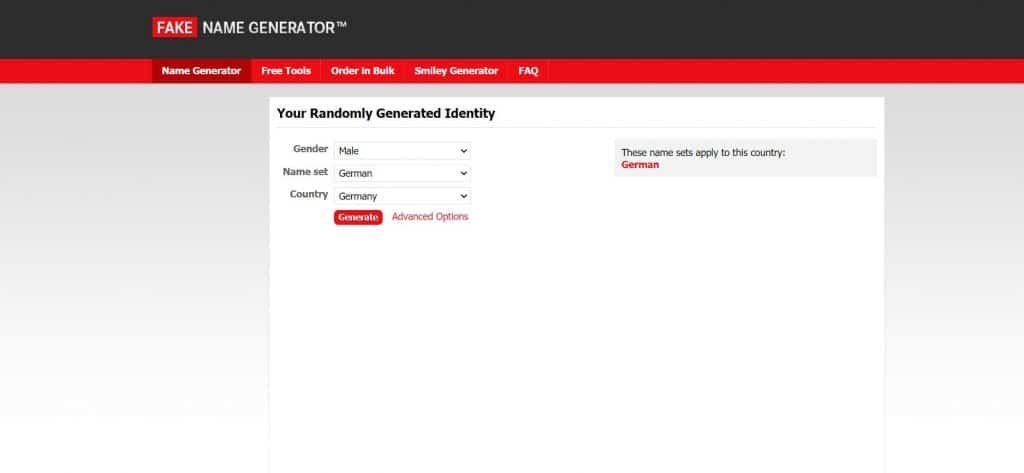 Fake Name Generator has a German Name Generator which is pretty good. You can select Male or Female and Generate your random German name.
What's interesting about this website is that Fake Name Generator will also create a complete identity for the potential name and you can play around with the tool with Advanced Options too.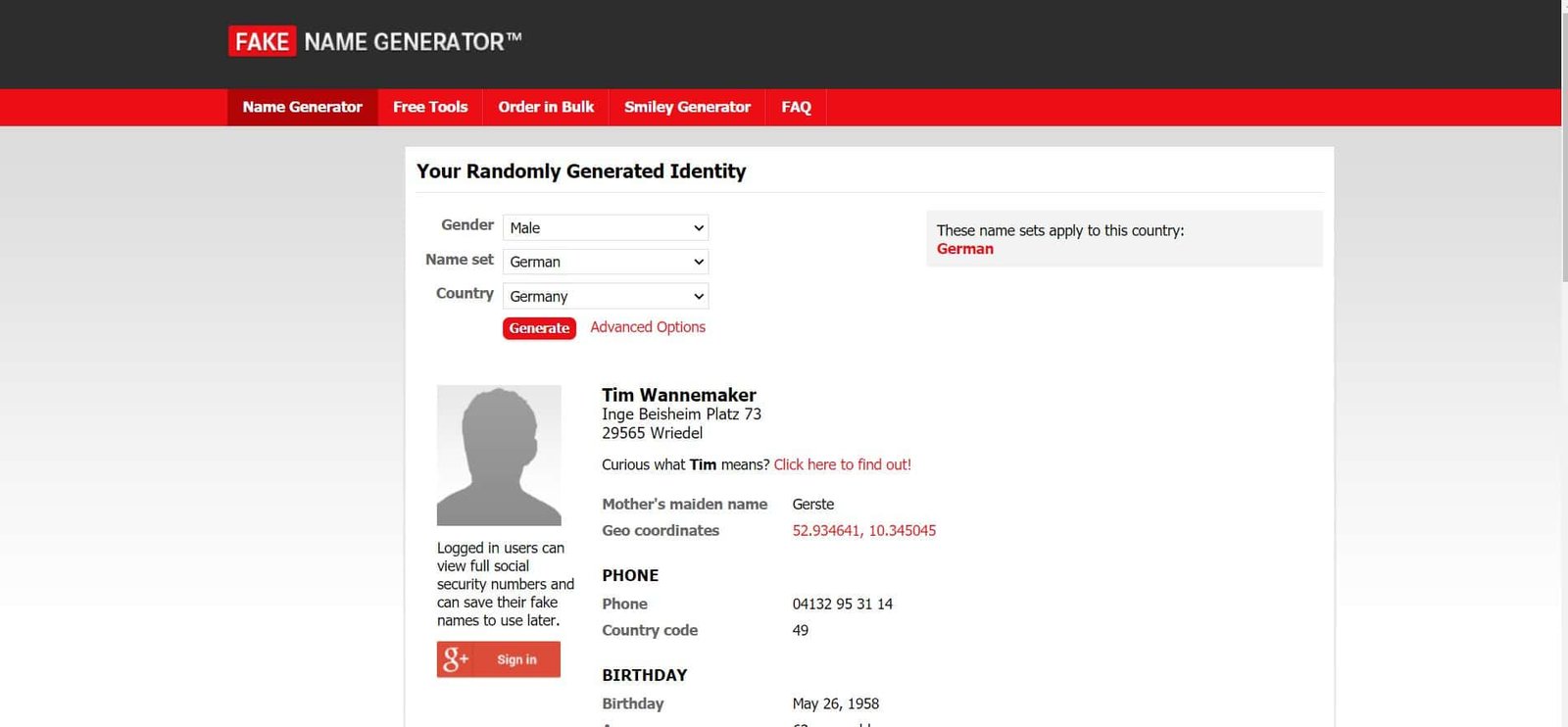 Explore Fake Name Generator German Name Generator
Publishing With Love: German Character Name Generator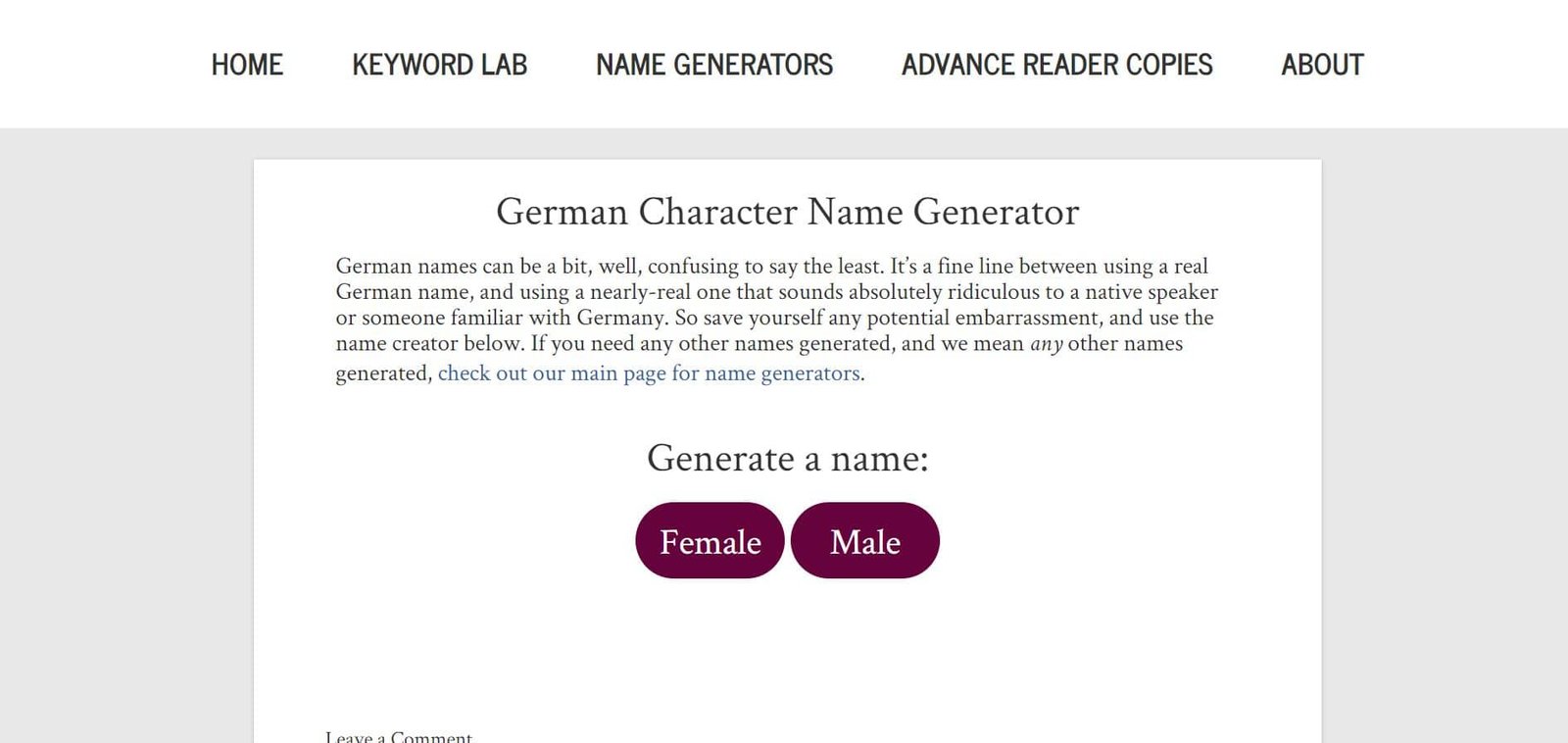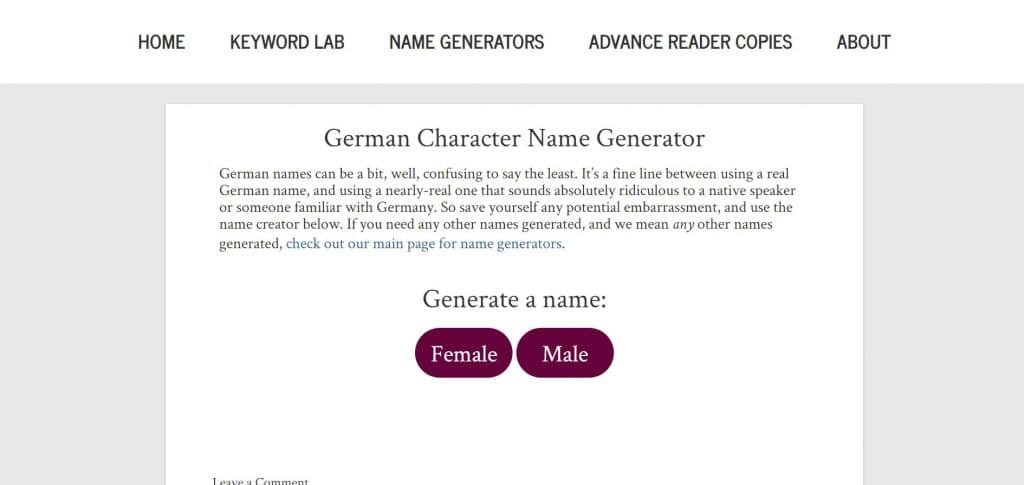 This German Name Generator is more for naming a German character in your novel but it is a useful German name generator nonetheless.
You can generate both male and female German names using the tool and
German names can be a bit, well, confusing to say the least. It's a fine line between using a real German name, and using a nearly-real one that sounds absolutely ridiculous to a native speaker or someone familiar with Germany.
So save yourself any potential embarrassment, and use the name creator below.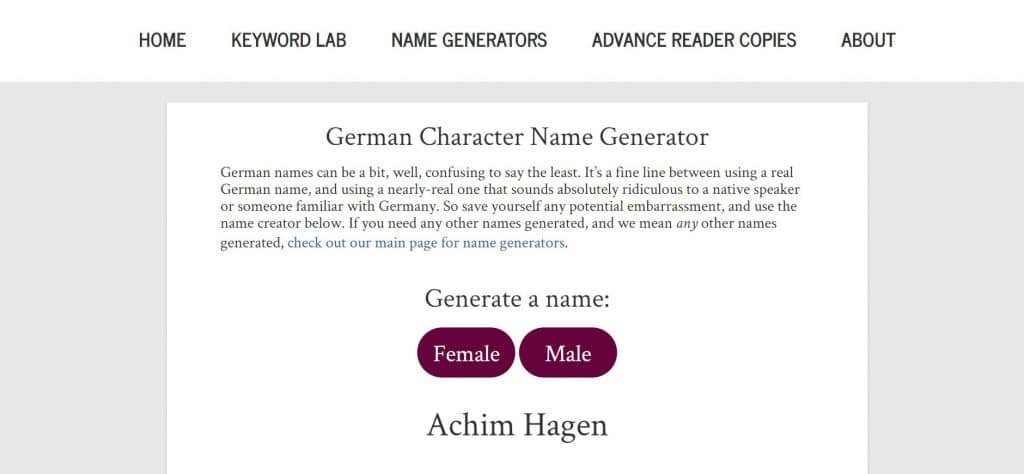 Explore Publishing with Love German Name Generator
Name Generator Fun
Name Generator Fun German Name Generator is also a useful German Name Generator. You can choose from a list of already populated German names or Get a personalised name and character description.
Explore Name Generator Fun German Name Generator
Names4 Brands German Name Generator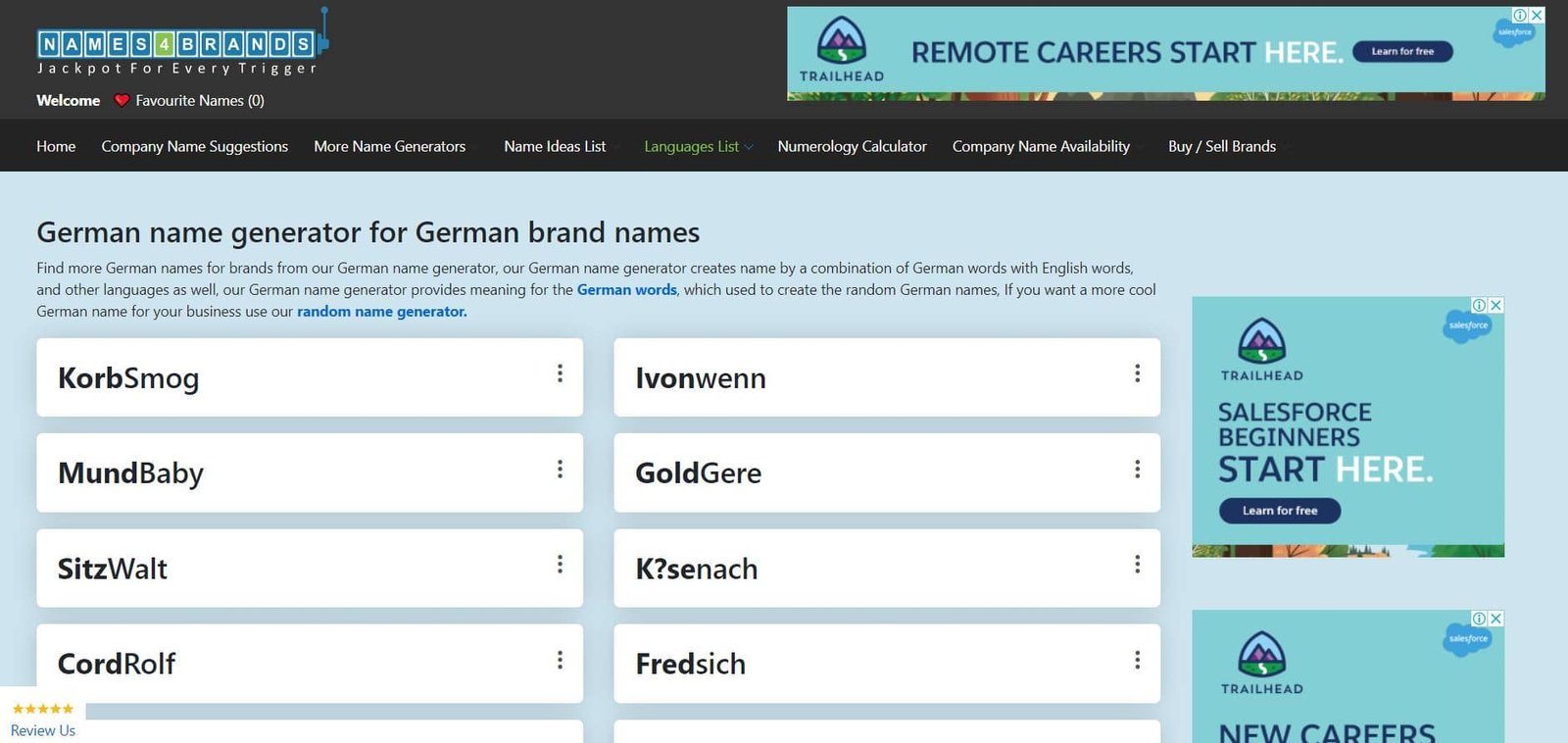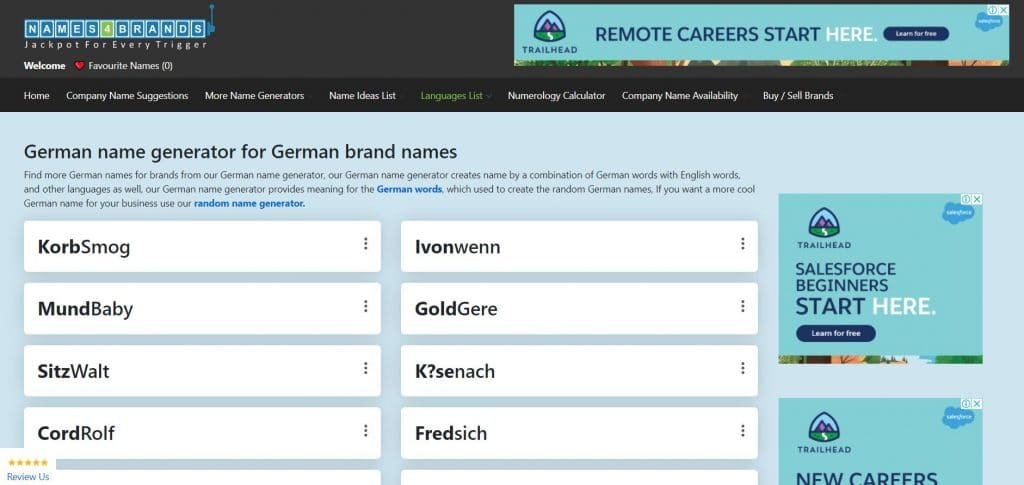 Last on our list is Names4Brands German Name Generator.
As you might guess from the name, this is a German Name Generator that is more suited for brands than people.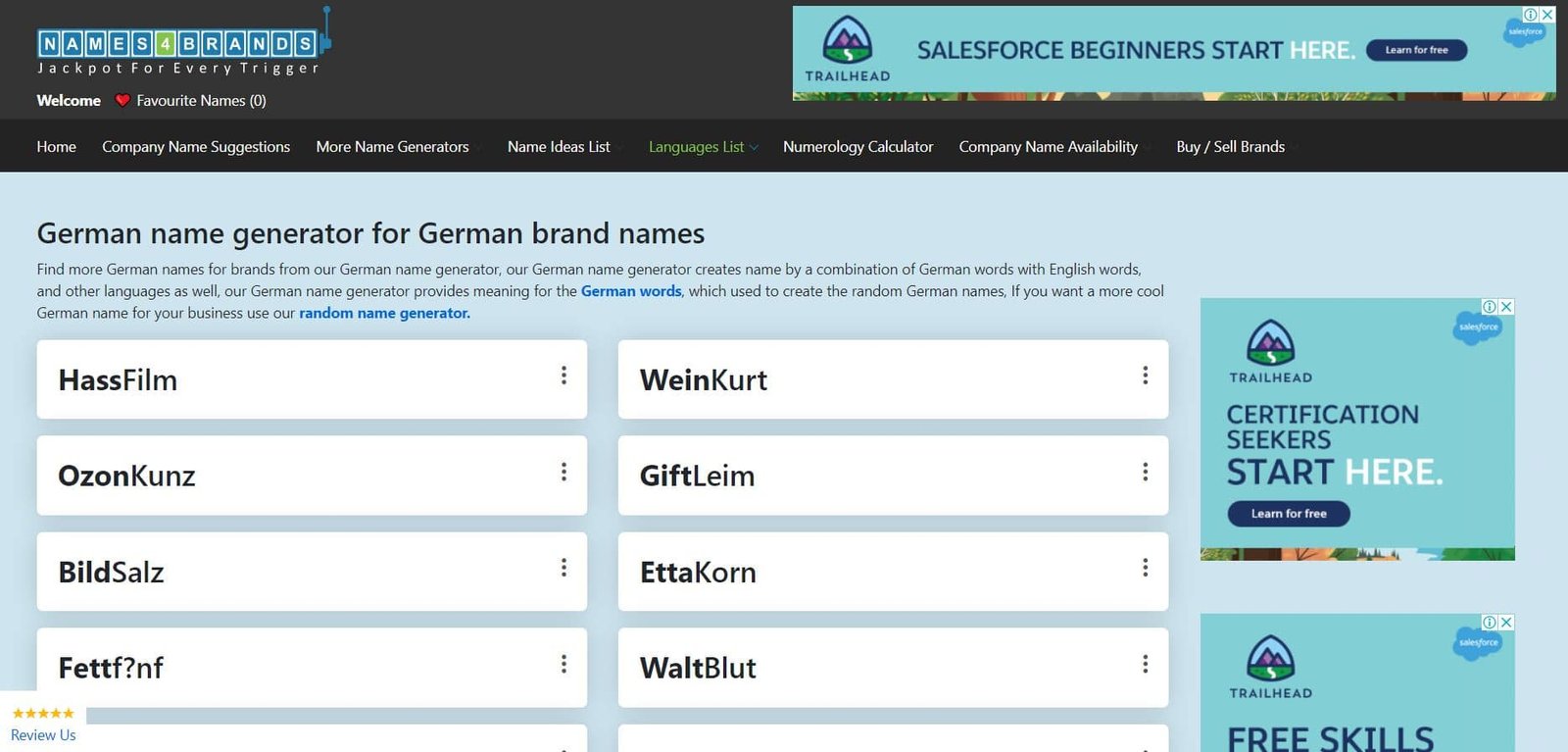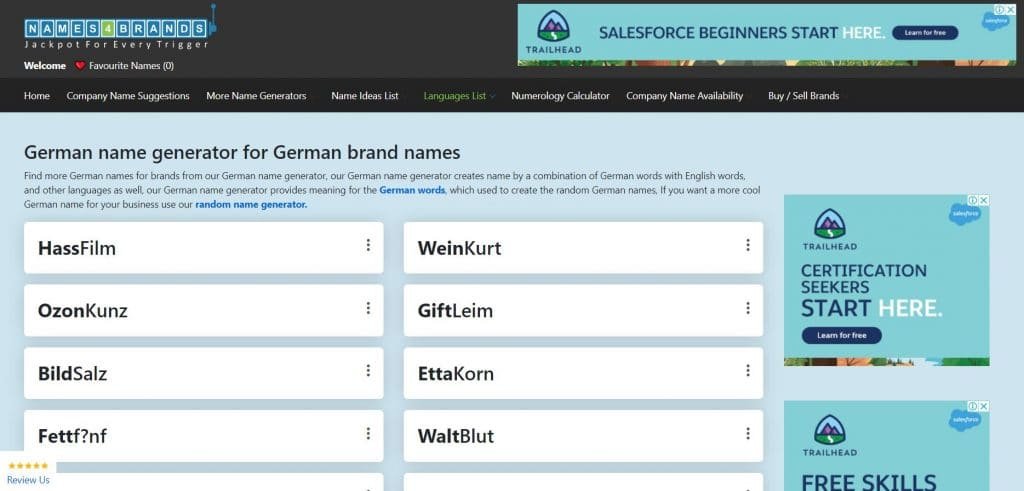 The website is easy to use, and this German name generator creates names by using a combination of German and English words.
Explore Names4Brands German Name Generator
So these were some of the best German Name Generators you can try.
FAQs on German Name Generator
What are typical German names?
Ernst, Friedrich, Hans, Heinrich, Hermann, Karl, Otto, Paul, Walter, Wilhelm, Gerhard, Günter, Hans, Heinz, Helmut, Herbert, Karl, Kurt, Walter, Werner are some typical German names.
What is the most German name?
Müller is one of the most common German names.
What's a good German name?
Ben, Paul, Jonas, Finn/Fynn, Noah, Luis/Louis, Elias, Leon are some of the most popular German names.
What is a good German last name?
Some common German last names and their English versions are:
Müller – miller
Schmidt – smith
Schneider -taylor
Fischer- fisher
Recommended Reads