Last Updated on 1 year by Anoob P
YouTube thumbnail size is extremely important if you want to grow your YouTube channel fast.
Most new YouTube channels get views via "Youtube recommended videos" which show the Thumbnail of your video to people who are watching related videos.
If you are interested in earning money from YouTube, you can check this post which is an in-depth step by step guide.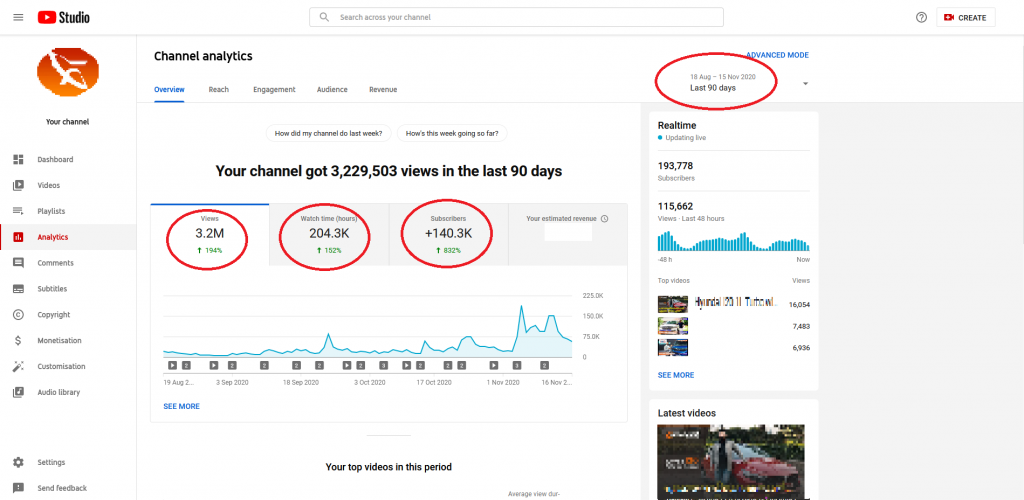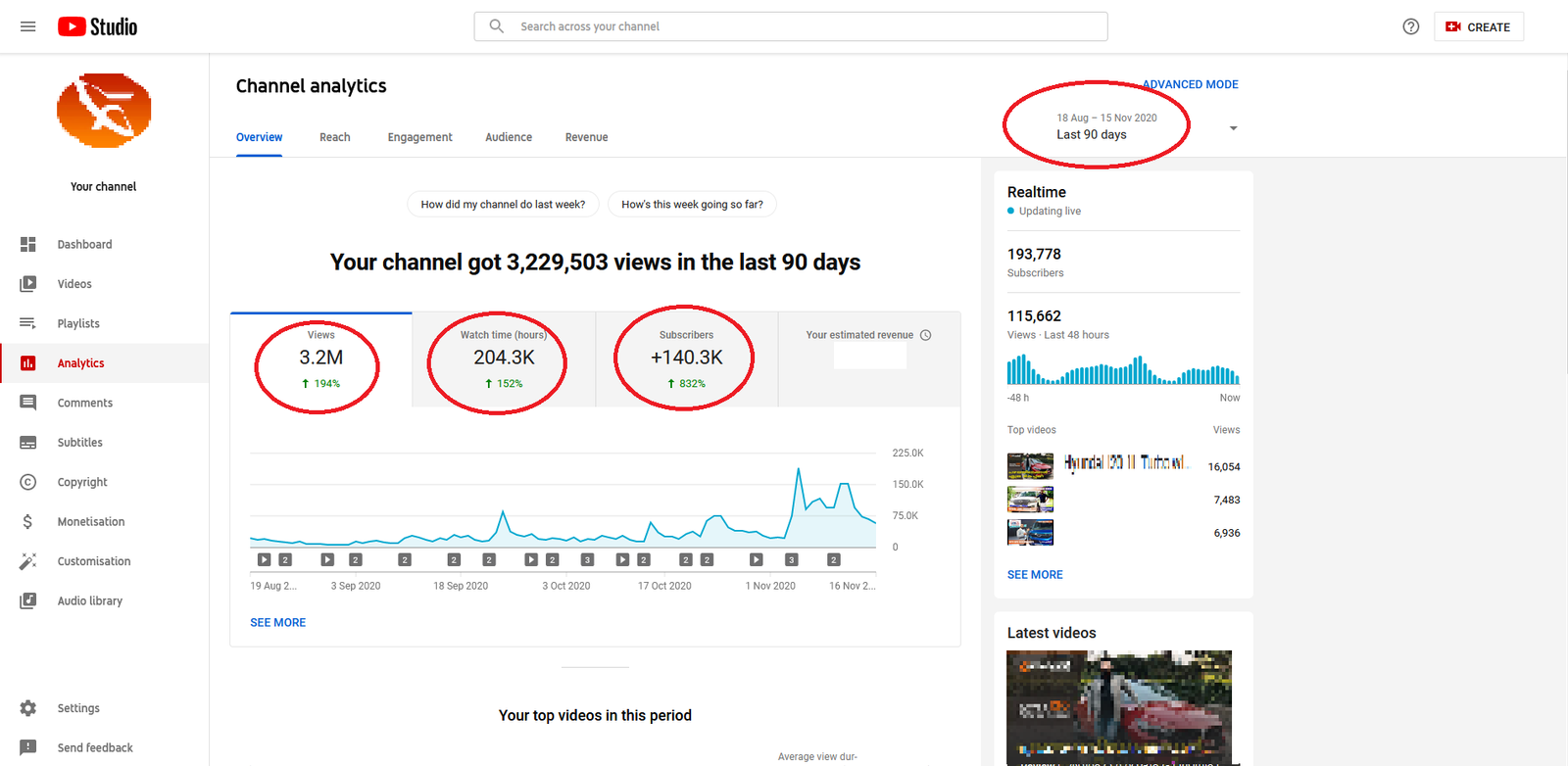 3 months back, I took over organic YouTube marketing for a client and I was able to grow his channel to 194% more views, 150% more watch time & 830% more subscribers. All this on ZERO marketing spends.
After working full-time for more than 12 years, I switched to working for myself and trying to earn a living online.
If you are interested in the whole concept of making money online, you can check out some of my other posts including 10 Easy Ways to Earn Money Online without Investment, How to Earn Money from YouTube, how to earn money from Facebook and how to start a blog and make money.
I have also written a detailed post on How to Start an Online Business That Changes Your Life, How to Live a Simple Life And Be Happy–you can read it if you are interested.
I recently helped a client of mine generate $1000 in income from his YouTube channel that was not making any money and even you can do the same.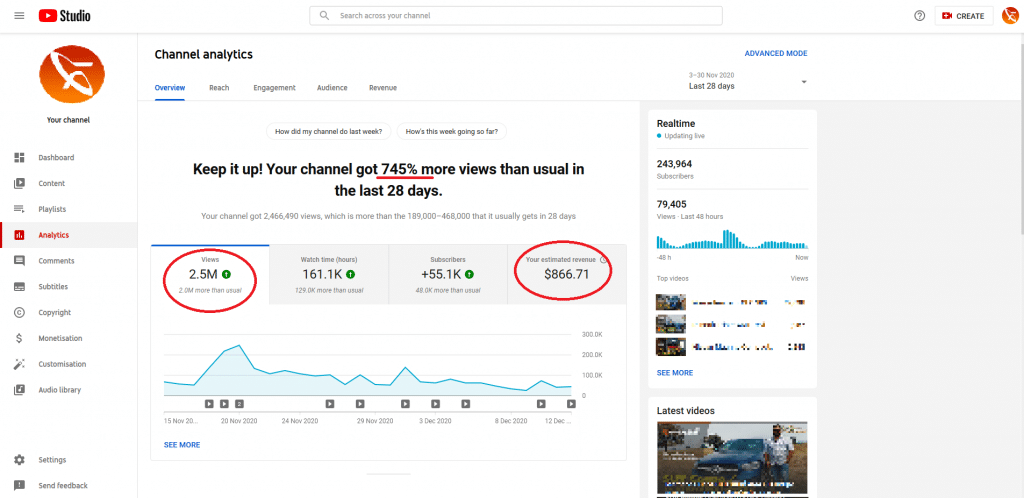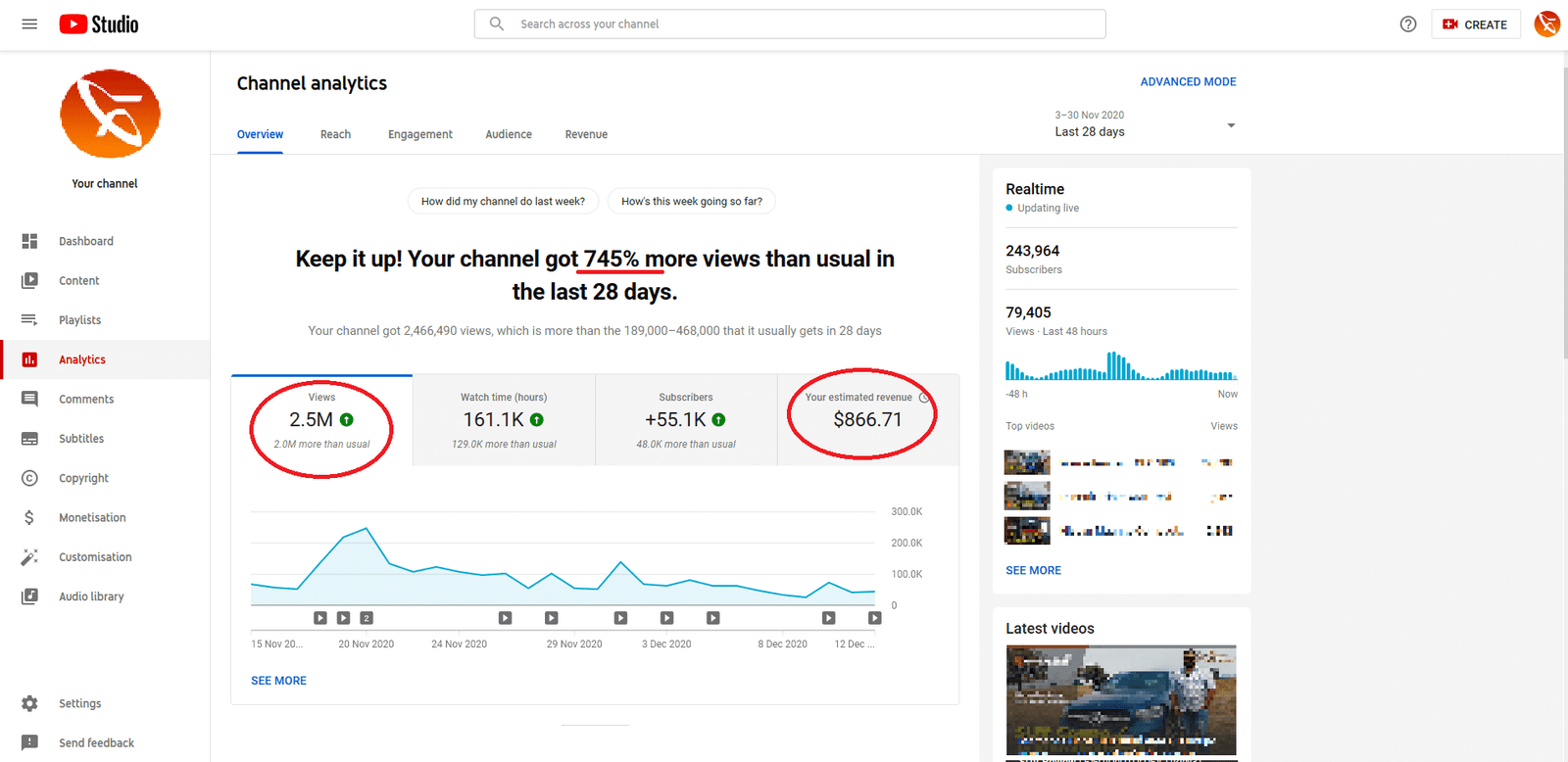 Earlier, I had co-founded a video company and raised $2 million in funding and then got fired from the company I started. I had done lot of testing and research on how to monetize YouTube and now I use the same skills to help other YouTubers.
You can read my full story here if you are interested.
One of the most significant changes I asked this creator was to get his YouTube thumbnail perfect.
If your YouTube thumbnail is not attractive enough, viewers will not click on your video and you will not get views and subscribers.
Ideal Size of a YouTube Thumbnail
YouTube thumbnails are the small preview images you will find as a representation of video, in order to attract viewers.
It carries the video content or any part of it in small rectangle shaped bits and pieces. 
You can find information about the ideal YouTube thumbnail size in YouTube's help centre.
It is good to follow these points to get traction on your YouTube channel. According to these points, the images should be in JPG, GIF, or PNG format. You also have to take care about the size of these images not exceeding 2 MB. 
The perfect YouTube thumbnail size is 1280 pixels wide by 720 pixels tall.
This ratio shows that the thumbnail in fact should be big contrary to being a thumbnail. Even though these are preview images, the thumbnail image is shown also in the video player as suggestions and so on.
Hence, it has to be big enough so that it is clear and looks good in the player. You can use an aspect ratio of 16:9 as dimensions for these thumbnails.
You have to make sure it is a minimum of 640 pixels wide. 
YouTube Thumbnail Size Specs
★ Images should be in JPG, GIF, or PNG format
★ Images not exceeding 2 MB
★ Ideal YouTube thumbnail size is 1280 pixels wide by 720 pixels
★ Has to be big enough so that it is clear and looks good in the player
★ Has an aspect ratio of 16:9
★ Minimum of 640 pixels wide
Why YouTube Thumbnails are Important?
The preview picture can make an impact among the viewers. Often, you start with one video in YouTube and end up seeing so many which may or may not be related.
This is mainly because you get caught by the different thumbnails and become interested in those video contents. A good thumbnail can help in attracting a lot of viewers. On the other hand, a bad one can also result in your videos going unwatched. 
When you upload a video in YouTube, they give you a chance to select a thumbnail which is one of the images of your video content at different time durations.
Usually, you can select from 3 automatically generated thumbnails in YouTube. But these may not be attractive for the audience and hence, it is always best to go for custom YouTube thumbnails. 
The custom thumbnails you choose can acts as your brand aesthetic. It can attract massive audience towards the video and make you popular.
Creating a YouTube thumbnail does not take a lot of time compared to the video itself. It is indeed an important part which can decide the viewer response and popularity of your contents. You can even use custom YouTube thumbnails to increase your email marketing click-through rate.
5 Best YouTube Thumbnail Generators in 2022
Canva
Canva is an online designing tool and the best option to create your custom YouTube thumbnail image. It has a lot of YouTube thumbnail templates to help you. Your thumbnail creation with Canva includes free stock type photos, texts, backgrounds, grids, frames, shapes, lines, and illustrations. They offer tools and easy-to-navigate interface with which you can easily customize your YouTube thumbnail to the tune of instant popularity. 
Key USPs:
More than a YouTube thumbnail generator, Canva can be used for all your graphic design work and they also have more than one-million photos, graphics, templates and fonts.
This online designing tool is mostly free. You can upgrade for $12.95 per month to access additional features, stock images, templates, and graphic elements.
You can get this as a mobile app for your Android or iOS.
Canva YouTube Thumbnail Generator
FotoJet
FotoJet is another online designing tool exclusively for making YouTube thumbnails. You can create a design, make collages and edit photos with the use of this tool. They have powerful graphic design tools giving your thumbnails a professional look and an extensive number of templates, posters, flyers, cards, invitations, social media graphics, banners and much more. You can edit your photo with tools, such as crop, resize, and rotate, in order to enable you to enhance your photos in seconds.
Key USPs:
You do not need to sign up for an account in order to create your custom YouTube thumbnails.
This tool helps beginners to bring out the best designer in them and gives a professional and standard look to the thumbnails.
FotoJet is a free online designing tool. If you'd like more options and features, you can always upgrade to FotoJet Plus for $6.99 per month or $39.99 per year.
FotoJet YouTube Thumbnail Generator
Snappa
Snappa is an online designing tool to create YouTube thumbnails and can be used by beginners because of its ease of use. They have a lot of templates and stock images needed for creating thumbnails.
You can sign up to Snappa with a free account and can use pre-made templates also. The thumbnail is created following the ideal size dimensions of 1280px and 720 px.
Key USPs:
You can edit and polish the thumbnails after selecting or creating them with customizable graphics, shapes, and text.
It allows you to create thumbnails from scratch. You can choose to use the available visual icons or upload your own images for your thumbnails.
Snappa YouTube Thumbnail Generator
Fotor
Fotor is yet another tool which helps you to create YouTube thumbnails even if you are not an expert or a professional. It is very simple to use and has a lot of designing features to get the best of your thumbnail.
They have wonderful and appealing themes from all over the world that can be used in your thumbnails. These pictures can lead to your videos getting maximum viewers. Fotor has best photo editing features in order to refine your thumbnails.
Key USPs:
It provides you with a clean and smooth interface to edit your thumbnails and all the elements you'll need to add visual appeal to your thumbnails. 
Fotor is easy to use, so you won't need expert knowledge to create stunning thumbnails.
With this tool, you can also create best collages.
Fotor YouTube Thumbnail Generator
Adobe Spark
Adobe Spark helps beginners to come up with unique and catchy thumbnails for their videos in YouTube. You will find unlimited creative possibilities when you browse the Adobe Spark Inspiration Gallery.
This thumbnail tool gives you templates in the required dimensions of the ideal YouTube thumbnails. There are also provisions to incorporate your logo into the YouTube banner to help distinguish your brand, but also consider adding a photo related to your industry or content, or creating an illustration that reveals a little bit about what you do.
Key USPs:
You can upload your own images or those from the video through Google Photo, Creative Cloud or Dropbox account.
It is best for Adobe Creative Cloud users and those familiar with Adobe's other design tools.
It has a mobile app for iOS.
Adobe YouTube Thumbnail Generator
Frequently Asked Questions about YouTube Thumbnail Size
What is the best size for YouTube thumbnails?
The perfect YouTube thumbnail size is 1280 pixels wide by 720 pixels tall.
What is a good thumbnail size?
A good YouTube thumbnail size is when the image and text on your Thumbnail is clearly visible and is able to entice users to click the YouTube video.
How do I make YouTube thumbnails fit?
You can try any good YouTube Thumbnail generator mentioned above to resize the image of your Thumbnail and make it fit.
What is a thumbnail image on YouTube?
Thumbnail image on YouTube is a preview image that helps viewers understand what is the context of the video and what the video will contain.
How do I turn a picture into a thumbnail?
To turn a picture into a thumbnail, you can try any of these thumbnail generators and convert your picture into the required format.
Now you know the perfect size of YouTube thumbnails and 5 best YouTube thumbnail generator. If you need any help with marketing your video on YouTube, do let me know using the chat at the bottom.
Recommended Reads
YouTube Thumbnail Size
YouTube Thumbnail Size Summary
The perfect YouTube thumbnail size is 1280 pixels wide by 720 pixels tall with size less than 2 MB. Here are 5 Best YouTube Thumbnail Generator 2022 you can create your perfect YouTube thumbnail. 
Pros
Easy to create YouTube thumbnails using these generators 
Most of these YouTube thumbnail generators are free 
YouTube thumbnail generators give good templates to work on
Cons
Some features of YouTube thumbnail generators might require paid version of the tool.