Last Updated on 8 months by Anoob P
In this post, we are going to look at BitBuy Reviews, Features, Pros, Cons & Fees in 2022.
BitBuy is a crypto currency exchange platform for Canadians and you can make good money using crypto currencies as long as you understand the market and invest knowing the risks.
After working full-time for more than 12 years, I switched to working for myself and trying to earn a living online.
If you are interested in the whole concept of making money online, you can check out some of my other posts including 10 Easy Ways to Earn Money Online without Investment, How to Earn Money from YouTube, how to earn money from Facebook and how to start a blog and make money.
I have also written a detailed post on How to Start an Online Business That Changes Your Life, How to Live a Simple Life And Be Happy–you can read it if you are interested.
I recently helped a client of mine generate $1000 in income from his YouTube channel that was not making any money and even you can do the same.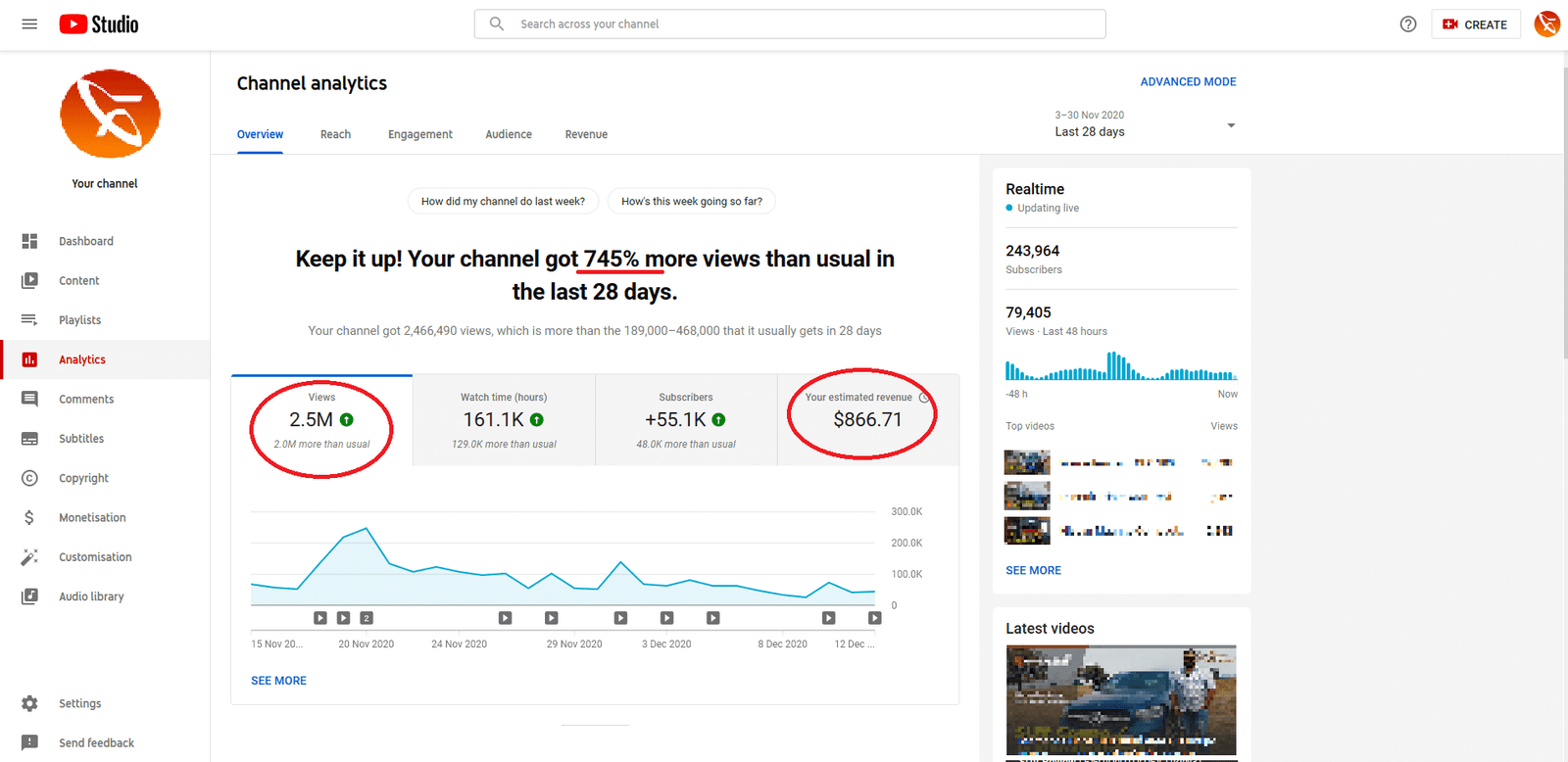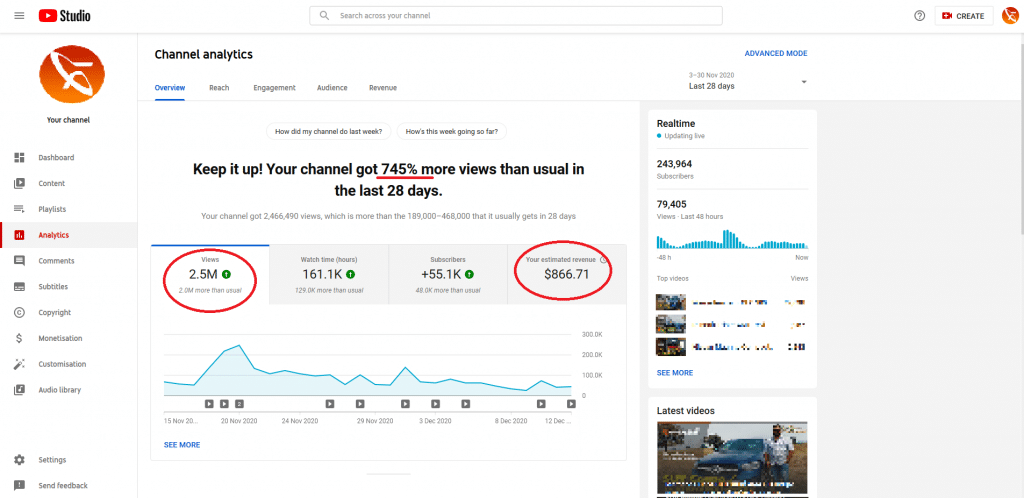 Earlier, I had co-founded a video company and raised $2 million in funding and then got fired from the company I started. I had done lot of testing and research on how to monetize YouTube and now I use the same skills to help other YouTubers.
You can read my full story here if you are interested.
Bitbuy Review: Features, Pros, Cons & Fees [2022]
What is BitBuy?
BitBuy is a crypto currency exchange platform based out of Canada. Started in 2016, BitBuy is one of the most popular crypto currencies in the country and the exchange has its headquarters in Toronto.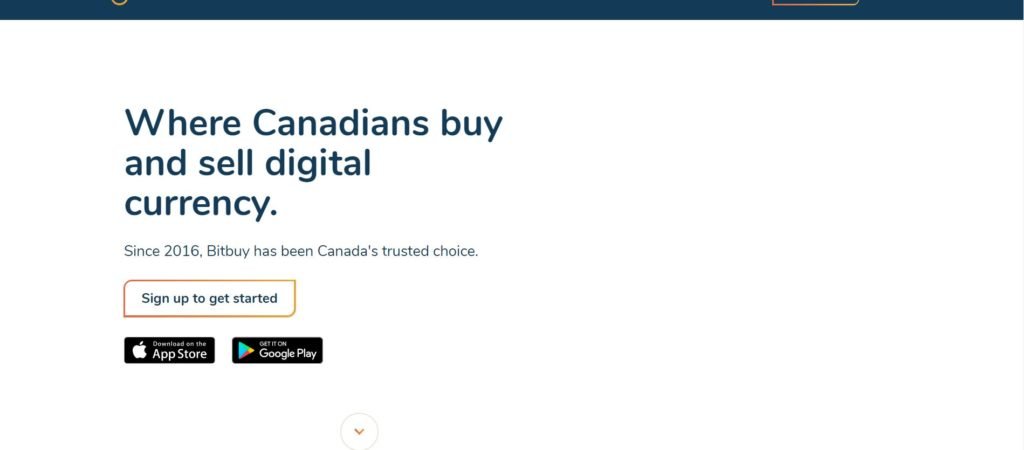 As a crypto currency platform, BitBuy is suited for new cryptocurrency traders and seasoned investors.
BitBuy is popular because of options like 'Express Trade' and 'Pro Trade'.
Using the 'Express Trade', new investors can quickly get started on the platform and for experts, BitBuy has advanced charting and multiple order types using 'Pro Trade' platform.
BitBuy is a good option to check out if you are looking to start trading crypto currencies in general or actively looking to build a cryptocurrency portfolio.
Official website of BitBuy: https://bitbuy.ca/en/
BitBuy App Links
BitBuy also has apps for Android and iOS devices.
You can download the official BitBuy app using the links below.
BitBuy Features
Bitbuy offers access to 7 coins which include, Bitcoin, Bitcoin Cash, Ethereum, and Ripple.
The platform is only available to Canadian citizens and offers email support for inquiries  
It is suitable for both beginners and expert investors 
Express Trade interface for beginners and Pro Trade interface for experienced traders
BitBuy also has registered money service business (MSB) with FINTRAC
Bitcoin balances 1:1 insurance through Knox custody.
How BitBuy Works
If you're used to online trading and buying and selling investment assets, you will find BitBuy pretty easy to use. BitBuy as a  platform is pretty straight forward as compared to other online trading platforms.
If you want to know more about how BitBuy works, you can watch this video which is a webinar about how to trade in cryptocurrencies using BitBuy.
To get started you need to sign up to BitBuy.
For signing up you have to provide your email address and password.
Click on the link sent to your email for confirming your email address.
After providing your cell phone number you can activate your account and finalise setting up by putting in other personal information which is required.
Generally, your identity verification is done at this point, if it doesn't happen or if you are unable to pass the automatic verification you will have to provide some documents, which include:
• Financial Statement (credit card, bank, or loan statement)
• Utility bill, T4, Notice of Assessment, etc
• Photo of government-issued ID e.g., driver's license or passport
• Selfie with your ID with your face clearly visible and a piece of paper with the phrase "For Bitbuy Use Only" and dated.
You can fund your account after setting it up by using bank wire e-transfer or by depositing crypto currency into your account.
How to Sign Up for BitBuy
For signing up:
Go to https://bitbuy.ca/en/  and click on 'Sign up to get started'.
You will see two options whether to create a personal account or a business account. Select the type of account which you want.
Enter your email address 
Enter a username which can contain only letters and numbers 
Set up a password 
Confirm your password 
Enter your phone number on which you will be receiving a code to verify it, so make sure it's working.
Enter a referral code if you have any 
Click on the checkbox that says you certify that you are 18 years of age or older and accept our standard privacy policy and terms and conditions. (To read the terms and conditions and understand the privacy policy you can click on the hyperlinked text.)
After filling in the above information you can click on create account.
BitBuy Supported Crypto currencies
 BitBuy has 7 coins available which you can trade on the platform. They are:
• Bitcoin (BTC)
• Ethereum (ETH)
• Litecoin (LTC)
• Ripple (XRP)
• Stellar (XLM)
• Bitcoin Cash (BCH)
• EOS
BitBuy Fees
If you are using the Pro Trade platform the trading fees costs 0.10% when you place limit rates and 0.20% when you place a market order.
You will have to pay 0.50% for buying and selling orders on Express Trade if you are using the platform for its one-click functionality.
Other deposits and withdrawals have the following fees:
If you are funding through Interac e-transfer, the minimum deposit you have to do is $100 and the maximum you can deposit is $20,000. For withdrawal, minimum $50 and maximum $10,000 can be withdrawn from this funding method.
The fees is 1.50%  for both withdrawal and deposit and the processing time for deposit is 1-6 hours while withdrawals are processed within 24 hours 
If you're funding through bank wire, you have to deposit a minimum of $20,000 and $5,00,000 maximum, for which you will be charged a 0.50% fee.
The processing time will take 2 to 3 business days.
For withdrawals, the amount remains the same that is $20,000 minimum and $5,00,000 maximum for which you will be charged 1.50% fees and the whole process will be completed within 2 to 3 business days 
BitBuy Pros
New clients can avail the benefit of instant verification – If you are a new client and signing up BitBuy, there's an automatic verification process which will help you verify your account. If the automatic process doesn't work, you will only have to deposit a few documents and the verification will be done instantly.
The platform is user friendly- Canadians can use this platform both on the website or by downloading the mobile app and start trading wherever they are and whenever they want. 
Quick deposit time – As compared to other crypto currency platforms, BitBuy has a fairly quick deposit and processing time.
Referral program – BitBuy has a referral program which you can take the benefit of if you have a referral code. You can use it while signing up and creating an account. 
The referral program pays the referee $20, for every person who signs up using that referral code. It also pays the person who has signed up using the code a $20 welcome bonus.
To qualify for the referral bonus, both the referral and the referee must have an initial deposit of $250 CAD or more 
Multiple Features -BitBuy has the 'Express Trade' feature and 'Pro Trade' feature which can be used by both beginners and expert traders who want to start trading online or have been doing it for a while.
BitBuy Cons
The platform is only available to Canadian residents. Any other country residents are not allowed to visit the site.
The types of coin available with the platform is limited to 7.
It accepts only one Fiat i.e., CAD. 
It doesn't support credit card 
BitBuy Review
The online trading program is user friendly and provides various features for its different types of users starting from beginners to export traders.
It is one of the topmost crypto currency exchanges in Canada and has recieved 4 stars out of 5 from most users.
In this section, we will show you one positive and one negative review of BitBuy so that you understand how the platform is.
Some users are super happy with the platform while others not so much.
Some users, who have been using the platform for quite a while now say that, in order to understand BitBuy completely, you have to be open minded and patient enough to understand how the market works.
If you are not patient and only looking for instant results, then BitBuy may not work for you.
BitBuy Positive Review
BitBuy Negative review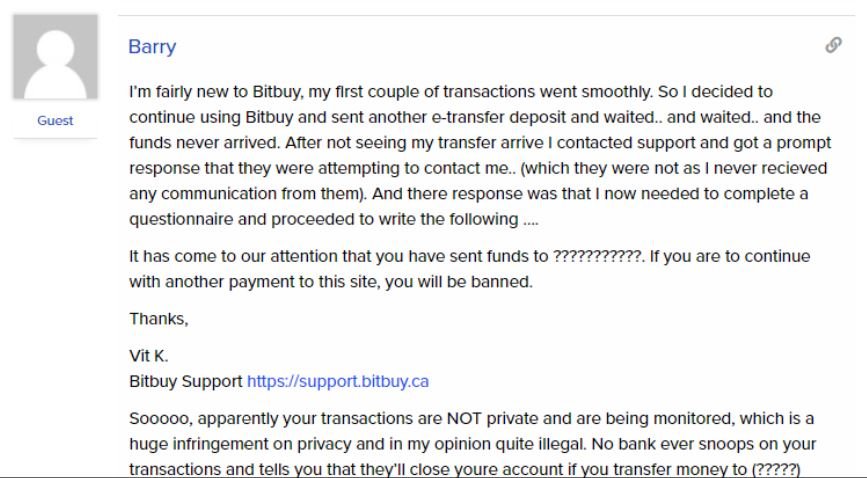 You can read more BitBuy reviews here
BitBuy Customer Support
BitBuy has an active customer support team that will help you resolve any complaints you might have.
Some users have said that BitBuy customer service is slow, but if you have any queries or concern, you can write to them.
BitBuy Customer Support Email: support@bitbuy.ca
BitBuy Social Media Channels
BitBuy is also active on all major social media channels. You can follow the company and get to know about latest features and offers.
You can also raise any complaints you have with BitBuy on these social media channels to get a response faster.
Is BitBuy Legit
BitBuy is a legitimate cryptocurrency platform and it has been registered with the FINTRAC (Financial Transactions and Report Analysis Centre of Canada) as a Money Service Business (MSB).
BitBuy has active partnership with Knox and insurance for Bitcoin balances on a 1:1 basis.
You can always visit official website of BitBuy and read the other terms and conditions if you have any doubts.
Frequently Asked Questions about BitBuy
Is Bitbuy safe?
Yes, Bitbuy is a legit and safe cryptocurrency exchange based out of Canada.
Is Bitbuy an exchange or wallet?
BitBuy is a cryptocurrency exchange but the app does have built in wallet for users.
What currencies does Bitbuy?
BitBuy supports
Bitcoin (BTC)
Ethereum (ETH)
Litecoin (LTC)
Ripple (XRP)
Stellar (XLM)
Bitcoin Cash (BCH)
EOS
How do I use Bitbuy?
BitBuy is fairly simple to use, you can register, login add funds and start buying cryptocurrencies. However, BitBuy is only available for Canadians right now.
How long does Bitbuy take to verify?
1-2 Business days
Does Bitbuy have fees?
As of January 2022, BitBuy fees are 0.20% on all buys and sells.
Where is Bitbuy located?
Toronto, Canada
Do you need a wallet for Bitbuy?
No BitBuy has built in wallets so you do not need a seperate wallet
Recommended Reads
BitBuy Review
BitBuy Summary
BitBuy is one of the most popular cryptocurrency exchanges in Canada and some users are very happy about the platform while others aren't. Some users have complained that to understand BitBuy, they had to spend considerable time. If you are looking for a cryptocurrency exchanges in Canada to start trading you should give BitBuy a go. 
Pros
New clients can avail the benefit of instant verification 
The platform is user friendly if you spend some time on it
Quick deposit time
Referral program
Multiple Features
Cons
The platform is only available to Canadian residents. Any other country residents are not allowed to visit the site.
The types of coin available with the platform is limited to 7.
It accepts only one Fiat i.e., CAD. 
It doesn't support credit card