HowTheMarketWorks is a platform that lets you learn stock trading and investing through simuation. In this post we are going to look at HowTheMarketWorks Reviews, Features, Benefits, Cons & Hacks in 2021.
If you are interested in stock trading, you can also consider starting a YouTube channel and sharing your knowledge.
I recently helped a client of mine generate $1000 in income from his YouTube channel that was not making any money and even you can do the same.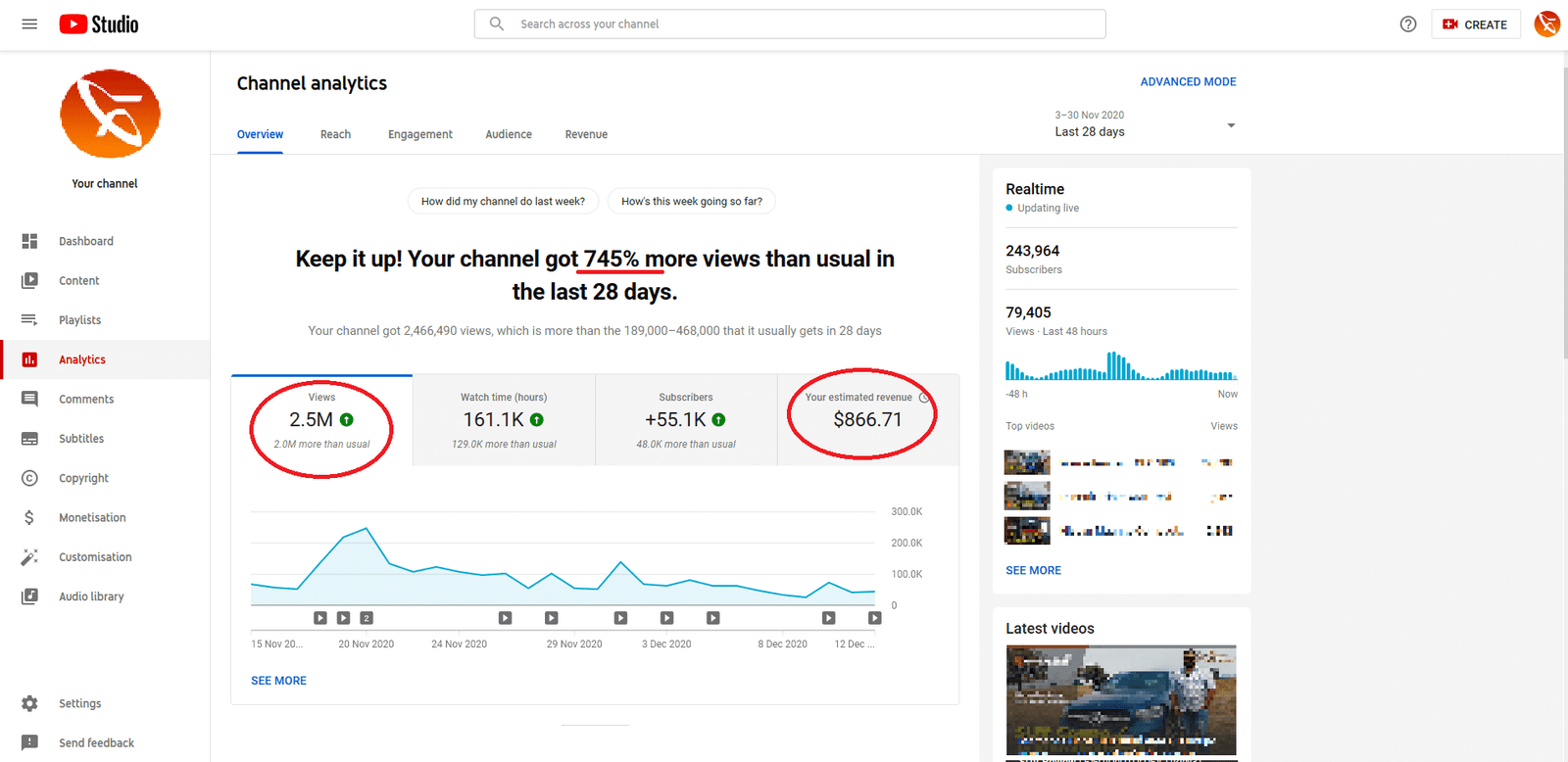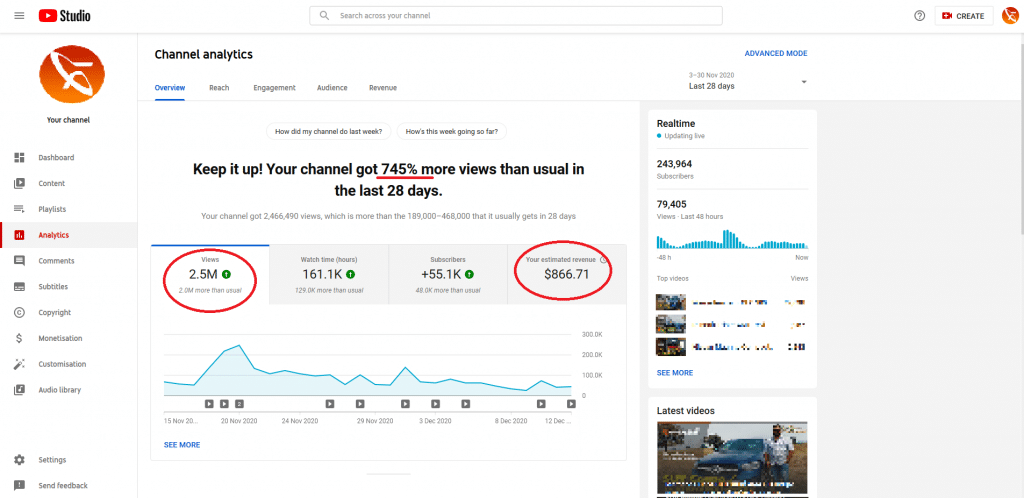 Earlier, I had co-founded a video company and raised $2 million in funding and then got fired from the company I started. I had done lot of testing and research on how to monetize YouTube and now I use the same skills to help other YouTubers.
You can read my full story here if you are interested.
If you are interested in the whole concept of making money online, you can check out some of my other posts including 10 Easy Ways to Earn Money Online without Investment, How to Earn Money from YouTube, how to earn money from Facebook and how to start a blog and make money.
HowTheMarketWorks Reviews Features, Benefits, Cons & Hacks [2021]
What is HowTheMarketWorks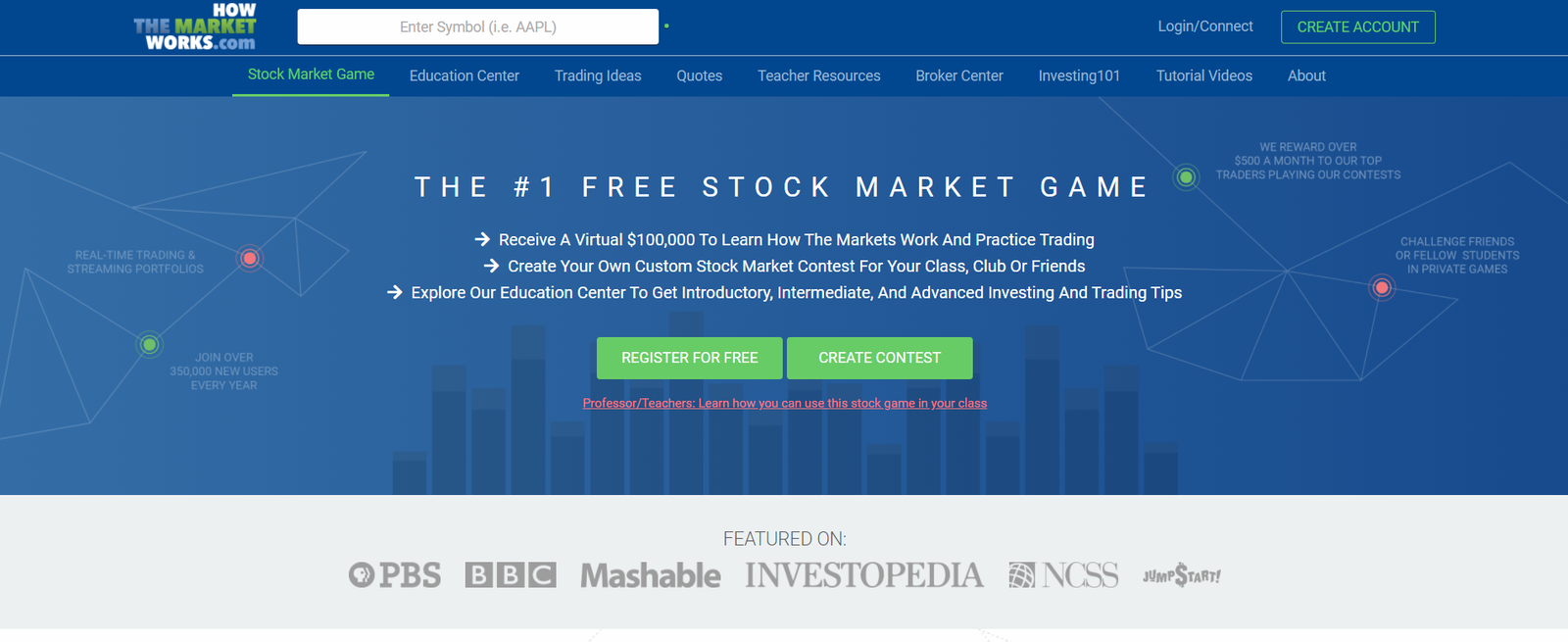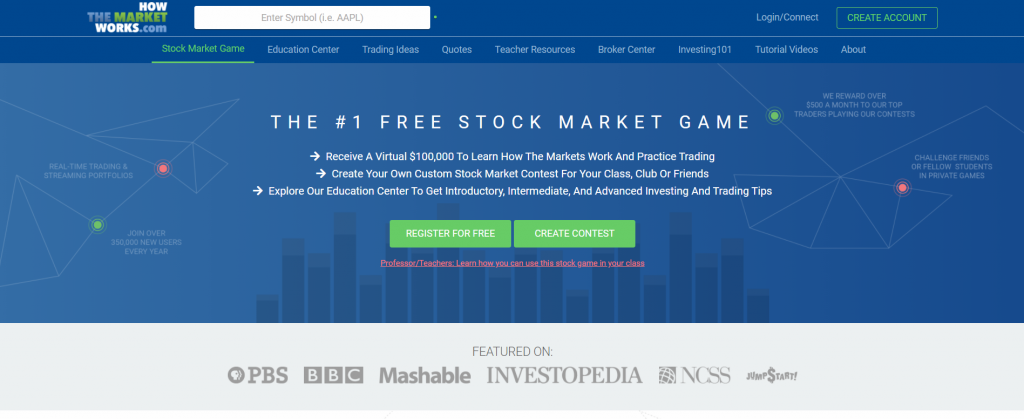 HowTheMarketWorks is a stock market simulation game that enables users to create customized stock market game and financial educational lessons.
It is estimated that HowTheMarketWorks is used by 400,000+ users, mostly students every year.
When you register for HowTheMarketWorks, you are given access to HowTheMarketWorks Education Center, $100,000 in virtual cash and you can create your own custom stock market game and then invite anyone you want to play the game.
HowTheMarketWorks is used by 10,000 colleges, middle schools, highschools and invest clubs for educational purposes.
HowTheMarketWorks provides Wall Street Analyst Ratings, Financial Glossaries, Calculators, Quotes, Charts, Statements, Tutorial Videos & even Trading Ideas.
Official website of HowTheMarketWorks: https://www.howthemarketworks.com
Howthemarketworks App
HowTheMarketWorks does not have an Android or iOS apps at the moment.
Howthemarketworks Mobile
Howthemarketworks website is now mobile optimized and you can trade using the app on your smartphone.
How to Join HowTheMarketWorks
To join HowTheMarketWorks, you need to visit the official website and sign up.
Registration is free and you can visit this link to complete your sign up: https://www.howthemarketworks.com/register
You can sign up as a Student or an Instructor and you can even connect your Facebook account.
HowTheMarketWorks Login
You can login to HowTheMarketWorks using the link below:
https://www.howthemarketworks.com/login
Features of HowTheMarketWorks
HowTheMarketWorks helps you learn trading and practice investing in stock market without any risks.
Some of the features of HowTheMarketWorks platform are:
$100,000 worth Virtual Cash when you sign up
Create Contests with Friends and Family
100+ Videos and Tutorials explaining Stock trading concepts
Ability to customize your games and lessons
HowTheMarketWorks also has separate sections on investing, financial calculators, best/worst ETFs. and managing portfolio.
HowTheMarketWorks also features a course named Investing 101: Stock Market Course for Beginners.
This course is worth $99 and is available for free right now.
You can access this course here: https://investing101.net/
Benefits of HowTheMarketWorks
HowTheMarketWorks is one of the best platforms to learn how to invest in stock while reducing your risk.
The biggest benefit of HowTheMarketWorks is that you can learn stock trading and investing even if you are a complete beginner and there is no risk in doing so.
HowTheMarketWorks gives $100,000 in virtual money which can be used to invest in simulation stocks and with this, you can analyze your portfolio, read charts and learn how to invest before actually investing your own money in the stock market.
Another benefit of HowTheMarketWorks is that you can invite friends and family to learn along with you and check how others' portfolio are doing compared to yours and learn from others mistakes.
HowTheMarketWorks Lessons
HowTheMarketWorks has different lessons and plans for different types of users.
You can check different Finance Lessons plans available on HowTheMarketWorks by clicking the link below:
Explore HowTheMarketWorks Lessons
There are lessons for:
Using stock game in personal finance
Students in Elementary schools
Students in Middle Schools
College going students
Entrepreneurs
HowTheMarketWorks Pros
HowTheMarketWorks has many pros and some of them are:
HowTheMarketWorks is completely free to sign up and use
Invite your family and friends to HowTheMarketWorks and learn together
HowTheMarketWorks gives $100,000 in simulation money to invest
HowTheMarketWorks is beginner friendly
HowTheMarketWorks has video lessons on almost everything related to stock market investment
HowTheMarketWorks Cons
HowTheMarketWorks is a simulator and like other stock trading simulators, HowTheMarketWorks also has some cons.
HowTheMarketWorks does not have a mobile app
HowTheMarketWorks Can Make people overconfident
Some users can get unrealistic returns
HowTheMarketWorks has no real capital at stake so there is actually no risk involved
HowTheMarketWorks Customer Support
If you need to get in touch with someone at HowTheMarketWorks, you can do so by filling the form on this link.
https://www.howthemarketworks.com/contact-us
You can also reach HowTheMarketWorks team via
Telephone: (514) 871-2222
Fax: (514 871-8561)
HowTheMarketWorks Social Media Handles
You can check out HowTheMarketWorks social media handles by visiting these links below:
HowTheMarketWorks Facebook
https://www.facebook.com/HowTheMarketWorks
HowTheMarketWorks Twitter
https://twitter.com/stockmarketgame?lang=en
HowTheMarketWorks YouTube
https://www.youtube.com/channel/UCurPB_eTFww79HddDKER-kw
HowTheMarketWorks Reviews
HowTheMarketWorks has mostly positive reviews on the web and in this section we will try to show you a positive and a negative review for your understanding.
HowTheMarketWorks Positive Review
One user on investimonials has given a very good review stating that the website is very good for beginners and that HowTheMarketWorks teaches almost everything related to stock and Forex trading.
You can read this full review here
HowTheMarketWorks Negative Review
Overall HowTheMarketWorks seems to have good reviews but there are some reviews that state that the game is very basic and is ideal only for beginners.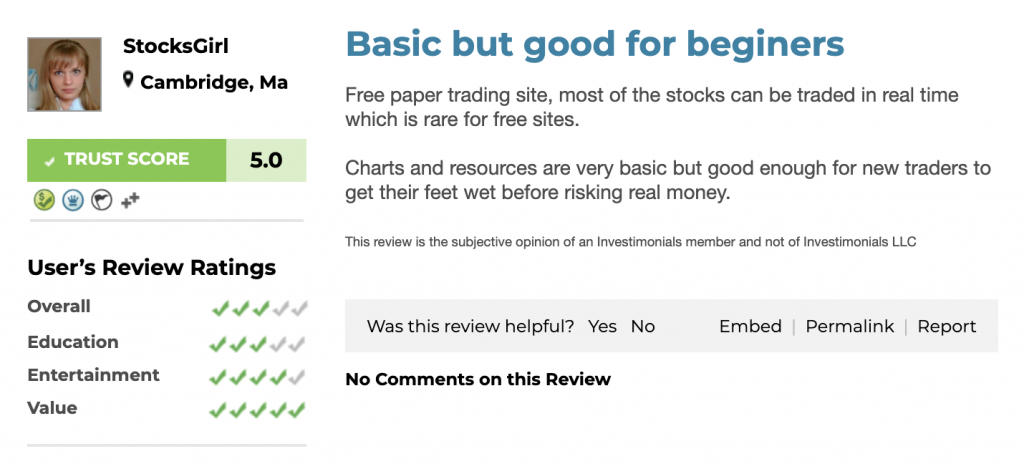 One review says that the game is very basic and since there is no investment, players will not take the game seriously while investing.
You can read full review here
HowTheMarketWorks Hack
Be Super Aggresive
The first strategy to hack HowTheMarketWorks is to be super aggresive. Many people using stock trading simuation software such as HowTheMarketWorks watch the market like they would do in real and would not be agrresive.
Users who have used a super aggresive strategy on HowTheMarketWorks have reported to beat other users and they do it using the following two strategies.
Day Trading
If you haven't tried it yet, do try day trading on HowTheMarketWorks and it can yield better returns.
Trends
HowTheMarketWorks dashboard has a section on "Research Tools" that can be used to check market trends, historical prices and even news. Market trends on HowTheMarketWorks platform is fairly accurate and you can pick some good winning stocks that will follow trends to make more money.
News
Another factor that determines the value of your portfolio on HowTheMarketWorks is news. Use news to your advantage and pick stocks that have a favorable news circulating and you can make more money.
HowTheMarketWorks Cheats
Delay by around 15 minutes
Some users have reported that HowTheMarketWorks has a 15 minute delay to how the market actually resonds and this can be used as a cheat to use to your advantage.
HowTheMarketWorks Alternatives
These are some of the best HowTheMarketWorks Alternatives you can try.
Wall Street Survivor
Wall Street Survivor claims that over 1,000,000 people have already used the platform and it makes learning stock market easy. Wall Street Survivor also gives virtual $100,000 to practice investing.
Explore Wall Street Survivor
Market Watch Virtual Stock Exchange
Market Watch Virtual Stock Exchange lets you build you own financial portfolio and also react to different market conditions as and when it happens. You can compete against friends or peers and there is a leaderboard to find out who is managing portfolio better.
Explore Market Watch Virtual Stock Exchange
Recommended Reads