Last Updated on 3 months by Anoob P
In this post, we are going to look at Shakepay review which includes features, pros, cons, fees, requirements and Shakepay alternatives in 2021.
Shakepay is a cryptocurrency trading platform that can be used to trade cryptocurrencies in Canada.
We have also written detailed posts about How to Sell Bitcoin in Canada: 11 Best Exchanges with Pros & Cons [2021 List]–you can read it if you are interested.
If you are interested in the whole concept of making money online, you can check out some of my other posts including 10 Easy Ways to Earn Money Online without Investment, How to Earn Money from YouTube, how to earn money from Facebook and how to start a blog and make money.
I recently helped a client of mine generate $1000 in income from his YouTube channel that was not making any money and even you can do the same.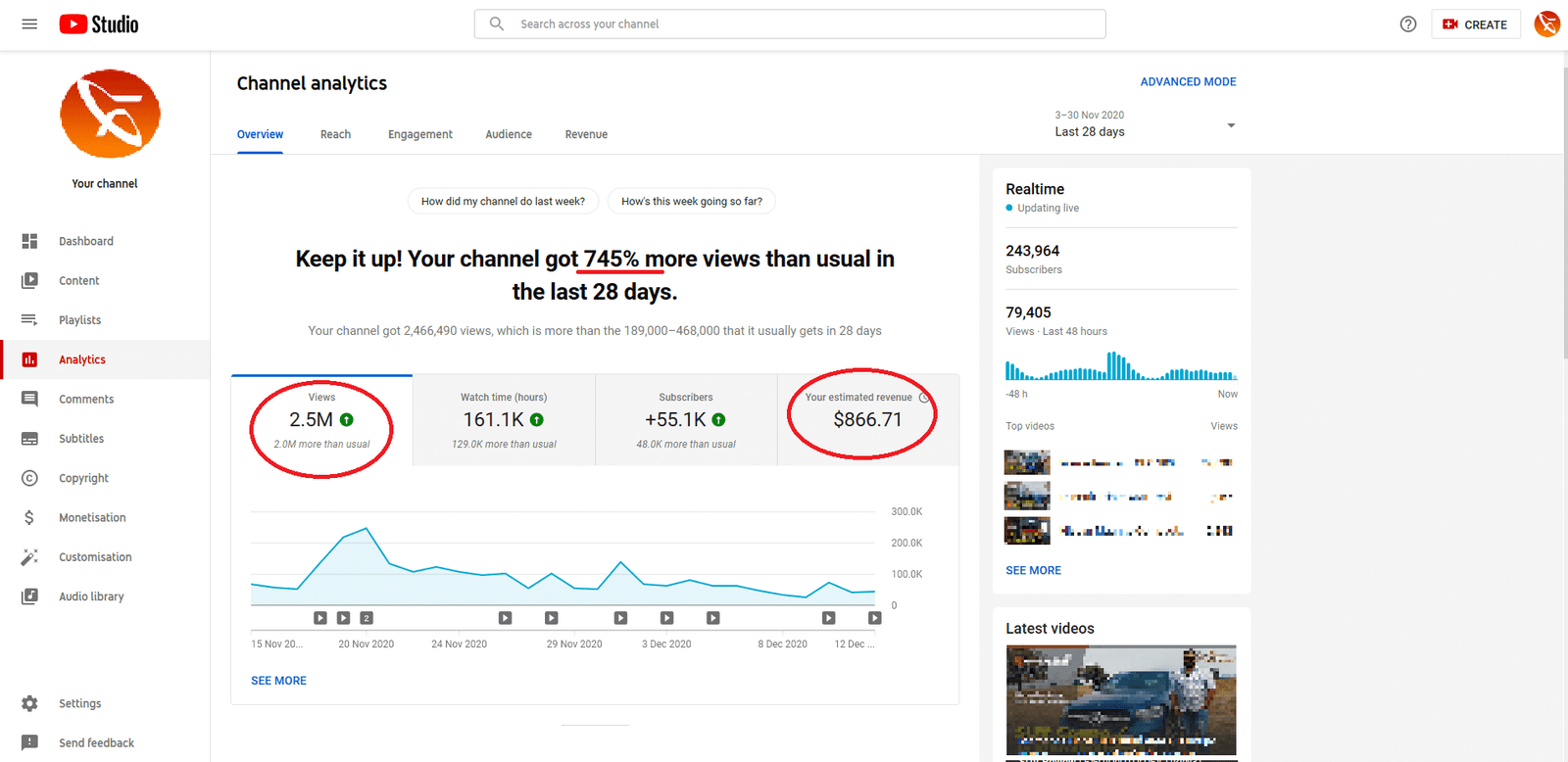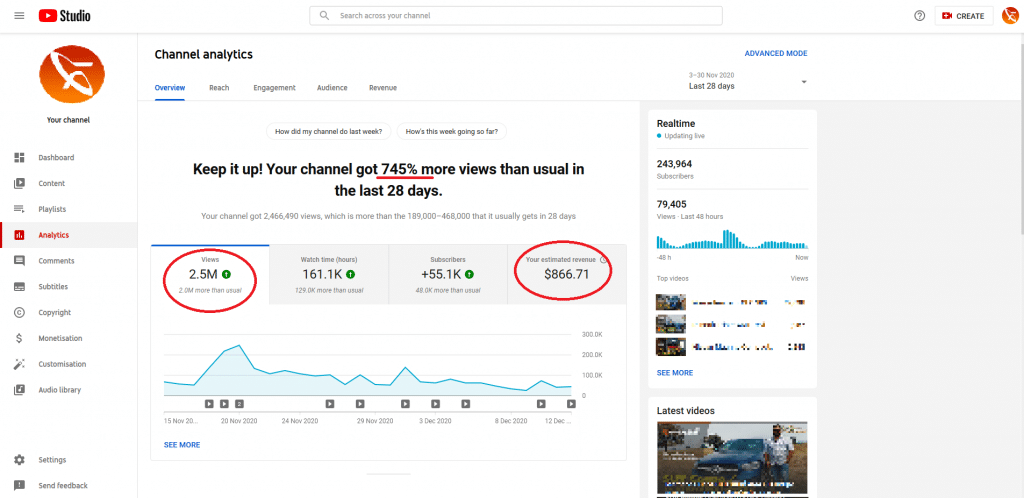 Earlier, I had co-founded a video company and raised $2 million in funding and then got fired from the company I started. I had done lot of testing and research on how to monetize YouTube and now I use the same skills to help other YouTubers.
You can read my full story here if you are interested.
Shakepay Review: Features, Pros, Cons, Requirements & Fees in 2021
What is Shakepay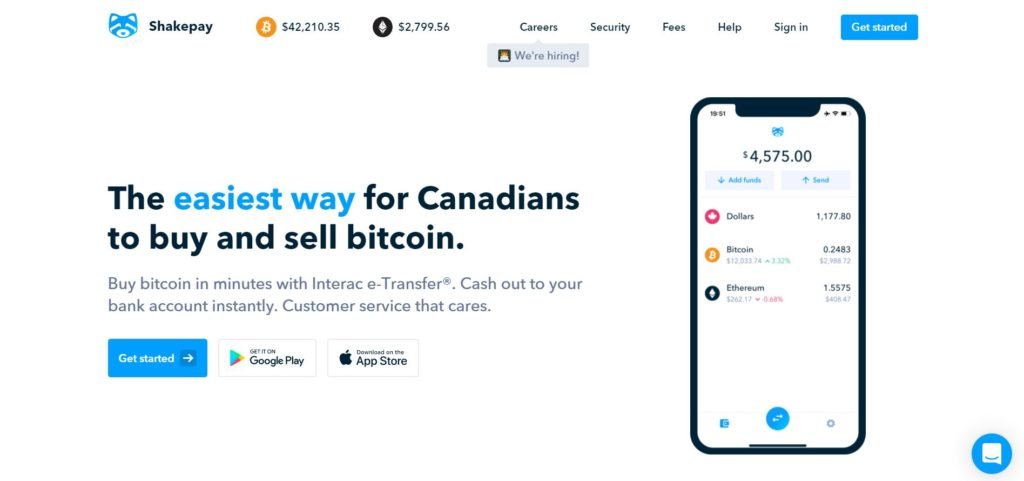 Shakepay is a cryptocurrency trading platform based in Montreal, Canada.
Shakepay started in 2015 and has over 6,00,000 Canadians using the platform to trade Bitcoin and Ehtereum. 
Shakepay also offers a $30 bonus after you trade at least $100 of cryptocurrency.
Official website of Shakepay: https://shakepay.com/
How Shakepay Works
If you compare Shakepay to cryptocurrency trading platforms, you will find that it is easier to use and navigate.
The user interface has been designed in such a way that even newbie cryptocurrency investors will not face any difficulties and making purchases require fewer clicks.
When you sign up on Shakepay, you get a $30 bonus too.
Signing up on the platform is easy. All you have to do is confirm your phone number and update your KYC information on the website. 
Your details will then be verified according to the rules of Money Service Business(MSB) operations that are regulated by FINTRAC and AMF.
To complete the verification process, your photo ID proof along with a selfie photo or a selfie video is required.
After successful verification, you can start the transactions by using wire transfer, Interac e-Transfer, or using cryptocurrency like Bitcoin and Ethereum.
To get started with Shakepay, you can use this official link.
Shakepay Features
Shakepay has many features that make it a great cryptocurrency platform for newbie and experienced investors.
Some of the features of Shakepay that make this a great platform include:
Faster way to own cryptocurrency than other platforms
Has a mobile app along with the website
Charges no commission on cryptocurrency transactions
Sends you price alerts for the limits you set
24*7 customer support that attends to issues within hours
Stores cryptocurrency offline and secures it with an insurance policy
Lets you to transfer your cryptocurrency to your bank within seconds
Is licensed as a Money Service Business by the FINTRAC and AMF that allows it to operate throughout Canada
Shakepay Requirements
Like other cryptocurrency trading platforms, Shakepay also has some requirements to use the platform.
To use Shakepay, you need to meet the following criteria:
Must be a Canadian citizen
Must be of at least 18 years of age
Should not be a person who is listed in any sanctions list in Canada or in any other country across the world
Should not be a "Politically Exposed Person" as defined by the Canadian anti-money laundering or anti-terrorism financing legislation
Should not be an agent and use the platform solely for your own personal use
Should also meet the anti-money laundering standards as defined by Shakepay
How to Join Shakepay
To join Shakepay, you have to go to the official Shakepay website or download the mobile app.
Official Shakepay website to Join
After you do either of those, you will be prompted to make an account by choosing your username, giving your email address, and setting up a password for your Shakepay account. 
Then you are asked to submit a photo id proof and you have to click a selfie or record a selfie video.
Using this, Shakepay will verify your identity.
This step is a must because it is as per Government regulations for any cryptocurrency platforms to have the identity verified.
After this step, you just need to wait Shakepay to verify your identity.
This also helps prevent any fraud or scams. This process usually takes a few hours to a couple of days. However, in most of the cases, verification took place within minutes. 
After successful verification, you should be able to fund your account with Canadian Dollars.
Shakepay Fees
Shakepay does not charge any commission fees for the deposits or withdrawals that take place on its platform.
However, that does not mean that it is completely free.
In case you are wondering how Shakepay makes money, the platform is making money in the difference between "ask" and "buy" price.
If you compare these prices to Coinsmart or NDAX-Shakepay charges will be slightly on the higher side.
The fees rate is as follows:
Interac e-Transfer- No fees
Wire transfer- No fees
Cryptocurrency deposits and withdrawals- No fees
Trading commissions- As per pay price spread
Shakepay Pros
Shakepay has some pros compared to other cryptocurrency trading platforms.
Some of the pros of Shakepay include:
The user interface is easy to operate even for beginners
Charges no fees on deposits or withdrawals
Takes less time to create an account on the website
The coins are stored in cold storage
Gives the option to move the coins to your personal wallet
Shakepay Cons
While Shakepay has many pros, the platform also has some cons which you should be aware of.
Some of the cons of using Shakepay include:
Currently only supports Bitcoin and Ethereum
Advanced trading tools are not yet available
Only CAD fiat is accepted
Shakepay Review
Shakepay is being by more than 6,00,000 Canadians on a daily basis to trade cryptocurrency.
More than $3 billion worth of cryptocurrency has been transacted on the platform and overall, Shakepay has 4 star rating out of 5 on all major review websites.
In this section, we are also going to show you one positive and one negative review of Shakepay so that you get an idea about the platform.
Shakepay positive review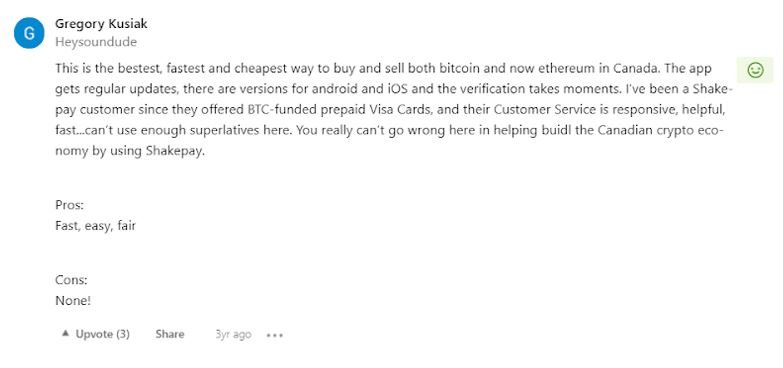 You can read more Shakepay reviews here.
Shakepay negative review
You can read more Shakepay reviews here.
Shakepay Customer Support Contact Information
Shakepay does have a customer support team that can be contacted to resolve any issues.
You can get in touch with Shakepay customer support team by writing an email to following address:
Shakepay Customer Support email
Mailing address of Shakepay
Shakepay Inc.
500 Place d'Armes, Suite 1800
Montreal, QC H2Y 2W2
Shakepay Social Media Handles
Shakepay is also active on social media channels, if you want to get in touch with the Shakepay team you can do so using the social media channels or even follow to company to know about latest offers.
Is Shakepay Safe
Shakepay is a registered company that has been licensed as a Money Service Business across all Canadian provinces and territories. The coins are stored in cold storage and are also secured with an insurance policy. 
Shakepay platform uses encryption and 2-factor authorizations so that all your data is secured and no one else has access to your account without your knowledge. It also sends email notifications when there is withdrawal. 
As of now, Shakepay has not reported a hack or lost the funds and cryptocurrencies of its users, so this gives more assurance to the users.
You can also temporarily disable your account if you feel the need to. So, considering all these aspects, it is safe to say that Shakepay is safe and legit. 
Shakepay Alternatives
Some Shakepay alternatives are as follows:
Coinsmart– It supports 11 types of digital currencies with a trading fee ranging from 0.20% to 0.40%. You also get a bonus of $20 dollars whenever $100 are funded to your account
NDAX– It supports 10 types of digital currencies including Dogecoin with low trading fees. You get a bonus of $10 whenever $100 or more are added to your account
Wealthsimple Crypto– Similar to Shakepay in terms of supporting only Bitcoin and Ethereum. $25 bonus is given when at least $100 worth of crypto are traded on the platform
Frequently Asked Questions about Shakepay
What is Shakepay used for?
Shakepay is used to trade cryptocurrencies in Canada.
Is Shake pay legit?
Yes, Shakepay a legit cryptocurrency trading platform in Canada
Is Shakepay secure?
Yes, Shakepay is secure. Shakepay uses HTTPS for all connections between app and server. Passwords are hashed and personal data is encrypted before stored. All accounts are also secured by 2FA.
How do you make money with Shakepay?
You need to trade cryptocurrencies to make money with Shakepay
Is Bitbuy better than Shakepay?
Shakepay is easier and cheaper but supports fewer coins. Shakepay fees are 1.43% and BitBuy fees are 2.29%.
Is Shakepay legal?
Yes, Shakepay is legal.
Is Shakepay cheaper than Coinbase?
Yes, Shakepay is cheaper than Coinbase. Shakepay fees is 1.43% where as Coinbase fees is 4.55%
Recommended Reads
Shakepay Review
Summary
Shakepay is a cryptocurrency trading platform that can be used to trade cryptocurrencies in Canada. Shakepay is being by more than 6,00,000 Canadians on a daily basis to trade cryptocurrency. Overall, Shakepay has 4.0 Star rating out of 5 on major web review forums so if you are a resident of Canada and want to invest in cryptocurrencies, then you should give Shakepay a shot. 
Pros
The user interface is easy to operate even for beginners

Charges no fees on deposits or withdrawals

Takes less time to create an account on the website

The coins are stored in cold storage

Gives the option to move the coins to your personal wallet
Cons
Only available for Canadians

Currently only supports Bitcoin and Ethereum

Advanced trading tools are not yet available

Only CAD fiat is accepted