Last Updated on 9 months by Anoob P
I'm planning to move to Canada so I have been researching about how to make money online in Canada.
Its not that I dislike India, my best friend moved to Canada couple of years back and he is been raving out how beautiful the country is.
One of the perks of being a digital marketer is that I can work from anywhere in the world and still make a decent enough living.
As part of my research, I have shortlisted some of the many easy ways to make money online in Canada and I am sharing the same list with you.
If you need help implementing any of these ideas to make money online in Canada, do let me know and I will help you.
If you are interested in the whole concept of making money online, you can check out some of my other posts including 10 Easy Ways to Earn Money Online without Investment, How to Earn Money from YouTube, how to earn money from Facebook and how to start a blog and make money.
I recently helped a client of mine increase his YouTube earnings from zero to almost $1000 without any paid marketing.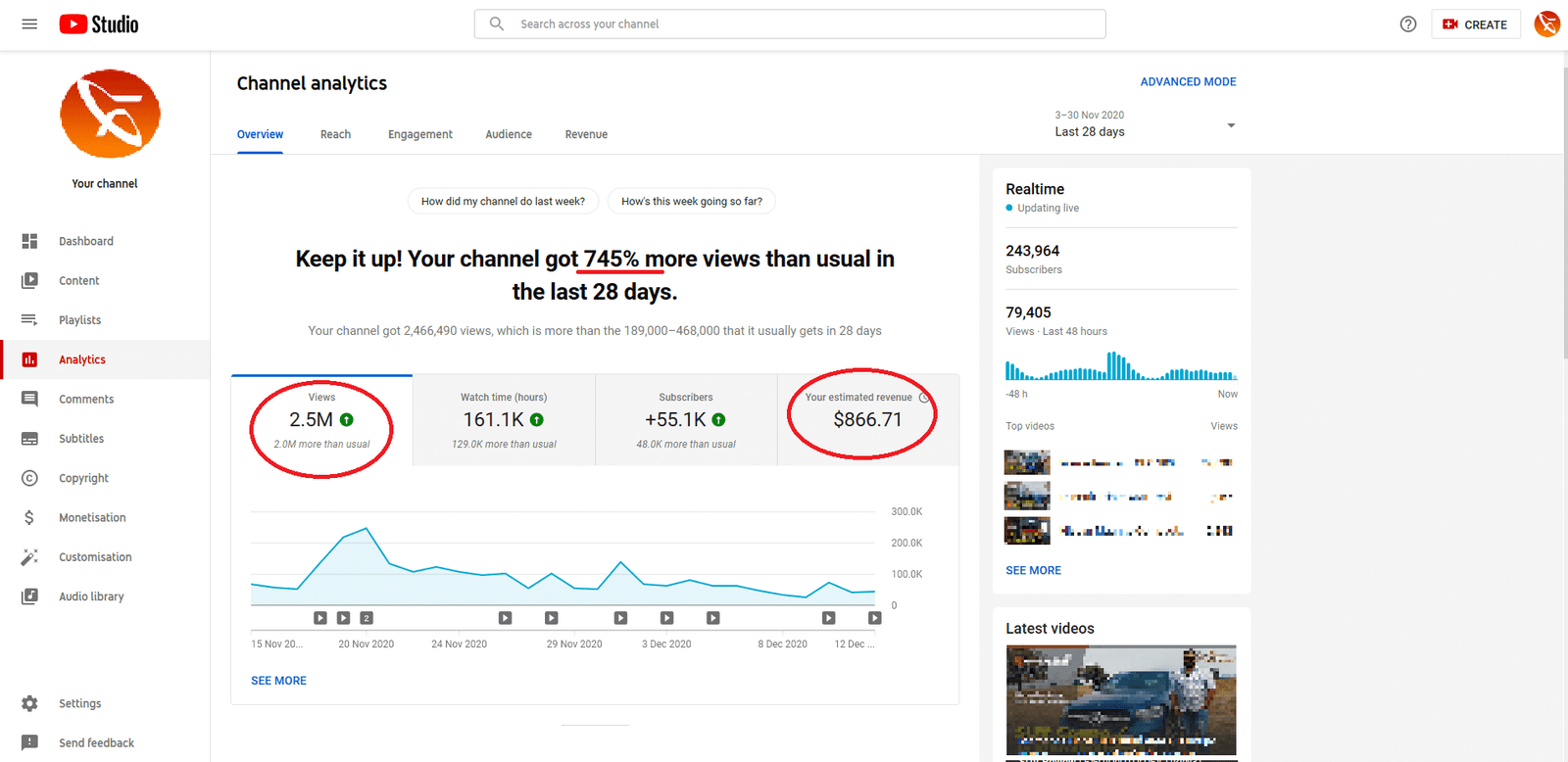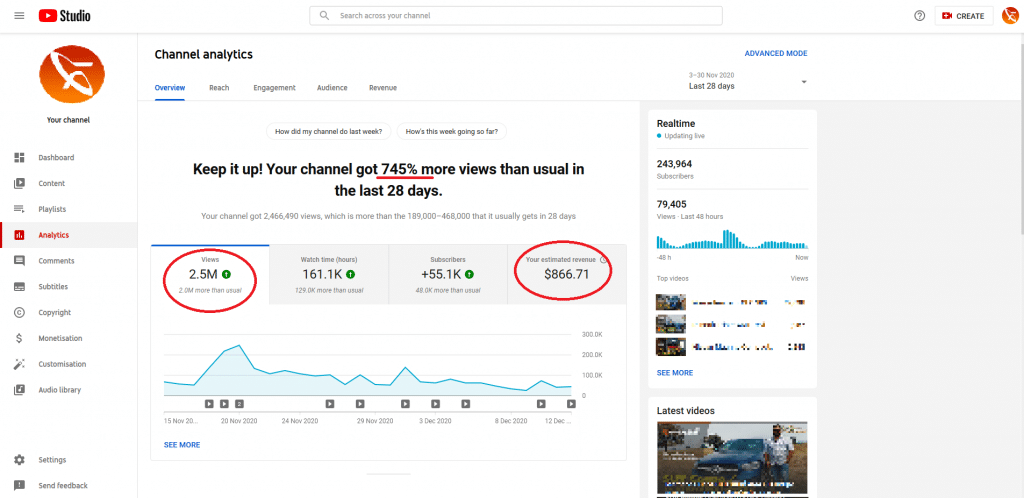 If you are looking for any source of passive income, I highly urge you to start a YouTube channel.
10 Easy Ways to Make Money Online in Canada [2021]
Ecommerce
Ecommerce is the best and simplest way to make money online in Canada.
Now, you might be wondering with retail stores such as CostCo and the DollarStore will people still buy online?
The recent COVID-19 Pandemic has shown us the benefits of e-commerce and I think e-commerce will only grow.
As more companies streamline processes around e-commerce, I think it can become a viable business for the future.
You can set up an online shop within a few hours using websites like Shopify. You need not have to manufacture products to start an ecommerce business.
You can set up your shop with virtual products and have them shipped directly to the customer through drop shipping. Customer service, shipping, return and delivery will be managed by the manufacturer.
You can also create some craft or art works and sell these online. 
If you want to be successful in ecommerce in Canada, make sure your products are unqiue and they are not available in other online or physical stores.

Pro TIP
Difficulty Level: This online business is relatively easy and you will have to invest some time for digital marketing to promote your website.
Time to get Started: 2 weeks-2 months
Potential Investment: As a bare minimum, you'll also need to pay for hosting, web development, maintenance and inventory. The average costs for eCommerce stores include—professionally-built eCommerce website ($5,000 to $10,000), Domain name ($2 – $20 per year) and hosting ($300 per month).
Earnings: On average, a new ecommerce company can expect to bring in just under $39,000 of revenue in their first month in business, and generate $6.5 million in total revenue after three years.
Don't look at the large potential investment, just set up a basic website, find good products and rest you can always figure out on the go.
Another option for you to make money from ecommerce in Canada is to become a supplier on major e-commerce websites operating in Canada.
Ecommerce websites such as Amazon, Kijiji, Walmart, eBay, BestBuy etc get millions of traffic and you can try to sell some of your products on these sites and make money.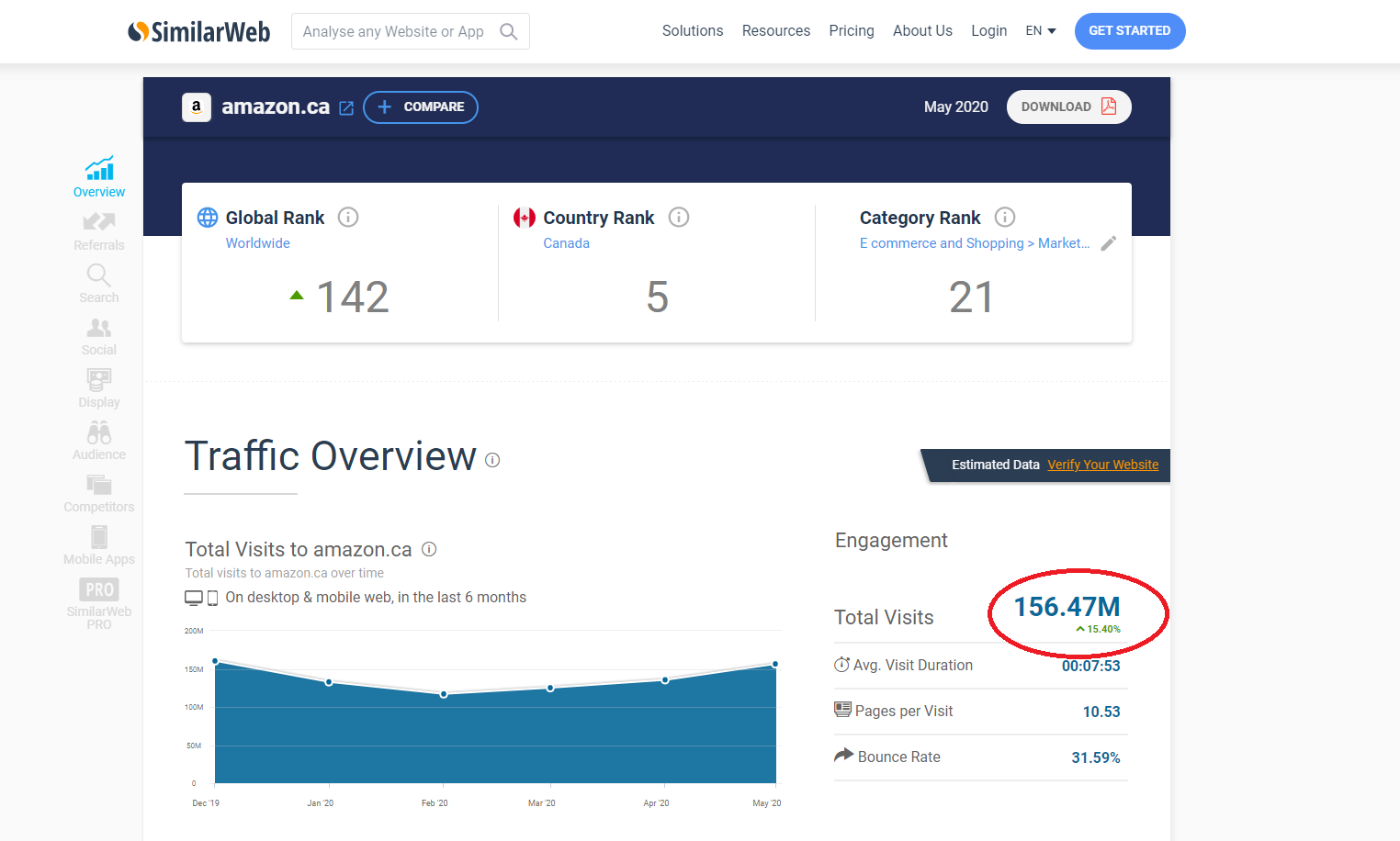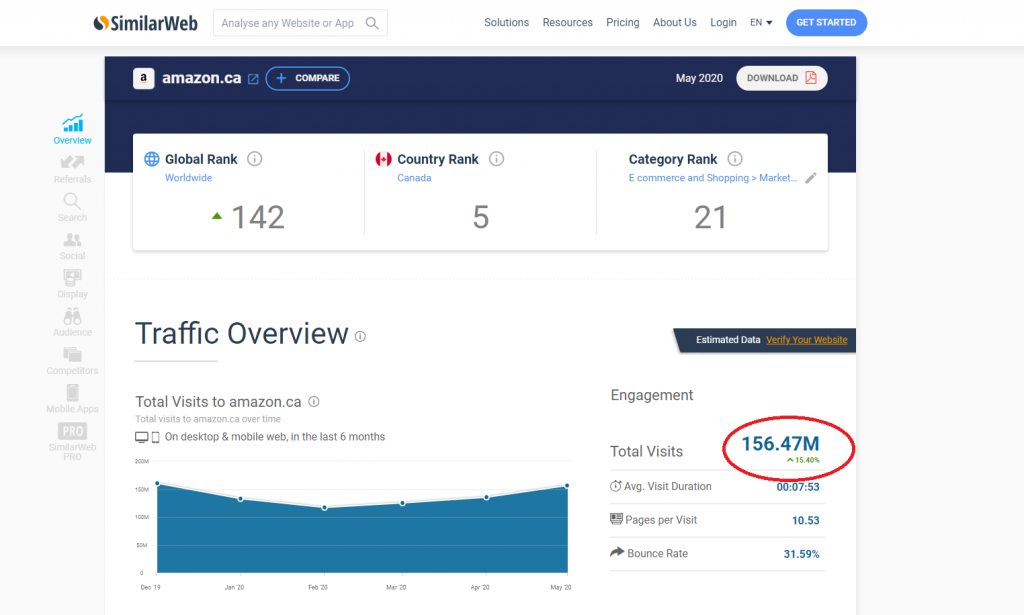 If you are serious about exploring e-commerce in Canada, you can even consider doing this course on Canada FBA (Fulfiled by Amazon)
Explore Amazon FBA Course
Create Courses / Tutoring
Online tutoring is very popular as a way to make money online and can pay you well.
All you need to have is a PC, internet connection and knowledge on the subject content you are dealing with.
You can record a small video and upload it for students to see and approach you.
Teaching does not restrict to school subjects, but also to extra skills like music, dance, cooking, baking or any instruments like violin, guitar, keyboard and so on. Some popular platforms are Udemy, Skillshare and Teachable.
Since you are already living in Canada, you have some advantages compared to others.
For example, you can do little bit research about subjects like how to file income tax returns in Canada and create a course around it.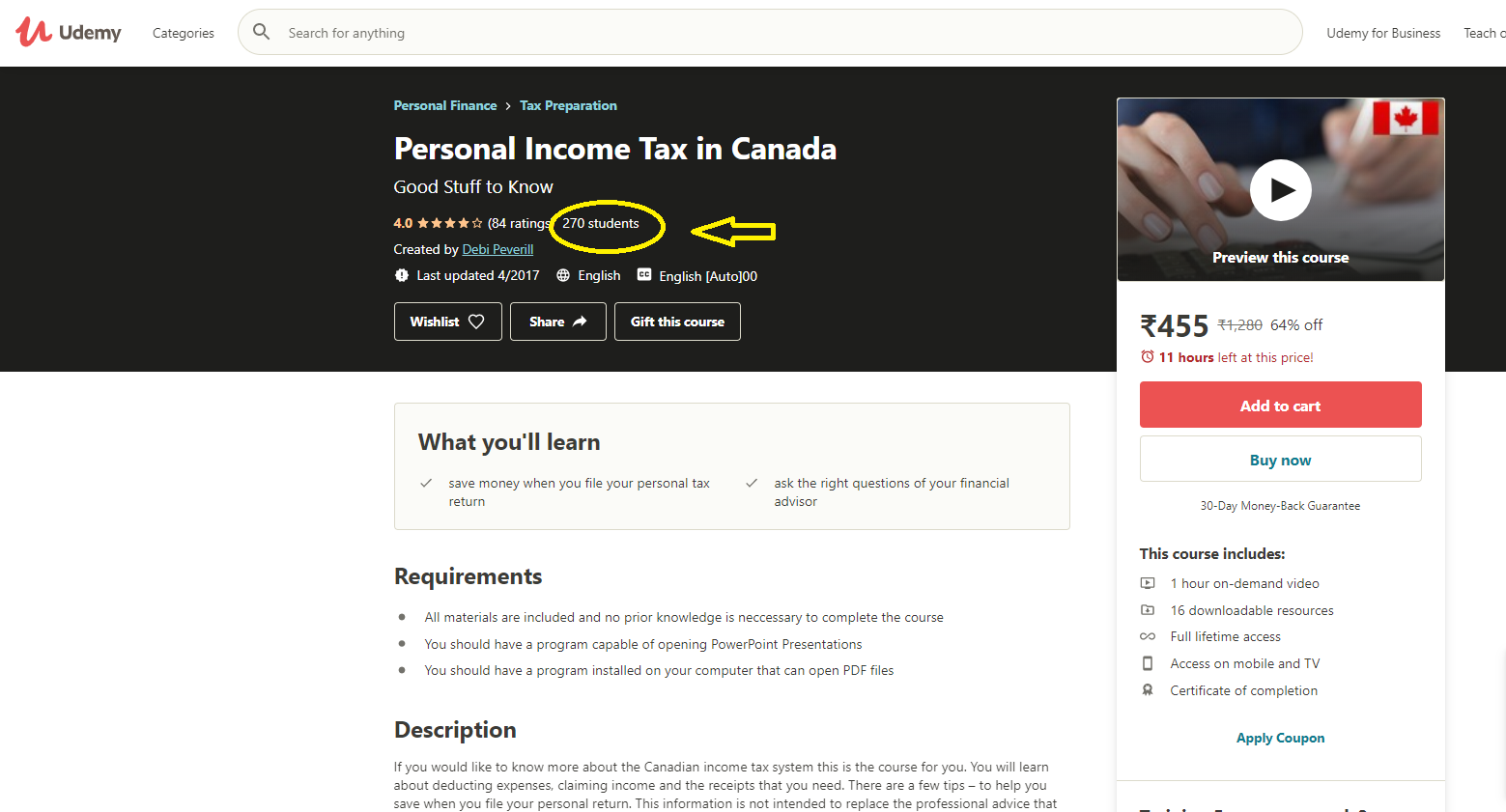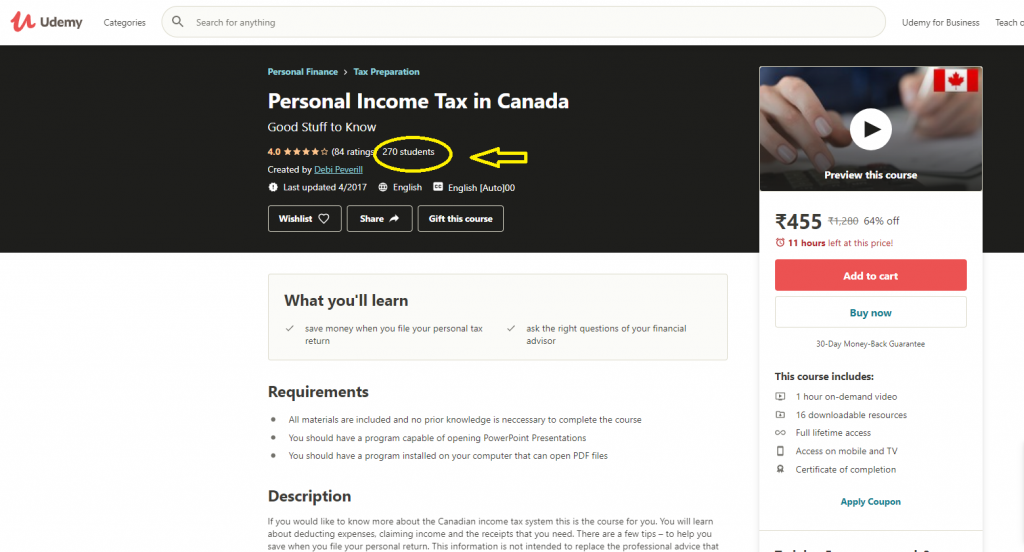 Difficulty Level: with good teaching skills and subject knowledge, this is not difficulty at all. You might need to start a website or approach e-learning platforms for your courses and tutorial classes to outgrow. 
Time to get Started: 1-2 weeks.
Potential Investment: Tutoring does not cost you much. There can be a minimal fee when registering in different online tutoring websites or a domain fee when starting a website of your own.
Earnings: you can earn from $22 per hour with some e-earning platforms.
YouTube
This is not a short-term money making business idea like e-commerce but if you can continiously create good videos, you can make good amount of money online.
If you are good at cooking, presenting something like talking about the current affairs or a film review, teaching, sharing some technical knowledge on something or telling stories, you can start a YouTube channel and post the recorded videos.
The time to get popular support and subscribers might depend on the content, but you can earn money with the number of views and subscriptions.
Ideally start with videos that are providing some solutions to peoples problems so that your videos get discovered when people type in specific keywords.
Once you have initial set of subscribers, you can expand your niche based on your audience and increase views.
Difficulty Level: you only need to create a YouTube channel and upload your video ensuring its quality and content demand.
Time to get Started: 1-2 weeks
Potential Investment: No investments are required
Earnings: your earnings depend on the number of views and likes you receive for your content as well as the subscribers for your YouTube channel.
Content Writing/ Editing
There is a huge demand for reliable and creative web content since the coming up of different search engines.
You need to have good language skills and proficiency, the ability to write search engine optimized content keeping care of grammar and other linguistic errors, and to introduce interesting topics from variety of fields.
The job includes content creation; it can be technical writing or creative writing. 
Difficulty Level: depends upon the length of the content as well as the content you
have to write.
Time to get Started: even though to become a successful and highly paid content writer takes time, you can start with content writing in 1-2 days.
Potential Investment: No investments is required for this job. You might have to pay a small fee to register in some websites or a domain fee to start a website.
Earnings: Payment depends on the length of the content (number of word/pages). You can do freelance content writing or work for a company. Payment also depends on your experience in the field and quality of the content. You can earn $1,000s per month from content writing or editing.
Affiliate Marketing
You do not need to develop a product for this type of business.
In Affiliate Marketing, you sell the products of other providers in your own website or using your link and earn a commission from the original seller.
All you have to do is recommend a product and earn for this reference. This is one of the best businesses to earn money easily.
You need to have problem-solving and decision making skills, creativity and marketing, technical, money management, productivity and leadership skills.
Difficulty Level: All you have to do is promote your products through blogs or social media websites. You can earn a certain commission amount with every product getting purchased.
Time to get Started: 2-9 months.
Potential Investment: No investment is required except a domain fee for website.
Earnings: you can earn $100,000+ every month with affiliate marketing
Service Based Jobs on Sites Like Fiverr
You can earn money online by signing up for different service jobs in online sites like Fiverr, Freelancer, 99 designs, and Upwork. These websites offer freelance jobs like article writing, data entry, pranks, relationship advice, proofreading, pranks, voice-overs, translation, logo design, resume writing, transcription services, ebook creation, and other gigs. The amount you earn solely depends on your skills to attract more customers. 
Difficulty Level: in every service you choose, make sure you can outstand in it. This increases your demand and helps you earn more. 
Time to get Started: 1-2 months
Potential Investment: A small fee may be required to sign up in different sites.
Earnings: $5 to $1,000 per project.
SEO Professional
An SEO Professional helps in increasing a website's ranking in popular search engines like Google, Yahoo, Bing and so on. This increased website visibility within the search engines results in increased traffic and more sales. There are several SEO courses you can enrol for to start a career as SEO Professional. It is also one of the best ways to make money online.
Difficulty Level: It is preferable to take an SEO course to increase your job opportunities. 
Time to get Started: 2-3 months
Potential Investment: Performance-based SEO is free to start, and has dynamic pricing.
Earnings: You can earn between $80 and $130 per hour as an SEO Expert.
Website & App Testing
There are certain companies that will pay you if you visit their website or install their app in order to make an evaluation. This can be seen as similar to taking surveys. However, in this case, you need to use the app rather than give your perspective on different questions. Some sites offering website testing include Usertesting, TryMyUI and Analysia.
Difficulty Level: you will have to install different apps, look through different websites and talk about your ideas or opinions to clients.
Time to get Started: 1-2 weeks
Potential Investment: No investment required
Earnings: you can earn $10-$60 for every 20 minutes spent testing a website or app.
Sell Photos Online
If you are passionate about photography, you can earn money by simply uploading your photos.
Click your favourite frames and upload it in the popular photography websites. You will get paid every time your photo gets downloaded. Some popular photography websites are iStockphoto, Smugmug, Shutterstock, Fotolia and 500px.
Difficulty Level: This is one of the easiest ways to make money by doing what you love.
Time to get Started: Depends on the traffic of site in which you have uploaded or the quality of your pictures.
Potential Investment: No investment is required.
Earnings: varies for each photo dimensions and the site in which you upload them.
Virtual Assistant
Generally self-employed, virtual assistants provide administrative and creative support to companies worldwide with the help of Internet.
Their day-today tasks involve blogging, social media marketing, reading and responding to mails, creating mails and business documents, maintaining websites, scheduling appointments,managing customer complaints or queries for different business companies which help them to organize matters in a better way.
Difficulty Level: All you have to possess is good communication skills and the ability to handle MS Word, Excel and such data collection and organizing applications in an efficient way.
Time to get Started: 1-2 months
Potential Investment: No investment is required
Earnings: $10,000 per month
Recommended Reads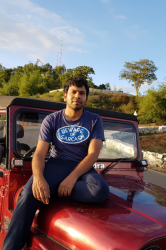 NDAX Review: Pros, Cons, Fees, Supported Coins & Referral Plan [2021]

- September 28, 2021

Canada Drives Review: Pros, Cons, Features, Loans & Inventory [2021]

- September 26, 2021

Simplii Financial Online Banking: Products, Fees, Pros, Cons & Reveiw [2021]

- September 26, 2021