Are you looking for AKC Marketplace Reviews? In this post we are going to look at AKC Marketplace Reviews, Fees, Features, Requirements & How to Make Money in 2021.
If you are looking for a puppy or you are a certified dog breeder, you can also consider PuppySpot. We have written a detailed review about PuppySpot, you can check it out if it interests you.
If you are interested in the whole concept of making money online, you can check out some of my other posts including 10 Easy Ways to Earn Money Online without Investment, How to Earn Money from YouTube, how to earn money from Facebook and how to start a blog and make money.
I recently helped a client of mine generate $1000 in income from his YouTube channel that was not making any money and even you can do the same.
Earlier, I had co-founded a video company and raised $2 million in funding and then got fired from the company I started. I had done lot of testing and research on how to monetize YouTube and now I use the same skills to help other YouTubers.
You can read my full story here if you are interested.
AKC Marketplace Reviews, Fees, Features, Requirements & How to Make Money [2021]
What is the AKC Marketplace?
The AKC Marketplace is a subsidary of AKC or American Kennel Club which was founded way back in the year 1884.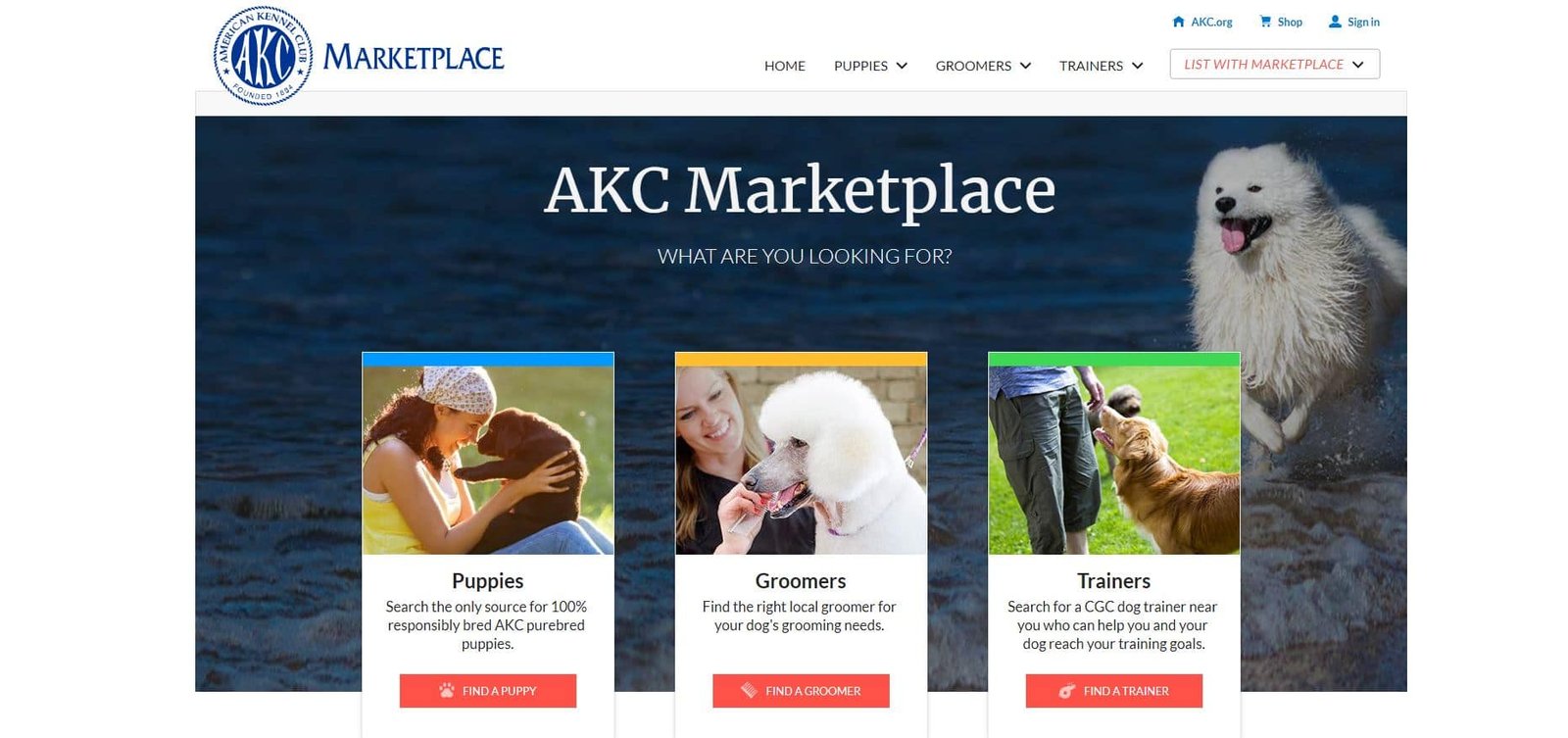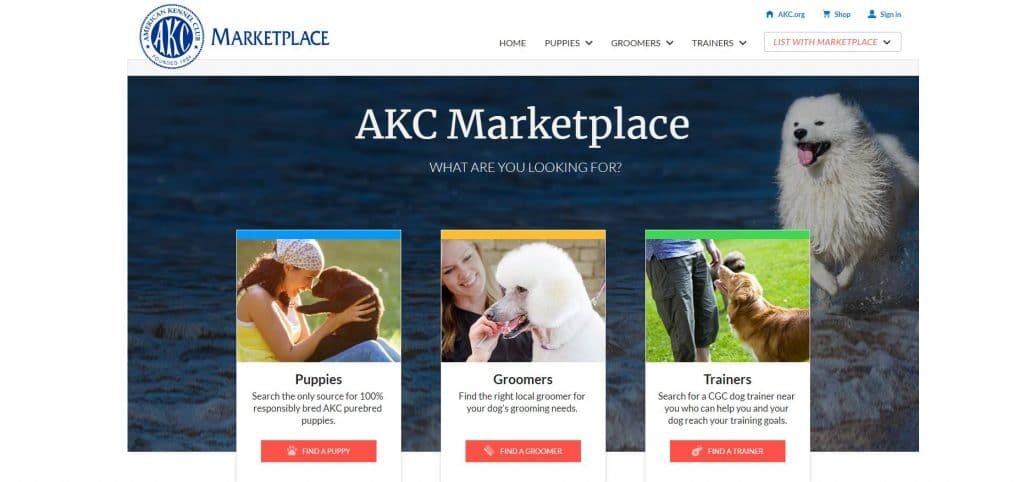 AKC Marketplace helps all aspects of responsible dog ownership and helps you find pure pred puppies, groomers and trainers.
Official website of AKC Marketplace: https://marketplace.akc.org/
AKC Marketplace is a good platform for anyone who want to adopt pure-breed pups, sell their pure-breed pups, advertise and market their dog grooming facilities and services, and other services related to pups and dogs.
The AKC Marketplace is a platform that enables you to find the best places to buy all sorts of products for your pups, find out about potential dog shows, and even find the right trainer.
Services and facilities such as dog boarding houses and dog walkers are also listed on this platform.
If you are in the niche of dog breeding or offering any related services such as grooming or training, you can use the AKC Marketplace platform to sell your services and make money.
American Kennel Club
As you would have probably guessed, AKC stands for American Kennel Club. AKC had thier first meeting on Sept 17, 1884 where the Constitution and Bylaws and Dog Show Rules were created.
Major James M. Taylor was elected as the first president of AKC and the organization has evolved with time to become one of the most trusted information providers about anything related to dogs.
You can know more about the history of American Kennel Club here
AKC Registration
You can use the AKC Registeration services to register your dog and get access to a host of services offered by AKC.
Some of the benefits of AKC Registeration are: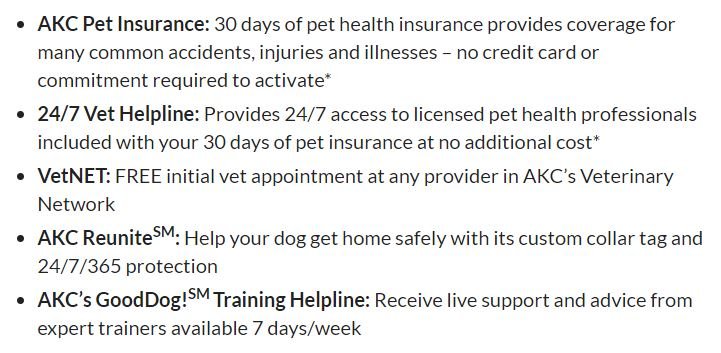 To register on AKC official website, you can click this link https://www.akc.org/register/
AKC Breeders
AKC has a very specific program called as Breeder of Merit that honors breeders who are exceptional in thier services and ensure all puppies and dogs recieve highest possible care in all aspects of dog breeding and placing them in responsible homes.
As part of the Breeder of Merit, there are some very specific benefits such as registration applications & certifications featuring you as a Breeder of Merit.
Breeder of Merit also gets prime placement on AKC Marketplace listings, access to AKC direct toll free number and some other benefits as well.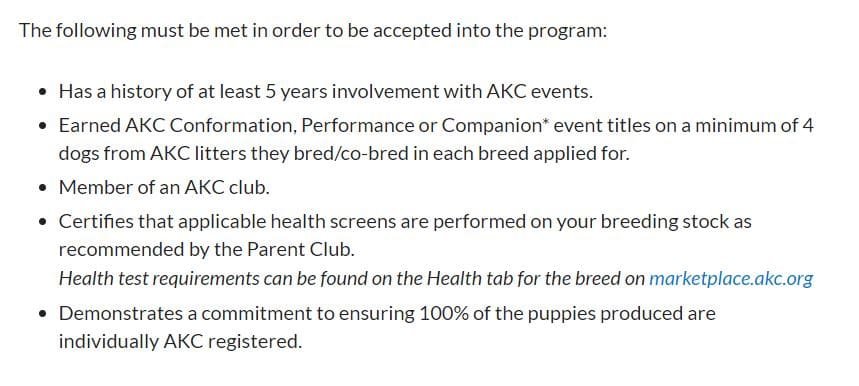 You can read about all requirements to join AKC Breeder of Merit Program here
You can join the AKC Breeder of Merit program here
AKC Dog Lookup
AKC website also has a feature which can be used to lookup any dog that has been registered on AKC platform.
You can look up any dog based on breed, registration or even name.
You can find official link of AKC Dog lookup site here.
AKC Store or AKC Shop
AKC Shop is the official store of the American Kennel Club.
This stop features selected dog supplies and accessories that will be useful for your dog and make ownership of your dog more enjoyable.
Official link: https://shop.akc.org/
Requirements to Become AKC Marketplace Member
In order to become an AKC Marketplace Member, you must be a breeder with a distinction.
AKC marketplace is for breeders, groomers and trainers and as a service provder you can list your services for all three categories.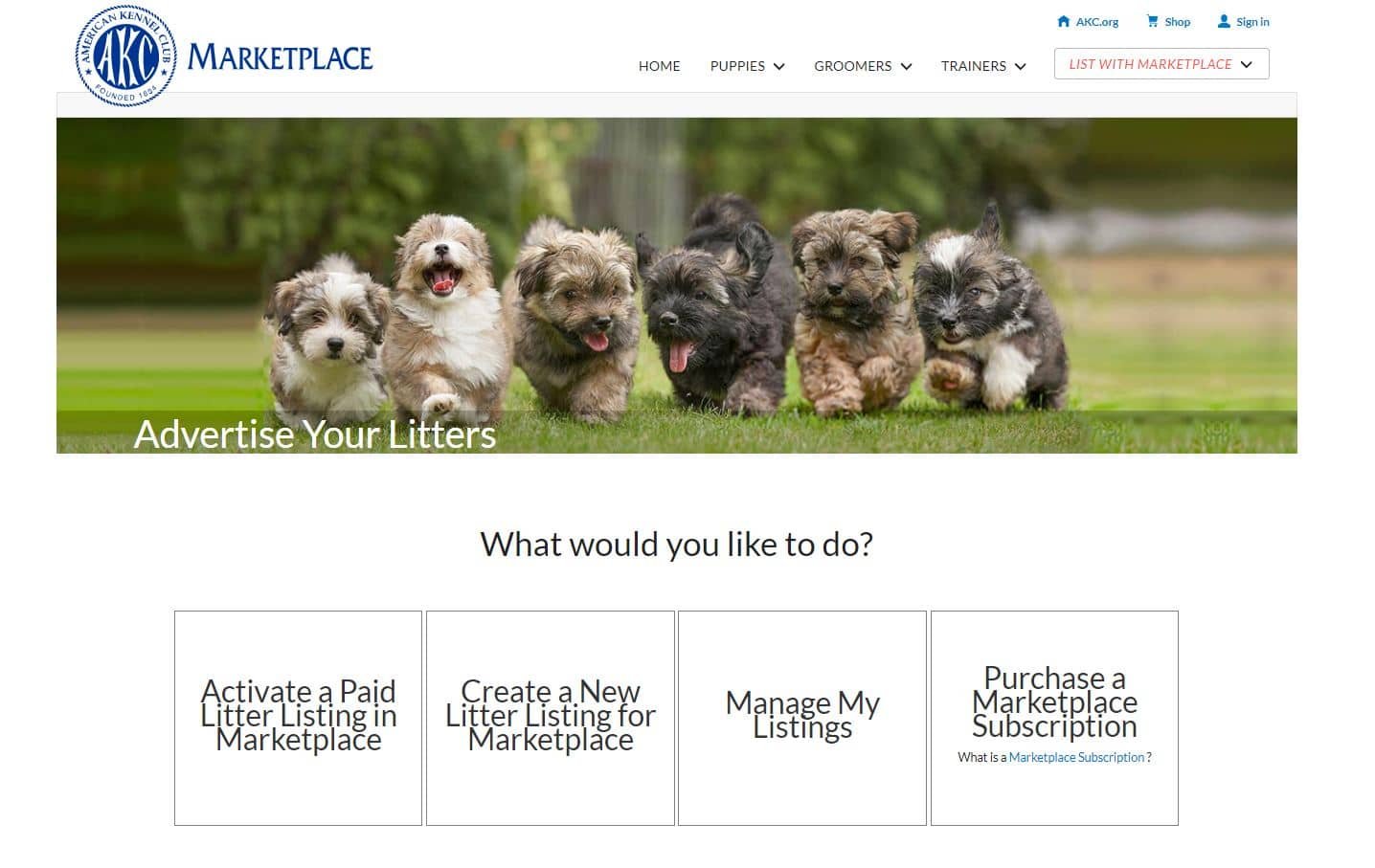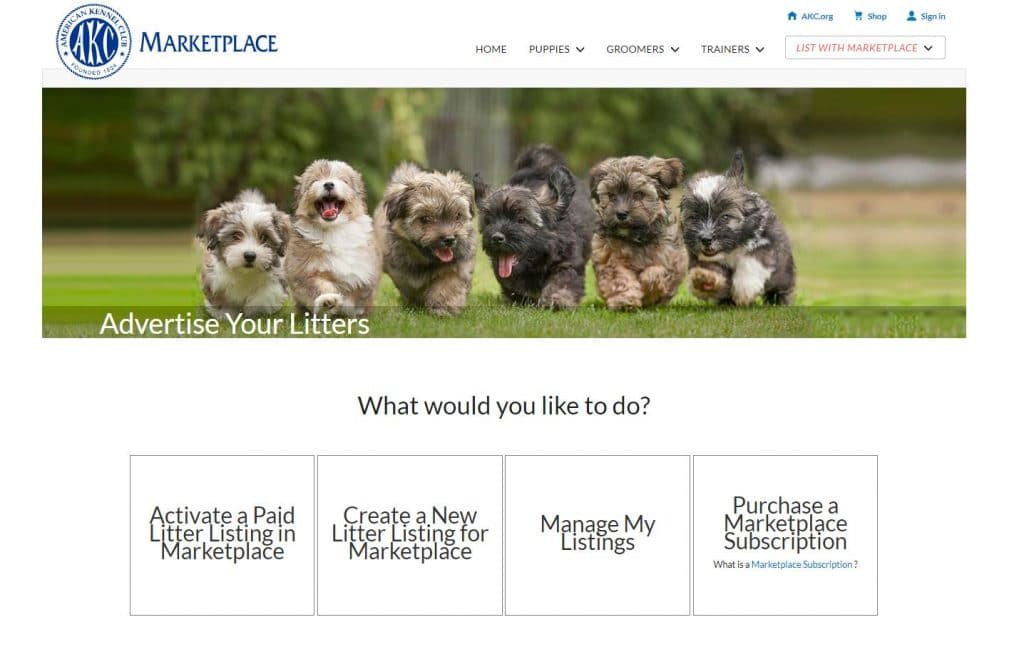 AKC Marketplace Fees
The AKC Marketplace commission and charges are very reasonable.
You have to pay a fee of $29 per 90-day listing of your puppies that are meant for sale and a fee of $100 once a year to advertise your dog grooming business and services.
You may come across other sites and channels where you can possibly advertise with a lesser fee, the AKC Marketplace guarantees serious buyers who are actually interesting in buying and paying the actual worth of the pure-breed pups.
It also provides you with a valuable stamp of approval.
If you are a groomer, then AKC has some packages that you can consider to expand your business.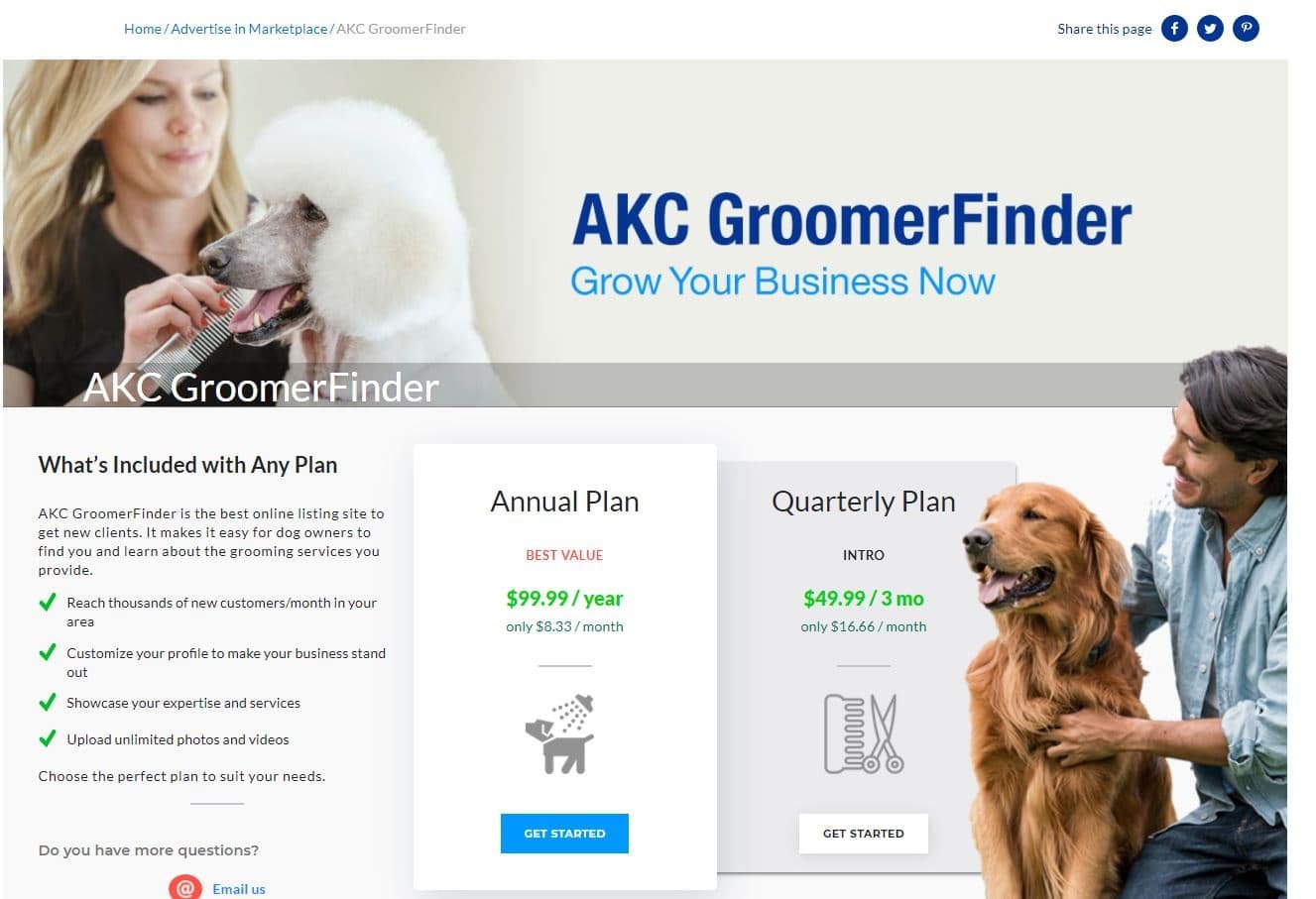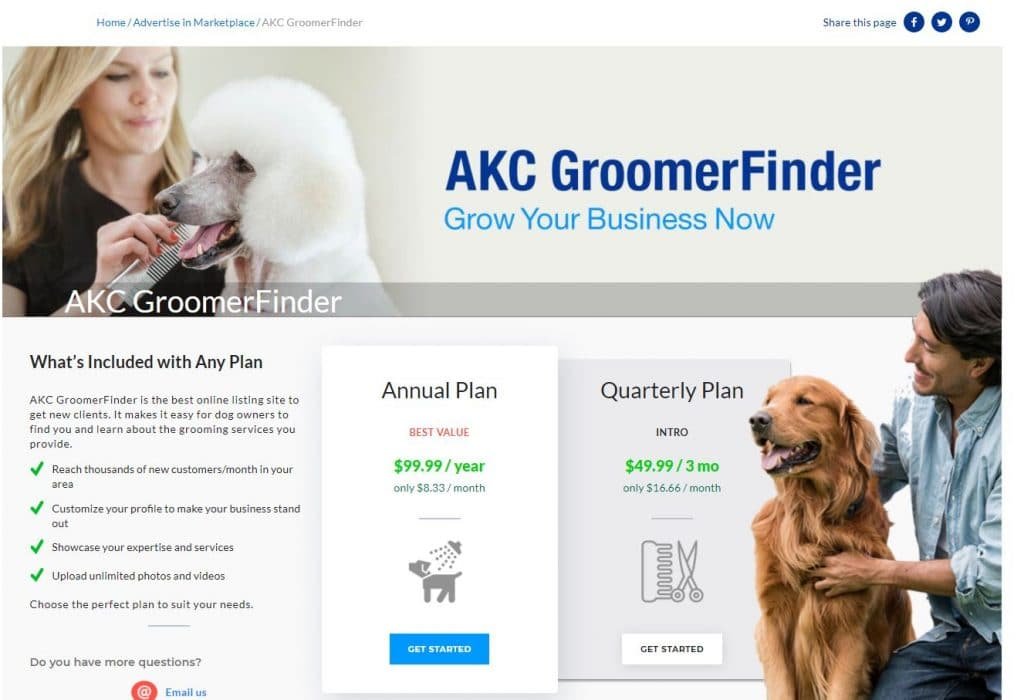 How AKC Marketplace Works
The AKC Marketplace or better known as the American Kennel Club is a non-profit organization that deals in providing trusted information, products, and services that aim to promote the well-being of dogs.
AKC started in 1884 and the funds raised through the AKC marketplace are used to support a wide range of animal welfare programs and services that help both purebred as well as mixed-breed dogs, such as the AKC Canine Health Foundation, the AKC Rescue Network, and the AKC Pet Disaster Relief Program.
According to AKC, more than $40 million has been raised to ensure the implementation and smooth functioning of these programs.
Features of AKC Marketplace
The AKC Marketplace provides a platform to dog business owners to sell their services such as selling pure-breed pups, dog grooming services, and facilities and also of dog training services.
AKC marketplace attracts traffic from all parts of the U.S, specifically audience that is interested in dogs and dog-related services.
How to Make Money using AKC Marketplace
As AKC Marketplace is a platform for products and services, the easiest way to make money using AKC marketplace is provide your services and sell your products.
How much money can you make using AKC Marketplace?
How much money you can make using AKC Marketplace will depend on how you price your products and services.
There are many service providers on AKC marketplace so you will have to provide some USPs to grain traction and trust of customers.
Pros of AKC Marketplace
The pros of the AKC Marketplace are quite a few.
Not only can you pursue your passion of offering dog grooming services among other dog-related businesses and earn good profits.
You can also find the best homes for these pups and that they are well taken care of by owners who are sincere and genuine.
Becuase of the high quality of traffic that AKC marketplace recieves, the platform can be used to expand dog-related business and as a supplier or service provider you can get good referral business.
Cons of AKC Marketplace
The AKC Marketplace doesn't have any cons per se but before you get started on this platform, you have to carefully read and agree to the rules and regulations of AKC marketplace.
If you don't agree to the terms and conditions and yet use this platform, there can be legal consequences so be sure to read all the relevant details in depth.
Some business owners have also mentioned that they were not able to generate business even after paying AKC marketplace fees so do research before going with a paid plan.
AKC Marketplace Reviews
AKC Marketplace and the AKC website in general has mixed reviews on the web. Some people are saying they have a very good experience on the platform where are some people reviewed the website as poor.
In this section, we are going to bring you one positive and one negative review of AKC marketplace so that you can decide whether you want to use thier products or services.
AKC Marketplace Positive Review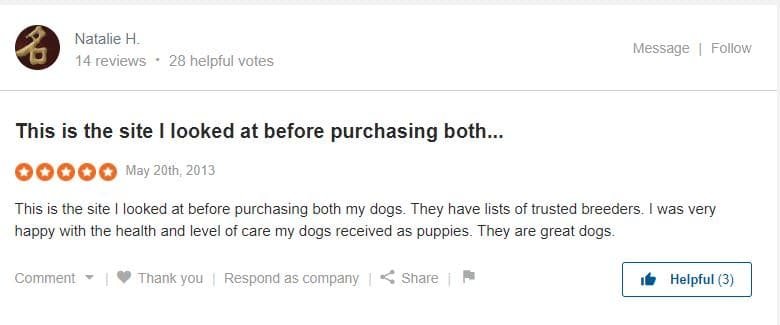 You can read all reviews about AKC Marketplace here.
AKC Marketplace Negative Review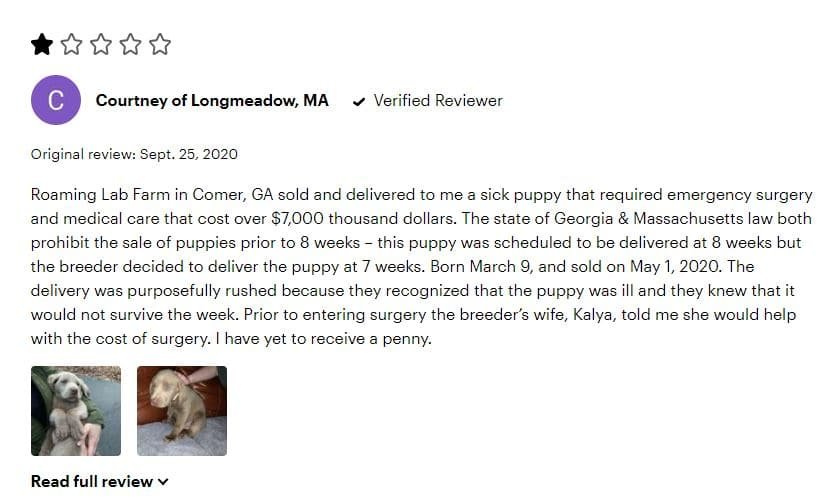 You can read other reviews of AKC here.
AKC Marketplace Customer Care
You can contact AKC Marketplace by dropping an email to this address: akcmarketplace@akc.org
AKC Marketplace Alternatives
While AKC Marketplace is good, there are also few good alternatives you can consider. Some AKC Marketplace alternatives are:
Frequently Asked Questions About AKC Marketplace
What is AKC?
The American Kennel Club is a registry of purebred dog pedigrees in the United States.
What does AKC Mean?
AKC mean American Kennel Club
Why the AKC is bad?
There are many people who have left reviews on AKC that the puppies that they bought from AKC have been sick, unwell or even expensive. That being said, lot of people have left good reviews too.
Recommended Reads