Are you looking for Glamsquad Reviews? In this post we are going to look at Glamsquad App Reviews, Pros, Cons, & How to Make Money on Glamsquad in 2021.
If you are thinking of ways to earn some money on the side, you can consider joining a platform like Glamsquad.
If you are interested in the whole concept of making money online, you can check out some of my other posts including 10 Easy Ways to Earn Money Online without Investment, How to Earn Money from YouTube, how to earn money from Facebook and how to start a blog and make money.
I recently helped a client of mine generate $1000 in income from his YouTube channel that was not making any money and even you can do the same.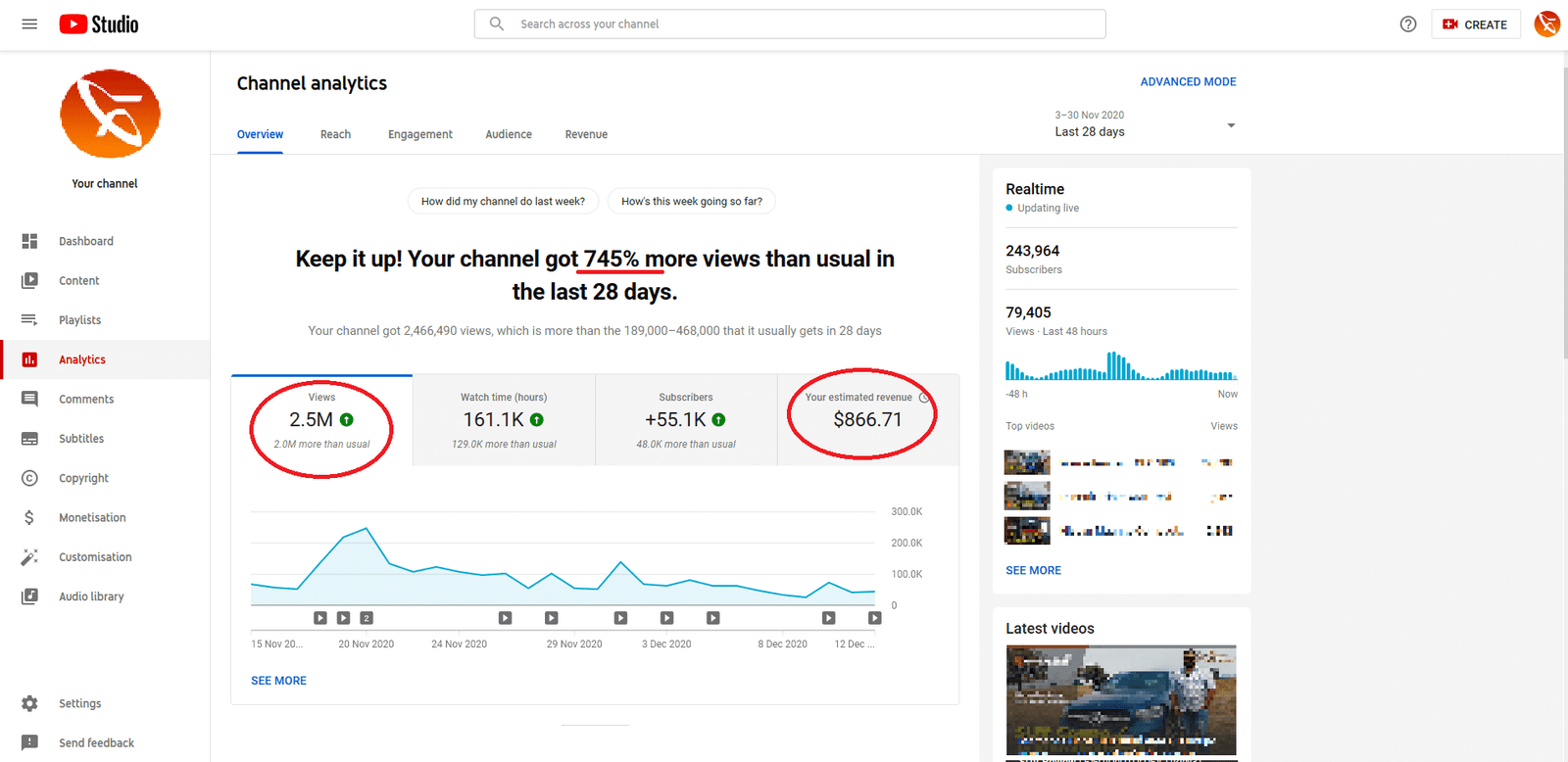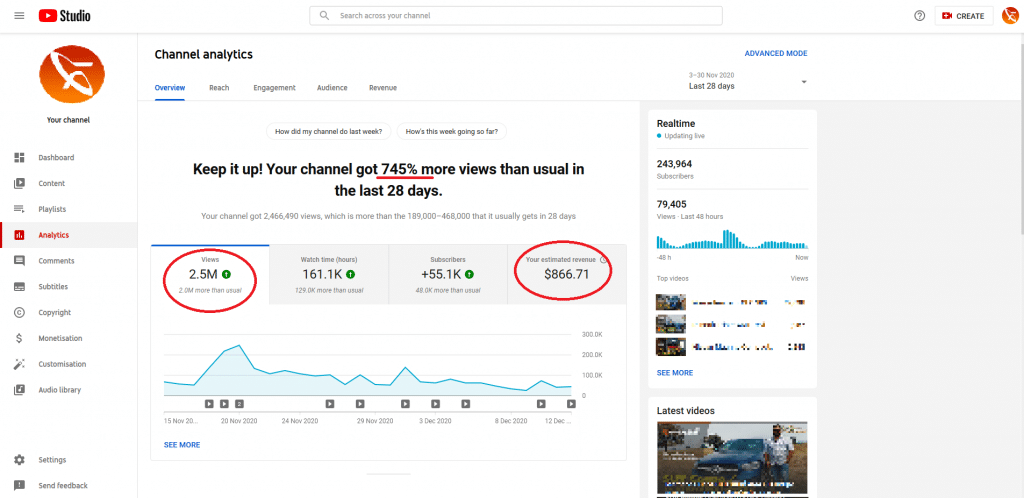 Earlier, I had co-founded a video company and raised $2 million in funding and then got fired from the company I started. I had done lot of testing and research on how to monetize YouTube and now I use the same skills to help other YouTubers.
You can read my full story here if you are interested.
Glamsquad App Reviews, Pros, Cons, & How to Make Money on Glamsquad [2021]
What is Glamsquad?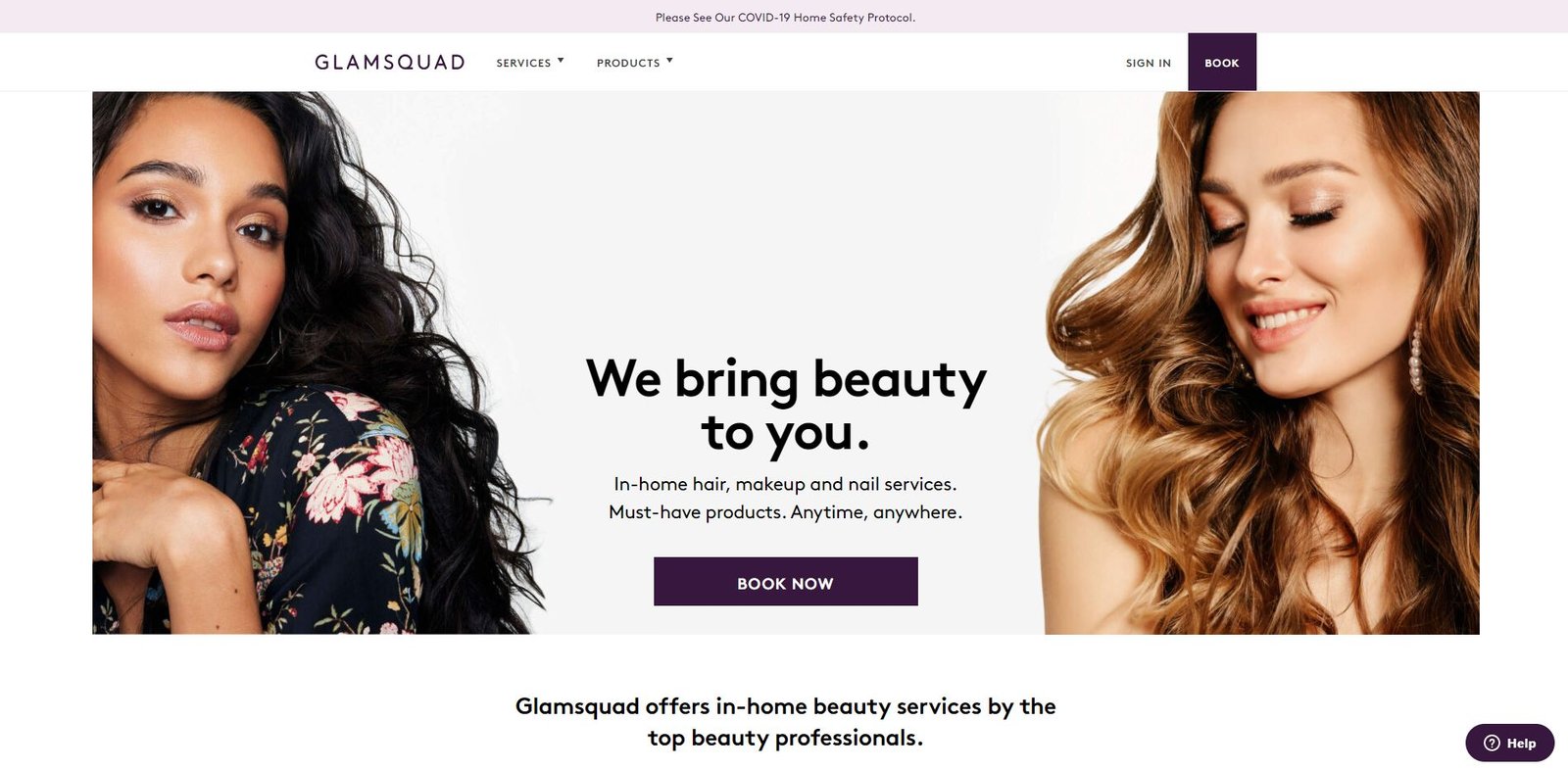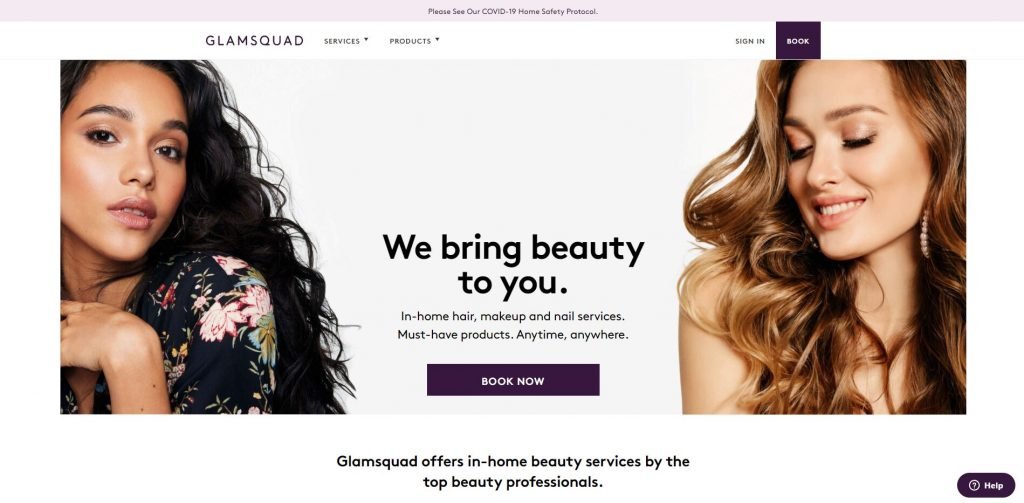 Glamsquad is an online service that provides beauty services to its customers from the comfort of their homes.
Glamsquad was founded by Alexandra Wilkis Wilson, David Goldweitz, Jason Perri, Victoria Eisner in the year 2014 with a view of providing beauty services like Haircuts, Makeup, and nails to its customers from home.
Glamsquad provides services like Blowout, Makeup for weddings and photoshoots, Haircut and Nails, and for that they recruit professional and freelancing beauticians for providing these services to their customers from their location and it can be anywhere homework or hotel.
Official website of Glamsquad: https://www.glamsquad.com/
Glamsquad App Link: https://apps.apple.com/us/app/glamsquad-on-demand-salon-app/id766676007
How Glamsquad works?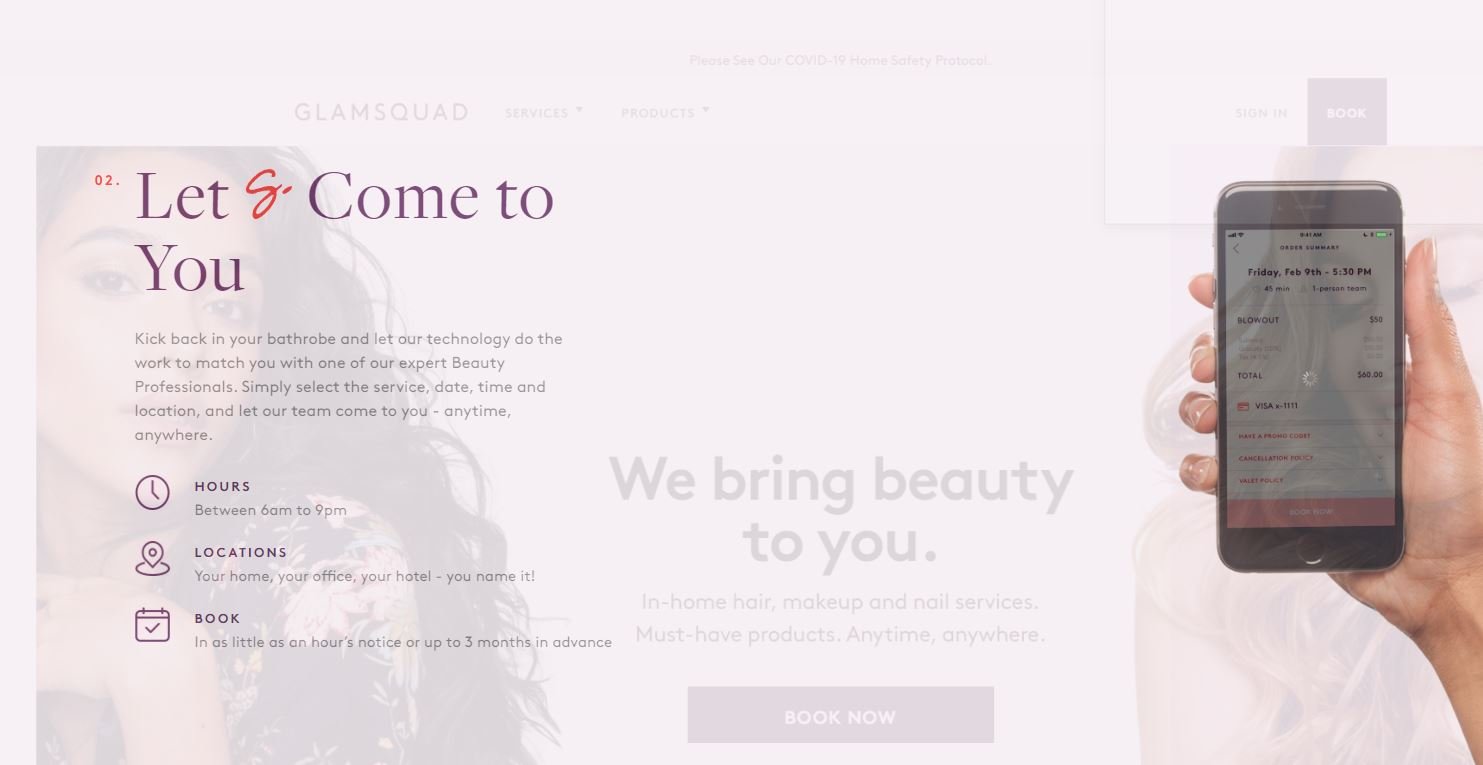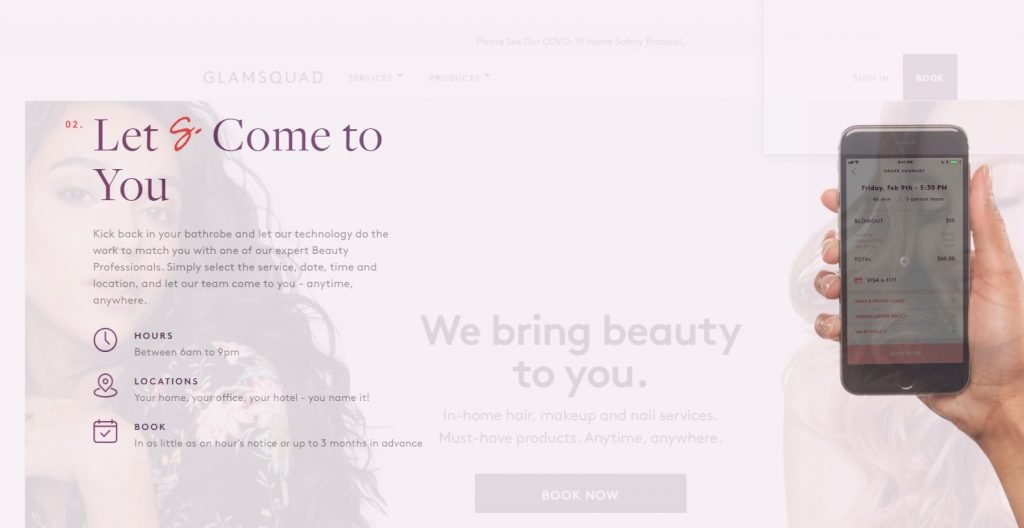 For customers
As a customer, you first have to register yourself on the company website by providing your email address, zip code, password, and phone number.
You can book an appointment from your location at least 1 hour before or you can book in advance for 3 months.
Glamsquad working hours are between 6 am and 9 pm. You have to fill in the date, the time at which you want the service, and the location, Glamsquad beauticians will come to your place and provide the desired service.
You can change your appointment or modify it at least 4 hours before the time of your appointment because the company will charge you a $25 cancellation fee after 90 minutes.
Within 90 minutes of cancellation or when the client does not show up the company will charge the cost of full service and an extra 20% of cancellation charge.
For Beauticians 
You can join the Glamsquad as a beautician in the following steps.
First, you have to sign up on the company website by providing your Name, Address, Phone number,  E-mail address, city, and the area of your expertise which includes Hair, makeup, nails, and Hydrafacial (California).
If you are applying as a nail artist and Hairstylist you should have a valid cosmetology license in the state from which you are applying.
Glamsquard also asks for your official social media account where you post your work regularly so that they can see your work.
After completing the sign-up process, Glamsquad will send you an email where you have to provide detailed information for your profile and why do you want to join Glamsquad.
Depending upon your location Glamsquard will ask you to come for a one on one interview or ask you to send a video of your work
Glamsquard also checks their beautician's background, license and skill thoroughly.
 After that Glamsquard will ask you to attend their online training sessions and courses and professional sessions in-person to prepare you for the market.
You can work with Glamsquard according to your schedule and availability.
How to join Glamsquad as a beautician: https://www.glamsquad.com/lp/beautyprosignup/
Glamsquad available locations.
Glamsquad is available in New York City, Washington DC, Los Angeles, Hoboken, Orange County, Jersey City, South Florida, SF, and the Bay area.
Glamsquad features
Glamsquad provides various services like Blowout, Manicure pedicure, haircuts, Wedding and Photoshoot makeups, Spa, etc.
Glamsquad works with mostly top beauty professionals in the city so you can be assured of quality.
Glamsquad also has a complete background check process in place and typically most beauticians on the platform have more than 8 years of experience.
GlamSquad also has a YouTube channel which has some interesting videos on beauty care and beauty products.
Glamsquad fees
The services for Glamsquad start at $100 for haircuts, $55 for Blowout, and Manicure at $40.
Another $20 is added to the service as a tip.
Detailed fees are mentioned on the site.
The Glam Squad also offers The Glam Fam membership which is $69 per month and includes 2 free BlowoutS, 10%  additional off on Hair, Makeup, and nails, and a free blowout on the customer's birthday.
Glamsquad service provider requirements
To join Glamsquad as a service provider you have to pass the background check, pass the audition and have a valid cosmetology license from the state if you are applying for hairstylist and nail artist.
How to join Glamsquad
You first have to register on the site www.Glamsquad.com and then fulfill their basic requirement, pass the audition in person or by sending videos of your work.
After registeration, you need to attend the online beauty training and in-person professional sessions and after that, you can join Glamsquad full time or part-time according to your availability and suitability.  
How to make money on Glamsquad
You can join Glamsquad as a makeup artist, beauty specialist, nail artist, or Hairstylist depending on your skills and interest and make money on Glamsquad.
How much money you can make on Glamsquad
How much money you can make with Glamsquad depends upon various factors like how much you work, how many clients you get in a week, what kind of services you offer to your clients and how frequently you are hired for your gigs.
For example, according to Glassdoor, you can make up to $14-$26 per hour as a nail technician, $16-$17 as a hairstylist, $46-$47 per hour as a beauty specialist, and $59-$63 per hour as a makeup artist.
Pros of Glamsquad
Great for a freelancer who needs to work for an extra income and to learn extra skills.
You can work according to your availability and schedule
As a beautician at Glamsquad, you can receive free goodies and products from brands like Mufi, Bobbi Brown, and CoverFX.
You can also get an opportunity of working with some of the elites and VIP customers.
Cons of Glamsquad
It is good for side income but not as a full-time job as the nature of the job is very inconsistent.
As the beautician has to travel to the client's location, the traveling can be very exhausting sometimes.
Too much competition in the market
Does not get paid if the client cancels the appointment before 90 minutes of the scheduled time.
Lack of management as sometimes two beauty artists will show up for the same client and sometimes no one at all.
You have to sometimes work on weekends and early mornings depending upon the schedule of the clients.
Glamsquad Reviews
In this section, we are going to look at few Glamsquad reviews available on the web.
On Yelp, Glamsquad has 105, reviews with a rating of 3 out of 5–which means most customers are only satisfied with thier services.
We will show you one positive and one negative review of Glamsquad so that you can get a general idea about the platform.
Glamsquad Positive Review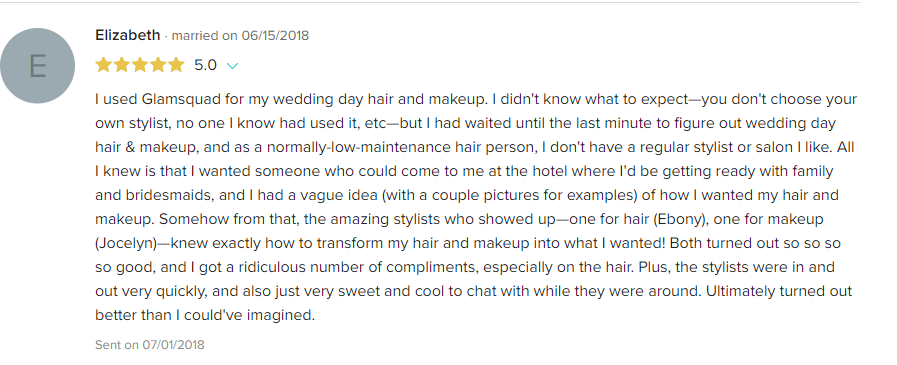 You can read more Glamsquad reviews here.
Glamsquad Negative Review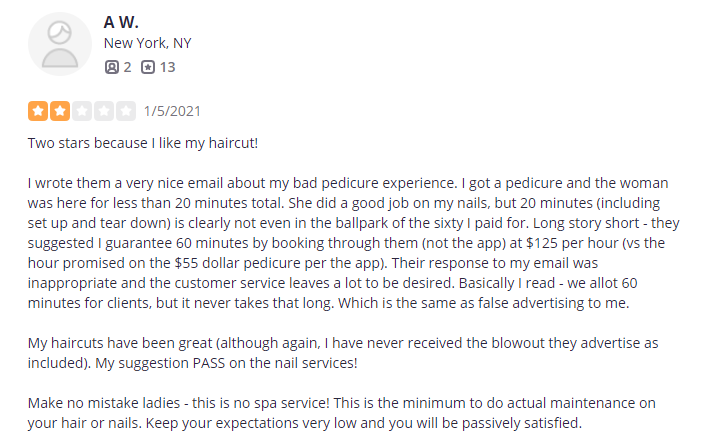 You can read more Glamsquad reviews here
Glamsquad customer care information
If you need to get in touch with official Glamsquad customer support team, you can do it via email or phone number listed below.
Glamsquad Email address: info@glamsquad.com
Glamsquad Phone no- (212)202-2938
Glamsquad Social Media
Glamsquad also has active social media handles on all popular social media platforms.
Glamsquad Facebook–  Glamsquad is on Facebook with the name GLAMSQUAD with 37,144 followers
Instagram– Glamsquad is on Instagram by the name Glamsquad with 89.4K followers
Twitter– Glamsquad is on Twitter with the name @GlamSquad
Glamsquad Alternatives
There are many other platforms that offer similar services to that of Glamsquad.
Here are few Glamsquad alternatives you can consider.
Frequently Asked Questions about Glamsquad
How much does Glamsquad cost?
GlamSquad pricing starts at $100/hour per beauty professional, not including any applicable tax or tip.
Where is Glamsquad available?
Glamsquad is avaialble in New York City; Los Angeles; Washington, D.C.; Orange County (Southern California); Miami; Boston; the Bay Area (Northern California); and San Francisco.
Where can I get my makeup done in NYC?
You can consider Glamsquad or any of these GlamSquad alternatives Stylebee, Urban, Stylisted, Booksy, Beglammed.
Do you tip Glamsquad?
Yes, you can tip Glamsquad professionals.
Who started Glamsquad?
Alexandra Wilkis Wilson & Jason L. Perri
What is GSQ by Glamsquad?
Its an affordable hair and makeup services at select CVS locations.
What is Glam App?
Its an app to book hair and beauty services on demand.
Recommended Reads