Are you looking for GoTranscript Reviews? In this post, we are going to look at GoTranscript reviews, pros, cons, features and how to make money using GoTranscript in 2021.
If you are interested in the whole concept of making money online, you can check out some of my other posts including 10 Easy Ways to Earn Money Online without Investment, How to Earn Money from YouTube, how to earn money from Facebook and how to start a blog and make money.
I recently helped a client of mine generate $1000 in income from his YouTube channel that was not making any money and even you can do the same.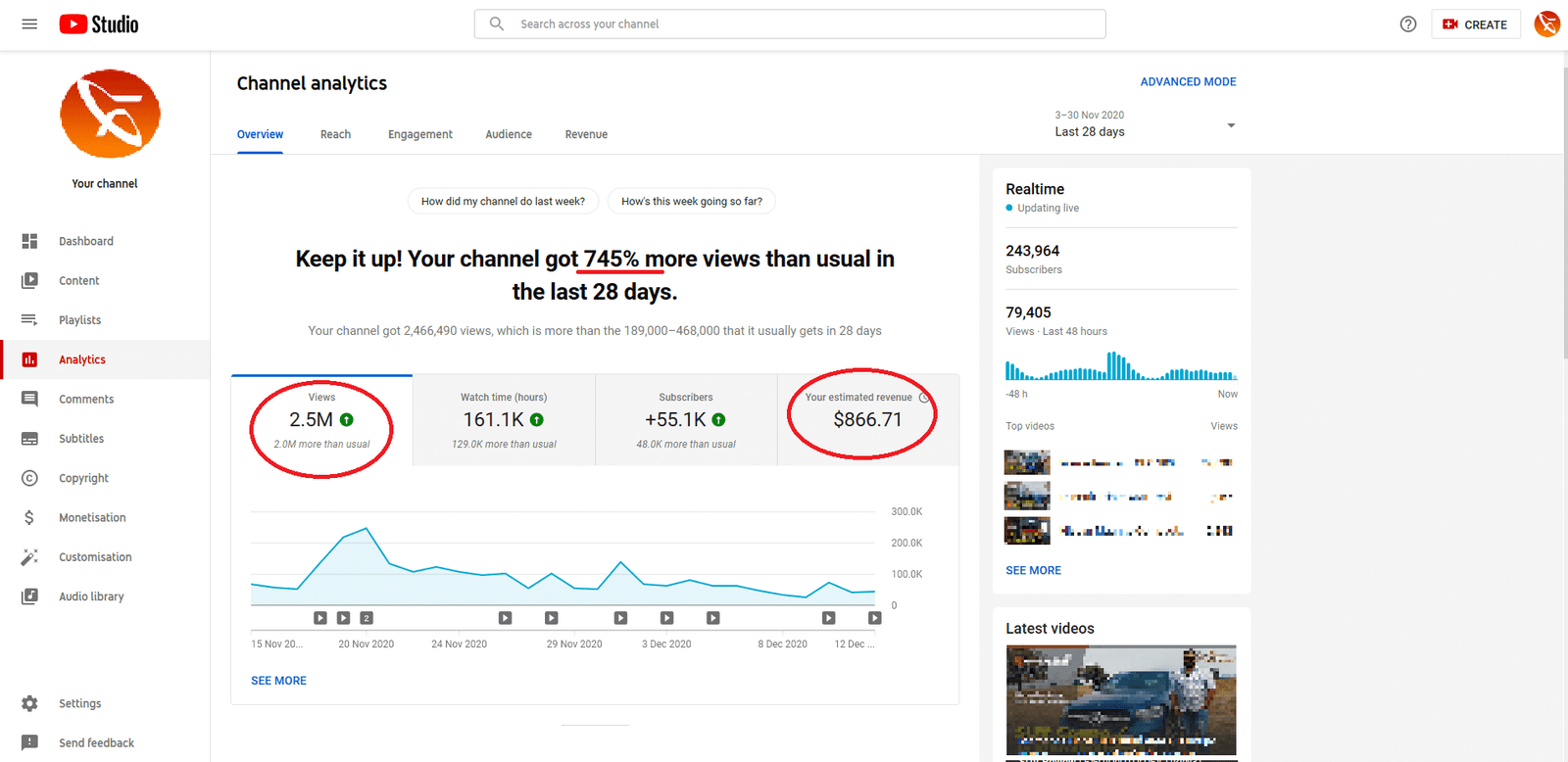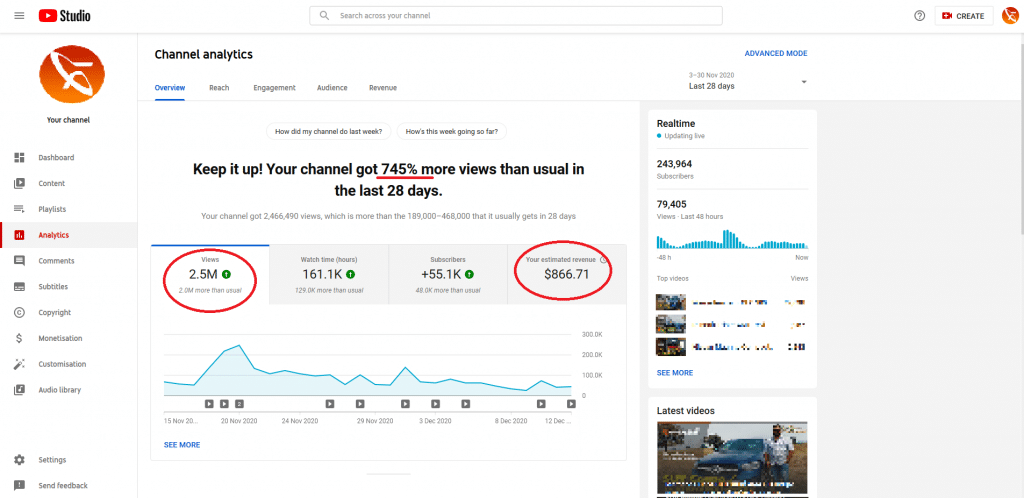 Earlier, I had co-founded a video company and raised $2 million in funding and then got fired from the company I started. I had done lot of testing and research on how to monetize YouTube and now I use the same skills to help other YouTubers.
You can read my full story here if you are interested.
GoTranscript Reviews, Pros, Cons & How to Make Money using GoTranscript [2021]
What is GoTranscript?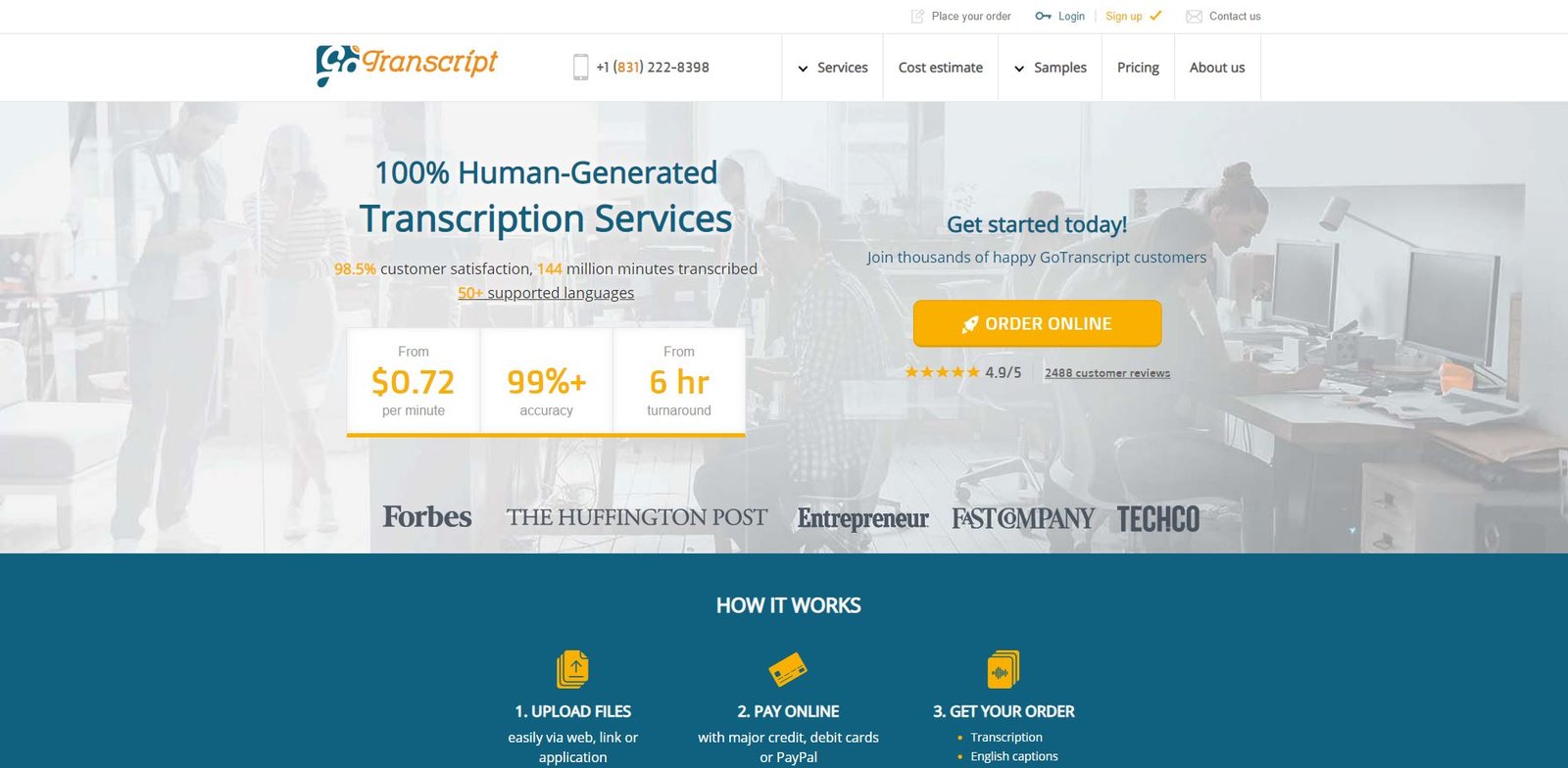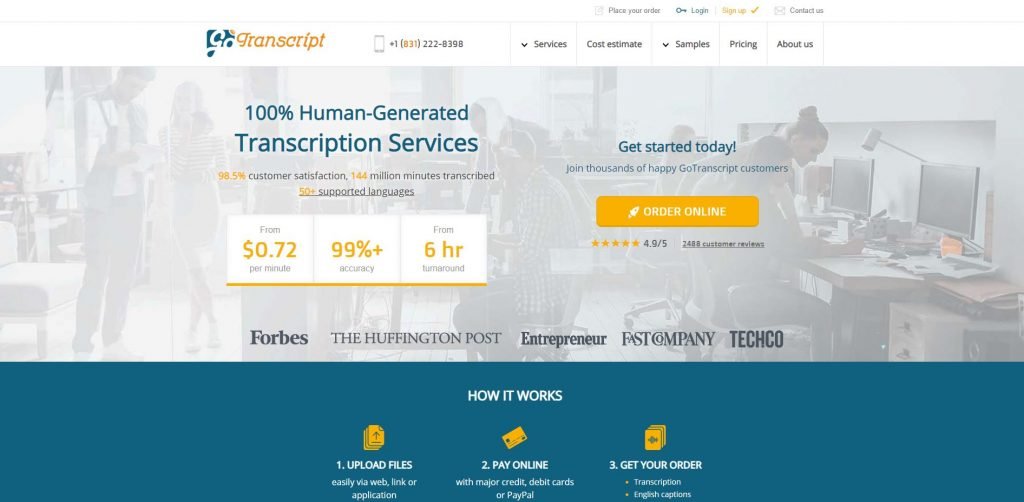 GoTranscript is a transcription platform that was launched in 2005. It was founded by Peter Trebek with the company's main office in Edinburgh, Scotland, UK.
GoTranscript have clients from all across the world and over 144 million minutes of audio transcribed that comes to be about 274 years. The company offers services like transcription, translation, subtitling, and captioning. 
Although the GoTranscript platform uses AI software for their transcription services, they employ part-time individuals to work as transcribers and do manual transcribing after it has initially been done by the AI-powered tool.
Machines and technology still aren't perfect, because of which human workforces are still required and in play. 
GoTranscript provides work from home opportunities for part-time individuals wanting to work as transcribers and are looking for a flexible income opportunity and have the option to work as per their convenience. 
Official website of GoTranscript: https://gotranscript.com/
How GoTranscript Works
Once you have created your account and profile on the GoTranscript platform and have passed the test assignments, you can get started.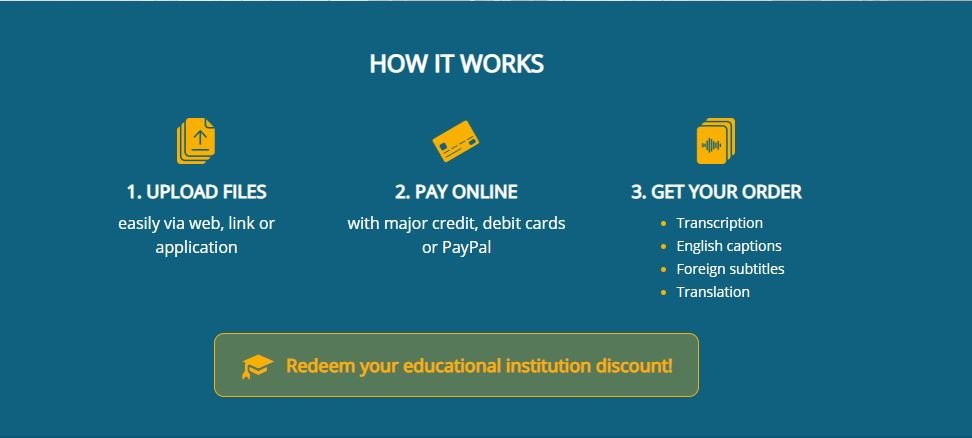 You can go through their job page and choose from the available jobs and projects. As and when you complete the work, you will get the remuneration for it the following week.
When a new project is uploaded on the site, you can apply for it. It will have all the details mentioned.
Watch this video to understand how to work on GoTranscript
You can see the payment status as soon as you complete and upload the work. It will get checked and analyzed by the editor who will give you suggestions and feedback if the need be.
Once you achieve a good rating, you can even apply to work as an editor. 
GoTranscript Features
Customer Loyalty Deals– Frequent users can reward themselves when they use the services often. They can avail the lowest costs and receive special offers as well.
Verbatim Reports– You will be provided reports with complete accuracy irrespective of your field of work. The text is written exactly in accord with the spoken sentence structure. 
Instant Order Placement– You can very easily fill out the forms and place your order in just a few minutes. The entire process is convenient and quick.
100% Guarantee of Satisfaction– There is no doubt that you will be completely satisfied and happy with our services and will want to come back to us time and again.
Specially Curated Orders– Within the services, if you have certain special requirements, we are equipped to handle all the extra customizations.
Rush Hour Services– You can easily meet the impending deadlines by mentioning the time by which you need the work done urgently. GoTranscript will meet all criteria. 
GoTranscript Requirements
In comparison to other platforms in this industry, getting selected with GoTranscript is easier. The only requirements are:
You must be at least 18 years of age. 
Even if you don't have prior work experience working in this sector, as long as you do well on the test and review, you can proceed further.
All you need to have are strongly written and spoken English language skills.
The typing speed doesn't matter. 
You need to have your computer setup or laptop and have a strong and stable internet connection. 
GoTranscript Examination
Before you can start working with GoTranscript, you are required to pass their eligibility test.
The test assignment or selection task will measure your writing skills, grammar, spellings, tense, and tone/style of writing.
They will also test your abilities to understand abbreviations, acronyms, slang words, repetitive words, errors in speech, stutters, and more.
The test audio or video could potentially be of non-native English speakers who have a different accent or a dialect. If you are able to decipher it correctly, the job is yours. 
How to Join GoTranscript
If you are interested in working as a freelance transcriber, an editor, a translator, working as writing subtitles and creating captions, you can join the GoTranscript platform to earn a side income.
All you have to do is visit the official web portal, signup, give your details and id proofs, pass the test assignment and you can get started with the work and make money. 
To register and get started with GoTranscript, use this link
How to Make Money using GoTranscript
Interested individuals can make money using the GoTranscript platform by working as a freelance transcriber, an editor, a translator, working as writing subtitles, and creating captions.
Within the niche of transcription, there are industry-specific transcription jobs available. 
How much Can You Make with GoTranscript
The GoTranscript platform pays people working as transcribers a remuneration of up to $0.60 per audio or video minute.
The average income can be somewhere around $150 on a monthly basis. The top earners are earning up to $1,200 on a monthly basis.
Pros of GoTranscript
GoTranscript gives payments on a weekly basis and charges no extra fee for transactions when you use PayPal.
The platform is a legitimate source of income for freelance and even full-time workers.
There are no major requirements or eligibility criteria.
In case you don't pass the test, you can try again in just a few weeks. 
The AI-powered transcription tool does the basic level transcription for you making your job even easier.
Cons of GoTranscript
The quality of videos and audios is often low which means you have to make greater efforts to get the work done and put in more time.
If your average score is low, you can get fired from the job without any prior notice. 
For the work done and the time and effort put in, the payment can be quite low. Hence this cannot be converted to a full-time job but only works well as a side hustle.
GoTranscript Reviews
This platform has several pros and the majority of the reviews have been positive.
Overall GoTranscript has 4.6 Star rating on TrustPilot with 82% users giving rating of Excellent
In this section, we will bring you one positive and one negative review so that you get a general idea of how the platform works.
GoTranscript Positive Review
A positive review by a current employee of GoTranscript
You can read more GoTranscript reviews here
GoTranscript Negative Review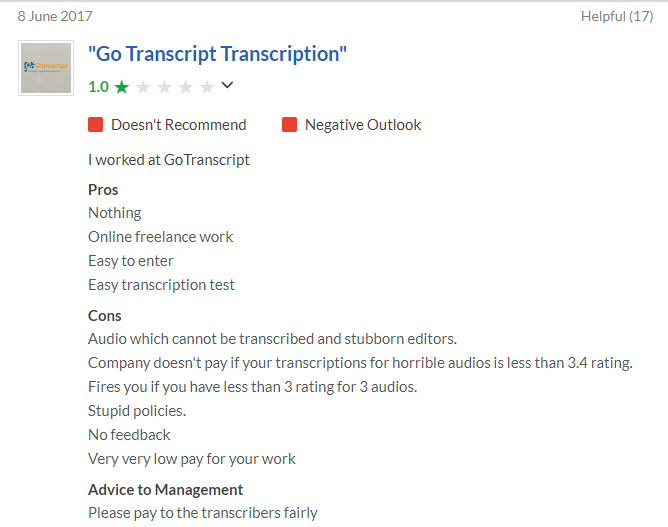 A negative review by an ex-employee of GoTranscript
You can read more reviews about GoTranscript here
GoTranscript Customer Contact Information
The easiest and most convenient way to get in touch with the customer service support team is to visit the official website, visit the contact us page and leave your message or query along with details like your name, phone number, and email id and they will get back to you within 2-3 working days.
The platform also runs an active blog, interested individuals can go through that to understand more about the company and how it functions. 
GoTranscript Phone Number: +1 (831) 222-8398
GoTranscript Customer Support Link: https://gotranscript.com/contact-us
GoTranscript Skype Id: gotranscript
GoTranscript Alternatives
Since several industries are actively seeking out individuals to work either full time or freelance as content writers, bloggers, editors, and proofreaders.
There is good demand for transcriptionists and some of the alternate sites and platforms besides GoTranscript are Scribie, Transcribe, TranscribeMe, and Rev Transcription.
All these are US-based companies that offer great services and are a great option for people looking to work as content writers, bloggers, editors, and proofreaders.
Frequently Asked Questions about GoTranscript
How much can you earn from GoTranscript?
Average payment rate is $0.60/minute of audio transcribed
How do I apply for GoTranscript?
You need to create an account with GoTranscript to get started, you can use this link.
How do you get money from GoTranscript?
You can get paid on GoTranscript every Friday via PayPal or Payoneer.
Is GoTranscript free?
Yes GoTranscript is free to sign up as a transcriptionist
How legit is GoTranscript?
GoTranscript is a legit and safe company to work for.
How do I pass the GoTranscript audio test?
You need to have a basic understanding of transcription and undergo some free exercises to pass GoTranscript audio test.
What should you do with curse words Gotranscript?
According to GoTranscript guidelines, you should also transcribe curse words
Recommended Reads