Last Updated on 8 months by Anoob P
If you are thinking of starting a YouTube channel or have a YouTube channel that's making very little money and thinking of quitting, here is how much do YouTubers make!
This should motivate you to keep creating for your YouTube channel and as a digital marketer with over 12 years of industry experience, let me tell you-there is a lot of money to be made from YouTube.
I recently helped a client of mine make $1000 income in a month from YouTube without any kind of paid marketing.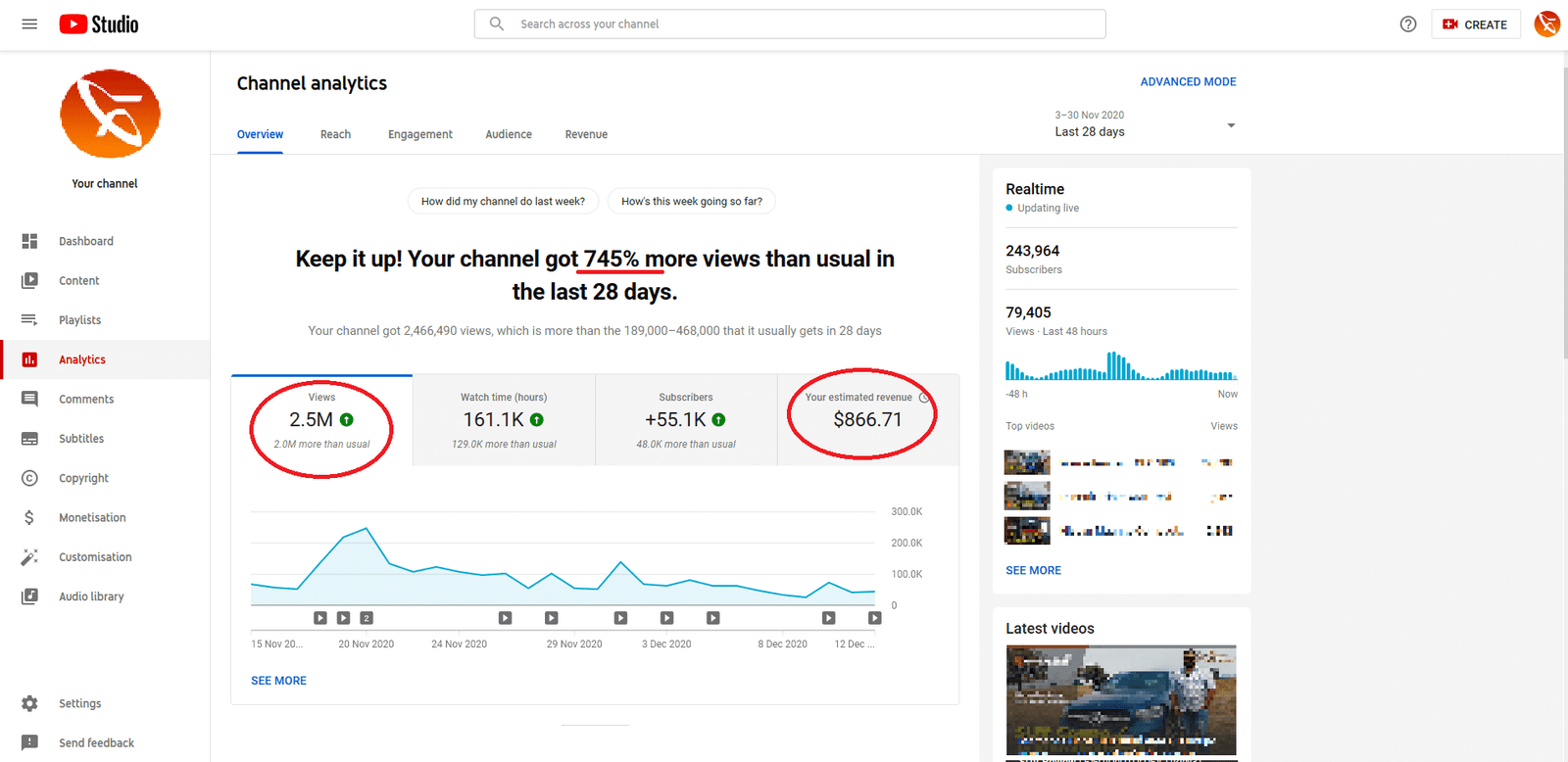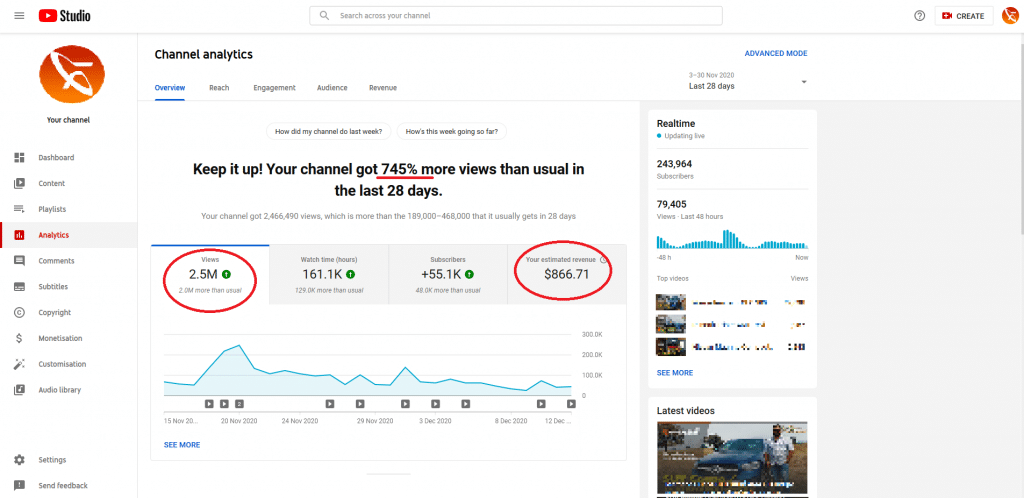 His channel was making almost 0 in revenue and suddenly the $1000 seems to have motivated him and he is going full on YouTube.
If you want to get started with YouTube, you can read my post How to Earn Money from YouTube in 2021.
If you are interested in the whole concept of making money online, you can check out some of my other posts including 10 Easy Ways to Earn Money Online without Investment, how to earn money from Facebook and how to start a blog and make money.
The catch with YouTube is that if you are creating only for the sake of money, you might hit a dead end.
What you need to do is find a niche that you are passionate about and you keep creating till you hit a point where you have enough subscribers that can potentially earn you enough money for your living expenses.
When I founded my media company, my YouTube channel was growing steadily and it was making decent money but then I got kicked out of my own company and I started focusing on this website instead of YouTube.
How much money you make from YouTube will depend on few factors such as number of views, niche and geography of your audience, subscribers, engagement and so on.
If you are wondering how much do YouTubers make, here is everything you need to know.
How much do YouTubers make per view?
According to research conducted by Influencer Marketing Hub YouTubers can make $0.01 to $0.03 per view this averages to about $0.18 per view.
But simply uploading videos on YouTube will not earn you money.
You need to make an Adsense account and the amount you get paid will depend on: 
-How many views your video receives
-The amount of clicks the ads placed on your video get
-The quality of the Ad
-Click through rate
-Adblockers
-The length of your video( recommended length is over 10 minutes)
How much money do YouTubers make every 1000 views?
The most important thing that influences the amount of money a YouTuber makes is the amount of views he/she gets on their videos.
Many people are under the misconception that the amount of subscribers are what gets counted.
The subscriber count does help in giving the YouTuber credibility and it is ultimately what gets them views.
But the revenue you earn is based on the amount of clicks on your video and the number of ads that are displayed throughout their videos.
YouTube offers a pay rate of $5 per 1,000 views. As a YouTuber you stand a chance of earning more than $5000 if your video gets 1,000,000 views.
But there are other factors that influence your earnings like the number of people who watch the ads placed on your videos completely and the types of ads placed.
If the click through rate is high then your earnings might fluctuate. The above mentioned rates are just estimates and earnings might change from YouTuber to YouTuber. 
How to Make Money from YouTube
Ads
Ads are what make up the majority of earnings of a YouTuber.
If you want to start making money from YouTube you need to have an Adsense account. Ads are placed on your videos by Google according to the terms of the YouTube Partnership Programme.
You can choose on what basis you get paid-CPM or CPC.
CPM is cost per thousand views. This takes into account all those who watch the ads on your channel without skipping it.
Every thousand views you get on your videos will earn you a certain amount. If you choose CPC which is cost per click, you earn money subject to the amount of  clicks the ads placed on or around your videos get. 
It is advisable to choose for a CPC account as most viewers will click through ads rather than watching them completely. It is to be noted that google keeps 42% of the Ad revenue and YouTubers get 68% of the share.
You have to earn upto $100 or more through Adsense for you to be able to encash the amount.  
Affiliate
Affiliate links work through product or service reviews. Companies partner with YouTubers to review their product or service.
YouTubers will review the product and direct their viewers to a link in their description box. If the viewers make a purchase using that link then the YouTuber gets a portion of the sale.
Viewers often get an added incentive like a 15% off if they make a purchase using the given link. Sometimes YouTubers might just add links to sites where you can purchase the products used in the video, for eg Amazon links. 
Sponsorships
Big companies will approach YouTubers with a substantial amount of following and sponsor their videos.
This depends on the amount of subscribers and the number of views on the channel. Companies will partner with you if they feel like your subscriber base matches with their target audience.
Essentially the YouTuber gets money for advertising the brand and promoting it.
Companies will collaborate with you for product placement in your videos to take advantage of your high-engagement.
Donation:
YouTubers who have a strong fan base can essentially get funding for their channel through their fans.
YouTubers can create a patreon account where viewers get exclusive content and early-bird benefits in exchange for a fee.
This will not only help sustain the channel but also give incentives for the viewers to part with their hard earned money. You can also ask your fans to donate directly to your Paypal account for curated content.
Generally donations are used if the channel is not able to sustain itself through Ad revenues. Many YouTubers set up a patreon account when they want to quit their day job and shift to YouTube full time. 
Merchandise:
YouTubers with a wide subscriber base often build a brand around themselves. T
hey can use this brand and create merchandise and earn a lucrative income.
The merchandise can feature a certain catchphrase that they often use, the name of the fandom or simply the logo of the channel.  It can be printed on T-shirts or embossed on bags or accessories. 
Requirements for Earning on YouTube
There are certain parameters that you need to fulfill if you want to make revenue on your channel. 
-Your channel needs to have 1000 subscribers or more within 12 months of its creation
-You need to have an Adsense account and have it approved according to YouTube policy
-Within the first 12 months of opening your channel you need to have at least 4000 hours of watch time
The most important thing is applying to the YouTube Partner program.
YouTube will carefully review your channel and the quality of your videos and check if you meet the criteria. Once you get approved you need to agree to all the terms and conditions provide by YouTube
Even though creating a YouTube channel is easy, you have to work on creating a niche for yourself.
There are tonnes of YouTube channels that cater to every content category that you can think of.
Your channel needs to be different, it needs to stand out and have content that attracts people. The more the number of views you get on your videos the more money you will earn.   
Apart from this you need to post content regularly and engage with your viewers. Regular uploads will keep you viewers in anticipation of your videos. 
You also need to buy the right camera and lighting equipment.
If the quality of the videos isn't up to par then viewers might lose interest. You should also know how to edit your videos properly and what kind of music to use. 
If  you use copyrighted music the ad revenue from your video will go to the person or company that has the rights to the music. 
Who are the top paid YouTubers? 
I'm listing down top paid YouTubers with links to thier channels so that you can get a sense of thier videos and how they actually make money.
When you watch videos from these channels, look for a pattern.
How they have similar branding, how they keep thier audience engaged and how they monetize.
1.Ryan's World
Earnings: $26 million
Subscribers: 23.3 million
Explore Ryan's World YouTube Channel
2.Dude Perfect
Earnings: $20 million
Subscribers: 51 million
Explore Dude Perfect YouTube Channel
3. Like Nastya
Earnings: $18 million
Subscribers: 44.3 million
Explore Like Nastya YouTube Channel
4. Jeffree Star
Earnings: $17 million
Subscribers: 17.1 million
Explore Jeffree Star YouTube Channel
5. DanTDM (Daniel Middleton)
Earnings: $16.5 million
Subscribers: 21 million
Explore DanTDM YouTube Channel
 6. PewDiePie (Felix Arvid Ulf Kjellberg)
Earnings: $15.5 million
Subscribers: 102 million
Explore PewDiePie YouTube Channel
 7. VanossGaming (Evan Fong)
Earnings: $15.5 million
Subscribers: 24 million
Explore VanossGaming YouTube Channel
 8. Logan Paul
Earnings: $14.5 million
Subscribers: 20.1 million
Explore Logan Paul YouTube Channel
9. Markiplier (Mark Edward Fischbach)
Earnings: $13 million
Subscribers: 25.7 million
Explore Markiplier YouTube Channel
 10. Jake Paul
Earnings: $11.5 million
Subscribers: 19.7 million
Explore Jake Paul YouTube Channel
So these were some of the highest paid YouTubers. If you need any help with your YouTube channel, do ping me using the chat below.
Recommended Reads