Last Updated on 2 years by Anoob P
In this post, we will be reviewing MusicXray. We also look at MusicXray Pros, Cons, How to Make Money & Alternatives in 2021.
This post about MusicXray Review is part of our series where we review online platforms to earn money online.
Earning money online and building a sustainable online income takes time and you should not consider MusicXray or any other platforms as a replacement to your full time job.
These are side-income generating platforms that can at best make you couple of hundred dollars a month.
If you are a musician, the best way to earn money online will be through a YouTube channel.
As a musician, artist or anyone who wants to build a passive income source, I think YouTube is a great option.
I recently helped a client of mine generate $1000 in income from his YouTube channel that was not making any money and even you can do the same.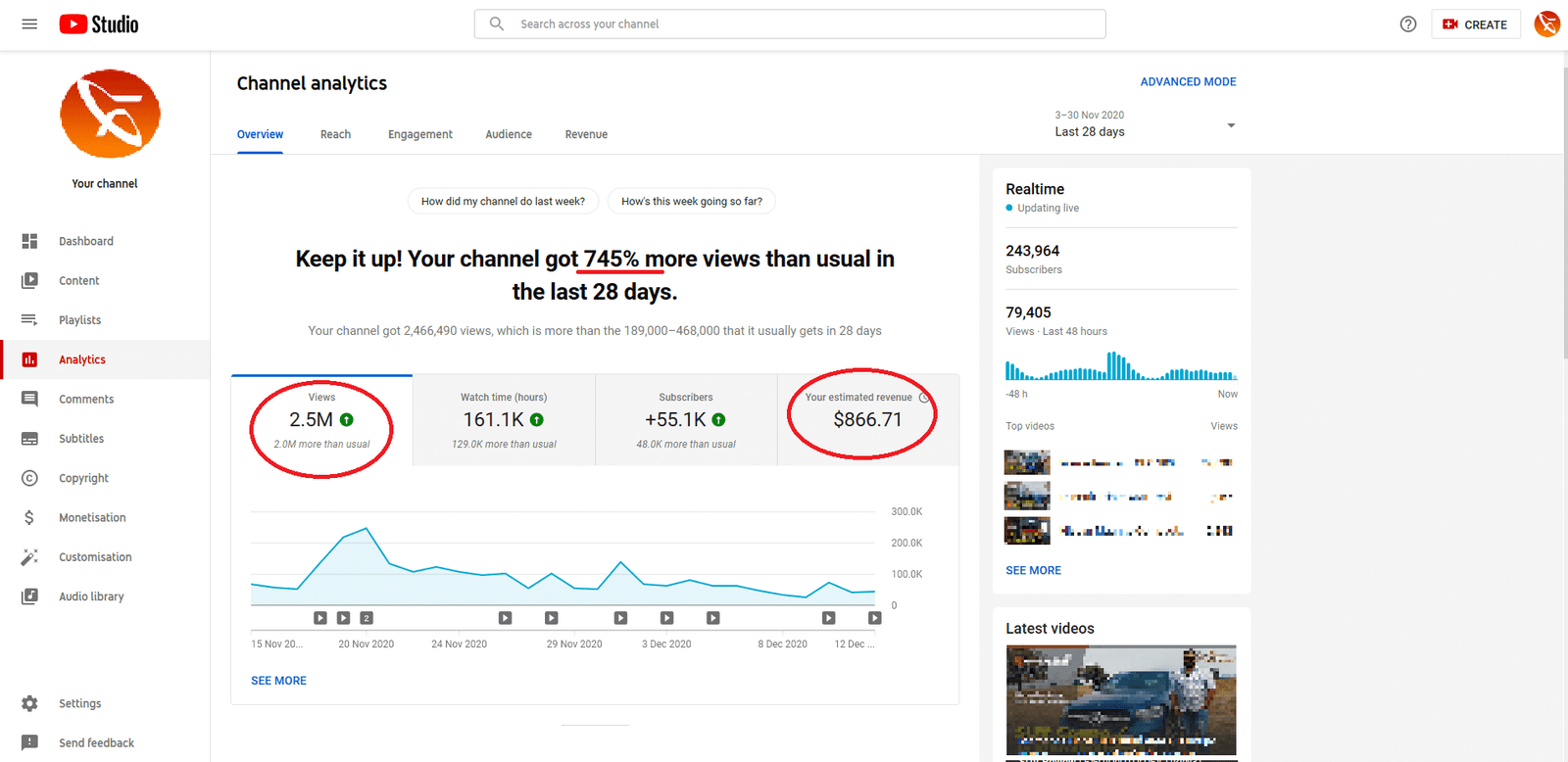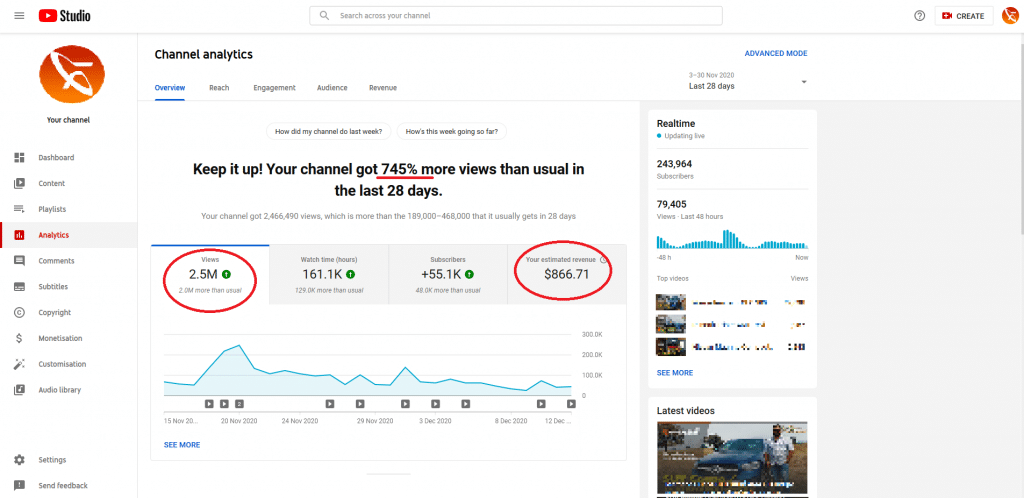 Earlier, I had co-founded a video company and raised $2 million in funding and then got fired from the company I started. I had done lot of testing and research on how to monetize YouTube and now I use the same skills to help other YouTubers.
You can read my full story here if you are interested.
If you are interested in the whole concept of making money online, you can check out some of my other posts including 10 Easy Ways to Earn Money Online without Investment, How to Earn Money from YouTube, how to earn money from Facebook and how to start a blog and make money.
If you want some help growing your YouTube channel, you can always contact me.
MusicXray Review: Pros, Cons, How to Make Money & Alternatives [2021]
What is MusicXray ?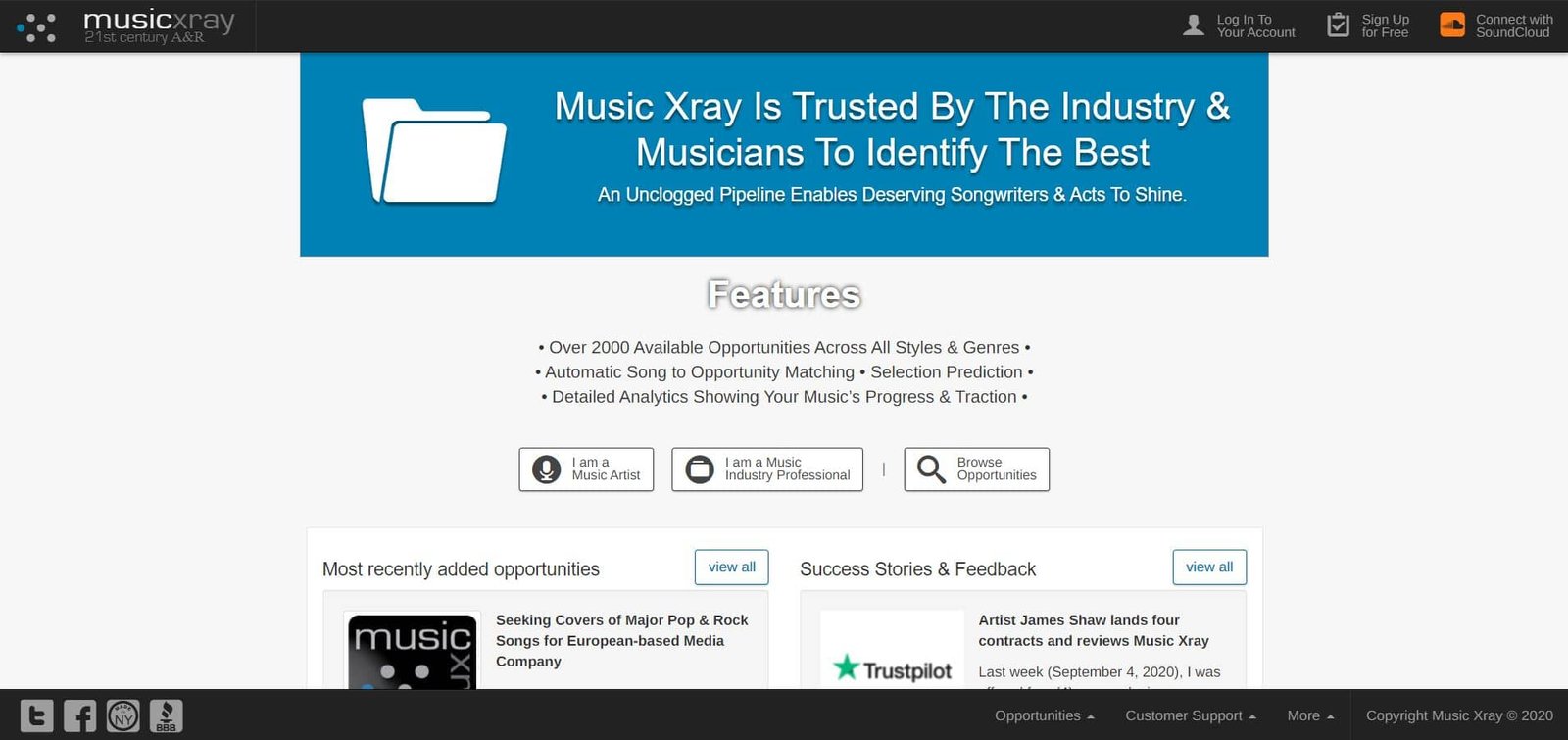 MusicXray is a bridge between the artists and the industry professionals.
Music Xray is a music technology company based in New York City.
MusicXray's official name is Platinum Blue Music Intelligence Inc but in 2009, it began operating under the name "Music Xray".
Music artists and songwriters can submit their music directly to the music industry professionals or producers without any middle man or pre-screeners.
In my experience, when an industry is influenced by middle-men, creators and consumers are at some form of loss. This is true for the music industry too.
MusicXray opens up a plethora of opportunities for musicians who can upload tracks and have them considered by producers.
MusicXray helps the entire music industry in many ways.
MusicXray helps musicians get deals, fans & improve thier craft. MusicXray also helps music industry professionals find high quality talent, opportunity-appropriate music and the help music reach the audience they deserve.
Lastly, MusicXray also helps music fans discover new music without having to rely on traditional radio or music billboards.
Direct interaction helps artists to build a connect with professionals making it a very attractive site for artists to showcase their talent.
This is the official website of MusicXray.
MusicXray Login
To use all of the features offered by MusicXray as an artist, music producer or a fan, you will have to login to MusicXray.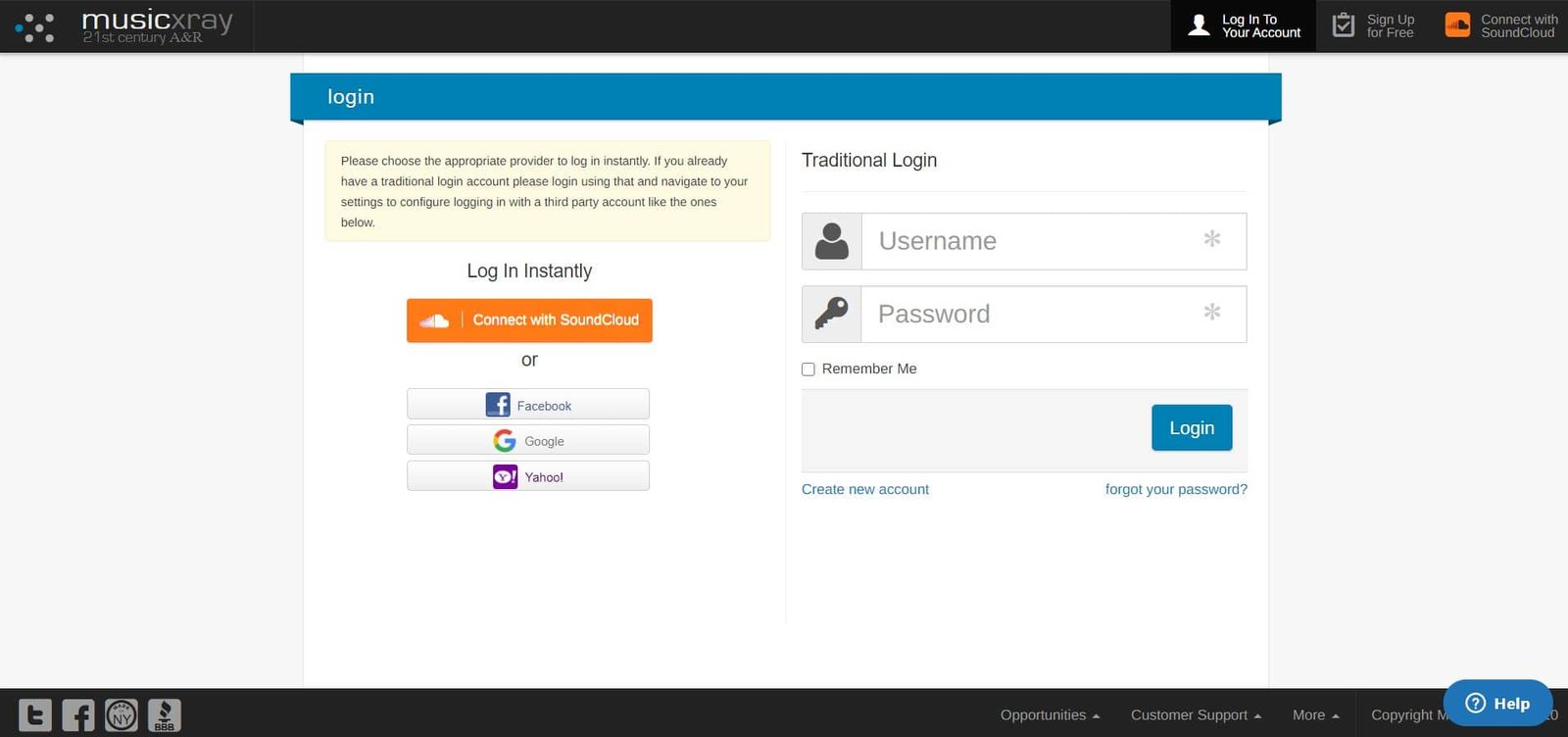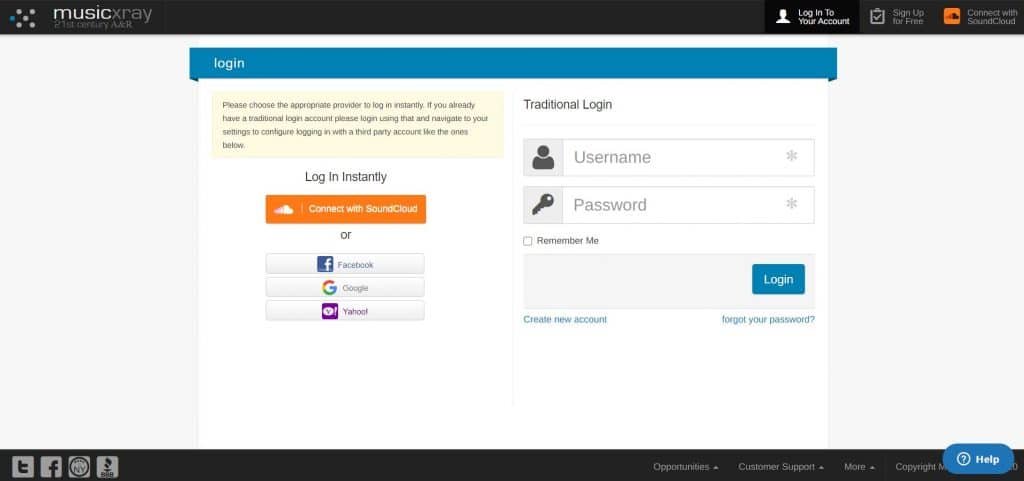 You can login to MusicXray through Google, Facebook, Yahoo or SoundCloud.
You can also register with your email address for your MusicXray account and login.
You can login to MusicXray using this link.
https://www.musicxray.com/success-stories
MusicXray Features
MusicXray provides over 2,000 opportunities across all styles and genres.
The platform has many features that are useful for musicians and industry professionals.
Some of the features of MusicXray include an automatic song to opportunity matching.
MusicXray also provides a selection prediction.
Another feature of MusicXray is that the platform has detailed analytics showing your musics progress and traction.
How Does MusicXray Work?
MusicXray platform can be a little confusing for first time users.
Here is how MusicXray Works.
Sign up for MusicXray.
Pick the genres you like the most (up to 5) and save your selections (depending on the type of music you like)
MusicXray will soon send you some songs.
You'll find some invites in your music music xray dashboard under the fan match tab.
Listen to a song you like for at least 30 seconds. 
How to make money using MusicXray?
When you listen to a song for at least 30 seconds, MusicXray will add some money into your account. This will roughly around $ 0.10.
Your earnings will be shown to you when you reach the 30 second minimum requirement.
To recieve payments from MusicXray, you need an active PayPal account.
As an artist, you can make money using MusicXray by submitting your songs to various music producers and you can land a deal with a record company.
To submit a song to an opportunity, there is a fee that the artist has to pay.
Many people on the web have also complained that after they paid the submission fee, they did not get any updates about thier submission process.
How much can you earn with MusicXray?
If you spend your day listening to music, MusicXray might be a good option for you.
MusicXray pays 10 cents per song you listen to for at least 30 seconds.
There is another catch that you can only withdraw payments once you have accumlated at least $20 on the platform.
Many users have complained that as and when they reach thier payment withdrawal requirements of $20, they find less songs to listen to and hence earnings get stuck somewhere around $15.
If you still wish to try MusicXray, you can go ahead and sign up using the link provided above.
MusicXray Reviews
MusicXray does not seem to have many positive reviews on the web and we found more disgruntled users than satisfied users.
This is what couple of users had to say on MouthShut.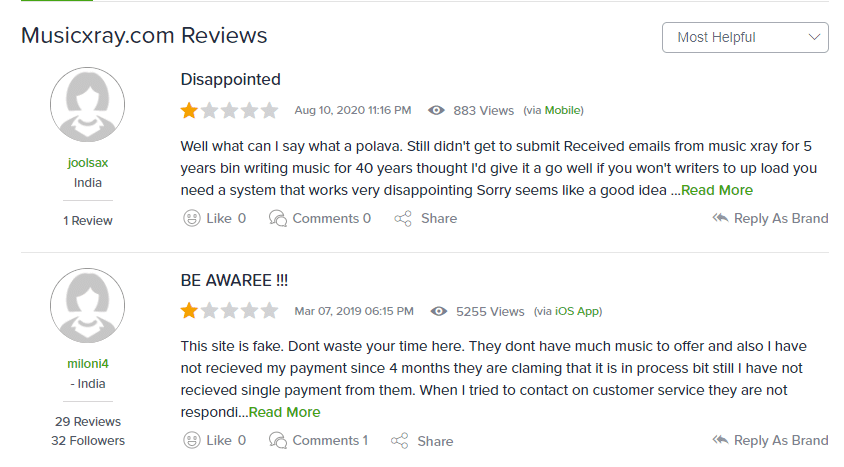 You can read more MusicXray Reviews on MouthShut here.
MusicXray Reviews on SiteJabber website are also poor, you can read them here.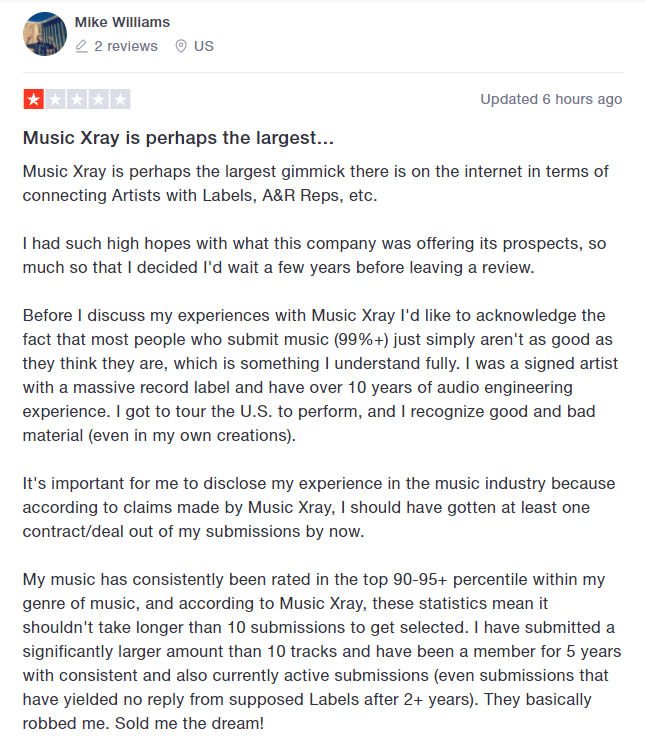 MusicXray reviews on TrustPilot are also pretty poor, you can read them here.
MusicXray  Pros 
The concept behind MusicXray seems good-you listen to music and get paid.
The operations and the platform has recieved some flak, but it might still be worth a try.
Ideally, it gives songwriters and musicians a chance to showcase thier work in front of people and get a song popular which can land in a record deals.
The platform also seems to have everything to connect the music industry ecosystem as something is there for the artist, music production houses and even the fans.
MusicXray Cons
Sign ups on MusicXray are sometimes closed and you will not be able to sign up as a fan when you want.
Also, when the payment approaches the withdrawal limit, there are some complaints that fans do not get any song to listen to and hence cannot earn more money to reach the withdrawal limit.
Earnings per song is also pretty low.
MusicXray Alternatives
Few alternatives to MusicXray you can consider are:
Note: Some of these MusicXray Alternatives might not pay you money to listen to music, but I have included them here to help artists or other people who might be looking for MusicXray Alternatives.
MusicXray Final Verdict
If you are looking to earn money online through easy to do tasks, then I think there are better sites you can try.
For example tasks on websites such as YSense are pretty easy and you have some assurity that your money will be transferred.
Going by the number of negative reviews about MusicXray, then I think you should avoid the site and look at more recognized websites to earn money.
Recommended Reads