Last Updated on
Do you want to know how to make money using On My Way App? This post is about On My Way App Review (or OnMyWay app)with details on How to Make Money using On My Way App, Benefits & Cons in 2020.
If you are interested in making money, you can check out our other posts including How to Earn Money from Facebook, How to Make Money from YouTube and how to start blogging to make money in 2020.
What is On My Way App?
Statistics over the years have shown that a considerable number of road accidents and casualties result from distractions faced while driving.
Human error or distrations cause maximum number of accidents in the United States. It is estimated that close to 10 people die every day in the United States as a result of using phones while driving.
Here is an alarming fact: the majority of drivers in the ages 18-64 bracket have admitted to still doing it, despite being aware of the fatal risks.  
On My Way is an app that offers a solution to such a serious problem.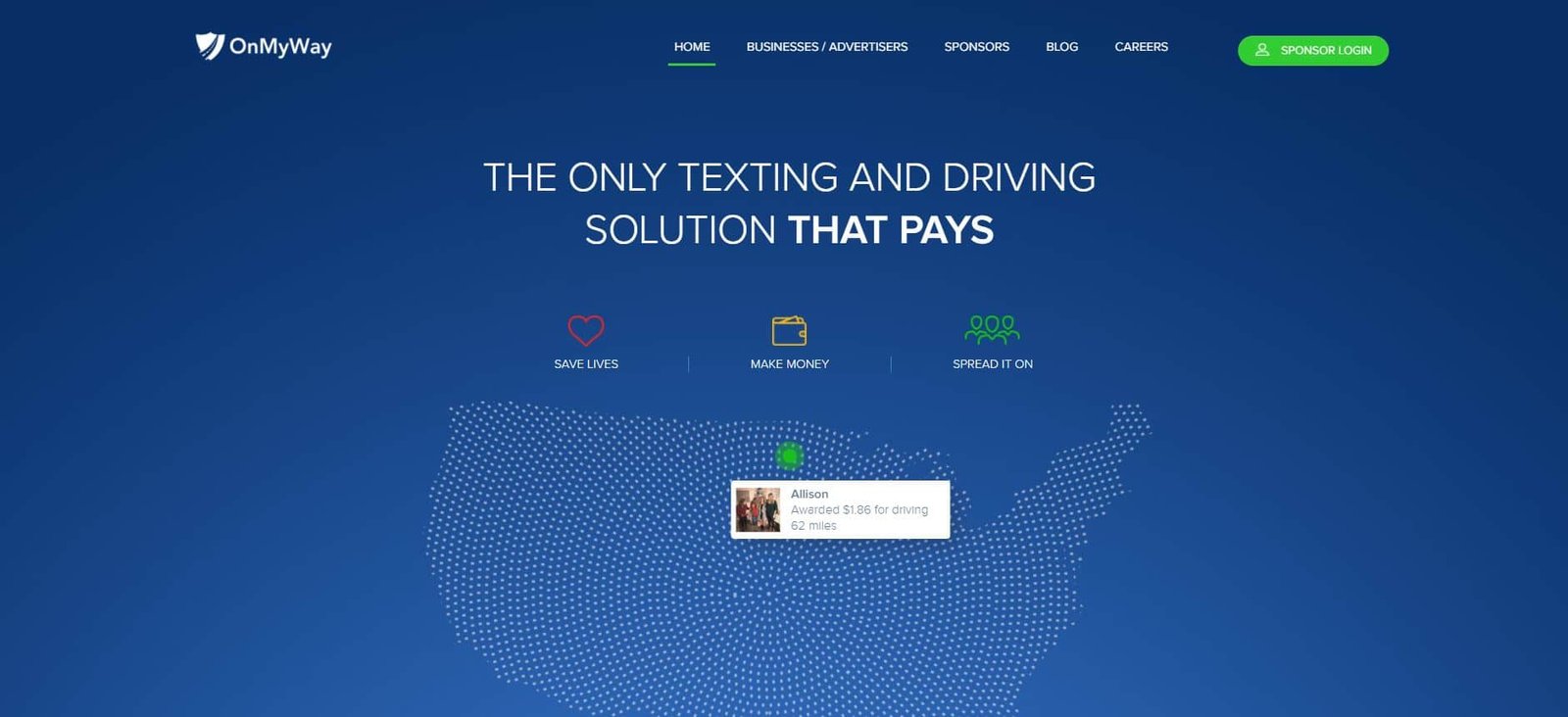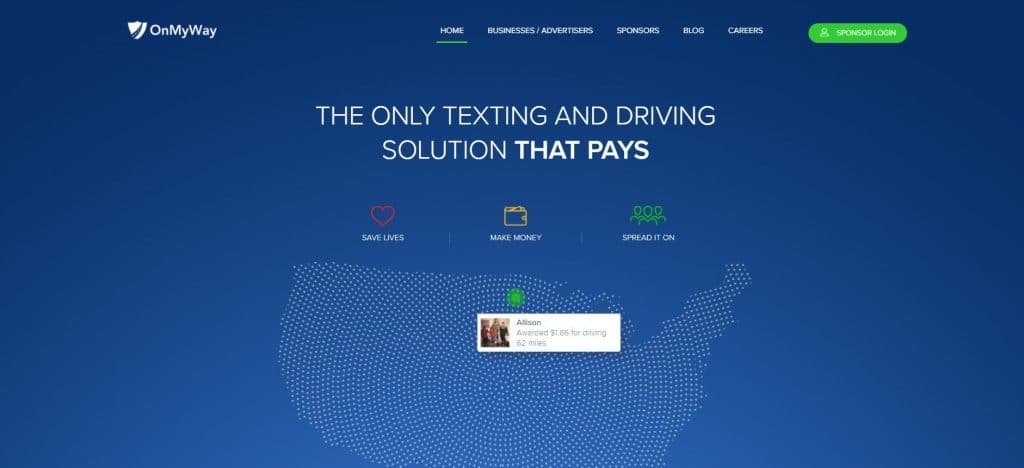 On My Way works in a simple but highly effective manner: it can detect when you are driving and restricts your tendency to get distracted while behind the wheel.
On My Way sets your phone to DND whenever it detects movement at a speed above 10 mph and allows you to earn On My Way cash for every mile you leave your phone untouched.
This virtual cash can then be converted into real rewards.
If you are the type of person who likes to tune into songs occasionally while driving, On My Way allows you to do that.
You can use apps such as Spotify and even navigation apps such as Google Map as long as you activate them when your car is not in motion and you do not use these apps while driving.
Benefits of the On My Way App
-Avoids Car Accident
Using your phone whilst driving takes your eyes off the road and this can have fatal consequences for both the driver and anyone else on the road.
A study shows that being on the phone can decrease the brainpower that drivers use to navigate by over 37%; this is a dangerous number.
So, by locking non-essential mobile features through DND, On My Way encourages you to exercise little to no unsafe/distracted behavior.
The homepage on the On My Way claims that their app has helped avert accidents around 8,000 and saved the lives of up to 50 people.
-Earn Cash rewards
On My Way offers drivers attractive incentives for safe driving.
Though practices of safe driving should be ingrained in each and every one of us, today's mobile-savvy world has led to going back a few steps in this regard.
So, as a form of a solution, On My Way app has been designed in a way that allows you to earn points for sound driving practices.
You can get up to 5 cents in your On My Way balance for driving just one mile without looking at your phone.
You can keep trading the On My Way cash for actual rewards like cash and gift cards as you keep earning more and more of it.
-Send Text without Touching Your Phone
While driving, we sometimes feel the need to let whoever it is we are meeting know that we have left our house or are about to reach the destination.
Even a harmless task like this can have heavy repercussions, as it still involves you indulging in texting while driving.
To remedy this, On My Way lets your friends know on your behalf by sending them automated text messages.
Users of the On My Way app also have the option of disabling this feature in the settings if they would prefer to read their messages when they have reached/stopped. 
Users can also send emergency texts or make emergency calls; only your phone needs to be connected to the car's Bluetooth system.
Getting Started With the On My Way App
On My Way app is available in Google Play and the Apple Store.
Link for Android App : https://play.google.com/store/apps/details?id=com.onmyway.mobi&hl=en&gl=US
Link for iOS App: https://apps.apple.com/us/app/onmyway-drive-safe-get-paid/id1436132657
They also have a website, you can visit it here: https://onmyway.com/
Once the app has been downloaded on your phone, launch the app and tap on the 'get started' button.
The next page will ask you to fill in your email and phone number, so finish these steps and then click 'next.'
Enter the verification code you may have received on your phone.
Now the app will request you to scan the barcode on the back of your driver's license to verify that you are a certified driver.
In case, the scan does not work, press the 'Scan Not Working?' option and fill in your complete details like name, age, gender, driver's license number.
With this option, you will have to verify your information at a later stage.
Next, grant the app access to your location and messages so it can do things like setting your phone on DND while driving, and send automated texts to your friends. 
Once all this is done, you can start using the app and you will find that $10 has already been deposited in your balance even before your first drive with OnMyWay.
How to Earn Cash on the On My Way App
On top of the $10 you begin with, you can earn more On My Way cash as you drive.
You do not have to open or activate the app before you get on the road, with the permissions it has been granted on your phone by you, On My Way will detect when you are driving and what distance you are covering.
This means you will automatically start earning On My Way cash as your phone is set to DND when you begin driving.
On My Way Referral Program
On My Way's referral program is easy and rewarding.
If you want more On My Way cash but do not want to wait for very long, the solution is easy: refer the On My Way app to your friends and family and earn $2 for every friend you encourage into successfully installing the app.
Moreover, you earn 2 cents for every mile they drive safely using the On My Way app.
To become a part of the On My Way referral program, tap on 'Refer Friends' on your homepage and give On My Way access to your contacts, and then select which contacts you wish to refer On My Way to.
You can obtain the referral link on the app settings and then send that link to each contact on your own.
On My Way App Pros
In addition to making your driving experience safe, On My Way app will also reward you.
The app is free to download, and easy to use.
The On My Way app has 8,646 reviews on Google Playstore and an average rating of 4.6.
Similarly on iOS Store, The App has average rating of 4.4 with 9.8k user ratings.
On My Way App Cons
The one downside is that you have to grant the On My Way app access to many of your phone's features such as calls, contacts, messages, etc.
Many users are very privacy concious and this can be a major detterant.
Users also complain of finding it hard to obtain real cash using the app.
The referral system on On My Way App requires you to refer very large number of people to make it rewarding and worth it if you are only interested in making cash from the app.
Overall, though, the pros of using the On My Way app wins over its cons.
It is a service that prevents you from using your phone while driving and helps you to earn cash for simple but much-needed safe driving practices. 
On My Way App Alternatives
You can try This App Saves Lives instead of On My Way App
Website Link: https://www.thisappsaveslives.com/
Link: https://apps.apple.com/us/app/this-app-saves-lives/id1487120119
Recommended Reads