Are you looking for Ruby Lane Reviews? In this post we are going to look at Ruby Lane Reviews, Fees & How to Make Money Using Ruby Lane in 2021.
If you are interested in the whole concept of making money online, you can check out some of my other posts including 10 Easy Ways to Earn Money Online without Investment, How to Earn Money from YouTube, how to earn money from Facebook and how to start a blog and make money.
I recently helped a client of mine generate $1000 in income from his YouTube channel that was not making any money and even you can do the same.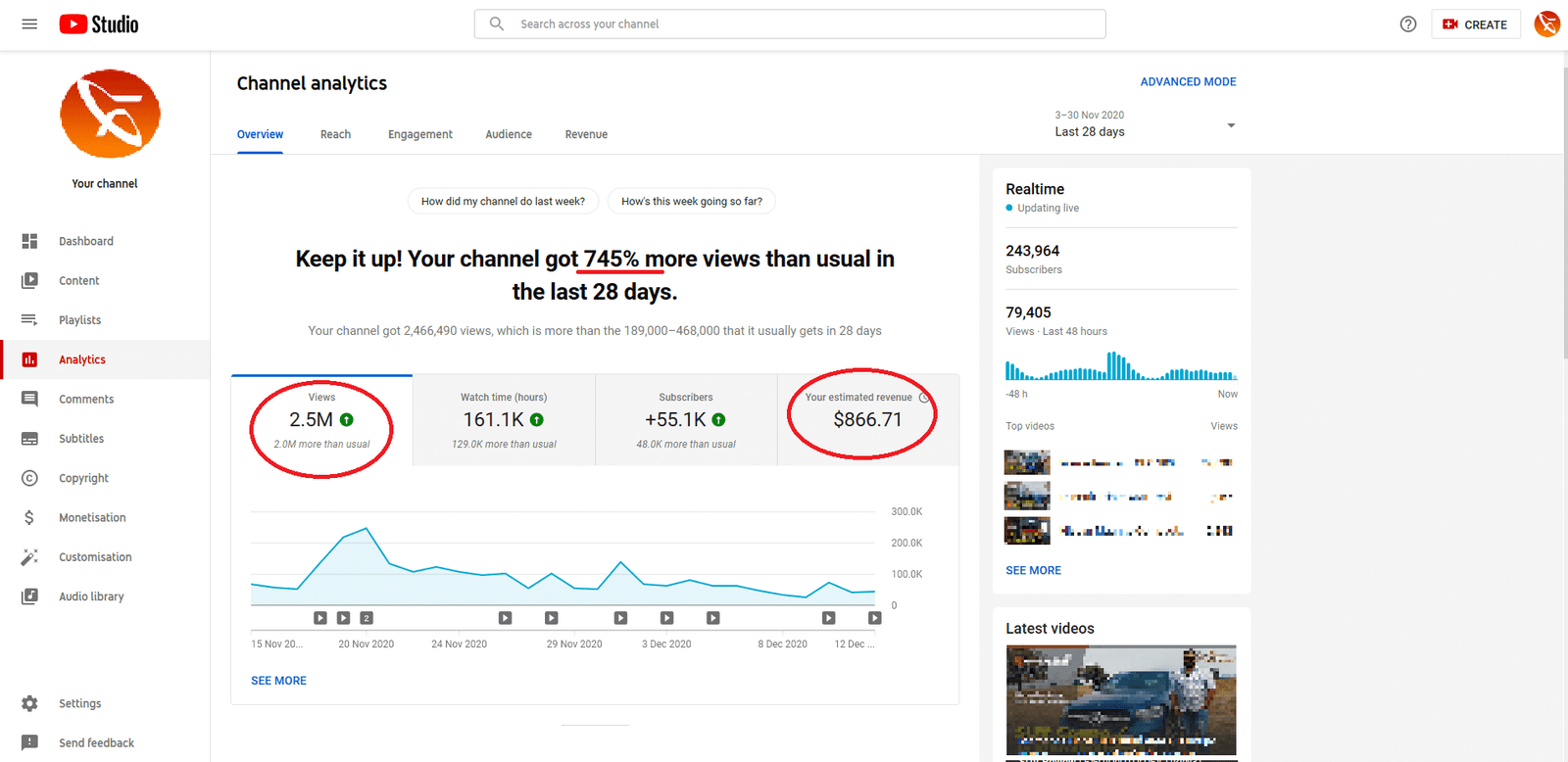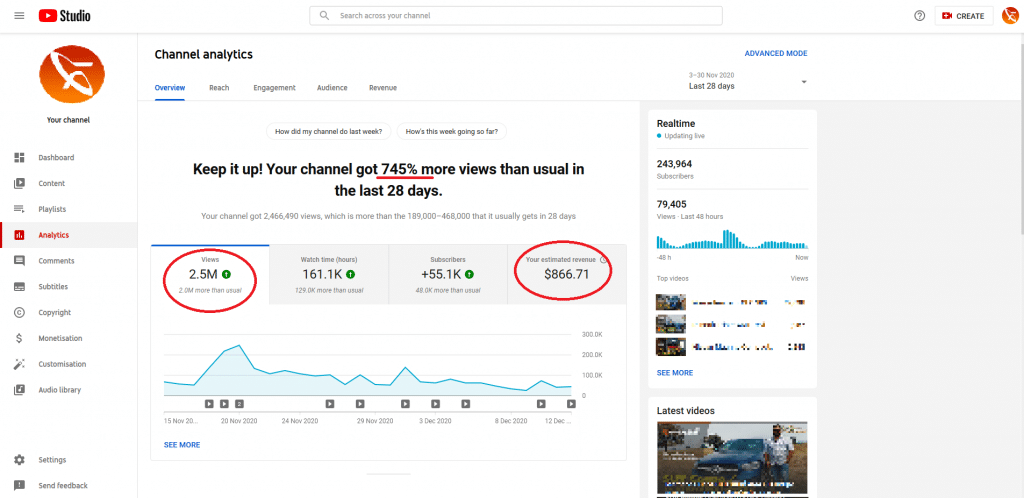 Earlier, I had co-founded a video company and raised $2 million in funding and then got fired from the company I started. I had done lot of testing and research on how to monetize YouTube and now I use the same skills to help other YouTubers.
You can read my full story here if you are interested.
Ruby Lane Reviews, Fees & How to Make Money Using Ruby Lane [2021]
What is Ruby Lane?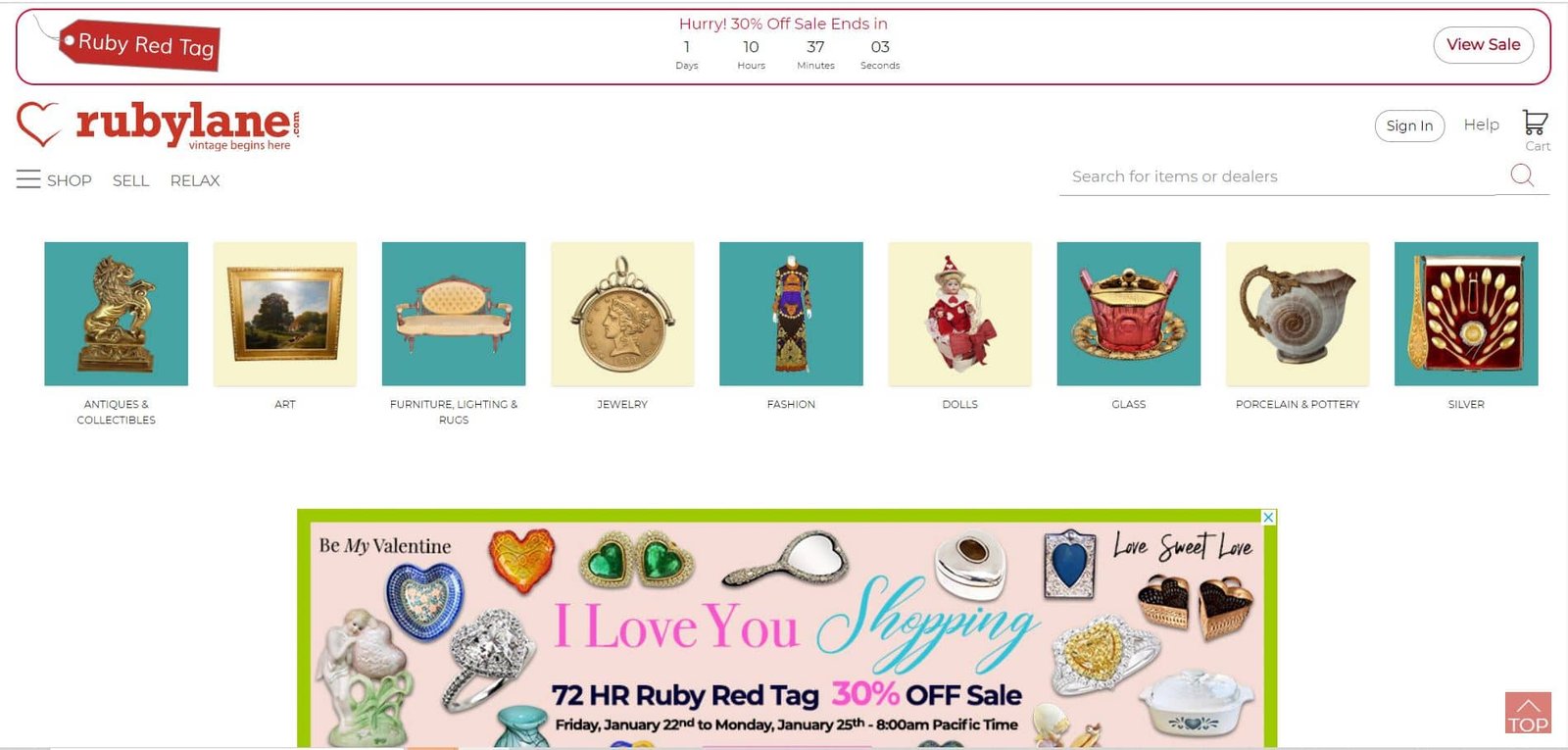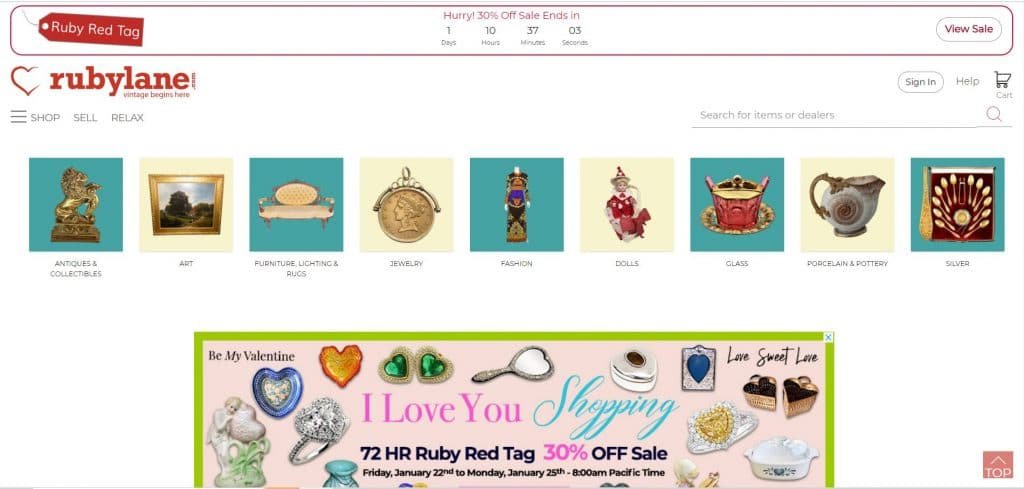 Ruby Lane is an online sales platform that deals in goods and merchandise of a vintage collection, ceramic and pottery items, precious antiques and collectibles such as dolls and more, jewelry, glass goods, lighting, and even furniture.
It's a paradise for anyone who has a passion for collecting precious goods and the fine arts.
The platform is great for everything vintage and items of elegance and class.
These products are one of a kind and may not be easily available elsewhere.
Official website link of Ruby Lane: https://www.rubylane.com/
How Ruby Lane Works?
How Ruby Lane works is quite simple.
Sellers who have products and goods in the above-mentioned categories, they can sell that via this online sales platform.
Ruby Lane charges a small fee of listing their products and paying a small commission on every product they are able to sell via the Ruby Lane platform.
If you are a seller and want to start selling on Ruby Lane, you would have to set up your own shop.
You can know more about Ruby Lane shops by clicking here.
Ruby Lane Categories
Unlike other e-commerce and online sales platforms, Ruby Lane specializes in few items.
Ruby Lane categories are Vintage Clothing and Accessories, Glass Items, Pottery, Antique Collections, Dolls, Lighting, Furniture, Jewelry, Fine Art Items, and even Silverware.
Ruby Lane Fees
The Ruby Lane online sales platform dealing with antiques, collectibles, and everything vintage, requires the sellers to pay a minimum listing fee of $54 per month but in recent times has also started charging a 6.7% commission fee on each sale made.
These are the fees for setting up your Ruby Lane shop.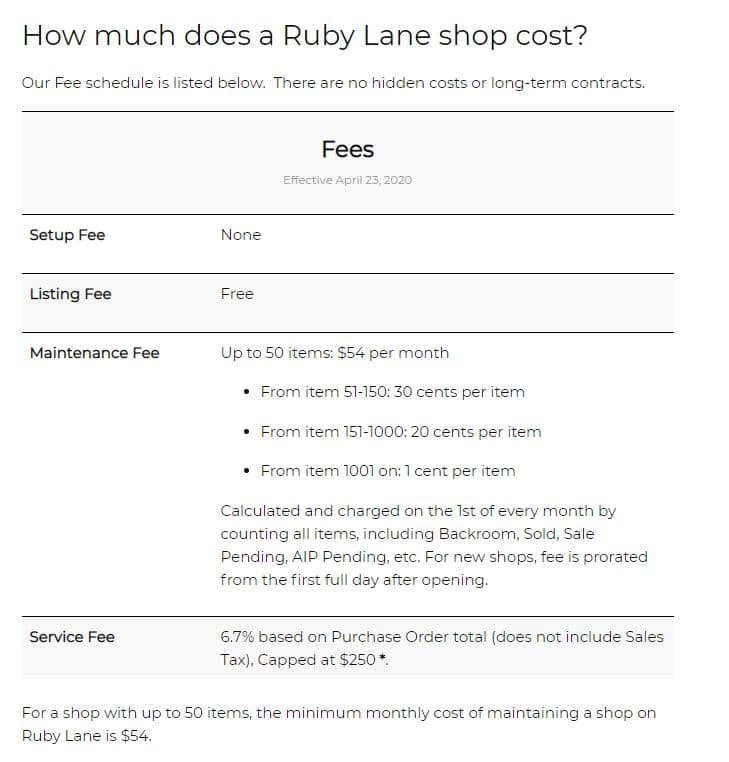 For full fees, terms and conditions on setting your Ruby Lane shop, visit this link.
Ruby Lane Requirements
The only requirement is that you must have the goods under the special mentioned categories to sell on their website and online store.
As long as you have goods and merchandise that they specialize in, you are ready to partner up with them and earn profits.
Be sure that you carefully read and understand the clauses of joining and selling via the Ruby Lane platform. All paperwork involved must be legal and valid.
You can read the full list of requirements to start selling on Ruby Link on this page.
How to Make Money using Ruby Lane?
You can consider that Ruby Lane works very similar to other ecommerce websites and you need to have stock of items and be able to sell at a margin to make money on Ruby Lane.
Ruby Lane audience consists of customers who are looking for antique, vintage and beautiful pieces so your products must also reflect the same.
The more exquisite the products, the better.
You can visit the official website, sign up, carefully read and go through all the terms and conditions, agree to them, pay the listing charges and the potential commission fee for when you make a sale of your items and that's it.
To get started with Ruby Lane, you can visit their official link here.
As these items would be high cost and high margin, you can start selling and making great returns on your investment and profits.
Make sure all the paperwork involved are legit and rules are followed properly to avoid any sort of legal trouble.
Pros of Ruby Lane
Since Ruby Lane specializes in goods like vintage fashion and accessories, antique goods, dolls, and other collectibles, porcelain goods, fine art items, pottery, precious jewelry, lightning, and furniture goods, as a seller you have the opportunity to list a wide variety and the best of the best products and brands.
Ruby Lane has received a good rank among other similar sites and online stores and sellers have in fact earned good returns on their investments.
The Ruby Lane online sales platform also offers great discounts during the holiday season and other special occasions so you can buy luxury items and antique collectibles that may otherwise be really expensive at a great price.
The website is a great platform to find special gifts that are a bit different, a bit more classy and elegant as compared to the usuals.
Cons of Ruby Lane
With the latest changes, the commission on every item sold as well as the listing charges have significantly increased.
In proportion, the website traffic hasn't increased which means less number of potential site visits and customers who might buy the products.
The alternate online selling platforms have been said to be better in terms of commission, listing charges as well as site traffic.
Also, the profit margins have significantly decreased with the subsequent increase in the listing charges and the commission fee per item sold.
Ruby Lane Review
The Ruby Lane online sale platform has received mixed reviews from sellers and customers.
Some have found the categories quite exquisite and love the products and the way the platform operates or functions.
Some customers or sellers have found the latest changes to the operating system uneasy, due to the increase in listing charges as well as the commission per every item sold.
In this section, we try to bring you one positive and one negative review of Ruby Lane so that you can take a judgement on whether you should try the platform.
Ruby Lane Positive Review
The Ruby Lane online sales platform has previously been ranked high among its similar companies and platforms.
It has received few special mentions as well so it's definitely something worth looking into.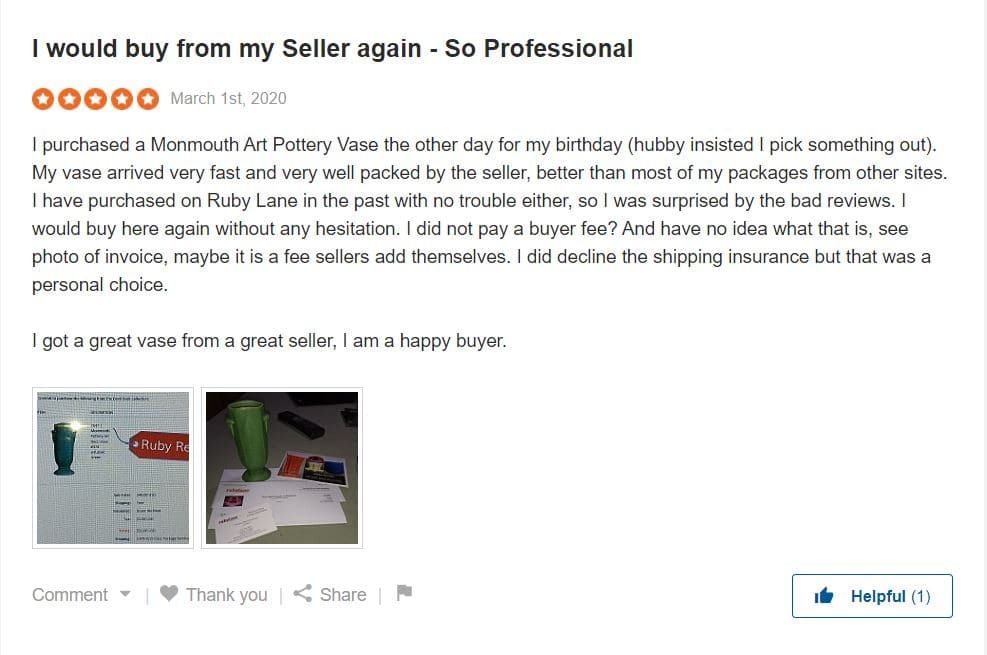 You can read more Ruby Lane positive reviews here
Ruby Lane Negative Review
Some sellers and customers aren't exactly happy with how this online sales platform functions.
They feel the charges and fees too high, the profit margins low and comparatively less website traffic as compared to other e-commerce platforms.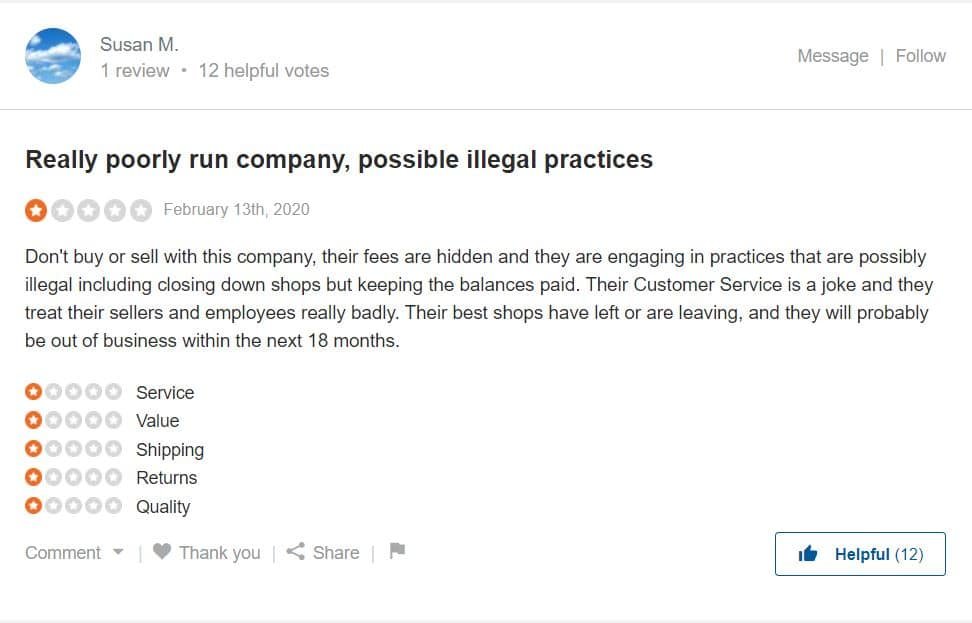 You can read all reviews on Ruby Lane here.
Ruby Lane Customer Contact Information
Ruby Lane has good customer support or customer care teams.
From our understanding Ruby Lane customer care team has good experience and the expertise to handle customer relations and queries.
You can contact them via email, send them a fax, post your queries on their official website, give them a call, or visit the office in person.
Ruby Lane Email: rob@rubylane.com, and zenna@rubylane.com
Ruby Lane Phone Number: +1 (415) 362-7611
Ruby Lane Fax: +1 (415) 840-0039
Ruby Lane Address: 381 Bush Street, Suite 400 San Francisco, CA 94104, USA
Ruby Lane About Us Page: https://www.rubylane.com/info/aboutus
Ruby Lane Alternatives
Buying and selling special products and merchandise on the Ruby Lane online sales platform has good reviews.
Ruby Lane focuses on selling vintage fashion items and merchandise, and items that constitute the fine arts.
While there are quite a few e-commerce platforms selling a variety of items including these above listed special items, Ruby Lane is very unique because of the nature of the audience and the type of products sellers list on the platform.
Few alternate websites/apps and online stores to Ruby Lane are:
If some of these websites are too costly for you, you can even consider these websites as Ruby Lane alternatives.
Ruby Lane sellers and their items, work experience, years of working, and all other relevant details and history are carefully vetted so if you are a buyer you can rest assured that you will only receive high-quality goods.
As Ruby Lane is for vintange and antique items, you can try to list few products before creating a complete inventory and trying to set up a full shop.
Recommended Reads