Are you looking for Silvernest Reviews? In this post, we are going to look at Silvernest Reviews, Pros, Cons & How to Make Money on Silvernest in 2021.
Silvernest is a platform to rent out an extra room and make some extra cash.
If you are interested in the whole concept of making money online, you can check out some of my other posts including 10 Easy Ways to Earn Money Online without Investment, How to Earn Money from YouTube, how to earn money from Facebook and how to start a blog and make money.
I recently helped a client of mine generate $1000 in income from his YouTube channel that was not making any money and even you can do the same.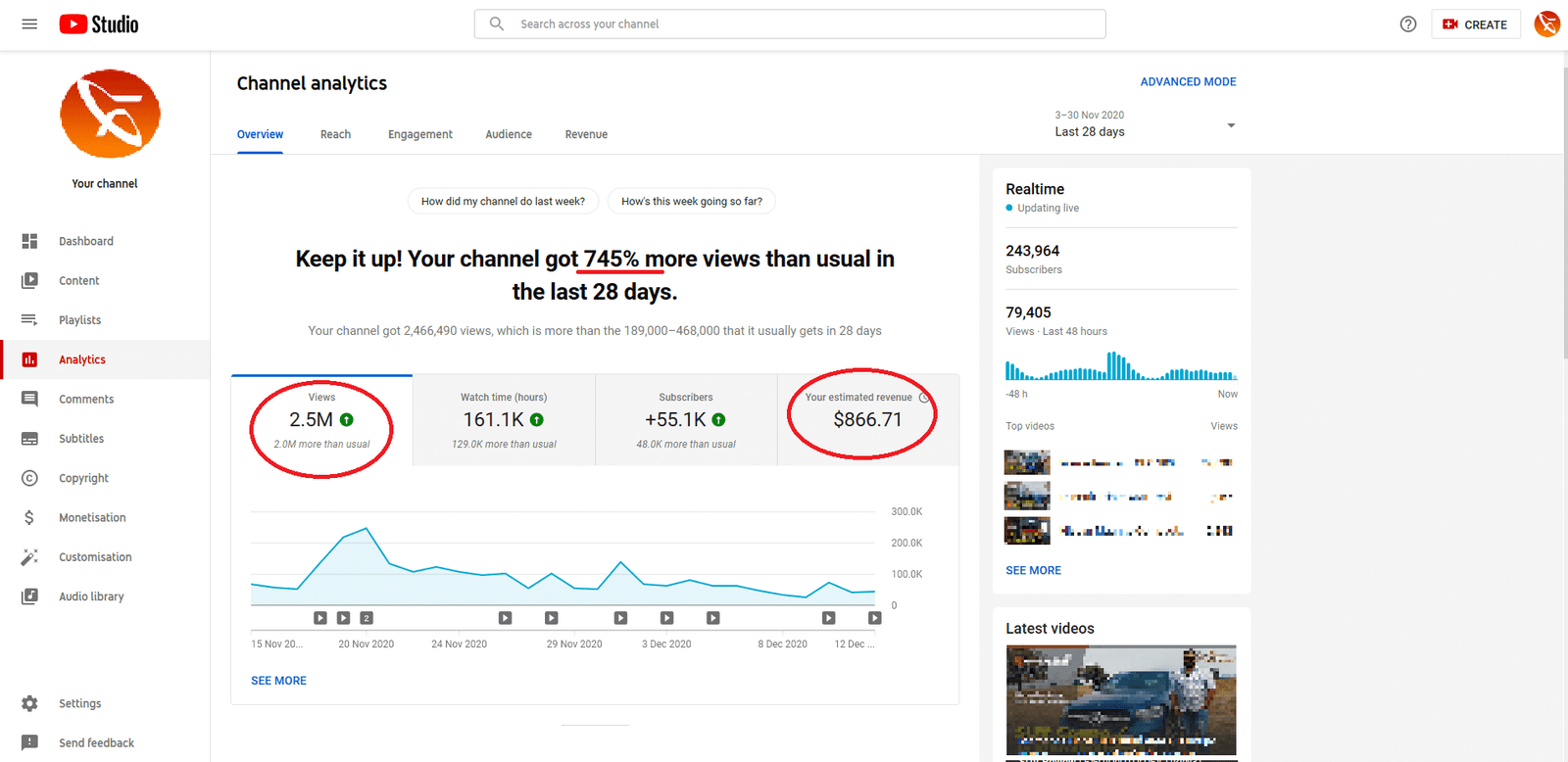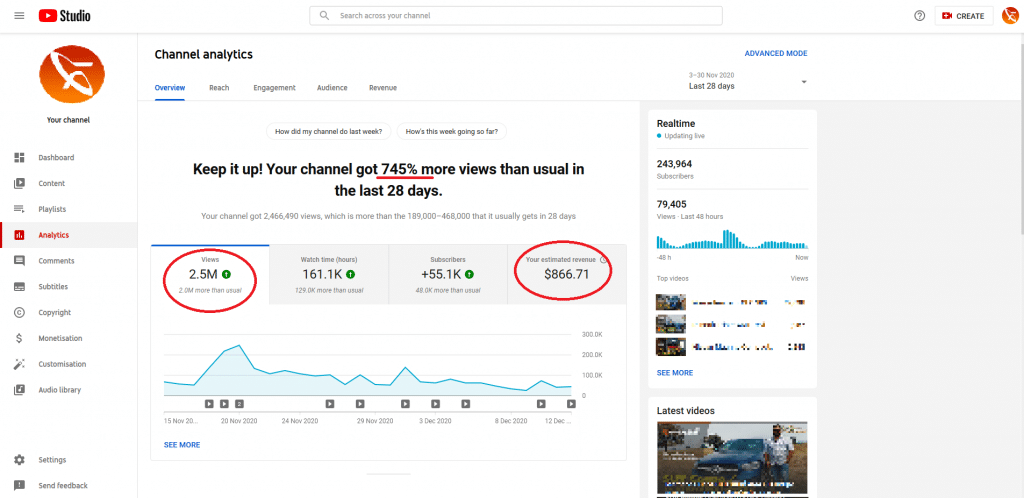 Earlier, I had co-founded a video company and raised $2 million in funding and then got fired from the company I started. I had done lot of testing and research on how to monetize YouTube and now I use the same skills to help other YouTubers.
You can read my full story here if you are interested.
Silvernest Reviews, Pros, Cons & How to Make Money on Silvernest [2021]
What is Silvernest?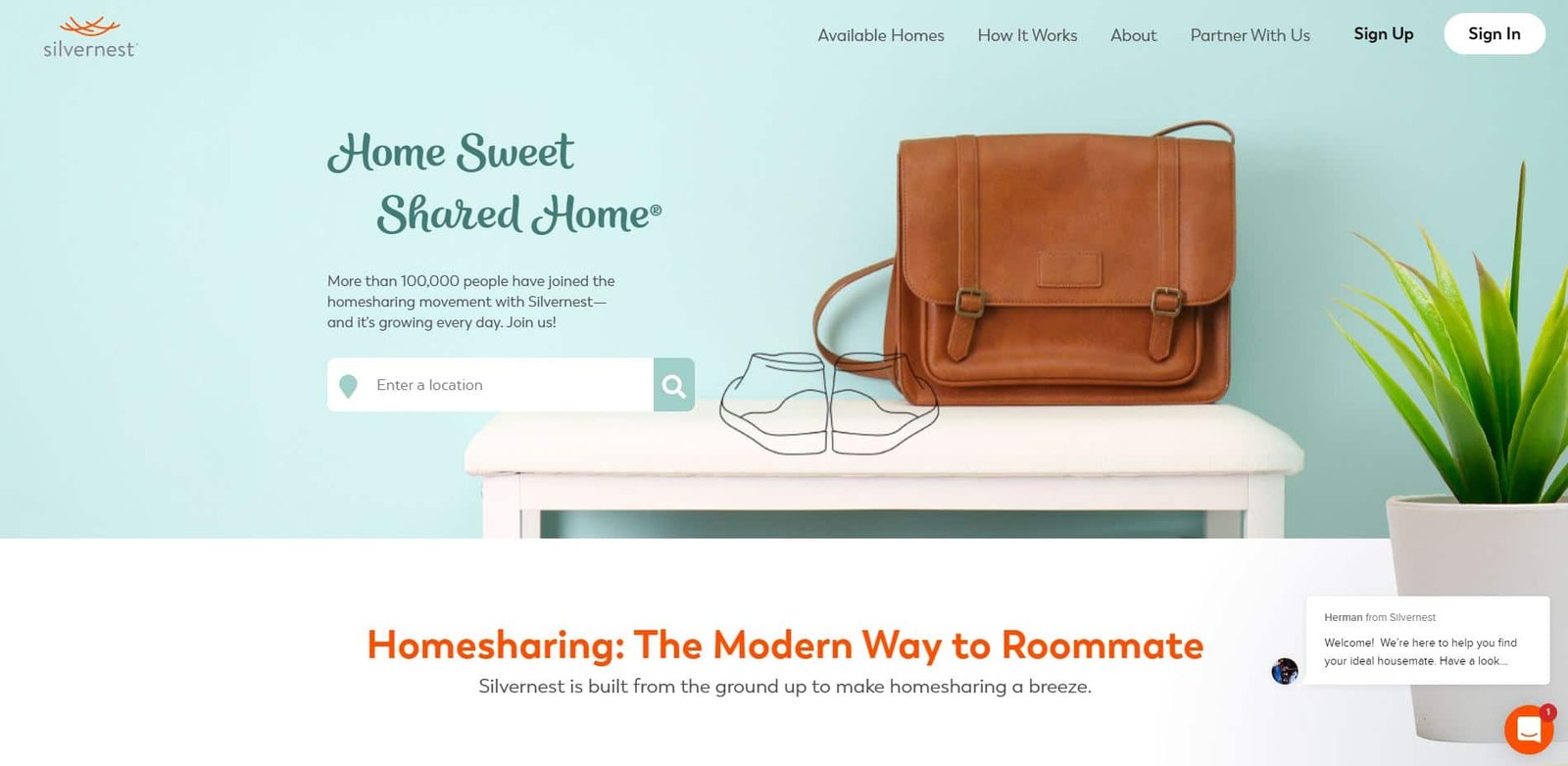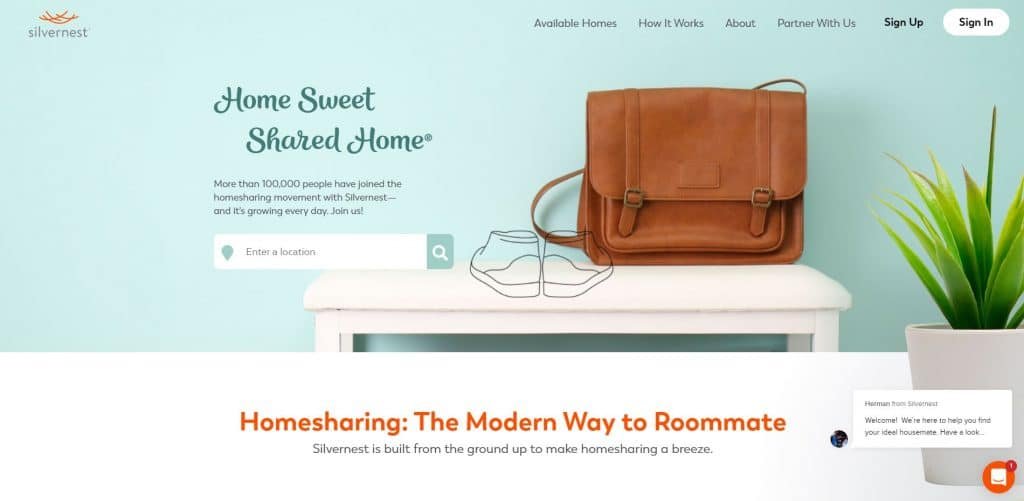 The Silvernest platform is revolutionizing the way to rent a home or find a roommate.
Silvernest provides a perfect solution for the elderly & people who have an extra room and offers a significant solution for housing concerns.
It is increasing housing options for a greater number of people, supporting financial independence for people of all ages, improving mental health by fighting social isolation, and building genuine connections and a compassionate community.
Its mission is to combine Airbnb and Match.com for people, who wish to put an empty room on rent to earn some extra money or for chores and looking after the house in their absence.
Silvernest lets homeowners stay in their existing home and community and just matches them with the perfect housemate for the empty room.
Official website of Silvernest: https://www.silvernest.com/
How Silvernest Works
It all begins by uploading the listing for the empty room.
The platform reviews the available matches at the selected location and the compatibility ranking makes it easy to find out the candidates or listings matching the preferences and a thorough background check offers additional details.
You can talk to as many potential matches as you want. You can ask questions and check if the vibe matches yours.
You can share as much as you want, since Silvernest's encrypted communication means your personal details are secured.
Silvernest does all the heavy lifting so that you can home share with no doubts but with full confidence.
You can decide on the rules and regulations, then make use of the lease builder to officiate all the details.
You can then move ahead to set up automatic payments for the rent, and the insurance coverage will automatically start working after the first month's rent.
With Silvernest, home-sharing means no stress, monetary independence, and mutual support unlike ever before.
With Silvernest you can now enjoy a modern way of living that not only makes great sense but also allows you to forge good bonds along the way.
To know more about how Silvernest works, you can visit this link.
Silvernest Available Countries & Locations
The Silvernest platform works nationwide but here are the top locations where it is most popularly made use of:
Atlanta, GA
Denver, CO
Los Angeles, CA
Miami, FL
Phoenix, AZ
San Diego, CA
San Francisco, CA
Tampa, FL
Silvernest Features
Since compatibility is essential, Silvernest provides instant reviews based on your preferences and the match probability score puts the potential housemates in the order of how perfectly they match with you.
There are full background checks available and other features you need for hassle-free home-sharing.
A system of unique insurance provides coverage designed specifically for home-sharing. The automated payments make paying the monthly rent convenient.
Silvernest Requirements
You must have a spare room or property/house that you want to rent out.
You must also have all the necessary legal and property documents, insurance claims paperwork, and the like.
As long as you have all the necessary official documents and paperwork, there is nothing to worry about.
In case you are the renter, there will be extra charges in case the homeowners want to conduct a background check before finalizing you as a tenant.
In that case, the renter has to pay a fee of $29.99.
Background check of Silvernest includes eviction history, criminal records search, SSN (Social Security Number) verification, Sex offender registry and even terror watch list search.
Note: Silvernest background screening does not include a credit check.
Silvernest Fees
For every listing, the Silvernest platform charges a commission fee of $24.99 a month.
How to Join Silvernest
Depending on whether you are looking for a spare room or home to take on rent or if you want to rent out your spare room or home, there are different signups required.
The platform is easy to navigate through and doesn't take more than a few minutes and clicks.
To sign up with Silvernest, you can use this link.
How to Make Money on Silvernest
You can only make money via the Silvernest platform if you have a spare room that you wish to rent out.
How much can you earn with Silvernest?
Depending on the size of the room or house, the duration the person decides to rent it for, the number of people renting the room or house all determine how much you can earn via this platform.
Pros of Silvernest
One can make additional money that enables them to stay at their own home as they grow old, instead of moving to an old age home.
The feature of compatibility matching, reviews and screening, built-in security, and management tools for rent make it easier to find the perfect tenant.
The platform rents out to folks belonging to all age groups, including people who are studying.
There is no risk and 100% satisfaction is guaranteed.
Based on the location, you can have easy access to activities and sports like golf, swimming, art studios, woodworking shops, clubs, and more.
You get to live with people of your age group and don't have unnecessary or bothersome social events nearby.
Cons of Silvernest
Silvernest doesn't do much to protect the people who are renting rooms.
The landlords can often be nosy, create unnecessary issues for the renters, and may even decide to kick them out without any prior notice.
Some landlords often establish unnecessary rules and regulations failing to adhere by which can lead to termination of the contract.
Silvernest Reviews
In this section, we wil show you some Silvernest reviews available on the web. We will show you one positive and one negative review of Silvernest so that you can get an idea of the platform.
Silvernest hasn't received any ratings or reviews on the TrustPilot or SiteJabber platform yet.
Silvernest Positive Review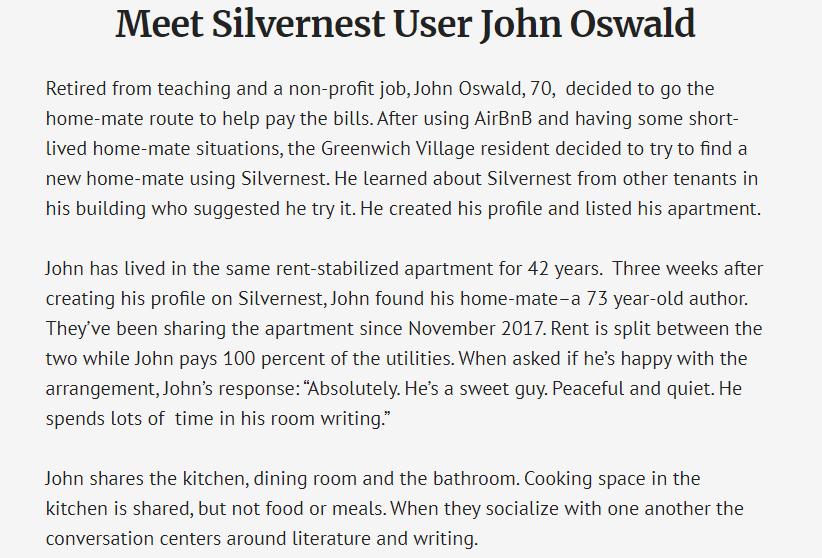 You can read more Silvernest reviews here
Silvernest Negative Review

You can read more Silvernest reviews here
Is Silvernest Worth It?
Silvernest is worth it from the sides of the homeowner as well as the renter.
It provides a win-win solution to both parties involved and is convenient and hassle-free for both.
It is a good choice of website for what it's worth and is dominating the industry. There are several features and tools to make the entire process simple.
Silvernest Customer Contact Information
The Silvernest platform has a live chat box option.
When you visit the official web portal, the live chat box and someone from the support team instantly pops up to attend to your queries.
Silvernest Email: hello@silvernest.com
Silvernest Mailing Address: Silvernest, Inc 30 7th Lane E., Suite number 2350 St. Paul MN, 55101
Silvernest Customer contact Link: https://www.silvernest.com/about/contact
Silvernest Social Media Accounts
Silvernest also has active presence on all major social media accounts. You can also contact Silvernest via thier social media accounts.
Silvernest Alternatives
There are several platforms and websites that have come up dealing with making finding a place to rent out and renting your place much easier.
The most common alternatives to the Silvernest platform are Nesterly, Craigslist, Roomi, Belong, and also Neighbor.
Frequently Asked Questions about Silvernest
Is Silvernest a legit company?
Yes, Silvernest is a legit company.
Are there many complaints about Silvernest?
Yes, there are some complaints about Silvernest regarding thier background screening process.
Which are Silvernest alternatives to consider?
The most common alternatives to the Silvernest platform are Nesterly, Craigslist, Roomi, Belong, and also Neighbor.
Recommended Reads