Are you looking for Skyword Reviews? In this post, we are looking at Skyword Reviews, Pros, Cons, Features & How to Make Money with Skyword in 2021.
If you are interested in the whole concept of making money online, you can check out some of my other posts including 10 Easy Ways to Earn Money Online without Investment, How to Earn Money from YouTube, how to earn money from Facebook and how to start a blog and make money.
I recently helped a client of mine generate $1000 in income from his YouTube channel that was not making any money and even you can do the same.
Earlier, I had co-founded a video company and raised $2 million in funding and then got fired from the company I started. I had done lot of testing and research on how to monetize YouTube and now I use the same skills to help other YouTubers.
You can read my full story here if you are interested.
Skyword Reviews, Pros, Cons, Features & How to Make Money with Skyword [2021]
What is Skyword?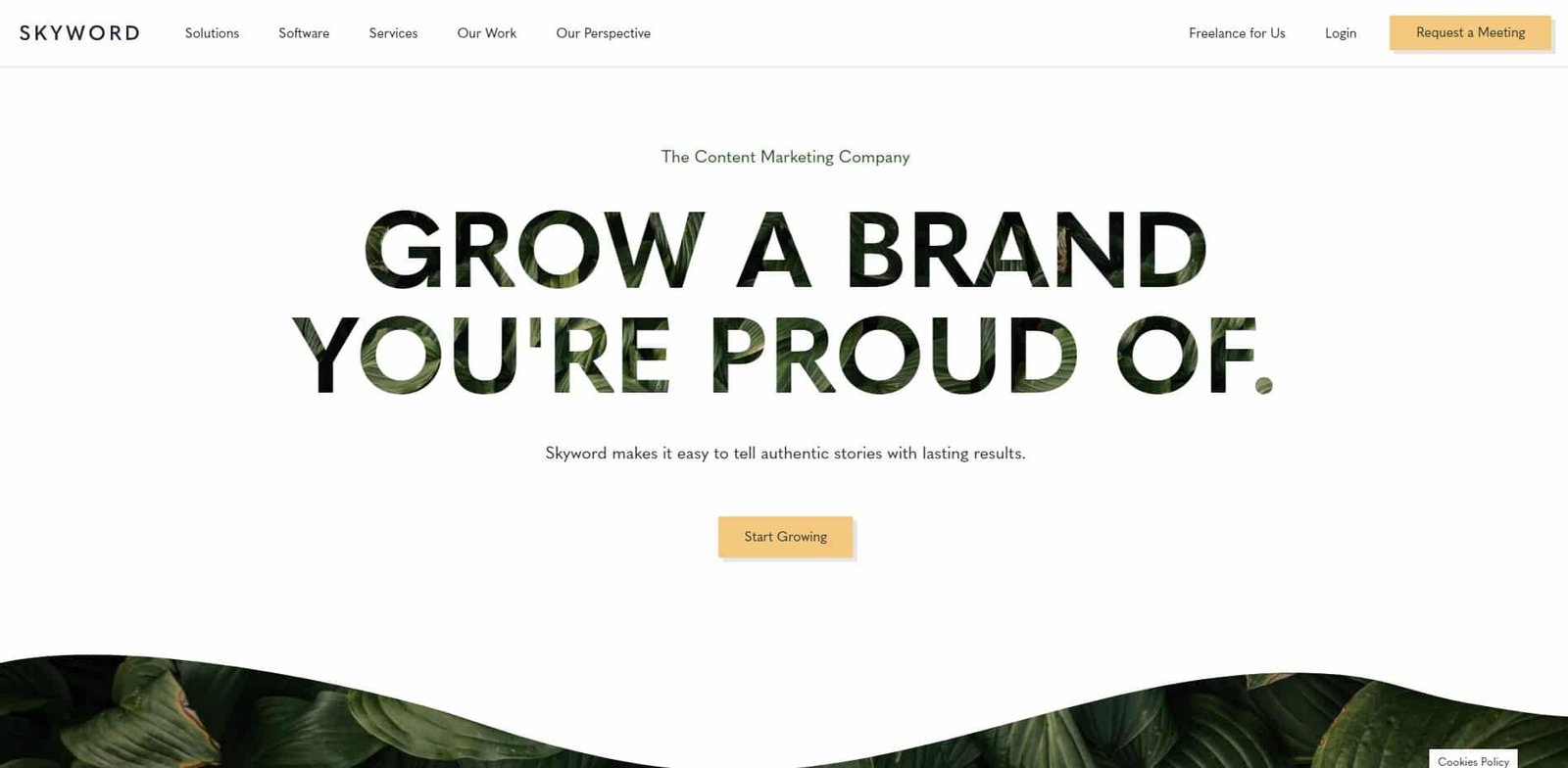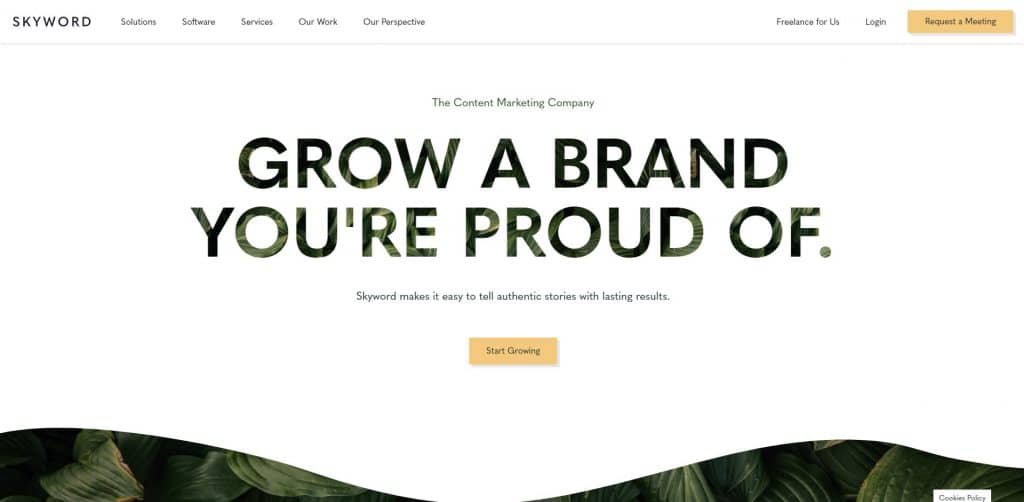 Skyword is an online platform that matches freelance writers, videographers, photographers, and graphic designers with companies that want to tell their story.
Skyword helps find high quality part-time freelancers and is a great option for finding talent to complete short term projects.
Skyword aims to build a bridge between Fortune 1000 clients and content artists, who create blog posts, infographics, and industry specific videos.
The clients decide the payment amount, and it is up to the freelancer to either accept or reject it.
Skyword only charges the client, but not the freelance worker, a small fee for having connected them.
Brands can make their own unique story on Skyword using Skyword's content marketing software, content experts and leveraging on the global pool of freelancers on the platform.
Official website of Skyword: https://www.skyword.com/
How Skyword Works
Skyword provides services and solutions like Content Strategy, Editorial, and Creative, Data and Insights, Training, and Support.
Skyword also has solutions for Social Analytics, Talent networks, Find and Manage Talent, Create a Content Strategy, Globalize and Localize Content and Prove and Optimize Impact.
Skyword can be used across languages, channels and differnt customer buying journeys to make content marketing effective.
The online platform helps the best brands in the world to create content that their target audience wants and the results speak for themselves.
Skyword Features
The content creation group and the global network of talented individuals make it possible to create top-quality content at a large scale as per the clients' needs.
The platform for content creation streamlines the way forward from regular workload to high quality work that resonates the intended demographics.
The data analysis features and services provide brands the feedback they need to ensure high content standards and successful ROI.
Skyword ensures that content is always unique, adds value to the consumer while driving business growth and other objectives.
Skyword Kill Fees
If the client doesn't use any piece of work for the final project, Skyword ensures that the content creator still receives a kill fee proportionate to 50% of the initially agreed-upon payment.
Skyword Kill fee is 50% of the initially agreed-upon payment
This takes care of content creators walking away without remuneration after doing adequate work.
On other platforms, the clients have the option to not pay for the work done if they are not fully satisfied with it. This is a great pro of Skyword for people looking to find work. 
Skyword Available Cities
Skyword is available in all major cities across the United States.
How to Join Skyword
If you are a small company or brand and need an extra helping hand to grow your business in terms of writers or content creators, photographers and videographers, or need a graphic designer, you can create a company profile and state your requirements.
You are required to pay a small fee to be able to get connected to whatever service you require via the Skyword platform.
You can then choose from the available services and service providers and find one that matches what you are looking for. 
If you want to do freelance work, you can set up your account and profile, fill in the required details along with supporting documents and work samples, and wait for your application to get reviewed.
Skyword does not require any fees from the writer, only the clients have to pay the fee.
Once your application is processed, you can choose from the assignments and start making money. 
Skyword Requirements
To be able to work under Skyword, the candidates have to undergo an extensive review before they get selected and can start working.
To apply for any of the positions with Skyword, the candidate needs to have a decent time of work experience, a proper resume, and samples of their work.
Having a solid recommendation letter from previous employers can also increase your chances of getting work with better pay much easily. 
How to Make Money using Skyword
If you are a writer, a videographer, a photographer, or a graphic designer, you need to create your account and profile.
You need to fill required details along with documents asked for and you can choose from the available assignments, and start working on them to earn income.
If your line or field of work entails data and insights; and training and support, you can join the Skyword team to make money. 
How much Skyword writers make
The pay generally varies depending on the assignment. For content writers or bloggers, the remuneration ranges between 25 cents to $1 for every word.
How much Skyword writers can make will depend on the type of assignement.
Pros of Skyword
We've looked at reviews of Skyword online and many people have commented that the editorial teams are incredible to work with and Skyword pays a good amount of money.
Very few such sites offer such a significant amount of pay and in terms of efficient management, Skyword has an edge over other platforms.
The assessment feature helps writers to make sure that they have the right number of words, keywords, grammar, etc. before they publish the content.
The editorial team and the account executives are friendly, responsive, and flexible.
Cons of Skyword
There are a few small challenges with the Skyword site dashboard.
The spelling correction feature is broken.
It doesn't always recognize names of clients, and also there is no way to save comments for the reviewers where necessary.
The word count tool is also faulty and shows that the written article is above the limit when the actual word count is actually lower than the limit.
Many times, the platform's software can be glitchy and there are technical errors.
These should not be a major deterrent if you are looking for a good platform to earn some extra income.
Skyword Reviews
Overall Skyword has 4.5 Star rating out of 5 which is very good compared to other similar sites
Depending on the service and the pricing for that service, some small businesses and brands have felt the service rendered as per the pricing isn't up to the mark.
While some others have been super happy and have made use of the platform's services quite frequently. 
In this section, we will try to show you one positive and one negative review of Skyword so that you can get an idea of how the platform works.
Skyword Positive Review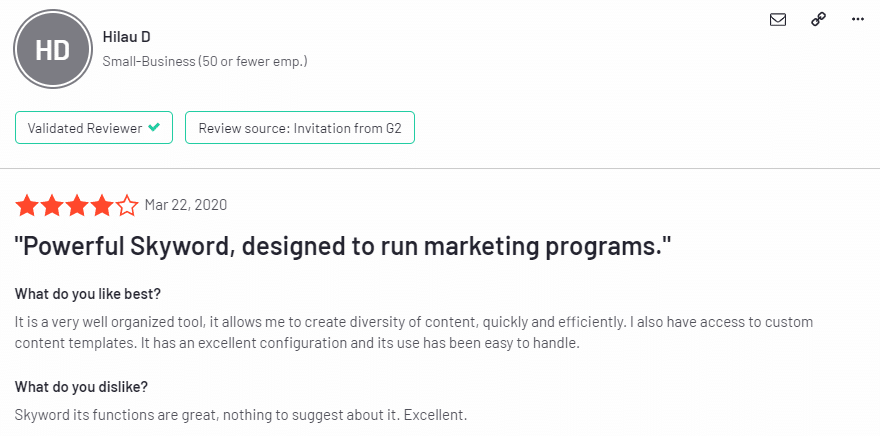 This was a positive review by a current freelance writer.
You can read more Skyword Reviews here
Skyword Negative Review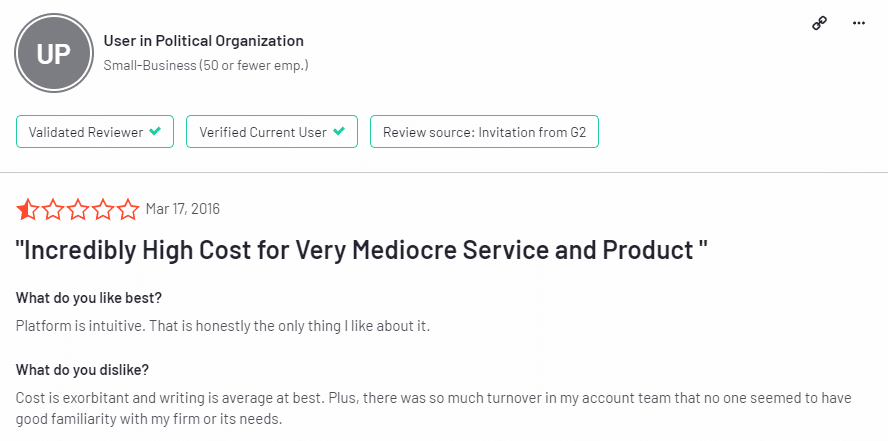 You can read more Skyword reviews here
Skyword Customer Service Contact Information
The only way to get in touch with Skyword's customer service contact support team is to visit the official website and leave a message or query.
The support team will reach out to you within 2-3 working days.
You can get more information about the company from their official website as well as social media channels: Facebook, Linked In, and Twitter. 
Link: https://www.skyword.com/contact-us/
Skyword Alternatives
There are several other companies and online platforms that provide similar services. If you're a writer, you can check out alternate websites like Contently and Cracked.
If you want to work as a photographer or a videographer, you can take a look at the Upwork or Fiverr platforms.      
For graphic designers or illustrators and web development, Belay, FreeeUp, and OnwardSearch are good platforms to find work with good pay.
The Washington Post Talent Network can also be considered and is a worthy option for bloggers, photographers, and video editors.
Recommended Reads