Do you want to know how to make money using Takl? In this post, we are going to look at Takl Reviews, pros, cons, fees & how much money you can make with Takl.
Takl is a legitimate side-gig and can be used to make some extra money during your spare time. Do note that Takl cannot necessarily replace your full time and if you are looking for ways to earn money online, you can check out our other posts.
I recently helped a client of mine generate $1000 in income from his YouTube channel that was not making any money and even you can do the same.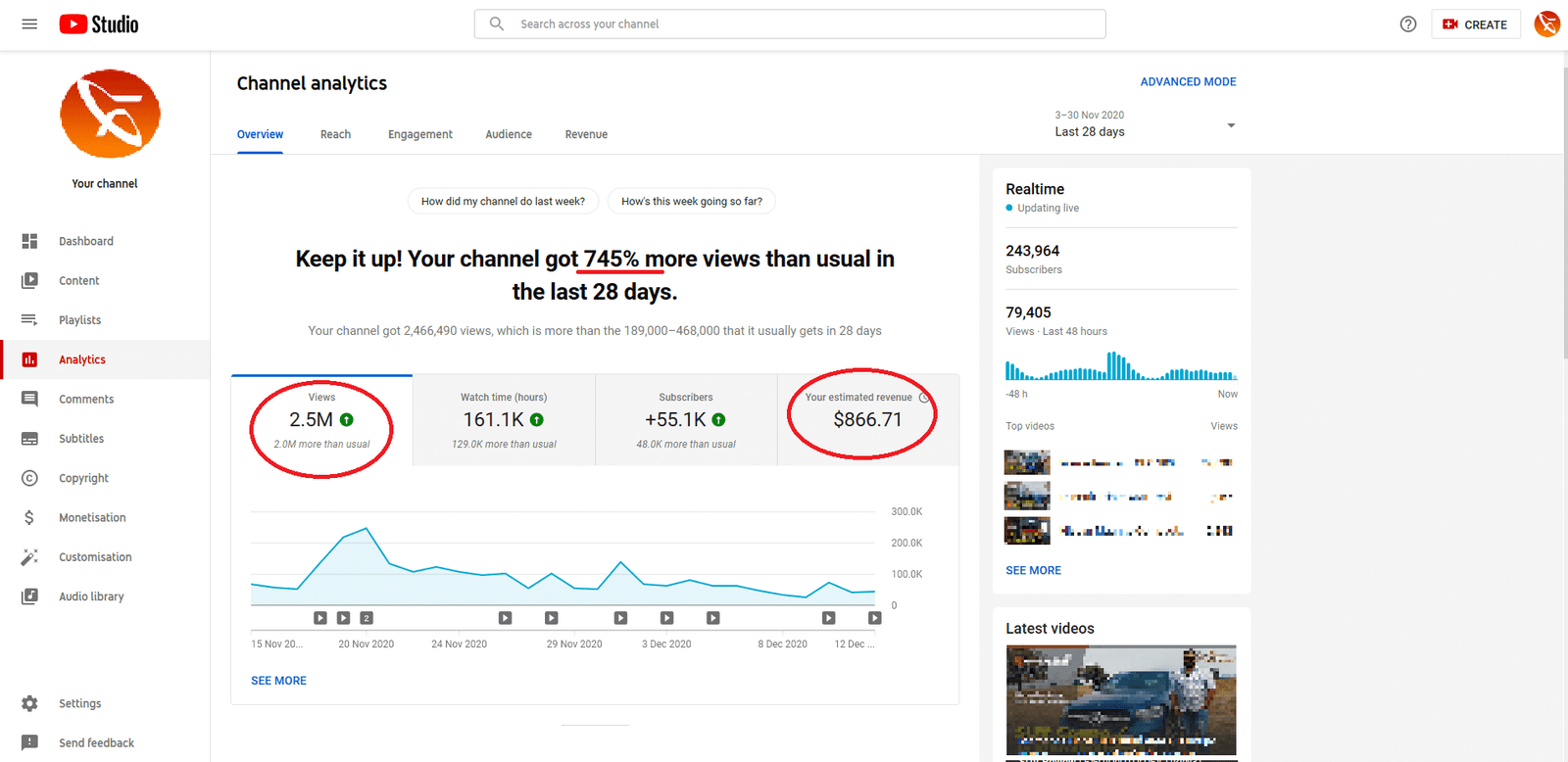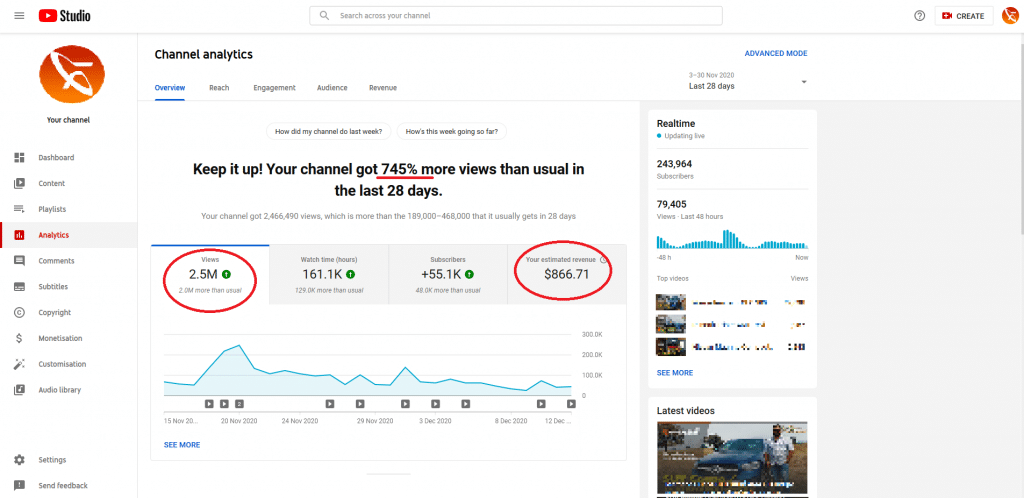 Earlier, I had co-founded a video company and raised $2 million in funding and then got fired from the company I started. I had done lot of testing and research on how to monetize YouTube and now I use the same skills to help other YouTubers.
You can read my full story here if you are interested.
If you are interested in the whole concept of making money online, you can check out some of my other posts including 10 Easy Ways to Earn Money Online without Investment, How to Earn Money from YouTube, how to earn money from Facebook and how to start a blog and make money.
Takl Reviews, Fees, Pros, Cons & How to Make Money [2021]
What is Takl?
Takl is an online service that matches users with freelancer labor for help with household tasks such as gardening, dusting, and even moving or light construction work.
In the wake of the COVID-19 pandemic, Takl has put its services on hold indefinitely
Takl's headquarters are based in Nashville, Tennessee.
This is the official website of Takl: https://www.takl.com/
How Takl Works?
After providers have passed a preliminary background check, they are allowed to list their services on the site.
Soon after that, they are put into contact with people who are willing to pay for their services.
Each month, providers have to pay an access fee of $2.99 to retain their profile on Takl.
Providers are allowed to change/increase the rates of their services if they so wish.
You can watch this video to know more about how Takl works.
Takl Fees
Takl charges $2.99 per month from any providers who join its service, apart from an additional 30% that Takl takes from their earnings.
It also charges a 10% add-on from the customers who avail of the services of providers through the site.
How to Join Takl?
To join Takl, you must first have a smartphone as well as necessary skills for the service you choose to provide.
Potential providers have to pass a background check that they must pay for themselves before they can enter Takl.
After clearing the background check, they can join Takl.
Takl Features
Takl puts providers in touch with customers on an on-demand basis
Customers can avail of same-day services if they need to
Takl takes on providers as independent contractors which means that they are not responsible for any legal disputes that providers may get involved in while on the job
The site has been on an indefinite hiatus ever since the pandemic started
How to Make Money with Takl?
Providers can earn money by working for any customers that approach them through the site.
Providers are also allowed to increase their rates at their discretion.
This may be a prudential and beneficial practice considering Takl deducts 30% of the providers' earnings as its commission apart from charging a 10% add-on from the customers.
So, you must be careful while fixing your rates, they should not be too high as to drive away potential customers and not too low to be an underwhelming reward for the service you provide.
You can make money with Takl as with any other service-based side gig, where you offer your services and get paid a specific fee.
How Much Money Can You Earn with Takl
How much money you can earn with Takl depends on the type of jobs you can undertake and also on the degree of customer or seasonal demand.
For example, in the rainy season, the risks of flooding or overflowing of sewers or piping systems are high, so a plumber may expect a flurry of job requests.
You can also adjust your rates during the peak season to maximize your earnings.
Based on our research how much money you can earn with Takl depends mostly on seasonal jobs and how many job requests are posted in a particular geography.
Takl Reviews
Customer reviews for Takl have been by and large mixed.
Some customers have commended Takl for its courteous and efficient service as well as the good-natured and kind providers.
They have found the service to be timely-delivered, adequate, and overall, satisfactory. Users have found the site very easy and convenient to use and have been able to secure a provider for the needed job on an almost moment's notice.
On the other hand, others reported that there have been many instances of people being inappropriately matched to inadequate providers, leading to dissatisfaction on both sides.
All in all, while customer satisfaction might be something they are aiming for, they can 'guarantee' it by any means.
However, while making up your opinion about Takl, you must take into account both positive and negative feedback to get a full understanding of the marketplace.
The real picture can be grey and not black or white; this means that Takl is not that bad that you may call it a complete scam nor is it as good as the customer reviews on its website say it is.
You must undertake your research and reach out to the company for any doubts that you have before taking a final decision.
On Better Business Bureau, Charlotte gave a 5 star rating and gave a positive feedback.
You can read all Takl reviews on BBB here.
So Is Takl a Scam?
Defenitely not! Takl is not a scam but a legit side-gig that can help you earn few extra dollars on the side.
Takl Complaints
In cases of disagreements between the customer and the provider, we found several reviews where the support team has been ineffective.
Customers have tried to complain about the providers' poor job and given photo proof but the site has refused to refund their money and even charged them extra.
In other cases, the providers have either immediately canceled after being put in touch with the customer or have canceled at the last moment or not even replied at all.
According to customer feedback, Takl has not put in any considerable effects to make sure these kinds of problems do not arise again in the future.
Providers have complained about the expensive background checks and commission cuts.
Additionally, they have also criticized the difficulty in finding work and delay in receiving payment for the job done.
They recommend sites like Craigslist as better avenues to list services and find relevant work.
Some have also spoken against the 'customer is always right' policy as because of that they have been cheated out of their due payment from the customers.
This is one of the 1 star rated reviews of Takl on BBB: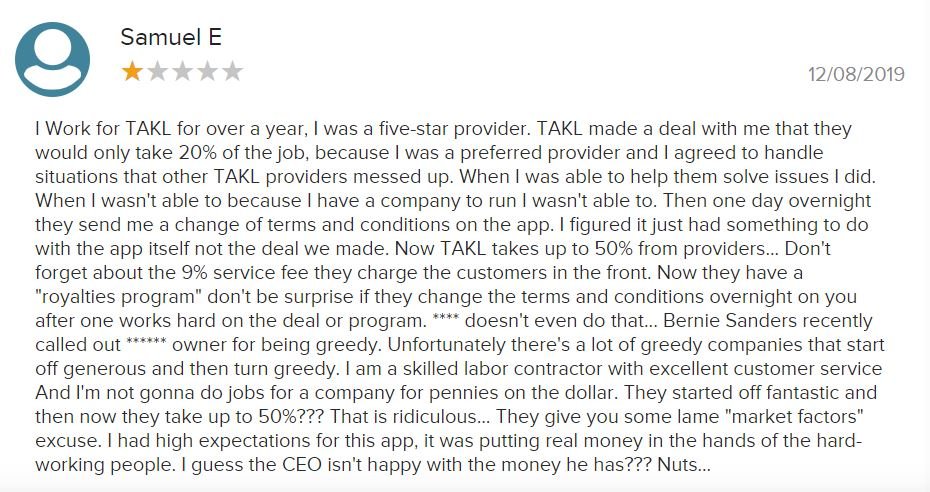 You can read all Takl reviews on BBB here.
Takl Pros & Cons
Takl Pros
Easy to use app and site
Reasonable rates
Quality service
Providers do not need to pay for any useless "leads" like in the case of some other sites
Providers are not charged a penalty for canceling a job like in the case of some other sites
Takl Cons
Inconsistent customer service
For providers, local or independent marketing is a better alternative as Takl acts as an expensive intermediary, especially for the providers
Negative feedback from both customers as well as providers
Non-existent service as of now due to this year's pandemic
Takl Alternatives
There are few websites like Takl which allows users to find help for household chores and small tasks. Some of the best Takl alternatives are:
Both these sites have good reviews and positive customer response.
Providers can advertise their services on all these sites to maximize their customer reach and customers can also look at all these sites to compare rates and performance.
Recommended Reads