Are you looking for thredUP Reviews? In this post, we are going to look at thredUP Reviews, Pros, Cons, Fees & How to Make Money Using thredUP in 2021.
If you are interested in the whole concept of making money online, you can check out some of my other posts including 10 Easy Ways to Earn Money Online without Investment, How to Earn Money from YouTube, how to earn money from Facebook and how to start a blog and make money.
I recently helped a client of mine generate $1000 in income from his YouTube channel that was not making any money and even you can do the same.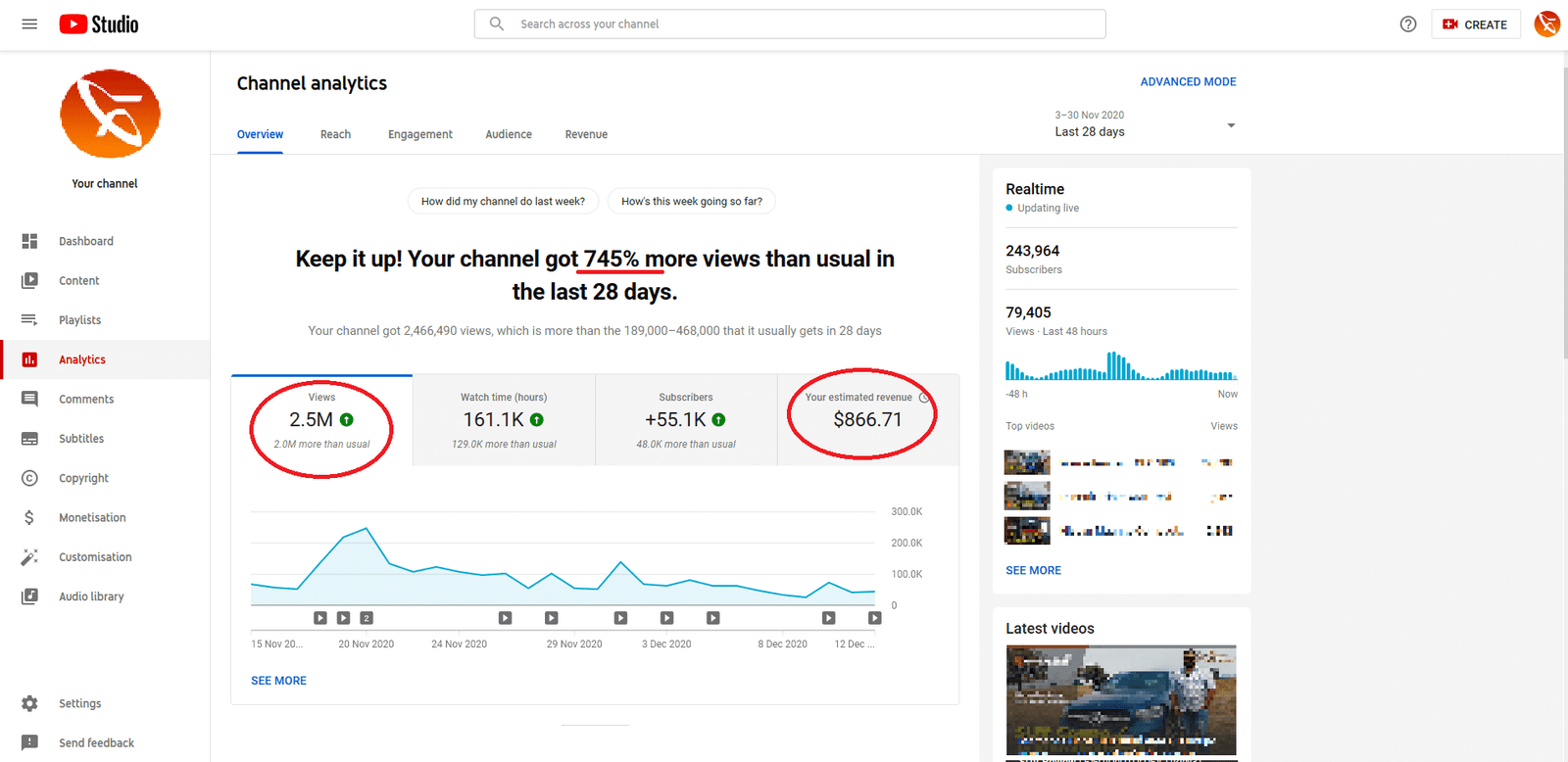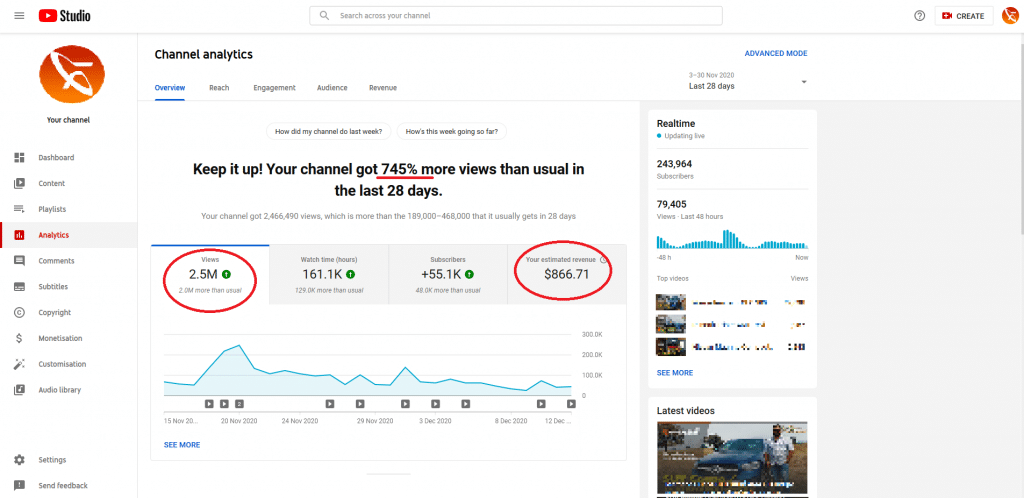 Earlier, I had co-founded a video company and raised $2 million in funding and then got fired from the company I started. I had done lot of testing and research on how to monetize YouTube and now I use the same skills to help other YouTubers.
You can read my full story here if you are interested.
thredUP Reviews, Pros, Cons, Fees & How to Make Money Using thredUP [2021]
What is thredUP?
thredUP is a one-stop thrift store, where you can consistently change up your style while ensuring less wastage.
thredUP delivers a contemporary shopping experience on one of the biggest online platforms used clothing and accessories for women and children.
They take the extra effort and any limitations out of thrift shopping, enabling an easy and comfortable platform to shop and sort out your wardrobes.
With over 35K brands available on the platform, you can avail of over 80% discounts off the estimated retail price. 
thredUP is a free apparel and accessories site for consumers to buy and sell used items on the internet. It is a part of one of the biggest collaborative consumption movements that encourages people to live in a more collaborative economic society.
It is a convenient and one of the biggest fashion shopping sites, with thousands of brands for women and children.
It has all the clothes and accessories for all months of the year. thredUP isn't just a regular second-hand thrift store but is a great platform to get anything for women of any size as well as children's clothes.
To increase the customer engagement rate, the thredUP site also offers several features like recommendations for must-have styles, amazing discounts, and sales, free shipping, 2 weeks free returns, and much more.
If you want to shop the good stuff without shelling out all your money, this platform is for you.
Official website of thredUP: https://www.thredup.com/
How thredUP Works
thredUP is reshaping and re-circulating the future of fashion.
They have created a smarter way to shop and sell all the while saving money, natural resources, and the planet.
They can process and recycle clothes at a super fast speed and scale, in order to support sustainable fashion, and a greener society.
The brand is doing a great job to educate people and raise awareness about the worldwide fashion wastage and encourage consumers to a thrift shop.
They've also created the first ever carbon calculator to aid people understand how the popular fashion lifestyle contributes to environmental damage.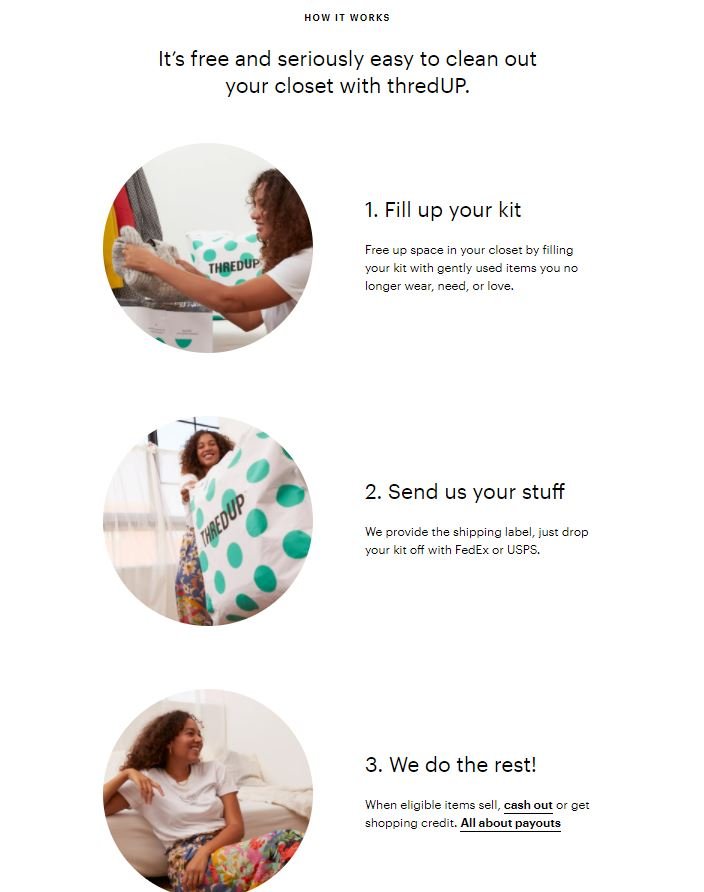 thredUP Features
On the thredUP online platform, consumers can sell their old clothes, shoes, handbags, accessories, and more that are in a good and re-usable condition and make money.
Interested consumers can buy second-hand clothes, shoes, handbags, accessories, and more that are in a good and re-usable condition, are from the elite brands, and pay a small percentage of the actual retail price.
They are benefiting not just themselves by getting new items at a lower cost but are doing their bit to save the planet and its natural resources.
thredUP's clients get to shop the looks of their most-liked celebrities and influencers, and the thrift industry gets a celebrity collaborated popularity boost.
thredUP Google & Apple Store Links
thredUP is available in Android and Apple Store and these are official links to download the thredUP apps.
thredUP Available Cities
SincethredUP is an online platform to buy and sell second-hand clothes, it functions and is available in all cities of the U.S
thredUP headquarters is in Oakland, California, USA. 
How to Join thredUP
You can join the thredUP online thrift store platform as a seller or as a buyer.
As a seller, you must obviously have goods of the mentioned categories to sell. You can create your profile, fill in the required details, list the items that you want to sell, and wait for other consumers to purchase your listed products.
There is no joining fess to start selling on thredUP.
To Join thredUP as a seller, please use this link
thredUP Requirements
The only requirement is that you either have clothes, shoes, handbags, and other accessories to sell or money to buy these goods from among the listed products. 
How to Make Money using thredUP
You can make money using the thredUP online platform by selling your old clothes, shoes, handbags, and more.
You don't have to pay a fee or commission to sell on thredUP.
When you list a product on the online thrift store platform, the company will pay you depending on the type and quality of the item. 
How much Can You Make with thredUP
The platform has complete discretion over how much you can earn on the items you sell.
Since they don't return the things unless you pay for them beforehand, you have little say if they decide your old clothes are worthy of much or are worth just a small fraction of what you could get at a different site.
How much money you can make with thredUP will depend on your wardrobe.
Pros of thredUP
One of the many pros of thredUP is that the platform is free.
You can make more space in your wardrobe by filling the kit with gently used items you don't wear, need, or love any longer.
Using the shipping label provided by thredUP, you can ship your kit with FedEx or USPS.
When eligible items sell out, you can cash out or get shopping credit as per the cost that the company decides to pay for your listed product. 
Cons of thredUP
You can't get your stuff back unless you pay a much higher price compared to what they were offering you in the first place. 
They also have very limited stock.
The sellers get a ridiculously low price per item. Even branded products in a top-notch condition are paid for just $1-3. 
It may take quite long to process so you have to be ready. They are picky about what they take and often categorize branded products as unbranded or local. 
thredUP Reviews
In this section, we will bring you one positive and one negative review of thredUP so that you get a general idea of how the platform is.
Overall thredUP has a 3 Star rating out of 5000 reviews so the platform has moderate recommendations on the web
thredUP Positive Review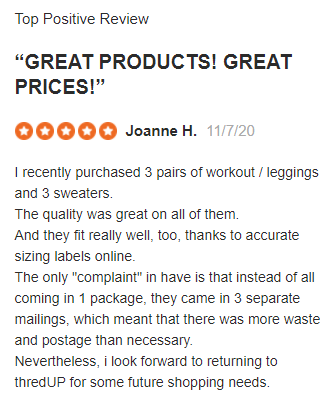 A positive review on Sitejabber by Joanne H., a buyer who was extremely happy with her purchase and the amount of money she paid for it. 
You can read more thredUP reviews here
thredUP Negative Review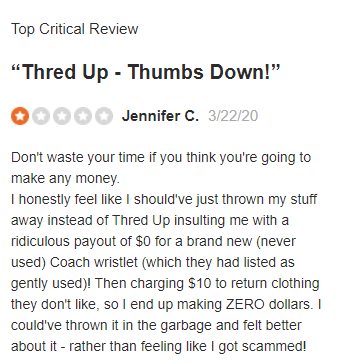 You can read more thredUP reviews here
A negative review on Sitejabber by Jennifer C, a seller who didn't make any money for her listed products and felt it was a waste of time and effort and didn't bring her any cash. She was charged a huge amount by the platform for returning her items. 
thredUP Customer Contact Information
The fastest way to get answers to your questions is to see the in-depth list of Frequently Asked Questions.
thredUP Address:
ThredUp Inc., 969 Broadway, Suite 200, Oakland, CA 94607
For Media and Partnership Inquiries, you can send an email to media@thredup.com
thredUP Phone Number: (888) 868-0186
Link: https://www.thredup.com/contact?tswc_redir=true
You can also check out the social media handles of the platform on Facebook, Instagram, Twitter, and Pinterest. 
thredUP Alternatives
The majority of the sellers haven't been happy with their selling experience on thredUP.
Some feel donating to charities or NGOs makes more sense and feels more satisfactory.
Some of the better alternatives to thredUP that sellers have given positive reviews for are: Tradesy, Everdrobe, Poshmark, and LetGo.
Frequently Asked Questions About thredUP
Is buying from ThredUp worth it?
Yes, if you are into buying lot of cloths.
Is ThredUp or poshmark better?
According to reviews online Poshmark is better
How much do you make on ThredUp?
You can expect around 5-80% of the aniticipated selling price
Does ThredUp clean the clothes?
thredUP cloths are not washed at thredUP facilities, so it cannot confirmed how the cloths are cleaned.
What sells best on thredUP?
Some of the best sold items on thredUP are Gucci satchel, Louis Vuitton shoulder bag, Michael Kors leather satchel, Madewell leather bag, Tory Burch backpack.
Recommended Reads