Are you looking for Wrapify Reviews? In this post we are going to look at Wrapify reviews, how to make money using Wrapify, pros, cons & Wrapify alternatives.
We are looking at Wrapify reviews to help you find some of the best platforms to earn some side income. We have also reviewed many other side-income generating platforms in our "Make Money" section. Do check it out.
Wrapify cannot be considered as a replacement to your full time income.
I recently helped a client of mine generate $1000 in income from his YouTube channel that was not making any money and even you can do the same.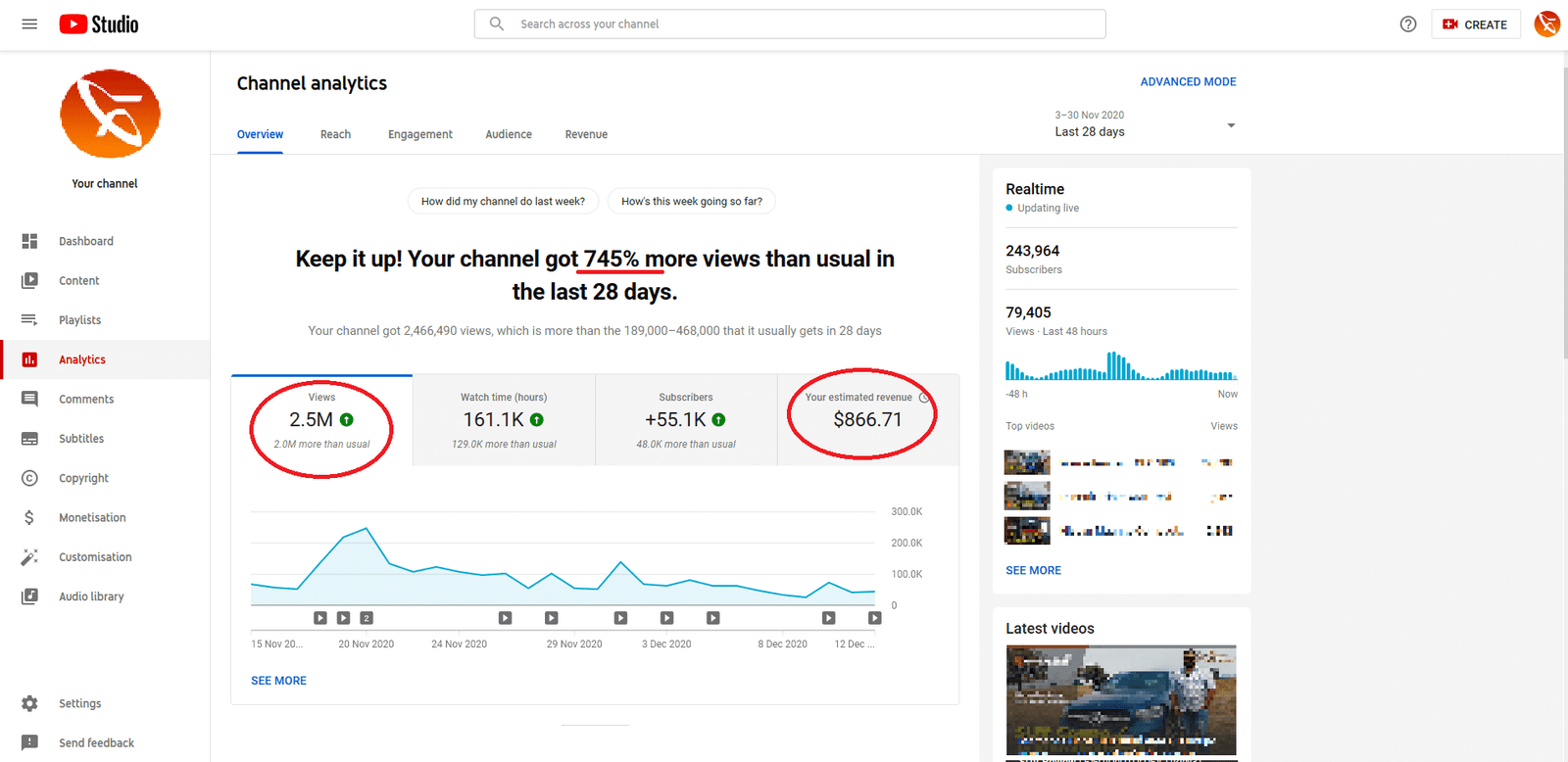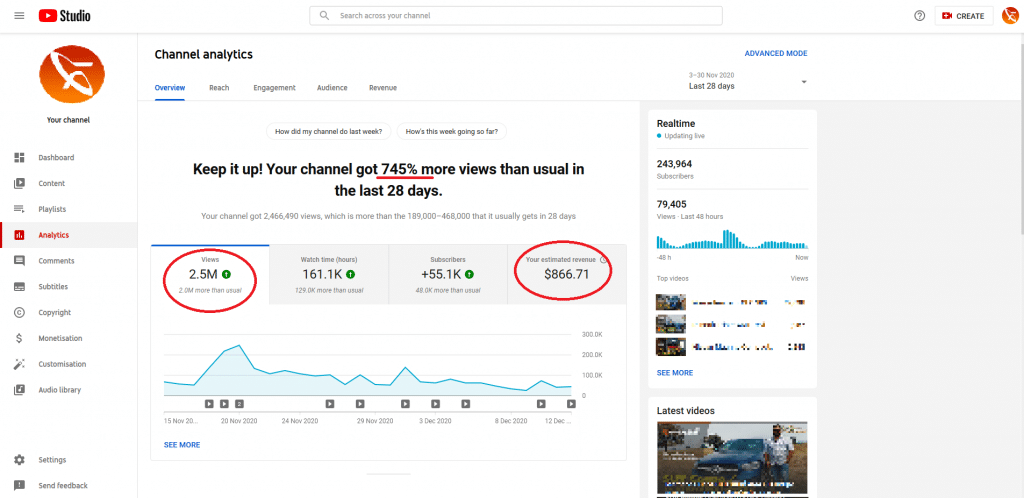 Earlier, I had co-founded a video company and raised $2 million in funding and then got fired from the company I started. I had done lot of testing and research on how to monetize YouTube and now I use the same skills to help other YouTubers.
You can read my full story here if you are interested.
If you are interested in the whole concept of making money online, you can check out some of my other posts including 10 Easy Ways to Earn Money Online without Investment, How to Earn Money from YouTube, how to earn money from Facebook and how to start a blog and make money.
What is Wrapify?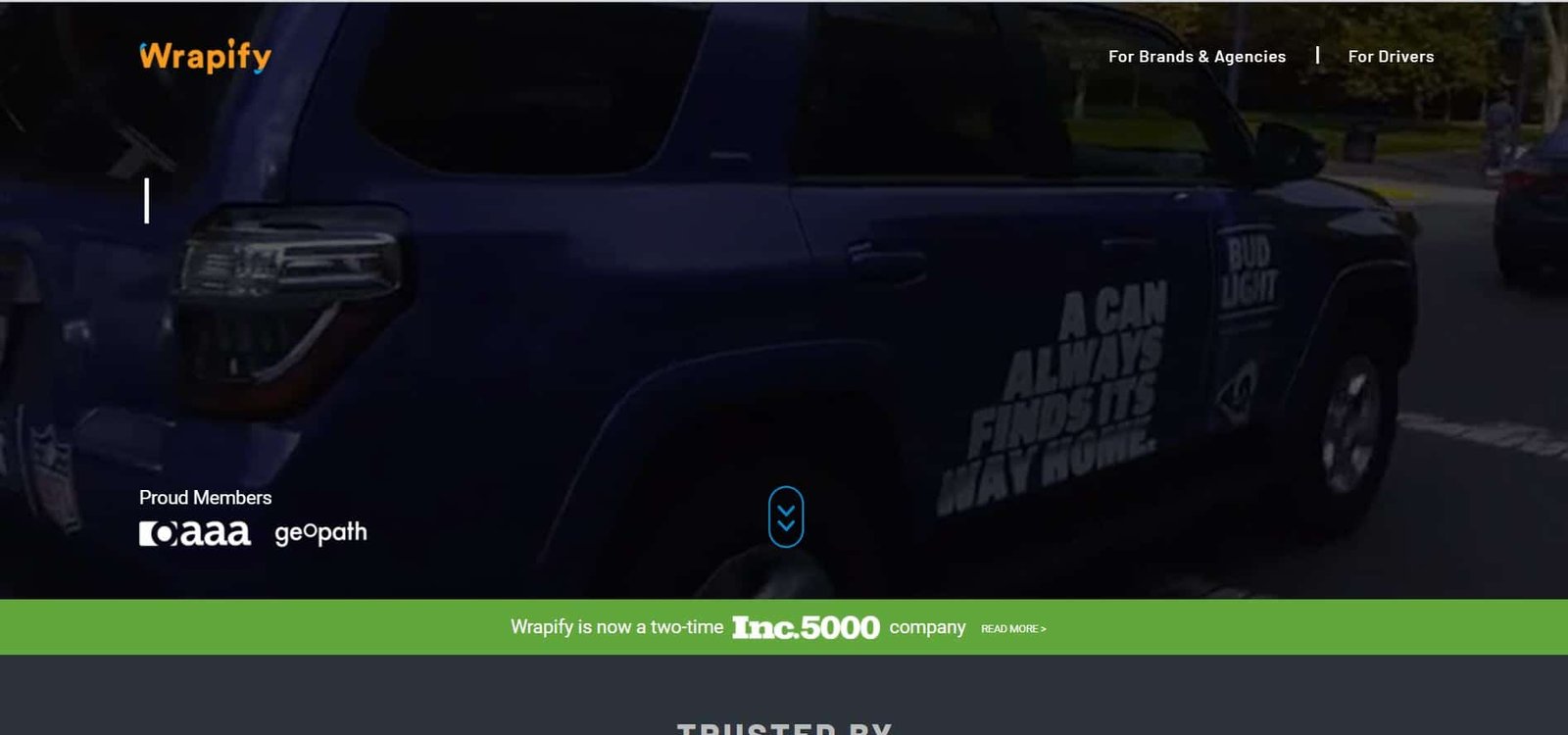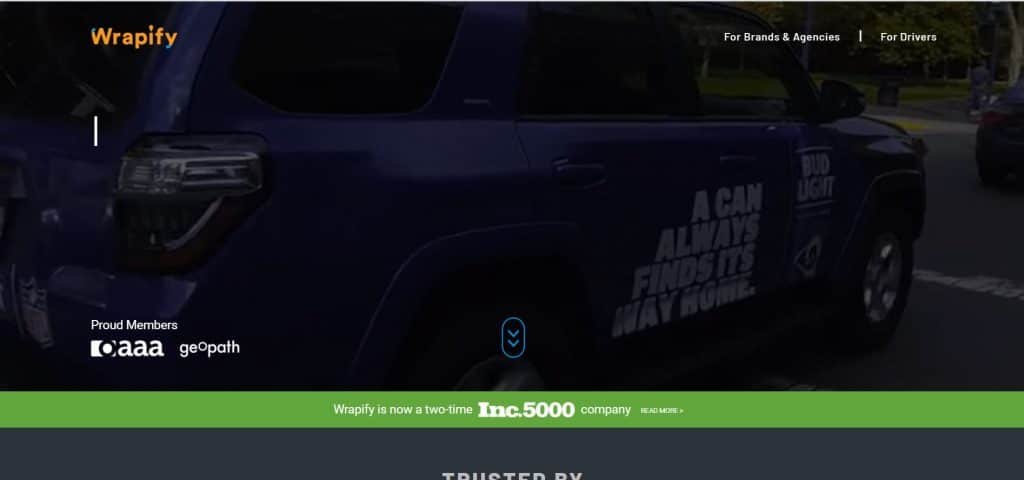 Wrapify is an app that allows drivers to display brand advertisements on their car wraps as a way of earning money.
All the drivers have to do is allow the display of ads and drive around while using the Wrapify app.
The earnings made by each driver can vary based on the advertiser/campaign and also the amount of time the driver spends driving.
Wrapify is based in San Francisco, USA.
Official website of Wrapify: https://wrapify.com/
How does Wrapify work?
Wrapify matches its drivers with ad campaigns by sending the driver offers by different advertisers.
As long as they meet the requirements set by the advertisers, drivers can sign up for the campaign in their targeted area.
A targeted area refers to the place/vicinity within which the brands want their ads to be flaunted. These targeted areas are also called campaign zones.
Each advertiser has different criteria for selection.
The idea is that both drivers and the advertisers benefit mutually: advertisers by having their brand publicised efficiently on a wide scale and drivers by gaining extra earnings by becoming part of the campaign.
How to Start Working on Wrapify?
You need to complete a few steps before you can become a registered driver with Wrapify.
To start working on Wrapify you first need to download the app on your iOS phone and sign up.
Once you download it, you need to activate controls in the app that detect your daily distance covered while driving on the road.
After crossing the fifty miles commute limit, you become eligible to start receiving offers for ad campaigns.
To Sign Up As Driver on Wrapify: https://wrapify.com/drive/
Requirements to work for Wrapify
To be a driver with Wrapify, you must fulfill the following requirements:
You must be over and above the age of 21.
You must own a car whose model is no older than the year 2008
Your car must be free of any kind of damage and rust
You must have a good tracking record both as a driver and as a law-abiding citizen
You must, needless to say, own a smartphone with which to download and operate the Wrapify app.
How to make money on Wrapify?
To make money on Wrapify, you must be signed up on the app and be matched in your targeted area with an ad campaign by a brand/company.
Once you become a member of an ad campaign and your vehicle starts bearing the company's advertisements, you start earning money.
You can read more on the amount of earnings you can make while working with Wrapify below.
How much money can you make on Wrapify?
How much money you can make while working for a campaign through Wrapify depends on:
The campaign you sign up for
Duration of the contract with the advertiser
The amount and frequency of time you spend driving on the road
The kind of advertising you display on your vehicle
The area in which you drive around
The vehicle you drive and the condition it is in
The amount of money you make can vary depending on your location, so if you are a driver operating in a populated, well-known metropolitan city, expect to be a part of many campaigns and be well-paid.
Likewise, if you live in an unknown locality, you may not earn as much.
How much money you earn as a driver with Wrapify also depends on the miles you spend driving around in your designated campaign zone.
The value of miles covered can vary depending on what time of day it is and how many people are there on the road:
For lite coverage, you earn $196-280 per month.
For partial coverage, you earn $196-280 per month.
For full coverage, you earn $264-452 per month.
Pros of working for Wrapify
No signing up or registration fees
No real effort required on your part except to be the owner of a well-functioning vehicle and have a clean past track record
An easy, convenient, and fun way to make money
The good-quality car wraps make your vehicle stand out and be more eye-catching for potential passengers
Cons of working for Wrapify
You need to cover several miles if you wish to be paid well
You may not earn as much if you do not drive in a crowded, metropolitan city hub
Some drivers do not receive a campaign offer even after being signed up on the app for over a year
Inconsistent or glitchy app service (for instance, sometimes the miles you cover while driving may not be recorded accurately)
The Wrapify app eats up your phone battery when you use it in the background
Wrapify Reviews
Here we are providing you with one positive and one negative review of Wrapify so that you get an idea of the full picture and can come up with an opinion of your own.
However, while reviews can be helpful, they can also be quite subjective and dependent on the user's experience.
Therefore, you must undertake your research and reach out to Wrapify for any doubts that you have before taking a final decision about whether to join Wrapify.
Positive review:
One driver employed with Wrapify reported that Wrapify is a great way for drivers to earn some extra cash on the side.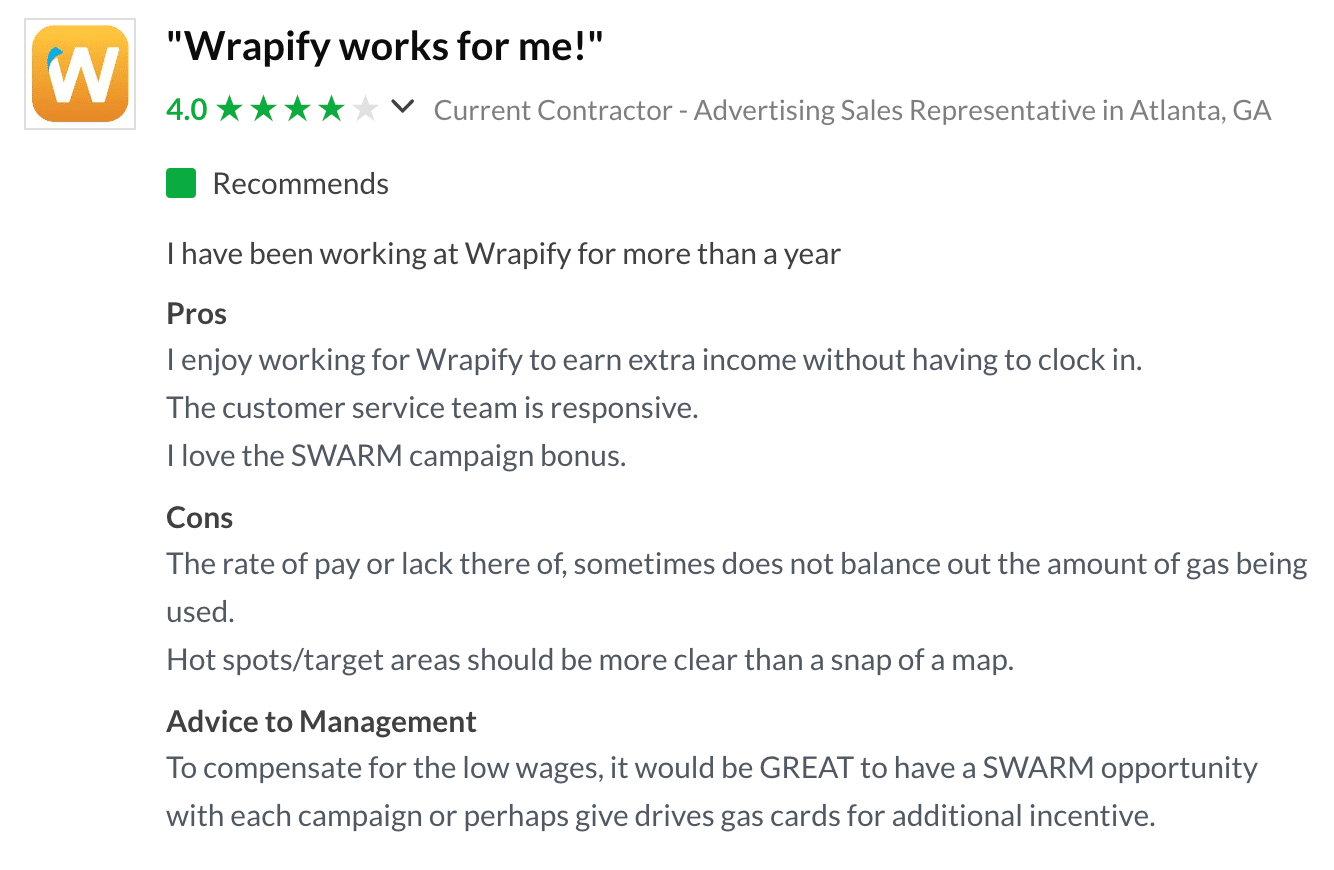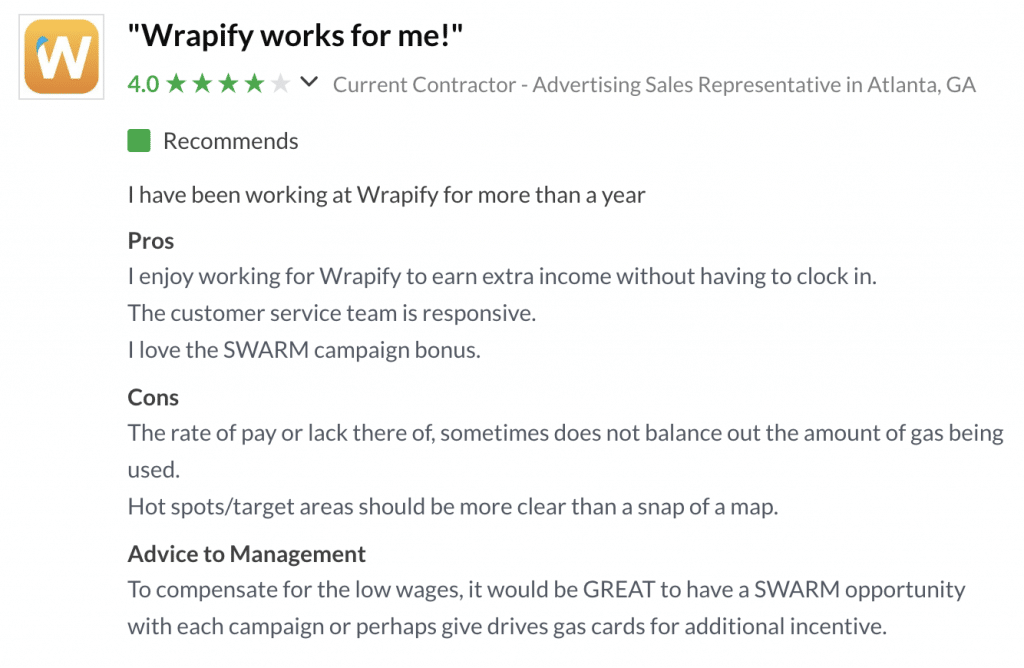 They praised the Wrapify support team, the SWARM bonus provided and said they would recommend the site to a friend.
They gave the app 4 stars out of 5.
You can read more positive Wrapify Reviews here.
Negative review:
Another user had a more critical review to offer.

They found the app glitchy and the way they record miles driven to be inaccurate.
They also criticised the amount of personal information Wrapify asks of its drivers.
You can read this user's & other negative Wrapify reviews here.
Wrapify Customer Support
If you need to get in touch with Wrapify customer support, you need to fill this form.
Wrapify does not seem to have a phone number or email address listed on their website.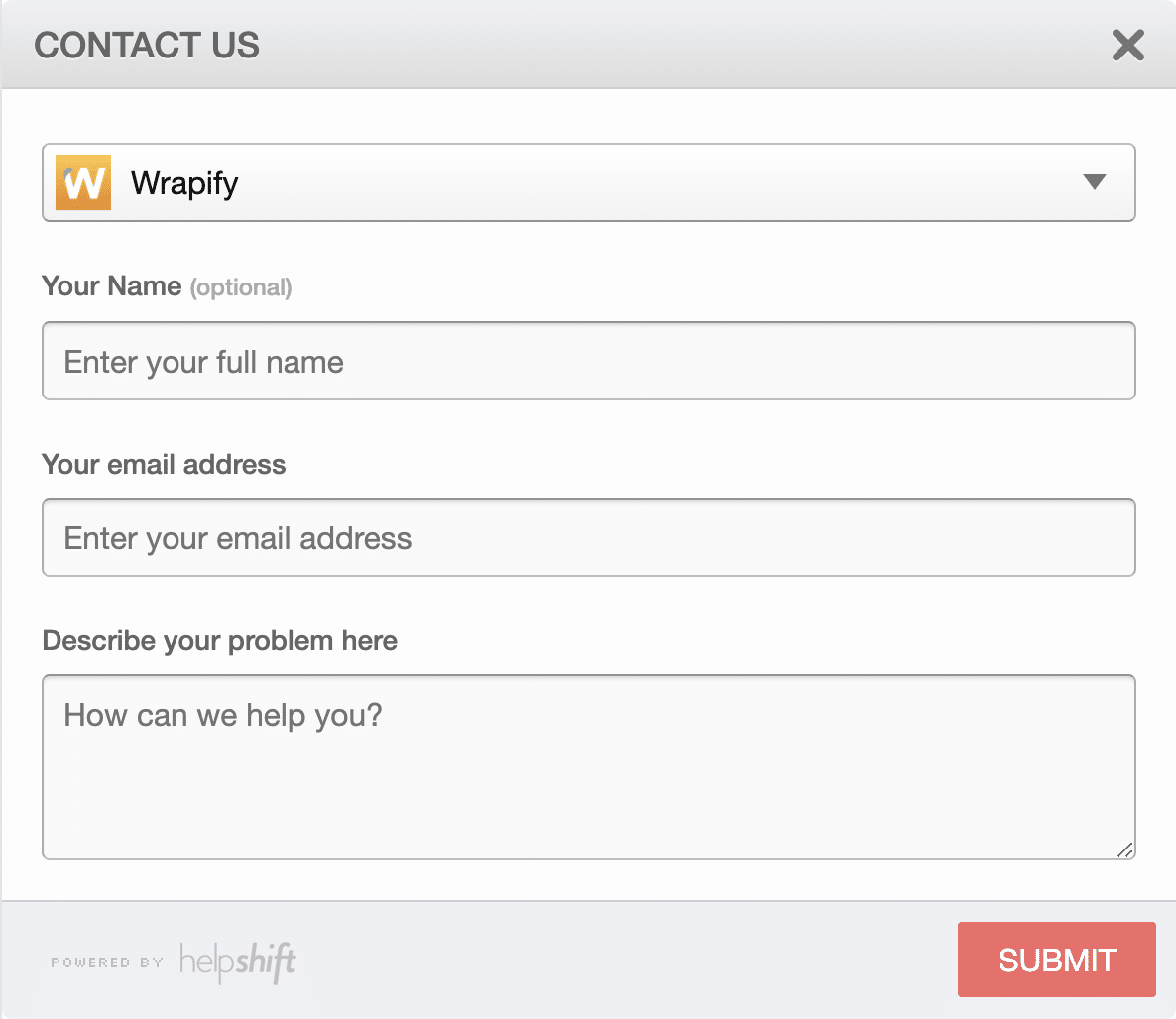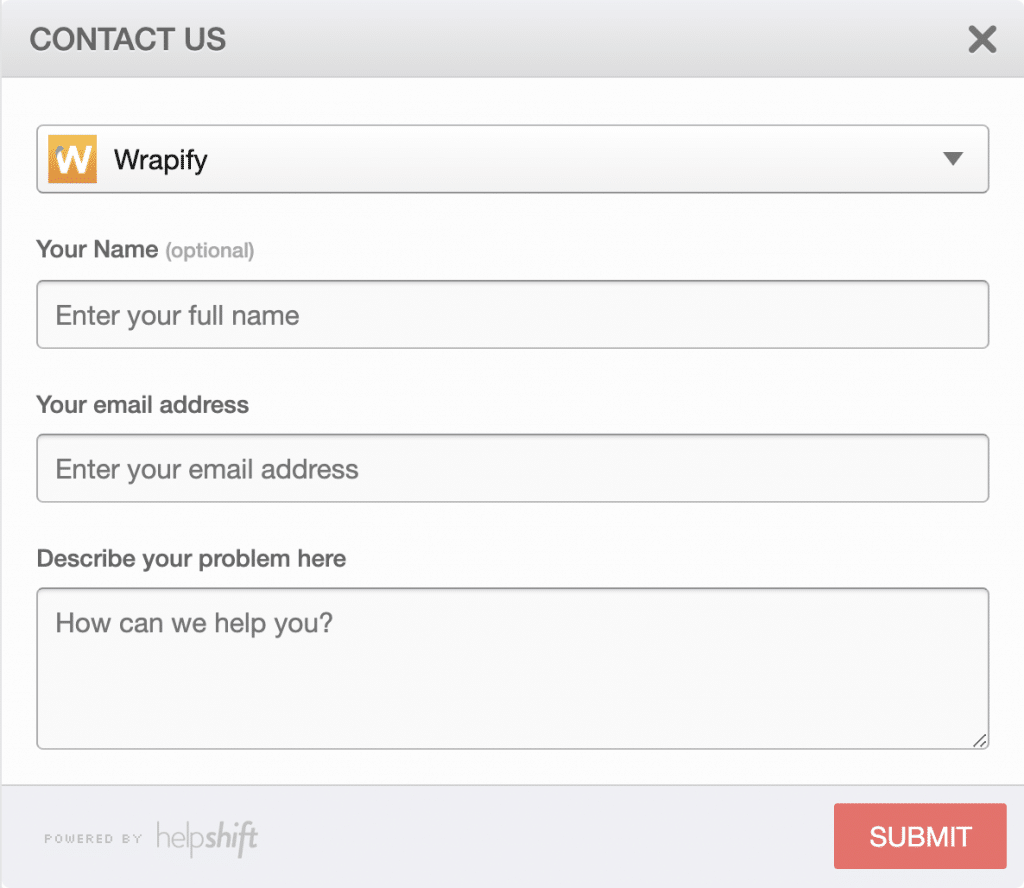 https://wrapify.com/drive/#help
Wrapify Alternatives
If you are looking for Wrapify alternatives, then Carvertise can be considered.
You can check both Wrapify & Carvertise, compare pay rates, and see for yourself which alternative suits you best. You can, of course, sign up for both.
Recommended Reads