Are you looking for the best Whiteboard Animation Software? Here are 15 Best Whiteboard Animation Software with Pricing, Features & Review in 2021.
Whiteboard animation software is great to develop explainer videos that can used for communicating with customers or even use to create videos that can be monetized on YouTube.
I recently helped a client of mine generate $1000 in income from his YouTube channel that was not making any money and even you can do the same.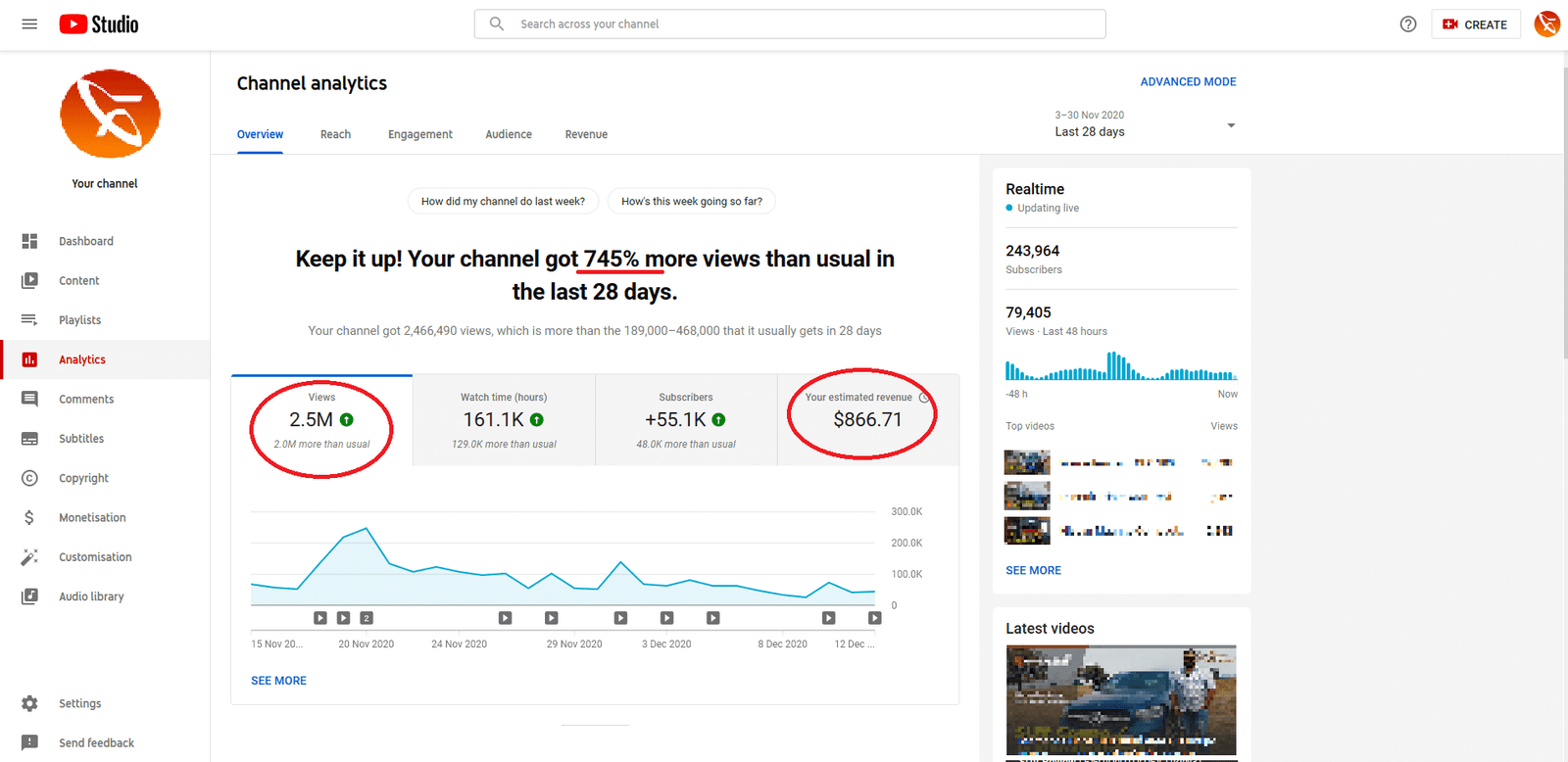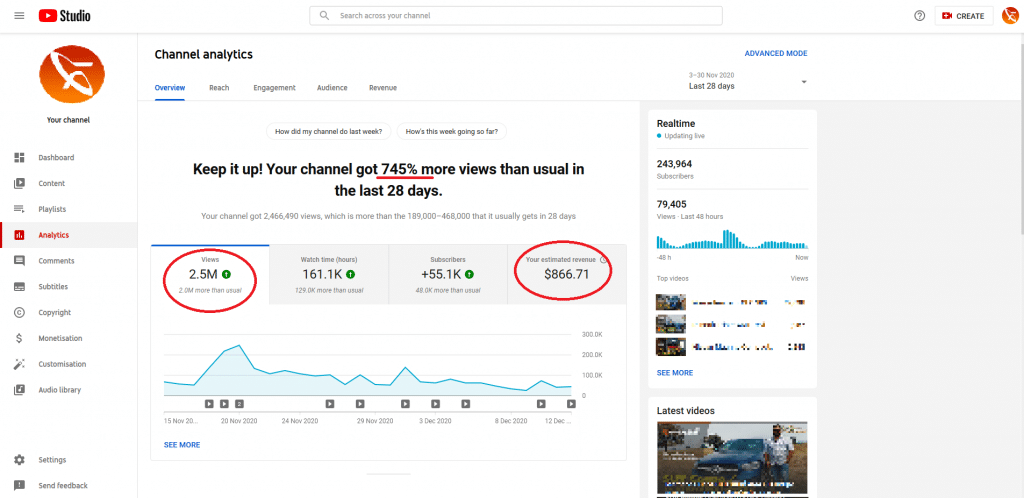 Earlier, I had co-founded a video company and raised $2 million in funding and then got fired from the company I started. I had done lot of testing and research on how to monetize YouTube and now I use the same skills to help other YouTubers.
I'm also planning to start my own YouTube channel and that's why I researched about Best Whiteboard Animation Software and I am sharing the research I had done with you.
If you are interested in the whole concept of making money online, you can check out some of my other posts including 10 Easy Ways to Earn Money Online without Investment, How to Earn Money from YouTube, how to earn money from Facebook and how to start a blog and make money.
You can read my full story here if you are interested.
15 Best Whiteboard Animation Software with Pricing, Features & Review [2021]
VideoScribe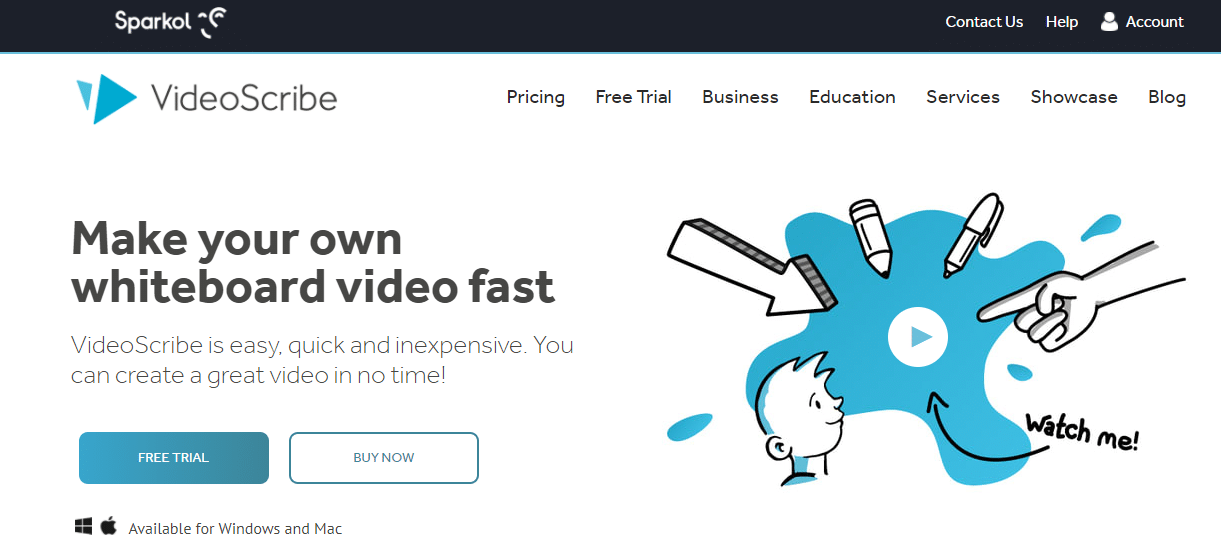 Main Features:
The features include the voiceover tool, the vast library and the pre-built templates.
Using VideoScribe you can add voiceover, music or text to the background of the video.
VideoScribe provides already-built templates that range among various niches, such as trade, education, tutorials, and animated entertainment. Templates are useful if you just want to churn out a quick video.
You can choose and feature animation and stickers from those available . You can even import files as per your preferences.
Description: This video creation software is straightforward, quick, and cheap. Users just need to select photos, choose the font, and put in the voice or music. The videos can easily be downloaded in different formats, such as MP4, AVI and more. There's also the choice to broadcast the video straightaway on platforms like Vimeo, Sho.Co. and of course YouTube.
Pros of VideoScribe Whiteboard Animation Software
★ The videos can be exported as a picture sequence.
★ Interested users can avail a one week trial run without providing card details.
★ This video maker has both Mac and Windows versions.
★ Users can add a lot of pages on the storyboard.
★ The support staff is pretty helpful
★ Pre-built templates can help you make quicker videos.
Cons of VideoScribe Whiteboard Animation Software
★ Newbies and beginners can find the tool to be little complex.
Review: This is a very popular Whiteboard animation software due to sheer number of features available.
Pricing: This platform provides 3 cost packages for individual users.
The monthly plan is for $17.50 per month.
The quarterly plan is for $35 per month.
The yearly plan is for $8 per month.
A team of over 10 users also can choose a team license and pay $150 per user.
Link: https://www.videoscribe.co/en
Explaindio
Main Features:
Integration to Pixabay gives you a free pass to hundreds of free stock photos. You can edit the pictures and blend them in the video.
It provides six cartoon characters that allow users to create stories in an easy manner.
Make changes to the videos quicker with multiple tools for editing the timeline.
Description: This software provides a drag-and-drop video creating service that allows users to make whiteboard animation videos in an easy manner in no time at all. You can even make complete movement videos, tutorial videos, doodles, and so much more. It has both Mac and Windows software and hence users can generate videos while being offline.
Pros of Explaindio Whiteboard Animation Software
★ It provides in-built changes and frame-wise animations.
★ More than 150 in-built videos, more than 900 doodle animations, and pictures .
★ 3D animation and great customization tools can assist users to generate much attractive videos.
★ Play multiple animations
★ Create HD quality videos with over a 100 high quality background videos.
Cons of Explaindio Whiteboard Animation Software
★Some users feel it's slightly on the costlier side.
Review: It's an appropriate animation software that allows rendering of both 2D and 3D videos alongside rough sketches.
Pricing: The software offers 3 monetary packages depending on the time period of the payment:
The 30 day plan: $37 per month
Annual plan: $67 per annum
Single use pricing: $497
There is even a 2 week money-back promise.
Link: http://explaindio.com/v4-fe/
Vyond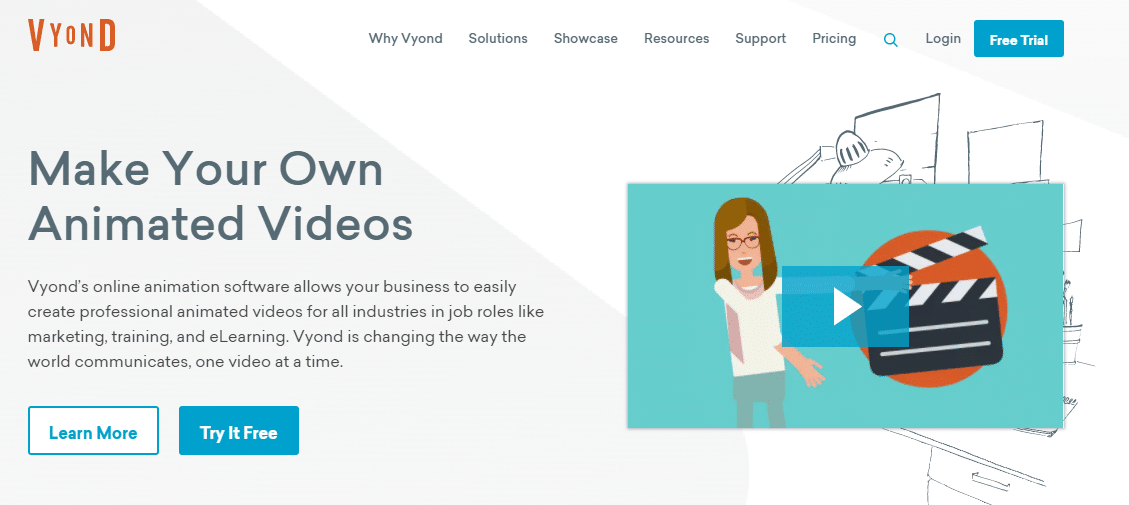 Main Features:
The automatic character lip-movement feature changes basic characters into real people and garners greater attention
Users can simply upload and edit the videos with a replacement text or promotions without higher costs for top quality production levels.
It allows you to look for the foremost suitable templates supported job role, style, and category. You can just enter a word within the search bar, and it will showcase the matching lists for a template.
Description: Vyond makes high-quality whiteboard animated videos for industry fields like advertising, training, education and human resources. It enables users to master better communication via strong storytelling, and special content customization. Vyond also provides highly-secure standards with features like ISO/IEC 27001 Certification, GDPR compliance, and more.
Pros of Vyond Whiteboard Animation Software
★ Users can very simply edit characters and objects as per their wish.
★ Vyond offers a 2 weeks free trial.
★ Vyond aids to generate highly compatible videos for your social media marketing campaigns.
★ Vyond has few custom logos to choose from.
★ There are several case studies, learning materials and more that aid in making spectacular videos.
Cons of Vyond Whiteboard Animation Software
★Vyond might not be the best option for making all kinds of animation videos.
Review: Vyonde is the perfect software not only for enterprises but also for individual and academic purposes. The various pricing plans make it a viable option for all.
Pricing: Vyonde has 4 different packages. Users can avail a reduction of up to 50% with annual packages.
Essential plan: $299 per annum
Premium plan: $649 per annum
Professional plan: $999 per annum
Enterprise plan: Custom pricing
Link: https://www.vyond.com/
Easy Sketch Pro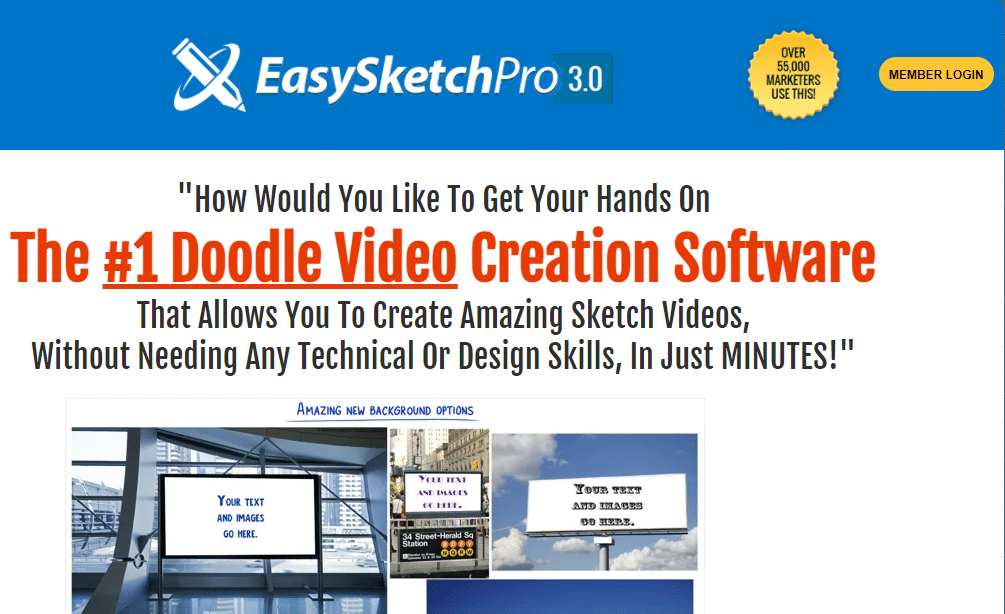 Main Features:
If you don't want to begin from scratch, it provides elite canvases to make live doodles.
It provides over a dozen painting tools like brushes, crayons, and more to satisfy the precise objectives of your advertisements.
It offers many royalty-free images to realize the specified customization and artistic finesse.
Description: This software is a doodle making tool that permits users to great sketch videos in a short while. Users need to upload any video, and the tool will make a drawing of the initial act by itself. It makes the change from drawings to the video convenient.
Pros of Easy Sketch Pro Whiteboard Animation Software
★ Users can very conveniently export the video in different formats.
★ Users can download and use Easy Sketch Pro on different devices.
★ Easy Sketch Pro is a cost-effective choice.
★ Easily add your preferred sign, photographs and music.
★ Easy Sketch Pro works on Mac and Windows systems both.
Cons of Easy Sketch Pro Whiteboard Animation Software
★Easy Sketch Pro trial version is not that great if you want to try the capabilities of the software.
Review: You can conveniently feature your own music, images and videos for many parts of the video creation.
Pricing: The software provides 3 payment options
Starter: $37 – single payment
Business: $67 – single payment
Business Pro: $97 – single payment
Link: https://easysketchpro.com/
AdobeAnimateCC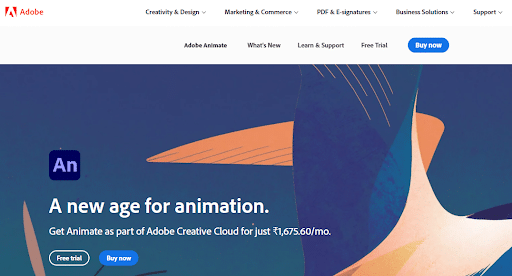 Main Features:
You can create animation with pre-built assets from a beginner-friendly set. This is able to aid in developing videos much quicker.
You can conveniently edit and create animated characters using a simple tool.
You can put in keyframes instantly.
Description: With this software, you'll simply bring to life the banners and characters. It even allows you to share the video on different platforms, such as HTML5 Canvas, Flash/Adobe AIR, WebGL, and more like SVG.
Pros of AdobeAnimateCC Whiteboard Animation Software
★ Conveniently share your animations on social media.
★ Make a simple tutorial in a few basic steps.
★ Make animation, edit its moves, and post in different formats.
★ Take pictures from Adobe Stock.
★ Edit videos for different qualities and scapes.
Cons of AdobeAnimateCC Whiteboard Animation Software
★There is no option to import music, images or videos directly from AdobeAnimateCC
Review: This animation software is just too good to be true with its comparatively low costs.
Pricing: This software offers 2 cost packages depending on the times for the payment to be made:
Annual Subscription: $19.99 per month
Monthly Subscription: $29.99 per month
Link: https://www.adobe.com/in/products/animate.html
PowToon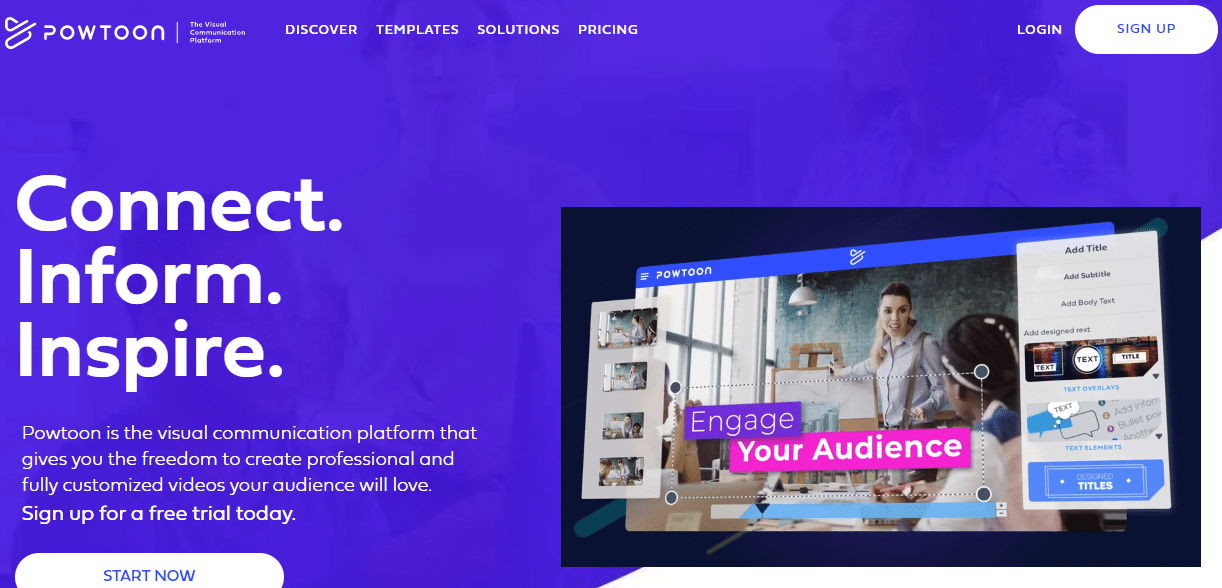 Main Features:
It provides an outsized pool of study aids, such as eBooks, infographics, seminars, podcasts, and blog posts.
It leverages stored media files while maintaining branding and artistic regulations for straightforward partnerships.
PowToon enables users to post, tag, attach, and manage the creatives along with the CMS.
Description: PowToon is a platform that enables users to make elite whiteboard animation videos easily. It provides an outsized video gallery for several niches, such as advertising, training, sales, human resources and online learning. 
Pros of PowToon Whiteboard Animation Software
★ Excellent customer support.
★ It provides a cloud storage of 100 GB for each individual.
★ Remove any information, video, or file for good.
★ You can access third-party resell authority.
★ Share mobile and social-media-optimized videos on to different social networking sites.
★ Conveniently refurbish videos and templates to make new stuff quicker.
Cons of PowToon Whiteboard Animation Software
★If you delete a video by mistake, you will have to redo the whole video again.
Review: For the worth , this software offers good features and supports plenty of stock videos to quickly create a fantastic video.
Pricing: The platform provides 3 cost plans:
Pro: $19 every month
Pro Plus: $39 every month
Agency: $99 every month
With the Pro plan of PowToon, number of videos that you can export is limited to only 5 in a month.
Link: https://www.powtoon.com/
FilmoraPro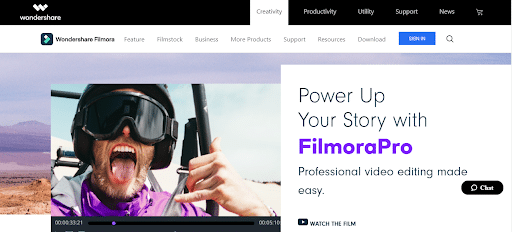 Main Features:
You can achieve the best color settings for any photograph or video file.
It lets you confirm changes and provides greater allure to your videos.
Users can hide sections from the video footage via customizable presets.
Description: FilmoraPro is one among the simplest video editors to make whiteboard animation videos. It provides a user-friendly interface and high-end features like shading corrector and audio mixer. It provides keyframes for smooth animation.
Pros of FilmoraPro Whiteboard Animation Software
★ Conveniently edit customizable text.
★ Use 'Distort' and 'Warp' tools to edit the videos in different manners.
★ Easily adjust Shadows, shading, and warm tones to reinforce the standard of pictures and video.
★ The automatic stabilization tools make highend videos.
★ The in-built screen recorder aids in creating videos direct from the device.
Cons of FilmoraPro Whiteboard Animation Software
★FilmoraPro has just one pricing plan.
Review: It's one among the superior animation software and features a plethora of helpful tools.
Pricing: It costs $89.99 per annum. You'll also get a lifetime license for $149.99.
Link: https://filmora.wondershare.com/filmorapro-video-editor/index-c.html
TruScribe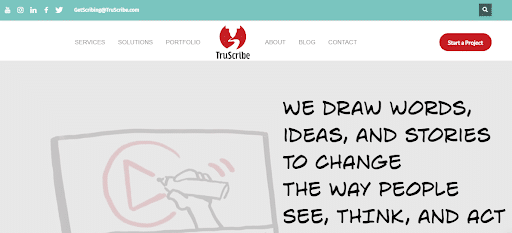 Main Features:
In addition to the voice recording option, a transparent and articulate latest system voice introduced by IBM's Watson technology is accessible.
Users can return and edit previous images and videos.
JPEG media files can be made use of to add signs, pictures, media screens to every video.
A background image is often inserted into videos or to showcase one image.
Description: TruScribe features in a number of the well-known media outlets that provide effective video strategy. It's the sole software that makes use of neuroscience and provides whiteboard art that you haven't seen previously. 
Pros of TruScribe Whiteboard Animation Software
★ It makes use of the scribology technique with hand made custom videos that bring more allure, increases attention, and boosts retention.
★ It has tools like modern designing, contemporary machine voice, and more.
Cons of TruScribe Whiteboard Animation Software
★Mac and Windows desktop platforms aren't available. It only runs on Android.
Review: It's a forerunner when it comes to animation softwares.
Pricing: Whiteboard animation videos can be worth somewhere around a couple of thousand dollars to much more. The simplest way to get an estimate of the cost for the new project is to understand the scale of the project and to speak to experts from the team.
Link: https://truscribe.com/
Doodly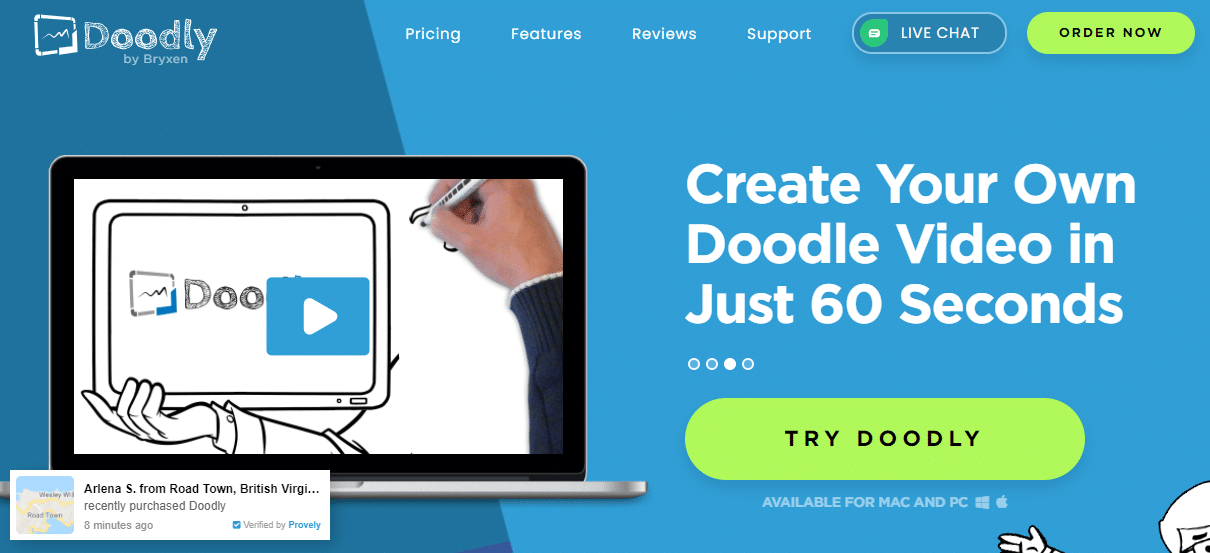 Main Features:
It offers a huge collection of custom drawn doodle images. It also offers multiple background scenes and hundreds of characters.
Doodly works well on Mac and Windows both. You can download it on multiple devices.
Using Doodly you can export videos 480p, 1080p or custom resolutions as per your requirements.
Description: Doodly is a doodle video generator that makes whiteboard videos in just a moment. It creates videos for online marketing, advertising and several other occasions. All you have to do is simply drag a picture of your option to the canvas, and Doodly will instantly convert it into a doodle.
Pros of Doodly Whiteboard Animation Software
★ You can edit the size of the file or the video resolution if required.
★ It gives free software updates for a long time.
★ There is a 30 day money back guarentee
★ It provides free audio tracks that users can include in the file via the drag-and-drop function.
★ All 200 characters accompany 20 multiple poses.
Cons of Doodly Whiteboard Animation Software
★The prices are billed annually in one-go and there's no option of monthly payments.
Review: Doodly is suitable for YouTube marketers, teaching and training, Facebook advertising, and Sales videos (VSLs). It's also cost-effective.
Pricing:
Standard: $20 monthly, if you are paying annually
Enterprise: $40 emonthly, if you are paying annually
You can save 49% with the yearly package.
Link: https://www.doodly.com/
Moovly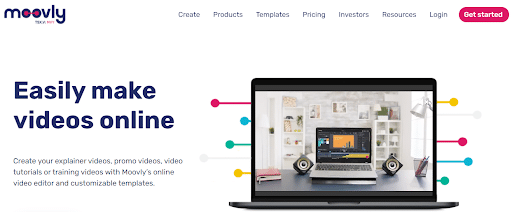 Main Features:
Moovly Studio is a powerful, cloud-based video editor that works within your browser. There's no requirement for any software installation, and you don't need to update the app.
Users can make use of the in-built media files or take pictures, screenshot, illustration, music, voice recording from the laptop, mobile phone or other electronics.
Description: Moovly is a web tool for whiteboard animation using which you can make high quality videos and presentations.
Moovly can be used to make tutorial videos, ads or short videos for presentations.
Pros of Moovly Whiteboard Animation Software
★ You can choose a template option from the library, and create a file selecting from the available files of animate objects, audios, and video.
★ With the easy to use drag and drop GUI, and the option to edit with the system browser, Moovly is definitely worth a try.
Cons of Moovly Whiteboard Animation Software
★Counting on the character of the ultimate video, the values are often an excessive amount of but there's no way of knowing the precise price before the ultimate video.
Review: Each of the pricing plans offer truckloads of helpful tools and facilities so whichever plan you opt to travel with, it's totally worthwhile.
Pricing: There are 4 cost plans.
Free trial with the essential features.
Pro plan for budding creators at $ 24.92 per month, and $299 billed yearly.
Max plan for max creative freedom, $ 49.92 per month, $599 billed yearly.
Enterprise plan for teams and collaboration at custom pricing.
Link: https://www.moovly.com/
RawShorts
Main Features:
Easy content making procedure on web-based designs.
Upload video clips, trim and position.
Add files, subtitles and switches to videos with a haul and drop interface.
Conveniently download, export and post final videos on social networking sites.
Description: Rawshorts is an awesome tool to help create tutorial videos. You can pick between the professionally made animated files from several categories to make a video for your company.
Pros of RawShorts Whiteboard Animation Software
★ You can add in customizable text, images, effects, music, and transitions to make an original file.
★ You can share your files on social networking sites.
Cons of RawShorts Whiteboard Animation Software
★Rawshorts only works for specific industries: Financial, Food & Beverage, Retail Brands, Hospitality and Travel.
Review: The tools concerning each of the industries are plenty and make the video creating process easy and quick.
Pricing: Raw Shorts provides 3 options to settle on starting with Free and going up to $59 per month. Pricing and plans are supported by the amount of video exports, logo and signs, video resolution, and other partnership tools.
Link: https://www.rawshorts.com/
Animaker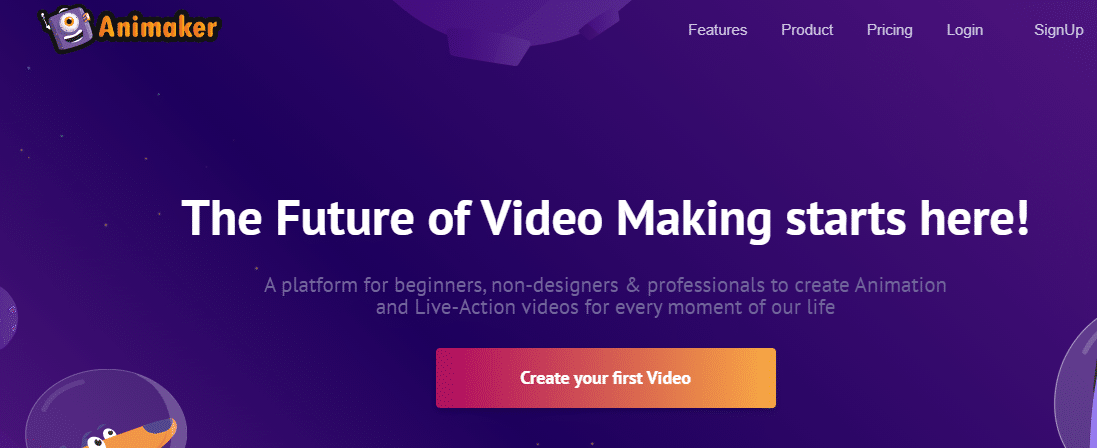 Main Features:
You can edit and upload videos in 4K video quality.
You can rescale the video for various social networking sites.
You can make GIFs and short videos with customizable subtitles, background, font styles, and colours.
Description: Animaker lets people make perfect whiteboard animation videos with just a couple of clicks. You can make Live Action videos in a short while. The straightforward drag and drop video creation software allows users to create strong characters to tell a story. And you've got the choice to settle on from over a billion characters.
Pros of Animaker Whiteboard Animation Software
★ You can create attractive characters with over 15 countenance, 25 facial expressions, and a dozen slots for accessories.
★ Easily add voice-overs and see the characters with your voice with auto lip-syncing feature.
Cons of Animaker Whiteboard Animation Software
★The unpaid plan only allows you to download files with branding. Hence, paid packages are more efficient for work use.
Review: This software is apt for non-designers, new users, and experienced individuals belonging to varied industries and is inexpensive.
Pricing: Animaker offers 3 plans, that also has 1 unpaid plan.
Free Plan: $0
Starter (ideal for individuals & small businesses) : $19 per month billed yearly
Pro (for startups and established enterprises): $39 per month billed yearly
Link: https://www.animaker.com/
Camtasia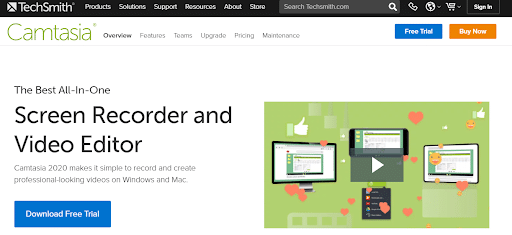 Main Features:
You can easily add camera effects to the files, including concentrate and pan animation.
You can create engaging videos by making quizzes to let the learners be more attentive to the tutorials.
You can rearrange text, effects, and animations to customize the file.
Description: All you've got to do is pick a template or record the system screen, add a couple of effects, and you're done. It's best suited for individuals who wish to create tutorials and tip and tricks files.
Pros of Camtasia Whiteboard Animation Software
★ You can download an MP4 file or straightaway share the video on different platforms.
★ You can add swift changes in between different scenes.
★ You can add a voiceover.
★ You can access around 600k pictures, and videos having TechSmith subscription.
Cons of Camtasia Whiteboard Animation Software
★Camtasia doesn't offer different price plans and is slightly on the expensive side.
Review: Camtasia offers pre-made templates making it easy to whip out videos with a few simple steps.
Pricing: Camtasia costs $249 for individual-user license. Every update to the newest version costs $99.50. It also offers a free trial for a month.
Link: https://www.techsmith.com/video-editor.html
Renderforest

Main Features:
The free plan generates files of up to one-minute length and offers all the essential services.
Users can make a how-to animation in only 3 easy steps. Add a scene and leave the rest to Renderforest.
Renderforest provides many templates to make a video symbol for the company. Pick a template, add the name and the tagline. Voila! A fresh logo is prepared. Moreover, you can even customize your logo.
Description: Renderforest allows users to tell a story with in-built whiteboard animation videos for several situations. It's a free whiteboard animation tool and has a free version. It provides an enormous choice between animated objects and toolkits to make videos for different niches. 
Pros of Renderforest Whiteboard Animation Software
★ Over a hundred animated scenes to assist you make videos with top level animation.
★ Renderforest offers an in-depth stock gallery of economic videos that you simply can edit and blend in your videos.
★ Renderforest supports customers through emails and calls.
★ Renderforest offers customized real-life animation.
Cons of Renderforest Whiteboard Animation Software
★Using Renderforest, you can only create short videos of upto 3 minutes. In case you wish to create a longer video, you've got to use a special software.
Review: With a good range of texts, logos, color palettes, music and pictures, creating an animated video has never been this easy.
Pricing: Renderforest has four plans, all of which affordable.
Amateur plan: $59 every month
Pro plan: $89 every month
Business plan: $119 every month
Enterprise plan: $299 every 30 days
Using the freemium plan, you can create 3 minute videos for free
Link: https://www.renderforest.com/
MySimpleShow
Main Features:
If you don't have a voiceover to feature, this software has got your back. Its text-to-speech feature makes a voiceover within a short while supporting the text.
Review the file after every edit, you'll always return to changing if the final file doesn't charm you.
The software provides hundreds of illustrations without any charge. Still, in case you can't find what you would like, import files and add them to the videos.
Description: MySimpleShow is an incredible whiteboard animation software to make fast and straightforward videos. It can make an elite file with an easy process. 
Pros of MySimpleShow Whiteboard Animation Software
★ Begin straightaway with its built-in templates for private, work, and academic needs.
★ It provides examples and suggestions to make a pleasant script.
★ Conveniently add branding or subtitles for better customization.
★ It provides a selected pool of pictures, audio, and images to make attractive animation videos.
★ Using the trial, you can create videos for free.
Cons: 
Cons of MySimpleShow Whiteboard Animation Software
★The available video templates, images and music are few in options. You would possibly need to find it from a different site or add your own.
Review: it's quite basic as compared to other softwares but an honest fit for newbies.
Pricing: MySimpleShow offers 3 cost options:
Business: $129 every month
Pro: $499 every month
Enterprise: Custom-based costing
It also has a free version which has basic tools.
Link: https://www.mysimpleshow.com/
Recommended Reads