Last Updated on 7 months by Anoob P
In this post, we are going to look at 66 Incredible Password Statistics, Most Common Passwords used in 2023.
On an average, people have more than 80 passwords across different accounts but still most people use weak passwords which cause account data and information to be compromised.
Before you set your next password, it might be good to have at look at these 66 Incredible password statistics.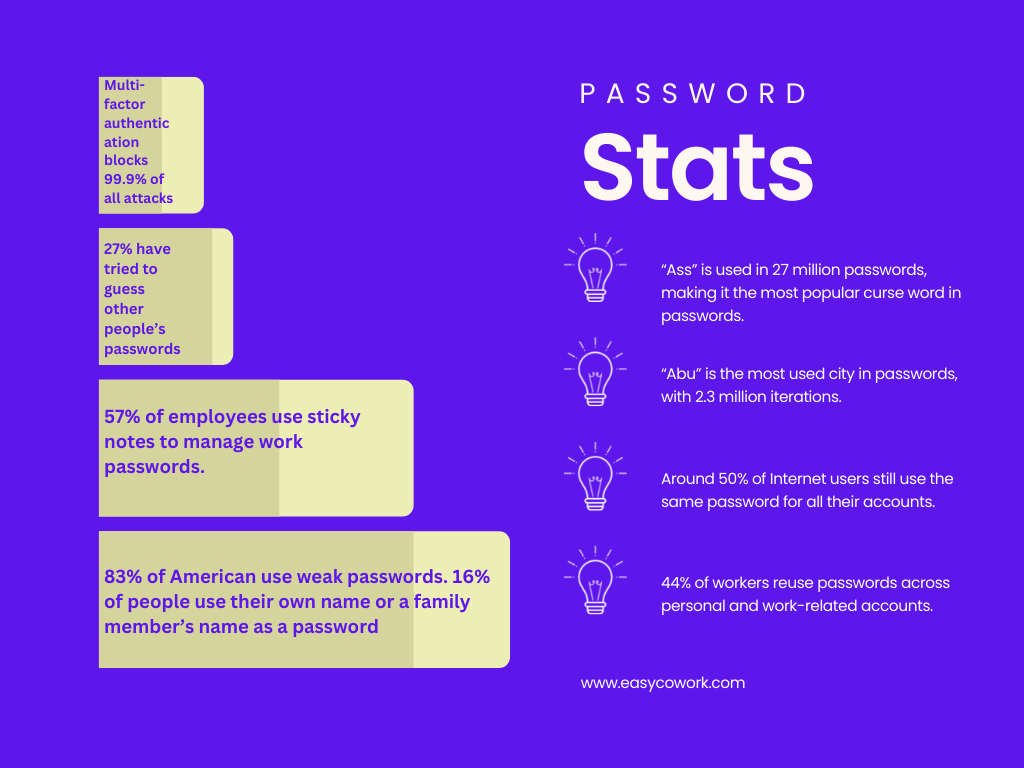 According to a Google survey, 65% of people reuse the same password for multiple accounts. 
After working full-time for more than 12 years, I switched to working for myself and trying to earn a living online.
If you are interested in the whole concept of making money online, you can check out some of my other posts including 10 Easy Ways to Earn Money Online without Investment, How to Earn Money from YouTube, how to earn money from Facebook and how to start a blog and make money.
I have also written a detailed post on How to Start an Online Business That Changes Your Life, How to Live a Simple Life And Be Happy–you can read it if you are interested.
Earlier, I had co-founded a video company and raised $2 million in funding and then got fired from the company I started. You can read my full story here if you are interested.
Common Password Statistics
On an average, employees surveyed reuse passwords 13 times. 
Out of all people who reuse passwords, 36% do not think hackers would attack them because their accounts have no valuable information. 
92% of people understand the risk of using the same password while still opting to keep the same passwords. 
Password Hacking Statistics (Password Theft)
40% of malware-related breaches result in theft of passwords. 
43% of Americans have shared their password with someone else.
Only 37% of all Americans use two-factor authentication. 
27% of people have attempted to guess someone else's password and 17% of these have gotten the password right which shows how easy it is to guess someone's password. 
Two-Factor Authentication Password Statistics
These are facts around 2 Factor authentication which is compiled from the Auth Report from Duo. 
85% of people prefer SMS as a means of a two factor authentication channel. 
74% of people prefer email as a means of a two factor authentication channel. 
37% of companies that use  two-factor authentication use mobile authentication apps such as Google Authenticator.
60% of self-employed people use 2 Factor Authentication
Weak Password Statistics
16% of Americans use their own name or a family member's name to create a password.
19% of people do not change their password even if they know the password has been compromised. 
23% of people admitted to changing their password after knowing their password was compromised. 
20% of Americans change passwords periodically, 18% never change their passwords after setting it. 
Password Security Statistics
57% of employees use sticky notes to save passwords. 
49% of employees also save passwords in a text file. 
62% of all employees share work passwords with a colleague via email or text. 
32% of all ex-employees are still able to access their old accounts. 
11% of all employees share work related passwords with family members. 
Multi-factor authentication blocks 99.9% of all attacks. (Microsoft, 2020)
Password Manager Statistics
71% of people do not believe password managers are safe or secure. 
71% of people who use password managers are doing it because they cannot remember all passwords.
77% of people who use password managers access the service using a mobile. 
59% of all passwords created rely on human memory. 
Password Breach Statistics
80% of all hacks start with password security compromise. 
83% of all passwords used by Americans are weak. 
13% of all people use the same passwords for all services. 
24% of all people use 123456 or admin as their password. 
Most password compromises occur via phishing attacks. 
Since 2017, hackers have published more than 555 million stolen passwords on the dark web. (Cnet, 2020)
81% of company data breaches are as a result of poor passwords. (TraceSecurity)
Every 39 seconds, password attacks using automated scripts try to guess passwords. 
WebsiteBuilder.org, 2021)
Other Password Statistics 
59% of people use their name or birthdate in their password
43% of people have shared their password with someone
20% of people have shared their email account password
Only 45% of people would change a password after a breach
78% of people have reset passwords in the last 90 days. 
On an average, most individuals have around 85 passwords for their different accounts. (Cnet, 2020)
336 million users were affected by a Twitter bug that saved passwords in plain text. (SecureLink, 2021)
70% of consumers are concerned about being a target of a cyberattack. (SecureLink, 2021)
A 12-character password is 62 trillion times more difficult to crack compared to a 6-character password. (Scientific American, 2019)
10 million variations of the year 2010 are being used in passwords.
8.4 million variations of the year 1987 are being used in passwords (Cybernews, 2021)
8.3 Million variations of the year 1991 are being used in passwords 
Of the 2.2 billion passwords analyzed, 7% contained curse words. (Cybernews, 2021)
"Ass" is used in 27 million passwords, making it the most popular curse word in passwords. (Cybernews, 2021)
"Sex" only has over 5 million uses in passwords. (Cybernews, 2021)
The "F" word is present in below 5 million passwords. (Cybernews, 2021)
"Abu" is the most used city in passwords, with 2.3 million iterations.(Cybernews, 2021)
Password-Making Habits Statistics
Around 50% of Internet users still use the same password for all their accounts. (LastPass, 2021)
Older people aged 50+ are more likely to use unique passwords for each online service. (Comparitech, 2020)
60% of people say they get lazy when creating passwords so they use the same passwords often. (MSN, 2021)
Disturbingly, 19% of adults in France use one or two passwords for all or almost all of their online accounts. (Proofpoint, 2020)
40% of respondents from Germany manually enter a different password for every account they have. (Proofpoint, 2020)
44% of US respondents use a password manager to take care of their accounts. (Proofpoint, 2020)
33% of respondents from Spain and Germany rotate the use of 5 to 10 passwords. (Proofpoint, 2020)
Two-thirds of people make new passwords that are similar to the ones they already have. (MSN, 2021)
35% of respondents choose convenience over security when electing a password. (SecureLink, 2021)
Common Passwords Statistics 
24% of all Americans have used the following common passwords or another form:
abc123
Password
123456
Iloveyou
111111
Qwerty
Admin
Welcome
Work Password Related Statistics 
31% of workers use their child's name or birthday for their passwords. (Keeper Security, 2021)
44% of workers reuse passwords across personal and work-related accounts. (TechRepublic, 2021)
14% of professionals have shared their work passwords with a partner. (TechRepublic, 2021)
34% have shared passwords with colleagues in the same group. (TechRepublic, 2021)
46% of workers said that their company disseminates login information for accounts being used by several individuals. (TechRepublic, 2021)
49% note passwords in unprotected plain-text documents. (Keeper Security, 2021)
On an average an employee reuses passwords around 13 Times.(LastPass, 2019)
59% of companies have more than 500 passwords that do not expire. (Varonis, 2021)
Source: WebTribunal, Small Biz Trends, Finance Online, Comparitech
Recommended Reads