Last Updated on 1 year by EasyCowork Team
Are you looking for coworking spaces in San Diego? In this post, we are going to look at Coworking Space San Diego: 20 best options with thier amenities and pricing.
Before you look at a coworking space in San Diego, it will be helpful to go through our guide on Ultimate Guide on Coworking: Benefits, Advantages & Disadvantages. This guide will give you unbiased information about advantages & disadvantages of coworking and help you decide whether a coworking space is essential for your business.
You can also check out our post Difference Between Hot Desk & Fixed Desk: Everything You Need to Know so that you can choose the right type of coworking package for your business.
After working full-time for more than 12 years, I switched to working for myself and trying to earn a living online.
If you are interested in the whole concept of making money online, you can check out some of my other posts including 10 Easy Ways to Earn Money Online without Investment, How to Earn Money from YouTube, how to earn money from Facebook and how to start a blog and make money.
I have also written a detailed post on How to Start an Online Business That Changes Your Life, How to Live a Simple Life And Be Happy–you can read it if you are interested.
I recently helped a client of mine generate $1000 in income from his YouTube channel that was not making any money and even you can do the same.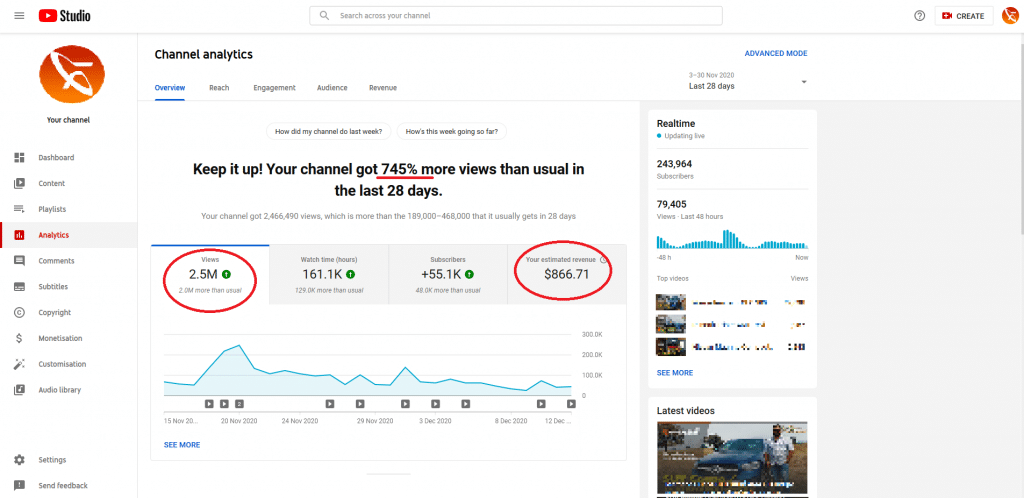 Earlier, I had co-founded a video company and raised $2 million in funding and then got fired from the company I started. I had done lot of testing and research on how to monetize YouTube and now I use the same skills to help other YouTubers.
You can read my full story here if you are interested.
About San Diego
San Diego- a beautiful city in the state of California, runs along the coast of the Pacific ocean and is best known for its pleasant year round climate.  Did you know that San Diego has recently emerged as one of the leading states in terms of healthcare and biotechnology development?

Known as the "birthplace of California", this city runs on military and defense related activities, tourism, manufacturing businesses, pharmaceutical and biotechnological companies as well as international trade. Some of the smaller businesses of San Diego include gallery exhibitions, thrift shops, salons and local eateries.
This bustling city is connected via an extensive network of highways and freeways. Moreover, due to the consistent pleasant temperature all year round, cycling is a prevalent means of transportation for the residents here. And for distances which can't be covered by cycling, the city's trolley line comes to the rescue. 

A year-round pleasant climate, good connectivity in and out of the city as well as being a major hub of the most sought after industries – San Diego makes for an ideal location to start an entrepreneurial journey. However, the exorbitant cost of real estate, along with the hesitance of new start-ups from signing long-term lease, can prove to be a hurdle for budding entrepreneurs looking to make their mark.
If you are one such entrepreneur, or know someone who is struggling with meeting the business demands of the 21st century simply due to the lack of a space that you can operate out of, give coworking a try.
To get a glimpse of San Diego, you can watch this video.
What is Co-working and Will It Work For Me?
Co-working essentially means collectively renting a common space to work in and with other professionals from the industry. Growing as an emerging trend, coworking offers a solution to the most pressing issue of the contemporary times – outrageous costs of real estate.

It works as a boon for budding entrepreneurs as it allows them to establish a low risk set up by letting them get their business up and running, all the while maintaining their financial stability.

San diego too, has more than dozens of high quality co-working spaces which you can check out and consider to make a part of your business journey. 

Given below are the 20 Best Coworking Spaces in San Diego, which are handpicked by us on the basis of the utilities they provide, rent prices, aesthetic and so much more. 
20 Best Coworking Spaces In San Diego [2022]
CO-COMMUNITY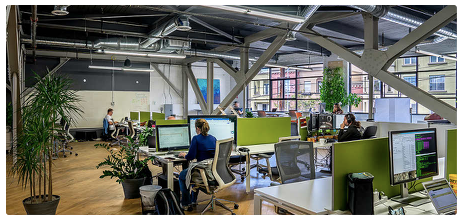 Co-community is present at two locations in San Diego and you get to pick the one which is more convenient for you. The first one is in Hillcrest at 1228 University Ave., Suite 200, and the second one in La Jolla at 7580 Fay Ave., Suite 204.
Shared desks at Co-Community can be rented at $325 per month with a 24 hour building access. The 24 hour access to the office grants you the independence to work when you want. If you feel more productive during the night hours or happen to have international clients, this place is ideal for you.
Co-community also gives you access to their events  which can be great for building contacts. Other than basic utilities such as printers and wifi, they also offer fresh tap beer and cold-brew coffee, which is just the thing you may need during a stressful day at work.
High-speed internet can also be added to dedicated desks, starting at $425.
DOWNTOWN WORKS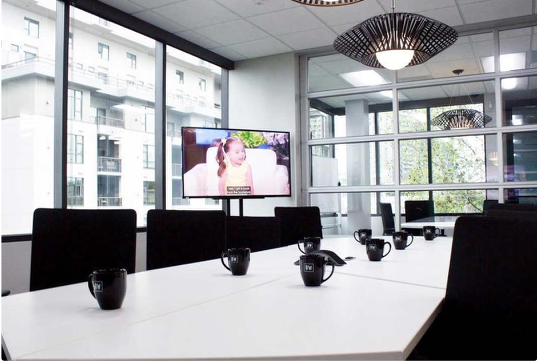 For those who want to work in the heart of San Diego, without burning a hole in their pocket, Downtown Works at 550 W. B St. is a top choice. 

There are a total of three floors, filled with sunlight, hence creating an atmosphere which facilitates productivity and positivity. There is also a rooftop lounge, which caters to the innate relaxation needs while working for long periods of time. 

The location is also in close proximity to the airport and trolley, thus allowing easy transportation for you as well as your team members. 

Some of the utilities include locally roasted coffee and craft beer, two fully stocked kitchens and high-speed Wi-Fi. Certain basic amenities which often go unnoticed, such as copying, scanning, and printing are highly essential for a workspace. Luckily, Downtown Works offers you all of that for free and in unlimited quantities.

They also have weekly events and workshops with industry specialists.
Monthly plans for this coworking space start at just $295 for 24/7 access.
URL: https://www.downtownworks.com/
MONIKER COMMONS
Moniker Commons leads the list of the top 20 co-working spaces when it comes to the versatility of the spaces available.

Located at 2869 Historic Decatur Road, Moniker Commons has a dream space for everyone. Regardless of whether you are a one-many-army or a team of passionate individuals, you'll find the space you're looking for here.

From common desks priced at $300 per month to private offices for a slightly higher price – Moniker Commons offers a variety of seating options. 

Some of the utilities include – community bikes, free parking (to save you that precious precious time), complimentary beverages, high-speed internet, top quality copying and printing equipment, an outdoor living room and concierge services to help maintain your workspace. 
URL: https://monikercommons.com/
WEWORK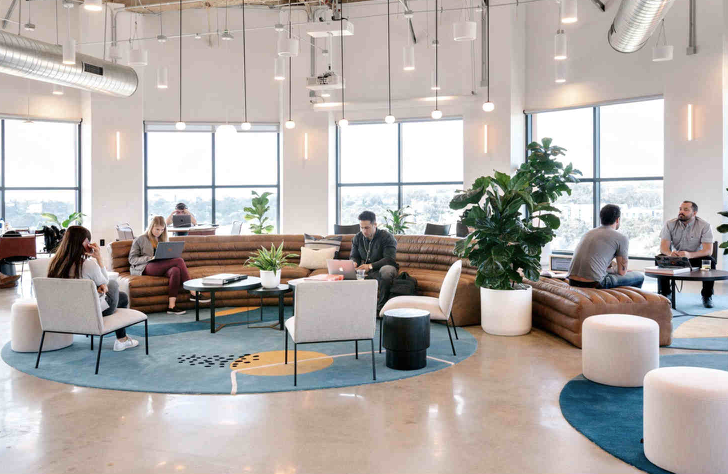 WeWork is a reputed name when it comes to co-working spaces. With offices all around the globe, the quality of service and amenities offered by them is something we vouch for. 

WeWork offers their coworking spaces in two different locations within the city of San Diego.
The first option known as the B street location is located at 600 B St., Suite 300 and offers desks at $350 per month. The second location, at 8910 University Center Lane, Suite 1100, offers desks starting from $360 per month.

Members get a round the clock access to the building, as well as essential everyday office supplies. Some of the unique facilities that you can find here include bike storage, high-tech printers, private phone booths, IT support and an ultra-fast internet.

The complimentary micro-roasted coffee, and craft beer will surely keep you up and running throughout the day and night if you choose this are your workspace. 
URL: https://www.wework.com/l/san-diego–CA
INCUBATE VENTURES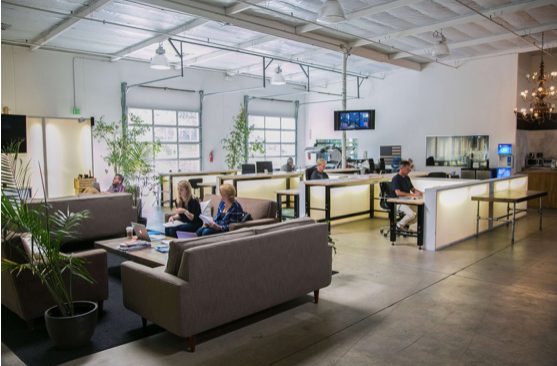 The title for one of the most unique coworking spaces in San Diego is claimed by Incubate Ventures. The main motto behind this coworking solution is to blend coworking and the modern day incubation in a manner that it ensures high efficiency. 

What this means is that each of the cozy yet spacious spaces provided by Incubate Ventures, promotes a collaborative environment. The satisfaction of sitting down with your team and brainstorming the next big idea is guaranteed when you choose this place as your office.

Packed with all the basic amenities, including a 24 hour access to the building, they offer dedicated desks at $995 per month. If you wish to opt for a polished look and feel for your office, you can rent out the dedicated glass offices for $1495 per month.

Despite their prices being on the higher end of the spectrum, the quality assistance you receive through a legal counsel, designers, and an accounting team here, is truly unmatched.
ANSIR INNOVATION CENTER
Situated in the ScaleMatrix Life Science and Technology Launch Center, the Ansir Innovation Center offers the most budget-friendly coworking and private office spaces for budding entrepreneurs. 

If you're a tech start-up, not only do you get a high quality coworking space which fulfills all your needs at an affordable price, but you also get to be a part of the wide variety of workshops that the Ansir Innovation Center is famous for hosting. 
Workshops and events around the themes of- Functional Programming, Python, Perl, Amazon Web Services, WordPress, UX/UI, and many more will help you build contacts and hone your skills as a tech start-up.
URL: https://ansirsd.com/
BLOC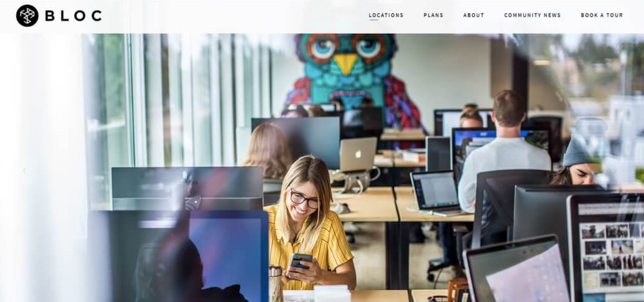 Some people work best in a relaxed environment, which allows their creative juices to flow freely. If you happen to be someone with such a working style, BLOC – located in the north of San Diego's Solana Beach, Leucadia, and Carlsbad Village, is the perfect workspace for you. 
Other than being fully equipped with basic utilities, BLOC also offers free Kefir Soda on tap, and we all know how refreshing a chilled soda can be on a stressful day at work. 
What's unique about BLOC is that it allows for networking between entrepreneurs as well as artists, thus creating a relaxed and collaborative environment at their office. The prices of the various desks are available upon request on their website.
URL: https://hibloc.com/
NINTHLINK COWORKING SPACE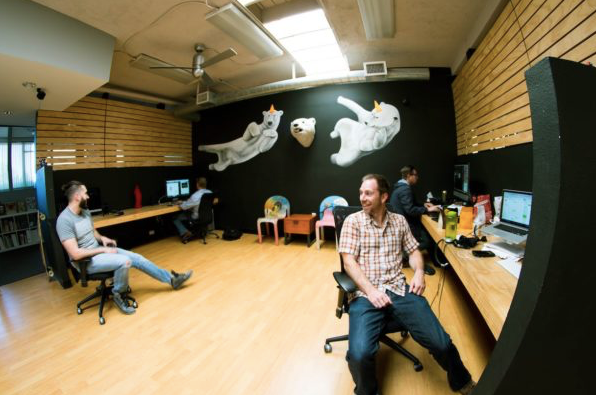 Started in the year 1999 by two ambitious brothers, Ninthlink offers coworking solutions for individuals who aim to become a part of a talented community and learn more every day.

Facilitating a creative and collaborative environment, Ninthlink provides budget-friendly offices space for businesses and services of a wide variety.
Other than the basic amenities, this space also comes with a free parking as well as a quick access to three of the major highways of San Diego. This will ensure easy and efficient transportation for you and your team members. 
Ninthlink offers dedicated desks at $350 per month and dedicated offices starting at $1,250 per month.
URL: https://www.ninthlink.com/cowork/
SPACES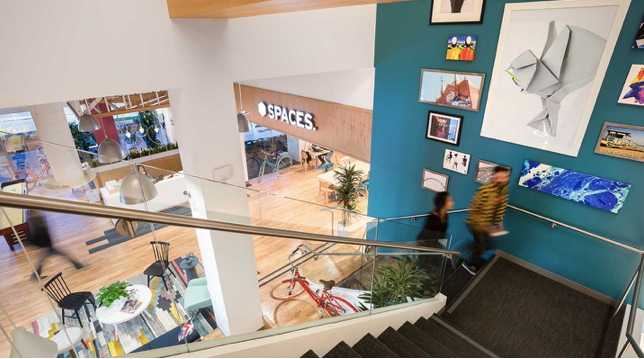 Located in the heart of San Diego, 4660 La Jolla Village Drive, Suite 100 & Suite 200 to be specific, Spaces offers you a dynamic professional hub which is always brimming with opportunities. 
Despite the professional look and feel of this office space, it has a creative atmosphere that allows you to think and work freely.
The amenities at Spaces includes two meeting rooms, super-fast wifi, 84 dedicated desks and networking events and workshops. You also get regular servicing of your workspace if you choose to make it yours.
Office spaces start from $591 per month.
URL: https://www.spacesworks.com/san-diego/university-town-center/
NOVEL COWORKING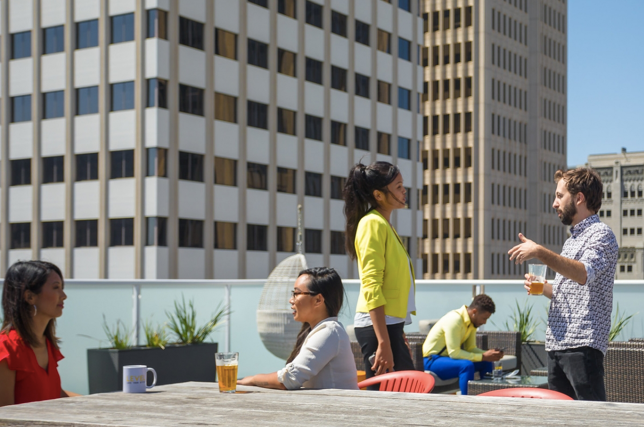 Located in the bustling financial district of San Diego, Novel Coworking offers some of the most affordable coworking solutions for budding entrepreneurs and artists. 
Among other features, Novel Coworking provides unlimited wifi at no additional cost. It also comes with a fully stocked kitchen as well as coffee and beer on tap to beat the stress of a long day.
It also has a rooftop lounge which allows one to relax and build connections while taking part in discussions with others. The prices of the desks are available upon request.
URL: https://novelcoworking.com/locations/california/san-diego/gaslamp/
OOTBOX
Update: Ootbox coworking website does not seem to be functioning, please call on +1 858-353-6511 before scheduling a visit.
Situated in the Sorrento Valley of San Diego, Ootbox offers a varied range of desks and other co-working solutions for everyone. It also features some unique in-house tools such as  a 3D printing machine, die cutting machine, studio and box lighting, and sewing machines.
Ootbox not only provides you with an affordable office space, but also gives you a chance to get a hands on experience of working in the field. These unique features make Ootbox stand out from the rest of the coworking spaces mentioned in this list. 
The pricing list for Ootbox is available upon request.
CROSS CAMPUS

Situated in the heart of little Italy, Cross Campus San Diego is in walking distance of the neighborhood's popular restaurants, cafes, pubs and art galleries which allows for a great chance to network.
For those who value collaboration and creativity – Cross Campus is the ideal working space. The prices for hot desks at Cross Campus start from $300 per month.
You can choose from a wide variety of spaces, even including an 8 desk private office at the price of $3620 per month.
URL: https://www.crosscamp.us/san-diego
UNION CO-WORK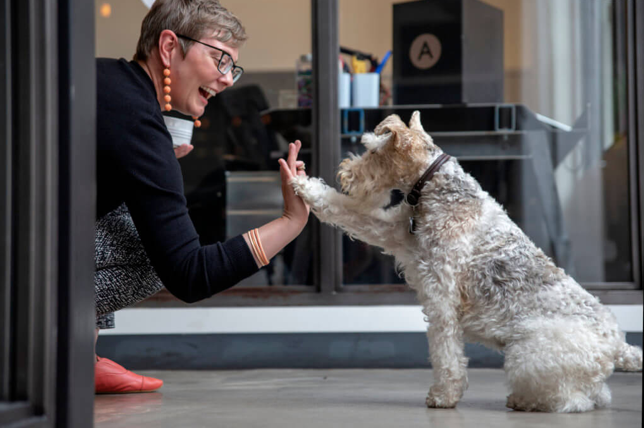 The coworking space at Union Cowork is open round the clock. But that's not what makes it special. What makes it on the most unique coworking spaces in San Diego is that it is a 100% dog friendly.

Equipped with all of the basic utilities that one might require in a new office, Union Coworks also has a full on beverage bar with local craft beer and kombucha on tap for all it's members.
What more does one need than a space that is fully equipped, allows them to bring their furry friends along to work and has unlimited Kombucha to help them stay energised throughout the day at work?
Flexible desks start at $400per month, going all the way up to $1250 per month for private reserved office spaces.
HERA HUB
Located at two different places in the city of San Diego, Hera Hub holds a special significance in comparison to all the other coworking offices listed in this article as it one of the first coworking spaces – by women and for women.
The motto behind Hera Hub is to offer a spa-like relaxing yet professional environment, which allows women to leave all their worries and responsibilities behind and focus solely on their work. 
Hera Hub also organises regular workshops to encourage and teach women to get even better at their jobs. Their office can be found at 8885 Rio San Diego Drive Suite 237, as well as 4010 Sorrento Valley Blvd, Suite 400.
Claiming positive media attention from various international media outlets, Hera Hub is the place to be if you're a 21st Century woman who is dedicated and passionate about the work she does.
URL: https://herahub.com/
BIOLABS SAN DIEGO
Despite being a fairly new coworking office space, BioLabs San Diego has made a name for itself among the leading life science startups. 
Having fully-equipped open laboratories and private lab suites, BioLabs is an ideal place for individuals who have a blend of business and science background.

The facilities that BioLabs offer include – a 24 hour access to the office building, high quality printers and copiers, lab equipment, as well as free coffee and healthy snacks. 
The prices at BioLabs vary and allow you to pick a plan according to your requirements. With the per month price for a workstation being $200, the price goes all the way high to $1200 per month for a private office space.
ENRICH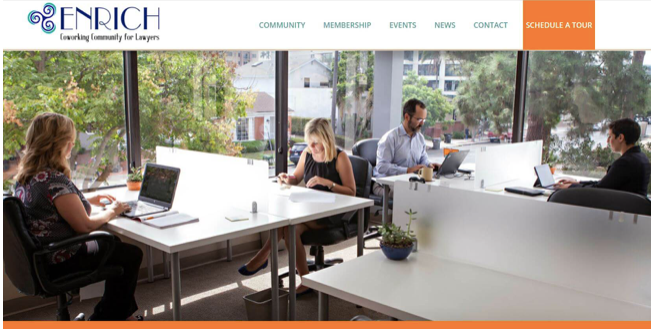 If you're a lawyer or an attorney and wish to start your own practice some day. Renting out a coworking space can help provide a smooth transition into the same.
Enrich is renowned as a coworking office space with caters specifically to the needs and requirements of those in the law industry.
Enrich also offers a variety of programs on business development and practice management that helps lawyers hone their skills further while securing a potential future as an entrepreneur. 
The price of spaces at Enrich is available upon request.
URL: http://enrichcoworking.com/
NEST
Situated in the downtown area of San Diego, NEST is emerging a fresh and friendly co-working space that offers a plethora of useful amenities.
Some of these include an ultra-fast internet, spacious workspaces, and some locally brewed Grind Coffee, which is all one needs after a long day filled with meetings and work. 
NEST is known to offer a warm and  positive atmosphere for tech start-ups, aspiring entrepreneurs, and non-profit organizations to work in.
Prices of the spaces at NEST are available upon request.
URL: http://www.nestcowork.io/
Hardihood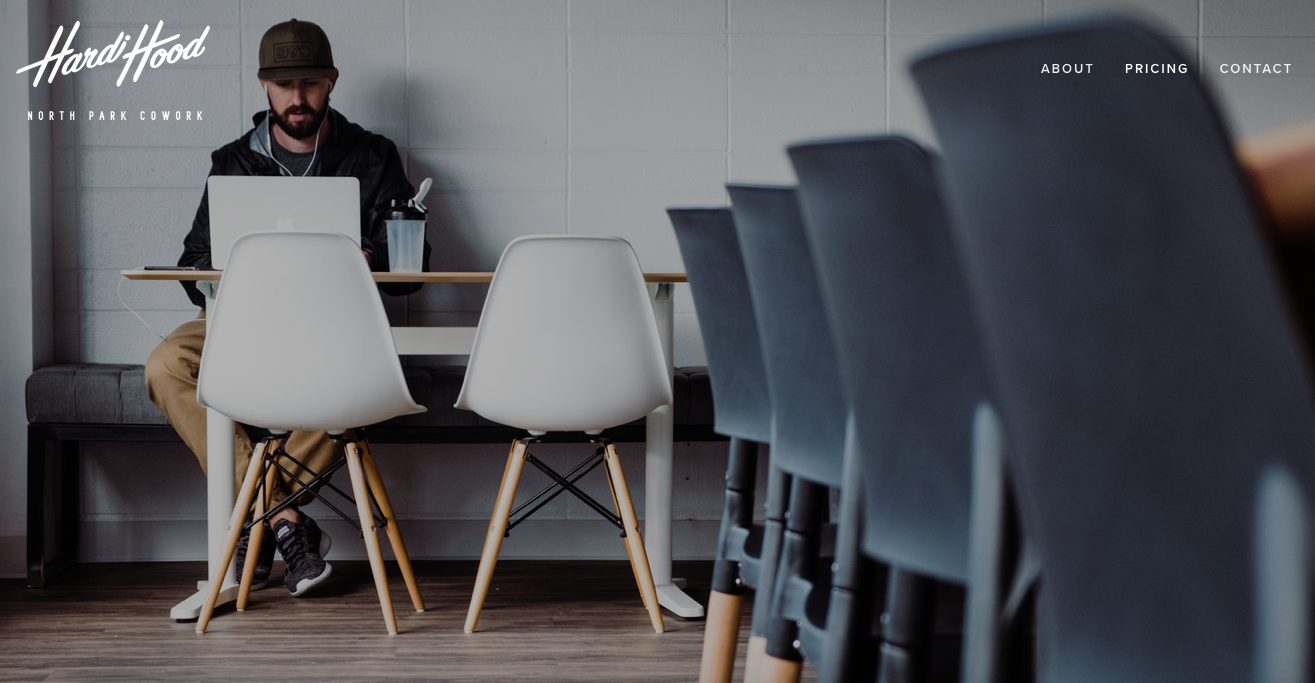 With a mission of providing spaces that allow start-ups and entrepreneurs to be successful and achieve their dreams, Hardihood welcomes people from different industries and backgrounds to help drive efficiency and collaboration while facilitating a culture of community, relationship, and fun.
Located at 4379 30th street, Suite 4, Hardihood allows space rentals at a price as low as $40 per month for an out of office membership and prices for shared desks starting from $ 300 going up to $500 per month.
URL: https://www.hardihoodcowork.com/
COLLECTIVE IMPACT CENTER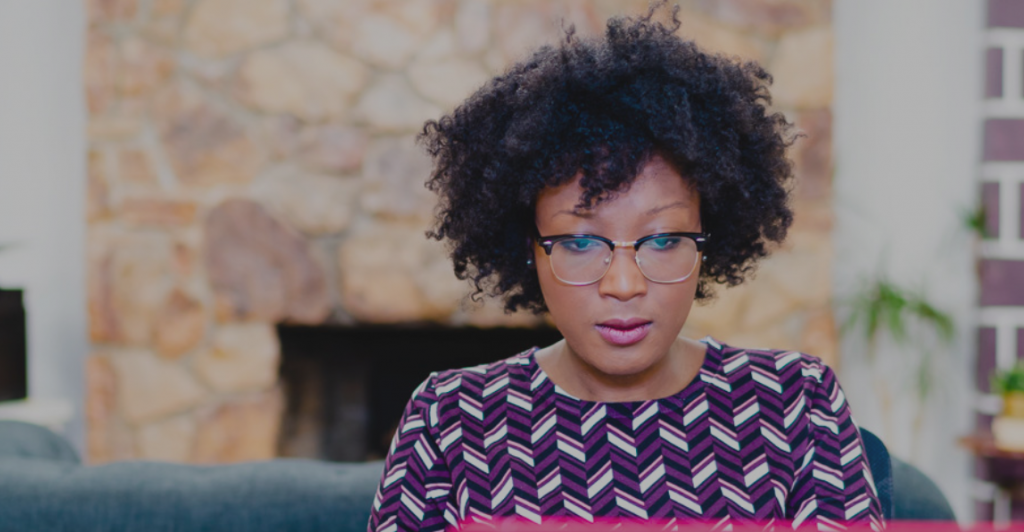 The Collective Impact Center is by far the most affordable co-working space on this list. Starting with a monthly price as low as $111 per shared desk, the Collective Impact Center is a community and coworking center for social entrepreneurs. 
Located at 3295 Meade Ave, their motto is to provide spaces to entrepreneurs at a subsidized rate who in turn will help amplify their impact further.
URL: https://www.collectiveimpactcenter.com/
Mesa Rim Coworking Center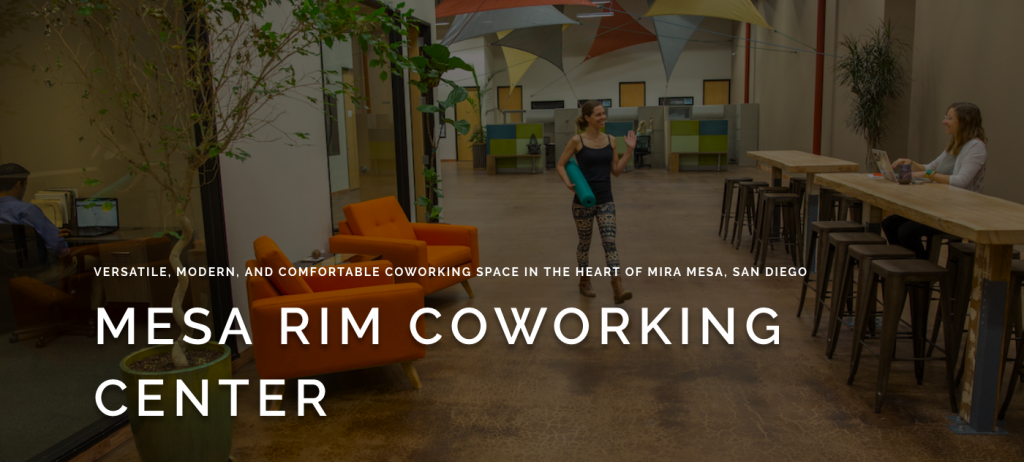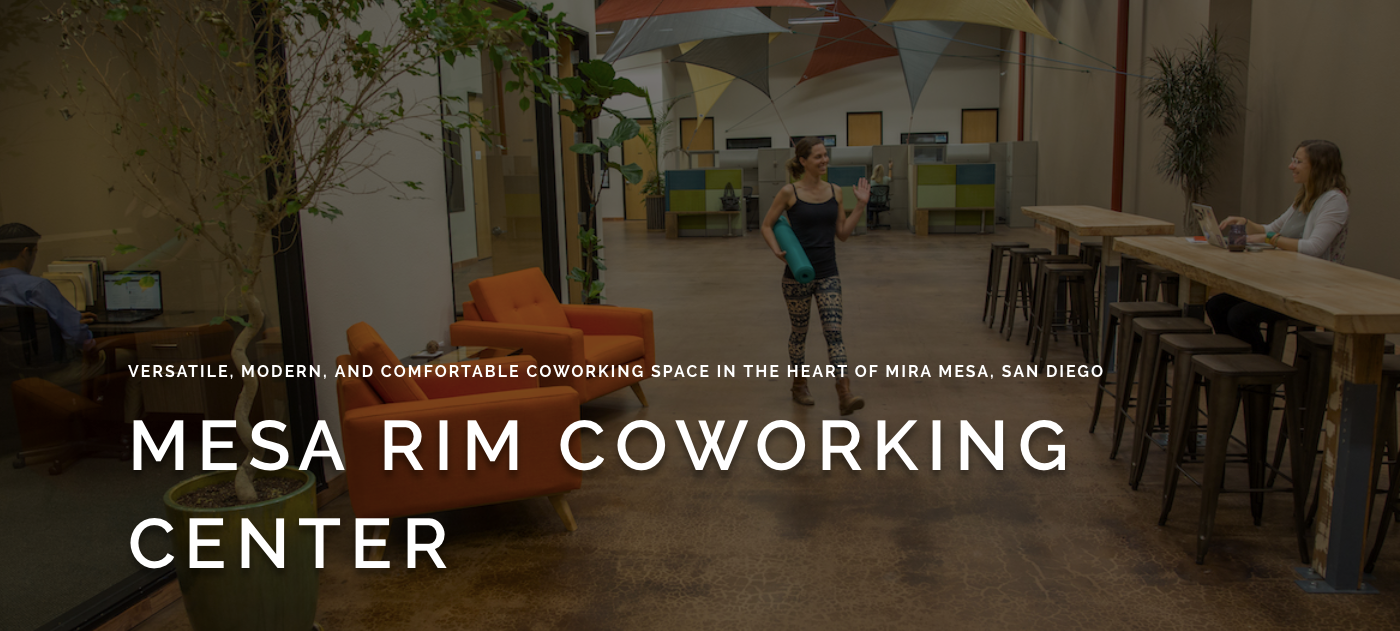 SItuated at 10070 MESA RIM RD., SAN DIEGO, CA 92121, the Mesa Rim Coworking Center supports the small businesses and startups of San Diego. It is a high quality space, fully equipped with the basic amenities and fosters a culture of collaboration and healthy lifestyle.
More often than not, working individuals get too lost in the everyday hustle and leave their health far behind. Thankfully, the compassionate atmosphere at Mesa Rim takes care of all your needs while you're at work.
They have a group of web wizards, health and wellness professionals, inventors, movement experts and thought leaders whose primary aim is to improve the quality of life of those they serve.
With amazing amenities such as free parking, unlimited coffee and tea, printing, scanning and copying as well as free wifi and mail service – the Mesa Rim Coworking Center is a coworking great package. 
With Open Area Desks starting from $325 per month, to a more polished and private office at $1300 per month, Mesa Rim is worth paying a visit if you're looking for the best coworking space in San Diego.
URL: https://mesarim.com/
FINAL VERDICT: Coworking Space San Diego
All of the coworking spaces mentioned in the aforementioned list have been handpicked after considering a wide range of parameters.
From a space like Union CoWork that allows you to take your furry friends along with you to the office, to a space like Collective Impact Center which helps you realign your goals and develop a sense of giving back to the society – the Best Coworking Space in San Diego is a little hard to choose.
However, after considering various aspects such as reviews, prices, amenities as well as quality of service, we recommend WeWork as the best coworking space in San Diego. 
With round the clock access to the office building, as well as an efficient IT support, WeWork features many more unique qualities in comparison to the rest of the spaces. And that is what makes it stand out.
If you're looking for a coworking space, make sure to check all the parameters with a special emphasis on what YOUR needs and requirements. Once you choose your office space, visualise your highest self and start showing up as that. 
Recommended Reads