Are you considering WOTSO Workspace? In this post, we are going to look at WOTSO Workspace Amenities, Pricing, Images & Reviews in 2021.
Before you look at WOTSO Workspace, it will be helpful to go through our guide on Ultimate Guide on Coworking: Benefits, Advantages & Disadvantages. This guide will give you unbiased information about advantages & disadvantages of coworking and help you decide whether a coworking space is essential for your business.
You can also check out our post Difference Between Hot Desk & Fixed Desk: Everything You Need to Know so that you can choose the right type of coworking package for your business.
We have also written a very detailed post on Coworking Benefits, Advantages & Perks You Should Know Before Moving into A Regular Office Space–you can quickly go through this post too.
WOTSO Sydney is a coworking space that brings forth a combination of flexibility, amenities and everything else you would want from a modern coworking space in Sydney.
Apart from coworking spaces, WOTSO offers event space, private office, and dedicated project space.
WOTSO Sydney coworking is a fast-expanding chain of coworking spaces and has around 15 workspaces in Australia and Asia. All the workspaces of WOTSO are located at premium buildings and neighbourhood.
The membership plans for WOTSO have a wide range from temporary & permanent coworking places to private office suites. Under the WOTSO passport service, after buying a membership at one location, you can get access to a hot desk for a day at any of the WOTSO global locations.
Located on Sydney's CBD fringe, WOTSO is ideal for sole traders, startups and corporate teams requiring a coworking space for project work or a casual day workspace.
WOTSO offers community hangout areas, unlimited tea & coffee, fast internet, call & mail handling services, ping pong, free wine & beer, etc.
They have both hot desks and dedicated desks along with private offices and virtual offices for project work. WOTSO Sydney coworking has large meetings and event spaces which might help in putting up a strong impression on clients.
WOTSO Workspace: Amenities, Pricing, Images & Reviews [2021]

The five WOTSO Sydney coworking are:

WOTSO Bondi Junction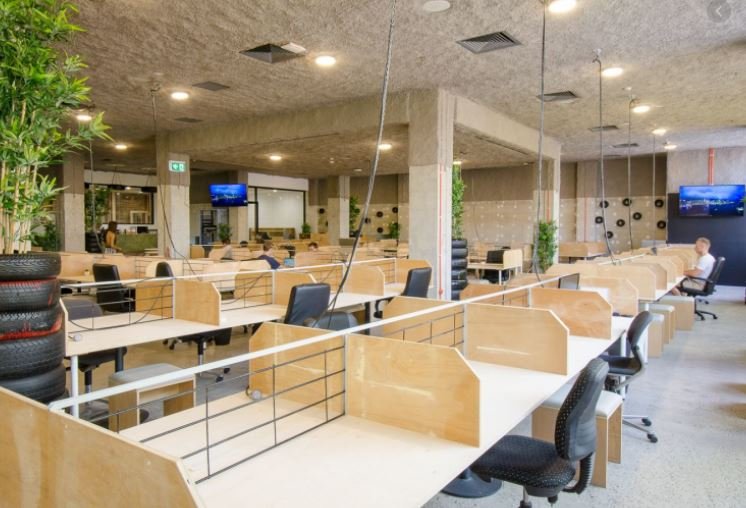 The WOTSO Bondi Junction is considered as the new Eastern Suburbs go-to coworking spaces in Sydney.
This coworking space is surrounded by many fine restaurants and bars like Bondi Ramen, Jimmy Grants and Cosmopolitan Cafe. The location of WOTSO Bondi Junction is very near to Sydney CBD. WOTSO Bondi Junction offers all the amenities and entertainment along with amazing transport links to the city and the beach.
The WOTSO Bondi workspace provides private lockers for teams of 1-10 with amenities including internet, furniture and hangout areas.

WOTSO Bondi Junction's Address: Level 1, 9-13 Bronte Road, Bondi Junction, NSW, 2022

WOTSO Neutral Bay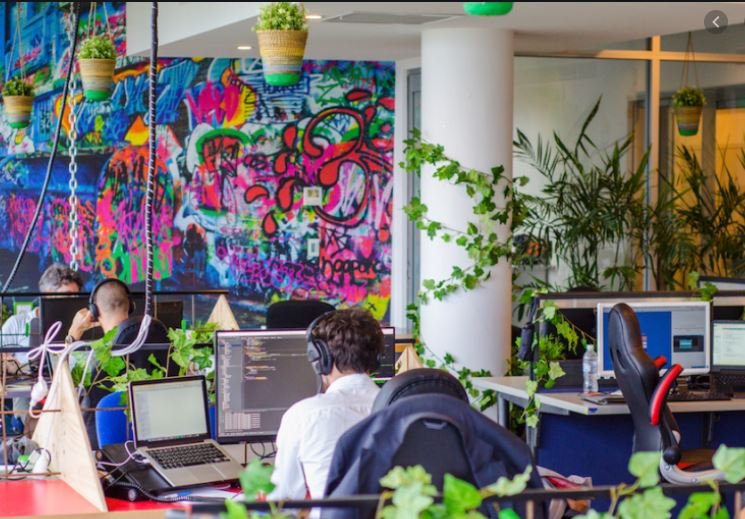 WOTSO Neutral Bay is a prime business location at Sydney's northern shore, surrounded by several retail stores, bars and restaurants. This coworking space is just next to North Sydney and across the bridge from the CBD. Amenities offered at WOTSO Neutral Bay are contemporary work area with ergonomic desk feature, community kitchen, phone booth, TV, showers, bar fridge, 24/7 access, private lockers, etc. The WOTSO Neutral Bay has a unique passport program which allows you to use a hot desk at any of their WOTSO locations.
WOTSO Neutral Bay's Address: 50 Yeo Street, Neutral Bay, NSW 2089
WOTSO North Strathfield
WOTSO North Strathfield is the largest workspace of all the five coworking spaces of WOTSO.
This coworking space offers open plan coworking, shared office space and conference rooms. This site is located at the iconic Bakerhouse Quarter in Sydney's West, also known as the 9th George Street.
WOTSO North Strathfield is perfect for individuals as well as larger teams who need a dedicated event space and modern glass box offices. This coworking space offers unique and engaging meeting rooms on rent for meetings with professional and concierge services.
If you are looking for coworking space in Sydney without a price tag, WOTSO North Strathfield is the perfect place for you.
WOTSO North Strathfield's Address: 9 George Street, North Strathfield, NSW 2137
WOTSO Penrith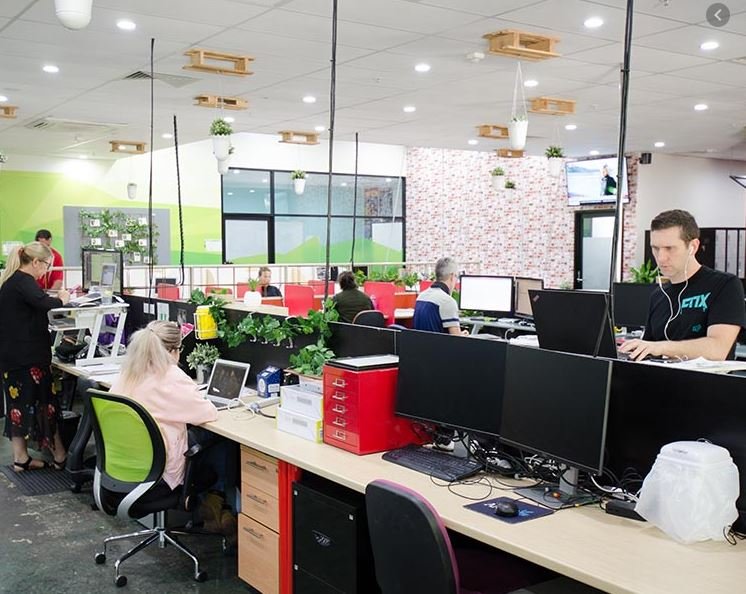 WOTSO Penrith offers contemporary glass box offices every month with access to meeting rooms and amenities such as lounge and kitchen spaces. The location of WOTSO Penrith is in the western suburbs, in the fastest growing business development in the west.
This coworking space is surrounded by many retail and dining options nearby to their building. The Penrith Railway Station is only 400m away from the WOTSO Penrith building.
The amenities offered at WOTSO Penrith are standing desks, ergonomic chairs, wheelchair accessibility, free bear, cat-friendly, dog-friendly and unlimited access to free coffee/tea.
WOTSO Penrith's Address: 95b Station Street, Penrith, NSW 2750
WOTSO Pyrmont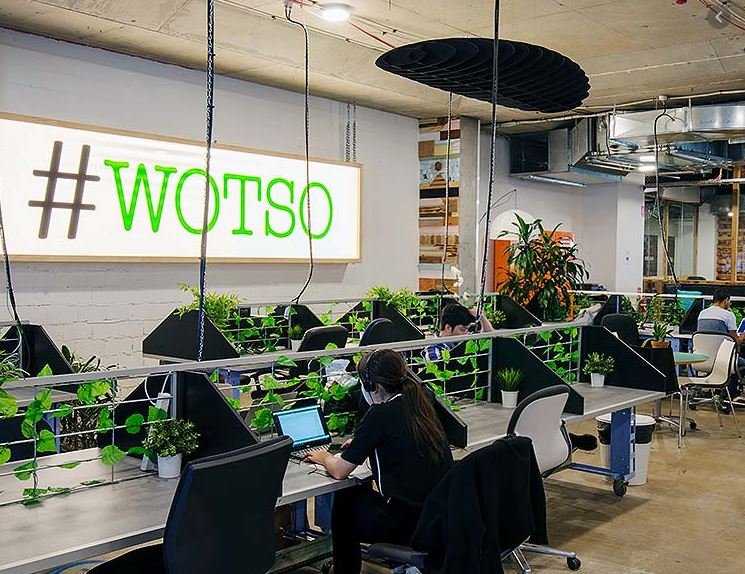 WOTSO Pyrmont is a coworking space with flexible meeting and event space, private office and dedicated desks. WOTSO Pyrmont has a combination of contemporary fittings and exposed brick walls inside the building.
The amenities offered at this coworking space are Studio Space, BBQ Space, ping pong, standing desk, ergonomic chairs, beanbags, sound recording equipment, video recording equipment, wheelchair accessibility, mini-golf course, onsite cafe, personal lockers, etc.
WOTSO Pyrmont's Address: 55 Pyrmont Bridge Road, Pyrmont, NSW 2009
Amenities

All coworking spaces of WOTSO Sydney can be accessed 24/7. You have a co-working space for your project irrespective of day or night.
WOTSO co-working spaces are well equipped with a contemporary working area with ergonomic desk furniture.
All coworking spaces have high-speed connectivity to internet and wifi.
WOTSO Sydney offers access to their kitchen space as well. There is a huge variety of snacks, fruits and beer for you. Being a member of WOTSO Sydney gives you access to unlimited coffee and tea.
If you need privacy during your phone call, you can always use private booths at WOTSO coworking spaces.
If you are a member of WOTSO Sydney, then you can use the WOTSO's address as your own business address.
The staff of WOTSO Sydney efficiently handles all your mails that arrive on the premises of WOTSO.
There is a variety of event spaces for rent at WOTSO Sydney. These event spaces can be used for product launch, workshops and business get-togethers.
They offer 50 A4 black & white prints each month to the members of WOTSO.
The parking facilities at WOTSO are completely free for the members.
This coworking space is fully equipped with office equipment like printers, scanner, photocopiers, etc.
All coworking spaces of WOTSO Sydney are dog-friendly.
The unique passport program allows booking a hot desk at any of the locations of WOTSO Sydney.
The members have access to the community events happening on the campus of WOTSO Sydney.
WOTSO Sydney's Membership Plans
The membership fees for visiting WOTSO workspaces for a single day are:
Bondi Junction: $55 per day
Neutral Bay: $55 per day
North Strathfield: $50 per day
Penrith: $22 per day
Pyrmont: $50 per day
Hot Desks
Bondi Junction: from $550 a month
Neutral Bay: from $400 a month
North Strathfield: from $275 a month
Penrith: from $220 a month
Pyrmont: from $275 a month
Permanent Desk
Bondi Junction: from $660 a month
Neutral Bay: from $500 a month
North Strathfield: from $385 a month
Penrith: from $440 a month
Pyrmont: from $440 a month
Meeting Rooms and Event Spaces 
WOTSO Sydney has different membership fees for a different location for hiring meeting rooms and event spaces. The membership fees depend upon the size of the rooms as well the amenities being offered at the workspace.
Bondi Junction
Bondi Room: $80 per hour (10 people)
Mackenzies Room: $100 per hour (20)
Amphitheatre: POA (40)
Neutral Bay
Record Room: $60 per hour (4 people)
The Diner: $60 per hour (6)
Mezzanine: $60 per hour (10)
Ping Pong Room: $70 per hour (8)
Boardroom: $100 per hour (15)
Skybox: $100 per hour (8)
North Strathfield
Amphitheatre: POA (80 people)
Vovo Room: $80 per hour (8)
Tim Tam Room: $90 per hour (10)
Parrot Room: $100 per hour (18)
Kingston Room: $80 per hour (8)
Penrith
The Box Office: $50 per hour (6 people)
The Preview Room: $60 per hour (12)
The Cinema Room: $70 per hour (20)
Pyrmont
Green Room: $100 (20 people)
Nook: $50 per hour (6)
Ping Pong Room: $80 per hour (12)
Amphitheatre: POA (80)
Work Studio
The Pyrmont Studio at WOTSO Sydney offers a soundproof space along with an entire team of video production. The membership fees for hiring a work studio are:
Half Day (4 hours): $400 (+GST)
Full Day (8 hours): $600 (+GST)
Website Link: www.wotsoworkspace.com.au
Recommended Reads