Last Updated on 2 years by Anoob P
Here are 35 Top Blouse Designs & How you can use your blouse design to Start a Blouse Business [A Step By Step Guide] in 2022.
Blouse designs have evolved over time and they are an integral part of ethnic Indian wear.
A perfectly stitched blouse design greatly compliments a saree and this post we are going to look at 20 best blouse designs and 15 best blouse sleeve designs that you can use for your next blouse.
If you are a houswife and thinking of starting your own business to earn some extra money, do check out our post on 52 Business Ideas for Housewives.
Additionally, we will also look at how to stitch a blouse and tips when stitching a blouse.
Most importantly if you know how to design a blouse and stitch it, we will look at how you can convert your skill into a business.
If you are interested in the whole concept of making money online, you can check out some of my other posts including 10 Easy Ways to Earn Money Online without Investment, How to Earn Money from YouTube, how to earn money from Facebook and how to start a blog and make money.
I recently helped a client of mine generate $1000 in income from his YouTube channel that was not making any money and even you can do the same.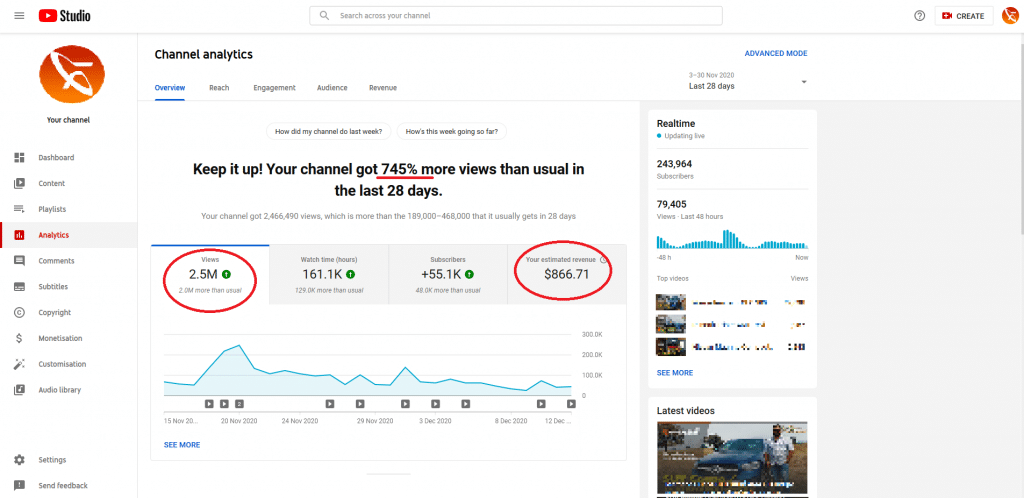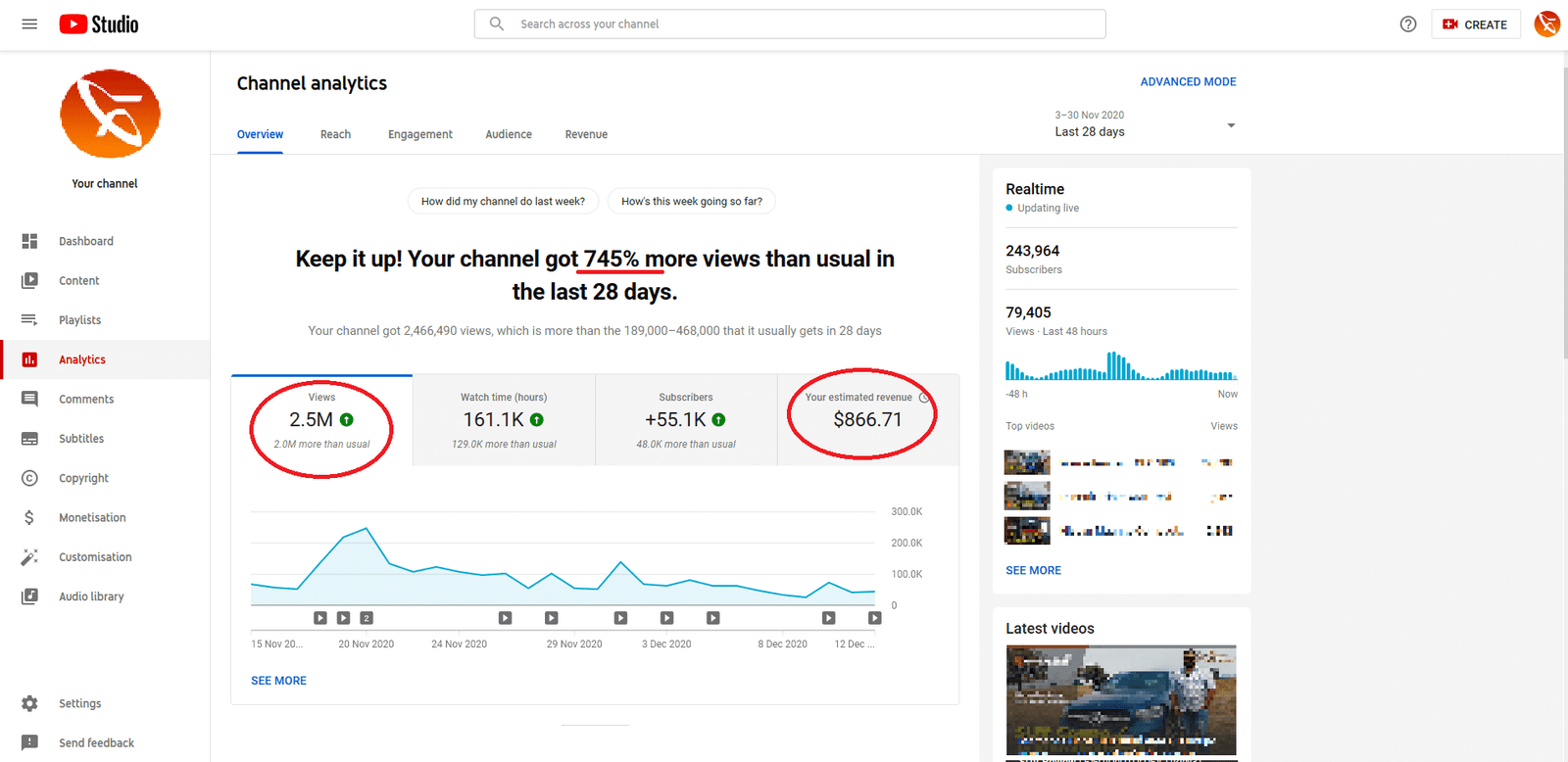 Earlier, I had co-founded a video company and raised $2 million in funding and then got fired from the company I started. I had done lot of testing and research on how to monetize YouTube and now I use the same skills to help other YouTubers.
You can read my full story here if you are interested.
I have also written a detailed post about How to Start an Online Business That Changes Your Life (without Luck) & lessons in entreprenuership I learnt the hard way–you can read it if you have the time.
35 Top Blouse Designs & How to Start & Grow A Blouse Business [2022]
What is a blouse?
A blouse is a fitted garment generally worn with sarees and lehengas that acts as a  cover for the upper part of the body, from the neck to the waist line.
It is a part of traditional or ethicnic Indian  attire that is easily customisable according to the wearer's preferences. 
20 Most Popular Blouse Designs in 2022
Round neck Blouse design
The round neck blouse is one of the most popular blouse designs that is understated yet appealing. It is a design that fits all age groups and body types. 
Boat neck Blouse design
The boat neck blouse is more on the conseravtive side. This design is for those who do not want to wear deep necks. 
Sweetheart neck blouse design
This blouse design forms the shape of a heart around the neck and is a fun style usually opted by the younger generation. 
Off shoulder neck blouse design
This is a modern take on the blouse that highlights your shoulders and collar bone. It is fashionable as well as unique. 
Scoop neck blouse design 
This blouse design is wider than the round neck and accentuates the neck and adds a more feminine touch
Key-hole neck blouse design
This is a trendy new blouse design for those who want want to try something off-beat and be centre-stage. 
Cold shoulder neck blouse design
This blouse design adds an edge to your ensemble by showing just the right amount of skin. 
V neck blouse design
This blouse design has a V cut in the front. It is a deeper and more contemporary version of the round neck.
Cut Out Blouse Back Design With Dori
The cut out blouse design shows just the right amount of skin and the dori at the back adds an elegant touch. 
 Tie Up Bow Blouse Back Design
This design is similar to the cut out blouse but instead of a dori has a dainty bow at the back that brings the blouse together. 
Flower Cut out blouse back design
This blouse design has a flower pattern cut out at the back. You can play around with different patterns to make this look pop. 
 Ethnic Blouse back design
This blouse design is ideal for traditional ceremonies with its intricate detailing and thread work. 
Cut out design with cold shoulder
This blouse design blends together two trendy styles adding to the contemporary look of the ensemble. You can experiment with different cut-outs for an edgier look. 
Deep round back neck with dori
This blouse design is a bold and statement making piece. The deep back and swinging dori will definitely leave all eyes on the wearer.
Deep cut out with  fringes
This is a very fashionable and unique design that has fringes at the back. The deep cut out lets the fringes shine and do all the talking.
Sheer back blouse design
This sheer back blouse has a net panel at the back that adds just the right amount of oomph to your attire.
Collar neck blouse design
This design is a great pick if you are going for a more professional or sophisticated look. The collar can be styled in various patterns according to your preferences.
Belted Blouse design
This design is a chic new style that pairs the quintessential belt with the blouse. The belt accentuates the waist of the wearer, lending to a slimmer look.
Halter Neck Blouse design
This design is inspired from the western halter-neck tops and is the blouse design of the season. 
High neck blouse design
A high neck blouse design is a classic style that allows the saree to pop.  It is the epitome of grace and beauty. 
15 Most Popular Blouse Sleeve Designs
Ruffle sleeve blouse design
The ruffle sleeves add a flare to the blouse. They make the ensemble look playful and effortless. 
Cape sleeve blouse design
This design includes a netted or sheer cape over the blouse. This style is best paired with a simple saree to let the blouse shine.  
Sleeveless blouse design
Sleeveless blouse designs are modish and make for an ideal choice for your summer outings.
Bell sleeve blouse design
Bell sleeves are a unique sleeve style that have a layered look and flare up at the bottom. These are not only fashionable but also airy and comfortable to wear. 
Full sleeved blouse design
This is an evergreen style reminiscent of the 80's. A full sleeved blouse provides a regal and poised look.
Half sleeved blouse 
This is a go to design for those who want to keep it simple yet classy. The sleeves have various patterns on them.
Short sleeved blouse
A short sleeve blouse is a youthful and feminine style that are demure yet stylish.
Transparent sleeves blouse design
This style is a celebrity favourite and goes perfectly with muted tones.
Three-fourth sleeve blouse design
The three-fourth sleeve blouse is minimal yet statement making. This versatile sleeve style can be paired with all your favorite patterns. 
Cut out sleeve blouse design
Opt for cut outs at the sleeve rather than the back and show just the right amount of skin for a chic look. 
 Net sleeves with sequins 
This is an elevated version of the sheer blouse design. Sequins paired with the netted look make it a party favourite.
Contrasting sleeves blouse design
This design is an ode to the golden days of Bollywood. The sleeves should be of a contrasting colour to the saree to make it stand out.   
Lace sleeve blouse design
Lace is a crowd favourite when it comes to blouse designs. It is classy and suits all body types. 
Zari Thread work blouse design
The intricate thread zari thread work makes it a great fit to wear with silk sarees. They are easy to carry and add an oomph factor to your outfit.   
Printed sleeve blouse design
Bold prints work well with muted tones. Pair your printed sleeve blouse with a simple, flowy saree to draw emphasis on the prints.
Image Credits: Priva Collective   
How to design a blouse at home
Designing a blouse at home is not as complicated as it might seem. Here is a step by step guide that will make the process easier. 
Think about the style and pattern you want to replicate. You might have a lot of ideas floating around in your head but it is advisable to narrow down your options to ease the process. 
Sketch a basic human figure on which you can draw your blouse design. Don't worry about making it perfect, this is just a silhouette that will aid the designing process and give you a better understanding of how the blouse should fit. 
 You can outline and decide the fit and length of the blouse. Generally blouses are cropped at the waist but you can play around with the style and length. 
The next step is to sketch the neck, sleeves and back of the blouse and add the necessary details. 
Then decide on the aesthetic details like the colour, type of fabric and also various designs and thread work. 
If you are unable to find appropriate resources you can repurpose a blouse for the first few tries to get used to the process. You can add embellishments 
How to stitch a blouse
Find the appropriate material for your blouse. These can range from cotton, silk and chiffon. 
Keep your measurements ready. It is important to get the correct measurements of the wearer to ensure their comfort.
Use a scale, tape and chalk to create the design according to the measurements. You can  draw the design on a piece of thick paper and use it as a template.
Your blouse pattern should have 4-6 pieces  which include the front, back, sleeves and neckline and also a template for each of these pieces.
Now lay your blouse material on the templates and cut along the edges. If you wish to include a lining for your blouse then cut the lining material similarly 
Pin the front and back pieces together and sew along the edges. Line  Make sure to hem a centimeter away from the frayed edges and have the outer sides facing each other to ensure a smooth finish. Be careful about sewing over the pins so as to not damage your sewing machine.
Turn the blouse inside out and trim of any access threads or pieces 
Add the necessary hooks and closures that help secure the blouse
For final touches you can glue on embellishments or beads of your choice to make the blouse even more attractive.     
Tips when designing & Stitching blouse at home
You need to be very careful about the size, fit and length of the blouse. This is totally dependent on the comfort and requirements of the wearer.   
While using fabric glue let it dry for 8 hours or more. If you don't do this all the embellishments that you have added will fall off very easily.  
Explore your machine, it is important to know all the settings of your machine to save you time and effort. For intricate detailing on your blouse, use the embroidery setting on your machine and avoid the cumbersome needle and thread method.
Best videos to learn how to make a blouse
Here are some videos that will guide you through the blouse making process 
These videos get you lots of useful hacks that will help you make better blouses and brush up on your skills.
Now that you know the best blouse designs and how to stitch your favourite blouse designs, lets look at how to turn blouse designs into a business.
How to start a blouse business
Before starting any business you need to start with the required paperwork.
This process involves registering the name of the business apart from licensing and permit paperwork.
If you want to start a business at scale, you can also look at securing insurance for your business so that your equipment and materials are insured against damage.
To sell your blouse designs, there are 3 options.
A Tailoring Shop
Ecommerce
Reselling Platforms
Tailoring Shop
The easiest way to start selling your blouse is through a tailoring shop.
It would be advisable to start small with a small establishment and upscale as your business grows.
Two machines in a 100 square-feet shop will be enough to give you a kickstart. A black head single needle lock stitch machine and an interlocking machine would be the best pick. 
Keep in stock plenty of embellishments, varied blouse materials, pools of thread etc.
You will need to hire experienced tailors that are quick and efficient and can customize the blouses according to the needs of the consumer.
It will cost about Rs 20,000 for the machines and you will need about Rs 15,000 more for materials, rent and salary of employees and other miscellaneous expenses. That would be your total investment.  
The profit margin of any retail business is generally in the range of 4-13%.
You need to sell in large quantities to make a considerable profit. But since sarees will never go out of style in India you do not have to worry about the demand for your blouse designs.
You just need to deliver quality products and satisfy your customers and your business will grow. 
As with any other business, you would also want to pay some attention to marketing and getting your blouse designs to the right audience.
As your tailoring shop will be mostly focused on neighborhoods, you can try spreading the word around through local groups and even do some marketing flyer distribution that will help gain traction.
You can also look at marketing your shop by running specific offers and having some additions such as faster delivery so that customers will get to know your business.
As your establishment grows you will want to increase the services and product range.
Investment Required: INR 10-20K
Time to Get Started: 10-20 Days
Expected Profit Margins: 15-25%
This is when you can consider taking your blouse design business online.
Ecommerce
Creating a website and social media handles for your business will not only increase its reach but also be a convenient alternative for your customers.
The percentage of digital buyers is steadily increasing in India.
The comfort of buying from homes is extremely appealing to customers and if you can deliver the product quickly and at a reasonable cost, you can ship across the country and make a decent living.
For setting up your own website you need to register your domain name, have hosting, set up your store and have a payment gateway.
You can drive traffic to your website using paid ads or even do some Search Engine optimization for certain specific keywords and get conversions.
This is the screenshot of a company's Google and Facebook account I am handling.
Thier product value is around INR 550.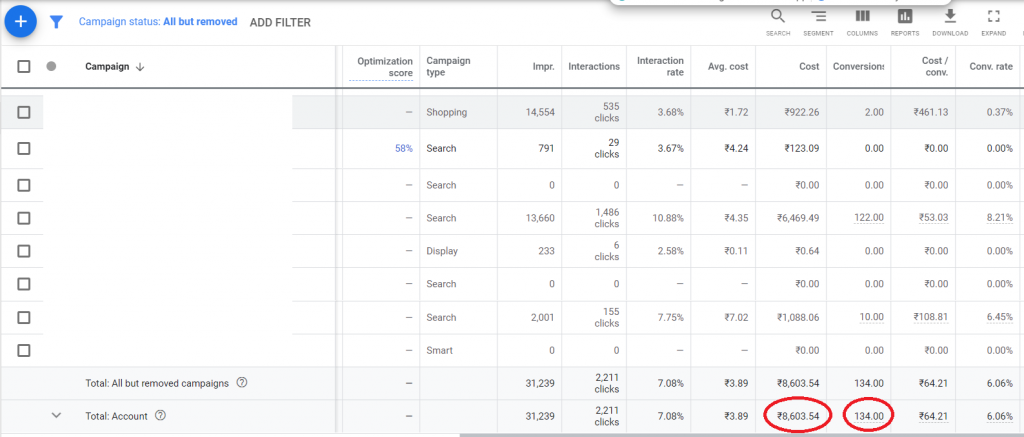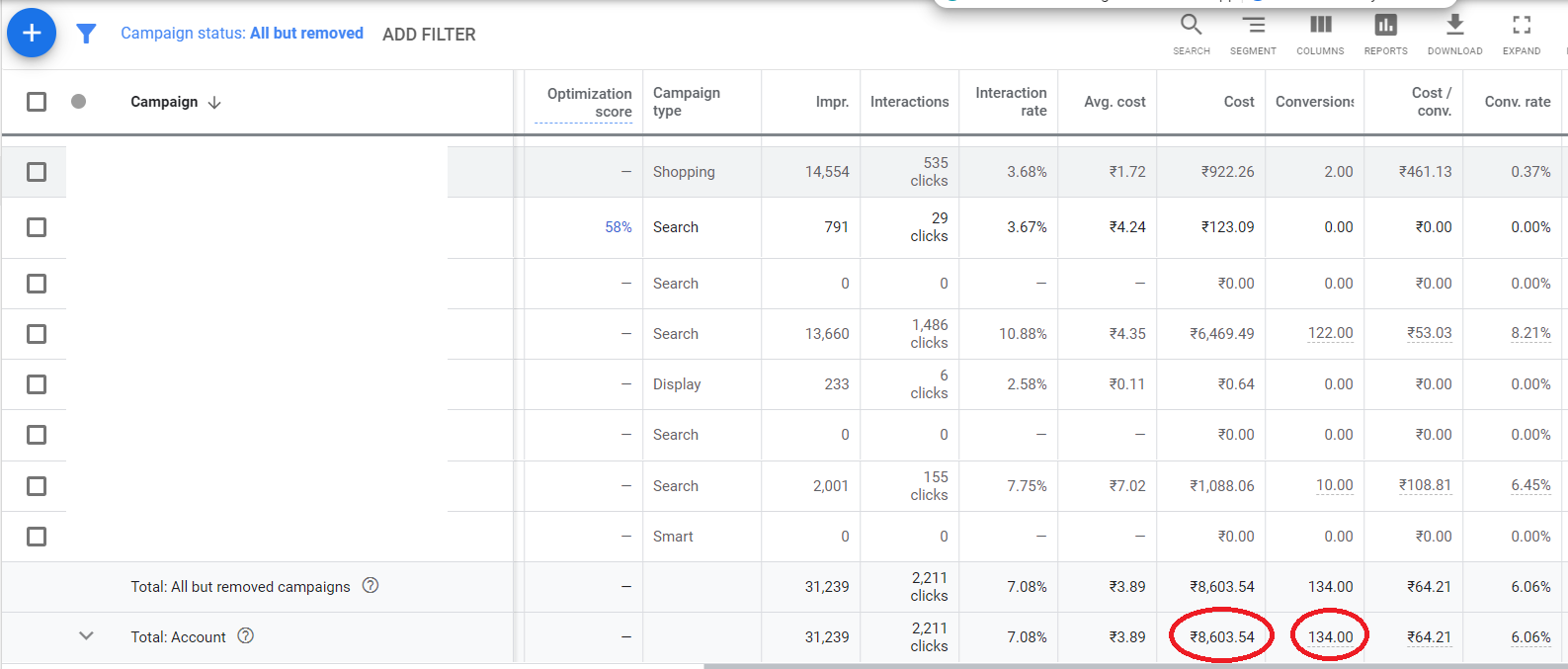 As you can see for INR 8000 spent, they have gotten 134 conversions.
This means for INR 8000 spent, return is INR 73,700.
Now let us look at Facebook.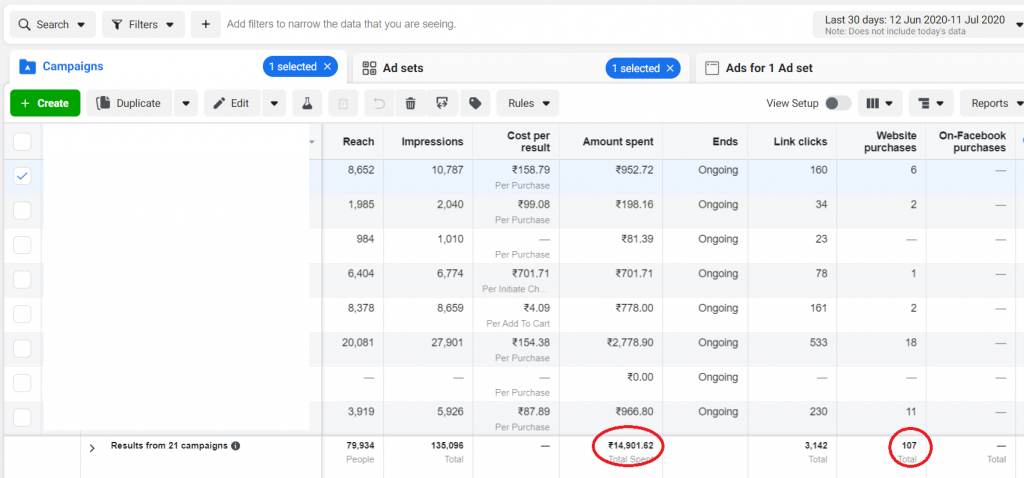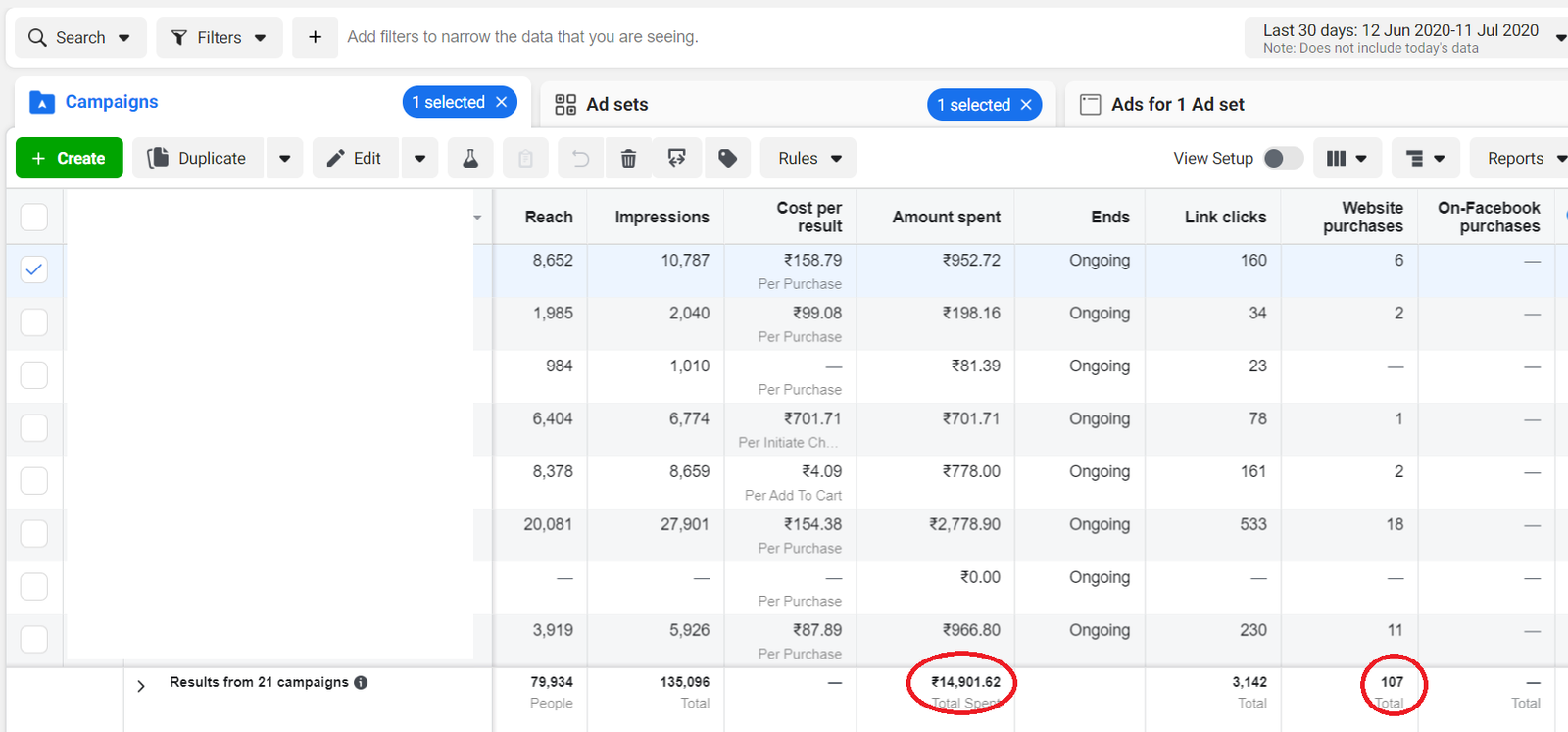 As you can see, I have spent INR 14,901 and gotten 107 Sales.
This means for INR 14,901 spent, return is INR 58,850.
I just wanted to show you this so that you can see proof that you can actually make money by selling something online.
If you need some help starting to sell online, do ping me using the chat and I will help you.
If you do not have money to start running ads, you can slowly build your presense on social media and then make money through organic channels.
Lastly, you can consider any common reselling platforms.
Reselling Platforms
Reselling platforms such as Meesho offer a great way to have your products seen and bought by thousands of users without you having to set up and maintain your website.
The advantage of using reselling platforms for your blouse design business is that reselling platforms will:
Take care of listing your product
They will do all the marketing
They will take care of logistics
They have endless supply of customers
Some of the best reselling platforms in India are:
Do note that to sell on these reseller platforms you will need a GST number and have some kind of inventory.
If you need any additional assistance setting up your online business, do let me know.
Frequently Asked Questions about Blouse Designs
What is considered as a blouse?
A blouse is an upper garment formerly worn by women, especially as part of ethnic wear in India.
What is the difference between a blouse and a shirt?
A shirt is generally gender-neutral meanwhile a blouse is a feminine garment.
What is a lady blouse?
A lady blouse is an upper garment formerly worn by women, especially as part of ethnic wear in India.
Can a man wear a blouse?
A Man's upper garment is usually called Shirt and blouse is generally worn by women.
What is another word for blouse?
Shirt
What is the difference between a tunic and a blouse?
A tunic is a long, loose-fitting upper garment that is longer than a shirt while A blouse is an upper garment formerly worn by women, especially as part of ethnic wear in India.
Recommended Reads
35 Top Blouse Designs
35 Top Blouse Designs Summary
Here are 35 Top Blouse Designs & How you can use your blouse design to Start a Blouse Business [A Step By Step Guide] in 2022
Pros
All blouse designs are in trend 
Most blouse designs are easy to stitch 
Blouse designs are also beginner-friendly
Cons
You might need to practice stitching to make blouses of these designs.