Last Updated on 1 month by Anoob P
When I was a student in college, I always used to wonder how to make money as a college student.
There were not many business ideas for students that could be pursued to make a sizable income. 
Few of my friends were into selling mobile SIM cards, selling inurance policies for their relatives and some were even trying to become a real estate broker. 
Even though the Internet was around, earning money online was almost out of the question. 
For example, when I was a student, Nokia 6600 was the hottest mobile phone with the latest technology.
Mobile Internet or GPRS cost around INR 400 a month (USD 8) and on a good day you would get download speeds of 20kbps. 
There is not much I could have done back then without investment. 
But today's students have many options to earn money online and that too a sizeable side-income. 
There are also many good work from home jobs that give you good income without you having to step out of your home.
When I say side-income I mean anywhere between INR 10,000 (USD 150) to INR 50,000 (USD 700) or even INR 100,000 (USD 1400). 
While you might be tempted to borrow a ton of money and start a full fledged business, I would advise against it.
The number one rule of a business is not to get into a business which you do not understand.
While some students might seem lucky to start a business that went on to become a huge success, there are many others who fail and end up in debt.
Some of these ideas might not seem like a business idea but rather a way to earn money online, you can nonetheless create a business out of it if you are able to consistantly make money.
There are many platforms that will help you earn money online with small tasks.
One of these platforms is ClixSense or Ysense, where you can earn few dollars on the side by doing small surveys and tasks that typically take less than couple of minutes to complete.
I have also written a detailed review of Ysense, you can check if out if it interests you.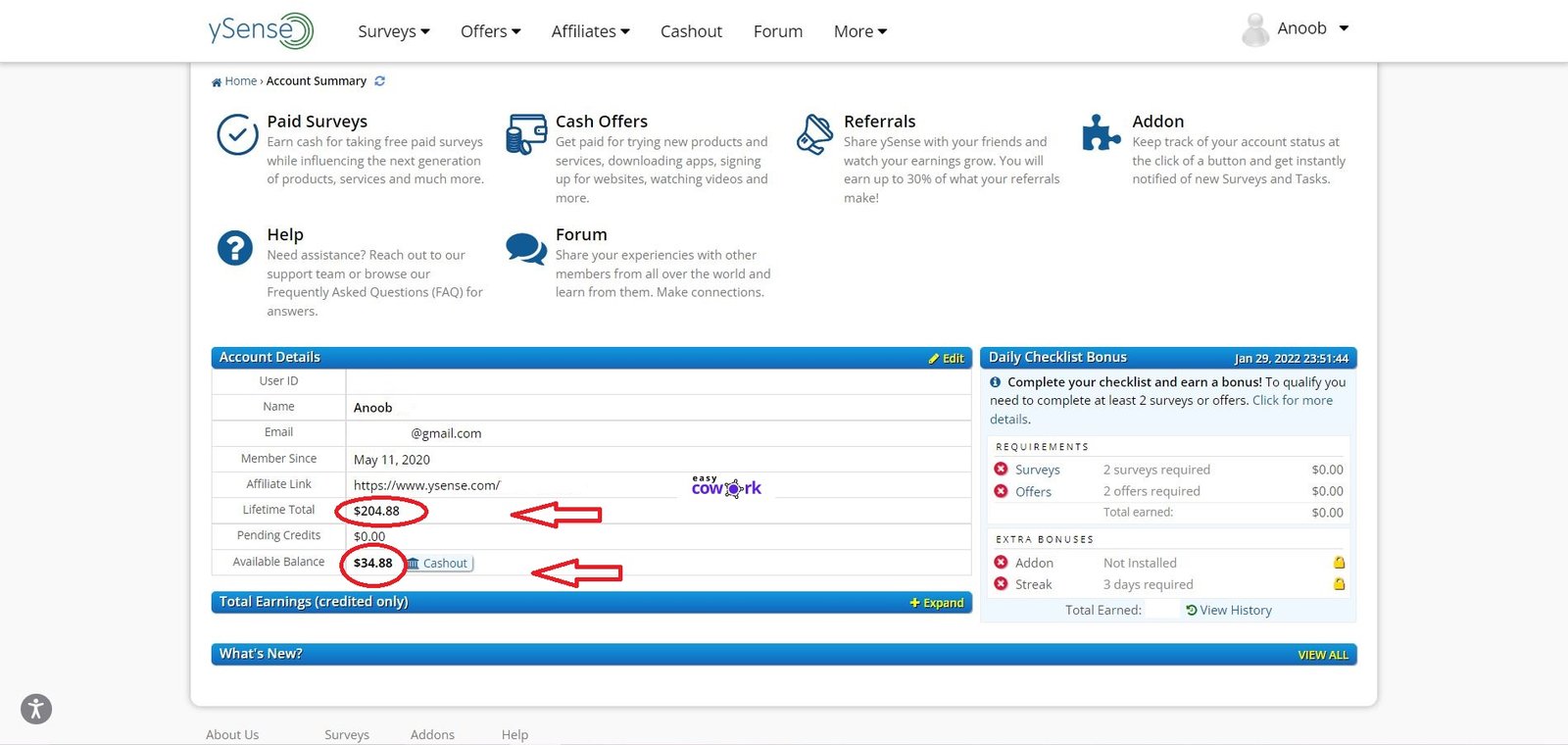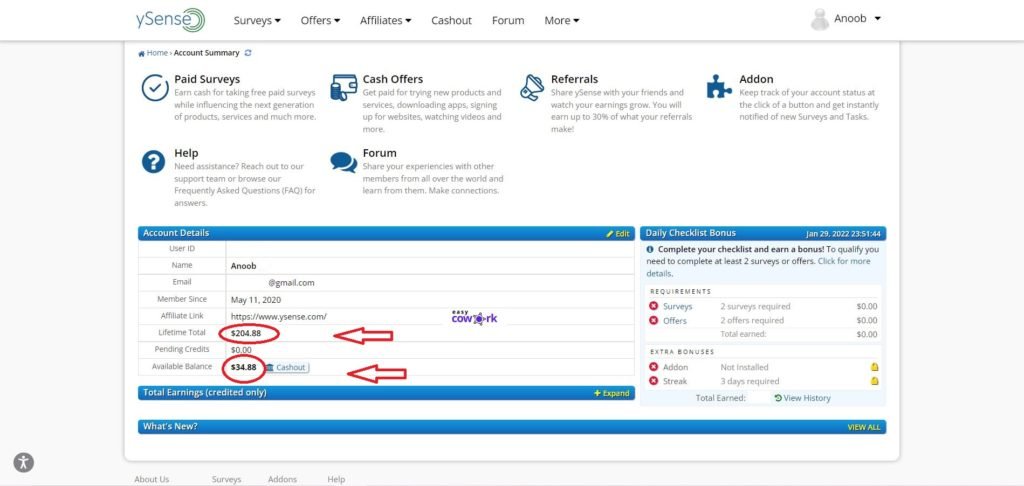 You can also join YSense by clicking on the button below.
Join ClixSense Now!
I recently helped a client of mine generate $1000 in income from his YouTube channel that was not making any money and even you can do the same.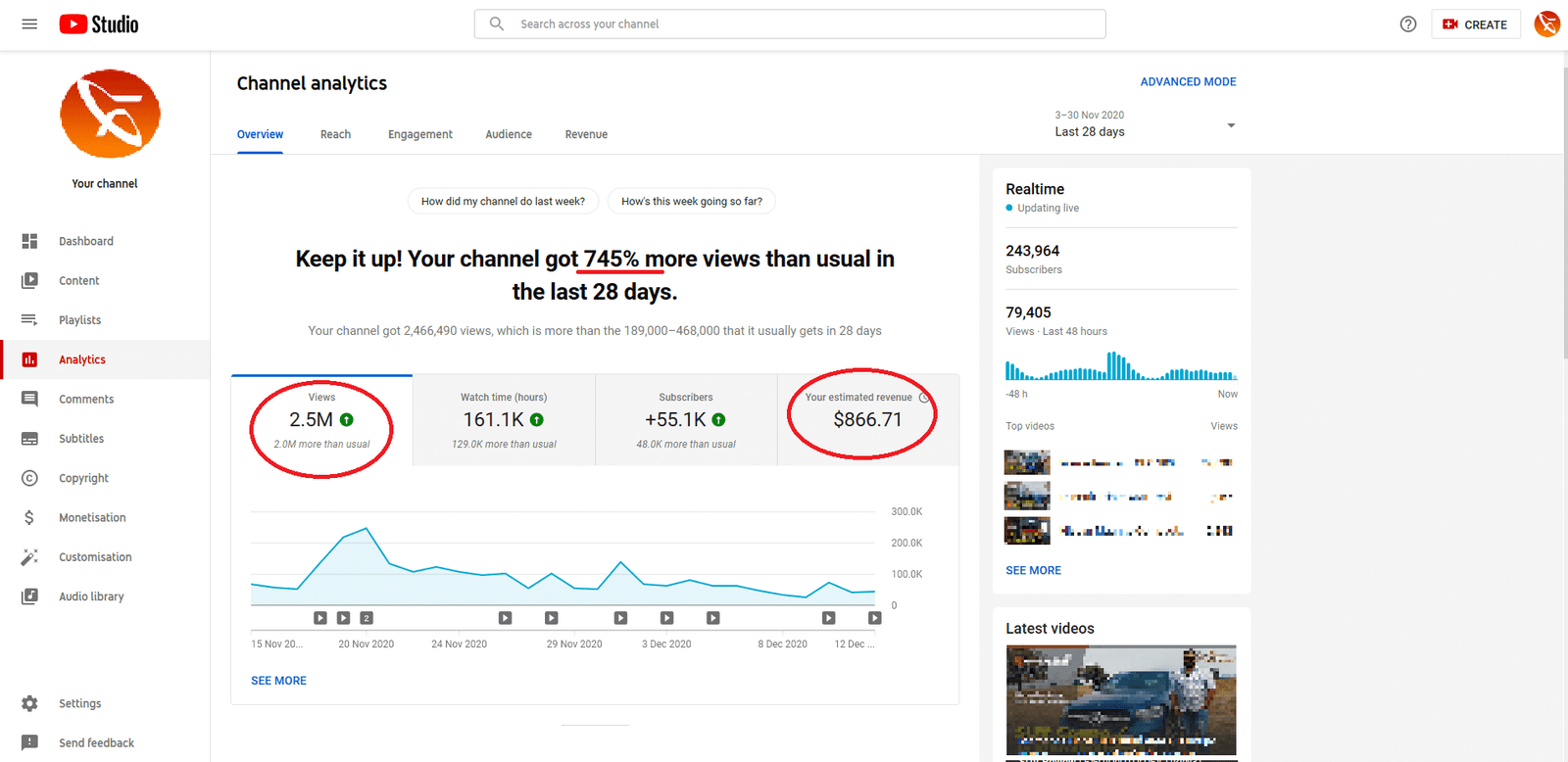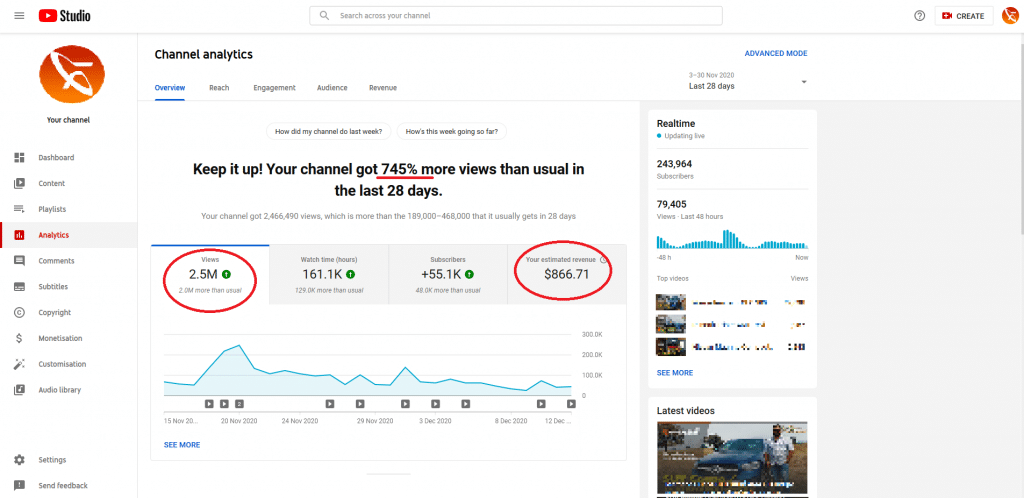 Earlier, I had co-founded a video company and raised $2 million in funding and then got fired from the company I started. I had done lot of testing and research on how to monetize YouTube and now I use the same skills to help other YouTubers. You can read my full story here if you are interested.
If you are interested in the whole concept of making money online, you can check out some of my other posts including 10 Easy Ways to Earn Money Online without Investment, How to Earn Money from YouTube, how to earn money from Facebook and how to start a blog and make money.
How to Make Money as a college student in 2022
Content Writing
My first real paying job was as a content writer. 
After I got fired from a call center, I was looking for a job and I saw on Indeed.co.in a requirement for a content writer. 
I applied, they called me for an interview and I was able to crack the interview. 
I was offered a salary of INR 5,500 or USD 100 per month and I took it. 
This is my first month's bank account statement with salary credit.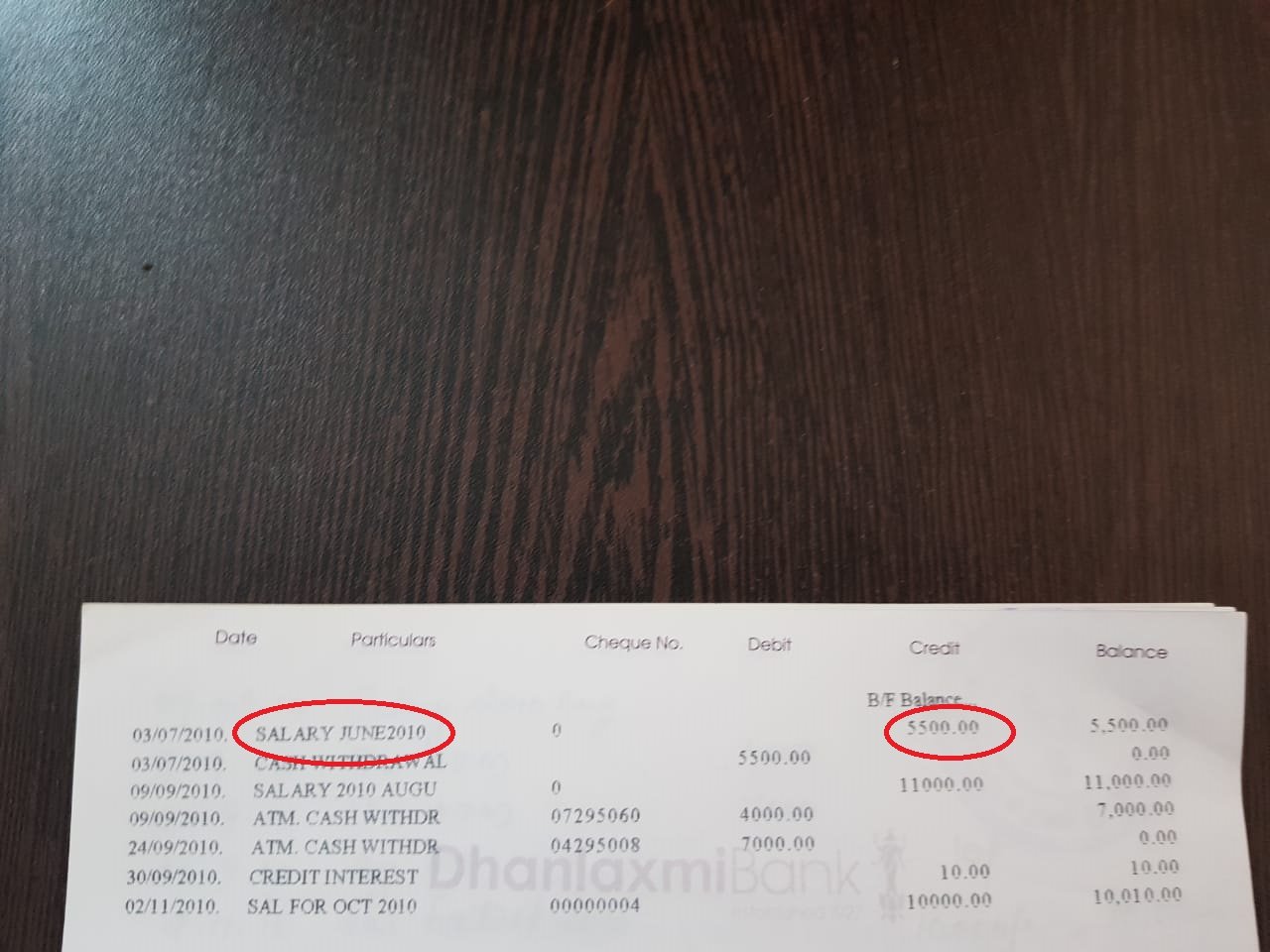 Starting from USD 100/ month, at one point I was making INR 6 Lakhs (or USD 8700) a month.
A good content writer can get paid anywhere between INR 1 to INR 3 depending on the type of project and the good thing about a content writing job is that you can do it from your home. 
Before you apply for a content writing job, ensure that you have few good samples you can show to your potential employer. 
You can write articles about any topic and showcase it as your work. 
Also try to land projects with reputed companies or websites.
Some of the best websites to find a good content writing job is
freelancer.com
upwork.com
guru.com
Please avoid projects from Facebook groups as most of them are scams and they will try to make you work for free. 
Once you start getting enough projects, you can consider hiring a team of writers and converting it into a full-fledged business.
Earn Money from Facebook
Another good option for students to earn money online is using Facebook. 
To make money on Facebook, there are many options such as ecommerce, directly selling using Facebook groups, video monetization, selling Facebook page likes etc. 
I have written a very detailed post about how to earn money from Facebook, you can read it by clicking the button below. 
As great as making money from Facebook might seem, there are several fraudsters lurking on Facebook trying to scam you of money so be careful when dealing with people on Facebook and never give your money for any kind of task. 
How to Earn Money from Facebook
Ecommerce 
One of the great things about being a student is that you are young, energetic and mostly curious. 
At least I was that way when I was a student. 
It is easier to spot problems that people are trying to solve through products and if you can find unique products, you can definitely make money by doing ecommerce.
As a student to make money through ecommerce, you need to invest some money and more importantly time to figure out a few things. 
How to Make Money via Ecommerce
★ Find the right products
★ What your competitors are selling
★ How to Source these products
★ Get your website up and running
★ Have a payment gateway
★ Market these products to right audience
★ Get sales & repeat orders
While this might seem like a lot of things, it is actually pretty easy. 
With few dollars in investment you can easily buy a domain and point the domain to a Shopify website and start your online store. 
If you need any help in setting up your online ecommerce store, do ping me using the chat at the bottom and I will try to help you out. 
Graphic Designing 
Graphic designing is a fun way to make some money if you are interested in designing. 
As long as there is digital marketing, there will be demand for good graphic design. 
This is because good graphic design is essential for a digital marketing campaign to function. 
It's a lucrative career to explore and once you have a couple of years of experience as a graphic designer you can gradually get into UI/UX design and development. 
For example, take a look at the freelancer's Fiverr profile above. 
He has around 3000 reviews and 11 orders in Queue. 
Remember that many people who take services do not leave a review so he would have completed at least 4000+ orders with a minimum value of INR 1500 or USD 21. 
So that is 4000*21= USD 84000. Not bad right? 
For graphic design also, once you have established credentials, try to find people who can do work for you and you can supervise to make it a business.
App Development 
Apps are exploding at the moment. 
Apps are relatively easier to make and can make you decent enough money as a student. 
You can either make an app for yourself or even make app for other people to make money. 
If you are new to developing apps, I urge you to work with a team to create apps for few businesses. 
Once you are confident of making your own apps, start with small apps such as a document scanner or even a small game that people would enjoy. 
I have tons of ideas on apps to make but I am not a coder. 
If you want ideas, ping me using the chat section and I will give you guidance on what apps to develop. 
Once you have a successful app, it would be fairly easy to convert your app into a full fledged business.
Digital Marketing 
There are many levels of digital marketing and as a student you can learn the basics of digital marketing and start getting some projects. 
For example, digital marketing requires search engine optimization and a lot of work related to SEO is hands on work. 
If you can learn SEO, I am sure you can get a couple of SEO projects while you are still a student. 
Alternatively, you can also learn about paid performance marketing which uses paid budgets to drive ROI. 
In either way, digital marketing can be very useful if you are looking to earn some money as a student. 
Video Editing 
If you love created and editing videos, you can consider doing video editing to make some money on the side. 
Learning video editing will also be useful if you plan to start a YouTube channel some time in the future. 
I have written a detailed post on some of the best video editing courses, you can check that as well. 
Best Video Editing Courses
To convert your video editing skills into a business, you would have to create a YouTube channel and monetize it or have a team of videographers who can generate revenue without you having to work.
YouTube 
If you are a student, a great option to earn money online is YouTube. 
YouTube already has the audience, all you need to do is figure out an approach that will get subscribers and will consistently grow the channel over a period of time. 
If you do not like facing the camera, you can even do videos with animations and voice over. 
For example, this is a channel I follow. 
This is a channel about motivation and success and this person has almost 1 million subscribers. 
It is mostly just animated videos and voice over which you can easily do once you have the script ready.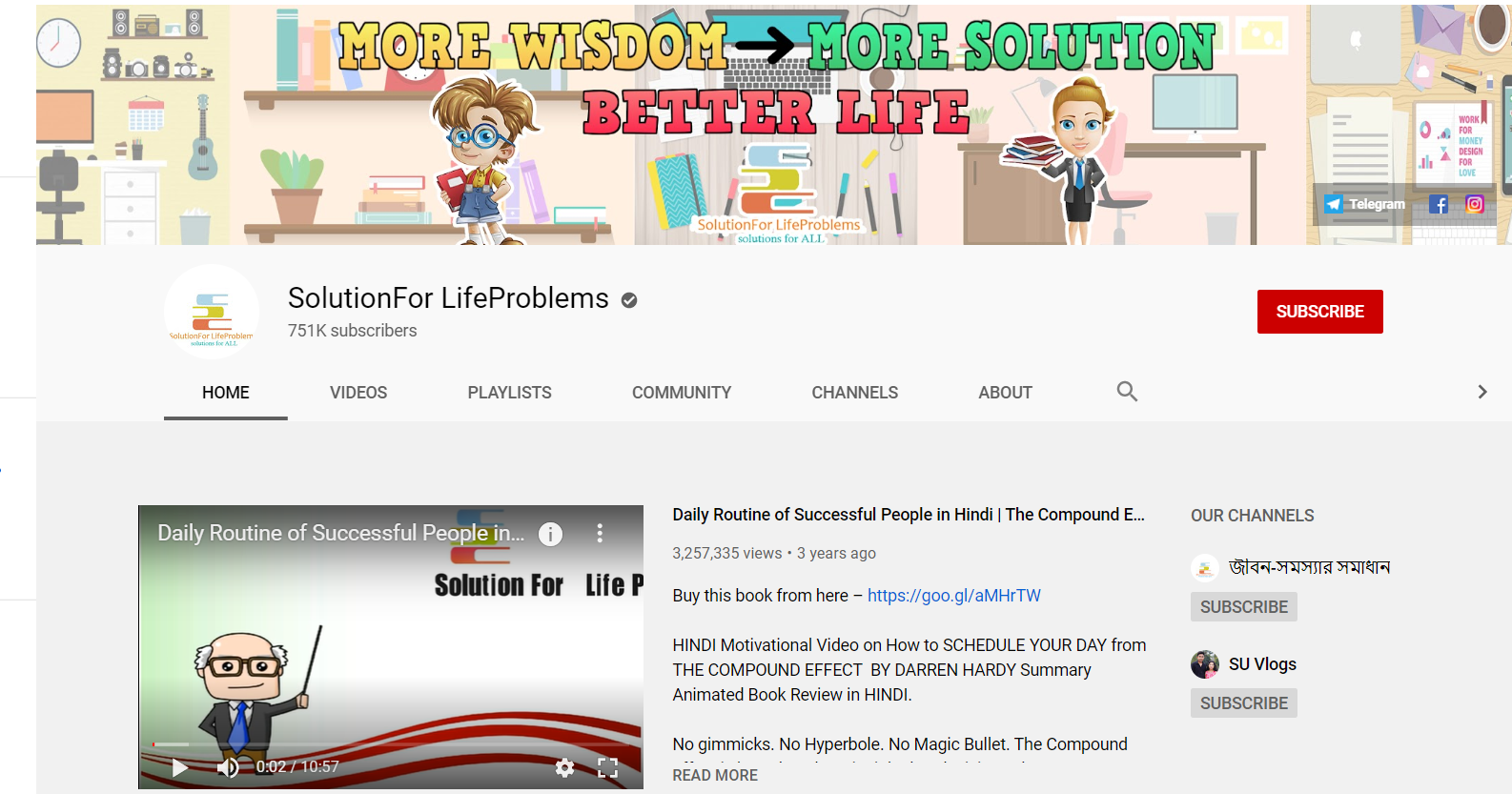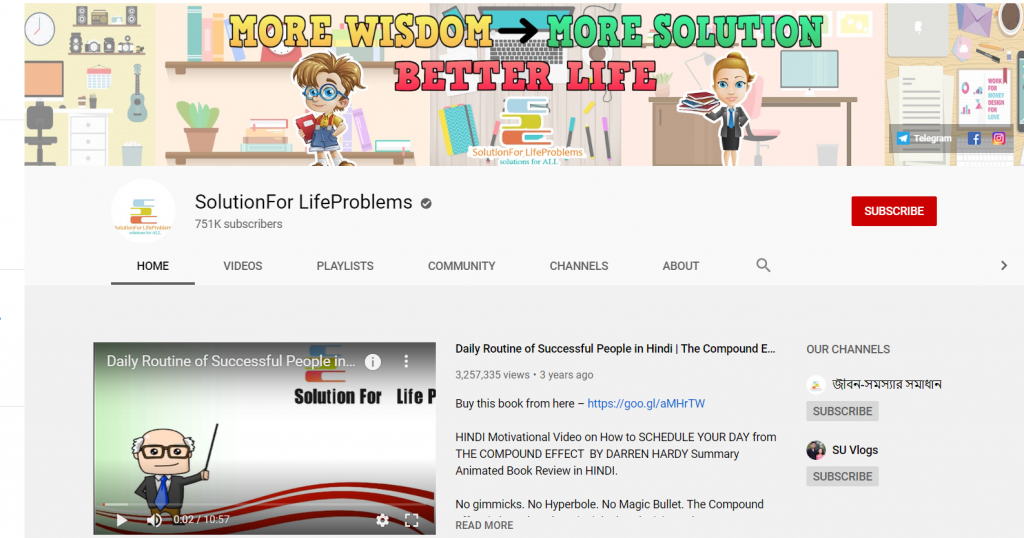 You can also consider creating a channel like this which is mostly translated versions of already established success principles. They too have almost a million subscribers and you can also easily do this. 
You can use this tool called Doodly to create such videos and earn money online.
Explore Doodly Tool
Affiliate Marketing 
Affiliate Marketing is when you sell somebody else's product or service and earn a commission when the sale happens. 
For example, you might be getting a lot of promotional emails about Amazon deals and coupons. 
These are mostly done by affiliates and when you open their link and make a purchase through that particular link, the affiliate gets a commission of the sale. 
You might have also seen people posting product related photos and links of certain Facebook groups-this is also affiliate links and when someone makes a purchase, they get a commission. 
To get started, you can sign up as an Amazon affiliate and try to promote this link within your circle. 
To take affiliate marketing to the next stage, you need traffic or a means to promote your links. 
You can use sms, email or even paid traffic to promote your affiliate link and earn money online. 
If you have more questions of affiliate marketing, ping me using the chat at the bottom. 
Freelance Gigs 
As a student, you should be open to make money using any channel that is available online. 
Fiverr, Freelancer.com and guru.com are some freelancer websites through which you can land gigs and make an income online. 
No matter what your skill is, you can create a profile, add proper description and try to win some projects. 
If you are just starting out, it might become a little difficult but as few orders start coming in, it will become easy. 
To make your profile look good, you can ask your friends or colleagues to order your gigs and make them leave a good review to get visibility for your profile. 
So these were some of the ways to earn money online as a student. 
If you need some help getting started, do let me know. 
Recommended Reads
How to Make Money As A College Student
How to Make Money As A College Student Summary
Here is an ultimate guide on How to Make Money As A College Student in 2022. Most of these ways to make money as college student is online so you can easily do these even if you do not have much experience. 
How to Make Money As A College Student
Pros
Most How to Make Money As A College Student ideas are online 
Easy to get started 
No capital required 
Cons
Some How to Make Money As A College Student ideas will need experience 
Some How to Make Money As A College Student ideas are low paying