In 2021, Ninja Net Worth is estimated to be around $25 million or £ 22 million. In this post, we are going to look at how Tyler Ninja Blevins career, early life & how he made money.
This post is part of our series where we look at the life of digital influencers and understand how they achieved success by choosing unconventional careers.
If you are interested in the whole concept of making money online, you can check out some of my other posts including 10 Easy Ways to Earn Money Online without Investment, How to Earn Money from YouTube, how to earn money from Facebook and how to start a blog and make money.
I recently helped a client of mine generate $1000 in income from his YouTube channel that was not making any money and even you can do the same.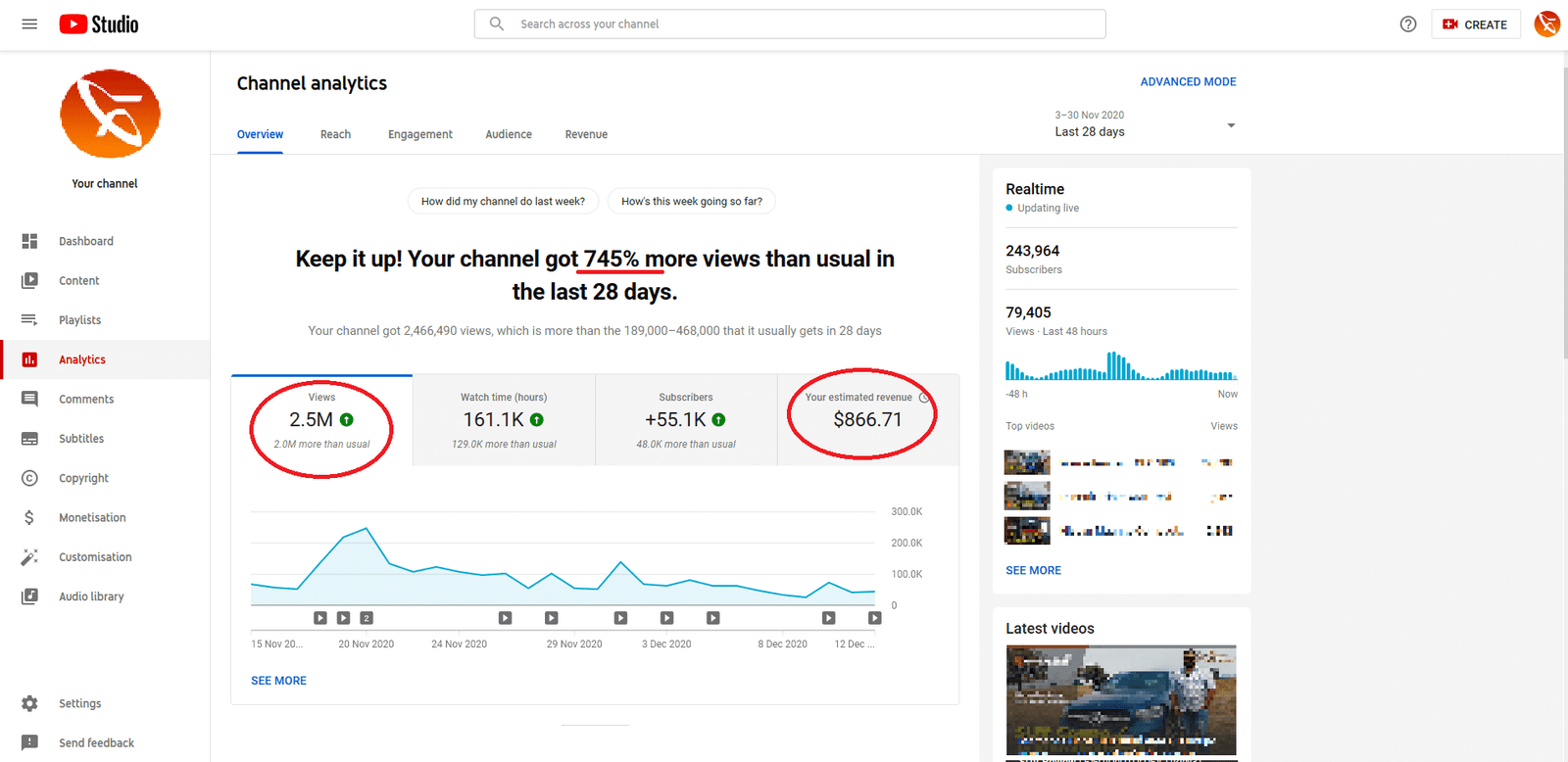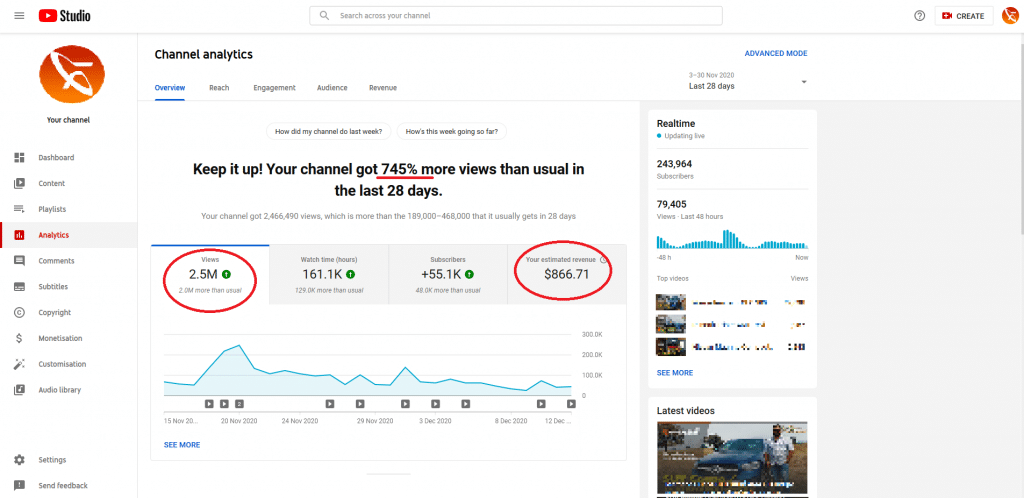 Earlier, I had co-founded a video company and raised $2 million in funding and then got fired from the company I started. I had done lot of testing and research on how to monetize YouTube and now I use the same skills to help other YouTubers.
You can read my full story here if you are interested.
Ninja Net Worth (Tyler Ninja Blevins), Career & How Ninja Makes Money [2021]
Who is Tyler Ninja Blevins?
Tyler Ninja Blevins (real name Richard Tyler Blevins), also known as Ninja, is a professional gamer, YouTuber and Internet celebrity from the U.S.
He is a professional Fortnite player and streams his game on platforms like YouTube and Twitch. He is also known as NinjasHyper.
He started by streaming his participation in various sport games and gradually he started playing Fortnite in 2017. He picked up fame after he started streaming his gameplay on social media and since then Ninja Net Worth has soared.
If you are into gaming, you would remember Tyler Ninja Blevins playing Fortnite game with Drake Travis Scott and JuJu Smith-Schuster–the streaming of which broke all records for Twitch view counts.
You can watch the stream here
You should also know that Tyler Ninja Blevins was the first professional streamer, who got an exclusive skin in Fortnite.
Tyler Ninja Blevins Net Worth in 2021
As of 2021, Ninja's net worth is $25 million.
Tyler Ninja Blevins is extremely popular on Twitch and earns about $500,000 per month.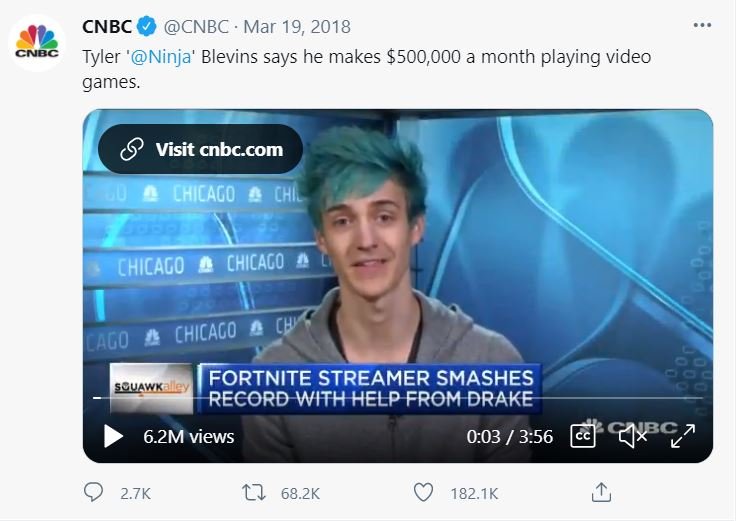 Ninja himself said that he earns $500,000 a month on CNBC. You can watch the video here.
He has around 160,000 paid subscribers on the platform and a large part of his income is attributed to his Twitch stream.
He also has more than 23,000,000 subscribers on YouTube and gets millions of views per video.
He is also a social media influencer and has various sponsorship deals going on. He also receives donations throughout his stream and once received $40,000 anonymous donation. All this amounts to Ninja Net Worth.
Reports suggest that after a long negotiation over his Twitch contract Ninja moved to Mixer, which is a streaming platform of Microsoft. The deal was sealed in about $20-30 million.
Tyler Ninja Blevins Birthday or Age and Early life
Tyler Ninja Blevins was born on June 5, 1991 in Detroit, Michigan, US.
As of 2021, he is 29 years old.
Growing up, Tyler Ninja Blevins moved to Chicago suburbs where he attended Grayslake Central High School.
After graduating, he decided to play video games as a profession and started entering tournaments, joining organizations, and streaming his games.
In 2009, he started playing Halo 3 as a professional and he has been a YouTuber since 2011.
Tyler Ninja Blevins Bio
| | |
| --- | --- |
| Real Name | Richard Tyler Blevins |
| Nick Name | Ninja |
| Date of Birth | June 5, 1991 (Age 29 years Old) |
| Zodiac | Gemini |
| Relationship Status | Married to Jessica Goch |
| Height | 6 feet 1 inch or 185 cms |
| Weight | 136 lbs (62 kg) |
| Net Worth | $25 Million (approx) |
| Place of Residence | Detroit |
| Source of Wealth | Professional Gamer, YouTuber Internet Celebrity |
| Nationality | American |
| Education | High School |
Tyler Ninja Blevins Bio
Tyler Ninja Blevins Net Worth in 2019
In November 2019, he became the most followed streamer on Twitch with over 14 million followers.
He was averaging around 50,000 viewers per week.
According to Forbes he earned $17 million in total during 2019, which included various income sources such as Twitch, YouTube, Sponsorships from brands etc.
Tyler Ninja Blevins Career Highlights (Achievements)
He has been into video games since high school and after graduation he decided to take it up as a profession.
In 2011 started playing H1Z1 and he then moved to PUBG (Player Unknown's Battlegrounds).
In 2017, Tyler Ninja Blevins joined Luminosity Gaming as a Halo player.
He then started playing H1Z1, then PUBG and he had won the 2017 PUBG Gamescom Invitational Squads classification.
Epic Games, the creator of Fortnite, got inspired by the record set by ninja on Twitch in 2018, when he became the streamer with the largest audience on an individual stream (excluding tournaments).
Tyler Ninja Blevins became extremely famous when he was paired with other celebrities to live stream.
Tyler Ninja Blevins had partnered up with the electronic Musician Marshmello too.
In 2018, Tyler Ninja Blevins partnered with Red Bull Esports and took part in a special Fortnite event.
In that event players, players all over the world were asked to challenge him and were able to play with him on the platform.
 Tyler Ninja Blevins Girlfriend or Wife
Jessica Goch Blevins is a fellow gamer of Tyler Ninja Blevins, and Tyler met her at a 'Halo' tournament in 2010.
 Tyler Ninja Blevins started dating Goch or Jess in 2013 and got married in August 2017.
Goch, also known as Jess Blevins, is also a popular streamer.
Jess Blevins has 211,000 YouTube subscribers and 455,000 followers on Twitch.
You can view Jess Blevins YouTube channel here
You can view Jess Blevins Twitch handle here
Currently, she is Ninja's manager as well.
Ninja got into controversy for not streaming his gameplay with female players on his stream, but he clarified that he can't risk spreading rumours about himself and risking his marriage.
Tyler Ninja Blevins Streaming Platforms
Ninja streams mostly on Twitch as has held many records since his journey began on the platform. Based on his fame, he was lured by Microsoft to leave Amazon's Twitch and join its streaming platform mixer. According to sources, he was paid $20-30 million for leaving the platform.
In August of 2019, Blevins left Twitch to stream only on Mixer platform.
In June 2020, Amazon's Mixer got shut down.
After which, Tyler Ninja Blevins was free to stream on other streaming platforms.
Ninja signed a new multiyear deal to livestream exclusively on Twitch, and on September 10, 2020 he revealed the same and streamed live on the platform.
Tyler Ninja Blevins Nominations and Awards
In 2018 he was nominated for the Streamy Awards' Breakout category and Creator of the Year category. He won the Gaming and Live Streaming category for the same.
In 2018, Tyler Ninja Blevins won the Esports Awards – Esports Personality of the Year and The Game Awards 2018 Content Creator of the Year.  
In 2019 he won the Shorty Awards- Twitch Streamer of the Year and Streamy Awards- Live Streamer and was nominated for streamy Awards' Creator of the Year.
In 2020 he was nominated for Kids' Choice Awards- Favourite Gamer and Streamy Awards- Live Streamer.
In 2021, he's nominated for Kids' Choice Awards- Favourite Male Social Star.
 Tyler Ninja Blevins Appearances in Films and Television
Ninja appeared in a few television shows and a movie.
On television, in 2019, he appeared in The Masked Singer, with a role of Ice Cream in season 2. In 2021, he appeared in Nickelodeon's Unfiltered as himself in the episode: Donut vs. The Volcano.
In 2021, he appeared in the movie Free Guy as himself.
You can watch the trailer of Free Guy here:
In 2015, Blevins and his family appeared on television show Family Feud.
 Tyler Ninja Blevins and family has also appeared on Celebrity Family Feud.
In September 2018, Blevins became the first professional esports player to be featured on the cover of ESPN The Magazine.
 Tyler Ninja Blevins appeared in the NFL's "The 100-Year Game" ad, alongside other professional football players.
The ad aired during the Super Bowl LIII in 2019. Ninja was the only celebrity on the ad who had no background in football.
You can watch the ad here:
Tyler Ninja Blevins Twitch Handle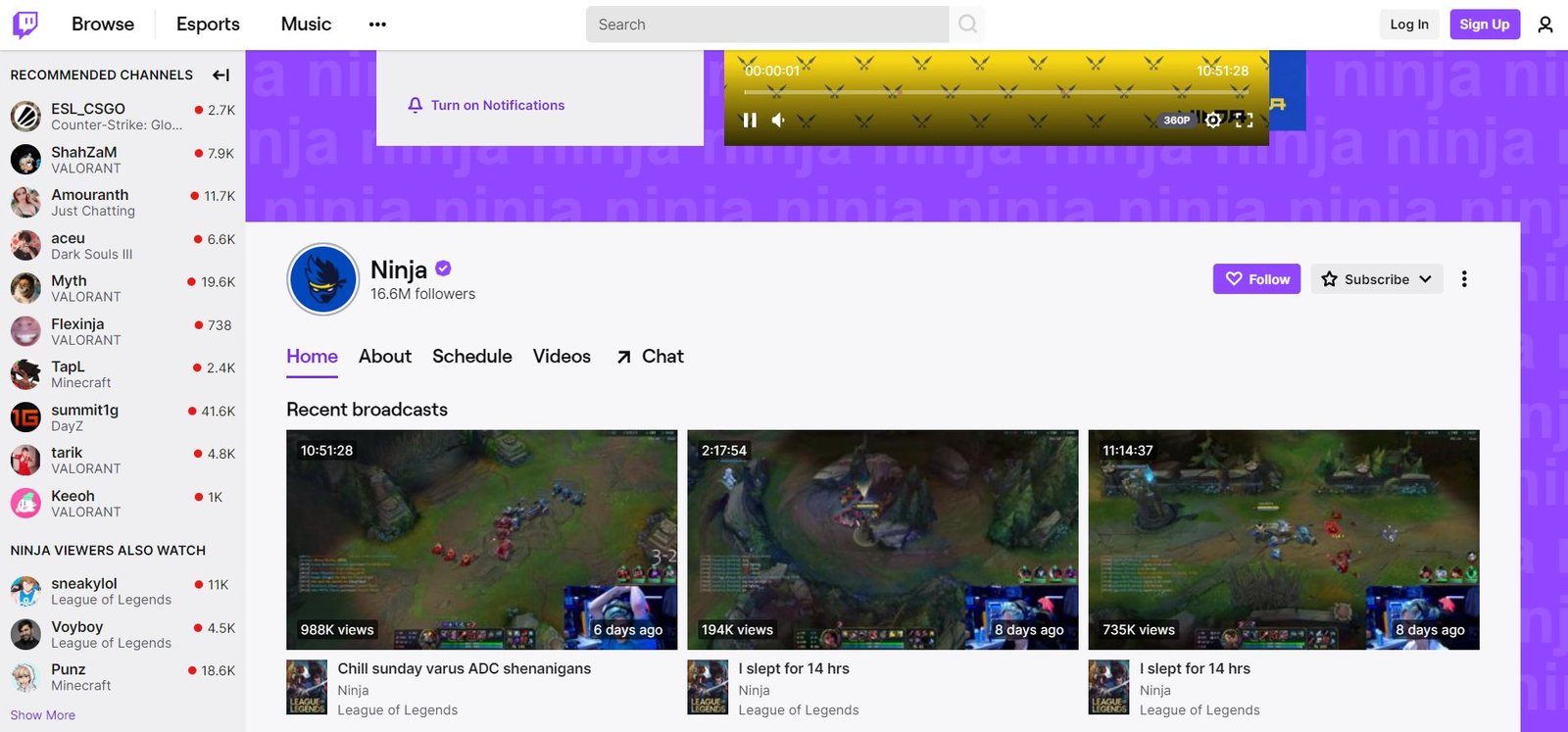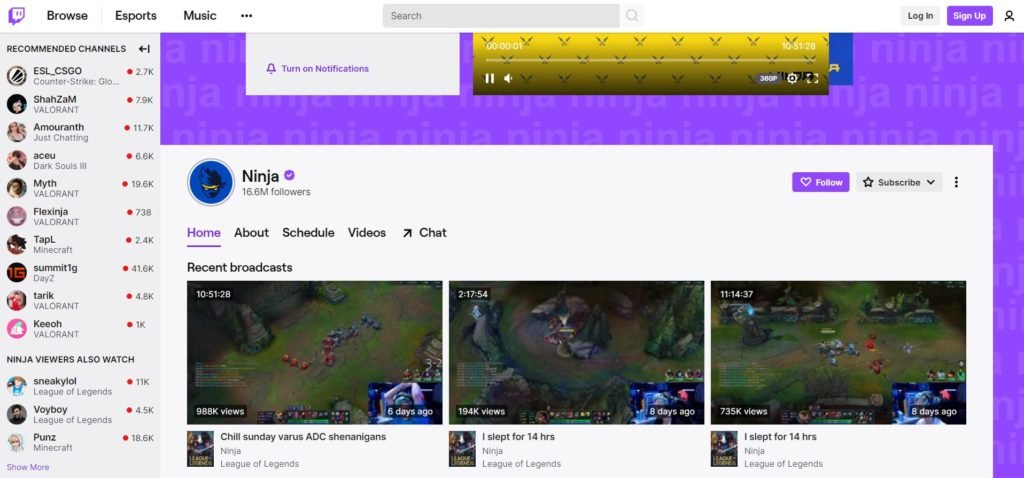 Ninja has 16.6 million followers on Twitch. He streams every day on the platform.
In 2019, he left the platform and joined Microsoft's Mixer. After the shutdown of Mixer in 2020, He came back to Twitch and started streaming to him 14 million followers
His about section says, 'Ninja streams League of Legends, Just Chatting and VALORANT.'
No of Followers- 16.6 M followers
Tyler Ninja Blevins YouTube Channel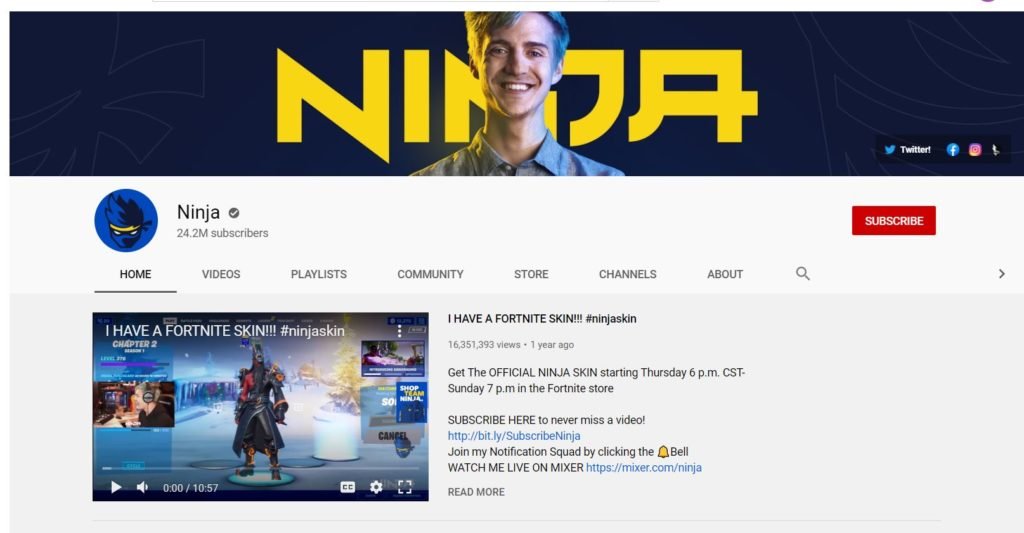 Ninja has 1,340+ videos on YouTube, with 24.2 million subscribers with 2,412,091,100+ views.
No of Followers- 24.2M
Tyler Ninja Blevins Instagram
Tyler Ninja Blevins has more than 14 million followers on Instagram.
No. of followers- 14.1 million
Frequently Asked Questions about Ninja Net Worth
Did Tyler Blevins attend college?
No, he attended high school.
Is Ninja a billionaire?
No he is not, Ninja net worth is around $25 Million.
How did Ninjas become famous?
Ninja was a professional gamer for years, but Fortnite really made him famous.
Why is Ninja so rich?
Ninja net worth is around $25 million and he makes around $500,000 in a month.
How much does Ninja make a year 2020?
In 2020, Ninja is estimated to have made $20 million.
Does Ninja have a real job?
Ninja used to work in a fast food joint before hitting it big time as a professional gamer/streamer.
Did ninja get his own skin?
Yes, Ninja got his own Fortnite skin.
Recommended Reads