Last Updated on 5 months by Anoob P
Want to read Amazon Flex Reviews before joining Amazon Flex? Here is all the information you need including Amazon Flex Reviews, How to join, & tips to earn extra money.
Amazon delivers millions of packages in the U.S everyday and Amazon Flex is the courier service from Amazon that enables Amazon.com to operate at the scale they operate.
Do note, Amazon Flex is good as a side-hustle or a part time job. This cannot replace your regular income. If you are interested in making money on the side, do check out our other posts including How to Earn Money from Facebook, How to Earn Money from YouTube and how to start blogging and make money.
I recently helped a client of mine generate $1000 in income from his YouTube channel that was not making any money and even you can do the same.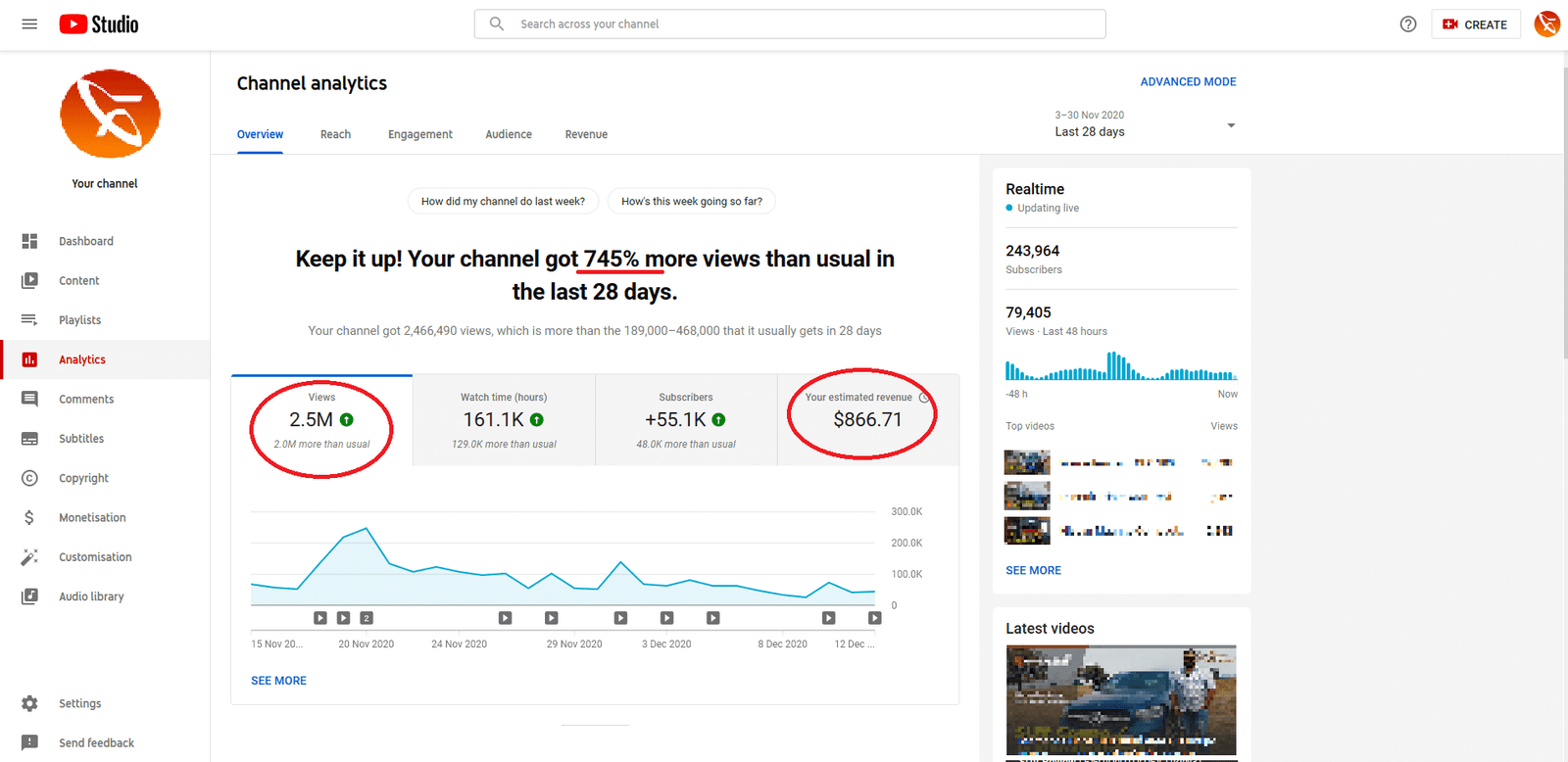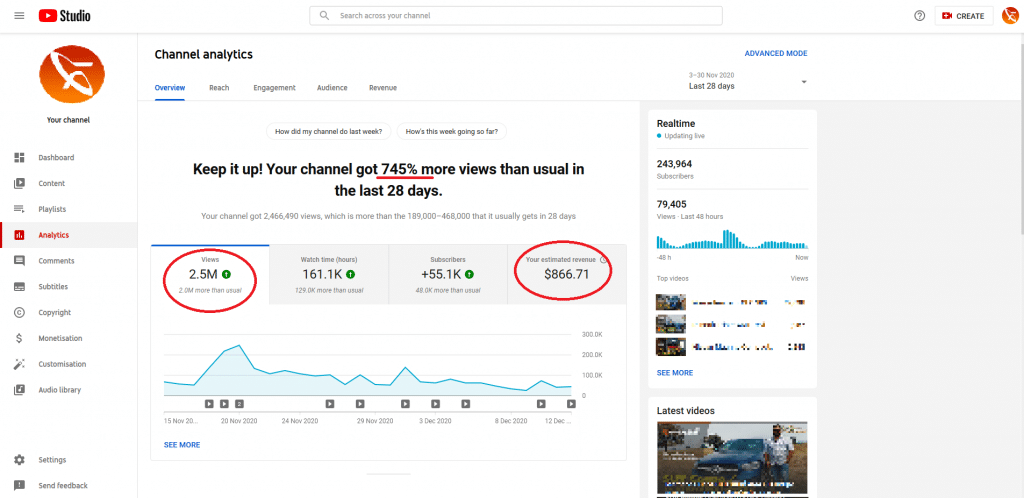 Earlier, I had co-founded a video company and raised $2 million in funding and then got fired from the company I started. I had done lot of testing and research on how to monetize YouTube and now I use the same skills to help other YouTubers.
You can read my full story here if you are interested.
If you are interested in the whole concept of making money online, you can check out some of my other posts including 10 Easy Ways to Earn Money Online without Investment, How to Earn Money from YouTube, how to earn money from Facebook and how to start a blog and make money.
You can also check out review of Postmates vs Doordash if you are interested.
What is Amazon Flex?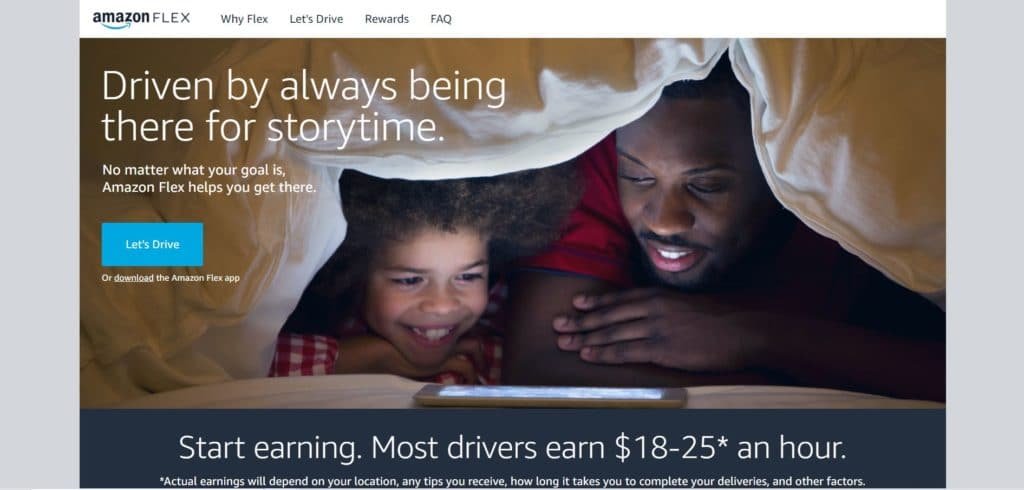 Amazon has different verticals of their business such as Amazon.com, Amazon Fresh and even Prime Now and Amazon Flex caters to all of these business.
Amazon Flex offers people who are willing to drive/become delivery professionals a chance to earn good money depending on where you live.
Official website of Amazon Flex: https://flex.amazon.com/
Amazon Flex Eligibility Requirements
To join Amazon Flex, these are the eligibility requirements.
Be at least 21 years old.
Have a valid driver's license and insurance.
Have a qualifying vehicle
Additional Amazon Flex Requirements
Car
It is required that for all Amazon.com deliveries you need a 4-door midsize, sedan style car. Unlike working in the logistics business, you cannot assume that with a larger car, you will definitely make more money.
If you want work for Amazon Prime Now or Amazon Fresh, any sedan size car is eligible but you will have to have the car registered in your name, have the licence information and your drivers licence should be valid and available to you at all times.
Smartphone
To work with Amazon Flex you will need a smartphone. You will need at least an iPhone 5S operating on iOS 11 (or higher) or Android 6 phone with GPS and camera to scan the bar codes on the packages. It is also a no-brainer that you will have to use the Amazon Flex app to complete your delivery tasks and you should have mobile data.
Background checks
Amazon Flex will check your background, driving history and criminal record using a series of identity related questions. The verification can take up to 5 business days for approval.
Insurance
Another thing you need to know is that Amazon provides commercial insurance when you are on job but parking, tolls, mileage etc are excluded. Also, the coverage is not applicable for New York drivers who might need to purchase additional insurance as per state law.
Amazon Flex: How To Sign Up
This is the official link for signing up with Amazon Flex.
https://flex.amazon.com/lets-drive
You will be promoted to download the app, complete few questions and they based on your eligibility (listed above) you will be able to start working with Amazon Flex.
Amazon Flex iOS App: https://apps.apple.com/us/app/amazon-flex/id1454725763
Amazon Flex Android App: Android version of Amazon Flex is not available in Google Playstore, visit the flex link mentioned above from your phone and you will be redirected to Android installation guide.
Amazon Flex Blocks
Amazon Flex allows people to work an make money as per thier availability and Flex Blocks feature allows you to do just that.
In the Amazon Flex app, you will find "blocks" of time that you can choose to work for and block few hours you wish to work.
Amazon Flex sends out Blocks notification two hours before your block starts.
These time "blocks" can be between 1-2 hours for Prime Now, Amazon Restaurants and AmazonFresh deliveries and 3-6 hours for Amazon.com deliveries.
As an Amazon driver you can block time in the following ways:
Offers: Amazon Flex app will periodically hold some blocks for you based on the availability you have given. You have the option to accept or decline but these offer blocks do expire.
Available blocks: The Amazon Flex app is updated with blocks that become available up to 24 hours before the start of a shift. Available blocks are given away on a first come first serve basis so popular blocks are most likely always taken up.
Due to the shortage of available blocks, scheduling pick up shifts can become difficult and Amazon Flex should be treated as a side hustle and not a full time income.
Your pickup location for your items is available only when you accept the block.
After you have locked in your shift, the Amazon Flex app will remind you an hour before about the shift, pick up location and you need to be on time to start your shift.
One thing to note is that as a Flex delivery worker you will not have an idea of the general workload of any particular day and where you will be delivering.
Some warehouses might have larger packages than usual, so you cannot be sure what will be the size of the packages you need to deliver.
You have the option to check in 15 minutes prior to when you block starts but Amazon does not pay for the same
Unless you know your route very well, it is best to follow the route suggested by Amazon Flex app as it will be shorter and faster.
You need to click on "I've Parked" ( "I've Arrived") and then go inside the fence before check in.
The times when you will be scanning the bar code are as follows:
When you pick up the route.
When you arrive at a location and before you drop the package.
After that, you should take photo of the package before delivery.
In case your delivery got delayed because of some technical glitch with the warehouse, you can technically request compensation for delivering after your block time.
We have heard that Amazon Flex Support system has its share of issues, most of the issues are sorted out via email only.
You can call the support during your drive but customer support executives will not be able to handle things such as payment and it is difficult to escalate an issue to a real agent.
Driving For Amazon Flex: What Your Day Will Look Like
Your typical Amazon Flex day starts when you arrive at the pick up location–it could be a distribution hub, a restaurant or even a local store.
The Amazon Flex attendant will give you an individual QR code to check in and give you all the packages to be delivered in your shift.
You need to scan these packages using your Flex app and the loan them into your car and then deliver these.
The Amazon Flex app gives you routes for delivery. You need to arrive at location for delivery, scan the package and confirm delivery.
You need to take picture of the package, check off the location and select the recipient name while delivery.
Your block will begin by arriving at the pickup location, which may be a distribution warehouse, a restaurant or local store.
An attendant will have you scan an individual QR code to check you in and provide you with all your packages for the shift.
You must scan each individual package using the app and load them into your car before heading out for delivery.
If for any reason you are unable to delivery some package, you need to drop them back at the pick up location and there are dedicated support lines available to help you in case you run into some issues on the job.
Also do note, for some specific deliveries such as as attended delivery or alcohol delivery you need to comply with their delivery requirements such as delivering only to the intended recipient or verification of alcohol delivery to only people over 21 years of age.
Amazon Flex Estimated Earnings
Amazon Flex offers payments in the range of $18-$25, depending on your location.
To make more money using Amazon Flex, you can consider using a larger car that fits more packages. But this does not mean that with a larger car you will have more number of packages to deliver–that depends on your area and your block.
You can also claim blocks during peak times and generally Amazon Prime Now and Amazon Fresh customer give tips to delivery agents–which can increase your income.
Amazon Flex drivers get paid twice a week, on Tuesdays and Fridays.
In the case of Amazon Restaurants or Prime Now, it takes an additional two days after delivery to verify your tips and payments are released. Payments are transferred to your bank account directly.
Do note, when you work with Amazon Flex, you work as an independent contractor and you need to responsible for filing your taxes.
Amazon Flex Work Locations
As with any other major delivery company, Amazon Flex operates in 50 Major cities in the U.S and they are expanding.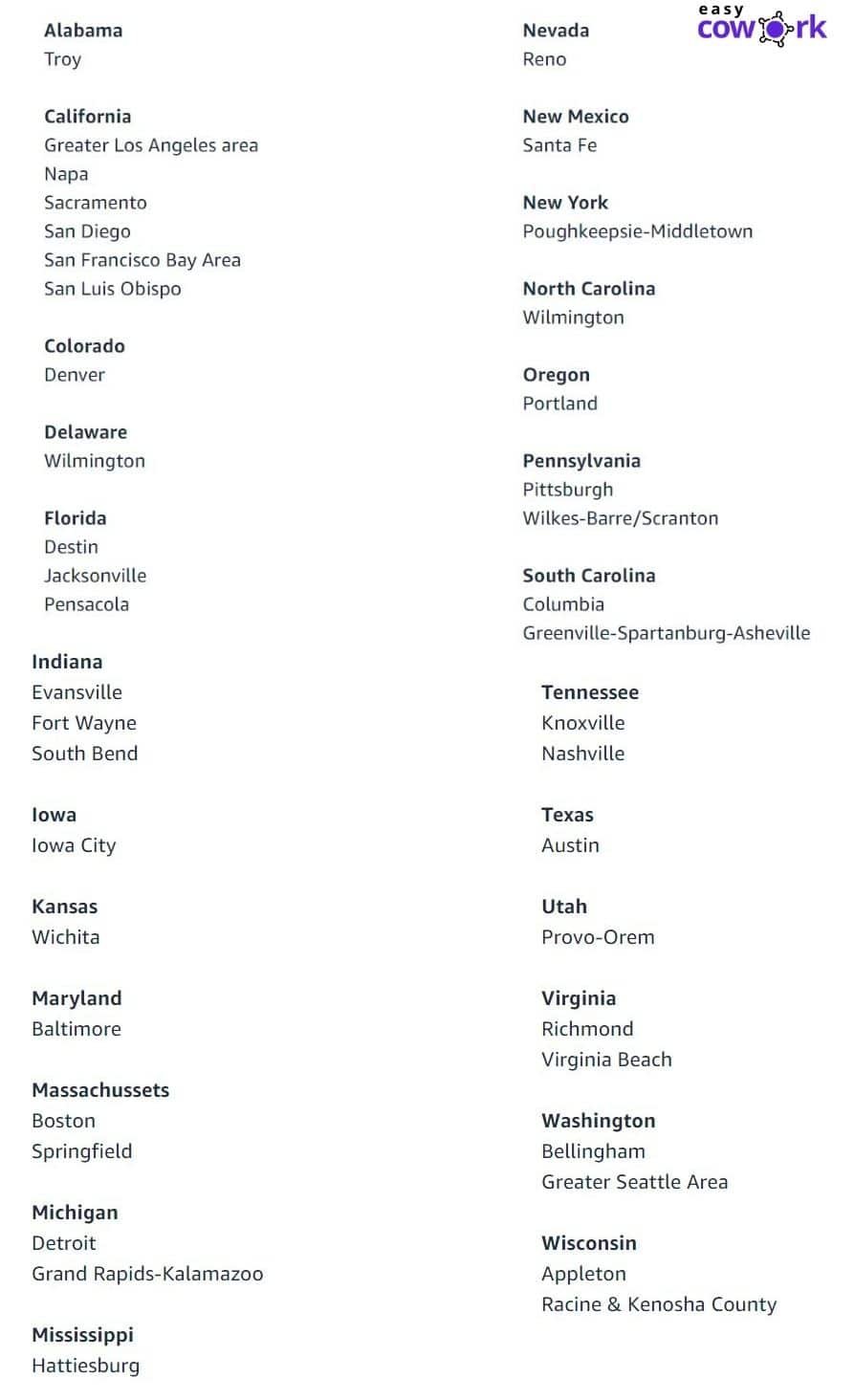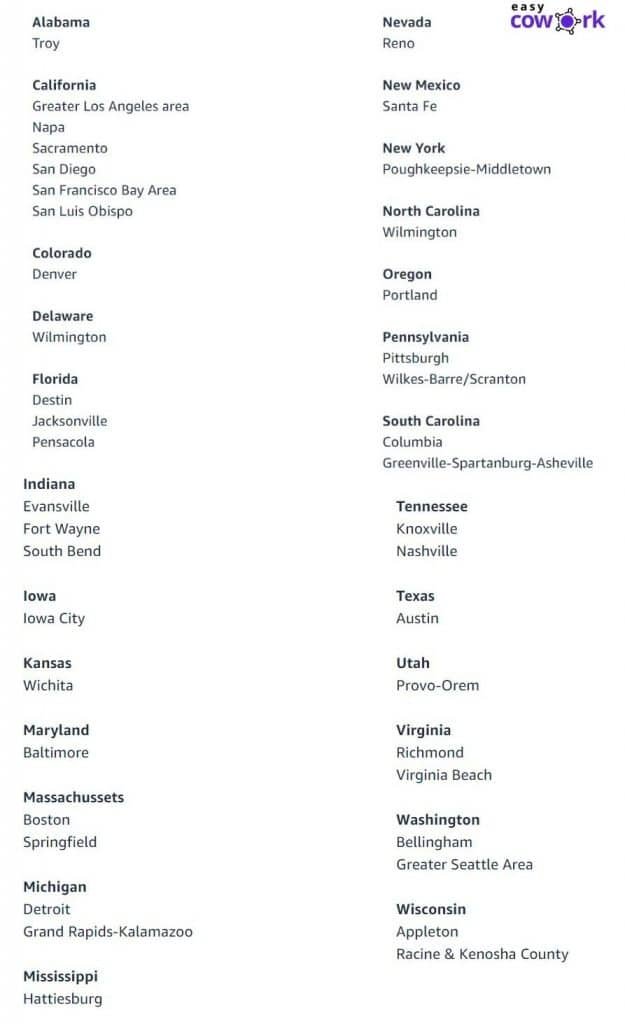 Amazon flex hires new drivers/ delivery personnel depending on their requirements in a particular area.
This is the official website of Amazon Flex, do check if they have openings in your locality or sign up for future updates when they are hiring.  
https://flex.amazon.com/recruiting-cities
Amazon Flex Reviews
We are choosing few reviews on Amazon Flex so that you have an idea of how Amazon Flex works.
Website keeps requiring me to write reviews for a company to view other reviews is why I'm posting this one. The job isn't hard though, but $15 an hour is pretty good starting out for something entry level. – 3 Star review
On your feet, fast pace work. Rotate different roles in the warehouse everyday of being unloader, stower or sorter. Some jobs easier than others and if you are buddy with the supervisors you can get those easier jobs often and if you aren't you may find yourself with the tougher task more often. overall not a bad experience. – 5 Star Review
If you have the option, go elsewhere. The warehouse work is pretty simple. There is opportunity to advance if you work yourself a lot. Having a degree apparently doesn't mean much in terms of job placement. 1 Star Review
These were reviews from Indeed.com, do check out this link to read more reviews.
https://www.indeed.com/cmp/Amazon.com/reviews?fcountry=ALL
You can also check the video below about Amazon Flex Reviews after 1 year.
Tips For Amazon Flex Drivers
Try to deliver packages on time and earn positive reviews.
Have an extra phone battery or a car charger to avoid phone from going dead.
Sort out your packages so that you do not waste time when delivering and you can proceed to next desitination at the earliest.
Dress presentable and try to greet customers with a smile which increases your review and can get you additional tips.
Amazon Flex Pros
Good flexibility
Can work as independant contractors
Payment of $18-25 per hour
Amazon Flex app is good and gives shortest possible route
Amazon Flex Cons
Unavailability of blocks
Initial or few deliveries can be confusing
Amazon flex will not pay or reimburse for gas, tolls, parking and other expenses
Amazon Flex Support Number and Email
You can reach Amazon Flext support number and email mentioned below to escalate or report any issues you might be facing with Amazon Flex.
Phone Number: 888-281-6906 Everyday, 9am-9pm ET
Email: amazonflex-support@amazon.com
Frequently Asked Questions About Amazon Flex
Is it worth to work for Amazon Flex?
Yes! As long as you are treating Amazon Flex as a part time gig, you can make decent enough money. Remember Amazon Flex cannot replace your full-time job.
Can you make money with Amazon Flex?
Yes, thousands of people are making money with Amazon Flex and the work is flexible too.
How is Working at Amazon Flex?
Its mixed reviews working at Amazon Flex but generally most people working at Amazon Flex are satisfied as a part time gig.
How many hours can I work for Amazon Flex?
You can work maximum of 7 hours in a day and 29 hours per week. Amazon Flex is not a full time job replacement.
How many Amazon Blocks can you do in a day?
9
Can you work Amazon Flex at night?
Yes, but the risks are higher with no greater reward. So it is up to you.
Is Amazon getting rid of Flex?
Highly unlikely as Amazon business is only growing and they need more people for delivery jobs.
Can someone ride with me Amazon Flex?
It is not recommended as Amazon commercial insurance does not cover the passenger and your route might change and take you to different locations that what you initially thought.
Recommended Reads
Amazon Flex Review
Amazon Flex Summary
Amazon Flex offers people who are willing to drive/become delivery professionals a chance to earn good money depending on where you live. Amazon Flex has mixed reviews on the web with some drivers saying that this is a good platform to earn some income on the side while other drivers are saying the delivery gig is not enough to make a living off the platform. If you are looking for driver gigs, you can give Amazon Flex a shot.
Pros
Good flexibility
Can work as independant contractors
Payment of $18-25 per hour
Amazon Flex app is good and gives shortest possible route
Cons
Unavailability of blocks
Initial or few deliveries can be confusing
Amazon flex will not pay or reimburse for gas, tolls, parking and other expenses