Last Updated on 5 months by Anoob P
In this post, we are going to look at GreenPal Reviews, Pros, Cons, Fees & How to Make Money Using GreenPal in 2022.
GreenPal is a platform that connects lawnmowing professionals and people looking for lawnmowing services and can be used to make some extra money.
After working full-time for more than 12 years, I switched to working for myself and trying to earn a living online.
If you are interested in the whole concept of making money online, you can check out some of my other posts including 10 Easy Ways to Earn Money Online without Investment, How to Earn Money from YouTube, how to earn money from Facebook and how to start a blog and make money.
I have also written a detailed post on How to Start an Online Business That Changes Your Life, How to Live a Simple Life And Be Happy–you can read it if you are interested.
I recently helped a client of mine generate $1000 in income from his YouTube channel that was not making any money and even you can do the same.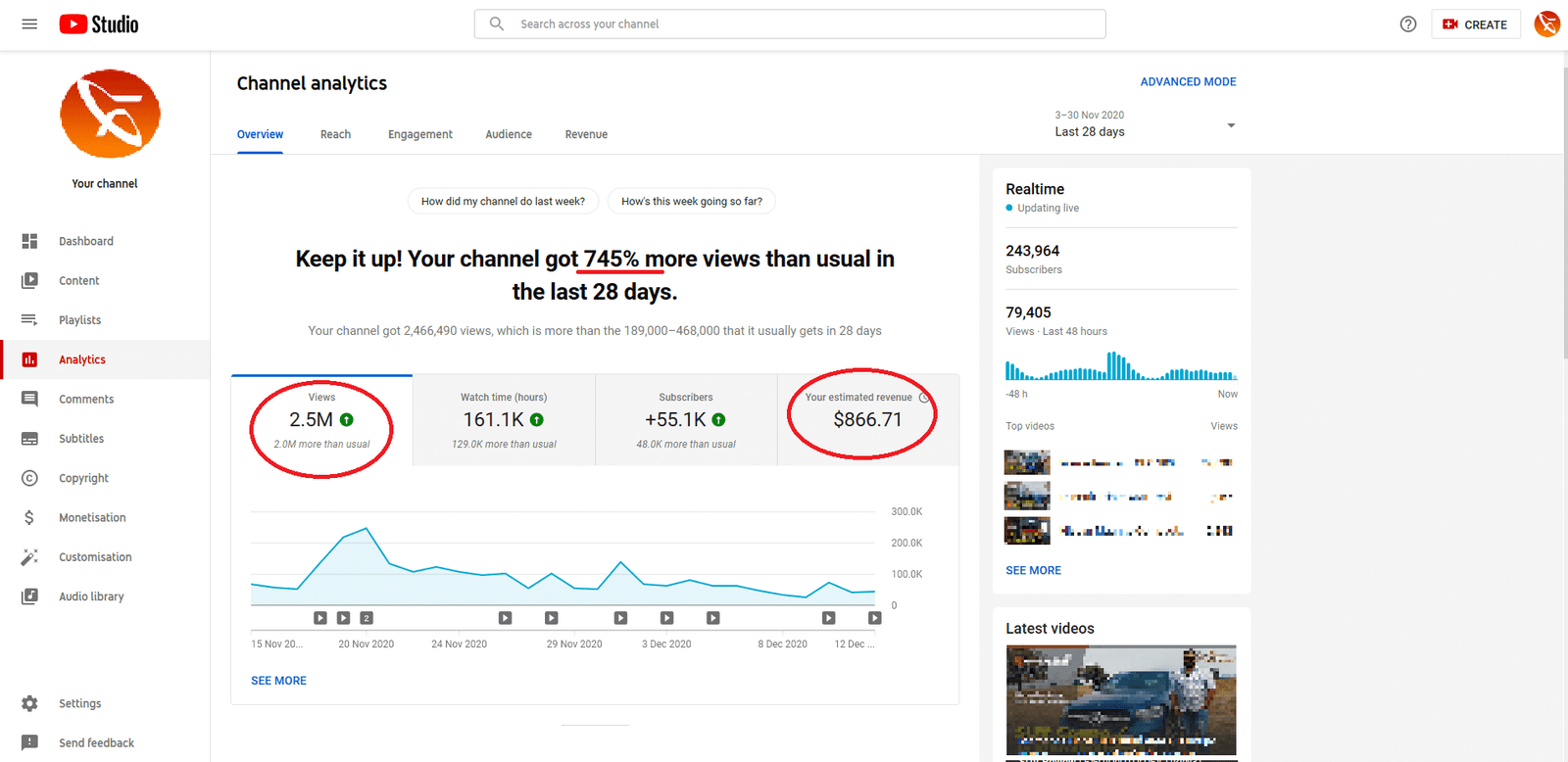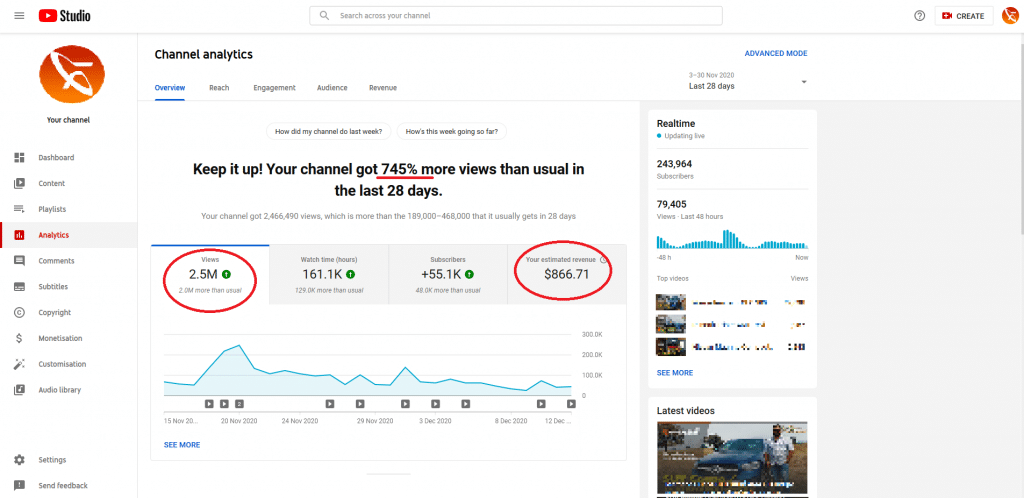 Earlier, I had co-founded a video company and raised $2 million in funding and then got fired from the company I started. I had done lot of testing and research on how to monetize YouTube and now I use the same skills to help other YouTubers.
You can read my full story here if you are interested.
GreenPal Reviews, Pros, Cons, Fees & How to Make Money Using GreenPal [2022]
What is GreenPal?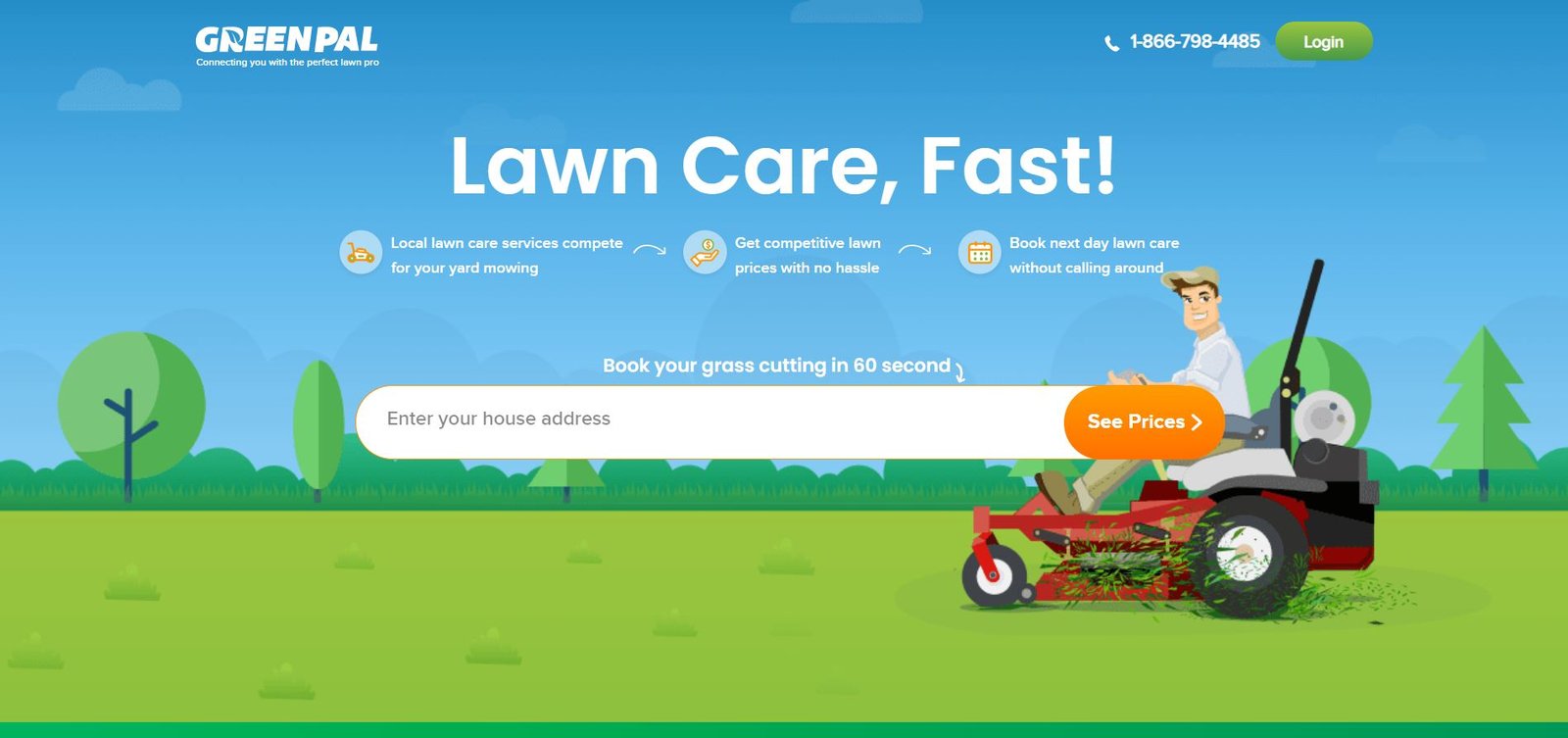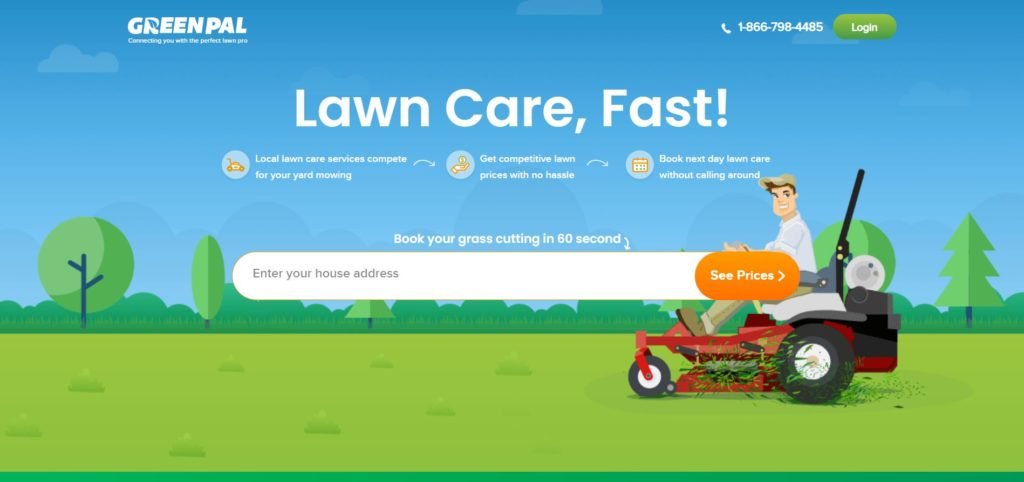 GreenPal is a platform where people can book lawnmowers and schedule the service on any day they wish. It connects people to the best-reviewed and affordable mowers without any hassle.
Official website of GreenPal: https://www.yourgreenpal.com/
GreenPal was established in April 2021 by 4 founders, Bryan M. Clayton, Zach Hendrix, Gene Caballero, and Ross Brooks.
They based their business model on other established companies like Uber and Airbnb. From Uber, they took the concept of instant booking and receiving the service.
Just like in Uber, you book a cab and it arrives almost instantly, here in GreenPal, you too book for lawn mowing services and the workers arrive at the scheduled time.
Since Airbnb allows strangers to live in other people's houses, GreenPal founders said that in a similar way, we should be "open to allowing others to help them get better lawn care".
By taking inspiration from these two companies, GreenPal has designed its platform and also made it affordable and easier to use.
GreenPal has both Android and iOS apps that can be downloaded to get started.
You can find official GreenPal app links below
How GreenPal Works
GreenPal is a fairly straight forward app that is simple to use.
Basically, GreenPal works in this way.
The customer posts pictures of their lawn for which they need the service
Various contractors then place the rates they would charge for the lawn mowing service
The customer then can choose the contractor they want to get their work done
Then the payment and scheduling for the process is done by the customer
GreenPal Locations
GreenPal is available in most locations in the U.S. Here is a complete list of GreenPal locations and the company is expanding and adding more locations.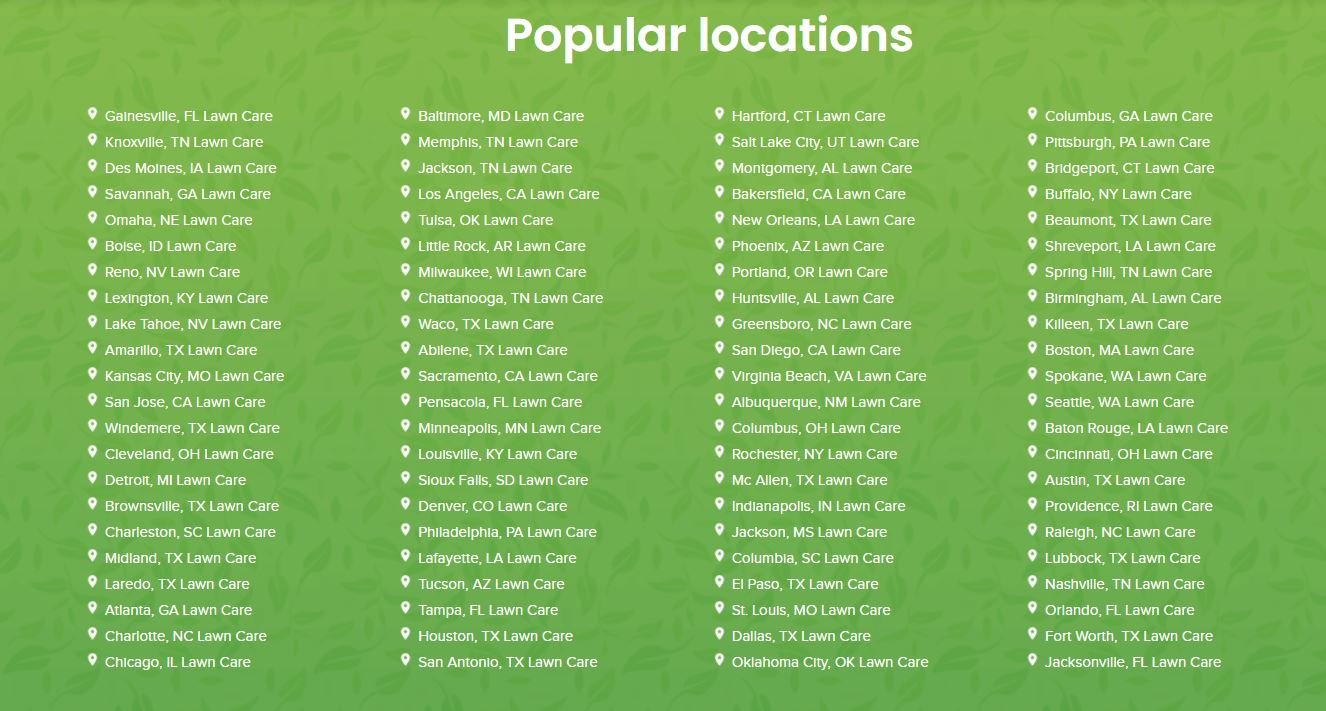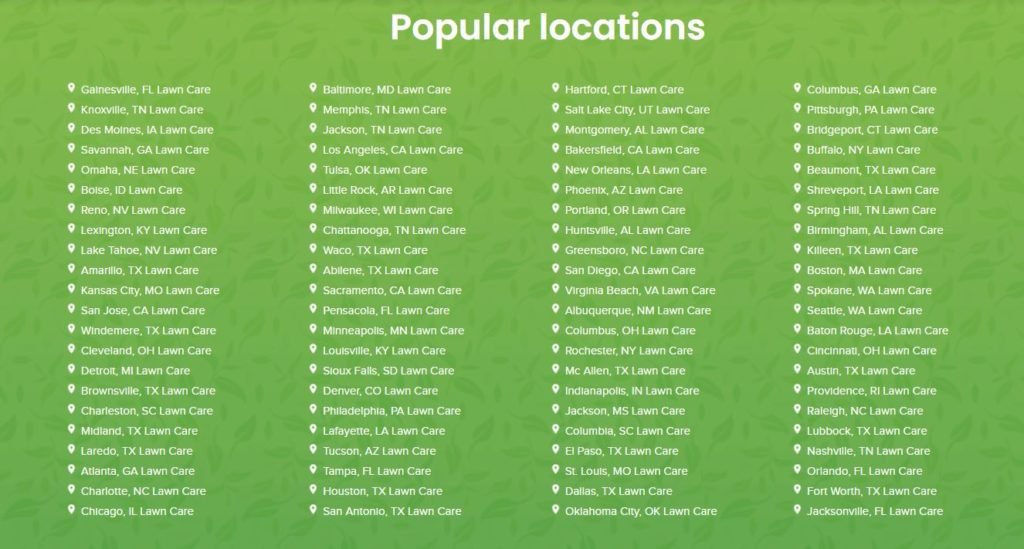 To know more about GreenPal locations, check the official website here
GreenPal Services
GreenPal originally provided lawn mowing services to its customers.
In recent years, the company has also added snow removing services to their platform.
Some of the vendors on GreenPal also offers landscaping services across certain locations.
To know more about GreenPal Snow Removing services, check the official link here.
To know more about GreenPal Landscaping services, check the official link here.
GreenPal Features
GreenPal has many features that makes it a platform easy to use for lawnmower providers as well as customers.
Some of the features of GreenPal are:
Easy to book 
Gives a competitive price range from various service providers
Allows booking service the next day
Does not require credit card details
Does not require a phone number
GreenPal Business Scholarship
About GreenPal Business Scholarship Program
The scholarship program was started to help students who are motivated to be future business leaders.
The CEO of the company had started his own business, i.e. GreenPal when he was in high school.
This is why he wants to support students like him who want to start their own businesses in the future. 
Official website of GreenPal Business Scholarship
GreenPal Business Scholarship Eligibility
Must be graduating Senior Class of High School in the current year or
Must be enrolled in a college of business and has a GPA of 3.5 or more
Should be eager to become a business owner or an entrepreneur
Must have a major or minor in a college of Business, Finance, or Economics
Funds can only be used for academic purposes across educational institutions in the US.
GreenPal Business Scholarship How to Apply
To apply for this scholarship, you need to write an essay within 500 to 1000 words and submit it to the email address scholarship@yourgreenpal.com along with our photograph.
The winner of the scholarship is then chosen from among the applicants and announced on their website. The results can be seen on the Scholarship page of the website. 
GreenPal Requirements (as a LawnMowing Professional)
Like other gig platforms, GreenPal has some requirements to be met to join the platform as a service provider.
Some of the GreenPal requirements to join the platform are:
Should be based in the US
Must have access to a smart phone
Must meet the legal requirements
Should have the tools required for the work
Should have prior experience in the field
How to Join GreenPal (as a LawnMowing Professional)
Now, let us look at how you can become a Lawnmowing service provider on GreenPal.
First, you have to make an account on the website and register your business
Then you need to make an account in Stripe, that is the payment portal through which transactions would be made
Connect your bank account to your Stripe account
Then you will be able to bid for the listed gigs.
GreenPal Fees
GreenPal charges 5% of the total bid placed by the contractor for work. Further, 2.9% is charged by Stripe as the processing fee for payment. No other fees are charged.
GreenPal Pros
GreenPal has some pros that makes it ideal for gig workers or service providers to make some extra cash.
One of the biggest pros of GreenPal is that the platform is very specific to lawn mowing and if you are a business, you will find customers who are looking for your exact service.
Other pros of GreenPal include:
No formal training is required to join
Gives freedom to the contractor to set a price 
Allows you to accept or decline the final bid
GreenPal Cons
As with any other platform, GreenPal also has few cons which you should be aware of.
Some of the cons of GreenPal include:
The bids can often be under-charged
Steady work is not guaranteed
GreenPal Reviews
GreenPal is a great platform in which people can find professionals to mow their lawns easily.
In this section, we are going to look at some GreenPal reviews on the web. We will also show you one positive and one negative review of GreenPal so you get a general idea about the platform.
Overall, GreenPal has a rating of 4.7 out of 5 on Trustpilot. There are 320,565 reviews about GreenPal on the website.
Also, most of the GreenPal reviews we found mentioned that pay for the contractors is decent and is processed within days. 
Overall, GreenPal has good ratings on most platforms, so you can give GreenPal a shot.
GreenPal Positive Review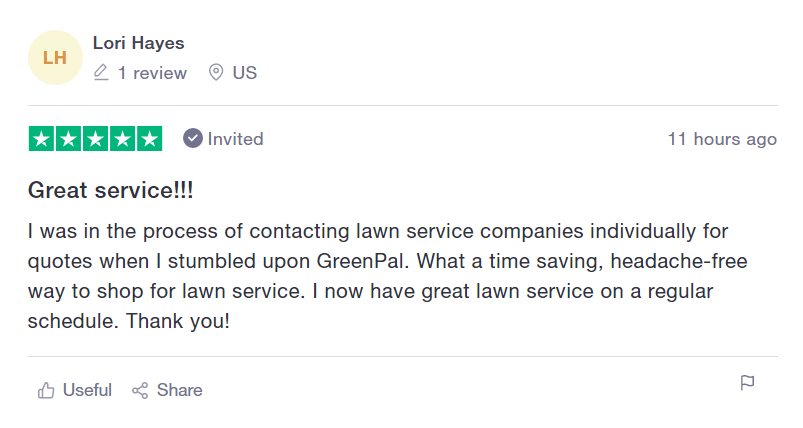 You can read more GreenPal reviews here.
GreenPal Negative Review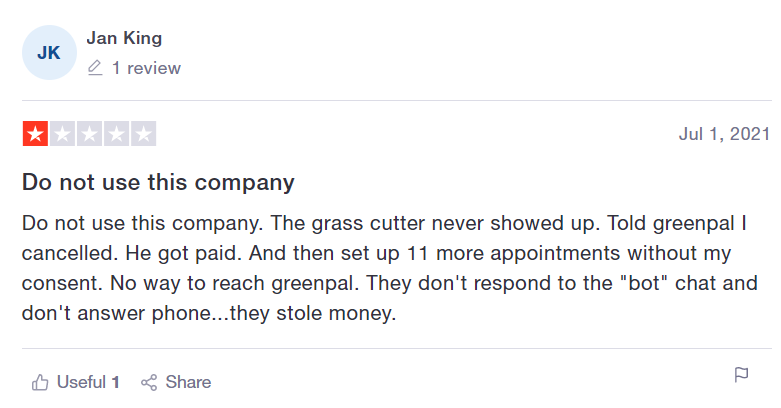 You can read more GreenPal reviews here
GreenPal Customer Contact Information
GreenPal has an active customer care team that addresses all queries and concerns for service providers and customers.
To get in touch with official GreenPal customer support team, you can use the following information.
GreenPal Phone Number: 1-866-798-4485
GreenPal Email Address: support@yourgreenpal.com
GreenPal Office Address
3902 Henderson Blvd Ste 208-152 Tampa, FL 33629
GreenPal Contact Form link
GreenPal Social Media Handles
GreenPal is also active on most social media networks. If you want to follow the company and know about latest offers or expansion of GreenPal, you can follow GreenPal using these official social media handles.
Is GreenPal Legit
Yes, GreenPal is a legitimate platform that has been trusted and used by thousands of people in the U.S
GreenPal is available across many locations and the company has made the process of lawn mowing and snow removal faster and more efficient.
With an overall rating of 4.5 Stars out of 5, GreenPal is legit and you can try the platform.
GreenPal Alternatives
There are many platforms similar to GreenPal you can consider if you are trying to find some extra gigs to make some extra money.
Some of the popular GreenPal Alternatives include:
Frequently Asked Questions about GreenPal
Is GreenPal safe?
Yes, GreenPal is a safe and legit business.
What is GreenPal app?
GreenPal is a platform that connects lawnmowing professionals and people looking for lawnmowing services and can be used to make some extra money.
How do I contact GreenPal?
You can contact GreenPal using phone number 1-866-798-4485 or by writing to support@yourgreenpal.com
Is GreenPal free?
Yes, GreenPal is free to use.
Who owns Green pal?
Founders of GreenPal are Bryan M. Clayton (CEO) Zach Hendrix (CTO) Gene Caballero (COO) Ross Brooks.
How do I bid on GreenPal?
Sign into the App and click on Bid.
How do I cancel my GreenPal account?
You can write to support@yourgreenpal.com and get your GreenPal account cancelled.
How does GreenPal make money?
GreenPal charges 5% commission for transactions completed on the platform.
Recommended Reads
GreenPal Review
GreenPal Summary
GreenPal is a platform that connects lawnmowing professionals and people looking for lawnmowing services and can be used to make some extra money. If you are a professional lawnmower or looking to find work as a lawnmower, you can consider joining GreenPal. Overall GreenPal has 4.5 Star rating out of 5 so most people using the platform are satisfied.
Pros
No formal training is required to join

Gives freedom to the contractor to set a price 

Allows you to accept or decline the final bid
Cons
The bids can often be under-charged

Steady work is not guaranteed