Last Updated on
Do you want to make money using SidelineSwap? In this post we are going to review SidelineSwap including how to join, SidelineSwap fees, how to make money and pros and cons of Sidelineswap in 2020.
What is Sidelineswap?
SidelineSwap is a platform that aims to connect athletes and sports enthusaists to buy and sell new or used sports gear. SidelineSwap founders are ex-college athletes and faced challenges when buying used sports goods and started SidelineSwap to solve the problem and to make sports goods affordable and accessible for everyone.
How SidelineSwap Works?
SidelineSwap works like any other typical e-commerce marketplace like eBay or even Kijiji. The platform is open for buyers as well as sellers of sports goods. As a buyer, you can browse different products listed by sellers and then buy by placing your order.
SidelineSwap as Buyer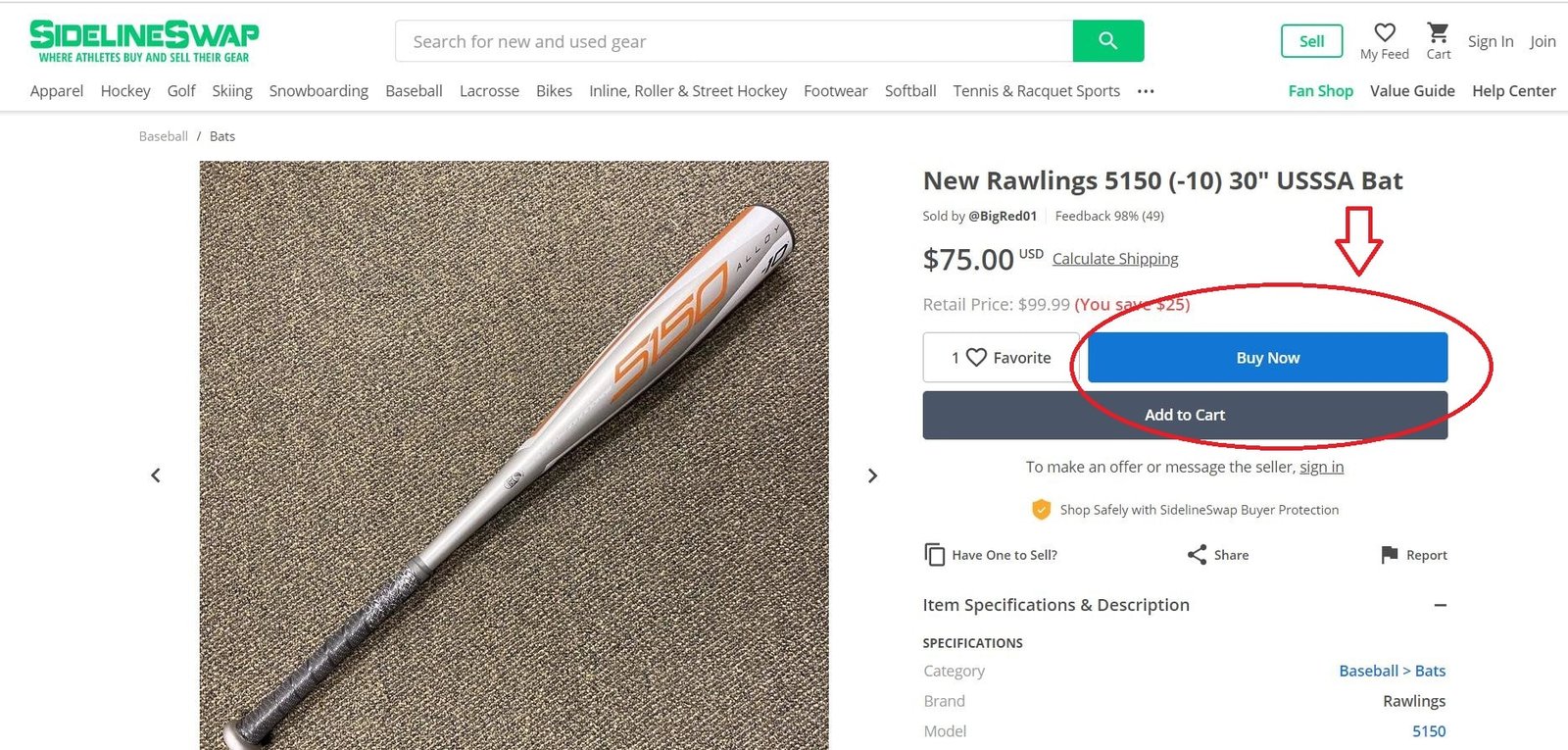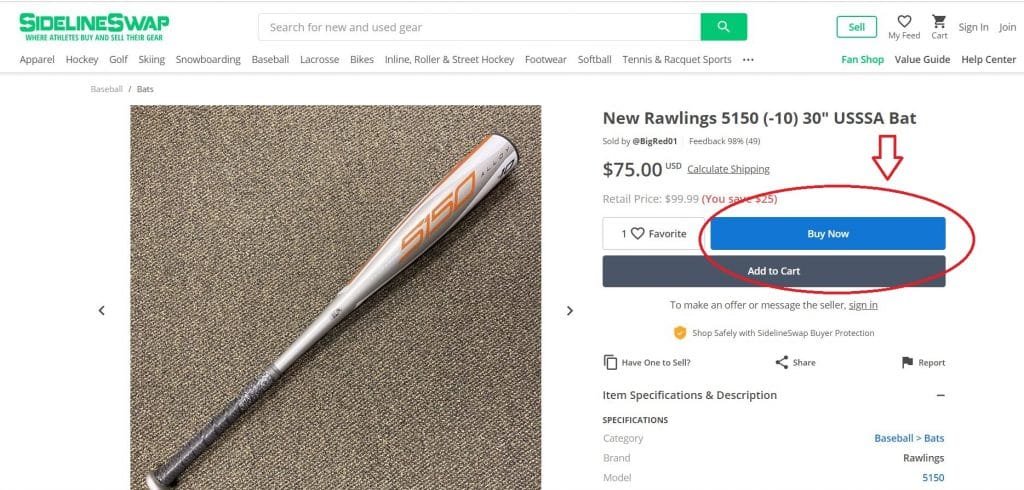 You can buy any item on the website by clicking the "Buy Now" button and following the standard checkout process. You can also make an offer for a product using the "Make Offer" option and your offer expires in 24 hours. If the Seller accepts your offer, you have successfully bid for the item and you become the buyer.
SidelineSwap as Seller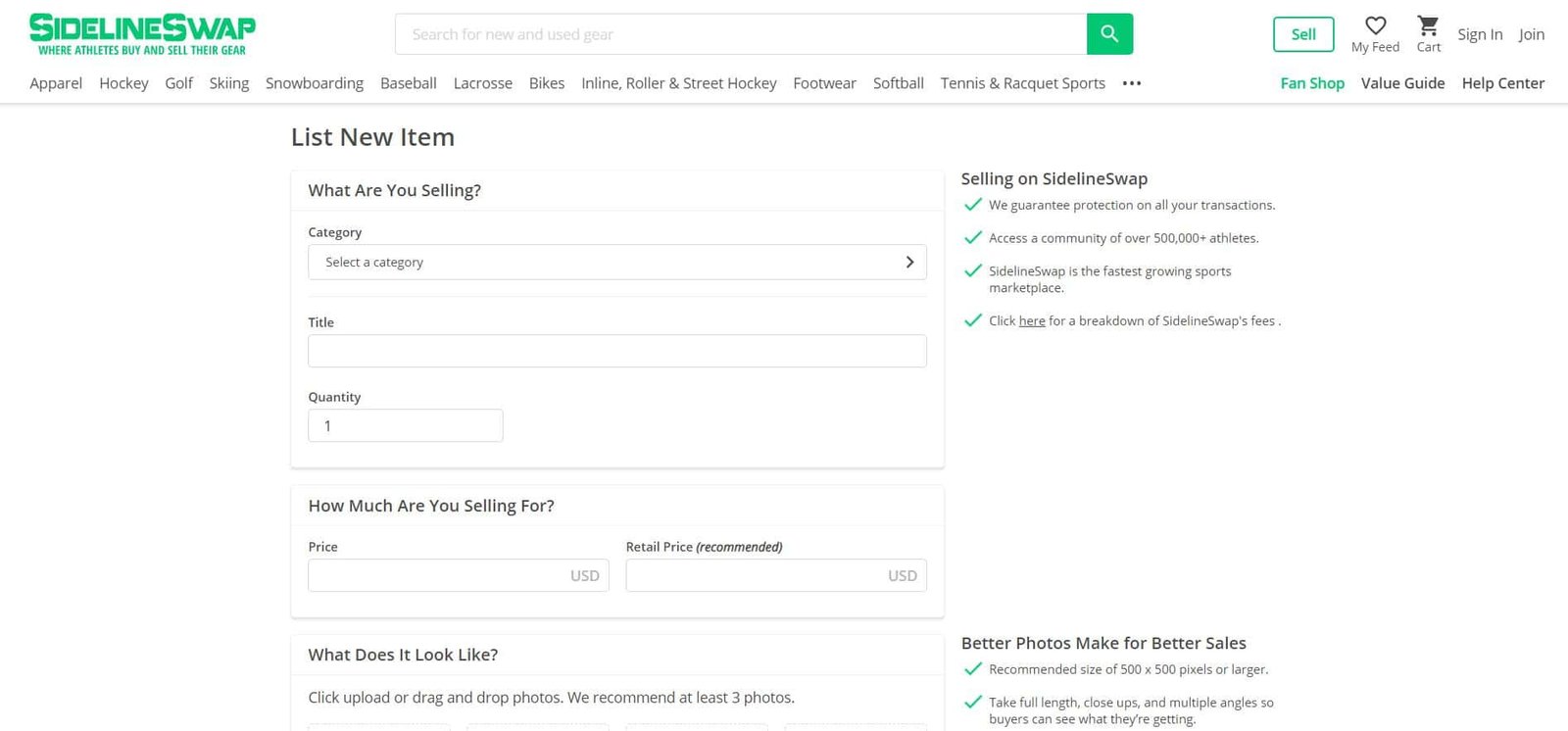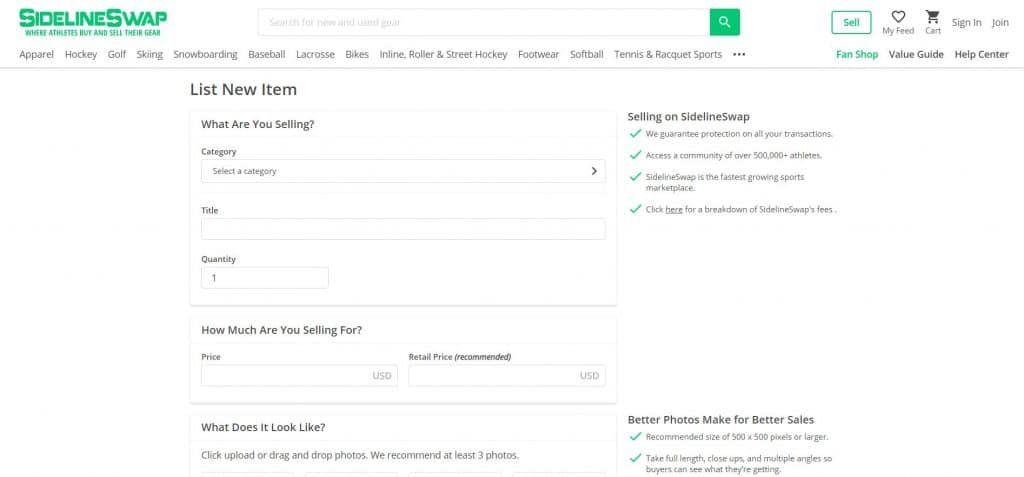 If you want to sell products on SidelineSwap, you need to list your product using the link below.
https://sidelineswap.com/items/new
You need to add Title, Description, Images, Quantity, Price & Shipping details to get your product listed. It is a fairly straightforward seller listing process.
SidelineSwap Fees
Listing products on SidelineSwap is free, but there is a seller fee which is calculated based on the price of the item.

As of writing this post, SidelineSwap is charging 12% seller fee for sellers who have sold 0-5 items on the site.
If you have sold more than 6 items on SidelineSwap, the fees is 9%.
Additionally, SidelineSwap also charges a 3% payment processing fees which is paid to the payment provider. This fee is also calculated based on cost of the item and the sales tax.
In case you are buying a product from SidelineSwap, you will have to bear the cost of shipping.
In case your product is high value, you should know that SideilneSwap Maximum Seller Fee is: $100 and Minimum Seller Fee is $1.99.
For more information about Sales Tax calculated on SidelineSwap you can check this link
https://help.sidelineswap.com/hc/en-us/articles/360010269460-Sales-Tax-on-SidelineSwap
SidelineSwap claims that they collect the fees for advertising products on Google, Facebook, Instagram, and everywhere else online and offline to help sellers find buyers faster.
How to Join SidelineSwap?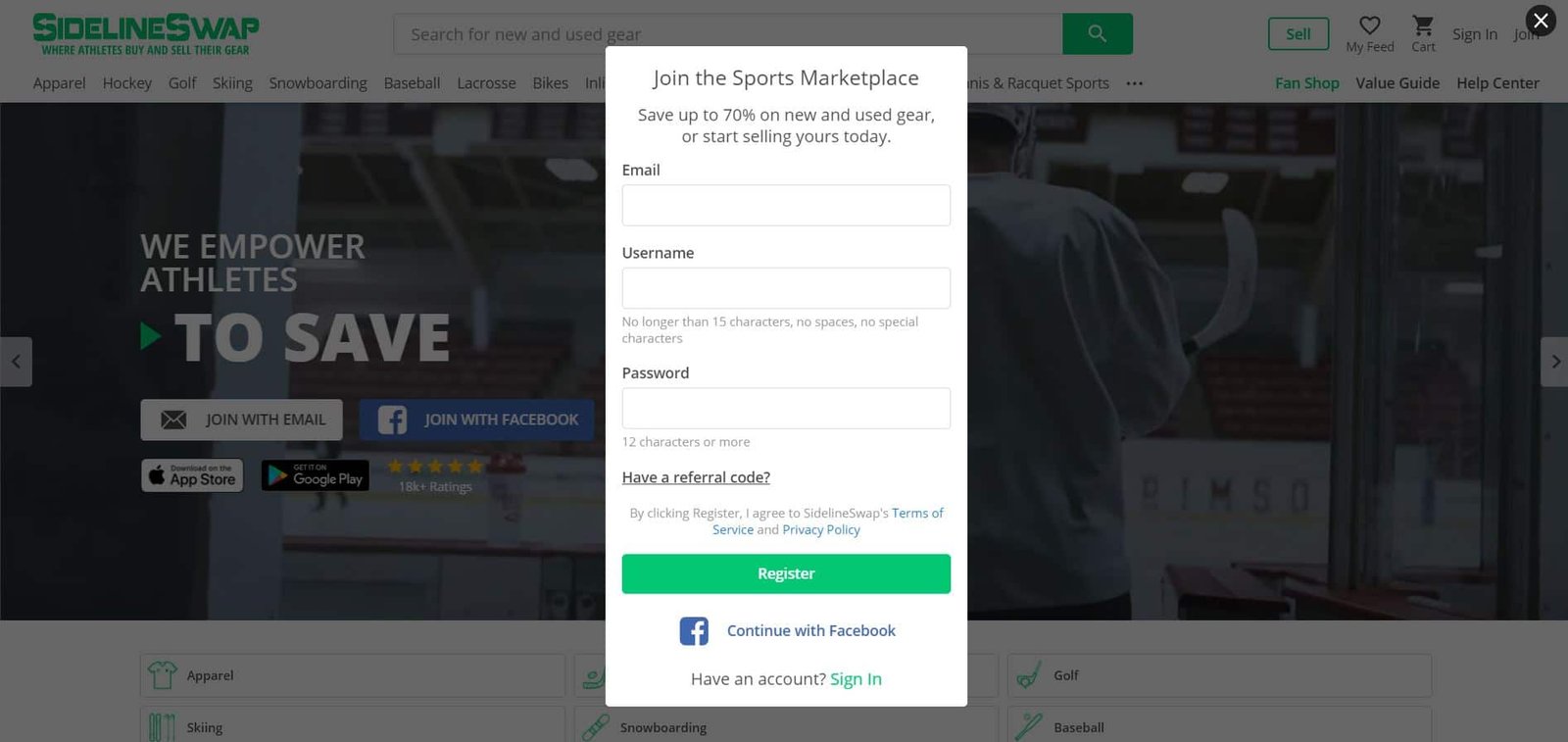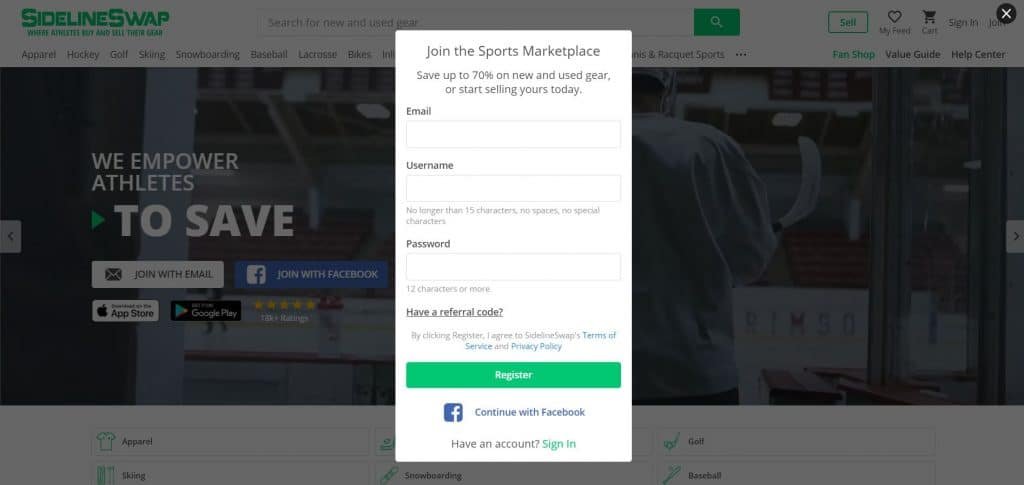 You can join or register SidelineSwap by clicking the link below and clicking on Join at the top right corner:
You can also join by downloading and installing the official SidelineSwap app:
Android: https://play.google.com/store/apps/details?id=com.sidelineswap.android
iOS: https://apps.apple.com/app/apple-store/id1215421737
SidelineSwap Requirements
There are not many requirements to join SidelineSwap, just that you need to have a valid email address, phone number and a sports item to sell.
Using SidelineSwap
SidelineSwap is a used marketplace for sports professionals and enthusiasts so if you have any old sports goods lying around the house or in storage, you can list it on the website and make some money.
You can sell just about any sports goods on SidelineSwap including Racquets & Paddles, Training Accessories, Bags, Balls, Apparel, Tennis Shoes, Tennis & Racquet Sports equipment and the website has categories listed for Hockey, Golf, Skiing, Snowboarding, Baseball, Lacrosse, Bikes, Inline, Roller & Street Hockey, Footwear, Softball etc.
Lot of times, people get into a certain sport and as time passes, their interest wanes and during this time they accumulate sports goods and if you are one of them–SidelineSwap can be used to sell some of your products and make some money.
Since the audience on SidelineSwap are sports enthusiasts you will get a better price for your goods than other platforms like eBay or Craigslist because sports enthusiasts or professional athletes will know the value of premium sports goods.
Listing your product for sale is free but you have to pay 12% commission in fees if you have sold fewer than 6 items on the platform. This is in addition to payment charges and sales tax.
If you sell an item worth $50, you can expect to get $38 which is a decent amount considering there might be heavy bargaining on other sites like Craigslist.
SidelineSwap also has prepaid shipping labels, tracking, Seller protection against chargebacks and fraud, Payment processing and free payouts and Pricing guidance through SidelineSwap value guide.
You can check the SidelineSwap value guide here. https://sidelineswap.com/value-guide
SidelineSwap also has a customer support which can be reached by filling the form here: https://help.sidelineswap.com/hc/en-us/requests/new?ticket_form_id=360000525400
How to Make Money with SidelineSwap?
You can make money with SidelineSwap by selling items on the platform.
You can either sell unused sports goods in your possession or buy quality used products, refurbish them and try to sell them via SidelineSwap.
How Much Money Can You Earn with SidelineSwap
Depends on the value of the item you can sell on SidelineSwap.
You can also reduce the fees of SidelineSwap by selling more than 6 items and earn more money.
SidelineSwap Reviews
There are positive and negative reviews of SidelineSwap on the web. On Google Playstore we found this review.
5 Star Review: Love this app. Can search for whatever you need. Things usually arrive within a week ( on time). I haven't had a bad experience yet. I'm going to try selling some of my daughter's goalie equipment and looking forward to seeing the other side of it. – Cade Blackburn
3 Star Review: App is a good start, but continues to be buggy. Favorites are not loading properly and navigation when going back takes you all the way back to the beginning or doesn't work at all. – Daniel Freschi
Read All Android Reviews Here: https://play.google.com/store/apps/details?id=com.sidelineswap.android&hl=en_IN&gl=US&showAllReviews=true
On iStore, SidelineSwap has an average rating of 4.8 with 19.2K Ratings.
SidelineSwap Pros & Cons
SidelineSwap Pros
Easy to Start Using
Buyer and Seller Protection
Sports Enthusiasts and Professionals on the Platform
Customer Support Available
SidelineSwap Value Guide
Good Ratings on Most App Stores
SidelineSwap Cons
No Phone Number for Customer Support
Higher Fees
Customer Support is little slow
Few customers have complained of receiving damaged or fake goods
SidelineSwap Complaints
On Better Business Bureau (BBB), we found few complaints on SidelineSwap but the team seems to be responding to each complaint and trying to resolve each.
One reads,
I purchased a baseball glove and received not the one that was advertised the problem is I messed up instead of not accepting it I accepted the delivery in error because Im new to the site. I emailed the vendor and customer support right away the minute I made the error and the person at customer support ask me this question "Did the glove arrive as advertised?" I said no and then he answered again " If the item is as advertised, then the seller is not obligated to accept a return. If you receive an item that is broken or not as-advertised, it can be returned for a full refund. SidelineSwap can also issue a partial refund, as agreed upon between yourself and the seller. Then he emailed me this "Since you approved the purchase, the seller is not obligated to accept a return, but has the option to do so. After the item is delivered, you'll have 3 days to open a dispute. The order becomes nonrefundable as soon as you have approved the sale or 72 hours after the item has arrived at your address– whichever comes first. The order also becomes nonrefundable once the item has been used. Another option would be to sell the item on SidelineSwap. We would be willing to waive our fee as a courtesy. I sent him the picture of the difference of the glove as advertised and the one mailed to us and he didnt respond after that.
SidelineSwap Response
SidelineSwap is a marketplace facilitator that oversees transactions between buyers and sellers on our platform. Currently, when a buyer purchases an item, their payment is escrowed, which means the funds are held by SidelineSwap. The funds aren't released to the seller until the order is approved by the buyer or 72 hours after the item has been delivered–whichever comes first. All buyers can cancel their unshipped orders after 14 days, regardless of whether the seller has clicked on the shipping label to print. SidelineSwap automatically cancels and refunds all orders after 21 days, unless an extension has been requested by the buyer and seller. The transaction in question was refunded on July 5th (confirmation of refund attached). The payment was processed, and the purchase was made on June 20th. The refund was processed by SidelineSwap 15 days after the payment was created, clearly in compliance with the refund policy outlined in our Help Center. Once SidelineSwap refunds a payment, it's immediately processed on our end. Some banks process refunds immediately, and others can take a week, plus or minus, to process refunds. It depends entirely on that specific bank's protocol. The customer should see confirmation of this refund reflected on their bank statement.
You can read all compaints on SidelineSwap here: https://www.bbb.org/us/ma/charlestown/profile/retail-sportswear/sidelineswap-inc-0021-466026/complaints
SidelineSwap Customer Support
SidelineSwap offers customer support and you can reach the customer support team for your questions, complaints, claims via email support@SidelineSwap.com.
SidelineSwap Alternatives
Some of the competitors of SidelineSwap include
Gear Trade https://www.geartrade.com/
CraigsList https://craigslist.org/
eBay: https://ebay.com
Kijiji: https://www.kijiji.ca/
Recommended Reads