Are you looking for Society6 Reviews? In this post, we are going to look at Society6 Reviews, Fees, Pros, Cons & How to Make Money Using Society6 in 2021.
If you are an artist or small entreprenuer, you can consider Society6 to make some extra income.
We have written a detailed review about RedBubble (which is also a similar platform) you can read it if you are interested.
If you are interested in the whole concept of making money online, you can check out some of my other posts including 10 Easy Ways to Earn Money Online without Investment, How to Earn Money from YouTube, how to earn money from Facebook and how to start a blog and make money.
I recently helped a client of mine generate $1000 in income from his YouTube channel that was not making any money and even you can do the same.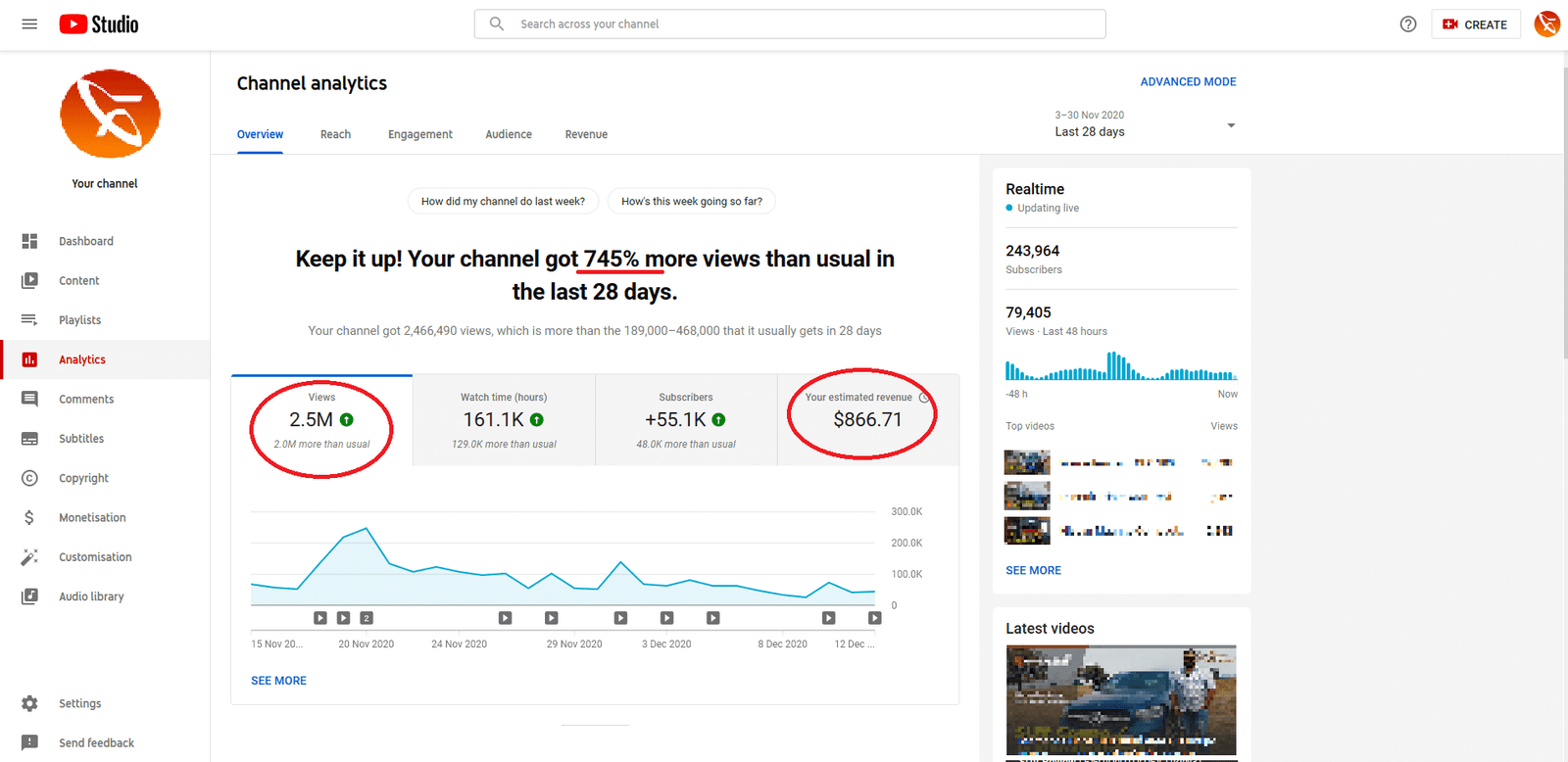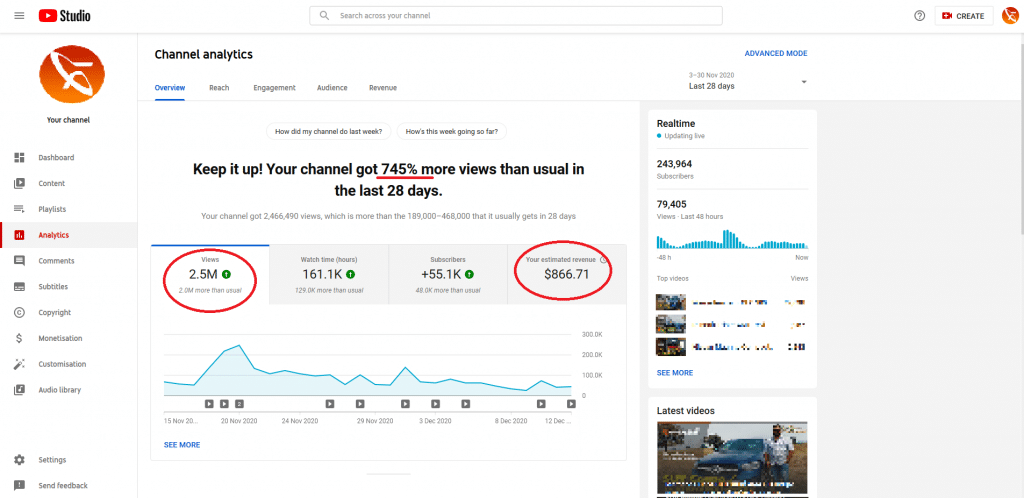 Earlier, I had co-founded a video company and raised $2 million in funding and then got fired from the company I started. I had done lot of testing and research on how to monetize YouTube and now I use the same skills to help other YouTubers.
You can read my full story here if you are interested.
Society6 Reviews, Fees, Pros, Cons & How to Make Money Using Society6 [2021]
What is Society6?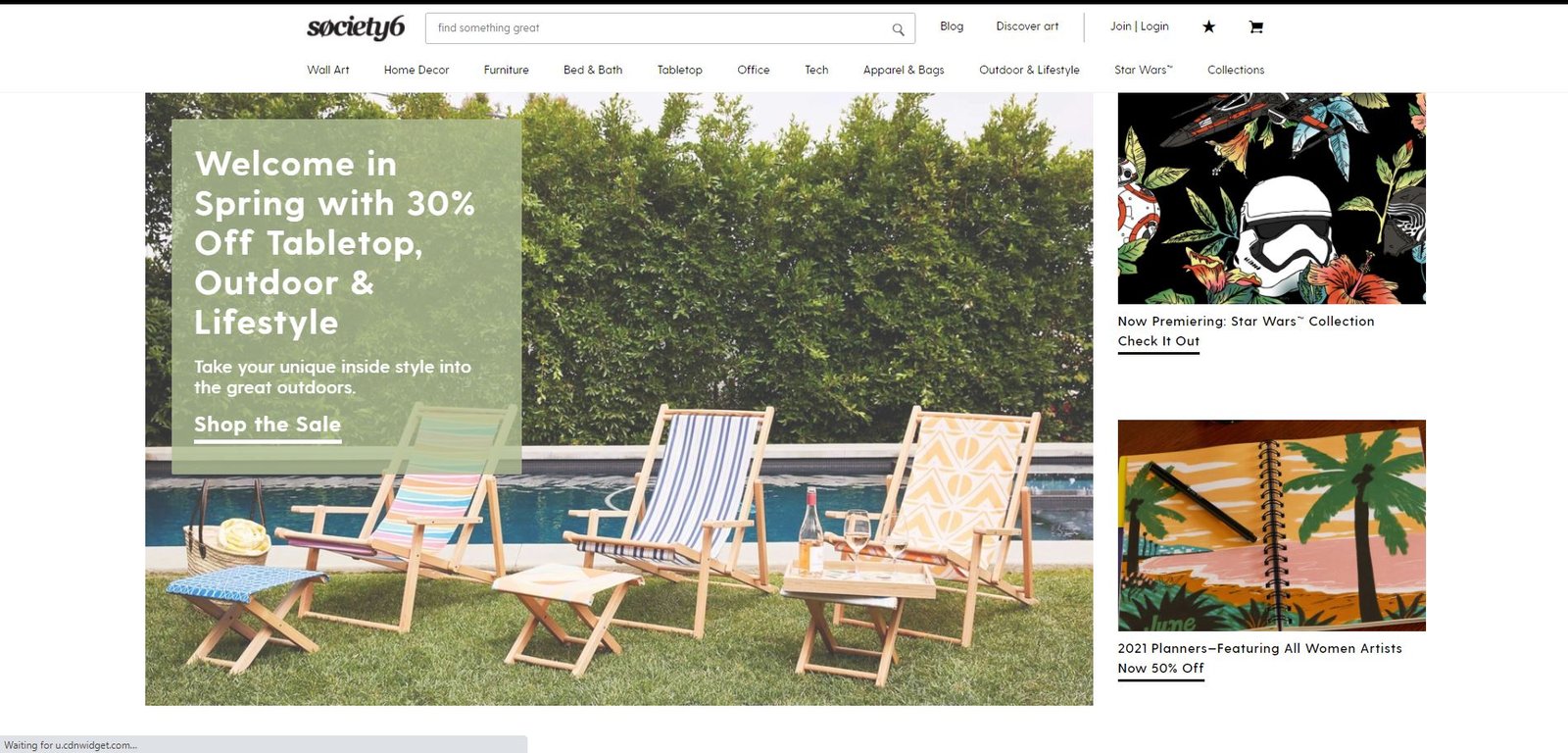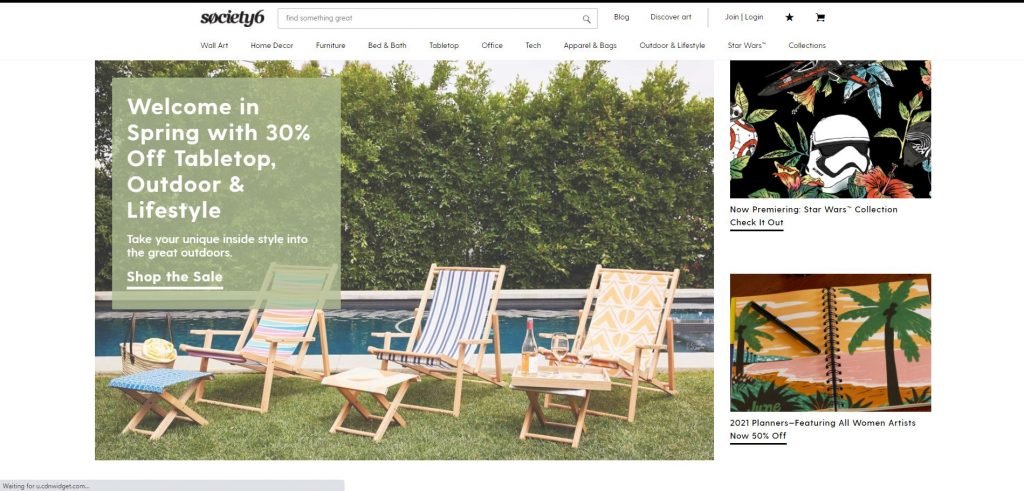 Society6 was founded by Justin Cooper, Lucas Tirigall-Caste, and Justin Wills in 2009, with a vision to support and promote artisans from around the world.
Society6 is a community of  300,000+ artists from 160+ countries. 
The main aim of Society6 was to help and support global artists to display their work on a products such as Coffee Mugs, Blankets, mobile phone holders, T-shirts, Tote bags, and many more.
Society6 also allows art enthusiasts to shop from a variety of products with unique and original designs from artists around the world.
The procedure of working with Society6 is very easy, you just have to upload the image of your work big and clear, then you can decide whether you want to sell a print or you just want to custom your designs into anything from a T-shirt to a cup.
Society6 will tell you the price of your design as per size and you can add royalty rate whatever you decide.
In case of the other customized products Society6 will give you 10% of the selling price
For example if Society6 sells a comforter with your design at $110, it will simply give you $11.
Society6 pays their artists at the starting of each month.
Official website of Society6: https://society6.com/
How Society6 works?
Society6 is a platform for artists as well as customers and we are going to look at how Society6 works for both.
Society6 For Artists 
First you have to sign up with your username, First name,e-mail address and password and them upload the clear and good quality picture of your print or design.


Next, you need to select whether you want to sell the print or sell products with your print on it and you will be paid accordingly.
Society6 allows you to connect with artists community around the world. You have to make sure that your work is not copied or forged.
It should be your unique design.
To start selling your art on Society6, you can sign up using this official link.
Society6 For Customers 
You simply have to Sign up as a customer, by providing your email address password, username.
Once you have signed up, you can shop from a variety of products such as T-shirts, Mugs, Comforters, tote bags,framed art frames and many more with genuine prints and designs from artists around the world.
Society6 Categories
Society6 offers a wide range of products such as
Art & Framed Art Prints
Canvas Prints
iPhone covers 
Tapestries
Printed Covers of Comforters & Duvet 
Throw Pillows & Throw Blankets
Shower Curtains
Gift Cards
Society6 Requirements
As Society6 is a platform for artists and products related to design which could be intellectual properties of creators, there are few requirements you should know before joining the platform.
The first and foremost requirement of Society6 is that your work should be unique and should not be copied.
You have to meet the minimum pixel dimension requirement for the artwork you are uploading. 
The required file specs for your design on Society6 are:
Dimensions requirement : 6500 x 6500  up to 16000 x 16000
PPI: 300ppi ( minimum 150ppi)
Colorspace: RGB
File Format: JPG or PNG
File Size Limit: 150mb
For large products such as curtains,furniture, bedding or wall curtains the minimum requirement is 15000px x 9000px horizontally, 8000px x 12000 px vertically and for square 12000px x 12000px, at 300 dpi.
For products like Graphic tees, duffle bags a detailed description of pixels is given on the Society6 site in order to place your artwork correctly.
You can find details of print specs here.
Society6 Fees
There are no signing fees on Society6, it is absolutely free for artists and customers.
Society6 pays artists according to their designs and prints.
Society6 Sign up
Society6 sign up is very easy and you just have to sign up using your username,password, password.
To Sign Up as an artist, you can use this link.
How to make money using Society6?
Society6 is fairly easy to understand and start using once you get hang of how the platform works.
Once you have created an account on Society6, you are one step closer to making money on the platform.
You have to upload your artwork on the site, and it is required that you submit your art at least 6500px X 6500px to meet their minimum quality standard.
Various products have different quality standardsthat is explained in details on the FAQ section of the website.
Designs can be in any form hand drawn or designed in program such as Adobe Illustrator.
If you want to sell your print, Society6 will let you know the cost per size of your print and you can add loyalty rate.
If you decide to print you design on certain type of product, Society6 will pay you 10% of the sale price according to the product selected.
For example, for laptop sleeves, the site charges $38 and $3.80 dollar goes to the artist according to their policy.
Similarly Society6 rates are different for different products and artist are paid accordingly.
How much you earn on Society6 depends on several factors such as how often you upload your designs, the type and quality of products your artwork is printed on and the promotions.
It is likely that you don't earn a living by uploading your artwork on the site but you can definitely make a decent income through it. 
Pros of Society6  
As with any platform that enables sales, there are few pros and cons for Society6.
The pros of Society6 are as follows
Quality products:
The products that Society6 sells are of high quality and they have a minimum pixel requirement for every print the artist upload so that it meets their standard quality
Fresh and updated designs 
They keep updating their products and launch new fresh products monthly
 Artists from around the world
They work with artist around the world, hence it gives a good opportunity for new artist to learn and join the community with other accomplished artists.
Promotions 
They often run free worldwide shipping promotions, so it is possible for your artwork to reach all corners of the world.
Good Money 
Working with Society6 is profitable as it allows you to display your design on a wide range of products and earn a decent income from the platform.
Some artists claimed that they earned $1000 per month through Society6.
Monthly payments 
Society6 pays their artists monthly no matter how small the amount is, like for other sites you have to reach a minimum amount like $50 or $100 but in case of Society6 they pay you right away with Paypal, no matter how small the amount is each month.
Unique place for art lovers and art enthusiasts to shop. 
Society6 allows art lovers to shop patterns and designs designed by artists around the world.It aso offers a wide range of products.
Support artists around the world
Society6 helps and supports artists around the world to become independent and sell their art.
Unlimited image uploads
There is no limit to how many designs you can upload on the website and usually only few designs out a bunch will work so it is good that you can upload more designs so as to improve your chances of finding a winning design.
Cons of Society6
You cannot expect to make quick money from Society6, it takes time to figure out how the platform works and how to make money.
Society6 Reviews
In this section, we are going to look at Society6 Reviews from around the web.
On SiteJabber, Society6 has a good consumer rating of 4.36 stars from 1,422 reviews.
We will also show you one positive and one negative review of Society6 so that you can get an idea of how the platform is for the general audience.
Society6 Positive Review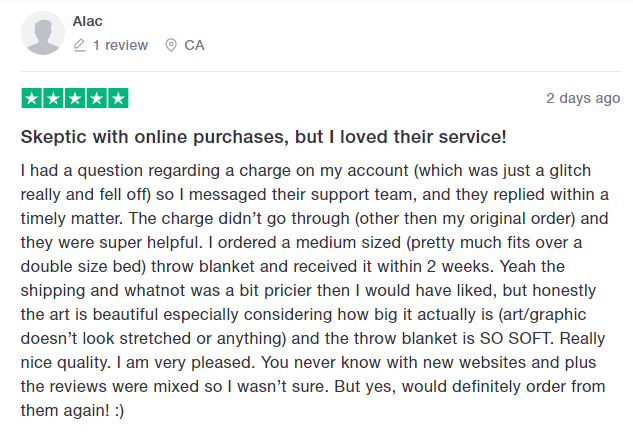 You can read more Society6 reviews here
Society6 Negative Review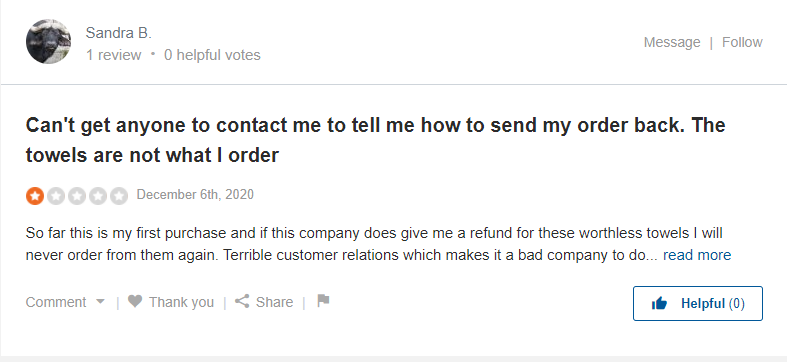 You can read more Society6 reviews here
Society6 Customer Care Information 
Society6 has an active customer care support team that will help resolve any queries or answer questions related to the platform.
You can use this link to create a support ticket and the customer care team will reach out to you.
Contact number- NA
Society6 Alternatives
There are many alternatives to Society6 which you can consider to buy or sell art and designer products. Some of the most popular Society6 alternatives are:
We have written a detailed review about RedBubble, you can read it if you are interested.
Frequently asked questions about Society6 
What is Society6?
Society6 is an online marketplace that helps artists create thier digital stores to sell thier design work by showcasing them to potential buyers.
Is Society6 any good?
Yes, Society6 is a legitimate and good website to buy and sell designer merchandise.
Which is better redbubble or Society6?
Redbubble provides higher margins than Society6 so it might be slightly better for sellers.
Where are Society6 products made?
Society6 has partnerships with vendors across many parts of the world and products are possibly made at the nearest local supplier.
Does Society6 own your art?
No Society6 works on a licensing model.
Is Society6 ethical?
Yes, Society6 follows ethical business practices.
Does Society6 return?
Return requests must be submitted within 60 days of the delivery date. Shipping & Handling fees paid on the original purchase are non-refundable
How much do you get paid on Society6?
Society6 artists earn 10% of the retail price on all products except for Art Prints, Framed Prints and Canvas Prints
Is society6 a trusted website?
Yes, Society6 has a consumer rating of 4.36 stars on SiteJabber indicating it is a trusted website.
Is society6 a US company?
Yes, Society6 is based out of US and the platform has 300,000+ artists from 160+ countries.
Who society6 owns?
Society6 is owned by Leaf Group Ltd.
Where is Society6 located?
Their office is located in Santa Monica ,but they ship products from different locations across the globe.
Recommended Reads
Society6 Review
Society6 Summary
Overall Society6 seems like a promising platform for artists to list thier products and try to make some money. Society6 cannot be a replacement for a full-time job, but you can consider it as a side-hustle. 
Pros
Quality products
Fresh and updated designs 
Artists from around the world
Promotions 
Good Money 
Monthly payments 
Cons
You cannot expect to make quick money from Society6