Last Updated on
In this post, we are going to look at Top Hat learning platform reviews, features, pricing & alternatives in 2021.
TopHat or Top Hat Learning is an education software used by professors and teaching specialists inside and outside the classroom.
e-Learning or teaching online is one of our picks for 10 Easy Ways to Make Money Online, if you are interested in knowing more about how to earn money online, do check out our post.
If you want to generate more leads for your B2B business you can consider reading my post on
15 B2B Marketing Strategies that work in 2021
Benefits of Hiring a Content Marketing Consultant
Top Hat Learning Platform Reviews, Features, Pricing & Alternatives [2021]
What is Top Hat Learning Platform?
Activities such as class participation, doubt clarifications, intuitive slide presentations, and classroom discussions are facilitated by Top Hat's lecture tool.
Top Hat also provides professors and educators with an InteractiveText platform to create and customize content for their respective courses.
With the help of Top Hat Learning, educators can now draw their students' attention by engaging them in discussions, tournaments with feedback facilities, multiple-choice questions, and a number of other features that the Top Hat Learning software brings to the table.
Top Hat Learning Features
Virtual Classroom Streaming
A dynamic feature of Top Hat's educational platform is virtual classroom streaming.
This feature helps educators instruct using attractive and creative content, apparatuses, and exercises in virtual, mixed, or real-world classrooms.
Utilizing this feature, you can dodge using a provisional method for teaching. Make impactful presentations, pose intelligent questions and allow your students to see you —all on just one browser window.
Top Hat enables you to stream your video on the same platform where you deliver your teaching material to the students. This relieves you from stressing over shifting between applications during an ongoing class.
Lecture Recordings
The availability of lecture recordings enables you as an educator to provide your students with an in-class experience even after the session has ended.
This feature smoothly records the introductions, class participation, and all the discussions that take place in a lecture.
Likewise, lectures can also be recorded in the absence of the students as well, so they can see replays individually at their own leisure.
All lecture recordings are made immediately accessible in your Top Hat course.
Attendance
Students' performance in class and in any course is dependent on their attendance heavily.
By gauging participation in Top Hat, teachers get a programmed record of the individuals who attended or missed a particular class.
By allocating certain points for attendance, the teachers can persuade and spur students to come to class. Attendance is also recorded for the students, irrespective of the device that they use to sign in.
They are just required to enter the attendance code and they will be recorded as present.
Polls & Quizzes
Educators can present engaging slides consisting of interactive polls and quizzes utilizing this feature.
The usage of feedback loops creates an environment where the professor can learn whether the students are learning or struggling with the classes.
The information hence received can be incorporated in making further decisions about the teaching pedagogy. Quizzes also facilitate regular and systematic assessment and evaluation.
Live Chat & Discussions
Keep students occupied with class gatherings that are directly equipped with a live chat of the virtual classroom.
Students to examine subjects and ideas with their companions, educators and teaching associates and pose queries that can be reviewed.
The chat thread can be easily operated and when necessary, the respective students can be muted or unmuted. The usage of upvotes by the students will surface the common doubts for the professor.
Digital Textbooks
Educators can access a huge number of great course readings from across innumerable scholarly disciplines.
This feature bids farewell to the customary reading material and course books. It creates space for adapting to digitally-loaded and intelligent learning materials.
Top Hat marketplace offers you a plethora of titles to create your own immersive course content.
These titles are customized by Top Hat authors in co-ordination with partners like Bluedoor Publishing, Nelson Education and Fountain Press among many others.
Assignments
Effectively design, customize and allocate assignments by utilizing this feature to strengthen student-learning, while at the same time decreasing time spent on course organization on account of auto-evaluating software.
Assignments can be created using images and eleven automatically generated formats. For students in exceptional cases, deadlines can be specifically extended or extra credits can be handed out accordingly.
Secure Online Tests & Exams
This particular feature allows you to look into the guarantee of academic honest of any evaluation/assessment.
Prior to the commencement of an examination or test, the student identities can be verified to confirm that they are the right students.
All screen movement throughout the examination will be proctored that will report all suspicious conduct.
The evaluation will be done automatically and save you time and effort while also help you provide feedback to the students immediately.
Learning Insights
Learning insights provide you with customary developmental and evaluation information that keeps you zeroed in on the students' academic progress.
It will help you measure their perception and commitment to learning experiences and accordingly bring changes to your pedagogy.
By tracking the performance of individual students, you can choose to offer extra help to those who need it.
Labs
Relegate lab manuals in-line questions, urging students to come prepared for lab sessions. Lab demonstrations can also be live-streamed with real-time class participation.
After such demonstrations have been conducted, you can also check for cognizance by assigning available tasks and assignments.
Top Hat Pricing
Top Hat Basic:
This plan is free for the students. It includes the following features.
Lecture streaming and recording
Slide presentations and editing
Automatic attendance
Live chat and discussions
Polling questions
Limited weekly course insights
Basic support
Community
Top Hat Pro:
This plan comes for $30 per term (4 months) and $48 per year. The features included are as follows:
Lecture streaming and recording
Slide presentations and editing
Automatic attendance
Live chat and discussions
Polling questions
Live assessments
Auto-graded quizzes
Comprehensive weekly course insights
Full grade book
Detailed student performance reports
Detailed attendance reports
LMS export
Personalized training and course preparation
Enhanced phone and email support for instructors and students
Authoring, editing and customization tools
In-line assessment questions
Embedded videos and simulations
Easy question creation and editing tools
Selective homework assigning and scheduling
Auto-grading capabilities
File submission
In-line instructor feedback
Upload questions from file
Advance scheduling
Student browser lockdown
Community
Add ons: Interactive textbooks on average $35 and unlimited remote proctored exams for $10 per course.
Top Hat Reviews
Top Hat has fairly positive reviews on the web and in this section, we try to give you a positive and a negative review so that you can understand the capabilities and limitations of Top Hat before choosing the product.
Top Hat Positive Review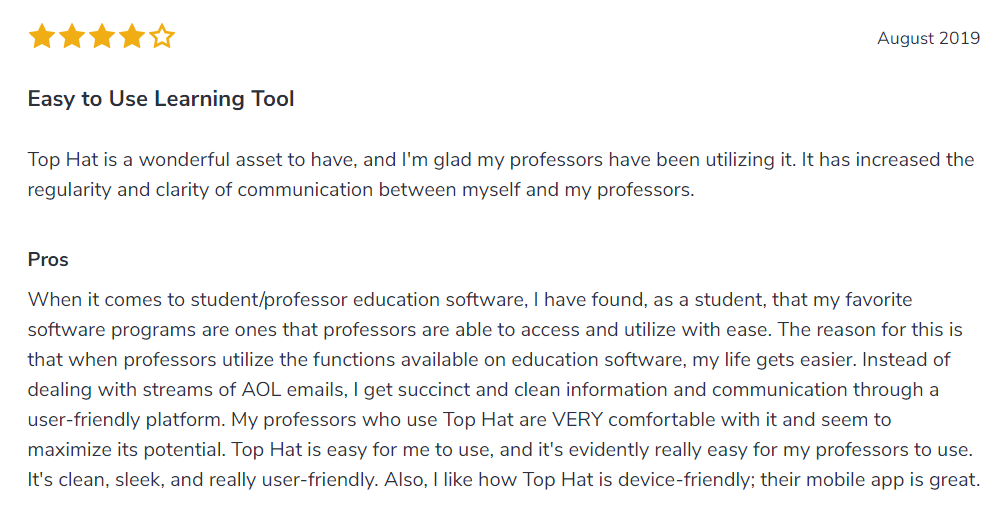 You can read the full review here
Top Hat Negative Review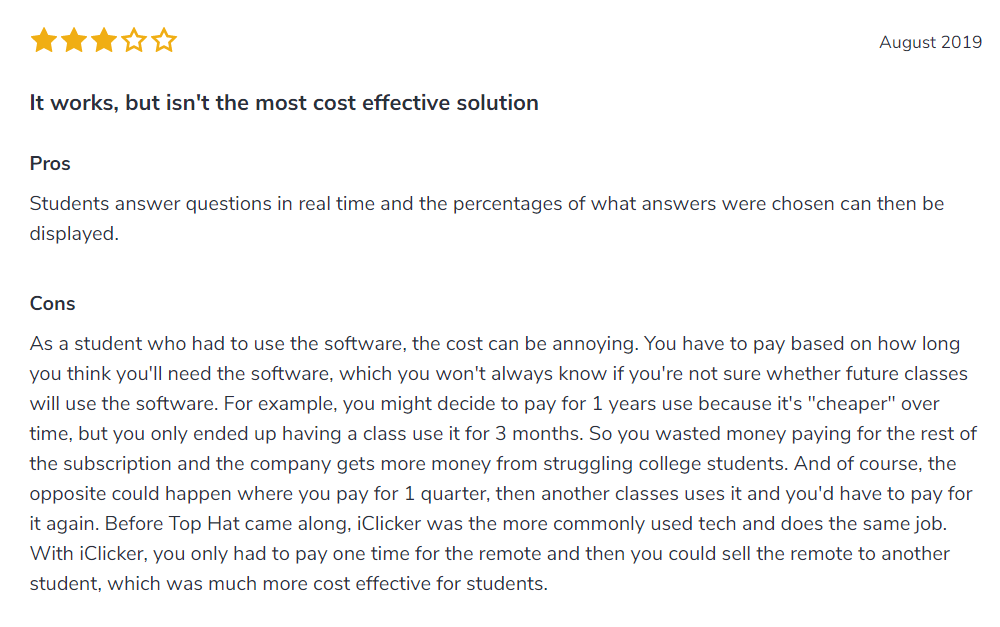 You can read the full review here
Top Hat Learning Customer Care
Top Hat Alternatives
If you are looking for TopHat alternatives, then these are some of the best TopHat alternatives to consider.
Recommended Reads