Last Updated on
Sitting all day at work can have some serious health implications in the long run. This is where standing desk can to your rescue to save you from different ailments caused by a sedentary lifestyle.
Even though these desks have been around for a while, many people were skeptical of the benefits of standing desks wondering whether they actually do deliver on the claimed benefits.
To check these claims, we got few standing desks for our own office and the benefits have been phenomenal. Now we are recommending all our employees to use standing desks even if they are working from home.
Taking this into consideration, coworking spaces are keeping themselves well-equipped with ergonomic chairs and standing desks for entrepreneurs, freelancers, remote workers, and corporates.
A standing desk allows you to carry out work tasks comfortably while standing. The modern versions of a standing desk can be adjusted for changing heights when you prefer sitting or standing. Apart from workspaces, standing desks can also be used for having casual conversations with colleagues.

There are many health problems caused by working from sitting at a chair all day long. All the more, you hardly burn any calories while sitting when compared to standing or walking. But standing for more than ten hours might lead to leg pain or back pain as well. You must make sure that you keep switching from your seat to a standing desk at regular intervals. Standing desks brings forth cost savings as well as a casual style of working at a workspace. Check out more about the benefits of a standing desk at a workspace.

Benefits of standing desk

Reduces the risk of weight gain
The modern work culture requires you to sit for long hours to get the work done, which means you hardly burn any calories at work. At this point, when you are continuously taking calories in your body by eating food, you are not able to burn most of your calories because of working from a single chair, on all weekdays. By following the above pattern daily, you might be risking your chances of gaining weight or even obesity in the long-term.

It might not always be possible to hit a gym or exercise in the park after work, but you might grab the opportunity to burn your calories by working from a standing desk to complete your work tasks in your workplace. According to research, you can burn almost 170 calories while working from a standing desk at work in a day. One of the fantastic benefits of a standing desk is that it keeps you slim and healthy for the long-term.

A Reduction in your Blood Sugar Level

An increment in the blood sugar levels is quite bad for health, especially for people who are suffering from type 2 diabetes. Recent research confirmed a reduction in the blood sugar levels of a person who stands for almost 180 minutes after completing his meals.
You can even prefer switching to work from a chair to a standing desk for having considerable breaks and a change in the posture of your body.
Reduces your risk of heart diseases
In 1953, a study said that the standing posture of the body is a great thing for the health of the heart. If you consider the bus conductors who need to stand for the full day at work, they have half the risk of dying of heart diseases as compared to the drivers of the bus.
The harmful effects on the heart caused by sitting for an entire day can not be resolved by hitting a gym for an hour. There is no second-guessing about how important it is to spend more amount of time on the feet for the betterment of your heart.
An amazing cost-saving option
A standing desk is an excellent option for the newly set-in startups and small businesses who are looking forward to work from a hot desk plan in coworking spaces. A hot desk membership plan at coworking spaces gives you access to work from your standing desk at much cheaper membership fees as compared to hiring a private office or a conference room.
A hot desk membership plans include amenities such as high-speed internet, kitchen spaces, photocopier, lounge, and many more. The best part of working in an open plan seating is that you get the opportunity to work alongside professionals from diverse backgrounds just next to your desk.

Reduces your back pain

Most professionals complain of having back pain after sitting all day long to complete work tasks. There have been a lot of research done to know if standing desks could contribute to a reduction in back pain of employees at work. Almost 32% of the people had reported a decrease in back pain after using a standing desk for work tasks at the workspace.
One of the studies by the CDC concluded that the employees reported a reduction in back pain and neck pain by 54% after using a standing desk for about four weeks.

Helps in keeping you refreshed

One of the remarkable benefits of a standing desk is the contribution to a positive and vibrant environment at the workspace. Recent research has found out that an employee can successfully lower the risks of stress as well as fatigue by using a standing desk rather than being seated all day at the workspace.
Majority of the employees have reported feeling refreshed and full of energy by using standing desks at regular intervals at work. Working from a standing desks helps in changing your mood and save you from several health problems. Burn your calories and energize yourself while completing your work tasks from a standing desk.
A great chance to boost your productivity
Don't be surprised to know that a work task like typing can also be accomplished from a standing desk. Most people might assume that typing from a standing desk is difficult or might even reduce typing speed. Research done on young employees confirmed that there was no change in the typing-speed while working from a standing desk every day for at least 4 hours.
A standing desk brings forth a fantastic opportunity to change your mood along with boosting your productivity at the workspace. Don't miss out on the benefits of standing desks offered at your coworking space or regular office space.
Have a long and healthy life
When you switch to work from a standing desk, you might complain of feeling pain in your legs at the workspace. You'll be surprised to know that there are many coworking spaces that have come up with well-designed mats which can boost movement in your body or give you an acupuncture effect on your feet.
Some of the coworking spaces have floor mats in the workspace so that employees have a choice to work bare feet on the standing desk. All the fantastic floor mats made by creative physicians have been very effective in increasing the life span of an employee while working from a standing desk.

Helps you to have a healthy mind
There are several benefits of standing desk at a coworking space for freelancers, startups and corporates. An employee who chooses to work from a standing desk at regular intervals has a higher probability of having better health as compared to those who complete work tasks from being seated at a chair all day long.
Working from a standing desk helps your body to increase the flow of blood in the body, reduces your blood sugar levels and keeps your mind refreshed. Standing desks gives you a great option to burn calories and keeps you free from several diseases.
Gives a Better Posture
Apart from the benefits of standing desks mentioned above, one of the significant advantages of using a standing desk at a workspace is having a good body posture. Lousy chairs and uncomfortable furniture have a higher possibility of adversely affecting your body posture at work.
A bad body posture for long hours might end up in back pain, neck pain or even stress. Standing desks brings forth an amazing option to stretch your body and save you from backaches and body pains. There is a modern version of standing desks which can be easily adjusted to change heights while sitting or standing at work.
Disadvantages of standing desks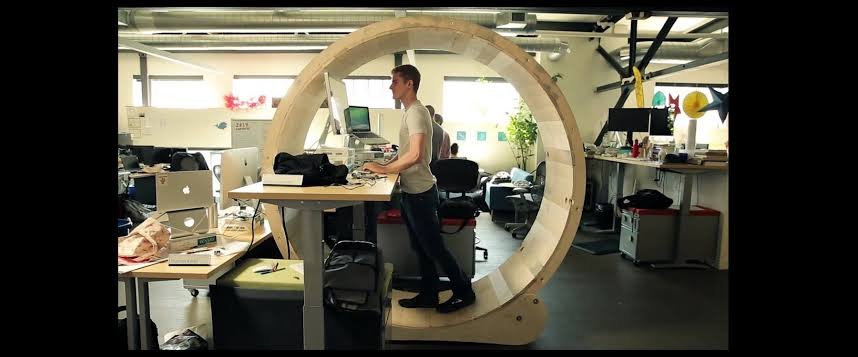 There might be many benefits of standing desks, but if you might start having health problems if you use standing desks for a long time. Standing for a long time can lead to joint pain, back pain and fatigue. Just like sitting for a long time is bad for health; similarly, working while standing for long hours can also adversely affect your health.
It would be best if you did not push yourself way too hard in the beginning days while working from a standing desk. Make yourself comfortable and figure out how many hours suits you to work from a standing desk and save yourself from leg and back pain.
Now that you have learnt about several benefits of standing desk, you must not put in more than ten hours on a standing desk, or you will end up feeling tired and fatigued. The best option is to keep switching from your chair to a standing desk at regular intervals for a healthy life.