Are you considering Bespoke Coworking SF? In this post, we are going to look at Bespoke Coworking San Francisco including Amenities, Pricing, Images & Reviews in 2021.
Before you look at Bespoke Coworking SF, it will be helpful to go through our guide on Ultimate Guide on Coworking: Benefits, Advantages & Disadvantages. This guide will give you unbiased information about advantages & disadvantages of coworking and help you decide whether a coworking space is essential for your business.
You can also check out our post Difference Between Hot Desk & Fixed Desk: Everything You Need to Know so that you can choose the right type of coworking package for your business.
We have also written a very detailed post on Coworking Benefits, Advantages & Perks You Should Know Before Moving into A Regular Office Space–you can quickly go through this post too.
Bespoke Coworking SF: Amenities, Pricing, Images & Reviews [2021]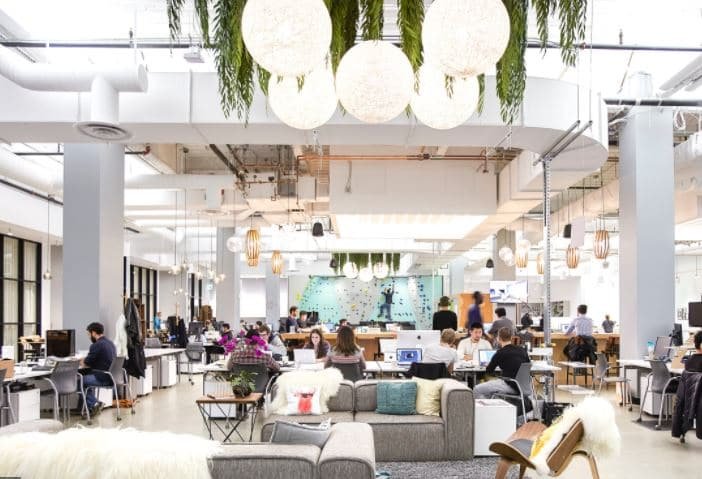 BeSpoke coworking space in San Francisco offers great services, facilities and affordable membership plans.
Get ready to work alongside talented and passionate people at BeSpoke coworking space. A community-driven workstation, BeSpoke allows you to be a part of their community events where you can meet people from diverse industries.
These community events at BeSpoke coworking San Francisco will help you in widening your circle of network and gain new assets.

BeSpoke is a coworking and event space, located in the prime area of Westfield San Francisco at the epicentre of downtown.
BeSpoke has amazing modern decor which will keep you motivated to accomplish your tasks. Apart from just coworking space, BeSpoke has made available state-of-the-art amenities that will help you work more productively.
The BeSpoke coworking space is fully equipped with comfortable and study shared desks. Apart from the coworking space, you should not miss out on BeSpoke's featured facilities such as bocce ball court, bouldering wall and speedy wifi.
Another amazing fact is that the additional services available at BeSpoke will cost you nothing. These services are complimentary with the membership plan which you opt for.
BeSpoke has a lot more surprises for you and to discover them, keep reading and take a closer look at this workplace.

Bespoke Coworking Amenities
24/7 access: If you are a member of BeSpoke coworking space, then you are allowed to access the workspace 24/7.
Standing Desks: BeSpoke coworking space is fully equipped with comfortable standing desks.
Equipment: The types of equipment available at BeSpoke are a printer, scanner, photocopier and Apple TV.
Relax Zones: BeSpoke offers beautiful relaxing zones such as outdoor terrace, lounge and a nap room.
Community events: Especially for community events, BeSpoke offers event spaces, community lunches, community drinks and slack channel for members.
Cool Stuff: Here at BeSpoke, get access to free beer, bocce ball and library as well.
Transportation: BeSpoke is an almost five-minute walk from Public Transit. BeSpoke offers bike storage at their coworking space.
Caffeine: BeSpoke offers free tea, free coffee and an onsite cafe for their members.
Kitchen facility: The members of BeSpoke coworking space are allowed to prepare tasty food for themselves in the kitchen.
Mail services: The team of professionals at BeSpoke take complete care of the mails of members.
Wi-Fi: You may always stay connected with your peers since BeSpoke offers speedy Wi-Fi at their coworking space.
Phone Booths: BeSpoke offers phone booths for your convenience in case you wish to conduct a private call.
Bespoke Coworking Corporate Innovation Tours
BeSpoke has a lot of surprises for their members, one of them is the Corporate Innovation tours. The members of BeSpoke can get the opportunity by becoming a part of this program which will teach how to adapt and evolve to meet the ever-changing needs of customers. Further on, the program aims to teach how retailers stay relevant in a time of unprecedented change.

When you visit BeSpoke, a guide will give you a tour through the ecosystem and present the BeSpoke vision. You will get a chance to learn regarding BeSpoke's growth, inner workings of collaborations with URW, case studies, brand partnerships and more. During the walking tour, you will be meeting a retail-tech specialist who will consult your team for understanding your business goals and objectives to customize your experience with BeSpoke coworking space. During your visit, you will be able to meet with startups and learn about the latest retail-tech innovations and explore the potential business opportunities. The BeSpoke coworking space team will identify ideal companies to connect you with from BeSpoke's curated network of best-in-class entrepreneurs.

Bespoke Coworking Partnerships
BeSpoke coworking space believes a partnership to be the condition when two companies are working together to redefine what's possible in their respective industries. A partnership is aligning together to exceed expectations through innovation and taking the support of a network of startups and global innovators. BeSpoke coworking space can help your brand craft experiences and create connections which will be making a lasting impact on your customers. Here are some ways by which BeSpoke partner with people:
Coworking amenities
Event services
Long-term activations
Experiential marketing
Speaking engagements
Media / PR information
Innovation tour partners
Bespoke Coworking Membership Plans
Day Passes: If you are not looking for a full-time coworking space, then you can pay for your day spent at BeSpoke coworking space at just $35. You will be able to visit BeSpoke anytime between 9 am to 6 pm on weekdays. With the day pass, you will be able to have access to all the amenities offered at BeSpoke. This plan of day passes is perfect for freelancers and entrepreneurs who are not looking for a full-time coworking space.

Dedicated desks: BeSpoke coworking space San Francisco allows you to get a personalized space by hiring a dedicated desk for your work. BeSpoke offers filing cabinets so that you don't have to carry your work materials every time. You can remain tension free even if you have left your belongings at your desk. The membership plans for dedicated desk includes conference room credit for 10 hours per month. You can hire a dedicated desk at BeSpoke for $644 per month.

Shared desks: BeSpoke coworking space in San Francisco has something special for people who prefer working in a collaborative atmosphere. BeSpoke brings forth communal desks for people who like a change in their environment every once in a while. Moreover, you are allowed to have 24/7 access to your selected desk for work. Along with this, BeSpoke offers you a conference room credit for 5 hours per month. The membership fees for a shared desk at BeSpoke is $416 per month.

Private Offices: BeSpoke coworking space is the perfect place for startups and corporate companies who are in search of a private office for their teams. BeSpoke offers well-equipped private offices which are ideally built wherein you can work in your own private space without any disturbance from surroundings. The membership plan for hiring private office includes private lockers to store valuables and conference room credit for 10 hours per month. The membership fees for hiring a private office at BeSpoke coworking space depends upon the size of your team and private office.

Conference rooms: The conference rooms offered at BeSpoke coworking space in San Francisco are suitable for conduction of conference and meetings for your team. The conference rooms are equipped with highly-advanced technology for your convenience. The membership fees for 5 to 10 people is $100 per hour or $1000 per day, for 11 to 16 people is $200 per hour or $2000 per day, for 17 to 24 people is $300 per hour or $3000 per day.

Location: BeSpoke coworking space is at a very ideal location and can be conveniently accessed. You will have multiple options for hanging around BeSpoke as the area around BeSpoke coworking space has several cafes and restaurants. BeSpoke is surrounded by a vibrant environment which will surely make you work more productively. You don't have to worry about where to park your vehicles, since BeSpoke offers parking facilities for their members. All in all, BeSpoke coworking space in San Francisco is present at the most favourable location to nurture your innovations.

Bespoke Coworking Address:
845 Market Street, Level 4, #450A, San Francisco, CA 94103, United States
Website: https://bespokesf.co
Recommended Reads