Last Updated on 5 months by Anoob P
Are you looking for Mercari Reviews? In this post, we are going to look at honest Mercari Reviews, how to make money from Mercari, Pros, Cons,Mercari Alternatives in 2020.
Before we get to Mercari Reviews, if you are interesting in selling stuff online and making money, you can check out our post on 25 Best Consignment Shops (online & offline) to make money & Ultimate Guide to Flipping furniture to make money in 2021.
We have also reviewed Mercari Alternatives such as:
OfferUp: Reviews, How to Make Money, Pros & Cons
RedBubble Review: How to Make Money without Investment, Pros, Cons & Alternatives
I recently helped a client of mine generate $1000 in income from his YouTube channel that was not making any money and even you can do the same.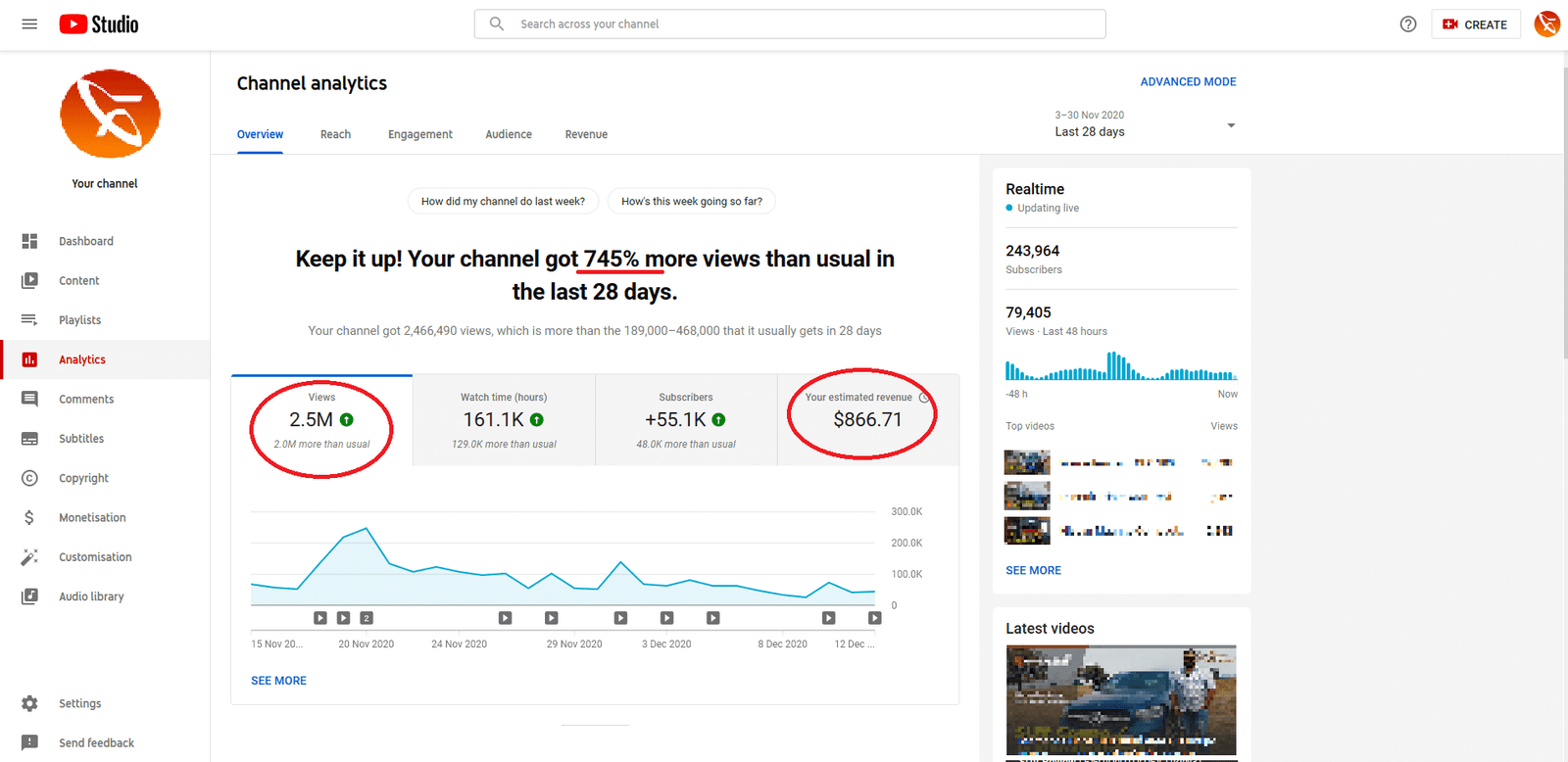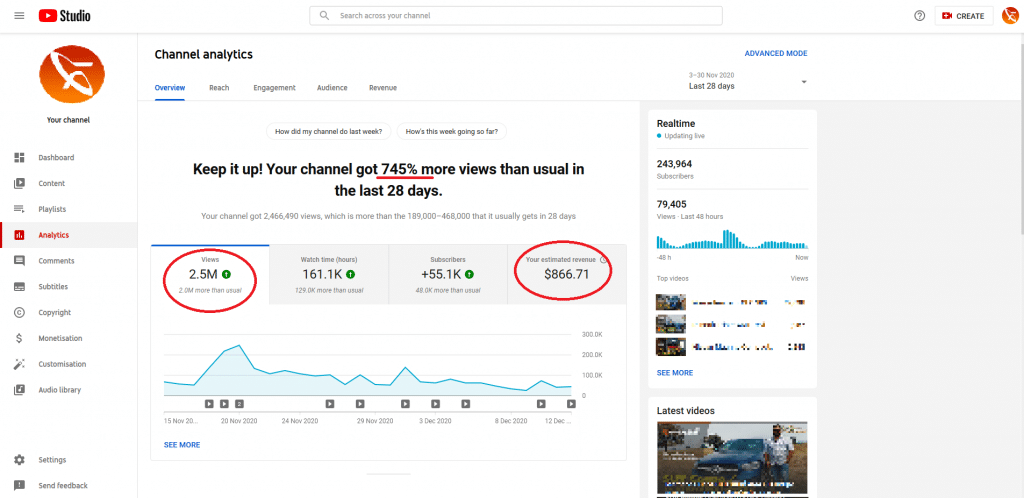 Earlier, I had co-founded a video company and raised $2 million in funding and then got fired from the company I started. I had done lot of testing and research on how to monetize YouTube and now I use the same skills to help other YouTubers.
You can read my full story here if you are interested.
If you are interested in the whole concept of making money online, you can check out some of my other posts including 10 Easy Ways to Earn Money Online without Investment, How to Earn Money from YouTube, how to earn money from Facebook and how to start a blog and make money.
Mercari Reviews: How to Make Money, Pros, Cons & Alternatives in 2021
What is Mercari?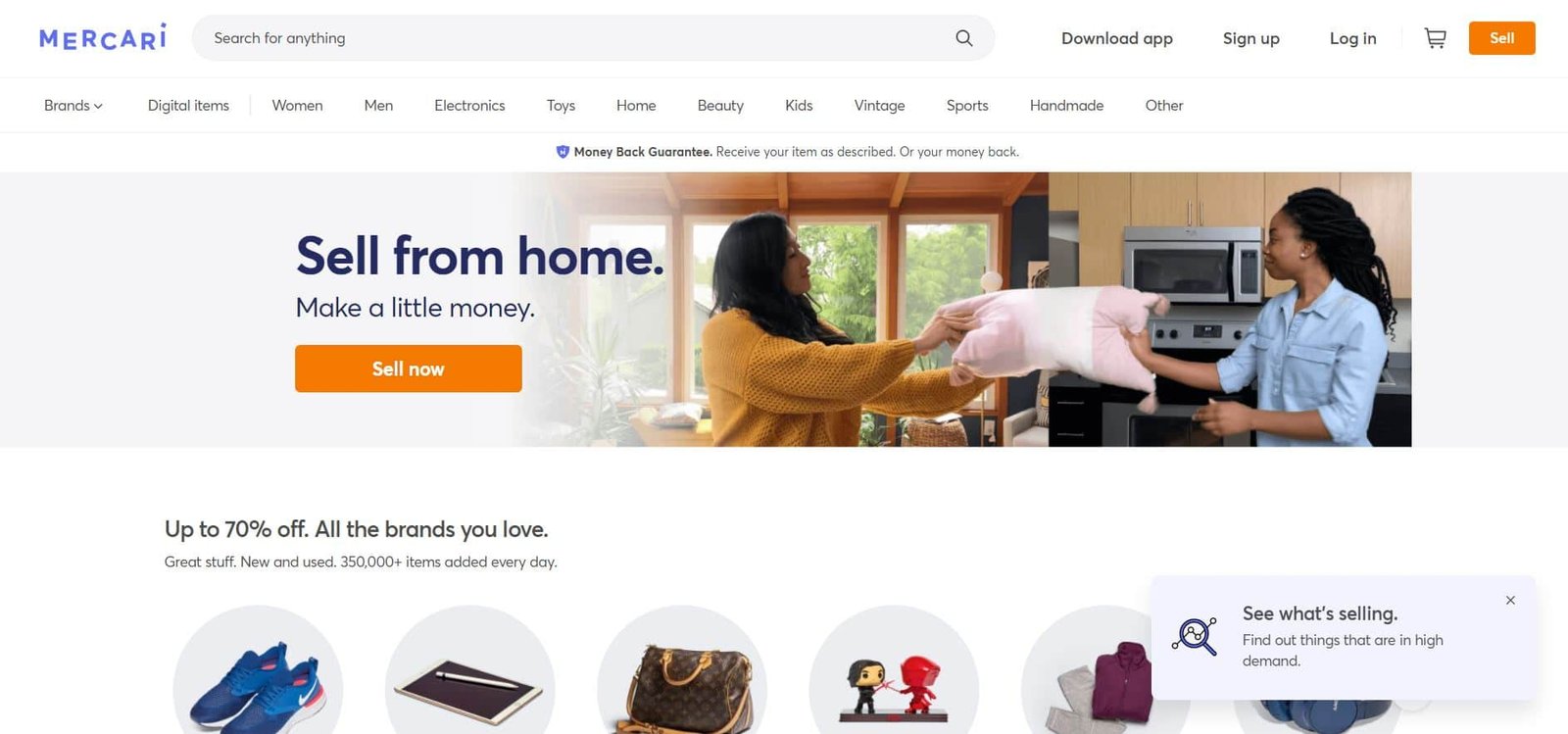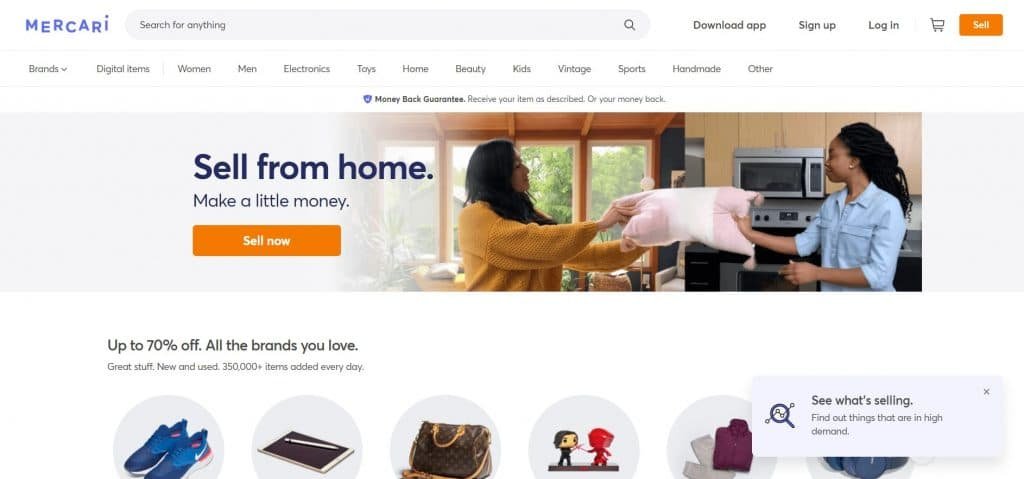 Mercari is an e-commerce marketplace app that allows its users to sell or buy anything from candles and jewelry to designer goods, electronics, and crafts.
Mercari was established in 2013 and is based in Japan and the USA. It is one of the largest online marketplaces in the world with over 75 million downloads and over half a million listings.
Official website of Mercari: https://www.mercari.com/
How does Mercari work?
Mercari allows its users to list their items for free.
The first step is to make a listing.
For that, the user must upload good-quality photos of their product from every angle and describe the product in full description complete with the brand name and product type (for eg- 'Gucci Handbag').
Users must price their products at reasonable rates as buyers can compare how other sellers have priced similar items.
You must take into account any shipping charges in your selling price as Mercari will not compensate you for it.
Then once you have decided on a buyer, ship the item to them within 3 working days and inform Mercari once you have done it.
The buyer will also confirm within 3 days when they receive the shipment and the payment will automatically be transferred to your account.
Mercari will deduct 10% of your earnings as its commission.
How to Start Working on Mercari?
To start selling your items on Mercari, you must first download the app and make an account.
You can also do it using the Mercari website.
You can also register by linking your Google or Facebook profile to your account.
Once you have created an account, you can use it to sell items, message buyers, get notifications about items you wish to buy, create deal alerts, etc.
What are the requirements to work for Mercari?
Mercari has the following requirements for its users:
They must be over and above the age of 18
Users must have items that they want to sell using the app.
You must, of course, own a smartphone to download and operate the app.
How to make money on Mercari?
Mercari is a retailer site that allows you to sell items.
You can earn money on Mercari by listing any items and contacting buyers to sell your products.
Buyers also have the freedom to negotiate with your prices.
You must take care to set reasonable rates for your products, else potential buyers may just look for other sellers with similar products.
Also, take into account that Mercari will take out of your earnings its own commission and also charge you with a $2 processing fee if you get direct deposits below $10.
How much money can you make on Mercari?
You are responsible for setting your own rates for your items on Mercari.
But if, for example, you list items like gift products, electronic heaters, decor materials during Christmas time, you may be able to make more money, considering the products you are offering are good and your rates are not sky-high.
So, you can strategize and plan your listings based on seasons, festival time, holidays, etc. to maximize your earnings.
You must also perform your duties as a seller loyally as each buyer gets to rate you before making payment.
Having a good track record of buyers' ratings would, without a doubt, be advantageous for you.
Pros of working on Mercari
Easy, convenient, accessible, and cheap listing platform.
You can sell a very diverse variety of products from different brands
They have a fixed commission rate of 10%, unlike other sites whose rates keep fluctuating. This way you are sure of the amount you are going to earn.
Variety of shipping options for sellers provided
Easy to use for any newbie seller
Private communication and price negotiation between buyers and sellers is also made possible
Cons of working for Mercari
With the large number of people signed up to Mercari to sell items, there is a lot of competition among sellers to sell their listings. So you may not be able to put a high price on your items.
The site's features and organization are not impressive. If you search for items, Mercari will display even sold items by default.
You are not paid unless the buyer has received the shipment and rated you as a seller. However, if they do not give a rating even after 3 days of receiving the product, you are transferred the payment anyway.
The site is easily accessible by scammers pretending to be buyers.
Lack of support service for the sellers.
Mercari Reviews
Here we are providing you with one positive and one negative review of Mercari so that you get an idea of the full picture and can come up with an opinion of your own.
However, while reviews can be helpful, they can also be quite subjective and dependent on the user's experience.
Therefore, you must undertake your research and reach out to the company for any doubts that you have before taking a final decision about whether to join Mercari.
Mercari Positive Review:
One seller had very positive feedback about working with Mercari. They said they found the site more effective and efficient than other sites like eBay.
They praised the number of buyers they were able to attract using Mercari and also liked the site's variety of shipping options.
They gave Mercari a full 5 stars out of 5.


You can read this seller's full review here.
Mercari Negative Review:
Another user had a more critical review to offer.
They criticized the site's accessibility to scammers and the lack of support for the sellers. They found Mercari a good idea on paper but not practically.

You can read this seller's full review here.
Mercari Alternatives
If you are looking for Mercari Alternatives, you can check some of the websites.
Some of the common Mercari Alternatives are:
These are websites to sell second-hand or used products.
If you want to sell new products, you can consider,
Recommended Reads